Popular New Book
"Nephilim, Fallen Angels and Aliens"
By Dr. Cathy Burns
A popular theme today is the topic of the Nephilim, fallen angels, and aliens. Many TV programs, movies, videos, and role-playing games revolve around extraterrestrial contact, alien abductions, and hybrids. Dr. Burns examines this subject in light of Genesis 6.
Using the Bible as her main source, Burns addresses such issues as the Sons of God, fallen angels, giants, DNA, cloning, golems, Nephilim, the watchers, the Serpent Seed, Cain's real father, Eve's partaking of the tree of knowledge of Good and Evil, why Cain is not listed in Jesus' lineage, why God sent the flood and how the End Times will be as the days of Noah
Dr. Burns also devotes a chapter dealing with the Book of Enoch and how it compares to the Bible
227 pages - http://cuttingedge.org/detail.cfm?ID=2015
---------- This Weeks Hot News ----------
I. Swine Flu WAS created in a bio-weapons lab!
Even the Mass Media is beginning to reveal this truth.
NEWS BRIEF: "Swine Flu Was Cultured In A Laboratory": Dr. John Carlo, Video, The Intelligence Daily, April 27, 2009
"This kind of swine influenza has been cultured in a laboratory, something which has not been seen in the United States or the world. A new strain of influenza has now been identified. Even though the current strain is relatively mild, what is disconcerting is that no one has seen this particular strain before."
NEWS BRIEF: Ret. Army General Russell Honoré On CNN: Did Swine Flu Come Out Of a Lab?", Prison Planet, April 27, 2009
"Ret. Army General Russell Honoré on CNN: 'How did it start in Mexico, where did it eminate from? We've been able to find that out in all previous pandemics, the question now is to get at the heart of how this started - did it start from the occasion of viruses coming together or did it come out of a lab?"
In the News Alert for Monday, April 27, we reported that a former Israeli intelligence head had just called Swine Flu a "bio-weapon"!
We concur: this particular brand of Swine Flu -- a nasty mash-up of swine, avian, and human viruses -- had to have come from a sophisticated bio-weapons laboratory! Such a virus simply does not occur in nature; in fact, such recombined viruses have only occurred in the past 30 years, since scientists cracked the genetic code!
I knew when I read the story in my local newspaper about 30 years ago that scientists had solved the genetic code and could now start building their own, that only evil could come from the hearts of these scientists who are spiritually unregenerate individuals; after all,
Then, once I started studying the specific plans of the Illuminati for the staging of their New Age Christ and his New World Order regime, I realized that the ability of genetic scientists to create global pathogens which could kill globally, had to figure prominently, for I knew that God's Judgments in the Book of Revelation foretold of deadly diseases being loosed upon the world.
That time is approaching quickly; we are certainly seeing the scientific capability on the world scene right now.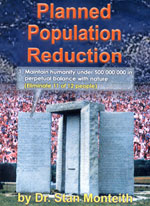 DVD
II. Vaccine manufacturer is caught inserting live Avian Flu into vaccinations!
In the News Alert for Monday, April 27, I reported the fact that part of the New Age plan to dramatically reduce the population of the world envisioned placing the pathogen into the very vaccine being touted as the cure for the disease.
Sadly, this next story informs us that this has already occurred! Please take note of the date of this report: March 3, 2009. The shipping of vaccines tainted with the live Avian Flu virus had been inserted into vaccination batches being sent around the world well before the Swine Flu epidemic started!
NEWS BRIEF: "Vaccines as Biological Weapons? Live Avian Flu Virus Placed in Baxter Vaccine Materials Sent to 18 Countries ", by Mike Adams, Natural News, March 3, 2009
"There's a popular medical thriller novel in which a global pandemic is intentionally set off by an evil plot designed to reduce the human population. In the book, a nefarious drug company inserts live avian flu viruses into vaccine materials that are distributed to countries around the world to be injected into patients as 'flu shots'. Those patients then become carriers for these highly-virulent strains of avian flu which go on to infect the world population and cause widespread death. There's only one problem with this story: It's not fiction. Or, at least, the part about live avian flu viruses being inserted into vaccine materials isn't fiction. It's happening right now."
"Deerfield, Illinois-based pharmaceutical company Baxter International Inc. has just been caught shipping live avian flu viruses mixed with vaccine material to medical distributors in 18 countries. The 'mistake' (if you can call it that ...) was discovered by the National Microbiology Laboratory in Canada. The World Health Organization was alerted and panic spread throughout the vaccine community ... Baxter is acting a whole lot like a biological terrorism organization these days, sending deadly viral samples around the world. If you mail an envelope full of anthrax to your Senator, you get arrested as a terrorist. So why is Baxter -- which mailed samples of a far more deadly viral strain to labs around the world -- getting away with saying, essentially, 'Oops'?"
"But there's a bigger question in all this: How could this company have accidentally mixed LIVE avian flu viruses (both H5N1 and H3N2, the human form) in this vaccine material?"
I will never forget the shock when I first read in my New Age research in the late 1980's, that the Illuminati planned to insert deadly live pathogens in the very vaccine which government agencies were touting as the cure to the disease. Then, as I reported in Monday's 4/27 News Alert, New Age researcher, Dr. Horowitz, and New Age author Bill Cooper both reported that the AIDS virus in Africa was deliberately spread by W.H.O. (World Health Organization) in "free" vaccines.
When the time comes for Seal #4 in Revelation 6 to actually occur, vaccines supposedly designed to kill the deadly disease ravaging the globe will, instead, be infected with the specific disease so that people who have not yet caught the pathogen will immediately die from it.
This event will occur only after Antichrist is on the world scene, so we have some years left. Scares like this Swine Flu are designed to produce the necessary conditioning to persuade people to quickly accept the vaccination solution, thus guaranteeing their death.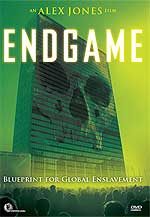 DVD - "They Want YOU Dead"!
III. Is Swine Flu targeting only people with Hispanic genetic markers?
Remember the revelation from William Cohen, President Clinton's Secretary of Defense! "... some scientists in their laboratories trying to devise certain types of pathogens that would be ethnic-specific so
that they could just eliminate certain ethnic groups and races" ("COHEN ADDRESS 4/28/1997 AT CONFERENCE ON TERRORISM")
NEWS BRIEF: "Among the swine flu mysteries: Why only deaths in Mexico?", CNN Health, April 29, 2009
"It's a confounding question on the lips of disease detectives: Why have the only deaths from the swine flu outbreak happened in Mexico? Investigators also want to know why the disease has killed young adults, who should have the greatest resistance ... Mexico has reported 152 fatalities in flu-like cases in recent days, seven of which have been confirmed as swine flu. Another 19 patients have been confirmed as having swine flu but surviving. About 2,000 people have been hospitalized with symptoms."
"By contrast, the United States has had 64 confirmed cases, five hospitalizations and no deaths."
When the Avian Flu and SARS outbreak occurred a number of years ago, researchers noted that it seemed to target only people who had Oriental genetic markers. Even people in the United States who came down with these viruses were discovered to have Oriental genetic markers in their background.
Similarly, this Swine Flu may target people with Hispanic genetic markers. This would explain why people of other races -- like the three Israelis now reported to have come down with Swine Flu -- are now recovering.
A breaking news story tells us that a child in Texas has now died from Swine Flu, but this child was Hispanic.
NEWS BRIEF: "Mexican Toddler in U.S. Dies From Swine Flu" , New York Times, April 29, 2009
"A Mexican toddler who came to the United States with his family on a visit has died in Texas of the swine flu..."
It is time to remember William Cohen's warning, above. Scientists truly have developed "certain types of pathogens that would be ethnic-specific so that they could just eliminate certain ethnic groups and races".
Welcome to the horrific world of the developing New World Order!
UPDATE
These next two stories illustrate just how much this entire Swine Flu story has been hyped out of all proportion. First, let us examine the global government's Media hyperbole.
NEWS BRIEF: "Mexico plans shutdown as world flu alert raised", Excite News, April 30, 2009
"MEXICO CITY (AP) - Mexico readied a "temporarily closed" sign - taking the drastic step of ordering a suspension of nonessential federal government and private business activity as it tried to squelch a swine flu epidemic. The World Health Organization ratcheted up an alert and warned that 'all of humanity" is threatened'."
This last sentence is screaming a huge warning: "'all of humanity is threatened"
Why, hundreds of thousands of people must be down with this Swine Flu and thousands must have died, in order to elicit such a somber warning! Am I right? Let us consider the facts:
"The dire warning showed that world health officials are very worried about the potential for massive numbers of deaths worldwide from the mutated virus, even though the epidemic so far has claimed only a confirmed eight lives in Mexico and one in the United States. Roughly 170 deaths are suspected of having been caused by the virus in Mexico."
It is ludicrous for world health authorities to issue such a terrible declaration based on so little damage done thus far. But, such hyperbole is understandable once you realize that the real purpose is to so scare the citizens of the world into accepting -- nay, demanding -- a flu virus which they believe will stop the outbreak in its tracks.
The reality is two-fold:
!) No virus will ever be stopped by a vaccine because viruses mutate constantly, and that
2) The Illuminati plans to insert live virus into the ultimate vaccine, thus causing widespread deaths amongst healthy people who would never ordinarily come down sick.
This next segment reveals that the virus is, indeed, a recombinant virus, comprised of several completely dissimilar genetic components.
"The virus, a mix of pig, bird and human genes to which people have limited natural immunity, has also spread to Canada, New Zealand, Britain, Germany, Spain, Israel and Austria."
Do not be deceived: this virus does not occur naturally, but was created in a bio-weapons laboratry.
Now, let us examine our other new article, which states that scientists view this Swine Flu to be a rather weak strain!
NEWS BRIEF: "Scientists see this flu strain as relatively mild", Los Angeles Times, April 30, 2009
"As the World Health Organization raised its infectious disease alert level Wednesday and health officials confirmed the first death linked to swine flu inside U.S. borders, scientists studying the virus are coming to the consensus that this hybrid strain of influenza -- at least in its current form -- isn't shaping up to be as fatal as the strains that caused some previous pandemics. In fact, the current outbreak of the H1N1 virus, which emerged in San Diego and southern Mexico late last month, may not even do as much damage as the run-of-the-mill flu outbreaks that occur each winter without much fanfare."
This is the truth, and it is the kind of truth which can set you free from worrying, even if the complaint Mass Media is trumpeting a far different scenario! This flu is probably going to be less of a real problem than the average Winter Flu Virus!
Can you see the enormous gulf which exists between the propaganda machine of the world's governments and the scientific truth? Truly, Adolf Hitler was correct when he stated, "Truth is not what is; truth is what people perceive it to be"!
So you can keep track of the spread of this Swine Flu, we have included a world map.
World map of reported swine flu cases
We have just posted a new Headline News article which warns of two major threats in conjunction with the planned global virus epidemic:
1) Proofs That Global Epidemics Are Planned
2) Warning that the most deadly weapon to be used against mankind will be deliberately tainted vaccinations!
Please read: "Swine Flu Public Health Emergency Proclaimed - Disease Feared Going Global" - NEWS2358
---

New Subscription Offer -- FREE Stuff!
If you have never become a Cutting Edge Subscriber -- which gives you access to all our Headline News Articles for one full year -- or if you need to renew your subscription, now is the perfect time to subscribe! For your subscription or one time gift of $25.00 or more you will get a one year subscription to the Headline News Articles and a free gift which you can choose below.
CHOOSE A, B, C for your free gift below
each
which is a $19.98 retail:
A. Seminar 1 and Seminar 2 in MP3 format . Now both seminars 1 and 2 on one CDROM! MP3 Audio format for play on your computer as well as CD and DVD players that will play MP3 format. Once you understand the evidence and truth we share with you, you will never look at the news the same way again. You will understand how America has become the nation she is, and you will be able to see the direction in which we are heading. Save $5.00 off buying them separately.

Nearly 10 hours of seminar material plus printable passout notes for the seminars is included on the disc.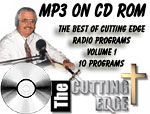 B. Our first 10 Cutting Edge audio radio programs on CD in MP3 format. Now you can enjoy the "Best of Cutting Edge Radio" programs!! This assortment contains 10 of the best selected radio programs.
Titles are as follows:
CER1098 Introduction To C/Edge + U.N. Millennial Summits, CER1099 Has Covenant of Antichrist Been Signed?, CER1104 God's Attributes Biblical Study, CER1105 Public School Conditioning Of Your Children!, CER1107 Changing Values Invisibly For Entire Populations, CER1108 Christians Should Read Daily News With Insight From Prophecy, CER1110 Proofs of Single-Party Control In USA, CER1111 Virgin Mary & Modern Pagan Goddess Worship, CER1112 Election Voter Fraud Deliberate and Planned, CER1114 George W. Bush Shows His True Colors Already!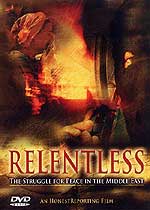 C. "Relentless War" DVD - Peace Between Israel and Muslims Will Always Be A Myth" -- For the past 50+ years, peace between Israel and her Islamic neighbors has always proven to be a mirage, and will always prove to be! Just as the Bible foretells! When Israel pledged to pursue "land for peace" with the Palestinians, the undiscerning world breathed a sigh of relief, believing that peace in the Middle East had finally been given birth.
If you choose to give more than $25, you can select more gifts, and receive more years of subscription. For example, if you give a gift of $75 you will receive three FREE gifts, plus three years of subscription! This offer applies to gift subscriptions also.
Cutting Edge cannot continue unless we keep a certain level of Yearly Subscriptions and so once or twice a year we run a special giveaway subscription offer. Please reach out at this most difficult time to help support Cutting Edge Ministries. We are reaching 120,000 people a year with the Gospel in five languages so your gift will enable that wonderful spiritual eternal fruit to continue.