WEEKLY UPDATES FROM Cutting Edge Ministries, www.cuttingedge.org
5/1/2004      Over 1,200 Articles Posted! Nearly 100,000 People Downloading A Salvation Page Per Year! (Isa 55:11)
---
---------- Inspiration For the Week--------THE SPONTANEITY OF LOVE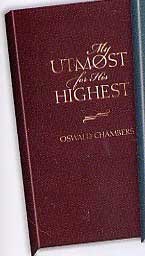 "Love suffereth long, and is kind ..." (1Cor. 13:4-8
Love is not premeditated, it is spontaneous, i.e., it bursts up in extraordinary ways. There is nothing of mathematical certainty in Paul's category of love. We cannot say - "Now I am going to think no evil; I am going to believe all things." The characteristic of love is spontaneity. We do not set the statements of Jesus in front of us as a standard; but when His Spirit is having His way with us, we live according to His standard without knowing it, and on looking back we are amazed at the disinterestedness of a particular emotion, which is the evidence that the spontaneity of real love was there. In everything to do with the life of God in us, its nature is only discerned when it is past.
The springs of love are in God, not in us. It is absurd to look for the love of God in our hearts naturally, it is only there when it has been shed abroad in our hearts by the Holy Spirit.
If we try to prove to God how much we love Him, it is a sure sign that we do not love Him. The evidence of our love for Him is the absolute spontaneity of our love, it comes naturally. In looking back we cannot tell why we did certain things, we did them according to the spontaneous nature of His love in us. The life of God manifests itself in this spontaneous way because the springs of love are in the Holy Ghost Romans 5:5).
["My Utmost For His Highest" Daily Devotions, by Oswald Chambers]

==================================================================
A Special Word of Thanks: During the past week, I have been on a much-needed vacation with my family. I thank Cliff Cinamon for his daily work on Daily News Updates, while I was gone. I will resume the Daily News Updates on Sunday, May 2, and shall be posting new articles next week.
==================================================================
---------- Bookstore Update ----------
New Items Introduced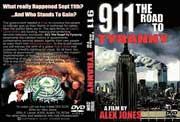 * 911 - The Road to Tyranny -- Now in DVD! What really happened on 9/11, and who stands to gain? The government needed a crisis to convince the American people to willingly give up their liberty in exchange for safety. Now, the painful, but true, facts are in. The dark forces of global government are funding, training, and protecting terrorist networks worldwide. This DVD documents the ruthless past history of governments orchestrating terrorist attacks against their own people in order to scare them into submission. In this stark expose', you will witness the birth of a global police state system that surpasses Orwell's nightmarish vision, but which is true to the symbol of the Eye of Lucifer hovering over the unfinished pyramid on the back of our One Dollar Bill. You will see the unfolding of the whole plan: Government-sponsored terrorism, modern implementation of fear-based control, and most frightening of all, the future plan for the New World Order. This is one film you cannot afford to ignore. -- http://www.cuttingedge.org/detail.cfm?ID=728

Also available in book -- http://cuttingedgeministries.net/detail.cfm?ID=580

* The United Nations Global Straight-Jacket - Book - In our Daily News, we see constant examples of how the United Nations is assuming the mantle of global government! President Bush is even considering bringing the UN back into Iraq as the government authority as its top envoy is picking the Interim Iraqi Government. This is the moment of which this book speaks! Many Americans know or feel something is very wrong, but are not able to put their finger on the problem. This book will help them to connect the dots — politically, economically and environmentally. Global Straitjacket will explain the Hegelian Dialectic, "reinventing government," public-private partnerships and how it replaces The Constitution, "globalization," the move toward a world stock market and a cashless society, an international criminal court which transcends national boundaries, and much more. Above all it will provide the reader with an understanding of the governmental aspects of the United Nations and how' its power transcends from the international to the local level, all with the blessings of our federal government.
Jesus Christ was born into world government. The early church certainly understood the rules of Rome and worked around and through it without becoming part of it or adding to it. In contrast, the end-time church is going into world government without knowing or understanding it's agenda, and therefore blind as to how to stand in the gap. Above all, this book is a call to stand in the gap which is our God given mandate — and the bottom line to our total existence and Christian call! - http://www.cuttingedge.org/detail.cfm?ID=727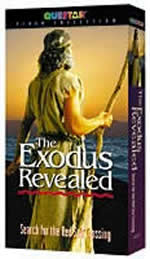 * The Exodus Revealed - DVD or VHS- New Evidence! New evidence is now revealed that validates the Biblical record in Exodus of the destruction of the mighty Egyptian Army in the Red Sea! During the Exodus, this most famous of all Old Testament miracles took place. The "Exodus Revealed" promises to be one of the most captivating video stories ever told. In these terribly Apostate times, it is exciting to realize that God's Word is now validated by physical evidence! - http://www.cuttingedge.org/detail.cfm?ID=723 DVD

Also available in VHS Video-- http://www.cuttingedge.org/detail.cfm?ID=722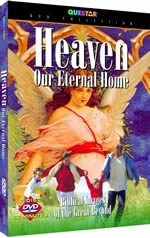 * Heaven: Our Eternal Home - DVD or VHS- Heaven is forever, because God is Forever! The George Gallup Institute reports that 70% of all Americans believe in Heaven and 53% believe in a Hell. A view of afterlife is embraced by more people living today than by any other generation in history. This video examines the histories of both places. "Heaven: Our Eternal Home" reveals the spiritual mysteries and physical characteristics of Heaven and Hell. This compelling program will strengthen the faith of those people who believe in Jesus Christ and challenge the skepticism of those who doubt the existence of either place.
Compelling animation and powerful visuals enhance the presentation greatly! You will enjoy this video! - http://www.cuttingedge.org/detail.cfm?ID=726 DVD

Also available in VHS Video -- http://www.cuttingedge.org/detail.cfm?ID=724

Suggested Graduate Gifts -- Mother's Day is coming also!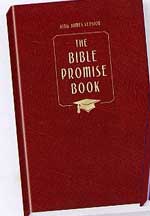 * The Bible Promise Book - Graduate Edition - KJV - Leatherette Cover for only $3.97 -- This classic "Promise Book" has been beloved by millions. Comes in a stylish, grad-specific imprintable leatherette binding. A sure hit with parents, grandparents, friends, and churches looking for a substantial, yet affordable, present for their beloved graduates. Send your loved one off to college or out in the workplace after High School graduation with a book dedicated to showing God's precious promises. Excellent for a daily devotional guide as well. - http://www.cuttingedge.org/detail.cfm?ID=695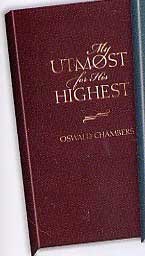 * My Utmost For His Highest - Oswald Chambers - Leatherette Cover for only $4.97 - OSWALD CHAMBERS was converted in his teen years by the ministry of Charles Spurgeon. Chambers studied art and archaeology before answering a call from God to the Christian ministry. Author of the bestseller, 'My Utmost for His Highest', Chambers is also author of more than thirty titles, all but one compiled by his wife, Gertrude Chambers.
"My Utmost For His Highest" is the best selling devotional of all time! What a wonderful way to start out each morning, drawing from the deep spiritual insights from this wonderful Man of God!

* Abandoned To God - Life Story of World's Most Beloved Author, Oswald Chambers - Enrich your personal life by meeting the essential Oswald Chambers, much-loved author of the enduring and best-selling devotional book, "My Utmost For His Highest". This popular, thought-provoking chaplain has shown the way to a deeper, more satisfying walk with our Lord Jesus to countless millions. At a time of such great spiritual apostasy, we need the "Old Paths" represented by men such as Oswald Chambers. Chambers was the son of a Scottish Baptist pastor and was converted under the ministry of Charles H. Spurgeon. 336 pages paperback -- http://www.cuttingedge.org/detail.cfm?ID=702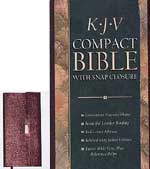 * KJV Compact Slimline Bible - Burgandy Leather - A ladies' favorite because it is designed to fit inside a purse. This elegant new Bible combines many useful features in a convenient compact binding - only three and a quarter inches wide by six and five-eighths inches tall. Helpful chapter headings throughout the entire Bible. Added features include an informative reference section with an overview of the entire Bible, book-by-book summaries, lists of key characters and events, encouraging passages for times of spiritual need. With more than 1,100 pages bound in leather, this KJV Compact Bible is a tremendous value at only $19.99. - http://www.cuttingedge.org/detail.cfm?ID=697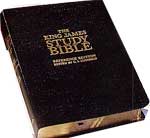 * Old Scofield Study Bible -- KJV - Leather only $39.99 - This classic study Bible from C. I. Scofield offers a wealth of helpful features for the student of God's Word. Scofield's introductory notes, cross references, and explanatory footnotes help readers understand difficult passages, while a 96-page concordance and 42-page topical helps section aid in tracing subjects and ideas throughout the Scriptures. Scofield's classic work Rightly Dividing the Word of Truth is also included; add to that a daily Bible-reading calendar and a 72-page reference to subjects, footnotes, proper names, and definitions, and the King James Study Bible becomes an entire library of biblical knowledge! Jesus' Words are printed in Red
Please note that this Bible is not the same leather bound Old Scofield Bible that we previously sold for $89.99. The content is the same but the prior publisher is out of business. We are happy to offer this excellent Bible from a different publisher at less than 1/2 the price as before! - http://www.cuttingedge.org/detail.cfm?ID=693

---------- This Weeks Hot News ----------
I. Iran's strategy to "sink the U.S. in the swamp of Iraq" seems to be working quite well, as her latest tactic called "Rope-A-Dope" becomes all too evident, and much too successful! In NEWS1910 entitled, "Has Iran 'Ignited Many Fires' To Set Off Middle East Regional War: Jordanian official warns that World War III might have just begun!", we examined the original Iranian plan to defeat the vastly superior military machine in Iraq. This strategy called for allowing America to seemingly easily conquer Iraq, only to use asymmetric warfare as the means by which to harass and finally defeat us. The guerilla warfare now unleashed upon our forces seems very well suited to achieving this goal.
Now, another segment of this Iranian strategy has been unveiled, and it seems all too plausible, given the difference between the Islamic and the Western mindset. This new strategy is called "Rope-A-Dope". Listen as this insightful news article.
NEWS BRIEF: "Horror and humiliation in Fallujah", Spengler, Asia Times Editorial, Apr 27, 2004
"As the American military weighs the reduction of Fallujah, there come into focus the grand vulnerabilities both of the Americans and the Sunni resistance. The West cannot endure without faith that a loving Father dwells beyond the clouds that obscure His throne. Horror - the perception that cruelty has no purpose and no end - is lethal to the West ... The Islamic world cannot endure without confidence in victory, that to "come to prayer" is the same thing as to "come to success". Humiliation - the perception that the Ummah cannot reward those who submit to it - is beyond its capacity to endure. Radical Islam has risen against the West in response to its humiliation - intentional or not - at Western hands. The West can break the revolt by inflicting even worse humiliation upon the Islamists, poisoning the confidence of their supporters in the Muslim world. But radical Islam yet may horrify the West into submission, not only by large-scale acts of terrorism against Western countries, but also by provoking the West into mass destruction of life in the Islamic world."
According to this Islamic strategy, the way in which to inflict defeat upon the Americans is to provoke our armed forces into committing violent acts of murder, torture and mayhem upon the civilian population of Iraq. Once the world sees the images of these civilians being killed and mistreated, the fragile psychological makeup of the Western mindset begins to come unraveled. At least that is the Iranian plan.
Notice the emphasis, above, upon the plan to "provoking the West into mass destruction of life in the Islamic world". For this strategy to work, several elements must be present in hefty doses, just as they were present in the Vietnam conflict.
1. A civilian population willing to sacrifice itself against a superior military machine. In Vietnam, we saw elderly old toothless women coming up to unsuspecting American soldiers with a deadly bomb strapped inside her clothing. We saw young children willing to similarly sacrifice themselves in order to kill American soldiers. After successfully utilizing this tactic thousands of times over, American soldiers came to view the entire Vietnamese population as their enemy. Thus, while American politicians and generals were attempting to explain away civilian atrocities like My Lai, I discovered to my horror that American soldiers were routinely killing Vietnamese civilians.
In Iraq today, we are seeing similar civilian tactics.
2. An American soldier sufficiently hardened that he will willingly kill civilians, will willingly consider them to be sub-human enemy combatants worthy of being killed by our vast military means. History has now confirmed that this mindset did permeate the thinking of many soldiers, resulting in the mass slaughter of untold thousands of Vietnamese civilians; and, not all the killing was done by "line of sight" methods like a machine gun or bomb sight. When American pilots spread "Agent Orange" over the vast canopy of jungle, knowing that Vietnamese civilians AND American soldiers were under that canopy, the resulting deaths and lingering injuries reaches monumental proportions. My Lai was not the only civilian village in which a massacre occurred.
In Iraq today, we are seeing similar hardened thinking on the part of American G.I.'s. In Newsletter041704, we reviewed the charge from our British allies that our forces were treating Iraqi forces too harshly, killing too many civilians, because we viewed them callously as "untermenschen - the Nazi expression for 'sub-humans'.
3. The final element needed in this type of asymmetrical psychological warfare is an aggressive press who will print the horror stories in their fullest. In this type of warfare, once it has become established that some American soldiers are killing some civilians, press sympathetic to the Islamic cause can then begin to trumpet widescale abuses. Who can ever determine which stories are true and which stories are fabricated? We may be at this point now.
Let us return to our feature story to pick up more details on this Islamic "Rope-A-Dope" strategy.
"By operating in the midst of civilian populations, Islamist radicals put Western counterinsurgency in a delicate position. The Western response must be harsh enough to humble its adversaries, without turning the stomach of the Western population itself. To do this requires intelligence precise enough to target enemy resources without killing too many civilians ... The Islamists seems to be carrying a victory. This victory seems to be to prove that radicals are right in the perception of America. Simple fact: they are losing to win (also called the rope-a-dope strategy by [world champion boxer] Muhammed Ali). Each time the United States starts to kill and maim large numbers of civilians, and gory images are blasted to living rooms all around the world, the Islamists are appealing to the conscience of every person on the planet. Once the US does the killing, rape, pillage, murder, and looting, they [Islamists] will have won the hearts and minds of the people. Guess what, Spengler: it looks like it is working and working very well." [Ibid.]
The author of this editorial, Spengler, admits that American soldiers are starting to kill and maim large numbers of civilians, are pillaging, raping, murdering, and looting. Asia Times is a pro-Western news outlet, so no one can accuse them of creating anti-American propaganda. We have seen enough stories this past year to believe that some American soldiers are carrying out a rampage like this; not every soldier, not every commander, and not every general is guilty of this type of horror, but enough are guilty and that is giving a huge propaganda boost to the Islamic world. We have seen reports of AC-130 gunships shooting indiscriminately into civilian neighborhoods and we have seen the British charge that our artillery is indiscriminately leveling large portions of civilian neighborhoods just to get one small insurgent mortar team! Just as it is true that the "blood of the Christian martyrs was the seed of the Church", so is the blood of Islamic civilians the seed of the global surge of Muslim rage which the Illuminati so desperately wants to provoke.
Now, let us once again return to our feature article for more information concerning this strategy.
"Were the United States and its allies to carpet-bomb Fallujah in order to destroy Sunni armed resistance, the horrifying result would appall the population of the West and advance the Islamist cause. Crushing the resistance with limited civilian damage would humiliate the Islamists and weaken them." [Ibid.]
According to this strategy, the Muslim mullahs would like nothing better than for the American military machine to run roughshod over civilian populations, giving TV networks the world over plenty of bloodied, mangled bodies to vividly show to the entire world. The New Zealand Herald, April 30, 2004, reported that "A Reuters journalist watched Marines open fire on a minibus at a checkpoint on the outskirts, setting the vehicle ablaze. Up to four civilians died ... " ["US troops pull back, bombing Falluja on bloody day"]

This Islamic strategy also depends upon the American side to commit enough strategic errors to enable their tactics to succeed. One of those serious errors occurred last year, before our first forces began to roll into Iraq. Several retired military analysts insisted that Coalition Forces needed at least 250,000 soldiers. Defense Secretary General Rumsfeld immediately declared this number as much too high, forcing American military leadership to accept only 130,000 men. As a result, Coalition Forces are inadequately staffed to meet this kind of large-scale insurgency properly. To make up for the lack of proper manpower, our forces simply have to resort to massive firepower against an ill-defined enemy fighting amidst urban centers -- or embarrassingly retreat.
This entire scenario is a disaster waiting to happen!
Now, let us examine several news stories which will make more sense once you understand the above strategy.
II. American Marines are pulling back from Falluja and will depend upon joint patrols with an unreliable partner -- retrained Iraqi soldiers under the command of a former Saddam Army general!
NEWS BRIEF: "US forces begin Falluja pullout", BBC News, April 30, 2004
"American marines have been withdrawing from the Iraqi city of Falluja after weeks of bloody clashes with rebels. Two battalions have been pulling back from front-line positions and are set to move further out during the day. A new Iraqi force, led by one of Saddam Hussein's former generals, will move into the city while US troops maintain a presence in and around Falluja. Coalition military chiefs hope the Iraqi force will be more able to gain the trust of the city's residents. But even as the withdrawal got under way, two American soldiers were killed in a roadside bomb attack near the main US military base outside Falluja."
This news is simply too incredible to believe! After days and days of threatening Falluja with a massive Marine attack, and after day upon day of attacks from AC-130 gunships and Apache Helicopters, the Marines are pulling back from their positions of siege! But, there is more discomforting news. These Marines are going to depend upon re-trained Iraqi soldiers commanded by a former Saddam Army general, to "maintain a presence in and around Falluja". During the first weeks of fighting in April, retrained Iraqi soldiers proved exceedingly unreliable. Some refused to fight, while others just walked away from their units; most men who did so simply did not want to fight their countrymen and most assuredly did not want to fight on the side of the Americans!
In other news stories, we saw reports that such soldiers might even join American soldiers in joint patrols. This possibility is very troubling, for it raises the historic specter of Palestinian paramilitary soldiers joining Israeli Defense Force soldiers on joint patrols. In a number of instances, the IDF soldier was shot and killed by his "joint patrol partner"; so often did this occur that the practice was finally abandoned.
Finally, the very fact that we are depending upon former Saddam officers screams the reality that we do not have adequate manpower and that we cannot maintain effective control over the country with the manpower that we have. If fighting escalates, we might begin to suffer more road closures and more instances where we lose control over certain portions of the countryside, even if it is only for a short time. Remember, the key leadership being provided for this upsurge in fighting is coming from very professional Iranian soldiers, as we detail in NEWS1910.
Before we leave this subject of Falluja, we have to ask why Coalition Forces are suddenly backing down after issuing ultimatum after ultimatum. We mentioned, above, that we simply do not have enough manpower to accomplish everything in Iraq that needs to be done right now. But, another reason we backed down is because we did not want to inflict massive civilian casualties as we would have had we fought for Falluja street by street; further, when you are short of manpower in the first place, you do not want to undertake a fight which, by its very nature, would inflict greater casualties on your own forces.
So, we withdrew. However, now that we have demonstrated to the Iranian leadership that we can be defeated by such a plan of action, you can expect to see other Falluja type battles erupting in the near future. We have shown our weakness; the Muslims now know exactly how and where to strike.
Further, let us examine a couple of recent news stories which demonstrate that our Army is certainly not above reproach when it comes to mistreatment of Iraqi soldiers being held prisoner. As we have reported in several past newsletters, at least some American commanders and soldiers view Iraqi soldiers and civilians as rats hiding in a cellar!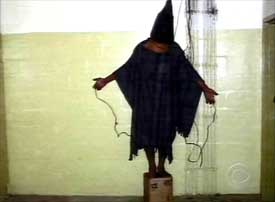 III. American forces are accused of torture of Iraqi soldiers, including sexual torture.

NEWS BRIEF: "OUTRAGE AT AMERICAN TORTURE OF IRAQI PRISONERS", From Anthony Harwood, US Editor, In New York, Mirror.co.uk, April 30 2004, http://www.mirror.co.uk/news/allnews/tm_objectid=14195963%26method=full%26siteid=50143%26headline=outrage%2dat%2damerican%2dtorture%2dof%2diraqi%2dprisoners-name_page.html
"VIDEO footage of US soldiers torturing Iraqi prisoners of war horrified America yesterday. The TV stills showed a hooded captive standing on a box with wires attached to his hands, and naked prisoners stacked in a human pyramid while jeering troopers look on laughing. Six soldiers now face court martial and jail. One allegedly boasted that the captives 'broke within hours'. Seven others, including a general, are suspended from duty and may be disciplined ... TV network CBS said the prisoners were filmed late last year at notorious Abu Ghraib jail, Saddam's former torture HQ in western Baghdad, where the US is holding 4,400 detainees."
"The prisoner standing on the box was told that if he fell off he would be electrocuted. One of the men in the 'pyramid' had an Arab insult written in English on his skin ... Other captives were forced to pose in humiliating positions, some of them simulating sex acts, as soldiers gave the thumbs up ... The charges faced by the six soldiers include dereliction of duty, cruelty, maltreatment, assault and indecent acts with another person. Among the officers under investigation is 800th Brigade's commander, Brigadier General Janice Karpinski. CBS broadcast the pictures on its show 60 Minutes early yesterday. Last night they were shown on the BBC 6 O'Clock News."
NOTE: You can view the other pictures of these abominable acts by American soldiers by clicking on the above URL address.
This mistreatment of Muslim soldiers will reverberate throughout the entire Muslim world, provoking extreme outrage. Forcing Muslim soldiers to simulate sex acts and allowing American female soldiers to poke fun of naked soldiers is guaranteed to infuriate Muslims by the tens of millions. We have long said that one of the major objectives of our invasion of Iraq was to ignite Muslim fury against our forces and against Israel. This type of behavior will certainly accomplish this objective.
But, we punished the six soldiers guilty, and we are going after their commanding general. Does this mean that only six soldiers were guilty of such conduct? Of course not! Just as in Vietnam, the few soldiers who were arrested, tried, and prosecuted represented only a fraction of the total number of troops guilty of civilian killings. The great majority of such soldiers were allowed to go scot free, while Americans comfortably went back to sleep following the publicity surrounding My Lai. Even American generals intoned on during the My Lai massacre that such things are not common with our forces; I knew better, having been rudely educated by a Special Forces officer who had served several tours in 'Nam before being sent to Okinawa, where I spoke to him.
Just as in the Vietnam era, our current top leadership is now expressing horror.
"Brig Gen Chime said: "These pictures may reflect the actions of individuals. But, by God, it doesn't reflect my army ... Former Marine Lieutenant Colonel Bill Chow warned: "We'll be paid back for this after these people are let out." [Ibid.]
President Bush even expressed his outrage.
NEWS BRIEF: "Bush Feels 'Disgust' at Abuse of Iraqis", Excite News, APR 30, 2004
"WASHINGTON (AP) - President Bush has condemned the apparent mistreatment of some Iraqi prisoners, saying, 'Their treatment does not reflect the nature of the American people. That's not the way we do things in America. I didn't like it one bit'. He was asked about photos showing Iraqi prisoners naked except for hoods covering their heads, stacked in a human pyramid, one with a slur written in English on his skin. That and other scenes of humiliation have led to criminal charges against six American soldiers. Arab television stations were leading their newscasts on Friday with the photos. 'I share a deep disgust that those prisoners were treated the way they were treated', Bush said."
In no way do I believe that most American soldiers are mistreating Iraqis in this manner, nor are the majority of our soldiers deliberately killing civilians. However, enough of them are doing these things that the entire mission is going to be badly tainted. As we reported in Newsletter041704, enough American soldiers do look upon Iraqi civilians as rats in a cellar and are acting out those beliefs that our originally-stated rationale for going to war to find nonexistent WMD and to "liberate" the Iraqis is nonsense. Not only are we Western infidels -- the Great Satan -- hated because our infidel army overthrew Saddam Hussein, but now we are committing enough atrocities to infuriate all of Islam against us.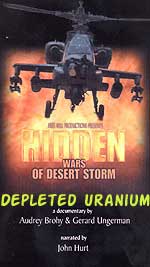 IV. As more American soldiers are demanding to be tested for Depleted Uranium, we discover the Army is using a "detection method" guaranteed to deliver negative results!
NEWS BRIEF: "GIs press Army for uranium test", New York Daily News, April 19, 2004
"Hundreds of soldiers back from Iraq have asked the Army to test them for radiation exposure after the Daily News revealed four members (out of nine) of a New York Army National Guard unit are contaminated with depleted uranium. Up to 800 GIs already have handed in their 24-hour urine samples and hundreds more a waiting for appointments, according to a source at Walter Reed Army Medical Center.
"But several independent uranium experts who reviewed one of the first official lab results that Walter Reed doctors provided to a soldier last week are questioning whether the Army's testing methods are adequate. 'They are using an instrument that apparently isn't very accurate', said Glen Lawrence, a professor of biochemistry at Long Island University. 'The instruments they used just are not sophisticated enough to give accurate readings', agreed Leonard Deity, a retired scientist from the Knolls Atomic Laboratories who invented one of the instruments for measuring uranium isotopes."
Let us stop here to digest what we have just learned. Since the subject of Depleted Uranium contamination has broken into the open area of public debate thanks to the Daily News stories of April 4 and 5, many soldiers are now aware of the danger they are in. They had served a full year in a battlefield area thoroughly contaminated with Depleted Uranium, a serious problem turned disastrous because the powerful dust storms that normally rage many times a year almost ensure that a soldier will breathe in a fatal dose of D.U. Therefore, these soldiers are demanding the Army test them for such contamination. However, the Army is using methods and instruments which are not effective in detecting D.U. contamination.
While you might think the Army just does not have the equipment necessary to properly carry out such tasks, I prefer to believe -- based on my 3 1/2 years in high-level Army Intelligence -- that the Army is using these methods and instruments precisely because they want negative results. After all, there is simply no other issue that can blow President Bush's reelection chances more cleanly out of the water than this issue -- deliberately sending American soldiers into battle equipped with weaponry that will ultimately kill them, after giving them no warning and no training. THAT is THE issue of this terrible war. If the American people can ever get truly a-hold of this reality, President Bush is history. Therefore, you can expect nothing other than a full-court press to keep this awful truth from being widely disseminated.
Let us go back to this feature article for more detail. You will discover that one soldier who tested positive for D.U. contamination in private laboratories tested negative in the Army test!
"The demand for tests was sparked by a News investigation that found four soldiers from the 442nd Military Police Company are contaminated with radiation likely caused by dust from depleted uranium shells fired by U.S. troops. One of the soldiers, Staff Sgt. Ray Ramos, was told at Walter Reed last week that the Army's testing of his urine had come back negative. Ramos, who has suffered for months from unexplained ailments, demanded copies of reports from the two Army labs that analyzed his urine. One lab reported that different uranium isotopes in the sample were 'not detectable'. The other lab listed an error ration so large in its analysis that it was impossible to tell for certain whether the uranium in Ramos' urine was natural, depleted, or enriched .... The Army .... does not even bother to analyze a sample for depleted uranium unless the total uranium concentration is more than 268 nanograms per liter. 'That's an extraordinarily high cutoff', said Dr. Tom Fasy, a pathologist at Mount Sanai Medical Center." [Ibid.]
My Dad used to say that, "while figures do not lie, liars figure". This saying exactly explains what the Army is attempting to do here. They are setting parameters for D.U. poisoning that are so very high that few, if any, servicemen, fall into the "contaminated" category. However, the body of these individual soldiers cares not one whit for the Army's artificially high parameters; all it knows is that it is very sick, getting sicker, and no one knows what to do!
Let us close this segment with the concluding remarks of this article.
"This is not the first time the Army's depleted uranium screening operation has come under scrutiny. Last December, two congressmen demanded an investigation of the program by the General Accounting Office. Reps. Ciro Rodriguez (D-Tex) and Robert Filner (D-Calif) charged the Defense Department has previously mislead investigators about soldier's depleted uranium exposure during the 1991 Persian Gulf War." [Ibid.]
The Pentagon has been covering up health problems amongst its veterans since the Vietnam War, when its pilots deliberately sprayed Agent Orange over tens of thousands of our own troops. By the time health effects from D.U. munitions began to take its toll after the 1991 Gulf War, the Pentagon had become experts in hiding the truth. How many of the men in Gulf War I of 1991 are now sick or dying or have died because of D.U. munitions? As we stated in NEWS1843, fully 75% of the ground troops in Gulf War I are now dead, sick or dying because of D.U. contamination.
And, they fought only a 100-hour war and then were withdrawn! Virtually none of them ever served on the contaminated battlefield for one full year! This medical disaster will continue to unfold as the numbers of sick and dying increase. Expect the Pentagon to resist the truth as long as they possibly can!
V. As the story of the North Korean disaster continued to unfold, you have to consider the source of the explosion: given the facts of the case, the explosion came either from Russia or the United States! Let us consider the relevant facts:
On April 22, a disaster of almost unimaginable proportions occurred in a key railroad yard in North Korea. We shall first consider the initial reports.
NEWS BRIEF: "SKorean Reports Claim as Many as 3,000 Killed or Injured in NKorean Train Explosions", By Sang-Hun Choe Associated Press Writer, AP Breaking News, Published: Apr 22, 2004
"SEOUL, South Korea (AP) - Two fuel trains collided and exploded in a North Korean train station near the Chinese border Thursday, according to South Korean media, which reported large numbers of casualties. One television station said 3,000 people were believed killed or injured. The North Korean leader, Kim Jong Il, reportedly had passed through the station as he returned from China nine hours earlier. It was not clear what caused the crash, or if it was related to Kim's journey. The trains were carrying oil and liquefied petroleum gas, media reported ... The crash reportedly took place about 1 p.m. in Ryongchon, a town 12 miles from China."
From this initial report, we know that the North Korean dictator had just barely escaped assassination. In fact, he was returning from a visit in China with the President of that country and had planned a major stop-over in this rail station, where he was to deliver a major address. As part of the official preparation for this ceremony, school children were gathered at the site to honor the dictator. At literally the last second, he changed his mind, ordering the conductor to keep the train rolling. At the time of the explosion, dictator Kim would have been standing at Ground Zero of the devastation. Therefore, you have to consider the probability that assassination was the objective.
Further, when I shared this data with the retired Army Major friend of mine, he immediately objected, stating that the reports of this explosion simply do not square with the laws of physics. For two trains crashing to have produced this major explosion would have required that each train would have been carrying many tons of highly explosive TNT, a most remote possibility. This reality is probably the reason we saw a story the next day that the two trains were carrying explosives used in mining.
Now, let us go to a Yahoo News article which describes the extent of the damage in a little more detail.
NEWS BRIEF: "Apocalyptic Scenes in N.Korea, Death Toll at 154", By Jack Kim and Juliana Liu, Yahoo News, April 24, 2004.
"SEOUL/DANDONG, China (Reuters) - The Red Cross described apocalyptic scenes around the site of a train explosion in North Korea but said on Saturday the death toll stood at 154 -- far lower than first feared. North Korea blamed carelessness for Thursday's blast in the town of Ryongchon near the Chinese border, which sent debris flying for miles and caused damage 2.4 miles away. China's Xinhua news agency quoted Korean official Jang Song-gun, in charge of rescue efforts, as saying 154 people had been confirmed killed, including 76 primary schoolchildren ... 'It looks as though a fireball has swept through', John Sparrow, a spokesman for the International Federation of Red Cross and Red Crescent Societies, said on Saturday. There was total destruction for several hundred meters (yards) around Ryongchon's railway station, he added."
Almost 50% of the official death toll was among the school children who were to be part of the official ceremony for dictator Kim. Likely, Kim would have been standing within feet of the assembled children and most assuredly would have been part of the casualty list had he not changed his plans at literally the last second. Now, let us examine one of the most interesting, and revealing, physical facts of this explosion.
"The explosion gouged a massive crater 50 meters (150 feet) deep where the railway depot used to be ... Describing the crater, Rose Dew, country director for Dublin-based relief agency, Concern, told Reuters: "It's about 50 meters (yards) deep, but was probably deeper... Bulldozers were filling it up ... Some 30,000 people had been 'affected'. "[Ibid.]
I asked this Army Major -- whose specialty was logistics -- if a conventional bomb could have created a 150-foot crater. His response was that, yes, a 10,000 pound bomb dropped from an airplane could have easily carved out a 150-foot hole. Similarly, shaped charges planted 75 feet deep could have created such a crater; however, he admitted difficulty in explaining how any person or group of persons could have dug such a device so deep in a country so tightly controlled as North Korea.
However, even a 10,000-pound bomb probably would not cause devastation 2.4 miles away. That kind of devastation seems to indicate some sort of nuclear device.
America possesses several types of bombs which would carry such a weapon and cause such a destruction and dig such a crater. The beautiful thing about this type of American weapon is that it can be launched via missile from as far away as 10,000 miles, be guided to its target by GPS tracking system, and explode with great surprise. The weapon may be either a Fuel Air Bomb or a bunker-buster micro-nuclear bomb; and the missile that delivered such a bomb would likely be a Cruise Missile. It might not have originated from 10,000 miles away, but, no matter how far the missile traveled, it would have impacted with little to no visibility to those on the ground.
Only America and Russia have the capability to deliver such a weapon.
We have seen other reports on the Internet suggesting this bomb might have been nuclear, carried by a two-man Special Forces team. Such reports may be correct. However, the cruise missile would be easier to deliver and its use could have been planned much closer to the planned attack than the insertion of a Special Forces team.
Whether the explosion was caused by a small nuclear device, or by a bunker buster bomb, or by a sophisticated cruise missile delivering a Fuel Air Bomb, the diplomatic impact remains the same: the source of the explosion came from outside North Korea and is likely the United States. Were dictator Kim standing at the podium addressing the assembled school children, he would have been assassinated. Had he been killed, North Korea might have turned diplomatically to a point where her new government would cave to American demands to dismantle the nuclear weapons North Korea is known to already possess. President Bush's policy of unilateral action to prevent a "rogue state" from possessing and/or deploying Weapons of Mass Destruction (WMD) -- or passing them on to terrorist groups -- would have "paid dividends".
To keep her diplomatic options open, North Korean leaders immediately began to fill in the hole to cover the extent of the damage. Will North Korea react by beginning her long-awaited attack on South Korea? Or, will she and China begin to plan an asymmetrical attack on American interests? Chinese and North Korean doctrine depends heavily on asymmetrical warfare, so you may see her reaction in the form of a nuclear device set off in one of our vulnerable cities.
The United States might also be sending a message to China with this blast. The timing of the attack, plus its location, seemingly speaks to China. This rail center was a critical rail transportation center during the original Korean War and was used by both Chinese and North Korean forces. Further, and most tellingly, April 22, 1951 was the date on which Chinese forces launched their most massive attack on American positions. The attack initially overran many American units and chewed up one division pretty badly. Even today, this rail center is a key location in the North Korean - Chinese transportation network [Asia Times, April 30, 2004].
Are these just coincidences? You be the judge. I think not. I think President Bush was trying to "effect a regime change" in North Korea.
VI. Chinese military buildup is now obviously being aimed at a Taiwanese invasion and a defeat of American forces which might come to Taiwan's aid.
NEWS BRIEF: "China's military buildup raises concerns in US", Asia Pacific News, 25 April 2004
"WASHINGTON : From the Pentagon to Capital Hill, China's military buildup is causing renewed concerns in the United States as the Asian giant arms itself to deter any separation moves by Taiwan or American involvement in a cross-strait conflict ... China's military prowess increasingly appears to be shaped 'to fit a Taiwan conflict scenario and to target US air and naval forces that could become involved', officials from a key bipartisan panel warned at a Congressional hearing last week ... 'a significant component' of China's defense modernization strategy was to develop capability to deter US military involvement in any flare-up over Taiwan ... China claims Taiwan as part of its territory despite a split 55 years ago at the end of a civil war, and has said it will invade if the island declared independence or descended into chaos.

When I was invited to attend the June, 1999, US Navy Current Strategy Forum [CSF ] at the Naval War College in Newport, Rhode Island, I had the opportunity to ask a direct question concerning our ability to protect Taiwan during an outbreak of World War III. During a Question & Answer session with Dr. Kurth, who had been Assistant National Security Adviser to President Clinton, I asked about our capability. Dr. Wood, Dean, Center For Naval Warfare Studies, introduced Dr. Kurth. He introduced Dr. Kurth as the "smartest man in the world". Dr. Kurth reciprocated by calling Dr. Wood "the wisest man in the world", tongue in cheek, of course, as the result of recognizing that Dr. Kurth IS the "smartest man in the world".
My question was simple: "Dr. Kurth, let me propose a scenario. Suppose that, in two weeks from now, the Middle East blows up into a major war between Israel and her Arab neighbors, drawing the US Navy into the Middle East to keep shipping and oil lanes open. Suppose that, two weeks after that, North Korea invaded South Korea using nuclear weapons. The US Navy would be drawn into that region. Then, suppose that, two weeks later, China attacked Taiwan. Could we prevent China from attacking and conquering Taiwan?"
Dr. Kurth look down at the podium for a few brief seconds and then said, "Yesterday, Admiral Johnson stated that the US Navy needed 15 Carrier Battle Groups to fulfill its global mission. If we had those 15 Carrier Battle Groups, we could defend Taiwan under the scenario you have just drawn up."
I wrote in my notes that, with only 12 Carrier Battle Groups, we could not defend Taiwan if the US Navy were tied up in other simultaneous conflicts prior to, and parallel to, China attacking Taiwan. [Read the full report in NEWS1299]
This same scenario is now being spoken in the houses of our Congress. Listen as we return to our feature article:
" 'What I am worried about is we are going to end up facing a communist military backed by a capitalist industrialist base of enormous power', said Duncan Hunter, chairman of the House of Representatives Armed Services Committee. Some experts forecast a scenario where the United States, tied down by the Iraq and Afghanistan crises, can only afford to send one aircraft carrier to Taiwan's rescue if China launches a surprise strike."
" 'The forces that China is putting in place right now will probably be more than sufficient to deal with a single American aircraft carrier battle group', said Richard Fisher, Asian Security Studies Fellow at the US-based Center for Security Policy. China already has 500 to 550 short range ballistic missiles deployed opposite Taiwan and Fisher said "land attack cruise missiles will be deployed against the island, if not already, at least by next year."
" 'Taiwan is the near term objective, the longer term objective is hegemony in Asia and removing the American military network from Asia and to contain India', he said." [Ibid.] (NOTE: Read our article on the unprecedented threat the Chinese pose to our Navy, NEWS1449, "Has Russian Technology Doomed Our Carrier Groups"?)

The Illuminist scenario for the World War III that will produce Antichrist calls for China to invade Taiwan once America is totally tied down by our battles in the Middle East and on the Korean Peninsula. Thus, it is highly significant that President Clinton dramatically reduced the numbers of aircraft carriers; throughout this Naval War College strategy session, speaker after speaker reiterated that America needs 15 carrier groups, or she cannot meet her military responsibilities throughout the world. Dr. Kurth admitted that we especially could not defend Taiwan without 15 carrier groups. During the time he has been President, George Bush has done nothing to rebuild our Naval carrier capacity, despite the fact that he knew before 9/11 that he was going to war in Iraq and that he was going to be facing a nuclear confrontation on the Korean Peninsula.
How large can the Chinese threat to United States' interests grow? The last paragraph of this feature article is chilling.
"Arthur Lauder, professor of international relations at the University of Pennsylvania, said the Chinese military "is the only one being developed anywhere in the world today that is specifically configured to fight the United States of America. 'My own view is that no objective reason exists why China, if she stays on her present course, should not eventually pose an even greater threat to the United States and its friends and allies than did the Soviet Union'."
The planned scenario toward World War III continues to unfold, and we are seeing its various components now in our Daily News. Can you hear the footbeats of the Four Horsemen of the Apocalypse?

VII. The realities of the seemingly endless guerilla war in Iraq is becoming so obvious that the "Gung-Ho" attitude of the Marine base at Camp Pendleton is losing their enthusiastic spirit; in fact a malaise is beginning to set in.
NEWS BRIEF: "Gung-ho mood is gone at Camp Pendleton: Town next to big Marine base left reeling by Iraq violence", By Rene Sanchez, The Washington Post, Sunday, April 25, 2004
"OCEANSIDE, Calif. -- A chill is spreading through this military town, and it's not coming from the breeze blowing in off the beach. On quiet downtown streets where palm trees are laced with yellow ribbons, in bars and barbershops where televisions flicker with news of more casualties and extended combat tours, the gung-ho mood that many residents were in a year ago is giving way to torment or dismay. Oceanside, the next-door neighbor of Camp Pendleton, home of the 1st Marine Expeditionary Force, is reeling from the new wave of violence and chaos unfolding across Iraq. About 14,000 Marines from the base here are taking part in the fierce fighting, and more than two dozen of them have been killed in action this month ... even ardent supporters of the war are beginning to express cynicism or confusion about whether its goals will be achieved, and at what cost.

"The spike in U.S. troop losses this month appears to be stirring the same anxiety nationwide. A majority of Americans still say that invading Iraq was the right decision, but growing numbers are telling pollsters they have new doubts about the war. Polls published last weekend by Newsweek and CNN/Time showed that 51 percent of Americans now disapprove of Bush's handling of Iraq."
If a normally enthusiastic Marine military town like Camp Pendleton is beginning to feel "torment or dismay", this is news, indeed! It takes a lot to get Marine families and supporters discouraged. One would normally expect that an upsurge in fighting would prompt a reaction of Marine pride and enthusiasm, but this is evidently not the case. Maybe their military background is telling them something that the rest of the American population does not yet realize. One Vietnam Marine seemed to think in this direction as he was interviewed for this article.
"Skip Hoskins, a homebuilder in Oceanside, knows that pressure. A tattoo on his right bicep notes his military service: Vietnam 1967-68. 'I hate to say it, but this is starting to feel like the same scenario we were in then', Hoskins said as he left Oceanside's City Hall. 'It's a hard one over there, isn't it? I remember last year when everyone said that all of Saddam's Republican Guard had just laid down their arms -- well, now it looks like they're picking them up and using them on us. We really may still be at the beginning of what we have to deal with. And I'm worried it could turn out to be an impossible situation for our guys."
"Hoskins looked down the block. A funeral procession was leaving an old church. Young women walked out wiping their eyes, and young men wore grim stares. 'Probably another Marine', he said."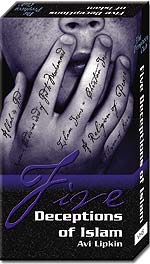 VIII. During the period when Israel's conservative Likud Party is going to the polls to decide whether to officially support Prime Minister Sharon's unilateral disengagement policy, Sharon was combative toward his friend, George Bush.
NEWS BRIEF: "Peace roadmap is dead: Israeli PM", ABC News Online, April 28, 2004.

"Israeli Prime Minister Ariel Sharon has said the so-called "road map" for Middle East peace is dead ... Several months ago he said he realised that it was not possible to move the road map forward because, as he put it, 'the Palestinians do not respect their commitments'. Mr Sharon confirmed that he decided to implement his own package of unilateral measures, including an Israeli withdrawal from the Gaza Strip, after reaching this conclusion. The road map for Middle East peace was drawn up last year by the United States, the United Nations, the European Union and Russia."
Since this conclusion is based squarely on reality, we should not be too surprised that some leader somewhere finally got the message! You see, the "Road Map" calls for the Palestinians to undertake serious efforts to quell the extremist terrorist groups operating against Israel. In fact, the Road Map insists that the Palestinian Authority dismantle such terrorist groups as Hamas, Islamic Jihad, Al Aqsa Brigades and others. This action was planned to be the main Palestinian response to Israel's acts of forced concession.
After every meeting in which the planned Israeli strategic retreat was discussed, Palestinian leaders promised they would dismantle terror within their borders. In every single instance, they did nothing of the kind. In fact, Arafat has become infamous for the art with which he would plan and instigate terror attacks on the one hand while denying them publicly on the other hand.
Therefore, Sharon's belated conclusion should not surprise anyone! Yet, it has surprised some people, simply because the "Road Map" was President Bush's personal plan into which he poured the power and prestige of his office. When Sharon publicly stated that he was abandoning Bush's Road Map, many people took that statement as a direct slap against President Bush.
Tomorrow, the Likud Party goes to the polls to decide whether to support Prime Minister Sharon's plan for disengagement. If the votes are fairly and accurately counted, we should expect to see Sharon's plan rejected. Most conservative Jewish voters can see this unilateral retreat to be the disaster and the prelude to all-out war that it truly is.
The "talk about town" is that Sharon may resign if his plan is rejected. That may happen, but I doubt it. Sharon is likely to present his plan to his Cabinet for approval even if the Likud Party vote goes against him. The Illuminati plan must go forward so they can gain control over the Temple Mount in preparation for the appearance on the world scene of their coveted Masonic Christ [Read NEWS1643]
IX. The recent terrorist attack in Damascus, Syria, is said to be the work of Al Qaeda, thus drawing the global terror network closer to Israel.
NEWS BRIEF: "Al Qaeda Terror Ring Draws Closer to Israel", DEBKAfile Special Report, April 28, 2004
"The partial reports filtering out of Damascus indicate that the large-scale terrorist attack carried out Tuesday night, April 27, in the al Maza diplomatic quarter of the Syrian capital - a simultaneous car bomb, machine gun, grenade, rocket assault on several targets that set UN offices on fire and singled out the Canadian embassy – has brought the encroaching global terror warfront dangerously close to Israel ... The Damascus assault by mixed bombing-shooting teams recalls al Qaeda's pattern of attack in most of the strikes it has carried out in the Saudi capital of Riyadh since May 2003. If al Qaeda was indeed behind the Damascus raid, its Tehran-based commanders are clearly in the process of further stretching their warfront across the Middle East into a fresh theatre, adding Syria to its bases of operations. While the Americans focus on their war against insurgents in Iraq and the Israelis are caught up in fighting Palestinian terrorists, al Qaeda is drawing a ring of fire around both."
This article paints a picture of a regional terrorist war now being conducted against America and her allies in the region -- both Arab and Israeli. We have noted on many occasions that the Illuminati planned in 1917 to create a global threat so huge it would force the peoples of the world to accept a global government. This plan is being worked out now in our Daily News in the form of terrorism. Right now, the threats of violence and actual terrorist attacks spread throughout the Middle East, Europe, Great Britian, Russia, the United States, and Indonesia. That scope makes it the global threat envisioned in 1917.
And what was the objective of that 1917 plan? To produce the New World Order, the Kingdom of Antichrist. Soon, we shall be seeing terrorism in America, Great Britain, Europe and elsewhere against countries whose citizens still go to the polls. If this terrorism is tied to an explosion of war between Israel and her Arab neighbors, you may know the planned global war is under way in earnest and that Antichrist is shortly behind.
---------- New Articles Posted This Week ----------
* "WHEN UFO'S ARRIVE: POPULAR MECHANICS CONDITIONS ITS READERS TO ACCEPT THE REALITY OF UFO'S AND THE ALIENS THEY WILL BE CARRYING: New Age adherents are claiming that Aliens do exist, and are attempting to help lead us Earthlings into the new, higher levels of consciousness that will allow The Christ to appear. -- n1912.cfm
* "PROOFS OF A CONSPIRACY: OSLO ACCORDS WERE ORIGINALLY DESIGNED IN 1993 TO GIVE LARGE CHUNKS OF ISRAEL BACK TO THE PALESTINIANS -- EXACTLY WHERE "HARDLINER" SHARON IS HEADING NOW: President Thomas Jefferson Defined "Conspiracy" For All Time -- "... a series of oppressions, begun at a distinguished period and pursued unalterably through every change of ministers, too plainly prove a deliberate, systematical plan of reducing us to slavery." -- In our Daily News since 1993, Oslo Accords are provably a "conspiracy"! - n1911.cfm
---------Conclusion----------------"How precious also are Thy thoughts unto me, O God." Psalm 139:17
Divine omniscience affords no comfort to the ungodly mind, but to the child of God it overflows with consolation. God is always thinking upon us, never turns aside His mind from us, has us always before His eyes; and this is precisely as we would have it, for it would be dreadful to exist for a moment beyond the observation of our heavenly Father. His thoughts are always tender, loving, wise, prudent, far-reaching, and they bring to us countless benefits: hence it is a choice delight to remember them. The Lord always did think upon His people: hence their election and the covenant of grace by which their salvation is secured; He always will think upon them: hence their final perseverance by which they shall be brought safely to their final rest. In all our wanderings the watchful glance of the Eternal Watcher is evermore fixed upon us--we never roam beyond the Shepherd's eye. In our sorrows He observes us incessantly, and not a pang escapes Him; in our toils He marks all our weariness, and writes in His book all the struggles of His faithful ones. These thoughts of the Lord encompass us in all our paths, and penetrate the innermost region of our being. Not a nerve or tissue, valve or vessel, of our bodily organization is uncared for; all the littles of our little world are thought upon by the great God.
Dear reader, is this precious to you? then hold to it. Never be led astray by those philosophic fools who preach up an impersonal God, and talk of self-existent, self-governing matter. The Lord liveth and thinketh upon us, this is a truth far too precious for us to be lightly robbed of it. The notice of a nobleman is valued so highly that he who has it counts his fortune made; but what is it to be thought of by the King of kings! If the Lord thinketh upon us, all is well, and we may rejoice evermore. [C.H. Spurgeon, "Morning and Evening Daily Devotions", A.W. Tozer CDROM Library] http://www.cuttingedge.org/detail.cfm?ID=599

=======================================================
May Jesus Richly Bless You,
David Bay, Director
866-909-2850 Toll Free Customer Service - Order Line
803-356-2850 Toll Free Customer Service - Order Line
803-356-2860 Fax