"Preacher Harold Camping Sets His Rapture Date of May 21, 2011"
Another false religious teacher, another false date of the Rapture, and another black mark against genuine Christians and their beloved Bible! You can mark this date on your calendar as THE one date the Rapture will NOT occur. http://www.cuttingedge.org/news/n2418.cfm
Rapture! Are Your Lamps Full of Oil?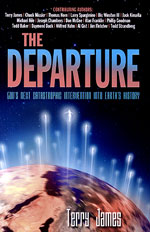 "The Departure"
"God's Next Catastrophic Intervention Into Earth's History"
As the world races toward its momentous end-times encounter with God, cascading fulfillment of Bible Prophecy clearly points to the catching away of the saints -- an event popularly known as the Rapture of the Church. Specific circumstances, which were prophesied to occur in the days just before this Departure, would appear as signs of the nearing moment, including:
1) The emergence of a new global order and global government; 2) Technological developments making possible the Mark of the Beast; 3) Apocalyptic turmoil in the Middle East; 4) Global fascination with occult, demonic, otherworldly manifestations. 5) Departure from the faith giving space to false doctrines; 6) Worldwide violence, upheaval, like it was in the days of Noah
Leading national and international researchers, scholars, authors, and speakers share their specialized knowledge about what you can expect in the coming days, and, more importantly, what you can do to be prepared for the Rapture of the Church. NOTE: We do not agree with every author on every point in this book, as some of the authors do not possess the unique Cutting Edge Worldview. However, this book does contain some really good information and we expect that you will read like the 'Noble Bereans' of Paul's day! Compare what you read with Scripture 'to see if these things are true'. http://www.cuttingedge.org/detail.cfm?ID=2325
Pastor Hoggard DVD - Special Report On The Rapture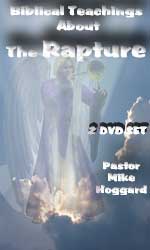 "Biblical Teachings About The Rapture"
At long last! Rapture teaching that is squarely based upon the Bible. Pastor Hoggard provides a fascinating study of the Rapture of the Church that is badly needed at a time when critics of this wonderful teaching are reaching ever- increasing numbers
Did you know that the Rapture is not just New Testament doctrine, but is visible in the Old Testament?
Some say the Rapture is the first event on God's prophetic calendar, but do the Scriptures foretell that an extremely significant event will occur BEFORE the Rapture? And, what might that event be?
Finally, discover why God used the symbolism of a whirlwind when He translated the Prophet Elijah!
This study of the Rapture is the most interesting and decidedly unique you have ever seen
Now you can Biblically answer critics of the glorious Rapture of the Christian Church - http://www.cuttingedge.org/detail.cfm?ID=1916
---
---------- This Week's Hot News -------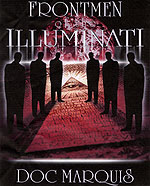 DVD
I. Is this the REAL reason crude oil prices are increasing to such high levels?
The U.S. government since Nixon - Kissinger seems to have been committed to energy independence from overseas and shale oil is a major part of that commitment!
NEWS BRIEF: "U.S. HAS MASSIVE OIL RESERVES", By Christopher J. Petherick, American Free Press, (Issue #20, May 15, 2006)
"There is an estimated 2 trillion barrels of oil buried beneath parts of Colorado, Utah and Wyoming. Geologists, petroleum companies and the federal government have known about these massive deposits for nearly a century. The trouble has always been: how do you get at it?"
"... if only half can be extracted, scientists believe the amount is nearly triple the oil reserves of Saudi Arabia."
I remember my Dad telling me in the late 1950's that America had more oil in shale deposits in the Western part of the country than Saudi Arabia had inn proven oil reserves. Dad was absolutely correct. The problem is that extracting oil from shale is a tedious process that is very expensive.
Once we correctly ascertain just how expensive shale oil extraction is in today's marketplace, we can get a glimpse as to possibly why crude oil prices continue to climb, with little relief in sight.
NEWS BRIEF: "Shale Oil", Doty Energy, 12/13/2010
"There have been numerous starry-eyed projections of the cost of producing shale oil over the last four decades ... Our estimates in 2007 were in the range of $110-150/bbl. As of late 2010, we think these estimates are still accurate."
During the 1972-1973 oil crisis, President Nixon and his National Security Adviser, Henry Kissinger, refused to seize the Saudi oil fields, opting to pay their grievous price. An Establishment Editorial at the time stated that the reasoning for this strange decision was simple: Nixon/Kissinger had decided to commit America to a long-term goal of freedom from energy dependence upon foreign oil fields. To accomplish this goal, Nixon decided to temporarily pay the higher price for foreign oil while starting to develop our own oil supplies, which we would not pump out of the ground until foreign oil began to dry up.
In this energy independence scenario, the government quietly began to advance the technology of extracting oil from shale. While Nixon no longer has any hands on the levers of power, Henry Kissinger still does. Gauging from the rapid pace which shale oil extraction has proceeded, it seems to me that this original plan is still operating behind the scenes.
What is the cost at which the extraction of oil from shale becomes economically viable?
Returning to our featured article, above, we see that crude oil must be selling " in the range of $110-150/bbl"! What is oil selling for today? As of this writing, crude oil is selling between $112.50 - $123.46, producing gas prices at the pump close to $4.00 per gallon!
Thus, the price of crude oil is barely above the minimum which energy companies need to receive in order to economically extract oil from shale!
Finally, the process requires a huge capital outlay of many hundreds of billions of dollars for equipment and for operating the mines. Oil companies must have a firm commitment from government that, if they invest untold billions of dollars in oil shale extraction, they will be guaranteed a firm, consistent price on the world crude oil market.
To force such a high price upon a reluctant consumer, the American government must stir up the kind of long-term crisis and chaos in the oil-rich world which could be used by Oil Futures speculators as the basis for driving oil prices higher.
Libyan dictator Gaddafi is a good case in point. Western power is such that it could drive the strongman from power in days; yet, Western leaders choose a half-hearted manner which prolongs the war, some say indefinitely.
Then, we hear that Henry Kissinger recently told the Bilderberger group that Western intervention in Libya need to last a year! The Arab Spring protest movement now sweeping Northern Africa and the Middle East is tailor-made to keep crude oil prices mounting higher.
The only danger point for the Global Elite is how high they can push crude oil prices without plunging the world into another deep recession. I believe Central Bank economists know precisely what that danger threshold is, and will not allow crude oil prices to push beyond that point.
I believe this may be one of the largest single reason that leaders are pursuing events which everyone knows will only permanently push the price of oil still higher.
Meanwhile, in Colorado, Wyoming, Nevada, Utah, and Montana, shale oil extraction continues. America's energy independence awaits.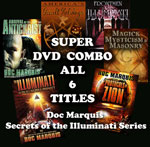 II. Iran turned the tables upon President Obama by using his announcement that Osama had been killed against him!
Since President Bush justified American intervention in the Middle East on the basis that Osama bin Laden was based there, America should now get her forces out!
Did the President foresee this line of reasoning?
NEWS BRIEF: "Iran: Foreign troops should leave region after Bin Laden's death", Chinese English News, May 3, 2011
"TEHRAN, May 2 (Xinhua) -- Iranian Foreign Ministry spokesman Ramin Mehmanparast said Monday that after the death of Al-Qaida leader Osama bin Laden there will remain no excuse for foreign troops to stay in the region to fight terrorism. Mehmanparast said that 'The Islamic Republic believes that foreign countries now have no excuse for military build-up in the region to fight terrorism'."
Iran is entirely correct. Since America's only excuse to invade and inflict incredible death and destruction upon Afghanistan and Iraq was based upon fighting Osama bin Laden, now that he is officially dead, all foreign Western troops should leave.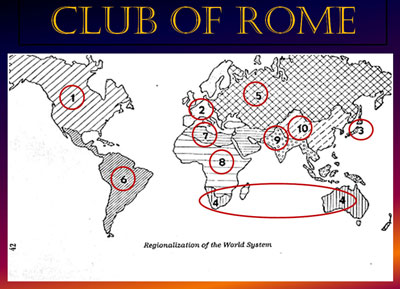 Of course, they will not, which will only prove our contention since October, 2001, that Bush invaded Afghanistan and Iraq to destabilize the region so that regional governments can be formed along the plan of the Club of Rome; gradually, these regional governments will meld to form a truly Global Dictatorship, once Antichrist is on the world scene.
That plan continues, as the military and diplomatic crisis rolls far beyond Afghanistan and Iraq, across Africa and the Middle East.
---
NOTE: The Newsletter continues after this advertisement for the two DVD's, "2012 & Beyond".
---
First DVD In The "2012 & Beyond" Series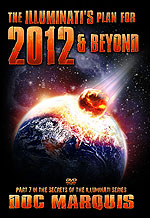 Is The New Age Christ Imminent?
"2012 And Beyond"
'The Illuminati's Plan' - We are shipping NOW!
Doc's best DVD yet! Now that you have read and heard the noise and chatter about the year 2012, you will be pleased to know the truth of the Illuminati Plan for 2012, from a man who knows the Plan thoroughly, former Illuminati Luciferian, Doc Marquis!
After watching this 'One of a Kind' DVD set, you will no longer wonder what will happen after December 21, 2012!
Is the New Age Christ ready to appear? Is the end of the world near? Are we doomed to destruction? Do we have any hope for tomorrow beyond the year 2012? In this new, exciting and riveting 2 part DVD set renowned author and former Illuminati witch Doc Marquis takes up the daunting task of revealing the truth behind December 21, 2012.At the end, through a unique series of question and answers along with comparisons of the Holy Scriptures Doc Marquis shall begin to reveal the final truth behind the mystery of 2012.
2-DVD Set, Nearly 4 hours -- http://www.cuttingedge.org/detail.cfm?ID=2304
Second DVD In The "2012 & Beyond" Series
"Paradigm Shift: The Illuminati's Plan For 2012 And Beyond"
Watch the New Trailer
New DVD by Doc Marquis, 2-Disc Set - Volume 2
Pre-Sale, Save $10.00 - Regularly $39.99, Only $29.99 until we ship June 21
On December 21, 2012, the world is supposed to enter into a New Age of spiritual enlightenment and awareness. This astrological chart cast for December 21, 2012, depicts the Yod – the finger of God – pointing to this new spiritual energy and spiritual healing.
For the past several thousand years, mankind has been collectively yearning for a spiritual healing of nations, a time when wars, hatreds and divisions will miraculously give way to peace, love and unity.
New Age literature abounds with this message of hope and change. Authors teach that this idyllic new "Garden of Eden" will occur only after the New Age Christ is on the world scene, leading mankind into a most peaceful New World Order.
In Volume 2, we shall examine some other cultural and spiritual expectations for 2012 and then we shall present the real point-in-history change which the Elite seem to have planned for December 21, 2012, a change known as the "Paradigm Shift".
Antichrist cannot arise until and unless this paradigm shift in spiritual values has occurred. Unless God specifically stops the Illuminati, their demonic Guiding Spirits may just have this long-awaited Paradigm Shift planned for December 21, 2012. New Age adherents are looking forward to this day as enthusiastically as we Christians are looking forward to the Rapture of the Church! 3 1/2 hours long
---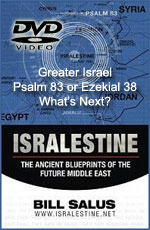 III. A Palestinian State declaration by September?
This possibility continues to increase exponentially as the leopard, Hamas, suddenly changes its terrorist, anti-Israel stance!
NEWS BRIEF: "Hamas to honor truce with Israel in new government", Fox News, May 3, 2011
"Palestinian President Mahmoud Abbas' Fatah faction is scheduled to sign the reconciliation deal with Hamas on Wednesday in Cairo. The factions have led rival governments in the West Bank and Gaza for four years. With peace efforts frozen, Abbas is instead focusing on internal Palestinian issues."
As we have stated for the past ten years, Hamas and Fatah (led by Abbas) are irreconcilable enemies since Abbas is a high-ranking Freemason within Arab Masonry. Hamas understands this Masonic link utterly dooms any chance that Abbas can act within the boundaries of what is really the interest of the Palestinians; rather, Abbas will be predisposed to carry out the Illuminati Plan for Israel, a plan which will annihilate every Palestinian citizen within Israel and Jordan (Explained fully in the DVD above, "Isralestine").
Thus, Hamas will never change her spots to reconcile with Abbas, at least underneath the surface.
However, since Abbas has changed his plans so that a Palestinian State can be announced globally apart from any agreement with Israel, Hamas leadership has evidently agreed to officially unite with Fatah.
" A top Palestinian negotiator says 15 smaller factions, including militant Islamic groups, have thrown their weight behind a reconciliation deal ending a four-year rift between the movement's main groups, Hamas and Fatah. Under a framework accord reached last week between Hamas, which controls the Gaza Strip, and Fatah in the West Bank, a unity caretaker government will be formed ahead of elections next year."
Remember, prophecy does not demand that the modern-day Palestinians (the ancient Edomites) actually establish a nation; prophecy only demands that a state be declared.
"Because My sword has been bathed and equipped in heaven, behold, it shall come down upon Edom [the descendants of Esau], upon the people whom I have doomed for judgment ... They shall call its nobles to proclaim the kingdom, but nothing shall be there, and all its princes shall be no more." (Isaiah 34:5, 12; Parallel Bible, KJV/Amplified Bible Commentary)
Every discerning person knows that Hamas will attack Fatah at the earliest possible moment once a Palestinian State has been announced. Will the "princes" of Edom "be no more" because of the civil war which will break out between Hamas and Fatah?
Once Hamas eliminates Fatah leaders, then the stage is set for the prophetic annihilation of the Palestinians as foretold in Obadiah 15-18 and Isaiah 34. Bill Salus has created an excellent explanation in his DVD, "Isralestine"!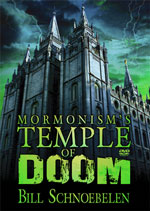 DVD
IV. Mitt Romney and Jon Huntsman are said to be on a collision course in the race for the White House.
Both men come from incredibly powerful and wealthy Mormon families.
NEWS BRIEF: "Huntsman and Romney on a collision course", L.A. Times, May 2, 2011
"Washington— Jon Huntsman Jr. arrived here from Beijing on Friday to mull a White House bid against the man who made him ambassador to China, a matchup that would offer no shortage of personal drama. But before taking on President Obama, Huntsman would face another loaded showdown — against Mitt Romney, a persistent foil with whom he has long competed for influence and stature."
"Their race would match a popular former Utah governor (Huntsman) against the state's beloved adopted son (Romney), reviving a behind-the-scenes rivalry that has occasionally broken into the open ... Both hail from influential, tight-knit Mormon families. Both served as governors ... 'You've got two powerful Mormon families, both of whom have had their eye on the presidency', said Utah political consultant Doug Foxley, who served as a senior advisor to Huntsman when he was governor. 'I think it's just the inevitable clash of two families and of the rising stars of both families who want the same thing at the same time."
Romney is considered "Moderate-Conservative" while Huntsman is considered a rank Liberal. Therefore, it shall be most interesting to see which Mormon wins over the other. I would think Huntsman's Liberalism would be more suited to the Democrat Party than to the Republican.
Wouldn't it be interesting to see Huntsman switch to the Democrats, thus lining him up to be Vice-President under a second-term Obama? Remember, the Mormon "White Horse" prophecy foresees that the Mormon candidate who rides forth to politically rescue the Constitution would gain office either by winning the Presidency outright, or by being Vice-President at the time of the death of the President! (NEWS2226, entitled, "Republican Mitt Romney and the "Mormon Plan for America")
---
New Book
"The Fall of Satan: His Horrific Nature Starkly Revealed"

The ruler of darkness… the Tempter… the Great Red Dragon… Apollyon; the Destroyer… One being is revealed to have all these titles and more… names that reveal his horrific nature… All names given to Satan, your adversary who comes like a lion "seeking whom he may devour" (1 Peter 5:8).
Today, many question and even mock the very existence of Satan, as well as the reality of evil. Even in the Church, there are few biblical resources on the subject to counter the destructive claims raised in today's humanistic culture. In The Fall of Satan: Rebels in the Garden you will discover the answers to 35 captivating questions, such as: 1) How could one created good become so absorbed by evil? 2) Why would God, who is not evil, allow evil to continue to exist? 3) Did sin begin with Adam or was its origin found in Satan? 4) When did Satan rebel against God's authority?
Where can the answers be found to such provocative, spiritual questions that have been asked so many times over? Carefully consider the biblical response, since it is the only completely reliable foundation for information about Satan. As our absolute authority, we must reject unqualified conclusions drawn from sources outside the Bible, such as the current ideas and traditions of the culture. No believer should be unaware of these sound answers found in the Bible.
6 x 9 • 176 pages • Paper -Watch Promo for This Book
---
New Headline News Articles
The National Association of Evangelicals is getting ready to align with the Church of Jesus Christ of Latter-Day Saints! http://www.cuttingedge.org/news/n2442.cfm
Mormon Glenn Beck Meets With Southern Baptist Billy Graham, Urging Him "To Come Together" - Yoking Believers With Unbelievers!
Beck is making major inroads to convince Evangelical leaders to support his cause. Beck has even taken control of the "Black Robed Regiment" to finally cement a bridge from Mormonism to Christianity. Genuine Christians are in dire danger of being mightily deceived. http://www.cuttingedge.org/news/n2441.cfm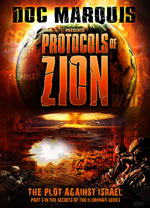 DVD
Why Is China Building Large Cities Completely Devoid of People? The answer will shock you, for a nearly unknown part of the Plan is being implemented. This development means that the appearance of the Antichrist is closer than many think possible.
http://www.cuttingedge.org/news/n2440.cfm
---
Close-Out Bookstore Item -- Save $15.00!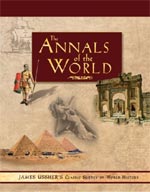 "The Annals of the World"
James Ussher's Classic Survey of World History"
Regularly $34.99, Close-out At $19.99
Wonderful Home School resource, with 960 pages, weighs 5 pounds!
Considered both a literary classic and an accurate historical reference from Creation to 70 A.D. For the first time, this classic work has been translated into modern English.
This treasure trove of material also contains many human interest stories from original historical documents collected by the devoted Christian historian and scholar Archbishop James Ussher. Precisely dated and referenced, this volume is much more than just a fascinating history book -- it is a work of history
Contains over 2,500 citations from the Bible - Is fully indexed, with 8 appendices
A "one-of-a-kind" historical home school resource and we have limited stock on hand!
---

Purchase a 1-Year Subscription, you may select 1 FREE gift
Purchase a 2-Year Subscription, you may select 2FREE gifts
Purchase a 3-Year Subscription, you may select 3 FREE gifts
Purchase a 4-Year Subscription, you may select all 4 FREE gifts
We have changed our FREE gifts available to you when you subscribe to Headline News, adding two Pastor Hoggard DVD's to the Seminar Tapes and the Radio Collection CDROM.
---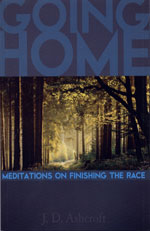 --------Concluding Inspiration ---------"The end of all things is at hand; therefore be self-controlled and sober-minded for the sake of your prayers. Above all, keep loving one another earnestly, since love covers a multitude of sins."
I Peter 4:7-8

We Christians are called to have an entirely different attitude toward impending death than others. We are not to be like the characters in Boccaccio's Decameron, who ran from the plague to a hideaway where they could indulge in selfish pleasure until they died. We are called to be sober and serious during times of crisis, in order to be properly prepared to pray and intercede on behalf of the dying.
More than this, we are called by God to "keep loving one another earnestly." When over one-third of Europe died in the period of the plague (cir. 1349), there were many people who abandoned family and neighbors during their time of need, out of fear of catching the plague from assisting others. By great contrast, there were courageous Christian workers, like the nuns around Strasbourg, who gave their lives giving aid, comfort and succor to those who contracted that terrible disease. We too are called by God to be a source of comfort at all times, whether in war, illness, or accident.
It is hard to face terminal illness. We sometimes are tempted to withdraw into ourselves, and not communicate with those around us. God would have us continue to love each other in every circumstance we find ourselves in, whether pleasant or difficult.

Why should we "keep loving earnestly"? Peter says that "love covers a multitude of sins." In this Peter quotes Proverbs 10:12, which states "hatred stirs up strife, but love covers all offenses." Offenses are covered over by the avalanche of loving deeds. Loving acts bury sins by forgiveness. This is a great and wonderful characteristic of love. Love does not save us, but it makes our world better and more beautiful by its presence. Hate disappears where love reigns supreme.
Dear lord, help me to love at all times, no matter what circumstance I find myself in. Help me to cover offenses with kindness, that the world around me would be better because I have lived here, in Jesus Name, amen.
---
"President Bush:
Evil vs Good Fruits"
Directory of all news articles
Free Radio Transcripts

Free Headline News Archives

Freemasonry

What Saith Rome

Teachings from the Catechism

Bookstore

Meet the Staff

Weather Control

School Shootings

Understanding Clinton
May Jesus Richly Bless You,
David Bay, Director
866-909-2850 Toll Free Customer Service - Order Line
803-356-2850 Customer Service - Order Line - For Out of Country Customers
803-356-2860 Fax