Breaking News
Most exciting prophetic development in years!!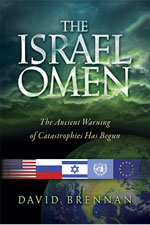 "Israeli Officials Warn: Obama to call world summit if Mideast peace talks fail"
"U.S. President Barack Obama has told several European leaders that if Israeli-Palestinian talks remain stalemated into September or October, he will convene an international summit on achieving Mideast peace."
"The officials said the conference would be run by the Quartet of Middle East peacemakers - the United States, European Union, United Nations and Russia - in a bid to forge a united global front for creating a Palestinian state."
For many years, Cutting Edge has led the call to watch events in Israel, for both the Scriptures and the Illuminati Plan say that Israel is the key to the timing of End Times events.
However, this issue of dividing Israel -- God's land -- is a separate proposition, a development which God not only foretold, but promised devastating physical judgment upon the nations who forced Israel to divide. Please take a moment to read our expose' which we posted about four years ago, entitled, "God Threatens End Times Judgment Against Nations Who Divide Israel's Land", NEWS1806.
One fact we have always pointed out is the wording of the prophecy of a Palestinian State in Isaiah 34:12: "They shall call its nobles to proclaim the kingdom, but nothing shall be there, and all its princes shall be no more."
The word, "they" refers to the leaders of the End Times Edomites, who are today's Palestinians. This prophecy simply states that the leaders shall declare a kingdom but none shall actually rise. Thus, when Palestinian President Abbas began to speak of a unilateral Palestinian declaration of a Palestinian State, we sat up to take notice, because such a declaration could be fulfillment of Isaiah 34:12.
Now, President Obama himself takes up the mantle of a unilateral declaration of a Palestinian State, led by the foretold four Gentile nations who shall divide God's land:
"Then lifted I up mine eyes, and saw, and behold four horns. And I said unto the angel that talked with me, What be these? And he answered me, These are the horns which have scattered Judah, Israel, and Jerusalem." (Zechariah 1:18-19)
The infamous Quartet of Nations -- United States, European Union, the United Nations and Russia -- were formed several years ago with the express purpose of forcing the division of Israel between the Jews and the Palestinians! While Quartet activity has faded in the past couple of years, we can see that President Obama intends to use the Quartet as the means by which to achieve the partition of Biblical Israel.
But, there is more shocking truth in this prophecy. In this next segment, we see that the "four horns" (four nations) were originally foretold to be Gentile nations!
"Then said I, What come these to do? And he spake, saying, These are the horns which have scattered Judah, so that no man did lift up his head: but these are come to fray them, to cast out the horns of the Gentiles, which lifted up their horn over the land of Judah to scatter it." (Zechariah 1:21)
This news story may be the most important prophetic development in a good many years! For the first time ever, a major political figure on the Global Stage -- the President of the United States -- is calling for an international summit controlled by the Quartet for the express purpose of creating a Palestinian State, or at least proclaiming one.
NOTE: David Brennan presents strong evidences that the "Four Horns" foretold in Zechariah 1:18-21 to be scattering Judah, Israel, and Jerusalem are the four nations of the "Quartet"! As the nations of the world gather to remove the Jew from portions of God's promised Holy Land, the international group dubbed the Quartet is leading the effort. And, the same prophetic Scripture warns of God's judgment against those nations attempting to divide Israel.
After reading this book, your view of current events might never be the same! http://www.cuttingedge.org/detail.cfm?ID=2207
God's "Omen" Working In The Modern Era
A good modern example of God's protective "Omen" working to bring disaster upon those nations who are active in the plan to divide Israel can be seen in the forced withdrawal of all Jews from The Gaza Strip by Prime Minister Sharon. Working under the pressure of the Quartet, led by the United States, PM Sharon forcibly pulled all Jewish citizens from The Gaza Strip so that Palestinian citizens could take full control of the Strip.
Sharon began his forced withdrawal on August 14, 2005, completing it on August 21, 2005.
Hurricane Katrina formed on August 23 and slammed into the City of New Orleans August 29-31, 2005! Katrina was one of the five most deadly hurricanes in American history and virtually destroyed much of New Orleans. Today, five years later, much of New Orleans is still devastated and may never be rebuilt.
This story illustrates how God's "protective Omen" works for Israel and against those who put pressure on Israeli leaders to capitulate on the plan to divide God's Holy Land.
Even more interestingly is what occurred to PM Sharon just days after he obeyed his Gentile Quartet masters and ordered the forced eviction of his Jewish people from The Gaza Strip. On 4 January 2006, PM Sharon suffered a major stroke and is today in a vegatative state. God's judgment fell on Ariel Sharon rather quickly after he helped the Illuminati divide and scatter The Gaza, don't you think?
God help America today, as we have one of the most anti-Israeli Presidents in our history, who is beginning to oppose Israel on many, many levels.
---
---------- This Week's Hot News --------
Terrorism Is The Key To The Approaching Dictatorship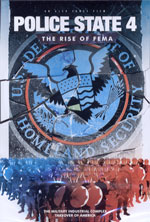 DVD
I. New York City police wasted no time in implementing a thourough camera surveillance plan which had earlier been rejected as too draconian.
Are we beginning to see the real reason this fake bombing was carried out?
NEWS BRIEF: "Police cameras to flood Manhattan to prevent attacks", Associated Press, May 4, 2010
"New York officials say they could stop attacks like the attempted Times Square car bomb by expanding a controversial surveillance system so sensitive that it will pick up even suspicious behavior. New York is already a heavily policed city, with 35,000 officers and a counterterrorism bureau -- the first of its kind in the country -- partnering the FBI. But Saturday's failed terrorist bomb in the Times Square tourist hot spot has provided the authorities with a new argument for expanding a sometimes controversial security blanket of cameras, sensors and analytical software."
"The high-tech system, modeled on the "ring of steel" in London's financial district, is already in service in lower Manhattan, where Wall Street and the World Trade Center reconstruction site are located."
The plans authorities have to place portions of New York City under a "ring of steel" surveillance are breathtaking. Consider:
1) "Headquartered at 55 Broadway, the Lower Manhattan Security Initiative goes far beyond the traditional hodgepodge of police cameras..."
2) "... an integrated system maintains an unblinking eye, not just watching, but constantly collecting license plate numbers and video of pedestrians and drivers, as well as detecting explosives and other weapons."
3) "An important component of the program is coordination between the police network and private businesses' cameras..."
The critical importance of this feature is that privately owned business cameras are being commandeered by government authorities. Under the old Constitutional government, this police takeover of private systems rarely happened; however, under our new Fascist Economy, the federal Governmnent wields great regulatory economic powers over privately-owned businesses, so the line between government and private business is easily breached!
4) "... a separate, but similar program called Operation Sentinel plans to log every vehicle entering Manhattan island by scanning their license plates and checking for radiation."
5) "... alarms would trigger when cameras noticed an unattended bag or a car circling a block too many times to be considered normal, Kelly said."
This is the face of a dictatorship, and this failed bombing attempt will now provide the Federal Government the excuse to throw a steel ring of tight control over New York City.
As in the failed Christmas day attack and the failed shoe bomber attack, the Illuminati is going to get great mileage out of this incompetant "terror" bomber.
DVD
II. Right on cue, the Federal Government wasted no time in stating that they considered the failed Times Square Bomb Plot to be a terrorist act.
Oh, yes, and they also quickly identified "foreign elements" in the plot.
NEWS BRIEF: "N.Y. bomb attempt was terrorist plot: DOJ", Market Watch, May 4, 2010
"WASHINGTON (MarketWatch) -- The attempted car bombing last Saturday in New York City's Times Square was "a terrorist plot," U.S. Attorney General Eric Holder said Tuesday. The Justice Department plans to charge suspect Faisal Shahzad with an act of terrorism, attempted use of a weapon of mass destruction, and other charges, said Holder. Shahzad, a U.S. citizen of Pakistani descent, was arrested late Monday night."
Now that the government has officially declared the Times Square near-bombing as a terrorist act, officials can draw upon the vast array of laws passed immediately after the attacks of 9/11, laws like Patriot Act I. This law, and Patriot Act II, gives the Federal Government dictatorial laws which, if fully enforced, could plunge America into the depths of the belly of the Absolute Dictatorship.
Oh, yes, and the perpetrator was quite conveniently Islamic, a Pakistani militatant.
You see, the government has been preaching since 9/11 that the REAL enemy is "Religious Extremism" and not just militant Islam. This description conveniently allows the government to eventually charge good folks like you and me, simply because we are Extremists, for Jesus Christ.
Doubt it not!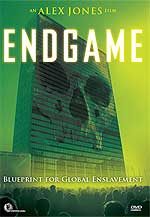 DVD
III. Adding to the suspicions that government provocateurs set this failed bombing attempt up, witnesses stated that the events unfolded in such a way that they thought a terror drill was underway!
NEWS BRIEF: "Times Square Eyewitness: Bomb Scare Looked Like Drill ", by Paul Joseph Watson, Prison Planet, May 5, 2010
"A You Tube clip shot by an eyewitness near the Times Square car bomb incident on Saturday night highlights why many people who were caught up in the bomb scare thought that the police were running a drill at the time of the botched attack. Eyewitnesses, including those who comment on the video on the You Tube page, are baffled as to why police chose to evacuate some locations and not others, as if certain buildings had been chosen to be evacuated beforehand while others were left alone."
"Despite the fact that people were being told to leave McDonalds, police did not stop anyone from entering the theatre next door. In addition, the staff at McDonalds were not told to leave and remained in the restaurant. 'None of this made sense when the audience was let in to see West Side Story', states the text in the video. 'I was actually at a concert in nokia theatre while this was happening. I'm surprised the place didn't get evacuated too," writes a respondent to the clip."
" 'Either the terrorists were running a drill, or the cops were…it sure seemed like it could have been a drill', states the description to the eyewitness video. An additional detail that suggests police bomb drills may have been taking place in and around the incident is the fact that Lee County Sheriff Michael Scott told WINK News that he was in New York during the weekend training with the New York bomb squad. While it's unclear whether or not the drills were related to the bomb scare, Scott said that he was at the scene of the incident working with New York police."
During the attacks on 9/11, the air force was said to have planes in the air simulating their response to an attack against civilian targets by large commercial airliners! During the London commuter terror attacks on July 5, 2005, police were said to be conducting a terror drill simulating a terror attack against the commuter rail system! As we recorded in our Headline News Article, NEWS2054, London police responded to this attack by implementing severe and draconian surveillance systems, just as New York Police are doing now!
Listen to a portion of NEWS2054: