New In The Bookstore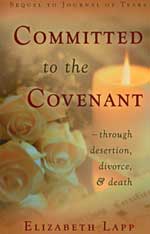 "Committed To The Covenant Through Desertion, Divorce, and Death"
"Gaining Spiritual Depth Never Before Known!"
Jesus warned, "If you love anyone more than Me, you are not worthy of me".
Elizabeth Lapp lost her husband when he was unfaithful to her and divorced her. Though she was wounded deeply, rejected and brokenhearted , she learned to rely heavily upon her unfailing heavenly Bridegroom! She discovered that the God of all grace supplies Grace to His children during life's most trying circumstances.
Elizabeth complained to the Lord about being left alone, and Jesus softly told her, "I chose you to be different and beautiful for me."
Lapp realized that, while she had no control over her husband's infidelity, she did have control over her response
Elizabeth chose to "cling to the Lord Jesus", living in the Psalms, and relying solely on God's Word.
Elizabeth cried to the Lord, "I need my husband, his love, protection, and provision". The Holy Spirit replied, "For thy Maker is thine husband: the Lord of Hosts is his name; and thy Redeemer the Holy One of Israel" (Isaiah 54:5) As Elizabeth submitted, she discovered that "having God as my husband became a satisfying experience for me".
But, this was only Stage 1. Once Elizabeth submitted, the Holy Spirit took her into deeper realms of spiritual love, grace, joy and peace which she never even knew existed!
You, too, can know this kind of submission, this kind of deep spiritual joy. We heartily recommend this book, considering it to be of the highest value to this current generation of Christians who are struggling to become spiritually mature in this world filled with Apostasy and Deceit in the pulpits of so many churches in the land.
Commitment like this has not been taught in Christian churches of over 100 years!
http://www.cuttingedge.org/detail.cfm?ID=1838
---
German Translation Work Has Begun!
As you can see, we have the German language site begun. When you click on this button from the Home Page, you will see that the front page is up. We have the Salvation Page translated, and the basic information which we provide in the middle of the English Home Page. Our translator has a long list of articles to begin translating. You shall see them coming soon.
Pray for this endeavor, as there are 75 million German-speaking people in the world, many of whom need the Gospel of Jesus Christ. We have felt from the beginning that God had raised Cutting Edge up to be a "Sower of the Seed". He has truly blessed thus far, and we believe He will bless this German language site.
---
---------- This Weeks Hot News ----------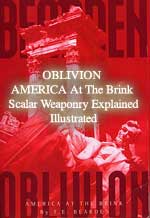 I. A devastating cyclone (hurricane) has scored a direct hit on the backward nation of Burma (Myanmar), destroying one of the world's most prolific rice growing regions.
At a time when rice prices are at all-time highs, coupled with high oil prices, the last thing the poor people of the world needed was to lose one of the most important rice exporting regions in the entire world.
Yet, this is exactly what has occurred.
NEWS BRIEF: "Burma cyclone: up to 50,000 dead and millions homeless", Times Online (London), May 7, 2008
"Every day, the extent of the destruction caused by Cyclone Nargis has been revised upwards, from alarming to grim to disastrous — and yesterday it became clear that this is not just a local, but an historic catastrophe. Foreign aid workers in Rangoon have concluded that as many as 50,000 people died in last Saturday's cyclone, and two to three million are homeless, the worst disaster in the country's modern history, and of a scale comparable with the 2004 Indian Ocean tsunami."
This cyclone did, indeed, deliver a blow of historic proportions. To be compared to the 2004 Indian Ocean earthquake and tsunami is very serious, because that blow killed 225,000 people in 11 countries!
Already, the death toll is reported to be at least 50,000 people, but aid workers are saying that the death toll could reach well over 63,000. Millions are homeless.
UPDATE: The death toll is now said to be over 100,000!
However, the world is going to feel this economic tsunami because Burma's current crop in her rich rice growing area is not only destroyed, but is said to be seriously contaminated with salt water left behind from the 12-foot-high wall of ocean water which swept over the region.
NEWS BRIEF: "Burma catastrophe may leave country unable to feed itself", Times Online, May 7, 2008
"The cyclone that has devastated Burma is set to push world rice prices higher and may also jeopardise the country's long-term ability to feed its own population .. As well as causing a catastrophic loss of life, Cyclone Nargis appears to have been at its fiercest in Burma's main rice-growing region, the Irrawaddy delta. With global food prices at their most sensitive for three decades, the effects are expected to reverberate around the world."
This cyclone could not have hit at a worst time, nor could it have struck a more sensitive target. Already, the cost of staple foods in the world -- particularly rice -- has skyrocketed so greatly that tens of millions of people in Third World countries might be facing starvation. Now, that crisis has been multiplied many times over.
As you will see in a few moments, this cyclone hitting this critically important rice growing region at this most sensitive time in the world food supply was likely no accident. We will address this issue in a moment, but now, let us go back to this featured article to see that the damage to this rice area might be long-term.
"The growing fear among World Food Programme (WFP) officials is that millions of tons of salt water have flooded on to the precious rice paddies, making them unfit for planting for some time. The UN agency said that it was not yet known whether Burma, a key rice exporter, would be able to meet commitments to supply Sri Lanka and Bangladesh. It has given warning of 'potentially serious effects'. "
"Burma was preparing to export 400,000 tons of rice this year and had been hoping to profit from record price levels. Commodity traders in Hong Kong told The Times that with rice and other international food markets on a 'hair-trigger' for bad news, emerging details of the cyclone could cause further panic among Asian governments still struggling to find a response to soaring food inflation."
Now, let us address the issue that this cyclone (hurricane) was deliberately directed toward this most important rice growing area at this most sensitive time of world rice prices. Many of our readers are new, so we need to address here briefly the issue of Weather Control, and to give you further information to study.
Please go to our section, Weather Control, for many articles and bookstore resources which will educate you to the reality that the Illuminati has controlled the world's weather since 1976!
First, let us hear from Former Defense Secretary William Cohen on Weather Control and Weather Warfare.
NEWS BRIEF: "COHEN ADDRESS 4/28 AT CONFERENCE ON TERRORISM: Terrorism, Weapons of Mass Destruction, and U.S. Strategy", Sam Nunn Policy Forum, April 28, 1997 University of Georgia, Athens, Georgia
"Others (foreign scientists) are engaging even in an eco-type of terrorism whereby they can alter the climate, set off earthquakes, volcanoes remotely through the use of electromagnetic waves."
What a revelation! In 1997, Defense Secretary Cohen reported that foreign scientists using electromagnetic waves can control weather functions, including setting off earthquakes and volcanoes! But, what about massive storms like cyclones (hurricanes). Yes, scientists can create and dissipate hurricanes as well, as this next article demonstrates.
NEWS1198, entitled, "More Bold Articles From Mass Media Telling Us About Weather Weapon Technology".
NEWS BRIEF: "Malaysia to Battle Smog With Cyclones", by Chen May Yee, Staff Reporter of the Wall Street Journal, The Wall Street Journal, Thursday, November 13, 1997, page A19.
""KULA LUMPUR -- Malaysia's war on smog is about to get a new twist. The government wants to create man-made cyclones to scrub away the haze that has plagued Malaysia since July. 'We will use special technology to create an artificial cyclone to clean the air', said Datuk Law Hieng Ding, minister for science, technology and the environment. The plan calls for the use of new Russian technology to create cyclones -- the giant storms also known as typhoons and hurricanes -- to cause torrential rains, washing the smoke out of the air. The Malaysian cabinet and the finance minister have approved the plan, Datuk Law said. A Malaysian company, BioCure Sdn. Bhd., will sign a memorandum of understanding soon with a government-owned Russian party to produce the cyclone."
"Datuk Law declined to disclose the size of the cyclone to be generated, or the mechanism. 'The details I don't have', he said. He did say, though, that the cyclone generated would be 'quite strong'. Datuk Law also declined to disclose the price of creating the cyclone. But, he said, Malaysia doesn't have to pay if the project doesn't work."
This article is written by the prestigious Wall Street Journal, and it reports, very matter of factly, that Malaysia is ordering a cyclone just as someone might order some lawn furniture from a catalog! We also learned that the Russians have the capability of creating such a huge storm for a fee. Also unsaid, but inferred, is that this cyclone could be steered or controlled so that it would come close enough to Malaysia to clear away the haze that was bedeviling that nation, but not so close it would cause any damage. Further, the nations close to Malaysia are not quoted as being overly concerned that this most powerful of storms might accidentally hit their shores.
This news is quite stupendous, and it opens up all sorts of questions about our incredible and unprecedented hurricanes in past years. Were these hurricanes also caused by our scientists, or by Russian scientists? If our scientists created them, then the Federal Government needs to be strung up and quartered for the pain, anguish, and death caused by these terrible storms. If the Russian scientists caused these storms, then they have just committed an act of war against the United States!
NEWS BRIEF: The New York Times, September 24, 1992, reported that a Russian company which deals with weather modification sells Weather Control Electronic Equipment to certain people in Russia who want to manipulate the weather in a specific area. This weather control technology is being used by farmers to alter the climate for beneficial agricultural purposes.
Then, the Wall Street Journal, on October 2, 1992, reported that a Russian company called "Elate Intelligent Technologies, Inc.," sells weather control equipment by using the advertising slogan, "Weather Made to Order". This motto is even on their business cards! The commercial Director of Elate, Igor Pirogoff, stated that "Elate is capable of fine-tuning the weather patterns over a 200 square mile area for as little as $200 U.S. per day".
This Wall Street Journal article also quoted Mr. Pirogoff as saying that Hurricane Andrew could have been decreased "into a wimpy little squall".
We encourage you to read the rest of NEWS1198, for the information contained therein is most enlightening.
We also want you to read the rest of the articles in our Weather Control but we want to particularly point out NEWS1992, entitled, "QUAKE IN IRAN ON 12/26/2003 AND THE ASIAN QUAKE ON 12/26/2004 CONTAIN OCCULT SIGNATURE: WERE THEY TRIGGERED BY EITHER HAARP OR SCALAR WAVES?"
This article not only reports incredible new information on the Indian Ocean Earthquake and Tsunami of 2004, but also shows the the Illuminati Card Game (introduced in 1995) has several Weather Control cards. Remember, each of the cards in this game represents an action the Illuminati is going to take to deliberately bring down this current World Order so they can institute the New World Order.
In our "Illuminati Card Game" section, we also show some very interesting other cards:
NEWS1856 - Shows the "Hurricane", "Earthquake", and "Combined Disasters" cards.
NEWS1859 - Shows the "Volcano", the "Hurricane", the "Early Warning" weather, the "Tidal Wave" and the "Meteor Strike" cards.
The book, shown above, "Oblivion: America At The Brink", spells out clearly the capabilities of Scalar Waves, both civilian Weather Control and military Weather Warfare. If you prefer watching a DVD, "Russia's Secret Weapon" is excellent, by former Mason and Witch, Bill Schnoebelen.
Do not doubt for one minute that the Illuminati directed this cyclone right at the critically important rice exporting region of Burma, at the very time when rice prices are exploding upward. The goal, as always, is global control. We expect a Global Food Authority to come out of this situation. When the International Community rushes to Burma's aid, you can bet that their aid will come with severe controls which shall bring Burma under the control of the Globalists. This fact will not be made known publicly or widely, but they will be there, nevertheless.
This control which will come with the aid is probably the most important single reason that the Burmese dictatorship is reluctant to accept international aid.
However, the drive for Global Control is extending rapidly in our own country, as the next article clearly demonstrates.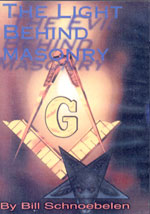 DVD
II. With poverty levels surging upward throughout the world because of skyrocketing food prices -- led by rice -- is it now time to push through the infamous "Global Poverty Act"?
NEWS BRIEF: "Global Poverty Act (S.2433): America's Sovereignty Being Attacked", Email News Alert, 5/5/2008
"The United States Senate may vote any day on the stealth imposition of what could amount to an $845 BILLION United Nations style global tax on American citizens? It's called the Global Poverty Act (S.2433), and it is being sponsored by none other than Senator Barack Obama. According to some conservative sources, this disastrous legislation could eventually force U.S. taxpayers to fork over as much as 0.7 percent of the nation's Gross Domestic Product ..."
Senator Obama is revealing his true colors by backing this Senate bill which is nothing more, nor less, than the Illuminati plan known as "Redistribution of Wealth", a terrible plan created prior to World War II, in which the richer nations of the world would be forced to pay retribution to the poor nations.
We have noted the Illuminati power behind Senator Obama before, since his Economics adviser is a Skull & Bones Adept and his Foreign Policy adviser is one of the creators of the Trilateral Commission. Now, however, we see another blatant Illuminati plan coming to the forefront under the leadership of Senator Obama - "Redistribution of Wealth"
Let us now examine the key elements of Obama's transfer of your wealth to poor nations. You will recognize this plan as a global version of President Lyndon Johnson's failed "War On Poverty"!
You can read about this draconian plan - "Redistribution of Wealth" - by clicking on this hotlink. Prepare to be shocked. You will be reading a former radio program which I aired in 1992! It has taken that long for this plan to be implemented on the world scene.
Key Elements
* This Senate bill follows the United Nations Millennium Development Goal plan very carefully. Remember, the overall plan is for every nation on earth to surrender their sovereignty to the unchristian United Nations. Therefore, we should not be surprised to learn that this bill brings America under U.N. mandate on this particular issue.
* "Seeking to eradicate poverty, that declaration commits nations to banning 'small arms and light weapons' "
* The American Congress will have to ratify the following treaties: International Criminal Court Treaty, the Kyoto Protocol (global warming treaty), the Convention on Biological Diversity, the Convention on the Elimination of All Forms of Discrimination Against Women, and the Convention on the Rights of the Child."
These treaties are very serious as they would not only surrender American sovereignty to global authorities, but would strip American citizens of every Constitution right and protection we now enjoy while overturning American laws on the books. Genuine Christians would bear the brunt of these changes, as the U.N. has repeatedly expressed its pro-Hinduism, pro-Buddhism, and pro-Shinto beliefs and values while repeatedly bristling against Biblical beliefs and values.
""Those U.N. protocols would make U.S. law on issues ranging from the 2nd Amendment to energy usage and parental rights all subservient to United Nations whims."
* " 'currency transfer tax', that is, a tax imposed on companies and individuals who must exchange dollars for foreign currency"
* "a "tax on the rental value of land and natural resources"
* "royalty on worldwide fossil energy projection -- oil, natural gas, coal"
* "fees for the commercial use of the oceans, fees for airplane use of the skies, fees for use of the electromagnetic spectrum, fees on foreign exchange transactions, and a tax on the carbon content of fuels."
* "standing peace force, 'meaning a standing United Nations army that might, in time, be large enough to force us to bend to its will' " -- In our archived article, NEWS1282, we showed the map of the world in which every sovereign nation was carved up into "Military Patrol Zones". America would be patrolled as follows: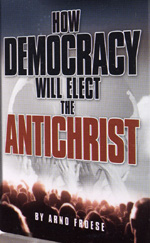 III. Senator Barack Obama strengthened his bid to become the Democrat Presidential nominee after he won big in North Carolina.
Hillary won Indiana with 51% of the vote, but will trail Obama in pledged delegates when the Democrat convention convenes.
NEWS BRIEF: "Clinton Squeaks Indiana Victory; Obama Decisively Wins N.C.", by Jennifer Parker, ABC News, May 7, 2008
"In what may be a turning point for the presidential aspirations of Sen. Hillary Clinton, D-N.Y., the former first lady vying to be the nation's first woman president lost the North Carolina primary as expected to Sen. Barack Obama, D-Ill., and squeaked out a razor-thin victory in Indiana, failing to decisively capture the Hoosier State. "
"Clinton won Indiana by just over 22,000 votes, a primary performance that will arguably move Obama closer to becoming the presumptive nominee."
However, in North Carolina, Obama won decisively.
"Obama overwhelmingly won the North Carolina primary 56 percent to Clinton's 42 percent, thanks in part to his support among new voters and African Americans."
As of this moment, Obama leads Hillary in the delegate count by 1,844 to 1,683. This tally puts Obama 181 delegate votes away from winning the nomination outright -- on the first ballot. But, the remaining six primary contests may not give the Illinois Senator these 181 votes. If Obama does not win a first-ballot victory, the fate of the nomination would pass to the unelected superdelegates.
NEWS BRIEF: "Super-delegates refuse to end Hillary Clinton vs Barack Obama",
"... Edwards, the vice-presidential nominee four years ago, declared that he would not be endorsing either candidate. He is a member of the elite of the elite, not merely one of the 795 super-delegates who could decide the outcome of this race, but a mega-delegate who could shape the views of the others. In a contest that cries out for a big name such as his to tip the balance in the direction of one candidate or another, Mr Edwards is not alone in remaining quietly on the sidelines."
"The Democratic party leadership on Capitol Hill — Nancy Pelosi, the House Speaker, and Harry Reid, the Senate Majority Leader — have been similarly stubborn in their neutrality ..."
One superdelegate believes that this body of unelected Democratic kingmakers should intervene, even if it means overturning the "will of the people" as expressed in the many primaries.
" 'They have the opportunity, the ability and the right to vote for whoever they want and I think that's what they should do', he said".
Mark my word: if Obama cannot win enough pledged delegates to capture the nomination outright, these superdelegates could very well turn toward Hillary. Remember that this entire election process is staged, and that the outcome is predetermined. Therefore, the only question is whether the Illuminati wants Hillary to be the nominee, or Senator Barack Obama. Since 1992, I have believed the Plan was to one day have Hillary be President; but, former Satanist, Doc Marquis, warned me several times while I was working with him that the Illuminati does reserve the right to change plans if circumstances dictate.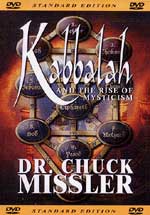 DVD
IV. Israeli Prime Minister Olmert is said to be offering 90% of Judea and Samaria to the new Palestinian State, but President Abbas is holding out for 98.5%.
The Kabbalist, Illuminati Plan for the creation of the Palestinian State is on track!
NEWS BRIEF: "Olmert Willing to Give 90% of Territory - Judea and Samaria", Israel National News, May 7, 2008
"With Prime Minister Ehud Olmert under the police investigators' gun, sources imply he has agreed to give away 89% of Judea and Samaria to the Palestinian Authority - and some say even more. On Tuesday morning, while the Israeli media was rife with reports of expected 'dramatic developments' in the latest criminal investigation against the Prime Minister, it was also reported that 'major progress' had been made between Israeli and PA negotiators on the issue of final borders."
This report of "major progress" in the "negotiations' between Israel and the Palestinian Authority is also predetermined. What is being finished here is the completion of promises made to the Palestinians in the 1992-1993 Oslo Accords. (Read NEWS1911 for full details)
Now, let us return to our featured article, as we discover that Palestinian President Abbas is using a baseless threat to move matters along more quickly.
"At the same time, PA Chairman Abu Mazen (Mahmoud Abbas) continued to pressure Olmert by threatening to resign his post if Israel does not agree to his terms for a final peace agreement."
As is reported in the book, "Codex Magica", Palestinian President Abbas is a Freemason, so he is as totally committed to the completion of this Palestinian State plan as is Israeli PM Olmert. Abbas is just acting out his part, reading from his script.
This next segment tells us where these negotiations are supposedly stuck.
"A Palestinian Authority journalist told the PA website Falestin Al-Yam on Tuesday that the talks are essentially stuck over the last 10%, more or less, of Judea and Samaria. Israel has offered to give up 89% of the total area and annex the rest, while the PA continues to demand 98.5% ... Contrary to the 1.5%-report above, Rudeineh said that Abbas is still insisting on 100% of what he calls the 'West Bank'."
Is this scene being set for a dramatic "breakthrough" when President Bush visits Israel next week? He certainly would need a big victory of some sort to justify his personal intervention in this quagmire. Getting an "agreement" out of this mess would certainly go a long way toward resurrecting the President's anemic poll approval numbers.
Remember one last fact:
Yassir Arafat used the same tactic against President Bill Clinton and Israeli PM Barak in the Camp David Accords in 2000, as they supposedly tried to bring agreement to the Oslo Accords. This time, nearly eight years later, the time may have finally arrived for the Oslo Plans to be realized.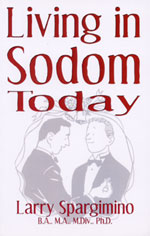 V. The Public School System in Minneapolis, Minnesota, is beginning to implement the most aggressive pro-gay indoctrination program imaginable!
NEWS BRIEF: "'Gay' indoctrination starts in Minneapolis", World Net Daily, May 6, 2008
"A special interest program assembled by the Human Rights Campaign to promote homosexuality has been launched in the 91-school Minneapolis district, even as opponents are urging school officials to keep sexuality out of the social culture ... The issue is the "Welcoming Schools" program assembled by the HRC, which advocates for and promotes homosexuality."
Is it already too late for pro-christian groups to stop this program?
"District spokesman Ross Bennett told WND the program already has been launched in one school and was under consideration by the district's curriculum committee for other uses."
Just how heinous and graphic is this indoctrination program?
"According to published reports in Minnesota, the district is moving forward with the plan despite opposition from parents, who complained the agenda places too much emphasis on teaching about homosexual and other lifestyle choices, and includes too little about racial and religious diversity 'and that it undermines parental authority by causing confusion in children'."
Undermining parental authority is a key element in the New World Order Plan. In fact, once the 'Brave New World' is implemented, the government will assume responsibility for raising the children. Hillary Clinton advocated this communist concept in her book, "It Takes A Village".
Some legal problems may arise from programs like this one.
"The 'Welcoming Schools' project incorporates within itself two incorrect and dangerous assumptions – (a) that one's sex is a mental decision and not a biological fact, and (b) that individuals are born with an immutable 'sexual orientation,' including children as young as five-years-old having normal same-sex attractions."
Can you imagine youngsters only 5 years of age being exposed to deviant sexual knowledge? That is where this society is heading right now -- just as in the days of Sodom and Gomorrah.
"Especially within schools, bathrooms, locker rooms, and other intimate places will no longer be protected from members of the opposite sex once 'gender identity' becomes standard behavior for students," the memo states. "From an enforcement standpoint, school officials would be unable to discern whether a boy who is using the girls' restroom is a sexual predator, prankster, or one who sincerely believes that he is somehow a girl."
Cutting Edge has advocated since 1989 that Christian parents take their children out of the Public School System, putting them either in private Christian schools or homeschooling them. That advice is even more urgent now, in light of this current disaster in Minnesota.
The final question I have on this subject, is, "why isnt 'Christian' President George Bush stopping this Public School program in its tracks?" State schools receive such huge infusions of Federal cash that Bush could step in to end this pro-gay program. Certainly, if he were a genuinely Born Again President, he would do so immediately.
But, you see, President Bush's fruits while he has been in office have been totally sinful, completely rotten. To see this is true, read our table entitled, "President Bush's Evil vs Good Fruits".
Have you forgotten the warning in 2002 from the Concerned Women of America that President Bush's policy on Gays and Lesbians was "identical" to the policies of President Clinton! (Read NEWS1652 for full details)
---
Major Hoax Going Around Internet: Saying Economy Is Going To Crash In September, 2008, and that Government Finances Are Going To Collapse In September, 2009
Even Last Trumpet Ministries has reprinted this major hoax.