Spiritual Warfare
"The great dragon was cast out, that old serpent, called the Devil, and Satan, which deceiveth the whole world" (Revelation 12:9)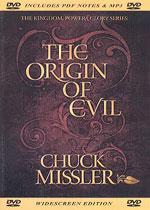 ""The Origin of Evil - When Did Satan Fall? You Might Be Surprised" - DVD
We know that the angels were created before God created the Earth. We discover that Satan had already fallen in Genesis, Chapter 3. The great Biblical Mystery is, exactly when did he fall?
We see substantial Scriptural references to his rebellion, his agenda against God and God's authority, and finally, the eventual catastrophic judgment which ensued because of his sinful rebellion.
http://www.cuttingedge.org/detail.cfm?ID=2028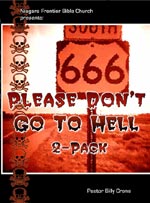 "Please Don't Go To Hell"
Soul-Winning DVD - 2-Disc Set
Even though Jesus talked more about hell than He ever did about heaven and even though He warned us over and over again about such a horrible eternal place, people still refuse to believe Him.
Incredibly Powerful Video Trailer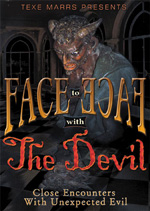 "Face To Face With The Devil: Close Encounters With Unexpected Evil" -- DVD
Have you ever stopped to realize how many devils you encounter across America and around the world? Devils in architecture, devils in paintings, devils in sculptures. Watch out! Frightening devils are lurking about and could be in your face when you least expect it.
Discover who built these myriads of devils and why they built them.
Prepare to be shocked - http://www.cuttingedge.org/detail.cfm?ID=2016
New Pastor's Heart Article
"WHERE IS SATAN?"
"And He said to them, I saw Satan falling like a lightning [flash] from heaven" Luke 10:18
"And the seventy returned again with joy, saying, Lord, even the devils are subject unto us through thy name" Luke 10:17
Satan was not banished to earth when he rebelled against God! http://www.cuttingedge.org/articles/p314.htm
---------- This Weeks Hot News ----------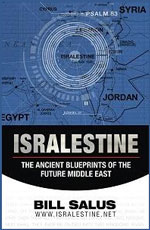 I. President Obama Allowed Israeli Prime Minister Netanyahu To Show His Voters Back Home How Tough He Is In Resisting the President's Calls For A Palestinian State.
We have long envisioned that only a Prime Minister who wears the label, 'Conservative', could actually persuade Israel to accept a Palestinian State. In his meeting with President Obama, PM Netanyahu was allowed to acted tough, 'Conservative', in order to persuade Conservative voters that he is watching out for their best interests.
Then, Conservatives will allow him to create a Palestinian State because they have the confidence that if a genuine 'hardliner' like Netanyahu thinks Israel will be safe, they will trust him.
NEWS BRIEF: ""Palestinian Authority hails Obama's call for Palestinian state ", China View News, 2009-05-19
"RAMALLAH, May 19 (Xinhua) -- The Palestinian National Authority(PNA) Tuesday welcomed U.S. President Barack Obama's call for creation of a Palestinian state. Obama called for settling the Israeli-Palestinian conflict during Monday's talk with visiting Israeli right-wing Prime Minister Benjamin Netanyahu in Washington."
When the President of the United States calls for a Palestinian State, that represents the most powerful endorsement possible. You simply cannot get a stronger diplomatic push.
Yet, Prime Minister Netanyahu resisted Obama's call.
NEWS BRIEF: "Netanyahu stands firm against demands from Obama", Telegraph News (U.K.), 19 May 2009
"Israel stood firm against demands from Barack Obama on Monday to cease the construction of Jewish settlements and embrace the 'two-state solution' to achieving peace in the Middle East."
Thus, Israeli Mass Media could trumpet to their constituents the very next day that the "Conservative" Prime Minister had stood toe to toe with the new President to resist these insane calls for a Palestinian State.
The stage had thus been set for Netanyahu to reopen the door just a tiny crack, without most voters being aware of this fact; after all the first story appeared on the front pages while the second story was reported only in non-Israeli news sources.
NEWS BRIEF: "Netanyahu ready to 'reignite' peace talks with West Bank Palestinians", New York Daily News, May 20, 2009
"WASHINGTON - Prime Minister Benjamin Netanyahu said Tuesday that Israel is ready for immediate peace talks with West Bank Palestinians even as Hamas in Gaza renewed rocket attacks. Netanyahu said he is working with President Obama 'to reignite the peace process' without waiting for action against Iran."
What kind of "re-ignition" of the Peace Process between Israel and the Palestinians is possible? Surely every conceivable plan which could be tried has been tried, all to no avail. But, if President Obama could find a different plan, he could receive the Nobel Peace Prize!
Just such a plan surfaced immediately.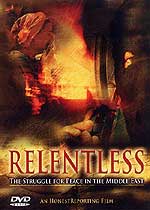 DVD
II. President Obama will present a brand new plan!
NEWS BRIEF: "Netanyahu: US intends to present new plan", The Jerusalem Post, May 19, 2009
"Following his highly-anticipated meeting with US President Barack Obama at the White House, and after a 30-minute press conference, Prime Minister Binyamin Netanyahu gave a special briefing to Israeli reporters late Monday night, and told them that the president planned to formulate a new Middle East peace initiative which would be presented soon."
Netanyahu called Obama's plan "interesting" and stated that its elements were crafted with Israel's security needs in mind. That statement is going to resonate well with Jewish Conservatives.
"Speaking alongside Netanyahu at the Oval Office earlier in the day, Obama stressed the importance the US attached to Israeli security and its recognition of how the Jewish state perceives the threat from Teheran, even as he defended his policy of engagement ... The policy differences were clear, with Obama emphasizing the importance of a 'two-state solution' and an end to settlement growth even as Netanyahu made no reference to an independent Palestinian country. Instead, the prime minister spoke of the possibility of a 'two peoples to live side by side in security and peace' if the Palestinians recognized Israel as a Jewish state and agreed to an end of conflict."
As you can see, the differences between the two leaders is purely semantic, but the average Jewish Conservative voter is likely to not realize that Netanyahu and Obama are really talking about the very same thing - a state for the Palestinians.
Today, the plan which President Obama intends to propose took more concrete shape.
NEWS BRIEF: "Obama calls for demilitarized PA state", The Jerusalem Post, May 20, 2009
"Amid much speculation over US President Barack Obama's upcoming address to the Muslim world, reports published on Wednesday outlined the details of his Middle East peace plan, which are said to include a demilitarized Palestinian state."
Lest you scoff at this proposal, believing it would have no chance whatsoever to succeed, please take note of the next segment, which reveals that this plan originated with Jordan's (Masonic) King Abdullah II and pro-West Saudi Arabia.
"The US president's initiative, which was formulated in consultation with Jordan's King Abdullah II during the two leaders' recent meetings at the White House, reportedly does not significantly stray from the pan-Arab peace initiative proposed in 2002. Rather, it bolsters certain details within the Saudi-proposed plan."
How could the Palestinians be disarmed? While Abbas' Fatah faction might lay down their arms, neither Hamas nor Hizbullah are likely to disarm. An Israeli intelligence chief commented on the fact that Hamas was a genuine threat so large that its intransigence alone could derail any peace effort.
NEWS BRIEF: "Intelligence Chief: Facts on the Ground Ditch US Peace Plan", by Tzvi Ben Gedalyahu, Israel National News, 05/19/09
"U.S. President Barack Obama has 'hit the ground running' for a new Palestinian Authority state since his election victory, but Yuval Diskin, head of the Israel Security Agency (Shin Bet), sees a steep cliff ahead. One day after President Obama told Prime Minister Binyamin Netanyahu that he is going full-speed ahead with plans for establishing a new PA state in Judea, Gaza and Samaria, Diskin told the Knesset Foreign Affairs and Security Committee that there is 'no chance for an effective peace process so long as Hamas rules Gaza'."
That is a strong statement, but is entirely true. For this reason, when Israel launched her 22-day war against the Gaza Strip last year, I truly believed that the primary purpose was to overthrow Hamas so that this peace plan could go forward. That goal did not materialize.
However, given the strong support of the 22-nation Arab Federation for this peace plan, is it possible that their forces might enter Gaza and disarm Hamas? Arab disarming Arab, now that would be a war worth watching!
We can only wait to see how this entire scenario plays out. Remember, Palestinian Authority President Abbas visits the White House next week. He very well might face a brand new "Peace Plan" which would be far different than anything he has ever seen, i.e., an American/Israeli/Arab Federation Plan.
Events in Israel may become very interesting very quickly.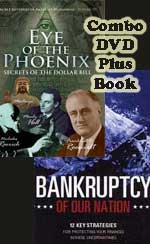 III. President Obama exercised his new authority as the head of General Motors and Chrysler to announce strict new guidelines regarding the fuel efficiency of vehicles.
NEWS BRIEF: "How Obama Is Revamping America's Cars", Yahoo Financial News, May 19, 2009
"The usual practice in Washington is to issue marginal new rules and declare them revolutionary. President Obama's new fuel-economy standards for automobiles, by contrast, may be even more sweeping than Obama himself acknowledges. The president's goal is to improve America's collective gas mileage, cut emissions of carbon dioxide and other greenhouse gases, and reduce U.S. imports of foreign oil. To do that, Obama aims to limit the amount of tailpipe emissions cars can spew, the first such federal regulation."
How much of an mileage increase is the President going to demand? About a 40% increase. Remember, Obama did not have to go to Congress to get legislation passed as he would have had to do under the old Capitalistic economy, because he is the de facto head of General Motors and Chrysler. Under this new Fascist model he can simply order his companies to produce the kinds of cars he wants.
Let us review the changes to the average consumer that these new auto changes are likely to produce.
"Cars will cost more. Raising fuel economy so quickly will force automakers to fast-track new technology that might otherwise evolve over years or decades. That will be expensive."
"Mileage will be better--on virtually all cars."
"Fillups will cost less." This belief is predicated on the fact that these new cars will get up to 40% better gas mileage. However, since the cost of gas at the pump is planned to jump upward dramatically -- possibly even to $4 per gallon -- the actual cost of filling the tank on your new car may not drop.
I have felt for some time now that the cost of gas must go up dramatically if Americans were going to be forced into buying these new, lighter cars. Chrysler and General Motors are already phasing out their favorite muscle cars, so Americans should see the "handwriting on the wall" concerning gas-guzzling vehicles; they are on their way out.
"Some states will face much tougher rules." The automakers will now face Federal guidelines which shall apply to the entire nation. States like California who had adopted their own higher standards have agreed to submit to the new Federal regulation. This reality is a break for automakers, as now they can produce cars on a longer manufacturing run.
"There will be a lot of new technology under the hood."
"And some vehicles will stay more or less the same." If a customer really wants a big V-8, he will likely be able to get it, but he will be punished daily by far higher gas prices.
President Obama is thus acting as only the Fascist Economy would allow him to act, i.e., he is ordering Detroit to build the kinds of cars he wants them to build.
One interesting note here is that Ford Motor Company cooperated with the White House in these new rules, even though Ford is still an independent company because they refused government bailout funds. Why would they do that?
Ford would cooperate with Obama's directives because political forces dictate that they do so. Also, since parts suppliers will be producing the kinds of parts these new, highly technical cars require, Ford will soon discover that they might not get the parts they need if they continue to produce "gas-guzzling" vehicles.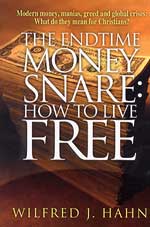 IV. The Fascist tentacles of the Federal Government continue to work its way downward and through the automobile industry, as these next two articles clearly illustrate.
NEWS BRIEF: "Feds to ante up $7.5B more to help GMAC: U.S. government to hold a majority stake in the Detroit-based auto finance company", Detroit News, May 20, 2009
"Washington -- The Treasury Department is preparing to announce as early as today that it will invest an additional $7.5 billion in GMAC LLC in a deal that could allow the U.S. government to hold a majority stake in the Detroit-based auto finance company. GMAC, whose financial good health is key to providing loans for consumers to buy General Motors Corp. and Chrysler LLC vehicles, has been in talks for several weeks to secure additional capital."
"In December, the U.S. Treasury invested $5 billion in GMAC by buying preferred stock in the finance company. That stock carries a 9 percent dividend, but has no voting rights. Treasury also loaned GM nearly $900 million to buy GMAC stock. If the Treasury exercised its options from those investments, which would give it voting rights, it could own about 35 percent of GMAC..."
This is classic Fascism! The Federal Government now can order GMAC how to make loans and what the parameters will be for loans. This development is highly significant, for it gives the government control over a significant piece of the automaker's future.
But, auto parts suppliers are also about to be eaten alive by the growing Federal monster!
NEWS BRIEF: "Group lobbies for more federal aid to suppliers", Detroit News, May 9, 2009
"Auto suppliers said Friday they are in crisis and may be forced out of business by temporary factory shutdowns at General Motors Corp. and Chrysler LLC. That would leave U.S. automakers without their supply base when the economy improves, the suppliers warned ... McKenna's group urged Congress and the Obama administration to provide direct financial assistance to parts suppliers and promote incentive programs for new car buyers ... Many of the nation's roughly 5,000 suppliers have been cash-strapped as GM, Chrysler and Ford Motor Co. have reduced production because of falling sales, and about 20 auto suppliers have filed for bankruptcy this year.
" 'We're concerned about the ongoing viability of the whole system', said Dave Andrea, vice president of industry analysis and economics for the Original Equipment Suppliers Association."
Should the parts suppliers industry receive the same type of government bailout monies which flowed to General Motors and Chrysler, they will be just as susceptible to government control! Thus does the Federal Government continue to forces its control over increasingly large segments of the entire economy.
UPDATED 4PM, May 20
This breaking news article proves beyond doubt that the American economy has now entered the Fascist Economy, where the government radically controls individual companies.
NEWS BRIEF: "GM bankruptcy plan eyes quick sale to gov't", Reuter's News, May 19, 2009
"NEW YORK, May 19 (Reuters) - General Motors Corp's (GM.N) plan for a bankruptcy filing involves a quick sale of the company's healthy assets to a new company initially owned by the U.S. government ... The new company is expected to honor the claims of secured lenders, possibly in full ... The remaining assets of GM would stay in bankruptcy protection to satisfy other outstanding claims."
"The government's plans include giving stakes in the new company to GM's union and bondholders ... Setting up a new company to buy the healthy assets is aimed at reassuring consumers who might not be willing to make a major purchase from a bankrupt company, fearing it would not honor warranties or provide service. The board of the new company would be established with the tacit approval of the government."
Thus, immediately after the Federal Government buys the healthy portions of General Motors, it will then turn around to quickly re-sell the new company to GM's unions and bondholders. At that point, the new General Motors will be owned by private interests, with the government exercising strong regulatory control.
This is classic Fascism! This whole economic turmoil is headed exactly where we said it would head! The economy is not going to collapse and we are not heading into Socialism; rather, we are transitioning into the "kissing cousin" of Socialism, the Fascist Economy.
Since the planned economy of the New World Order is Fascism, this kind of changeover within our economy is another strong proof that this global system of Antichrist is getting very close.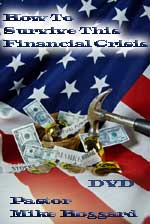 V. Now that California voters have rejected the governor's emergency funding plans, will Governor Schwarzenegger turn to the Federal Government for bailout monies?
If California does receive bailout money from the Feds, that state will come under the same Fascist regulatory powers which the banks, insurers, and automakers are now struggling.
NEWS BRIEF: "California Voters Reject Budget Crisis Measures", CNN Politics, May 20, 2009
"Californians overwhelmingly panned a handful of ballot measures Tuesday designed to pull the state from the edge of what lawmakers have called 'financial armageddon'. Californians in Tuesday's special election voted down five of six propositions aimed at closing the state's budget deficits ... Gov. Arnold Schwarzenegger had said that, if the propositions failed, he would have to make drastic cuts to education and health care, and would probably free many inmates from the state prison system. With all six measures defeated, the deficit would surge to $21.3 billion, Schwarzenegger's office said last week. Even if all the measures passed, the deficit would hit $15.4 billion at the start of the new fiscal year in July."
These proposals are severely drastic and will elicit a severe response from the voters. Already, people are responding to the Governor's suggestion that he would be forced to release many prisoners.
" ...that plan worries some, including Lance Corcoran of the California Correctional Peace Officers Association. 'The reality is that people don't get to the California prison system by accident, and most of our offenders have nine felony convictions before they have ever seen the inside of the prison', Corcoran said. 'There is concern that we are just dumping people back into communities and those communities are going to be at risk'."
You are seeing the old Dialectic Plan in action. First, you create a severe problem guaranteed to set many citizens into angry orbit Then, you step in with the drastic change you wanted to take all along. We believe that, just before California begins these drastic steps, the Republican Governor may call upon his Democrat buddy in the White House to request Federal funds.
When President Obama steps in to assist California, the government will control that state in a truly Fascist manner. And, after Governor Schwarzenegger takes this plunge, other states will fall all over themselves to request Federal bailout funds.
At this point, the Fascist system will have gone from the economic field to the political arena. The flow of powers and authority from the states to the Feds will greatly accelerate!
Welcome to the coming New World Order.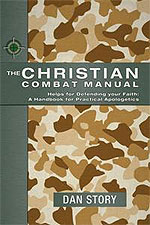 VI. The cultural change in America has fallen far enough into the Abyss where one discerning American pastor is now saying that the government for the past several years is now boldly "Anti-Christian".
Christians all over the world need to buckle down spiritually in order to prepare ourselves for the dramatic persecution about to break upon our heads.
NEWS BRIEF: "U.S. Government Has Become Patently Anti-Christian", Chuck Baldwin Live, May 19, 2009
"The intent of the Constitution's framers was, therefore, in the matter of religion (especially the Christian religion...), that the federal government would maintain a healthy respect for it, and keep its hands off. For the last several years, however, instead of respecting religion--especially the Christian religion--the leaders of our federal government have increasingly demonstrated animosity, and even hostility, toward both the Christian faith and Christian people."
Indeed, the vast majority of our Founding Fathers understood that only the Christian religion offered a self-control over individual citizens which was absolutely necessary to make the infant Republic work properly without self-destructing. Until the deliberately caused Great Depression changed the values of the entire country, the government valued the self-regulating aspect of Christianity. Even most of the unsaved still lived their lives caring about honesty, their reputation and treating people right.
But, under President Franklin Roosevelt, the government stepped in the middle of our culture in a huge way, turning the government into Socialism and retraining millions of people to look to the government first to solve our problems.
Before we review any more of Baldwin's article, let us address one factor he mentions in this first paragraph. On May 19, 2009, Chuck says that this dramatic change in the way the government views Christians has been occurring "for the last several years". In other words, this trend of government animosity toward Christianity began under President Bush, a man whom too many Christians still believe was Born Again (Read our table, "President Bush: Evil Fruits vs Good Fruits")
In my opinion, President Bill Clinton began this bold change toward Christianity. He certainly flaunted its values in a most public manner as he waded through the disgusting revelations about Monica Lewinsky. Hillary and Bill continually acted in such a way as to cast dispersion upon Christian values.
Now, let us return to Baldwin's dissertation:
"While claiming to be 'tolerant' and 'pluralistic', our federal government, in practice, shows little tolerance or pluralism regarding Christianity. Time and again, Christian practices and people are singled out for humiliation, persecution, or retribution ... In spite of Constitutional requirements to keep its hands off religious liberty, the U.S. government routinely singles out Christian practices for public repudiation. For years now, federal judges have demanded that local schools (under the jurisdiction of local and state governments) prohibit prayers or Bible reading."
Muslims and Satanists are accorded special treatment that is now being denied Christians. In fact, Baldwin noted that America's officials -- both political and judicial -- are now beginning to target Christians the way the Old Roman Empire did. During that awful reign, Roman officials tolerated every religion and every practice, except for Christianity. Instead, they targeted Christians for persecution, prison, and martyrdom.
Do not be deceived: America is heading in that very direction. In President Obama, America has a leader who is already exhibiting biased behavior against Christians. The time will come when American Christian leaders will be thrown into jail for no offense other than insisting on the right to practice their religion according to the Bible.
The insidious "Hate Crimes Bill" is a good example. If it passes with the provision that Christians can be arrested and jailed simply for preaching what the Bible teaches about homosexuality, then a good many Christian leaders may be tossed into prison with their ministries shut down.
Are you spiritually prepared? If you are not living for Jesus Christ right now, you will not be able to live for him in the face of persecution, torture and martyrdom. If you are not Born Again, or if you are a lukewarm Christian, we urge you to change all that by reading our Salvation Page so that the Holy Spirit can revolutionize your heart.
Winning souls for Jesus is the only action the Bible tells people of the End of the Age to be busy with. We are not going to roll the fulfillment of prophecy back, now that Israel is back in her land. Listen to Jesus' prophetic words: