"FINAL COUNTDOWN" - DVD Sets
Volume 2 (Left) and Volume 1 (Right)
Both Sets Contain 5-DVD's For Only $29.99 Each ($59.98 total), but you can buy them now for only $44.98, a savings of $15.00!
Now you can convince even the die-hard skeptic that current events are moving as Bible prophecy had predicted. This DVD should be a great soul-winning tool.
These videos presents key dramatic events and/or trends which prove beyond a shadow of a doubt that Jesus "is near, even at the very doors". Teaching is liberally sprinkled with remarkable video clips.
Combination Offer - http://www.cuttingedge.org/detail.cfm?ID=1861
Please Read the detailed write-up for Volume 1 and for Volume 2. A most powerful DVD and most popular in our Bookstore.
Both these DVD Sets are wonderful soul-winning tools, aimed at those people who just cannot see from world events that we are living in the prophesied "End of the Age". These video clips will change many a mind!
"Companion Set To Final Countdown DVD Vol. 1- 80 DVD Video Clips on 6 DVD's, Plus 2 Workbooks And More!" is instock and still on sale for $10.00 off -- http://www.cuttingedge.org/detail.cfm?ID=1822
---
---------- This Weeks Hot News ----------
DVD
I. Twenty-five military officers are now coming forward, saying that the official government story for 9/11 is "hogwash"!
The expertise of this group of officers may just trigger a new investigation! As America prepares for a Fall Presidential election, are we about to hear the truth, that the Skull & Bones Bush Administration carried out the Illuminati Plan of 9/11/2001?
NEWS BRIEF: "Twenty-five former U.S. military officers severely criticize official account of 9/11", Pakistan Daily, reprinted by Conspiracy Planet, May 22, 2008
"Twenty-five former U.S. military officers have severely criticized the official account of 9/11 and called for a new investigation. They include former commander of U.S. Army Intelligence, Major-General Albert Stubblebine, former Deputy Assistant Secretary of Defense, Col. Ronald D. Ray, two former staff members of the Director of the National Security Agency; Lt. Col. Karen Kwiatkowski, PhD, and Major John M. Newman, PhD, and many others."
"They are among the rapidly growing number of military and intelligence service veterans, scientists, engineers, and architects challenging the government's story."
"Lt. Col. Robert Bowman, PhD 'A lot of these pieces of information, taken together, prove that the official story, the official conspiracy theory of 9/11 is a bunch of hogwash. It's impossible', said Lt. Col. Robert Bowman, PhD, U.S. Air Force (ret)."
If this story is true, we shall have to watch it carefully, very carefully. It may turn out to be just another government whitewash "investigation". But, if these officers collectively trash the government's official story, the American people will be discovering the truth at the very time they are going to the polls to "elect" a 44th President.
In all this discussion, I wonder if the 1995 Illuminati Card Game will come into focus? We have always considered this game to be the "Smoking Gun" proving that the Illuminati carried out the attacks so they could complete the overthrow of the Old World Order so they can establish their coveted New World Order.
Do you remember the two "Smoking Gun" cards in this role-playing game, introduced in 1995?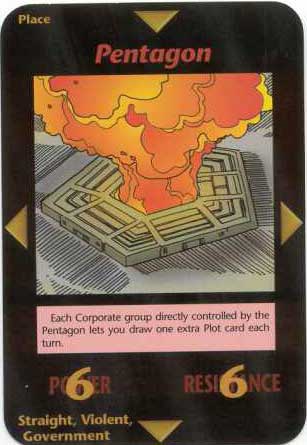 Of course, nothing major will come out of the investigation -- even if the officers are genuinely sincere in wanting the story to become public -- if the Mass Media does not cover it. We believe this story is simply an outworking of the Dialectic -- the Controlled Struggle.
We encourage you to read the full story, as it is chock full of great information from these experts.

DVD
II. The race is on for Regional Currencies!
Regional currencies are the last step to a truly Global Currency!
NEWS BRIEF: "South America to Have Single Currency in the Future", By Andre Soliani, Bloomberg, May 26, 2008
"Brazilian President Luiz Inacio Lula da Silva said the creation of a South American bloc is a step towards the adoption of a single regional currency. 'We will work to have in the future a single central bank a single currency', Lula said today in his weekly radio program broadcast nationwide."
The first step has already been taken to create a single huge nation which would have a single currency.
"South American leaders signed an agreement May 23 to establish the Union of South American Nations, or Unasur, a bloc modeled on the European Union. The treaty sets goals for integration of energy and transportation networks and immigration policies. It also creates a South American parliament in Cochabamba, Bolivia."
Thus, we have the strong beginnings to a hemispheric nation:
1) Creation of a single, central bank
2) Creation of the "Union of South American Nations". Because this union is said to be patterned after the E.U., we must realize that the planned agenda is for this huge new nation to become a nation in every aspect, just as E.U. has become.
3) A Parliament has already been created! This step simply tells us that a full political nation is planned.
Just as a regional currency is planned for the North American Union (NAFTA'S AMERO), a regional currency is planned for South America! Soberly, the key leadership of this new South American nation is comprised largely of leftists totally opposed to America! Will the 44th President be more amenable to the Communist-type nation forming south of our borders?
We must shout to the world that this creation of a super-state is part of prophecy! In NEWS1002, entitled, "NAFTA: The Shocking Rest of the Story", we show that the Illuminati planned that the entire world would be reorganized into 10 super states, in fulfillment of Daniel 7:7-8, where God foretold that, at the time of Antichrist, the world would be reorganized into 10 super states!
In the Illuminati Plan -- which I first saw in a 1972 book entitled, "Mankind At The Turning Point" -- Super Nation #6 is to be "Latin America". Prophecy is being fulfilled in front of our eyes, in our Daily News!
Are you aware? Are you warning others? This is one of the most important goals of Cutting Edge Ministries, i.e., to warn others that End Times prophecy is being fulfilled, and urging people to turn from their sins to Jesus while "today is still called today"!
Regional Currency is the hot topic in other areas of the world as well.
NEWS BRIEF: "U.S. Government Green Lights Gulf Dollar Abandonment", by Steve Watson, InfoWars, May 26, 2008
"A report from Merrill Lynch & Co has revealed that the government has effectively given Gulf Arab oil producers the go ahead to change their dollar-pegged foreign exchange policies, a move some experts fear will lead to a large scale abandonment of the greenback ... the United Arab Emirates and Qatar will probably move to a currency basket in the next few months ... This may spur a similar move by the Saudis some time next year."
This next segment reveals that the Gulf States are also planning a "monetary union"!
"... the other five Gulf Cooperation Council countries have all kept their links, citing the need to keep currencies fixed until they form a monetary union in 2010, and the limited inflationary impact of the weak dollar."
Don't you find it highly revealing that the Bush Administration is facilitating a financial move by our allies which could drive a stake into the heart of the American Dollar? Why would the U.S. Treasury take such action?
As we have been stating for a long time, the Illuminati must drive the American Dollar down and down so that, when the timing is right, a switch to the regional currency, the AMERO, can be introduced. Further, since the planned AMERO will have a fixed value, the price of all commodities should drop; can you imagine the sudden support from American citizens for this new currency when it is revealed that the price of gas and all commodities will drop 50%?
Americans will not just tolerate the new currency, they will demand it. The Global Elite loves to so manipulate the situation that its victims will demand the change which shall prove to be their undoing!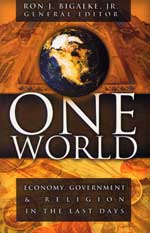 III. Globalization is reaching new heights as government tax revenue departments join forces to ferret out tax cheats on a global scale!
NEWS BRIEF: "New Global Hunt for Tax Cheats", Business Week, May 23, 2008
"By forming multinational investigative teams, the IRS and other tax collectors are cracking down on evaders and giving new meaning to globalization."
What this momentous sentence means is that tax collection agencies around the world will be sharing their confidential files with foreign tax agencies around the globe! Truly, when the United Nations implements their planned world tax a few years hence, the apparatus will be in place to implement the global tax.
"Buoyed by new multinational investigative teams, agreements with banks to open once-secret records, tougher penalties for cheats and third parties, and a thirst for billions of dollars in recoverable revenue, the new globe-spanning tax man has got the world's mega-rich worried they could run afoul of the mounting crackdown."
Do not be deceived into thinking that just the "filthy rich" will be the target of this new global tax effort. In the final analysis, the average taxpayer will be the target.
Further, once this global tax enforcement scheme is fully implemented and integrated, this new global giant "IRS" will not be bound by the laws of individual countries which might get in their way. All laws of individual countries limiting the scope of what the global tax agency can do will either be changed or ignored.
Globalization is now entering the waters of the "Brave New World"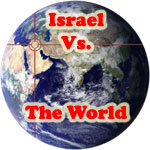 Audio CD
IV. Israel's Prime Minister Olmert may be forced to step down, as controversy continues to spread about allegations that he took significant monies in bribery.
President Bush's campaign to create a Palestinian State before he leaves office may have hit a new obstacle.
NEWS BRIEF: "U.S. businessman says he gave cash-stuffed envelopes to Israeli PM Olmert", International Herald Tribune, May 27, 2008
"In startling and sometimes tearful court testimony, the key witness in a corruption probe that threatens to bring down Prime Minister Ehud Olmert described on Tuesday how he handed the Israeli politician envelopes stuffed with hundreds of thousands of dollars in cash ... Israel TV reported late Tuesday that Defense Minister Ehud Barak, leader of the Labor Party, Olmert's main coalition partner, was considering calling on Olmert to suspend himself from office or resign. Opposition politicians called publicly for his resignation."
As we go to publish this newsletter, Defense Minister Barak held a special news conference where he declared that PM Olmert needs to step down as Prime Minister while the investigation continues.
If Olmert does resign, new elections could be held quickly. While Olmert has publicly stated that he will not step down, some politicians are already searching for a replacement.
NEWS BRIEF: "Can a woman lead Israel? FM Livni's rivals seem to imply that a woman cannot lead a state facing war threat", YNET News, 5.26.2008
"Tzipi Livni tops the polls as the favored premiership candidate, and the doomsday weapon being used against her by those who are not doing as well is one that we thought already died off a while ago along with the ethnic demon and other irrelevant demons: A woman, say the other candidates, simply cannot run a state facing an existential threat such as Israel."
Islamic leaders have been mightily upset over the years by having to face female officials of Western nations. Bill Clinton had Secretary of State Albright, George Bush has Secretary of State Rice, and Germany now has Prime Minister Merkel.
Can you imagine their apoplexy should they face a female Prime Minister of Israel?
Of course, if Israel does gain a female prime minister, Islamic strategists would believe that Israel is again showing weakness in the face of their grave threat. We have been pointing out many instances in the past few years where both Israel and the United States continue to portray weakness in leadership, making Arab leaders believe they can actually defeat Western armies.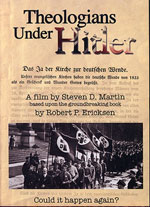 DVD
V. The next Holocaust continues to develop, as attitudes which spawned the Nazi Genocide grow in American society.
NEWS BRIEF: "The Value of a Human Life: $129,000", Time/CNN, May 20, 2008
"In theory, a year of human life is priceless. In reality, it's worth $50,000. That's the international standard most private and government-run health insurance plans worldwide use to determine whether to cover a new medical procedure. More simply, insurance companies calculate that to make a treatment worth its cost, it must guarantee one year of "quality life" for $50,000 or less."
"Quality of Life" is a German/Nazi term which resulted in the genocide of almost 20 million devalued people from 1920-1945 throughout Europe. Cutting Edge has been writing against this Western return to this demonic concept for the past 10 years.
Let us quote from a 1992 Radio Program, CE1066, entitled, "America's Continued Slide Into Hitler's Nazism".
In Germany, beginning approximately 10 years before Adolf Hitler gained power, certain German doctors began to assist in suicides of people who were terminally ill. Also, in that time, thinking moral people were troubled, but they found they could not effectively argue against this practice on the same grounds that we cannot argue today: If a rational adult suffering from a terminal illness decides that they want to end their life because, in their opinion, they no longer have a proper "Quality Of Life", they have that right. And, when many of them turned to their physician for assistance, the German general public "understood". But, history records that this beginning culminated some 25 years later in one of the most massive, and certainly, the most effective, genocide ever, popularly known as the "Holocaust". This moral slide is chronicled quite clearly in a book entitled, "The Nazi Doctors", by Robert J. Lifton. Lifton states quite clearly that the Nazi Holocaust could never have occurred had it not been for the conditioning of the German people by this Euthanasia campaign. Lifton lists several steps which occurred after the beginning stage of doctor-assisted suicides of terminally ill patients, culminating in the gas chambers and ovens of the Holocaust. These steps are:
1) The beginning people who were suffering from fatal diseases personally decided that they did not have proper "Quality of Life", and asked their doctor to assist them in committing suicide.
2) Once the killing began under these circumstances, many doctors throughout Germany began to decide on their own when a person under their care was suffering such a decline in "Quality of Life" that they no longer "deserved" to live. Doctors killed such people as the handicapped, the mentally ill, and the mentally deficient, using a deliberate misapplication of medical technology, so that the uninformed simply believed that the cause of death was natural.
3) The next step in public medical suicides was that responsibility in deciding when a person should be put to death because of declining "Quality of Life" was expanded to include the family members of the victim.
4) Step four was the further expanding of those people who could make the life-and-death decision for the terminally ill. At this point, committees of doctors and other medical personnel, plus individuals from the local area, were empowered to make the decision as to whether a person should be put to death.
The major change at this point is that the perceived role of the doctor changed, from simply a healer and a helper to an authority figure who "helped" when he decided to kill. Thus, the traditional role of the 'healer doctor' was reversed, and "healing" became redefined as killing those people who no longer had the desired "Quality of Life."
5) Then, abruptly, the rules were changed again, allowing the doctor in charge to make the decision for the individual. This was a significant change because the doctor was an authority figure. Thus, it was very easy to move into step 6,
6) Where the Government could make the decision as to who would die and when.
At this point, the entire apparatus of the government -- Hitler's government -- was thrown into the genocide effort. Even though a doctor was always the one who seemed to make the "Quality of Life" choice, the reality was that faceless government officials throughout Germany were making those decisions.
How close is this situation to happen in America? Fifteen years ago, a survivor of the Nazi Death Camps wrote a book he could not get published. Dr. Wolfensberger wrote, "The New Genocide of Handicapped And Afflicted People". He concluded that, by the early 1990's, American physicians were killing patients on a large scale, just as German doctors were doing before Hitler.
Dr. Wolfensberger stated that the time had arrived when loved ones of a "devalued person" had better sit at the bedside 24 hours a day, watching what the doctor is doing and what he is prescribing. Otherwise, your loved one might not make it out of the hospital alive!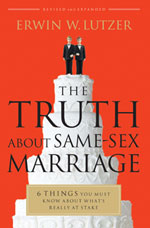 VI. The nightmare for Christian leaders and churches in California continues to grow.
This editorial is urging that no public official be allowed to refuse to issue gay marriage licenses because they personally object to the idea. Can the time be far behind where churches will be forced to allow gay marriages within its sanctuary?
NEWS BRIEF: "Saying 'I don't' to gay marriage", L.A. Times, May 28, 2008
"... although we recognize that county clerks throughout California have a complicated job ahead gearing up for same-sex marriages -- such as, what should the license call what used to be "husband and wife"? -- one thing that should be simple and clear is that, beginning June 16, public employees who perform marriage ceremonies have a legal obligation to do so for gay and lesbian couples, no matter how they feel about it."
The nightmare for Christian pastors and their churches in California is now beginning. Since the state high court has ruled homosexuality to be legal, churches will soon be challenged to allow gay marriages in their sanctuaries.
Pastors and deacons may soon be going to jail in California. And, since the rest of the nation eventually goes in the same direction as does California, pastors and churches all across this land will soon be facing this challenge.
What will your pastor decide? Will he hold to the teachings of the Word of God, or will he cave in to the strident demands to accept homosexuality? The time is quickly approaching when the genuine men and women of God may have to go to jail for their convictions.
Welcome to the religion of the New World Order!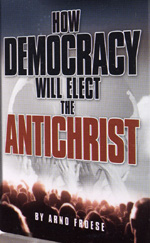 VII. Senator Obama continues to allow his Communist roots show!
NEWS BRIEF: "Communist band opens for Obama in Oregon campaign stop", World Net Daily, May 27, 2008
"A hip rock band that features the Soviet national anthem and communist-inspired lyrics was on stage to open for Democratic presidential candidate Barack Obama at his record-breaking Portland, Ore., rally that attracted 75,000. The Decemberists, a Portland-based group with a large local following, also closed the May 18 event."
Members of this rock band commented that, perhaps, a great many of the huge crowd who attended this Obama rally came there simply to listen to this most popular band.
On a personal note, I can testify to the radical, pro-left nature of many Oregonians. I lived in Oregon for 20 years, from 1964-1984, and was disturbed by the extremely leftist bias of much of the population. The New Age Movement was also very popular in this state. Therefore, I was not too surprised when Senator Obama won the state's primary
Now, let us return to this featured article to learn the extent to which this rock band can be considered Communist.
"The Decemberists typically begin their concerts with a Russian-language recording of the USSR's national anthem ... The Decemberists have posed for publicity photos in period Russian costumes with the red flag of the Bolshevik Revolution of 1917 waving behind them."
"What remains undisputed is the group's pro-communist image and their open support of Obama ... The Decemberists website shows photographs of Obama casually posing with the band members outside a tent set up for the candidate and the band at the Mall along the Willamette River in downtown Portland. PitchforkMedia.com shows close-up photographs of the band playing for the rally."
"In a YouTube video, Decemberist lead singer Colin Meloy endorsed Barack Obama in an unfinished song with communist-style lyrics that begin, "Barack Obama. Alas, Barack Obama..."
Cutting Edge noted the Communist connection to Obama's campaign in February, in NEWS2267, "Senator Obama Has Strong Ties To Illuminati - Communist Illuminati At That!"
Evidences of Political Manipulation
Don't you find it amazing that the front-runner for the Democrat nomination for President is pro-Communist, is probably a Muslim, has a last name eerily similar to America's #1 boogeyman since 9/11 -- "Osama"?
Senator Hillary Clinton follows close behind Obama in this race, a woman justly disliked by huge numbers of Americans.
Then, Senator McCain has the Republican nomination sewn up. He is one of the most disliked Republican politicians, carrying the most negative past baggage than anyone else who was originally in the race.
Having these three candidates in the presidential race simply screams 'manipulation'. There is no way in a real, open and honest race, that any one of these candidates would actually win. The "Hidden Hand" of the Illuminati is more clearly evident than ever before!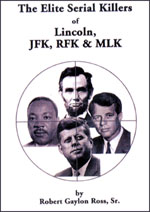 VIII. A prominent Republican political adviser shockingly mentioned the possible assassination of Senator Obama!
Coming hard on the heels of Hillary's mention of the Robert Kennedy assassination, Liz Trotta's remarks are truly mind-numbing.

NEWS BRIEF: "Fox News Guest Openly Calls For Obama Assassination ", InfoWars, May 26, 2008

"The Neo-Cons' sick obsession with assassinating Barack Obama took another bizarre turn yesterday when Fox News guest Liz Trotta openly expressed a desire to see someone "knock off" the Democratic candidate. Trotta, former New York bureau chief of the Washington Times, referred to the Democratic frontrunner as "Osama" before quipping that it would be nice to see both Bin Laden and Barack Obama killed."
"This link allows you to see and hear Liz Trotta say these words! 'Both if we could' "!
"Appearing on The Alex Jones Show last month, former Minnesota Governor Jesse Ventura warned that Obama could be in the crosshairs.
"British Nobel Prize winner Doris Lessing said Obama would be taken out if he became President in February.
"Princeton University political science professor-Melissa Harris-Lacewell echoed the same sentiment a month before, saying: 'For many black supporters, there is a lot of anxiety that he will be killed. It is on people's minds'."