Bookstore News
Retail Prices Slashed On 25% off all Bookstore Items!
See all the items in our Special Offers and Sale Area
More Specials - Still More Ideas
Still Time To Ship
---
FREE & FREE
Adam's Wall Chart
Synchronized Chronology of Ancient, Modern, and Biblical History
In Old-Fashioned Map Binder - Panels Unfold To a 25ft Wall Map w TWO FREE Booklets ($6.99 Retail)
Adam's Wall Chart is on Sale + a FREE Chart Key plus a FREE Teaching Guide are included! The Guide turns the Chart into a Homeschool teaching tool, as it shows the teacher how to explain every single panel in the Wall Chart, plus giving tests and answers. Wonderful Teaching Tool!! !
Regularly $44.98
On Sale $29.98, Saving You $14.99
Click Here To Read Full Write-up!
---
---------- This Weeks Hot News ----------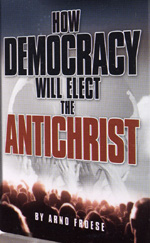 I. Senator Obama received enough delegate plus Superdelegates votes to allow him to declare victory.
NEWS BRIEF: "Obama declares victory for Democratic nomination", NewsDay.com, June 4, 2008
"ST. PAUL, Minn. - Sen. Barack Obama made history last night, declaring victory in a sweeping speech that was both conciliatory toward his party rivals and a preview of the tough campaign he will wage in the fall. Celebrating in the very hall where John McCain will accept his party's nomination in September, Obama signaled that the fall fight will center on change, the banner theme of his 16-month journey. He took the stage to U2's 'Beautiful Day', and then he claimed his party's mantle and his place in history."
Between the delegates Obama won from the primaries in Montana and South Dakota, plus a rush of superdelegates pledging their support, the Illinois Senator apparently secured enough votes to win the nomination on the first ballot. Once the votes of Florida and Michigan were counted, the minimum number of votes needed was 2,118. Here are the final official vote tallies:
Senator Obama - 2,156
Senator Clinton - 1,923
I am surprised that Hillary did not win this nomination, for I have been following her path toward the White House since that day in the 1992 election, where Bill declared that Hillary was going to be a "co-president". However, perhaps her time to be President will be four or eight years hence. For now, Obama says he has the votes to be nominated.
Talk immediately turned to whether Obama might choose Hillary as his Vice-President.
NEWS BRIEF: "Should Obama pick Clinton for his Number 2?", Reuters News, June 4, 2008
"WASHINGTON (Reuters) - Now that he has sealed the U.S. Democratic presidential nomination, should Barack Obama choose vanquished rival Hillary Clinton as his vice presidential running mate? Clinton says she is open to the idea and her supporters have begun a lobbying campaign. 'I'd like to see it', said California Democratic Sen. Dianne Feinstein, a Clinton backer."
If Hillary does accept the nomination, she will be in the same position in which George H.W. Bush (Sr.) found himself in 1980, when he finished a surprising second to Ronald Reagan and settled for the Vice Presidential position. Hillary could follow the same path Bush (Sr.) took to the Presidency, should Obama beat McCain.

II. Senator Clinton refused to concede or to quit.
NEWS BRIEF: "Hillary Clinton defiant in face of loss: Stops short of conceding", Reuters News, June 4, 2008
"NEW YORK (Reuters) - Hillary Clinton refused to surrender to Barack Obama in the Democratic race for the U.S. presidency on Tuesday or to acknowledge she had reached the end of the road in her bid for the White House ... 'This is a long campaign and I will be making no decisions tonight'."
By taking this action, Hillary keeps her campaign alive through to the Democrat Nominating Convention in late August. This action seems surprising, because it delays the unity the Democrats are now seeking. However, Hillary will be able to stay focused on her pet issues, like socialized Health Care and keep the pressure on Obama to take positions on the issues which she favors.
This stance also furthers her position as a "fighter who does not quit". This label would stand her in good stead at a later time when she might win the Democrat nomination in her own right.
But remember this stark fact: should the superdelegates change their minds before the time of the vote, Obama might yet be denied the nomination. Just two days ago, Hillary declared "the thing to remember about the superdelegates is that they may change their minds".
Let us review a June 3 news story which tells us that Obama would not secure the minimum votes from the primary process itself. You will realize that Obama is claiming victory on the basis of the superdelegates which flocked to his support yesterday.
NEWS BRIEF: "Primary season set to end with Obama poised to win", Excite News, June 3, 2008
"And although Tuesday's primary-season ending contests in South Dakota and Montana won't decide the Democratic nomination, the closing of the polls could open the floodgates to dozens of superdelegates - members of Congress and other party leaders - long anxious to throw their support to Obama."
This scenario is exactly what has occurred, as high-level superdelegates announced their support for Obama after the Montana and South Dakota primaries completed. When you count just the pledged delegates won by both sides from the primary process, Obama is short of the minimum delegates.
The front page report of my local paper, "The State", captured the reality that Obama has not won the nomination in pledged delegates.
NEWS BRIEF: "Delegate Count", The State, Front Page, Left-Hand Column, June 4, 2008
"Total Delegates: Obama, 2154; Clinton 1923
"Pledged Delegates: Obama, 1761; Clinton 1,636
"Superdelegates: Obama 396; Clinton 287
As you can see, Obama has not really "won" this campaign, but was able to declare victory because an official swing in superdelegates enabled him to officially declare himself the nominee.
Therefore, because she refused to officially end her campaign, Hillary could remain a force to the very end. If horrific news occurs between now and the late August Democrat convention which might change the political equation, Hillary is still officially in the race.
III. When Defense Secretary Gates stated that North Korea remained a serious adversary, he signaled that the North Korean nuclear crisis remained in the plans for World War III.
Before we comment on this news story, let us review the fact that the planned World War III which shall put the Masonic Christ on the world scene is scripted to consist of three wars.
1) Israel goes to war with her Arab neighbors -- this regional war is to be the official starting point of this global war. The Bible says that Israel is the key to End Times events and the Illuminati Plan concurs!
2) China invades Taiwan. (NEWS1282, "In 1952, Illuminati Planned To Give Taiwan Back To Mainland Communist China!")
3) North Korea threatens the entire region and the United States with a nuclear attack. (Read NEWS1781, "North Korea Has 100 Nuclear Warhead Arsenal And Intercontinental Ballistic Missiles To Deliver Them To New York City".
Listen to the New World Order plan regarding Korea:
With this material as background, let us now review the current remarks of American Defense Secretary Gates.
NEWS BRIEF: "North Korea is 'serious adversary': U.S.'s Gates", Reuter's News, June 3, 2008
"SEOUL (Reuters) - North Korea presents a serious security threat and U.S. forces in South Korea are ready to respond quickly and decisively to counter any attack, the U.S. defense secretary and military leaders said on Tuesday ... The United States has been trying to convince impoverished North Korea to abide by an international disarmament deal and scrap its nuclear arms program in exchange for aid and better global standing.
" 'We face a serious adversary across the DMZ (Demilitarized Zone) in the North. That is why we have this alliance', Defense Secretary Robert Gates told reporters at a ceremony to mark a change of command for U.S. military forces in South Korea."
Even though the hot rhetoric from the Bush Administration has cooled recently, the fact is that North Korea now possesses all the nuclear warheads and various ranges of ballistic missiles with which she can threaten anyone within the Asian region (including Japan) and the east coast of the United States.
Note the seriousness of this Plan:
1) "hair-raising nuclear confrontation"
2) "threaten man's very survival"
Finally, note the time period -- "towards the end of the period"
North Korea will not threaten anyone with her nuclear weapons until after Israel has started her war with her Arab neighbors. But, once the Third World War begins in earnest, North Korea will play her scripted role in the war designed to produce the Masonic Christ.
---
"FINAL COUNTDOWN" - DVD Sets
Volume 2 (Left) and Volume 1 (Right)
Both Sets Contain 5-DVD's For Only $29.99 Each ($59.98 total), but you can buy them now for only $44.98, a savings of $15.00!
Now you can convince even the die-hard skeptic that current events are moving as Bible prophecy had predicted. This DVD should be a great soul-winning tool.
These videos presents key dramatic events and/or trends which prove beyond a shadow of a doubt that Jesus "is near, even at the very doors". Teaching is liberally sprinkled with remarkable video clips.
Combination Offer - http://www.cuttingedge.org/detail.cfm?ID=1861
Please Read the detailed write-up for Volume 1 and for Volume 2. A most powerful DVD and most popular in our Bookstore.
Both these DVD Sets are wonderful soul-winning tools, aimed at those people who just cannot see from world events that we are living in the prophesied "End of the Age". These video clips will change many a mind!
"Companion Set To Final Countdown DVD Vol. 1- 80 DVD Video Clips on 6 DVD's, Plus 2 Workbooks And More!" is instock and still on sale for $10.00 off -- http://www.cuttingedge.org/detail.cfm?ID=1822
---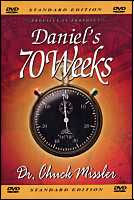 DVD
IV. Israel is said to be "abandoning" the city of Sderot in the face of Palestinian rocket pressure.
The Israeli government of Prime Minister Olmert continues to exude weakness in the face of unrelenting Palestinian attacks.
NEWS BRIEF: "Israel disengaging from Sderot", YNET News, 6.03.2008
"Courts ban representatives from traveling to rocket-battered town, citing life-threatening danger posed to them there. Delivery of subpoenas to its residents now falls on shoulders of local police. When Sderot's residents protest they are treated like second-class citizens and claim the government has deserted them - there alarmingly seems to be more to their cry than what detractors call hyperbolic hysteria."
The town of Sderot is close to the Gaza Strip line, so it has suffered greatly over the past year from constant barrages of Kassam terror rockets and mortar barrages. Many citizens and businesses have already moved out of the town; but now, the Olmert regime is officially caving in to the Palestinian pressure.
"For the town where thousands of families grimly face daily rocket and mortar barrages from neighboring Gaza has been declared too dangerous a destination for court officials tasked with delivering subpoenas to Sderot residents, at least by the chief justice overseeing the Magistrates' courts in southern Israel."
The Israeli court system is afraid that its employees might get killed going into Sderot to deliver subpoenas to Jewish residents, or, if the Palestinians attack the city while court representatives are in the town, the representatives might be trapped.
This is a very, very bad signal to send to the Palestinians, another sign of weakness of resolve. Since the Lebanon War of 2006, the Israeli government has consistently been making decisions which make them look really and truly weak.
Israel is inviting attack, from an inferior foe.
The Arabs continue to believe they can defeat Israel. Wars have started over less!
V. As the United Nations hosts a 3-day global food summit in Rome, calls for international aid and a removal of trade barriers demonstrates that the final goal of this crisis is to further global control over suffering poor nations.
NEWS BRIEF: "Analysis: The global food crisis - UN is hosting a three-day food summit in Rome", Al Jazeera News, June 4, 2008
"The United Nations is hosting a three-day food summit in Rome where more than 40 world leaders are discussing a global crisis that is pushing 100 million people into hunger, provoking food riots, and threatening world stability. Price rises are being blamed on high oil prices, expanding populations, flawed trade policies, market speculation, growth in biofuels production, changing diets, urbanisation and extreme weather."
Individual leaders were under no illusion what force is really creating this food crisis.
"The real cause of the rise in food prices is the forced integration of local economies into an international economy controlled by speculative monopolies. If five grain giants control food trade, it does not matter how much food there is in the world, they will make their super profits."
Some world leaders were proposing measures which would further the global economy at the expense of these poor, hungry nations.
NEWS BRIEF: "World leaders urged to address food crisis", Los Angeles Times, June 4, 2008
"ROME -- World powers must act quickly and boldly to control soaring food prices that threaten nearly 1 billion people with hunger and could trigger devastating social unrest across the globe, the United Nations said Tuesday. At a three-day emergency food summit, U.N. officials urged nations to eliminate trade barriers, expand biotechnology research and boost production with an annual investment of $20 billion to $30 billion."
Eliminating trade barriers has long been a favorite tactic for globalist leaders wanting to globalize the entire economy of the world. When you eliminate all barriers, the economies of individual nations throughout the world begin to function as a single unit.
This tactic seems to be the most important in the minds and hearts of the representatives of the wealthy nations at this worldwide summit. Can you see how the Illuminati first creates a global crisis and then steps in to propose/force the very change they wanted in the first place? I believe the current global oil crisis is also going to produce some lasting global change which will facilitate the plans of the Elite.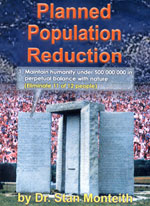 DVD
VI. The Bush Administration is hammering out a new agreement with Iraq which may contain a sobering provision: America reserves the right to use Iraqi soil to strike any country in the region!
NEWS BRIEF: "New agreement lets US strike any country from inside Iraq", Gulf News, June 4, 2008
"Baghdad: A proposed Iraqi-American security agreement will include permanent American bases in the country, and the right for the United States to strike, from within Iraqi territory, any country it considers a threat to its national security ... Senior Iraqi military sources have told Gulf News that the long-term controversial agreement is likely to include three major items."
1) "Iraqi security institutions such as Defence, Interior and National Security ministries, as well as armament contracts, will be under American supervision for ten years."
2) "The agreement is also likely to give American forces permanent military bases in the country, as well as the right to move against any country considered to be a threat against world stability or acting against Iraqi or American interests."
Therefore, the American President could conceivably launch airstrikes against Iran from Iraqi soil! This possibility will most definitely make Islamic leaders throughout the world extremely angry at both the Iraqi and the American government.
In fact, the anger against the Iraqi government for agreeing to this provision could be so intense, I wonder if officials of PM Maliki's government deliberately leaked this provision before it could become set in stone?
3) "The sources confirmed that the American army is in the process of completing the building of the military facilities and runways for the permanent bases."
Immediately after this report was leaked to the Gulf News, the United States vehemently denied that this new security agreement with Iraq contained these provisions.
This next story illustrates the depth to which President Bush has planned for a long-term American presence in Iraq.
NEWS BRIEF: "New Contracts Reflect Continued Presence In Iraq", Truthout News, 2 June 2008
"The depth of US involvement in Iraq and the difficulty the next president will face in pulling personnel out of the country are illustrated by a handful of new contract proposals made public in May. The contracts call for new spending, from supplying mentors to officials with Iraq's Defense and Interior ministries to establishing a U.S.-marshal-type system to protect Iraqi courts. Contractors would provide more than 100 linguists with secret clearances and deliver food to Iraqi detainees at a new, U.S.-run prison."
In short, America is not leaving Iraq totally for a very long time. And, the next President will find it very difficult to do anything about it -- whether that President is Republican or Democrat.
DVD
VII. "U.S.A.: Torture Nation" - Where has this "christian" President led us?
NEWS BRIEF: "USA: Torture Nation", by Nat Hentoff, World Net Daily, June 4, 2008
"On May 15, 25 CIA agents and one U.S. Air Force colonel went on trial in Milan, Italy, on charges they kidnapped Italian resident Hassan Mustafa Osama Nasr and sent him to Egypt, where he was tortured, including having electrodes attached to various body parts. This is what the CIA calls "an extraordinary rendition" – flying terrorism suspects to nations known for torturing prisoners, including prisoners from whom the CIA could not extract information. These operatives of our legendary CIA were caught scarlet-handed, having left a clear trail of cell-phone calls and bills paid at expensive Italian hotels."
Since Italy is such an important American ally, surely the Bush Administration is cooperating with this demand for extradition of the indicted men, right? Such cooperation would only be fitting in dealing with such a long-term friend.
"The United States, of course, refuses to extradite the 26 Americans on trial. After all, the president repeatedly assures the world that 'the United States does not torture'."
"As Amnesty International said of that continuing 'special power' for the CIA: 'The Bush administration continues its stubborn and reckless disregard for basic decency and values the United States should model. The president's action further compounds the incalculable damage to United States' standing at home and abroad'."
Of course, we all remember that the Bush Administration began to torture terrorist suspects shortly after the attacks of 9/11. We further remember that White House Attorney, Gonzales, originally advised the President that he was not bound by either American or International laws forbidding torture! President Bush valued this advice so dearly that he later promoted Gonzales to Attorney General!
And, we certainly remember the Abu Ghraib torture, in which American authorities routinely tortured Iraqi prisoners in ways uniquely offensive to Islamic men!
Yes, President Bush has so consistently used torture against its perceived enemies that he is likely to go down in history known as the "Torture President". Therefore, we can officially declare this pro-torture policy as "spiritually evil fruit" and add it to our table, "President Bush's Evil vs Good Fruits".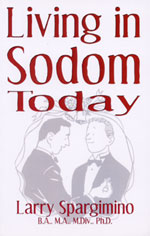 VIII. "As in the days of Lot", Jesus warned. A Jewish rabbi is now defending homosexuality as normal!
NEWS BRIEF: "Homosexuality isn't perversion" by Rabbi Chaim Navon, YNET News, June 3, 2008
"Why do we believe that homosexual relationships are forbidden? For the same reason that we believe that we must not eat a cheeseburger or shrimps: Because it says so in the Torah ... This is what God ordered, and He knows better than us."
At this point, the Rabbi sounds like a conservative religious scholar who is basing his opinion squarely on Biblical principles. Yet, do not be so hasty.
"Homosexual relationships are referred to in the Torah as 'abomination' (Leviticus, 18:22.) Yet this harsh expression is also uttered in relation to food that is not kosher (Deuteronomy 14:3) and in relation to a man who returns his divorced wife after she's been with another man (Deuteronomy 24:4). Would we treat someone who brought back his divorced wife with the same level of zealous revulsion? We do not know why the Torah forbade homosexual relationships. There is clearly a reason for it, yet it is beyond our comprehension."
"Our attitude to homosexual tendencies should not be any different than the way we treat a person who has a tendency to eat meat and milk."
Truly, Jesus was absolutely correct when He warned that a return to the Sodom belief about the acceptability of homosexuality would be one of the signs that the world had entered into the End of the Age. I find it quite shocking that this attitude of permissiveness toward the gay lifestyle should be coming from a Jewish rabbi!
The world is further down the road to ruin and to God's judgment than many have thought possible!
---------- Articles Posted ----------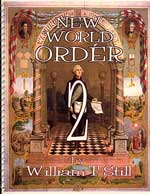 "High Cost of Oil Threatening A Most Important Goal of the Global Elite -- A Global Economy"
Since 1914, the Illuminati has been pushing relentlessly for a Global Economy, a Global Government and a Global Religion.
High oil prices are said to be encouraging governments to pull out of the trend toward a global economy and pursue individual solutions. Indonesia is the first major nation to pursue local economic cures, pulling out of OPEC - http://www.cuttingedge.org/news/n2294.cfm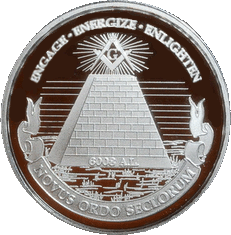 "Freemasonry Officially Admits That The Luciferian All-Seeing Eye Symbol On The Back of the One Dollar Bill Is Masonic!"
After years of denying that symbol of the All-Seeing Eye hovering over the pyramid on the One Dollar Bill is in any way, shape, or form Masonic, official Masonry is now bragging to their members that this is precisely the case!
Just another indication of the inherent Satanism within Masonry!

http://www.cuttingedge.org/news/n2293.cfm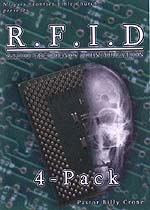 DVD
"R.F.I.D. Use Is Exploding Throughout Western Society!"
Since R.F.I.D. is a precursor to the 'Mark of the Beast', we should expect that its would usage increase dramatically in the years before Antichrist and his False Prophet arise. When the False Prophet forces all to take the 'Mark', people will have been pre-conditioned to accept it because they are used to a similar device.
That broad usage is now occurring, setting the stage for the 'Mark of the Beast'.
http://www.cuttingedge.org/news/n2292.cfm
"Declare War On Energy! Completely Change Our Way of Living!"
Is this goal the ultimate agenda for the Illuminati? Is this the reason oil prices are being driven skyhigh? Doubt it not!!
http://www.cuttingedge.org/news/n2290.cfm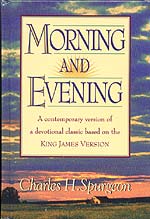 --------Concluding Inspiration ---------------"He shall not be afraid of evil tidings." Psalm 112:7
Christian, you ought not to dread the arrival of evil tidings; because if you are distressed by them, what do you more than other men? Other men have not your God to fly to; they have never proved His faithfulness as you have done, and it is no wonder if they are bowed down with alarm and cowed with fear: but you profess to be of another spirit; you have been begotten again unto a lively hope, and your heart lives in heaven and not on earthly things; now, if you are seen to be distracted as other men, what is the value of that grace which you profess to have received? Where is the dignity of that new nature which you claim to possess?

Again, if you should be filled with alarm, as others are, you would, doubtless, be led into the sins so common to others under trying circumstances. The ungodly, when they are overtaken by evil tidings, rebel against God; they murmur, and think that God deals hardly with them. Will you fall into that same sin? Will you provoke the Lord as they do?

Moreover, unconverted men often run to wrong means in order to escape from difficulties, and you will be sure to do the same if your mind yields to the present pressure. Trust in the Lord, and wait patiently for Him. Your wisest course is to do as Moses did at the Red Sea, "Stand still and see the salvation of God." For if you give way to fear when you hear of evil tidings, you will be unable to meet the trouble with that calm composure which nerves for duty, and sustains under adversity. How can you glorify God if you play the coward? Saints have often sung God's high praises in the fires, but will your doubting and desponding, as if you had none to help you, magnify the Most High? Then take courage, and relying in sure confidence upon the faithfulness of your covenant God, "let not your heart be troubled, neither let it be afraid." (C.H. Spurgeon, "Morning and Evening Devotions")
---
May Jesus Richly Bless You,
David Bay, Director
866-909-2850 Toll Free Customer Service - Order Line
803-356-2850 Toll Free Customer Service - Order Line
803-356-2860 Fax