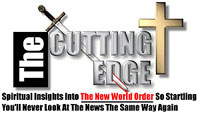 13th Anniversary On The Internet!
God brought Cutting Edge Ministries to the Internet on June 10, 1996, exactly 13 years ago to this day. The Holy Spirit gave me a heart to sow the Gospel Seed to the nations using the power of this unique medium called the Internet. I believed my assigned goal was to use the information God had revealed to me to urge sinners to repent and receive Jesus Christ while the Age of Grace was still upon us, and to challenge weak, backslidden Christians to realize the lateness of the prophetic hour and return to the Lord.
We are now seeing over 120,000 people downloading a Salvation Page in five languages and earlier this year, we estimated that we passed the one million mark! God is to be praised and glorified since His power alone has created this miracle.
During my early studies, in the late 1980's, I felt that the Spirit was telling me to line up world events according to three points of reference as a way to properly understand what was occurring. These points of reference were:
1) Understanding the occult, Illuminati Plan to produce their Antichrist. God opened my eyes of understanding in a uniquely broad and deep way.
2) Checking Bible prophecy to see if the event was either foretold or forbidden
3) Checking Bible doctrine
Every single event we have reported on has been passed through these three reference points. Please pray daily for this ministry as Satan has truly intensified his attacks. We hope to be on the Internet right to the point of the Rapture of the Church, sending out precious Gospel Seed to the multitudes who will be hungry for Eternal Truth.
---------- This Weeks Hot News ----------
I. President Obama has quietly proclaimed the month of June to be "LGBT Pride Month"!
This major development validates the Cutting Edge announcement several weeks ago that "2009 Is Going To Be The Year When Homosexuality Is Going To Come Completely Out In The Open" - NEWS2364!
NEWS BRIEF: "Obama Quietly Declares June 'LGBT Pride Month' ", Religion Dispatches, June 10, 2009
" 'Forty years ago', begins a press release that you can be forgiven for overlooking, 'patrons and supporters of the Stonewall Inn in New York City resisted police harassment that had become all too common for members of the lesbian, gay, bisexual, and transgender (LGBT) community. Out of this resistance, the LGBT rights movement in America was born. During LGBT Pride Month, we commemorate the events of June 1969 and commit to achieving equal justice under law for LGBT Americans'."
"This particular White House document—issued while most of us were watching President Obama negotiate some pretty tricky terrain in the Middle East—did not escape the notice of our brothers and sisters on the religious right."
President Obama thus sneaked a major policy shift regarding the gay community past most Americans, very similar to the way in which President Bush signed Patriot Act II while the world was watching American forces capture Saddam Hussein as he cowered in a small dirt hole.
President Obama has thus officially swung the full force of his White House behind the Gay-Lesbian, bisexual and transgender movement. We cannot overemphasize the importance of this policy shift. Now that the President of the United States has fully endorsed the gay lifestyle, can the Congress be far behind in passing onerous bills that reward gays and punish Christians for their Biblical opposition? Already, the "Hate Crimes" bill is in the Senate being debated. Since this bill is stalled, likely because of massive Right-Wing opposition, Obama's pronouncement may have just given the bill a huge boost.
This next news story tells us that the Secretary of State also put the power of her office behind Obama's declaration.
NEWS BRIEF: "Obama, Clinton recognize June as Pride month", Southern Voice News, June 5, 2009
"President Obama on Monday officially proclaimed June to be Pride month and called on the U.S. government and American people 'to work together to promote equal rights for all, regardless of sexual orientation or gender identity'."
"The statement marks the first time in eight years that the White House has officially commemorated Pride. Former President Clinton made such proclamations in 1999 and 2000; the Bush administration did not continue the practice."
While it is true that Bill Clinton did issue two Pride Month declarations, President Obama has already broken new ground in supporting the gay lifestyle.
"He noted that he was the first president to nominate openly LGBT candidates to Senate-confirmed positions in the first 100 days of an administration. He also noted that he had the U.S. join efforts at the United Nations to support a resolution that would decriminalize homosexuality throughout the world. 'The LGBT rights movement has achieved great progress, but there is more work to be done', he said. 'LGBT youth should feel safe to learn without the fear of harassment, and LGBT families and seniors should be allowed to live their lives with dignity and respect'."
"Obama also reiterated his support for hate crimes legislation, civil unions and federal rights for LGBT people, outlawing discrimination in the workplace and ending 'Don't Ask, Don't Tell' law 'in a way that strengthens our Armed Forces and our national security'."
Hillary Clinton got in on the act from her office as well.
"Obama's proclamation came the same day that Secretary of State Hillary Clinton recognized June as Pride month and pledged to work toward ending discrimination against LGBT people."
This new President is clearly on track to finally push the gay lifestyle completely out into the open, thus producing America as the new Sodom! Remember that Jesus predicted that one of the signs of the coming of the Son of Man is that the peoples of the world would turn back to the acceptance of homosexuality as a normal lifestyle, "just as in the days of Lot"!
There can be no doubt any longer: this new administration is dedicated to forcing this kind of public and societal acceptance of homosexuality.
Another sign that America is moving to Mainstream approval of homosexuality occurred yesterday when American Idol runner-up, Adam Lambert, openly declared that he was gay.
NEWS BRIEF: "Adam Lambert in His Own Words: Sexuality, Kris Allen and Life After Idol", Rolling Stone, June 10, 2009
"On making his sexuality public: There are so many old-fashioned ways of looking at things, and if we want to be a progressive society, we have to start thinking in a different way. There's the old industry idea that you should just make sexuality a non-issue, just say your private life's your private life, and not talk about it. But that's b******t, because private lives don't exist anymore for celebrities: they just don't. I don't want to be looking over my shoulder all the time, thinking I have to hide, being scared of being found out, putting on a front, having a beard, going down the red carpet with some chick who is posing as my girlfriend. That's not cool, that's not being a rock star. I can't do that."
The June front cover of Rolling Stone Magazine features a headline which says it all: 'The Liberating of Adam Lambert - Wild Idol". Rolling Stone also called Lambert "American Idol's Glam-Rock Sex God".
Now it is official. Adam Lambert is gay, he is proud of it, and he made his announcement during the month of June, when the entire LGBT movement annually celebrates Gay Pride Month.
America is getting very close to Sodom.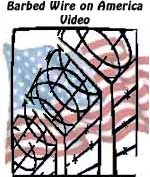 DVD
II. Top Obama advisor Zbigniew Brzezinski came very close to "hate speech" when he compared people who question the official version of the attacks of 9/11 to those who deny the Holocaust!
These remarks set the stage for persecution of those patriots who understand the government's role in 9/11.
NEWS BRIEF: "Hypocrite Brzezinski Slams 'Conspiratorial View' Of History While Highlighting 50's Iran Overthrow", by Steve Watson, Prison Planet, June 8, 2009
"During a discussion with MSNBC's Rachel Maddow last Friday, Trilateral Commission co-founder and top Obama advisor Zbigniew Brzezinski spoke of those who question the official version of events on 9/11 in the same context as those who deny the holocaust."
Many people regard a "Holocaust denier" as one of the lowest forms of life on this planet, because they deny one of history's greatest genocides, one for which more proof exists than one can imagine. Denying Hitler's systematic murderous campaign against the Jews is like trying to deny that the earth is round.
Therefore, when Brzezinski made this comparison, he was casting those of us who understand the truth of 9/11 in a very low light. Hitler continually denigrated the Jews from 1933-38, before he launched the Holocaust, bringing them down symbolically to the level of a rat. Many Germans, especially those who carried out Hitler's horrific genocide orders, really did consider Jews to be rats.
Let us now return to our featured story.
"The two were analyzing Barack Obama's Cairo speech, and in particular, his tacit warning regarding 9/11 Truth. During the speech Obama said 'I am aware that some question or justify the events of 9/11', suggesting that anyone who asks questions about the attacks also somehow justifies them. 'But let us be clear: al Qaeda killed nearly 3,000 people on that day …These are not opinions to be debated, these are facts to be dealt with'. Obama asserted."
Yes, Mr. President, these are facts with which we must deal; but, the fact that the Illuminati Card Game accurately portrayed the targets of the 9/11 attacks in early, 1995, is also a fact with which we must deal. In 1992, former Satanist Doc Marquis told me that the facts of the huge global plan to create the New World Order and stage its Masonic Christ on the world scene were well known to occultists throughout the world. The former member of the House of Theosophy in Boston told me plainly, "a person may read 1,000 New Age books and not understand the plan to produce Antichrist, or he could read the right 10 and understand the plan perfectly".
In other words, occult writings contain the plan in great detail and the knowledge is widespread throughout occult circles. Therefore, it is no surprise that Steve Jackson Games knew the plan very well, since they produced occult role-playing games like "Dungeons and Dragons". Jackson knew, in 1990, when he began the creative work on his award-winning Illuminati Card Game that the Twin Towers were going to be attacked; he further knew that the first blow was going to occur two-thirds the way up the North Tower first; and, he knew that the Pentagon was going to be attacked and would experience fire in the middle. Further, anyone who bought the Illuminati Card Game from February, 1995 until September 10, 2001, knew also.
These are facts with which one must deal if one is to properly understand current events; yet, President Obama and one of his top advisers, Zbigniew Brzezinski, cast people who understand that the official story about 9/11 simply could not have happened that way, are now being compared to a lunatic who believes that the Holocaust never happened!
Let us now view the final exchange between MSNBC's Maddow and Brzezinski:
" 'He (Obama) took time to debunk both 9/11 conspiracists and deniers of the holocaust', Maddow said to Brzezinski, '…is there a reason to believe that he thinks those issues are holding back political progress, those specific conspiracies and misconceptions of our modern political history are part of the problem in terms of moving forward?' she asked ... 'There's no doubt over recent years, both many Americans viewed the world in a very very skewed fashion', Brzezinski replied, 'and many outside of America, had a totally conspiratorial view of America, including even the idea that 9/11 was somehow or other a put up job and really wasn't done by Osama Bin Laden and others, so I think president Obama is breaking through a whole mythology that has paralysed American dealings with the world'."
Has the official campaign begun to so discredit patriots that the government can begin persecuting them now? We can only wait to see, but the discrediting language is certainly flowing. The time is certainly drawing nearer when patriots and/or Christians will be arrested for crimes against the state and imprisoned, just as our featured DVD, above, portrays!
DVD
III. The United Nations' World Health Organization (WHO) may be on the verge of declaring that the Swine Flu has now reached the proportions of a global pandemic.
Once this declaration is official, it will be easier for governments around the world to take stiff measures, like the mandatory forced flu shots rumored to be planned by the Obama Administration.
NEWS BRIEF: "WHO on verge of declaring Swine Flu H1N1 flu pandemic", Reuter's News, June 9, 2009
"GENEVA (Reuters) - The World Health Organization (WHO) is on the verge of declaring the first influenza pandemic in more than 40 years, but wants to ensure countries are well prepared to prevent a panic, its top flu expert said on Tuesday ... Confirmed community spread in a second region beyond North America would trigger moving to phase 6 -- signifying a full-blown pandemic -- from the current phase 5 on the WHO's 6-level pandemic alert scale."
This official then stated that significant events have occurred in just the last few days to bring WHO to the point of considering a declaration of Phase 6, Pandemic.
"The situation has really evolved a lot over the past several days. We are getting really very close to knowing that we are in a pandemic situation, or I think, declaring that we are in a pandemic situation', Fukuda told a teleconference."
However, despite the somewhat frightening prospect of WHO moving the world to its highest level of pandemic warning, this official sought to moderate the psychological impact.
"One of the critical issues is that we do not want people to 'over-panic' if they hear that we are in a pandemic situation. That they understand, for example, that the current assessment of the situation is that this is a moderate level', Fukuda said."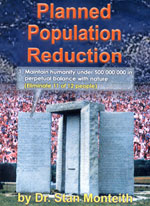 DVD
The real issue is government control over its citizens. Word came out some weeks ago that the Obama Administration is considering forcing every American to take a series of flu shots this Fall. That kind of power can be considered dictatorial and sets the stage for two critically important events later on:
1) Absolute government dictatorial power;
2) Setting the stage for the Planned Population Reduction of 66%, which is both the Illuminati Plan and the Biblical numbers of the people who will be killed by God's judgments in the Book of Revelation. I believe the tainted vaccinations will not be forced upon people until Antichrist is on the world scene and the 7-year Tribulation has begun.
When the final forced vaccinations are undertaken, they will be laced with deadly poison to ensure 100% death rates in the targeted areas. However, the Fall vaccinations this year will probably not contain this poison, as the time has not arrived for that to occur. However, I will be one who will refuse the Fall vaccinations should President Obama initiate that plan.
DVD
IV. North Korea continues to escalate tensions with the rest of the world over its nuclear arsenal.
Verbal threats and the mock show-trial of two female American journalists are skyrocketing tensions.
NEWS BRIEF: "North Korea Warns Again: 'We'll strike back mercilessly' ", The Straits Times, June 9, 2009
"SEOUL - NORTH Korea said on Tuesday it would use its nuclear weapons both to defend itself and to carry out a reprisal for any attack by its enemies. The communist country would answer any pre-emptive strike with 'an advanced pre-emptive strike' of its own, the cabinet newspaper Minju Joson said."
"The nuclear deterrent would be a strong tool to protect regional peace and carry out a 'just retaliatory strike' which would be 'merciless' on those who infringe on its dignity and sovereignty, it said."
North Korea has viewed its nuclear arsenal as the only genuine guarantee that the West would not strike and/or invade as Coalition Forces invaded Iraq in March, 2003. The Western Illuminati -- China and Russia -- meanwhile, quietly built up the North Korean nuclear and missile capability over the past two decades simply so the Plan could go forward.
What is the exact wording again of the portion of the Plan regarding Korea?