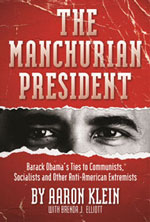 II. President Obama will be addressing the nation tonight from the Oval Office, concerning the BP oil spill in the Gulf of Mexico.
NEWS BRIEF: "Obama continues Gulf visit, prepares to address nation", CNN News, June 15, 2010
"President Obama addresses the nation live Tuesday night at 8 ET with the latest on the BP oil disaster."
"President Obama said Tuesday that the Gulf oil spill 'is an unprecedented environmental disaster' that will be met with an 'unprecedented response'."
" 'This is an assault on our shores and we're going to fight back with everything we've got', he said during a visit with military personnel at the Naval Air Station in Pensacola, Florida. The administration 'will do whatever it takes for as long as it takes' to deal with the spill, he said."
As we have stated before, the Illuminati planned this oil spill a very long time ago, as this Illuminati Card Game playing card so amply proves. Remember two very important facts about the Illuminati Card Game:
1) Each card represents an action the ILLUMINATI is planning in order to overthrow this present Old World Order, replacing it with their Luciferian New World Order.
Therefore, the Illuminati intends to use this crisis as leverage so they can achieve radical goals for the economy and for the peoples of the world.
2) This Illuminati Card Game was created from 1990-1994 and introduced to Role Playing stores in March, 1995. People well-versed in the occult -- like Steve Jackson -- knew of the plan in 1990 to one day destroy an oil platform at sea in order to spew crude oil that would spread in several oceans.
Watch President Obama tonight and count the number of changes he wants to make because of this disaster. He will act tough against B.P. officials and will propose a renewed drive toward clean energy. The President will probably propose tough new government regulations, thus shoving the international oil industry further in to the Fascist Mold.
After tonight, we shall have a much better idea as to what concrete plans the Illuminati has for this "created crisis".
UPDATE: REPORT ON THE PRESIDENT'S SPEECH
President Obama spoke to the American people last night (Tuesday, 6/15) from the Oval Office, reporting on the BP oil spill in the Gulf of Mexico. His speech was not well received and he was unfavorably compared to the weak speaking style of former President Carter!
The President touched most of the points we expected him to emphasize.
NEWS BRIEF: "BP oil spill: Barack Obama's speech", Telegraph.co.uk, June 16, 2010
"Barack Obama has made his first speech from the Oval Office, addressing the BP oil spill crisis that is unfolding in the Gulf of Mexico ... 'One of the lessons we've learned from this spill is that we need better regulations better safety standards, and better enforcement when it comes to offshore drilling. But a larger lesson is that no matter how much we improve our regulation of the industry, drilling for oil these days entails greater risk'."
We expected, before his speech, that President Obama would emphasize increased Federal regulatory powers, as that is consistent with the planned Fascist Model. Notice the various words he used, all of which mean the same thing -- regulation.
* "we need better regulations"
* "better safety standards"
* "better enforcement"
The Federal Government fully intends to dramatically expand its regulatory authority, using the oil spill as the catalyst. The end result is that the government might achieve a stranglehold on the oil companies, for whatever additional regulations the government will achieve over British Petroleum will surely be applied to all oil companies. And, at the end of the planned agenda, some sort of international authority will be created to control all mulit-national companies.
"After all, oil is a finite resource."
This statement is a lie! Cutting Edge posted a very important article several years ago in which we quoted NASA discoveries on one of Saturn's moons, out of which grew the understanding that oil does not come from fossil remains, but is continually produced by heat and pressure within the earth's mantle. (Read full details in NEWS2268, entitled, "What If Crude Oil Is Likely NOT Fossil Fuel! Not Created From Dead Dinosaurs and Plant Life? Likely Is Available Continuously And In Almost Limitless Supply?"
The subtitle of this article is: "What if crude oil is non-biological and the Earth creates new supplies constantly? What if scientific teaching for the past 120 years is dead wrong? The ramifications are HUGE! N.A.S.A. (National Aeronautics and Space Administration made the initial discovery!"
The government never officially reported this discovery, because much of the Illuminati's plan depends upon people believing the "Oil is finite" lie. As we can see from Obama's remarks, he is basing a part of his sense of urgency concerning oil upon the official government lie.
"For decades, we have talked and talked about the need to end America's century-long addiction to fossil fuels. And for decades, we have failed to act with the sense of urgency that this challenge requires."
Yes, America is addicted to oil products, because our scientists have expanded our usage of oil products to many finished goods made from oil. Consider just some of the products which have been created from crude oil.
* Hair products, fuel (including airplane fuel, kerosene, diesel fuel, and liquefied petroleum gas.
* Electricity generation
* Plastics
* Electricity generation
* Lubrication
* Painting
* Petrochemicals -- detergents, fertilizers, medicines, paints, plastics, synthetic fibres, and synthetic rubber
When government leaders talk about restricting the amount of crude oil available or increasing the cost of it, they are tinkering with the destruction of the entire economy! Therefore, expect that changes will be gradual, with new "alternative" products being brought to the market alongside the crude oil. In this manner, the economy will be less likely to be wrenched by taking away oil products before their substitutes are fully in place; in some instances, scientists may never be able to create an alternative to simple oil.
"We cannot consign our children to this future. The tragedy unfolding on our coast is the most painful and powerful reminder yet that the time to embrace a clean energy future is now. Now is the moment for this generation to embark on a national mission to unleash American innovation and seize control of our own destiny."
Obama is clearly moving to his most important point: We must embark upon a "national mission" to create clean air and clean water products. When the President used the words "national mission", he brings to my mind the "Manhatten Project" during World War II which created the atomic bomb. Or, he may be speaking of the massive government space program announced by President Kennedy, whose goal was landing men on the moon.
Obama is using hyperbole in tryhing to scare us into accepting his vision. He implies that our children may not have a bright future if we do not follow his plan. He uses anxious wording in implying that we can lose our future life if we do not act now, to "seize control of our own destiny".
These are words designed to provoke Americans into a blind acceptance of his vision, his plan.
"When I was a candidate for this office, I laid out a set of principles that would move our country towards energy independence. Last year, the House of Representatives acted on these principles by passing a strong and comprehensive energy and climate bill a bill that finally makes clean energy the profitable kind of energy for America's businesses."
Therefore, one planned aspect of this oil spill is to create renewed support for the draconian climate bill which deservedly has been rejected.
The President closed by calling for ecumenical prayer.
"Each year, at the beginning of shrimping season, the region's fishermen take part in a tradition that was brought to America long ago by fishing immigrants from Europe. It's called "The Blessing of the Fleet," and today it's a celebration where clergy from different religions gather to say a prayer for the safety and success of the men and women who will soon head out to sea some for weeks at a time."
Overall, Americans were not much moved to support the objectives set forth by President Obama. Most felt that his speech was weak and that it failed to set forth specific plans which the American people can consider. However, this speech was not the vehicle by which detailed massive plans could be presented. Congress will receive this plans in the very near future. Then, and only then, can we ascertain correctly the true nature of the change in our civilization which the Illuminati has planned.
By the way, do you know which bank holds the largest number of British Petroleum stocks? The answer is J.P. Morgan, one of the most influential of all the Illuminati kingpins! (Source: All-Gov News, June 12, 2010)
Remember the purpose of each card in the Illuminati Card Game: each card shows an action that the Illuminati is planning to undertake which shall overthrow our Old World Order so the New World Order can be set in place! Therefore, we should not be too surprised to learn that BP was selected to be the company which will engineer the planned oil derrick disaster. Their officials are used to taking orders from top Illuminati leaders!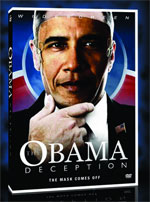 DVD
III. President Obama had the unmitigated gall to compare the BP oil spill disaster to the attacks of 9/11!
What nonsense! Can anyone say "hyperbole"?
NEWS BRIEF: "Obama Compares Gulf Oil Spill To 9/11 Tragedy", by Mark Matheny, WERHIT News, June 14, 2010
"I an interview with Politico News outlet last Friday President Obama compared the recent incident in the Gulf of Mexico to the tragic 9/11 attack of 2001. With the stern conviction of a "world government" advocate, President Obama stated:
" 'In the same way that our view of our vulnerabilities and our foreign policy was shaped profoundly by 9/11, I think this disaster is going to shape how we think about the environment and energy for many years to come'."
Immediately, Obama revealed his most important aim -- to use this oil spill crisis as the leverage to resuscitate the clean energy fuel program, including "clean air" technology. If the American public is sufficiently aroused by the President's public rhetoric, perhaps Congress can pass the President's radical environmental agenda.
One British columnist thought Obama's remarks were just plain stupid.
NEWS BRIEF: "The Gulf oil spill is not 9/11: the Obama administration plumbs new depths of stupidity", Editorial Nile Gardiner, The Telegraph.co.uk, June 15th, 2010
"Increasingly, political judgment as well as basic common sense is being suspended in the White House. We are witnessing not only the dramatic dumbing down of US policy under the Obama administration, with cheap soundbites standing in for strong leadership, but also a staggering inability to comprehend the scale of the global war the West is engaged in, as well as a disturbing willingness to downplay its importance and forget the scale of the loss the American people suffered nine years ago."
"Much of the blame for this decline must be laid at the door of Barack Obama and his cynical team of advisers. I cannot imagine former president George W. Bush ever comparing an environmental disaster to the attacks on the United States on 9/11."
"President Obama's comparison of the al-Qaeda terrorist attacks on the US on September 11, 2001 with the Gulf oil spill is deeply offensive to the victims of 9/11, as well as a demonstration of an extraordinary lack of historical understanding and perspective."
We concur completely. President Obama's handlers really stepped over the line on this issue!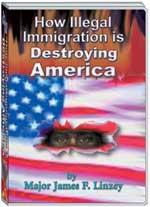 DVD
IV. The radical Arizona Immigration legislation is still being used to ratchet tensions higher between Conservative and Liberal voters.
Remember: the bottom line agenda is to abolish the sovereign nations of Canada, the United States, and Mexico, so that the North American Union can finally be established!
The North American Union is Nation #1 in the Illuminati Plan to reorganize the nations of the world into exactly 10 supernations (NEWS2363), thus fulfilling Daniel 7:7-8!
NEWS BRIEF: "Arizona bill would deny citizenship to children of illegal immigrants", CNN News, June 15, 2010
"A proposed Arizona law would deny birth certificates to children born in the United States to illegal immigrant parents. The bill comes on the heels of Arizona passing the nation's toughest immigration law. John Kavanagh, a Republican state representative from Arizona who supports the proposed law aimed at so-called "anchor babies," said that the concept does not conflict with the U.S. Constitution. 'If you go back to the original intent of the drafters ... it was never intended to bestow citizenship upon (illegal) aliens', said Kavanagh, who also supported Senate Bill 1070 -- the law that gave Arizona authorities expanded immigration enforcement powers."
If passed, this legislation would strike a blow to all illegal immigrants. Under the current system, parents who are not American citizens are anxious to give birth to children on American soil, knowing that these children would automatically become "Naturally Born" citizens.
"Kyrsten Sinema, a Democratic state representative, strongly opposes the bill. 'Unlike (Senate Bill) 1070, it is clear this bill runs immediately afoul of the U.S. Constitution', she said. "
The REAL reason Arizona authorities are passing these radical immigration laws is that they know it will spur a reaction which will ultimately cause the North American Union to become the law of the land! How is this radical turn of events possible?
The Six Step Attitudinal Change Plan
What, pray tell, is The Six Step Attitudinal Change Plan? It is the Hegelian Controlled Dialectic adapted for domestic use. The key element, of course, is the repeated conflict between two opposing points of view.
The Six Step Attitudinal Change Plan gives New World Order Planners the ability to silently, almost invisibly, change the attitudes and values of the entire population of a people. Nothing seems so insidious to most people than the idea that some force is manipulating and changing their life silently, invisibly. How would most people react if they only knew how many times daily they were being secretly, invisibly bombarded with stimuli -- with stories, with debates, with many circumstances, many of which were deliberately created or triggered -- that was changing their values and their attitudes? How would people react if they really understood that they are not their "own person", despite their fervent desire to be just that
These people would feel violated -- mentally and emotionally raped -- and they would be very, very angry!
This Plan is so very effective that it is being utilized in all areas of society in which the change from Christian Values to Satanic Values is deemed necessary. Let us list the 6 steps of this Attitudinal Change Plan:
Step 1. Some practice so offensive that it can scarcely be discussed in public is advocated by a RESPECTED expert in a RESPECTED forum.
Step 2. At first, the public is shocked, then outraged.
Step 3. But, the VERY FACT that such a thing could be publicly debated becomes the SUBJECT
of the debate.
Step 4. In the process, sheer repetition of the shocking subject under discussion gradually dulling its effect.
Step 5. People then are no longer shocked by the subject.
Step 6. No longer outraged, people begin to argue for positions to moderate the extreme; or, they accept the premise, challenging, instead, the means to ACHIEVE it.
Now, let us see how perfectly adapted this Six Step Plan is being utilized in this country today to change people's minds and attitudes toward establishing the North American Union and granting everyone in Canada, the United States and Mexico North American citizenship!
Step 1 - American political leaders on both sides of the political aisle have urged their citizens to accept a North American Union (NAFTA). President Bill Clinton worked closely with Former President George H.W. Bush in 1992-1993 to get Congress to pass NAFTA.
On numerous occasions during the eight years of President George W. Bush, he met with the leaders of Canada and Mexico to talk about how to establish the North American Union, thereby granting the concept a heavy dose of mainstream.
Respected leaders speaking from a respected forum urged the creation of a radical new country -- the North American Union.
Step 2 - At first, the public was outraged, especially Conservatives.
Step 3 - The focus of the debate quietly shifted. Most Americans began to accept the concept of a North American Union, Conservatives excepted.
Step 4 - Constant battling over this new supernation erupted and has been continuing for over 18 years now. However, the Conservatives battled mainly over the loss of national sovereignty and illegal aliens. In the press, constant fighting erupted over proponents and opponents.
Several years ago, a Liberal Democrat leader proposed that the real way to end this battle over illegal aliens working in this country was to grant them all some sort of hybrid American citizenship. Boy, did the fur fly over that suggestion! However, the idea persisted and today, we are closer than ever to this kind of solution.
Step 5 -- People are no longer shocked by the subject of granting illegal aliens some sort of citizenship.
Step 6 - Arizona stepped in with a shocking proposal. Their leaders proposed legislation which truly regulated illegal aliens and it set off a political conflagration which is just beginning to burn. Led by Liberal Democrats, people and organizations began to boycott anything made in Arizona, others cancelled planned conventions in Phoenix and even major league sports teams condemned Arizona's new law -- even though most of them have never read it.
The time is ripe for someone like President Obama to step in with his solution: to create a supernation out of the three North American countries and grant everyone citizenship in this new supernation. People will have become so very tired of all this anger and all this heated rhetoric that they will step in behind the creation of the North American Union.
The Six Step Attitudinal Change Plan will have worked its magic once again.