---
New Headline News Articles
"Iraq War - Not Over By Any Means" - Part 1
"U.S. Still Headed For Planned Defeat"
Can you believe that most Americans actually believe that the Iraq War is over and that we have won it? Because people cannot find any news on Iraq anywhere on Mass Media, they feel that the Iraq War was over and that President Bush had won it.
We have lost the war in Iraq, a fact which will become more and more apparent as the next 12 months unfold. One day, people will wake up to realize that Iran does have firm hegemony over Iraq!! - http://www.cuttingedge.org/news/n2368.cfm
"Iraq War - Not Over By Any Means" - Part 2"Why Did Skull & Bones Bush Invade?"
The answer as to "Why" Bush set out to invade Iraq will shock you, as it is part fulfilled prophecy and part Satanic doctrine. http://www.cuttingedge.org/news/n2369.cfm
---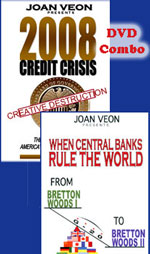 IV. Since I continue to be flooded with emails warning of an impending collapse of the American and/or world economy, we offer these current news stories as proof that a collapse is NOT imminent.
NEWS BRIEF: "The Recession Is Over, Schwab's Sonders Says", Yahoo Financial News, June 17, 2009
"While most are debating whether the 'green shoots' are real or just weeds, Liz Ann Sonders is declaring the recession over. Yes, Charles Schwab's chief investment strategist says the recession has ended, and believes second quarter GDP could be marginally positive. Improvements in the components of the index of leading economic indicators, as well as new orders in the ISM data, and other technical indicators provide the basis for Sonders' call."
Are you uncomfortable with the idea that the recession is over now, in the Second Quarter? Then, you might be more comfortable with the timeframe below.
NEWS BRIEF: "American Bankers group sees U.S. recession ending in third quarter", Yahoo Financial News, June 16, 2009
"WASHINGTON (Reuters) - The U.S. recession will end in the third quarter, but lingering high unemployment and large federal deficits may pose a longer-term threat, economists advising the American Bankers Association said on Tuesday. The economists expect the U.S. Federal Reserve would keep interest rates near zero percent until the third quarter of 2010 because a sluggish recovery would keep inflation in check. They forecast that 2009 real gross domestic product would fall 1.3 percent, with 2010 growth rebounding to 3 percent."
But, this forecast has a more somber tone.
" 'The economy will return to growth but not to health', said Bruce Kasman, chairman of the economic advisory committee and chief economist for JPMorgan Chase in New York."
The critically important housing sector seems to be rebounding.
NEWS BRIEF: "Housing Is Recovering, Fast", By Jeff Matthews, June 15, 2009
"Home prices continue to tumble, and have further to go to get back to pre-bubble levels, according to the bears. Another wave of foreclosure is coming down the pike, especially as another big slug of Alt-A mortgages start resetting to higher rates in 2010 and 2011. Plus, inventories remain elevated and now rising mortgage are putting a crimp in refinancing activity. But Jeff Matthews, founder of Ram Partners takes a variant view: 'What's happening in the real world is this: the housing market is recovering, fast', the fund manager recently wrote on his blog."
Economic ministers around the world believe that a recovery has just started and are adjusting their strategies accordingly.
NEWS BRIEF: "G-8 Starts Planning Stimulus Exit Strategies Amidst Recovery Signs ", Bloomberg Financial News, June 14, 2009
"The Group of Eight nations began considering how to reverse the emergency steps they took to rescue the world economy as it shows signs of recovery. As they delivered their most upbeat outlook since Lehman Brothers Holdings Inc. collapsed, G-8 finance ministers said they will start planning exit strategies for when sustainable growth returns. It's still too soon to roll back budget deficits and bank bailouts, they said after a meeting in Lecce, Italy. 'We discussed the need to prepare appropriate strategies for unwinding the extraordinary policy measures taken to respond to the crisis once the recovery is assured' ... There are 'signs of stabilization', though 'the situation remains uncertain'."
This result is pretty close to what we have believed will occur. In June, 1998, the first real talk of economic collapse began to occur. We held that a collapse will not occur until the beginning of World War III and that up until that time, the economic distress which the Illuminati plans will move the economy away from Capitalism to Fascism. (Read full details in NEWS2317, entitled, "Financial Coup Completed: American Economy Now A Tightly Controlled, Severely Regulated Economy")
For 11 years, we have held this position. We simply did not see a complete economic collapse in the Illuminati Plan, nor did we see it in prophecy until Revelation 6, after Antichrist had arisen. Since the planned crisis entered a critical phase in September, 2008, we have stated that, while a lot of people have lost a lot of money -- and we have never tried to pretend otherwise -- the total economy will not collapse.
Joan Veon hit the nail right on the head in her DVD, above, "2008 Credit Crisis: Creative Destruction". We have gone through a creative destruction phase so the Fascist economy can be set in place. Now that this the government has control over the banking, insurance, and automotive industries, the trend into Fascism is inevitable. Now, the economy will be driven into positive territory once again.
The time has come for all discerning people to stop listening to the fear mongers!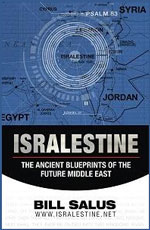 V. The march toward a Palestinian State continued on two levels.
1) Israeli Foreign Minister Lieberman travels to Washington to discuss implementing PM Netanyahu's plan with President Obama.
2) Israeli Conservative politicians are doing their best to create the kind of firestorm which will prevent Netanyahu from cooperating with the worldwide Illuminati on this plan.
NEWS BRIEF: "FM Lieberman in US to discuss Palestinian state ", The Jerusalem Post, June 17, 2009
"Definitions of what constitutes a demilitarized Palestinian state and a settlement freeze are expected to be high on the agenda of talks Foreign Minister Avigdor Lieberman will hold in Washington Wednesday, the highest level meetings between the two countries since Prime Minister Binyamin Netanyahu's address Sunday ..."
Netanyahu adamantly insisted that Israel had the right to insist that her people live free from fear of attack from a Palestinian State. Listen to his exact words.
"Netanyahu, during his speech, said any Palestinian state 'must be demilitarized, with ironclad security provisions for Israel. In order to achieve peace, we must ensure that Palestinians will not be able to import missiles into their territory, to field an army, to close their airspace to us, or to make pacts with the likes of Hizbullah and Iran'."
And, in order to achieve this "peace and safety", the Prime Minister was depending on its friends within the International Community!
"Without going into details, Netanyahu said he was asking 'our friends in the international community, led by the United States, for what is critical to the security of Israel: clear commitments that in a future peace agreement, the territory controlled by the Palestinians will be demilitarized'."
The Foreign Minister -- who is considered to be staunchly Conservative -- will meet with Obama officials to ensure that Israel's plan is consistent with the White House plan and that both are consistent with the global plan. In fact, Israel is attempting to gain international guarantees for safety.
" 'The international community must guarantee that the Palestinian state will be demilitarized', the official said. 'And then mechanisms will have to be put into place to ensure that it remains so'."
But, at the same time, Israeli hawks are trying to create such a controversy that they can derail this plan from ever being implemented.
NEWS BRIEF: "PM faces rebellion from Likud activists", The Jerusalem Post, June 16, 2009
"Prime Minister Binyamin Netanyahu received the backing of his ministers and most of the Likud faction regarding his plans for a demilitarized Palestinian state, but will have a harder time obtaining the support of the Likud central committee, party activists said on Tuesday. Top Likud central committee members have begun an effort to obtain the 1,000 signatures necessary to force an emergency meeting without the approval of Netanyahu and committee head Communications Minister Moshe Kahlon."
These Conservatives are fighting an uphill battle for the hearts and minds of the average Jewish voter.
"Two new polls published Tuesday showed that the public overwhelmingly approved of Netanyahu's speech and his conditions that a Palestinian state be demilitarized and that the Palestinians recognize Israel as a Jewish state. A New Wave poll published in Israel Hayom found that 61 percent supported the plan, 23% opposed it and 16% did not have an opinion. A Dialog poll published in Haaretz found that 71% agreed with the content of the speech."
Obviously, the Jewish voter has had enough of Palestinian terror attacks so they have accepted the Israeli government lie that the key to solving this problem is to give the Palestinians their own nation.
The Conservatives continue to march to their own beat on this issue.
" 'Netanyahu does not have a mandate to create a Palestinian state, or a demilitarized state, or whatever he wants to call it', said veteran Likud central committee member Uri Faraj, who heads the Likud's Petah Tikva branch, which is the party's largest."
I find it almost laughable that this Likud party member is speaking as though this issue of creating a Palestinian State started in 1992-1993 under the leadership of PM Rabin and has been carefully followed by every Prime Minister since then, with Netanyahu being the latest supporter of the plan. In fact, Zionist leaders in 1917 intended to give the Palestinians a state carved out of Biblical Israel!
(Read full details in NEWS2250, entitled "Proofs of A Conspiracy! From 1917 to 1992 to 2009, Israel Has Been Planning To Give The Palestinians A State Carved Out of Biblical Israel!")
Do not be deceived: this creation of a Palestinian State will occur because it is a key part of the Illuminati Plan to destroy the power of the 'House of Esau' so they can seize control of the Temple Mount and because prophecy demands it in Obadiah 15-18 and Isaiah 34.
Events in Israel are occurring more rapidly now. Watch Israel, for she is most definitely God's Timepiece in determing when other prophesied events will occur throughout the world.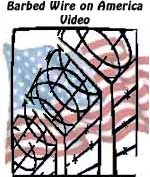 DVD
VI. The Federal Government continues to expand its attack on our Constitutional liberties and upon Conservative/Christian citizens!
NEWS BRIEF: "DoD Training Manual Describes Exercise of First Amendment Rights As 'Low-Level Terrorism' ", Prison Planet News, June 15, 2009
"Current Department of Defense anti-terrorism training course material states that the exercise of First Amendment rights in the U.S. constitutes terrorist activity. The ACLU has written to the DoD regarding its Antiterrorism and Force Protection Annual Refresher Training Course, which advises personnel that political protest amounts to 'low-level terrorism'."
For those who are not thoroughly familiar with the First Amendment to the United States' Constitution please allow us to explain it so you can see how important it is to our freedoms.
"Amendment 1 - Freedom of Religion, Press - Established 12/15/1791 - "Congress shall make no law respecting an establishment of religion, or prohibiting the free exercise thereof; or abridging the freedom of speech, or of the press; or the right of the people peaceably to assemble, and to petition the Government for a redress of grievances." (U.S. Constitution Online, Amendment #1)
Now that you know the Constitution absolutely gives you the right to follow the religion of your choice without government interference, to speak your mind freely and to assemble peaceably, you can see how outrageous this current Department of Defense training manual is when it trains its anti-terrorism soldiers that anyone who attempts to carry out his liberty as protected by the First Amendment is guilty of terrorism - "low-level terrorism".
How many Department of Defense soldiers are exposed to this type of training?
"... all DoD personnel are required to complete the course on a yearly basis."
Therefore, when the day comes when the planned crackdown is implemented, many of you will find yourself confronting a soldier trained to think that you are a terrorist if you try to exercise your First Amendment rights!
When did this type of thinking begin? You might be surprised to learn that President Clinton and his Attorney General Reno first codified this thinking. One of the greatest "failures" of President Bush is that he let this thinking stand; in fact, as he gathered dictatorial power to the office of the President, Bush seemed to covet the changes implemented by Clinton/Reno. Bush massively expanded the role of the Department of Defense in the expansion of the planned police state!
Now, President Obama inherits this dictatorial power. Since CFR's Henry Kissinger stated that Obama is poised to bring in the New World Order, we believe that Barack Hussein Obama may be the one who overseas the collapse of our Constitutional Republic once World War III begins.
(NOTE: Newsletter contines below)
---
New DVD/Combo Offer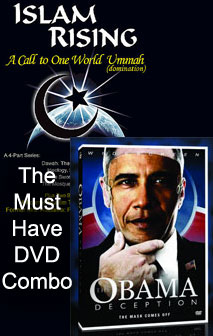 "Islam Rising PLUS Obama Deception" DVD's
Regularly $39.98, On Sale For Only $29.98,
Save $10 over buying them individually
This combination offer provides you with an indepth analysis of the extreme dangers of having a President extremely sympathetic to Islam
"Islam Rising" DVD provides an excellent analysis of Islam's aggressive global ambitions while "Obama Deception" DVD expertly reveals the true bottom-line agenda of our new President, Barack Obama
The total view provided by these two DVD's is devastatingly clear. You will now appreciate the real danger we face by having a President with clear and firm Islamic ties! http://www.cuttingedge.org/detail.cfm?ID=2035
---
VII. President Obama continues to propel America into a "New Sodom"!
NEWS BRIEF: "Eye Opener: Same-Sex Partners Get Benefits From Obama's Executive Order", The Washington Post, June 17, 2009
"Happy Wednesday! President Obama will sign a memo today that extends some federal benefits to domestic partners of federal workers, including same-sex partners. The president will stop short however of pledging full health insurance coverage to those partners ... 'The move would give partners of federal employees access to health care and financial benefits such as relocation fees for moves," The Post reported last night. "The State Department announced a similar extension of benefits last month, with Secretary of State Hillary Rodham Clinton calling it 'the right thing to do.'"
While this decision will take America further down the road where all institutions will one day recognize the gay relationship on the same basis as heterosexual marriages, the gay community still professes disapproval of Obama's action.
"John Berry: The most senior openly gay official ever in U.S. government, Obama's director of the Office of Personnel Management is a telegenic, well-respected leader that has made several statements in recent months hinting at today's move, essentially test-driving comments you may soon hear from Obama ... During a speech last week at the Justice Department, Berry passionately stated that the federal government had to do more to ensure equal rights for gay and lesbian Americans: 'With the help of a president who supports our cause, the aid of courageous fellow countrymen and women who love liberty, and with God's grace, we shall prevail' in the quest for civil rights, Berry said."
Don't you find it disgusting that an openly gay Obama official invokes "God's grace" as one of the forces currently advancing the Gay/Lesbian/Transgender cause? This sad story is just another of those "signs of the times" issue.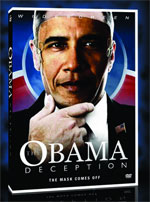 DVD
VIII. Fueled by a public distast of Bush policies, and economic crisis, President Obama is set to announce an expansion of Federal Government regulatory control unprecedented in history!
NEWS BRIEF: "Obama to Outline Biggest Regulatory Overhaul Since 1930s", ABC News Money, June 16, 2009
"President Barack Obama is poised Wednesday to outline the biggest financial regulatory overhaul since the Great Depression, part of sweeping measures by the administration to prevent a future economic crisis as severe as the current one."
Without the current crisis, this dramatic expansion of government authority could never, ever have occurred. Truly, the Illuminati plan to achieve drastic change by first creating a crisis and then stepping in with their "solution" is working to perfection. This process is called the "Dialectic Process" and as it is applied domestically, it is called "The Six-Step Attitudinal Change Plan". Discerning observers could see in the domestic economic changes of 2004 that the economy would reel to and fro in a very short time -- and it did, beginning in earnest in mid-September, 2008.
From September, 2008 to June 1, 2009, the Federal Government succeeded in gaining Fascist control over the banking industry, the insurers, and the automakers. Now, they are set to continue their regulatory march through other sections of the economy and of the culture. You see, we are saying that the excesses which nearly brought this economy to ruin were at least tolerated, if not planned out well in advance. The speed with which the Feds stepped in to "solve" this massive, widespread problem speaks of a long-term planning.
In justifying this expansion, the President reminded people of the mess he inherited.
""The broad principle is that a lack of oversight, a series of regulatory gaps, allowed financial institutions -- not just banks, but non-bank institutions -- to engage in wild risk-taking that didn't simply imperil those institutions, but imperiled the United States' economy and had a profound recessionary effect on the world economy," Obama said Tuesday at the White House. "
"We are going to put forward a very strong set of regulatory measures that we think can prevent this kind of crisis from happening again," he said. 'We expect that Congress will work swiftly to get these laws in place. I want to sign them and we want to get them up and running'."
The Fascist/Socialist regulatory reach is breathtaking and would not have been possible under a Conservative President who is serving his term in a period of time when the old system of Capitalism was working to provide jobs and increase wealth amongst the vast majority of its citizens. Can you imagine this kind of change coming from a Ronald Reagan?
But, President Obama is following the highly discredited President Bush, who not only betrayed his Conservative following, but whose officials actually began the process in 2004 and again in September - December, 2008, to begin the conversion to this Fascist Economy.
Now, let us consider some of the proposals. Prepare to be shocked:
* "Creation of a Consumer Financial Protection Agency to look out for consumers' rights and a comprehensive crackdown on securities markets."
* Create a "council, to be chaired by the Federal Reserve, to monitor systemic risks to the economy"
* "authority for the government to wind down large, failing firms" - Does "wind down" mean "seize" and "close down"? If so, this is a central principle of a Fascist Economy -- the government chooses which firms remain in business and which go out of business. You always see a dramatic winnowing out of companies which provide the same service or the same product.
* "increased regulation of securities and derivatives markets " - No one should disagree that more oversight is needed of these runaway horses, but the original system was so loosey-goosey that a great number of financial experts warned over the years that a day of reckoning was coming and it would be devastating when it hit.
* "more oversight of global financial firms." Obviously, a global economic authority would be required to exercise "more oversight of global financial firms". This is the end game for all these plans: a global government, a global economy and a global religion. These are the three main roads leading to the New World Order.
A blind man can see in an instant where everything is heading!