WEEKLY UPDATES FROM Cutting Edge Ministries, www.cuttingedge.org
6/26/2004      Over 1,200 Articles Posted! Nearly 100,000 People Downloading A Salvation Page Per Year! (Isa 55:11)
---
---------- Inspiration For the Week--------""The foundation of God standeth sure." 2Timothy 2:19
The foundation upon which our faith rests is this, that "God was in Christ reconciling the world unto himself, not imputing their trespasses unto them." The great fact on which genuine faith relies is, that "the Word was made flesh and dwelt among us," and that "Christ also hath suffered for sin, the just for the unjust, that He might bring us to God"; "Who Himself bare our sins in His own body on the tree"; "For the chastisement of our peace was upon Him, and by His stripes we are healed."
In one word, the great pillar of the Christian's hope is substitution. The vicarious sacrifice of Christ for the guilty, Christ being made sin for us that we might be made the righteousness of God in Him, Christ offering up a true and proper expiatory and substitutionary sacrifice in the room, place, and stead of as many as the Father gave Him, who are known to God by name, and are recognized in their own hearts by their trusting in Jesus--this is the cardinal fact of the gospel. If this foundation were removed, what could we do? But it standeth firm as the throne of God. We know it; we rest on it; we rejoice in it; and our delight is to hold it, to meditate upon it, and to proclaim it, while we desire to be actuated and moved by gratitude for it in every part of our life and conversation. In these days a direct attack is made upon the doctrine of the atonement. Men cannot bear substitution. They gnash their teeth at the thought of the Lamb of God bearing the sin of man. But we, who know by experience the preciousness of this truth, will proclaim it in defiance of them confidently and unceasingly. We will neither dilute it nor change it, nor fritter it away in any shape or fashion. It shall still be Christ, a positive substitute, bearing human guilt and suffering in the stead of men. We cannot, dare not, give it up, for it is our life, and despite every controversy we feel that "Nevertheless the foundation of God standeth sure." [C.H. Spurgeon, "Morning and Evening Devotions", A.W. Tozer CDROM Library; Emphasis added http://www.cuttingedge.org/detail.cfm?ID=599

]
---------- Bookstore Update ----------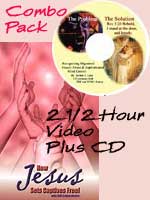 * COMBO OFFER! Video - "How Jesus Sets The Captives Free PLUS CDROM Recognizing Organised Occult Abuse & Sophisticated Mind Control" -- $39.99 - Both this Video and CDROM deal with Satanic and Illuminati mind control and abuse. Both authors thoroughly examine this issue from different angles but agree on the common solution -- the Omnipotent Jesus Christ. Schnoebelen -- a former Mason, Witch and Mormon -- deals with these specific types of Satanism and how to free yourself from the terrible hold these occult systems hold over their victims.
Buy these 2 items separately costs $49.97; buying this COMBO saves you $10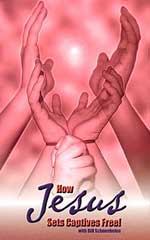 Video Only, 2 hours, 40 minutes -- $29.98-- http://www.cuttingedge.org/detail.cfm?ID=753

CD Only - Survey "Recognizing Organised Occult Abuse & Sophisticated Mind Control" - $19.99 - http://www.cuttingedge.org/detail.cfm?ID=739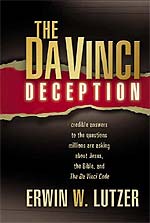 * "The Da Vinci Code Deception" -- Book -- Antichrist cannot arise unless a substantial number of people believe in the lie propagated by "The DA Vinci Code", written by Dan Brown. Thus, the very fact this book was written carries significant End of the Age connotation! Erwin Lutzer rebuts the claims made by "The DA Vinci Code"

Was Jesus really married to Mary Magdalene? Did they actually have children who intermarried with the French royal family? Has the church been hiding the truth for centuries? In his best-selling work of fiction, The DaVinci Code, Dan Brown blurs the lines between history and fiction, giving the impression they are one and the same and that Christianity is based on a lie. In The DaVinci Deception, renowned theologian, Dr. Erwin Lutzer, examines the "facts" behind the best-selling novel, clarifies the issues involved in the deception, and equips readers with the truth.
Hardcover, 144 pages -- http://www.cuttingedge.org/detail.cfm?ID=750

Available also on Audio CD - Set of 3 CD's -- http://www.cuttingedge.org/detail.cfm?ID=749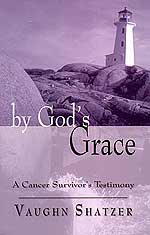 * "By God's Grace: A Cancer Survivor's Testimony" - Book - Wonderful hope to all who are facing cancer or other terrible illness, or who know someone who is. Prior to receiving Jesus Christ as his personal Savior, Vaughn Shatzer was lead guitar player with a Rock band. Once saved, Shatzer and his family served the Lord with their time, talent and treasure. In 2000, Shatzer was diagnosed with cancer of the spine and abdomen. His life-changing story will be an encouragement to your heart. This fiery trial brought the entire Shatzer family to a new level of trust, faith, patience, experience and hope in God.
Shatzer speaks from his heart of all the many testimonies of how God answered prayer, imparted Divine Wisdom from His Word, and gave divine appointments for witnessing, through his terrible cancer trial.
The greatest lesson the Shatzer family learned: God's Grace is sufficient through all trials, even when we are "walking through the shadow of death". (Isaiah 43:2)
http://www.cuttingedge.org/detail.cfm?ID=755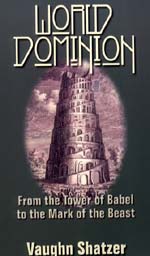 * "World Dominion-From The Tower of Babel To The Mark of the Beast" - Video

or Book

-- This hard-hitting expose' "World Dominion" will inform you about the One World Government, Military, Religious, and Economic System that will be ruled by Anti-Christ (Rev 13). See how the stage is being set right before your eyes. Learn of the deceptive World Constitution, Earth Charter, unconstitutional Executive Orders, Global Biodiversity Treaty, State of the World Forum presentations by Mikhail Gorbachev, and many other documents promising to usher in a New World Order Utopia.

Understand the true agenda of the U.N. - the sinister International Criminal Court, World Court, World Trade Organization, World Bank, and International Monetary Fund. Become informed on what could happen to about 50% of American land through United Nations Biosphere Reserves, World Heritage Sites, and the Wildlands Project. Take a tour of the U.N. to see their goal of 'peace and safety' has nothing to do with true peace, but world control and domination.
Be informed of the U.N. Meditation Room, its stone alter, and how it is dedicated to the god man worships under many names and forms.
Discover the plan and a global document entitled, 'Global Ethic' uniting all worlds' religions. See the role of the Parliament of World Religions, Lucis Trust, United Religions Initiative, and the Theosophical Society. See the 'World Scripture' that is a spiritual smorgasbord of every religion, belief, tradition, and sacred text under the sun. Learn how the World Economy is coming together as prophesied in Daniel chapters two and seven.
* "The Great Tribulation: From the Beginning of Sorrows to the Lake of Fire" -Book

- In this eye-opening book you will see graphic and awesome colored illustrations of the seal, trumpet, and vial judgments from the book of Revelation. These illustrations include: the bottomless pit, lake of fire, demons, cataclysmic earthquakes, killer asteroids, and horrifying supernatural phenomena that boggle the mind. Other fascinating subjects include: UFO's, extraterrestrials, 666, micro-chip implants, witchcraft and Harry Potter, Euro-dollar, United Nations, International Criminal Court, Global Spy Systems, the Red Heifer of Numbers 19, Hate Crimes, biometric positive identification, the rebuilding of the Tribulation Temple in Jerusalem, and much more. Your life will likely never be the same after reading "The Great Tribulation."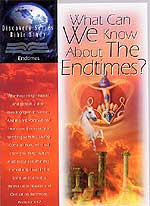 * "What Can We Know About The End Times? Booklet - Only #2.79 - Jesus warned His followers to be alert so that, when the many End of the Age prophecies begin to be fulfilled in their Daily News, His true believers would know that His appearance was near. Are Biblical prophecies exact enough for us to know what lies ahead? Or are they too vague, too figurative, or too debatable to be of any real value to us today? What difference does it make whether or not we know ahead of time, if all the events are going to happen anyway? This booklet looks to the Bible for the answers to these and numerous other important questions about the times in which we live.

A good primer for an introduction to prophetic teaching for someone just getting acquainted with this most important, and exciting, subject. - http://www.cuttingedge.org/detail.cfm?ID=756

Other Titles At This $2.79 Retail
Thus, the most serious of all War Crimes charges President Bush might face is the fatal contamination of the entire land of Iraq for 4.5 billion years. Bush may never face this charge, because numerous other nations in the world have also equipped their army with D.U. munitions and will probably be reluctant to publicize the issue.
We shall have to just wait to see how this scenario plays out, but it does seem possible that a broad campaign to deliberately discredit Bush might be under way.
II. At dawn on Thursday, June 24, insurgents struck simultaneously in 6 cities against both American military and Iraqi civilian targets. At the end of the day, at least 100 people were killed with hundreds wounded. These insurgents were using different, more sophisticated, military tactics that surprised Coalition Forces.
NEWS BRIEF: "Multiple attacks kill 100 in Iraq", BBC News, 24 June 2004
"Insurgents have launched fierce attacks that killed about 100 people in five Iraqi cities, wreaking havoc just days from the handover of power. The worst attacks were in the city of Mosul, where at least 62 people died and 220 were hurt in a series of car bombings, the US military said. More than 40 people died in Baquba, Ramadi, Falluja and Baghdad, in what appeared to be co-ordinated attacks. Three US soldiers were killed in Thursday's raids in the Sunni Muslim heartland, which began at dawn when insurgents seized police stations in Baquba."
Obviously, the real target seemed to be the fragile Iraqi Interim Government and its security services, both of which are struggling to be effective by the June 30 handover date. American officials were caught by surprise by the ferocity of the fight and the new tactics of the fighters.
"US Secretary of State Colin Powell told the BBC: 'I think we underestimated the nature of the insurgency that we might face during this period. The insurgency that we're looking at now has become a serious problem for us, but it's a problem that we will deal with'."
Let us review another news story which elaborates the statement, above, by Secretary Powell.
NEWS BRIEF: "Adversary's Tactics Leave US Troops Surprised, Exhausted", By Scott Wilson, Washington Post Foreign Service, June 25, 2004
"BAQUBAH, Iraq, June 24 -- The 1st Infantry Division soldiers who walked off the battlefield Thursday, exhausted by the frantic pace of combat and a baking summer sun, had seen nothing like it in their three months here. In dawn-to-dusk fighting, more than 100 armed insurgents overran neighborhoods and occupied downtown buildings, using techniques that U.S. commanders said resembled those once employed by the Iraqi army. Well-equipped and highly coordinated, the insurgents demonstrated a new level of strength and tactical skill that alarmed the soldiers facing them. By the end of the day, infantry and armored patrols had driven the insurgents from the battered center of the city, though some remained in control of two police stations in districts long hostile to the U.S.-led occupation. Two U.S. soldiers were killed in the fight, including a company commander struck by a rocket-propelled grenade ... The insurgents fought in large, coordinated squads, set complex ambushes and occupied downtown buildings from which they apparently planned a long fight ... Striking first along two key avenues bracketing the city, the insurgents intended to isolate and overrun the local Coalition Provisional Authority compound and other downtown government buildings ..."
Since the greatest military machine the world has ever seen has occupied Iraq since April, 2003, how is it that the insurgent forces at this date are capable of delivering such a blow? How is it that the insurgency is capable now of sophisticated, coordinated attacks like these? How can they deliver a combination of standard military tactics plus terrorist bombings? A story in Military.com may provide some of the answers:
NEWS BRIEF: "U.S. Stuck In Iraq", Military.com, June 23, 2004
"Eight days before U.S. caretakers are scheduled to turn over control of Iraq to an interim government, Pentagon officials told Congress that American soldiers are likely to remain there for years ... Wolfowitz also said a continued U.S. presence in Iraq is likely to cost taxpayers as much as $60 billion through the end of next year, twice what Congress has approved.
"From your description, Mr. Secretary, I don't see an end in sight," said Rep. Ike Skelton, D-Mo. "We're stuck."
"We're not stuck, Mr. Skelton," Wolfowitz said.
"Tell us what your measurement is for success," Skelton countered. "People ask me this. I have no answer."
"When it becomes an Iraqi fight, and the Iraqis are prepared to take on the fight, they're prepared to join their security forces. We are prepared to arm and equip them to do it," Wolfowitz responded. "I can't tell you how long that's going to take."
Deputy Defense Secretary Wolfowitz has just described "American success" in Iraq in terms like those Nixon and Kissinger adopted for their exit strategy from Vietnam. Soon after Nixon was elected, he and Kissinger concocted the plan to build up the South Vietnamese Army, police, paramilitary, and security forces so they could defend themselves after we had withdrawn. Years of rhetoric and newsprint trumpeted the wisdom of this strategy; yet, less than two years after the last American soldier left Vietnam, the North Vietnamese launched a major attack, causing the immediate destruction of South Vietnam. The country fell as easily as a small wind blows down a "house of cards".
We are now being prepared to accept just such a scenario. Can anyone imagine that an Iraqi government who had been set up under American occupation would last long when 86% of all Iraqis resent us and want us out of their country, and when the current Iraqi leaders are just the secular leaders from Saddam's old government -- leaders who would immediately come under attack from rabid fundamentalist Muslim forces who more closely align with the average citizen?
Did you know that the leaders we have set up now in Iraq are just the thugs from Saddam's old regime? Did you know that Coalition Forces have brought back into government throughout Iraq 12,000 leaders who formerly served under Saddam? We have toppled Saddam only to replace him with another Saddam. Listen:
NEWS BRIEF: "Former Baath members to return to public service", Middle East Online, June 10, 2004
"BAGHDAD - More than 12,000 former members of Saddam Hussein's Baath party are in the process of reintegration into public service a year after losing their jobs under a now abandoned policy of punishing loyalists of the ousted regime ... In a backtrack on its once hardline stance, the so-called National De-Baathification Committee - a body created and headed by erstwhile Pentagon favourite Ahmad Chalabi - reinstated the public servants."
Remember the furor after World War II when American officials hired back many thousands of fired Nazi officials? This situation is even more serious because the current Iraqi Prime Minister, Allawi, was a Saddam crony. We have toppled Saddam, busted his statute, only to turn around and set him back on the throne by hiring so many of his officials. Is this the result most Americans expected when our forces rolled across Iraq on March 20, 2003?
Furthermore, the news has been reporting that we might hand Saddam Hussein back to the Iraqi Interim Government for trial; since so many of the officials now are old Saddam officials, would we be handing Saddam back to his friends? Would he then resume control from behind the scenes?
III. A South Korean hostage was beheaded in Iraq on Tuesday while wearing the same orange jumpsuit American military prisons issue their guards; the entire affair contained a strong "Illuminati Signature".
NEWS BRIEF: "South Korea Confirms Hostage Killed", Fox News, June 23, 2004, http://www.foxnews.com/story/0,2933,123343,00.html
"BAGHDAD, Iraq — A South Korean citizen held hostage in Iraq was beheaded by terrorists ... Al-Jazeera television broadcast a videotape of a terrified Kim Sun-il (search), 33, kneeling, blindfolded and wearing an orange jumpsuit similar to those issued to prisoners at Guantanamo Bay, Cuba."
We noted in NEWS1918 that the first beheading victim, Nick Berg, was wearing the same kind of orange jumpsuit which we had seen in the awful Abu Ghraib prison photos which vividly depicted the torture and sexual degradation scandal. Berg was also seen sitting in the same white military plastic chair used in the American military prison system. We questioned whether Berg was actually killed by Islamic terrorists or by American agents intent upon setting the entire region into the flames of war.
Now, this South Korean was beheaded wearing the same orange jumpsuit. Are Islamic terrorists buying orange jumpsuits from the same supplier as the American military prison system? We cannot ascertain any further detail from the pictures of this South Korean beheading because the perpetrators are literally covered over from head to toe. The murderers could be Oriental or African, for that matter, because they are so covered with clothing.
But, the most interesting detail of this slaying is that it contains a strong "Illuminati Signature". For those of you not familiar yet with what constitutes an "Illuminati Signature", please stop to read NEWS1756; this article will explain why occultists will nearly always carefully carry out their planned events by the "Sacred Occult Number" of '11' or multiples thereof (or of a handful of other numbers sacred in the occult). Forced by the prophecy of Daniel 7:7-8, the Illuminati has assigned the number '11' to represent their Antichrist. Therefore, when you see an event carried out by '11' or multiples thereof, you will understand that the event was carried out to further the goal of staging Antichrist. The attacks of 9/11 contained '18' easily identifiable usages of the number '11'. Just as the Illuminati Card Game predicted in 1995, the 9/11 attack was staged to begin the "final birth sorrows" needed to produce Antichrist (NEWS1753).
Now, let us examine an article to see how this beheading of the South Korean contains a very strong "Illuminati Signature".
NEWS BRIEF: "South Korean hostage executed", MSNBC International News, June 22, 2004
"BAGHDAD, Iraq - An Iraqi militant group believed to be linked to al-Qaida beheaded a South Korean hostage Tuesday after the Seoul government refused to remove its soldiers from Iraq. U.S. soldiers on a routine patrol found the body of the man, Kim Sun-il, 33, between Baghdad and Fallujah, 22 miles west of the capital ... military officials told NBC News."
Therefore, this South Korean hostage was beheaded on the 22nd day of June and his body was dumped 22 miles from Baghdad. Oh, yes, and the victim was 33 years old. Thus, the murder was carried out by the sacred occult number of '11' -- multiples 22 and 33. This is precisely the kind of "occult signature" which has undergirded such deliberately planned events as the attacks of 9/11 (NEWS1756).
But, one other part of this beheading merits our attention: the victim was a "devout Christian"!
"Kim, described as a devout Christian, studied Arabic as well as English in South Korea. His parents said he went to Iraq because he dreamed of becoming a missionary in the Arab world, the Seoul newspaper Chosun Ilbo reported. A South Korean television news station, YTN, said he had been in Iraq for about eight months." [Ibid.]
Christians throughout Iraq are under much pressure as the June 30 handover looms closer. However, in killing a Christian according to the "occult sacred numbers" of '11', is a message being sent that the entire Christian religion is targeted by the Illuminati? We have noted in numerous newsletters and in NEWS1929, that a deliberate campaign to discredit President Bush is underway and if it succeeds, the descrediting of of Bush is likely to bring Evangelical Christianity down also. Secret society writings make it very plain that all three monotheistic faiths -- Judaism, Christianity, Islam -- are targeted for annihilation, for its adherents can never accept the polytheistic claims of Antichrist. While Islam was to be attacked first, Christianity was planned to be second.
Is the killing of this Christian according to occult sacred number of '11' a warning to Christians?
We continue to be suspicious that the Illuminati is carrying out these beheadings, not Islamic militants -- and that they are deliberately trumpeting their role by showing their victims in the US military prison orange jumpsuit. The objective would be twofold: 1) To keep the hatred between the Christian West and Islamic forces high and building toward that World War III; 2) Further justify a global government effort to combat such contrived terrorism.
If this is true, we should not be surprised if we learned that the group carrying out these beheadings is the Illuminized Secret Society whose symbol is a beheaded man, and whose head is being held by a strong left arm while the right hand is holding an Arabic sword (NEWS1917, "Arab Society Has Symbol of Cruel Beheading For Their Degrees 9-11")
The day of the South Korean beheading, a story appeared which confirmed our suspicions that these horrible events are part of the plan to produce a global, unified governmental effort that will properly "fight terrorism".
NEWS BRIEF: "Beheading shows world must unite against terror - United Nations", Reuters, AlertNet.com, 22 June 2004
"UNITED NATIONS, June 22 (Reuters) - The beheading of a South Korean hostage by Muslim militants in Iraq shows the need for governments around the world to work together to oppose terrorism, the U.N. Security Council said on Tuesday. 'In the face of such evil, the world must stand united against the scourge of international terrorism that continues to plague our global community', said Philippines Foreign Secretary Delia Domingo-Albert ... U.N. Secretary-General Kofi Annan said separately the hostage-taking was aimed at undermining international efforts to restore peace and security in Iraq and that such acts 'can have no justification'."
Listen again: "The world must stand united against the scourge of international terrorism".
Compare this statement to the Illuminati Plan:
"... the secret societies were planning as far back as 1917 to invent an artificial threat ... in order to bring humanity together in a one-world government which they call the New World Order." [Bill Cooper, "Behold A Pale Horse", p. 27]
The Illuminati DID invent an artificial threat" -- International Islamic Terrorism. Watch how well this invented global threat works to bring about the planned -- the prophesied -- Global Government! We are seeing the transformation from National Sovereignty to Global Sovereignty in our Daily News.
IV. Iran continued to travel down her possible path of confrontation with the United States. This week, Iran continued to build up her armed forces on Iraq's southeast border and seized three British military patrol boats, with her crew of eight, and threatened to accelerate her nuclear enrichment program.
NEWS BRIEF: "The big stick", Salt Lake Tribune, June 19, 2004
"There is reason to believe that Iran may be trying to build a nuclear bomb, although the evidence is, as yet, inconclusive. One thing is certain, however. If Iran is trying to join the nuclear weapons club, it is partly because the United States has pushed it in that direction. Iran is confronted on two borders by American troops, in Iraq and in Afghanistan. In addition, President Bush has shown a willingness to invade a nation, Iraq, which he suspected of developing nuclear weapons, even though U.N. inspections had concluded that Iraq's nuclear program most likely had been dismantled after the Gulf War. Iran could draw the conclusion from the U.S. adventure in Iraq that it does not pay to try to build a bomb in defiance of the United States. But it also could conclude, from the experience with North Korea, that if a nation can manage to develop a secret nuclear weapons program to the point that the United States believes it has a bomb, then it has an effective deterrent against U.S. invasion."
This latter point is exactly what North Korea has been saying for a full year now. She correctly noted that President Bush did not order the invasion of Iraq until United Nations weapons inspectors had verified, checked, and double-checked Iraq's WMD capability; only after UN inspectors issued their final report boldly stating that Iraq had NO WMD did Bush order the invasion. North Korea firmly believes that, if Saddam had really possessed Weapons of Mass Destruction, Bush would not have dared order the invasion. Therefore, the only way in which to be sure the United States will not attack is to really own and deploy nuclear weapons.
Iran has evidently come to the place where she agrees with this North Korean assessment. As we noted in last week's newsletter, Iran began to assemble her armed forces along the southeastern corner with Iraq only after Congress had voted to allow Bush to strike Iran pre-emptively. As rhetoric began to increase toward possible confrontation, Iran last week seized three British patrol boats with their 8-man crew.
NEWS BRIEF: "Iran-UK Naval Dispute, Sky News, June 21, 2004
"Communications with three Royal Navy vessels and eight sailors seized by Iran have been lost. A British military spokesman said the craft, which entered Iran's territorial waters, cannot be contacted. Eight British sailors have been arrested by Iran. The seacraft were detained near the Iraqi border after, said Iran, they had entered its waters without permission .... Royal Navy boats patrol the waterway - a highly disputed boundary between Iraq and Iraq - to prevent smuggling."
At first, Iran was adamant that she just might try the British crewmen. In a news conference, some of the British sailors made matters worse.
NEWS BRIEF: "UK sailors 'admit Iran incursion' ", BBC News, 23 June 2004
"Iranian television has broadcast statements by detained British sailors apparently admitting entering Iranian territorial waters illegally. Two of the eight sailors being held said they crossed the border from Iraq by accident, according to an Arabic translation played over their words ... There have been a series of conflicting reports about whether the men will be put on trial or freed."
Within 24 hours, the Iranians had released the men.
Iran likely used this incident to deliver a warning to British and American officials: Iran will vigorously fight to protect her sovereignty. Remember, Coalition Forces struggled against Iraqi forces in the southeastern corner of Iraq in the first 2 weeks of warfare. Only when Saddam order the strategic retreat did we achieve a "quick victory". Iranian forces are vastly better than Saddam's forces, so it is doubtful that America will attack conventionally; if we do attack, we probably will use our more sophisticated unconventional weaponry.
V. The United States was reportedly caught trying to smuggle trucks loaded with WMD across Kuwait border with Iraq last week. What on earth is going on?
NEWS BRIEF: "Kuwait sends back truck carrying radioactive material", China View, June 13, 2004
"KUWAIT CITY, June 13 (Xinhuanet) -- Kuwait refused to allow a radioactive material-bound truck to enter the country as demanded by the US army, Kuwait Times reported Sunday. Kuwaiti customs department on Thursday impounded four trucks coming from Iraq for suspicion that they were loaded with radioactive material ... After checkup, three of them were found not containing any radioactive material, while the fourth was found to be carrying a container of highly radioactive substance ... officials said the American army warned against opening the container and asked that it be allowed proceed, but they refused. Three of the four trucks were then released and the fourth one was sent out of Kuwait to where it came despite the US army's objections."
NEWS BRIEF: "U.S. Trucks Carrying Radioactive Materials Intercepted In Iraq-Kuwait Border", Tehran Times, June 15, 2004
"TEHRAN (MNA) - The UAE-based daily Al-Khaleej reported on Monday that Kuwaiti tariff officials have intercepted a truck loaded with radioactive materials in the Iraq-Kuwait border. The daily quoted informed sources as saying that the radioactive control team from Kuwait's Health Ministry discovered that one of the trucks belonging to the U.S.-led coalition forces was carrying heavy radioactive materials trucks. The trucks were headed for Iraq. The daily said that such materials could only enter a country when there is permission from related bodies while the materials were secretly being carried to Iraq ... The MNA reported for the first time the coalition forces' suspicious transfer of WMD parts from Kuwait to Southern Iraq by trucks. The possible presence of WMD in Iraq and its likely nuclear programs were the main U.S. pretext for attacking the country."
Prior to the invasion of March 20, 2003, Asia Times posted an editorial asking whether American officials might plant WMD inside Iraq once our forces had conquered the country. Were we attempting to plant WMD so the President could trumpet to the world that he was justified after all in ordering this invasion?
VI. US missile air attack on homes in Fallujah is sparking such tremendous anger that plans to handover power on June 30 are being complicated.
NEWS BRIEF: "US air strike on Fallujah poses new threat to Iraqi handover", by Andrew Gumbel in Los Angeles, Independent.co.au, 20 June 2004
"The handover of power in Iraq - now a mere 10 days away - appeared to be in a state of renewed crisis yesterday after a US air strike on homes in Fallujah brought to an end a week in which large-scale violence once again boiled to the surface. Around 20 civilians, including eight women and children, are said to have died in the attack, which follows Thursday's devastating car bomb outside a Baghdad army recruitment centre ... Yesterday's raid on Fallujah is troubling because of the raw memories it has stirred up of the hundreds of Iraqi civilians killed there by the Americans in April. It bore the hallmark of a revenge attack straight out of the Israeli book - engendering an incensed reaction similar to that of Palestinians on the receiving of Israeli air raids in Gaza and the West Bank ... The impact of these events on US public opinion remains to be seen. Media coverage of the Fallujah raid was relatively muted yesterday, in part because the US military refused to comment or give details of what happened and in part because the news was dominated by the beheading of the kidnapped military contractor Paul Johnson in Saudi Arabia."
Local Arabs are incensed that we would attack a house in a neighborhood; furthermore, residents adamantly insisted that no one in the house was a terrorist. This pinpoint missile attack was reminiscient of the Israeli tactic against Palestinians. However, the Israelis are famous for their accurate pinpoint intelligence.
NEWS BRIEF: "Fallujah mystery deepens", Gulf News, 21 June 2004
"Fallujah: A militant group targeted by a US air strike that killed 22 people in Fallujah does not operate in the rebellious Sunni town, Iraqi security officers said yesterday. The US military said Saturday's raid was aimed at a safe house used by militants led by Abu Musab Al Zarqawi ... The air strike, which flattened a house ... fueled tensions ahead of the formal end of Iraq's US-led occupation on June 30. The US military had allowed an Iraqi force, known as the Fallujah Brigade, led by former Iraqi army officers, to take over security in the fiercely anti-American town west of Baghdad. Brigadier Nouri Aboud, a member of the Fallujah Brigade, said there was no evidence the destroyed house had been used by anyone except the large Iraqi family that lived there. 'We inspected the damage, we looked through the bodies of the women and children and elderly. This was a family', he said. 'There is no sign of foreigners having lived in the house. Al Zarqawi and his men have no presence in Fallujah'."
This is a serious matter, indeed. If the militant terrorist group we said was using this "safe house" does not even operate in Fallujah, then our missile attack against this civilian house is completely called into question. If our intelligence was wrong in this one instance, it was quite possibly wrong in saying this was a safe house for militants. Perhaps we did just kill a civilian family.
For those who do not believe American forces are deliberately killing civilians in Iraq, we can only point out several news stories that reveal our deliberate killing of civilians.
* NEWS BRIEF: "US Tactics In Iraq Condemned By Top British Officers", By Sean Rayment, Defence Correspondent, The Telegraph - UK, 4-12-4
"Senior British commanders have condemned American military tactics in Iraq as heavy-handed and disproportionate ... The officer, who agreed to the interview on the condition of anonymity, said that part of the problem was that American troops viewed Iraqis as untermenschen - the Nazi expression for 'sub-humans' ... Speaking from his base in southern Iraq, the officer said: 'My view and the view of the British chain of command is that the Americans' use of violence is not proportionate and is over-responsive to the threat they are facing. They don't see the Iraqi people the way we see them. They view them as untermenschen. They are not concerned about the Iraqi loss of life in the way the British are. Their attitude towards the Iraqis is tragic, it's awful'. The phrase untermenschen - literally "under-people" - was brought to prominence by Adolf Hitler in his book Mein Kampf, published in 1925. He used the term to describe those he regarded as racially inferior: Jews, Slaves and Gipsies."
* NEWS BRIEF: "Shooting death angers Iraqi family: US tactics in raid raise concerns", The Boston Globe, June 21, 2004

"BAGHDAD -- American soldiers stormed into Sajid Kadhum Bouri al-Bawi's house three hours after midnight on May 17, breaking two doors and rousing the dozen children who live there ... after the soldiers left with what appeared to be a prisoner did Bawi's brother find his bloodied body, shot five times and stuffed behind a refrigerator underneath a pile of mattresses .. The US Army is investigating the shooting, and admits that Bawi was shot and killed by an American ... Bawi's slaying during the kind of routine night raid that is the military's bread-and-butter counterinsurgency tactic raises questions about the control and supervision of soldiers on those raids, and the reliability of the local informants whose tips are often behind the arrest lists. The events described by family members are chilling: They say Bawi was killed in his mother's bedroom during an interrogation, while soldiers banged on metal doors to dull the sound of the shots."
Now, let us turn our attention to this deliberate campaign designed to discredit President Bush (NEWS1929).
VII. Former Vice President Al Gore delivered a major policy speech on Thursday, 6/24, in which he accused the President of lying about Iraq. This speech might prove to be the initiation of the Democrat Party's contribution to this campaign of discreditation.
NEWS BRIEF: "Gore: Bush Lied About al-Qaida, Iraq Link", Yahoo News, June 25, 2004
"WASHINGTON - Al Gore on Thursday accused President Bush of lying about a link between al-Qaida and Saddam Hussein and said the president refuses to back down from that position to avoid political fallout. 'They dare not admit the truth lest they look like complete fools for launching our country into a reckless, discretionary war against a nation that posed no immediate threat to us whatsoever', Gore, the former vice president who lost the presidency to Bush in 2000, said during a speech at Georgetown University Law Center ... Gore accused Bush and Vice President Dick Cheney (news - web sites) of deliberately ignoring warnings from international intelligence services, the CIA (news - web sites) and the Pentagon (news - web sites) before the Iraq (news - web sites) war that their claim of a link between al-Qaida and Saddam was false.
"With a smirk, Gore then added: 'So when the bipartisan 9/11 commission issued its report finding 'no credible evidence' of an Iraq-al-Qaida connection, it should not have come as a surprise. It should not have caught the White House off guard'. The independent, bipartisan commission looking into the terrorist attacks found 'no credible evidence' of a link between the events of Sept. 11, 2001, and Iraq. As to an Iraq-al-Qaida connection, the commission found there was no apparent "collaborative relationship."
Whatever your opinion of Al Gore might be, all major politicians are very careful and calculating as to their major speeches. Gore made this speech just weeks before the major nominating conventions, so you have to consider that his timing was deliberate and carefully planned. Secondly, Gore would not have made this speech had he feared that major news might break suddenly that would prove him wrong.
This speech may have been the major initial salvo of the Democrat Presidential Campaign. Gore then mentioned the torture scandal.
"Gore also accused Bush of abusing his presidential powers by invading Iraq without a war declaration from Congress, allowing Americans deemed 'unlawful enemy combatants' to be held without being charges, and authorizing 'what plainly amounts to the torture of prisoners'. He also called on the administration to disclose all of its interrogation policies — including those used in Iraq and Afghanistan , and by the CIA — and analyses about them. 'We deserve to know what and why it's being done in our name', Gore said to applause." [Ibid.]
Cutting Edge has been warning since November, 2001, that Bush/Ashcroft have been torturing prisoners. Yet, no one seriously believed that this "Born Again Christian" President and Attorney General could be capable of such anti-christian behavior. Hopefully, many eyes will be opened through this unfolding prison scandal in US military prisons in Iraq, Afghanistan, and Guantanamo Bay.
Speaking of Guantanamo Bay, the Bush Administration managed to again give the impression they were hiding some great War Crime.
NEWS BRIEF: "U.S. moves to classify Guantanamo abuse suit documents: Action pre-empts judge's expected ruling to unseal papers", by Paul Shukovsky, Seattle Post-Intelligencer, June 24, 2004, http://seattlepi.nwsource.com/local/179298_guantanamo24.html
"The Department of Defense has moved to classify documents in federal court in Seattle that accuse the government of abusing a prisoner and violating international law at Guantanamo Bay .... The documents describing the alleged mistreatment of Salim Ahmed Salim Hamdan ... are part of a lawsuit challenging his detention, the conditions of detention and his prolonged incarceration in solitary confinement. The suit also directly challenges the way President Bush plans to use military tribunals to try Guantanamo detainees accused of terrorist ties ... The lawyer, Lt. Cmdr. Charles Swift, told the Seattle Post-Intelligencer in May that the documents 'allege other violations of the Geneva Conventions' ... he said that they would make for 'interesting and relevant reading' in light of recent revelations of abuse of prisoners in Iraq by the U.S. military. The move by the Defense Department to classify the documents comes as the military's treatment of its prisoners has caused outrage in Iraq and questions at home about how far the Bush administration is willing to go in questioning those taken into custody in Iraq and Afghanistan."
Do not be deceived into thinking that the Bush Administration unknowingly violated the Geneva Convention on treating prisoners. Read this article which clearly demonstrates that President Bush set out to violate the very international agreements to which the US is a signatory, thus opening the flood gates to the terrible torture and sexual degradation abuses which the world is now viewing.
NEWS BRIEF: "Bush memos show stance on torture", by Suzanne Goldenberg in Washington, The Guardian (London), June 24, 2004
"The Bush administration's thinking about the use of torture in the war on terror was on display yesterday after the White House released a file of documents on the treatment of detainees. The memos, which date from February 2002 to the beginning of the Iraq occupation in April 2003, offer a glimpse of the decision-making process at the highest levels of the Pentagon, the department of justice and the White House ... the administration yesterday stood accused of raising more questions than it laid to rest, with key Democratic figures and human rights activists noting that none of the documents specifically apply to treatment of detainees in Iraq ... Questions were also raised on the role of President George Bush after the release of a previously secret order he signed in February 2002. In the order, Mr Bush reserves the right to suspend the Geneva convention on treatment of detainees at any time.
"I accept the legal conclusion of the attorney general and the department of justice that I have the authority to suspend Geneva [conventions] as between the US and Afghanistan," Mr Bush writes. "I reserve the right to exercise this authority in this or future conflicts."
This article went on to strangely say that Bush called for the "humane treatment of prisoners", even though he was deliberately setting aside the Geneva Conventions which were designed to make sure that prisoners of war were treated humanely! The record of what our military has done to thousands of Muslim prisoners since 9/11 is clear: American forces have arrested and imprisoned men and women indefinitely without charges, without proof of any crime, without any access to legal protections -- including a lawyer -- AND we have subjected them to sophisticated torture, rape, and various forms of sexual degradation specifically designed to offend their unique Islamic sensibilities; oh yes, and we have also murdered some prisoners.
Therefore, any further discussion of what Bush knew and when he knew it is rendered inconsequential and irrelevant. By telling our military that they did not need to abide by the Geneva Convention on treating prisoners humanely, President Bush set up the mechanism by which these prisoners would be treated inhumanely.
Do you know what convinced me that President Nixon was guilty as charged? He kept acting in exactly the way I would expect a guilty man to act. President Bush is beginning to fall into this category! He is acting like a guilty man.
Now, let us examine one instance in which President Bush has taken action to ensure that he will be legally protected from another developing scandal.
VIII. President Bush retained a lawyer to protect him during the CIA probe as to who in the White House leaked the name of their deeply protected agent.
NEWS BRIEF: "Bush Hires Attorney in CIA Leak Probe", Fox News, June 25, 2004
"WASHINGTON — President Bush was questioned for more than an hour by government prosecutors Thursday as part of the probe into who leaked the name a CIA operative to the media ... White House press secretary Scott McClellan said Bush has hired a private attorney, Jim Sharp, a Washington trial lawyer and former federal prosecutor."
While repeating the mantra that the President wants to fully cooperate, Bush hired a powerful lawyer from the Capitol District to represent him. This action strongly hints that Bush has something to hide. Some commentators have been boldly saying that President Bush was going to be indicted on this issue. When someone in the White House publicized the name of the CIA agent, a far-flung intelligence operation was immediately compromised.
If this is true, then the campaign to discredit Bush -- during the time of the presidential election -- would definitely be moving into high gear. John Kerry can only sit back and watch, as the daily news will be doing his job for him.
IX. Fidel Castro warned the United States not to launch an invasion of Cuba. On the surface, this news story carries an aura of unbelievability; after all this time since the aborted Bay of Pigs invasion, America has no interest in invading Cuba. Right?
NEWS BRIEF: "Castro warns Bush not to launch invasion", Associated Press, reprinted Baltimore Sun, June 22, 2004
"HAVANA - Tens of thousands of Cubans rallied yesterday, as Fidel Castro warned President Bush against launching a military attack on Cuba, saying it would provoke a mass exodus and an all-out ground war ... an increased tightening of sanctions against the island, along with the Bush administration's pre-emptive strike on Iraq, has convinced the Cuban leadership that a military attack is not impossible. 'Do not try crazy adventures such as surgical strikes or wars of attrition using sophisticated techniques because you could lose control of the situation', Castro said in a speech addressed specifically to Bush."
We are not perplexed as to why Castro might think the United States is getting ready to invade him. Cuba is one of those Non-Integrating States we describe in NEWS1833. Since America overthrew Haiti's President a few months ago, other Non-Integrating nations in the region have been on notice that they are next if they do not immediately make the internal changes the Illuminati is demanding -- changes designed to enable that nation to integrate into the cashless economy where no man may buy or sell unless he has the mark! This requires a sophisticated economy based upon computers, something many nations are not now able to do.
Castro is not alone thinking he may be invaded. Venezuela has been warning Bush for months now that she will fight if invaded (NEWS1900)

X. A North Carolina Catholic priest and two former monks have discovered that Roman Catholic priests have been sexually abusing their parishoners for 1,700 years!
NEWS BRIEF: "Vatican Aware of Abuse for Centuries, Study Says: Authors use church's own documents to make their case", By William Lobdell, Times Staff Writer, Los Angeles Times, June 20, 2004
"Facing an estimated 800 sexual-abuse lawsuits in California, Roman Catholic officials have argued that the church learned only in recent years that it had a widespread problem with priests molesting children ... But a North Carolina priest and two former monks who live in Southern California say they have scoured ancient Vatican records and forgotten Latin texts to show just the opposite: that the church has recognized the problem of abuse by priests for at least 1,700 years and has failed to address it successfully.
" 'The contention that the present scandal is isolated to this era is completely debunked by the Roman Catholic Church's own documents', concluded Father Thomas P. Doyle and former monks Richard Sipe and Patrick Wall in their 375-page report, 'Canonical History of Clerical Sexual Abuse'."
"For example, in the 4th century, St. Basil of Caesarea set up a detailed system of punishment to deal with clerics at his monastery who molested boys. Perpetrators were to be flogged and put in chains for six months; they were never again allowed unsupervised interaction with minors. In the 13th century, Pope Gregory IX added to church law a declaration that sexual abuse demanded expulsion from the priesthood and that perpetrators would be turned over to secular authorities ... One landmark document, published by Pope Benedict XIV in 1741, made it easier to punish priests who solicited sex during confession in exchange for absolution ... 'It devastates the church's argument that 'We had no idea this was happening' and that 'No priest would ever do this,' " said Larry Drivon, a Stockton attorney who represents hundreds of alleged victims of clergy sexual abuse in California."
Three years ago, when the Boston priest pedophile scandal was creating daily news, Cutting Edge delved deeply into this issue of the long history of sexual abuse of parishoners by Catholic priests. We obtained a number of exceedingly old books -- 17th and 18th Centuries -- which described the sexual crimes of priests. We were able to pinpoint sexual abuse back to 800 years ago, thus disproving the current excuse that the current sex scandal was occurring because the Catholic priesthood had been invaded and taken over by gays.
Now, the internal documents uncovered by these Catholic investigators moves the timeline back to 1,700 years -- nearly back to the very beginning of the Catholic Church itself! How can this be? You cannot understand this issue unless you understand the pagan nature of Catholicism itself. From nearly the beginning of the Catholic Church, she has brought in pagan doctrine and tradition, dressing them up in Christian names. From the beginning, Catholicism has been the practice of White Magic Witchcraft dressed up as Christian. We have a major video we created on this subject: Catholicism: White Sepulcher ''Christianity''. Once you understand the true religion of Catholicism, sexual abuse of innocent parishoners for the past 1,700 years makes complete sense.
Now, let us examine another tactic the Catholic hierarchy has always used in dealing with pedophile priests: they have always moved their guilty priests to other churches rather than punishing them. Nothing has changed. Listen:
NEWS BRIEF: "Priests moved following abuse allegations", Associated Press, reprinted by KVUE.com, June 18, 2004
"DALLAS -- A Dallas Morning News investigation has found that between 100 and 200 Roman Catholic priests were moved from country to country after they were accused of sex offenses against minors ... Reporter Brooks Egerton gave an overview of the investigation Friday on National Public Radio's "Morning Edition" program ... Egerton says their 18-month investigation found a systematic practice of moving the most serious abuse cases on to other countries to protect the accused."
During the Boston Catholic scandal of three years ago, Cardinal Law was repeatedly accused of just moving his priests to another church once the scandal broke in their current location. Sometimes, Law moved guilty priests clear across country. Truly, there is "nothing new under the sun".
XI. While Chinese legislators urged the government to use nuclear weapons should Taiwan strike the Three Gorges Dam, the top US Admiral in the region worried aloud about a war in the Taiwan Straits.
NEWS BRIEF: "China told to use nukes if Taiwan hits dam", Straits Times, 20 June 2004
"SHENZHEN - China should withdraw its undertaking on no first-use of nuclear weapons should Taiwan try to blow up the Three Gorges Dam, according to some parliamentary delegates. The call was made by them - as well as some who sit on the country's top political advisory body - in the wake of a recent US Defence Department report which suggested that Taiwan could target the dam in a pre-emptive strike."
This kind of news story just escalates the war rhetoric. In US Army Intelligence, I learned that war rhetoric can play a significant role in starting the war nobody really wanted. As war talk escalates, war action generally follows. Therefore, it is not good news when we see war rhetoric escalating to the point where Chinese legislators are urging the military to use nuclear weapons against Taiwan.
Further, this story may represent official Chinese government position, since no one in the Chinese government ever says anything publicly that the inner circle has not already approved.
Perhaps this war rhetoric is the reason our top naval commander in the Taiwan Straits seemed so worried about an actual conflict between China and Taiwan.
NEWS BRIEF: "U.S. commander worried about Taiwan Strait war", Taiwan News.com, 20 June 2004
"U.S. Pacific Fleet Commander Admiral Thomas B. Fargo was quoted as having said Friday that he is very worried about an outbreak of war in the Taiwan Strait because of miscalculation by the governments on both sides ... Fargo ... told the delegation that three issues in the Pacific region have made him unable to sleep at night - little progress in removal of nuclear weapons from the Korean Peninsula; a possible outbreak of war in the Taiwan Strait because of miscalculation by the governments on both sides and mainland China's accelerated military modernization as a result of its rapid economic growth; and terrorist activities in Southeast Asia."
With all this rhetoric filling the airwaves, we were not too surprised to learn that American aircraft carriers groups were heading for the North Korea - Taiwan area. Remember, China invading Taiwan is planned to be the third war in the upcoming World War III -- a war designed to produce Antichrist on the world scene.
NEWS BRIEF: "Serious New Military Actions of the Administration: Another War or Just Bluff?", TBRNEWS –SPECIAL EDITION of June 17, 2004
""It has been reliably reported that the American President and his closest military advisors, in conjunction with the highest military commands, have determined that military operations should be prepared for and executed against two main targets. The first and primary ones are in the Middle East and comprise Iraq and most especially Iran. The secondary object is North Korea ... In furtherance of this policy, the United States Naval forces will be utilized as the focus of the attack forces. These units will not be subject to counter attacks because they can stand off at a distance and attack their targets with complete impunity. Naval personnel will not be subject to guerrilla warfare in any sense and will supply a very powerful attack force capable of delivering deadly blows against designated targets. A current review of