Bookstore Resources
New Items
1) Catholicism: Crisis In Faith - DVD -- 8 language DVD Set!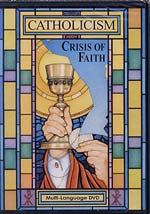 Every day seems to bring painful new revelations of priests sexually assaulting little boys with whom they were in contact during the "sacred" services, masses, and sacraments of the Church. How can homosexuality have found its way into the Roman Catholic Church in such numbers?
Former priests and nuns give their personal testimony as to why they left Catholicism. Great video to show someone still in the Catholic Church!
Select the language in which you want to hear this video, choosing from: English, Spanish, Portuguese, Chinese, Tagalog (Philippine Dialect), German, Korean, Polish

2) One Nation Under Seige - 2 DVD Set!
Our national nightmare has begun. Using our Education System, Mainstream Media, and Corporate America, our Constitution and the American way of life have been sacrificed on the altar of "War on Terror".
This video exposes vital issues surrounding the United Nations, our Educational System, Public Mental Health Screening, the Patriot Act, Media Spin Control, War on Terrorism, Recent "Big Brother" Spy Scandal, and Civil Liberty destruction.
Is It too late to rise to the occasion? Second DVD contains additional Expert Testimony witness
3) Avian Flu: Killer of Millions? - DVD
For the past two years, the specter of Avian Bird Flu has been hanging over mankind like a sharp, dangerous sword. "Experts" have repeatedly stepped to a news microphone to warn that deaths could reach over 100 million people worldwide - a death carried by birds in their global migratory patterns.
A TV show even aired, showing that so many people were dropping dead that their bodies were carried away in dump trucks.
Clearly, this genetically produced Avian Bird Flu fits very tightly into the Illuminati Plan to reduce the population of the world by 66%. This bird flu may even be the plague of Seal Four, Rev. 6:8.
4) Christian Words, Un-Christian Actions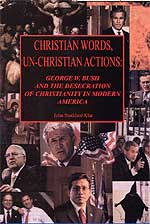 Untold millions of American Christians believe President Bush to be a Born Again Christian -- even though his fruits are uniformly evil.
At long last, a Christian author has systematically researched to discover that Bush's actions are not consistent with his profession of faith. Jesus told us the standard by which we are to judge another: "By their fruits shall ye know them" (Matt 7:20)
Author also demonstrates that Bush is really a ravenous "wolf in sheep's clothing" (Matt 7:15-16) and that he has seriously ravaged the genuine Church of Jesus Christ. End of the Age implications are staggering!

Popular Items Back In-Stock
1) "They Sold Their Souls For Rock-n-Roll"
Did Elvis Presley "Sell His Soul" to Gain His Rock-n-Roll Fame? Learn the shocking truth about Elvis and so many other Rock stars in this 10-hour DVD set - See the "Lesbian Wedding" of Britney Spears, Christini Aguilar, and Madonna
Watch 10 hours of video as former Rock star takes you b
2) Police State Coming Soon - DVD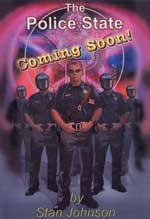 A totalitarian society is speeding toward completion with unbelievable ability to locate, log, identify, track and apprehend any person, authorities operating according to the hidden agenda to force everyone to finally take the Mark of the Beast -- or lose their head.
Remarkable developments, and they all fulfill End of the Age Bible prophecies!
---
Other Popular Favorites
1) New World Order 2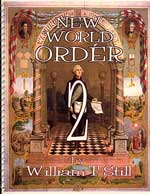 Book confirms the demonic "Three World Wars To Produce Antichrist" scenario!
Even the current "War On Terror" was first planned in 1871, in a secret internal letter between Freemasons Albert Pike and the Italian Mazzini. The Terror War was to be part of the Third and final World War III.
3) The Shocker DVD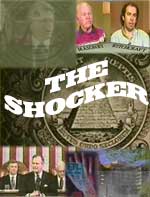 Through film and news clips, Dave Wegener shows the 12 most shocking subjects to cross his desk in the last few years. Just when you think you have seen, or heard it all, this DVD will show just how very wierd this world has gotten. Subjects include UFO's, Masons, Executive Orders, MJTF, high-technology, concentration camps, apostasy of Church Leadership, abortion, Oklahoma City Bombing cover-up and more. A must see.
4) Beyond Treason DVD: The Battlefield Disaster Created by Depleted Uranium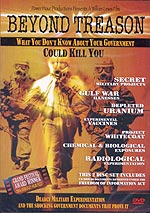 Brave soldiers are dying by inches from a variety of "unknown illnesses". Some are dying of heart failure, others from organ meltdown, and still others from "mysterious causes". While the Pentagon claims to be totally in the dark, experts now believe that these men are dying in various ways because of a combination of Depleted Uranium, toxic vaccines, chemical and biological agents.
Ailing Gulf War Heroes from all 27 coalition countries slowly die of "unknown causes," also mainly due to Depleted Uranium
This is THE story of all time!

5) Educate or Enslave