---------- This Week's Hot News --------
DVD
I. The threat of Martial Law reared its ugly head again as we learn that National Guard units are patrolling beaches in Florida!
The key to this story is that both BP and the Federal Government are keeping reporters and citizens from the actual sites of oil spill.
A news blackout seems to be the goal, so that citizens cannot verify the story the government is telling us.
NEWS BRIEF: "Military Patrols Beach in Panama City, Florida", by Kurt Nimmo, Infowars, July 5, 2010
"In the middle of June it was reported that BP hired private security contractor to keep the media away from sites the transnational corporation claims it is cleaning. 'BP, in a move destined to go down as one of the bestest public relations moves ever, has apparently hired a private security company to help to keep pesky reporters from covering the unfolding catastrophe on the beaches of the Gulf Coast', Adam Rawnsley writes for Wired."
The only reason that a concerted effort would be undertaken to keep reporters from the scene of the supposed disaster is if the conditions on the site are not as bad as the government and BP are reporting them to be.
"Last week the San Francisco Chronicle and CNN reported on the government's effort to keep pesky journalists exercising the First Amendment from reporting on the supposed oil cleanup and the environmental impact of the worst oil disaster in history."
Coast Guard Admiral Thad Allen moved aggressively.
" 'Under threat of a federal felony, National Incident Commander Thad Allen has banned all media access to boom operation sites and clean up sites', writes Yobie Benjamin. 'Allen's orders effectively bans all media — print, television, radio and Internet bloggers from talking to to any clean-up worker or to even come close to take pictures or videos of booms, clean-up workers, oil soaked birds, dead dolphins, dead marine life, burned and dead endangered sea turtles'."
This title, "National Incident Commander" is a new title created by the Homeland Security Director. It is designed to confer credibility upon the man who has become the government's military point man, overseeing the official response to the entire Gulf Oil fiasco.
Now, this news story switches focus, to the soldiers patrolling civilian beaches in Florida.
"Now citizens are reporting the presence of soldiers on Florida's beaches. In the video (included), several soldiers in combat fatigues were photographed driving vehicles on the beach in Panama City, Florida. On May 4, up to 17,500 U.S. Army National Guard troops were mobilized by the Pentagon 'to help various states with the oil spill', according to the Associated Press. 'Defense Secretary Robert Gates has granted requests to send troops of up to 6,000 by Louisiana, 3,000 by Alabama, 2,500 by Florida and 6,000 by Mississippi'."
However, the video does not show these soldiers assisting in the cleanup; rather, we see them seemingly engaged in crowd control. We see this jeep simply making its presence known to the civilians trying to enjoy the sun and the waves.
We can only conclude that the real purpose of these soldiers is to condition Americans to seeing military patrols in civilian areas. America has such a long history of civilian police keeping the peace that we must be specifically conditioned to seeing the military undertake peacekeeping roles within the civilian population.
In the aftermath of Hurricane Katrina, we saw a lot of military intervention in civilian areas.
In any one year, we hear reports of military exercises within the civilian population. In our opinion, the sole reason to send military units amongst civilians is to condition us to accept the role of the military in certain situations. Such conditioning will come in very handy when the time comes to lock America down in a true Martial Law.
But, for now, we see the strange reality of National Guard troops patrolling a civilian area which is not under any kind of threat and which has no oil washing up on its beaches. Let us return to our featured article for the final say.
"No word if they are enforcing Allen's command that the media will be arrested for a felony if they dare report the disaster to the American people."
Do not be deceived: the plan calls for implementation of Martial Law nationwide, as the card from the Illuminati Card Game -- shown above -- clearly indicates.
DVD
II. Shockingly, British Petroleum (BP) produced and distributed an oil rig board game which foreshadows the current disaster in the Gulf of Mexico!
NEWS BRIEF: "BP board game foreshadows Gulf disaster", MSNBC News, July 6, 2010
"LONDON -- An obscure BP-themed board game in which players aim to avoid rig disasters has become an unexpected hit at a British toy museum. 'BP Offshore Oil Strike' was released in the early 1970s and allows up to four players to explore for oil, build platforms and construct pipelines. The first player to earn $120,000,000 wins."
"Its 'hazard cards' include 'Blow-out! Rig damaged. Oil slick clean-up costs. Pay $1million'."
Many people will be surprised that the play of the game so closely parallels what is occurring in the Gulf of Mexico, but Cutting Edge readers know that the Illuminati Card Game - which was marketed in early 1995 -- foretold a great many events which have already occurred or for which the stage is clearly being set (Read full details in our 'Illuminati Card Game Section')
The museum owner who viewed this board game expressed his shock.
" 'The parallels between the game and the current crisis... are so spooky', museum owner Alan Goldsmith told Britain's Metro newspaper. 'The picture on the front of the box is so reminiscent to the disaster with the stormy seas, the oil rig and an overall sense of doom. I was just knocked over by how relevant this game is, despite being made some 35 years ago, to BP's troubles today'."
The reason there is such a close parallel to this board game and to the current events unfolding in the Gulf of Mexico is simply that this event was planned to contribute to the overthrow of our current civilization so that the New World Order can be instituted.
Several years ago, we posted an article which dealt with the reality that the Illuminati does "telegraph its punches", i.e., they foretell what they are going to do to us well ahead of time. Why would they do this? You will be surprised to learn the truth.
Please take a moment to read our NEWS2104, "NOW WE KNOW WHY THE ILLUMINATI "TELEGRAPHS THEIR PUNCHES": FEMA's THREE PREDICTIONS, IN MOVIES AND TV SHOWS, DEPICTING THE VERY DISASTER WHICH THEY PLAN".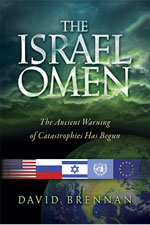 III. President Obama and Israeli PM Netanyahu are meeting at the Oval Office on Tuesday with a Palestinian State on their minds.
NEWS BRIEF: "'Direct peace talks' the goal, Netanyahu says of meeting with Obama", CNN News, July 6, 2010
"Washington (CNN) -- Middle East peace talks will be the focus when Israeli Prime Minister Benjamin Netanyahu meets with President Obama on Tuesday ... Right now, Netanyahu and Palestinian Authority President Mahmoud Abbas aren't talking directly. They are communicating only through U.S. Middle East envoy George Mitchell, who serves as a go-between for negotiations. Netanyahu told Israeli Cabinet officials Sunday that he was ready to meet with Abbas at any time.
" 'Whoever desires peace will hold direct peace talks', he said. 'I hope that this will be one of the results of my trip to Washington'."
For his part, Palestinian President Abbas - who is a Freemason - refuses to meet directly with any Israeli leaders until Israel stops building settlements in the West Bank. However, I think this idea that direct negotiations will produce any kind of an agreement on a Palestinian State is simply a smoke screen.
You see, Israeli and Palestinian leaders have met many times directly with no movement toward a Palestinian State. The meeting which stands out so clearly in my mind occurred in October, 1998, when Israeli PM Netanyahu and Palestinian President Arafat met under the auspices of President Bill Clinton. During this meeting, the Israeli PM and the Palestinian President met directly to hammer out an accord.
After several days of wrangling, the Wye River Accord was signed by Clinton, Netanyahu and Arafat. The Israeli Knesset voted overwhelming to accept the accord -- 75-19 -- on November 17.
How did Palestinian President Arafat greet this accord, in which he had directly participated? He launched another armed Intifada, which doomed the Wye River Accord. In the final analysis, the Palestinians want no agreement with Israel which leaves the Jewish state alive. They want the complete annihilation of Israel and will not rest until that is done.
For this reason, there will never be an actual Palestinian State; rather, prophetic Scripture will be fulfilled, which only calls for the empty pronouncement of such a state. Bible-believing Christians know that prophecy declares that the Princes of Edom (Palestinians today) will one day declare a State, but nothing shall come of that declaration. Listen: