---------- This Week's Hot News --------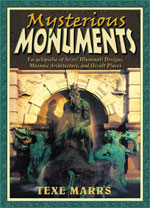 I. President Obama is flying off to Maine for a very short vacation in an area known for its pagan Sun Worship popularity!
I do not know what these facts mean, but they are most interesting, especially when you consider that the Illuminati worship the Sun with as much vigor as any occultist!
NEWS BRIEF: "President, family to vacation in Acadia", Kennebec Journal, July 13, 2010
"President Obama and his family are scheduled to vacation on Mount Desert Island from July 16-18 ... Obama, his wife Michelle, and daughters Sasha and Malia, are expected to visit Acadia National Park, which is located on the island, during their visit. The 47,000-acre park averages more than two million visitors annually and is the only national park in New England."
"Mount Desert Island is about 108 square miles and located closely off the Maine coast. It has long been a summer vacation haven for some of the America's wealthiest and most prestigious families, including the Astors and the Rockefellers."
Now, notice these most interesting facts which make this area so very popular with the Sun Worshippers of the world!
1) Note the connection of Mount Desert Island and the Illuminati families, the Rockefellers and the Astors. While I have found no information stating that Obama will be meeting with members or representatives of either of these families, I still find it most interesting that the President will be vacationing at an area long beloved by these Global Elite families.
2) On Mount Desert Island, the highest mountain on the East Coast is located. The name of this mountain is Cadillac Mountain. What makes this mountain so very interesting is that, from October 7 to March 6, every year, Cadillac Mountain is the first place in the United States on which the first rays of the rising Sun strike!
From March 25 to September 18, every year, Mars Hill is the first place the rays of the rising Sun strike. Mars Hill is about 130 miles Northeast of Cadillac Mountain, and is actually in Maine.
However, even during the times of the year when Cadillac Mountain is not the absolute first place every morning to receive the Sun's rays, it is a very important place for Sun worshippers. In fact, a resident of Maine who is a Cutting Edge subscriber, says that Mount Desert Island is a hot-bed for occult and Nature worship activities.
3) The month of July, 2010, is a very rare month.
"Interesting Moon Note! This is a very rare month in that EVERY moon phase (New, First Quarter, Full, Last Quarter) will occur on a Sunday." (Arkansas Observatories, July 2010)
Therefore, on Sunday, July 18, the moon will move into its waxing Quarter Phase. This day is the last day that the Obama's will be on Mount Desert Island.
Also, the number '18' is significant to the Illuminati, because it is a hidden '666', since '6+6+6' = 18.
It is quite possible that the Obama's are simply going to enjoy the breathtakingly beautiful scenery. Let us return to the original news story to see how nature is truly on display in this area.
" 'I think the Obamas will really enjoy the quiet woods, beautiful coast, wonderful people and everything else that brings thousands of families here every year', Pingree said in a release."
But, since President Obama is a 32nd Degree Prince Hall Mason, and since he serves the most powerful occult secret societies on earth, it is also possible that he will be meeting with other leaders of like mindset for some occult activities.
He certainly chose a Sun Worshipping site at a most unusual time period of the most rare July Moon phase. Is this just coincidence?
The Illuminati is fundamentally Masonic and, therefore, absolutely worship the Sun. Something in my mind tells me that the President and key Illuminati figures could very well be on top of Cadillac Mountain on Sunday, July 18, celebrating the Waxing Moon Phase. In Satanism, a White Magic ritual designed for the shaman to build a particular person into greater power and authority should be carried out on a waxing Quarter Moon.
Therefore, is President Obama going to this particular Sun worshipping Mecca on a very rare month for Moon phases, and on the day of the Waxing Moon, so that he can receive occult power to propel him to greater prestige and authority?
Before you scoff, remember that President Bill Clinton travelled to Haiti during his reelection campaign and his impeachment process, so that he could receive the power of Voodoo Witchcraft performed on his behalf (Read full details in NEWS1257)
Of course, if Obama is participating in a Bohemian Grove type event, we will never hear of this type of activity in any Mass Media news.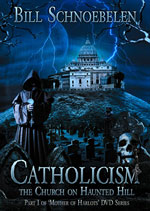 DVD
II. Sex abuse cases by Roman Catholic priests were dominating news again this week.
NEWS BRIEF: "Daniel McCormack, Former Priest and Convicted Sex Offender, Has Another Sexual Abuse Lawsuit: Some more than 100 times", Fox Chicago News, July 13, 2010
"Chicago - Three men and a teenage boy filed a lawsuit Monday claiming they were sexually abused -- some more than 100 times -- by convicted sex offender and former Roman Catholic priest Daniel McCormack ... The suit also claims the Archdiocese of Chicago, the Catholic Bishop of Chicago and Cardinal Francis George knew McCormack had 'inappropriate sexual conduct' with underage boys while in seminary school at Niles College at Loyola and at the Mundelein seminary and Holy Family parish prior to assigning him as pastor of St. Agatha's parish. At no point did church officials contact the Illinois Department of Children and Family Services or any other government agencies..."
During his video -- Catholicism: The Church On Haunted Hill -- Bill Schnoebelen noted that the percentage of gay seminary students at the seminary he was attending was incredibly 75%, and that many of the students were quite openly gay. The thought which sprang into my mind was that the teachers and school administrators had to have been aware of these gay students. Yet, they took no action, even though they surely were smart enough to realize that these men would later pose an unacceptable risk to the young men of the church in which they were "ministering".
This reality is exactly what this lawsuit alleges: Catholic Church officials knew that Daniel McCormack was gay and, therefore, posed a high risk of homosexual behavior with the young men of their church and did nothing. Furthermore, even after church officials knew that McCormack had 'inappropriate sexual conduct' with these young boys, they did nothing.
This sobering and heart wrenching reality has been the normal response of Catholic officials for the past 1,200 years in dealing with priests who were sexual predators.
NEWS BRIEF: "Irish Priest allowed to say Mass despite sex abuse allegations against him", Irish Times, July 13, 2010
"A SYDNEY-BASED Irish Catholic priest was allowed to say Mass two years ago in Ireland despite allegations of sexual abuse against him ... on at least eight occasions Fr Finian Egan was given exemptions to conduct weddings or funerals while supposedly banned from doing so and under investigation by the church. In May 2008 Fr Egan was allowed to go home to Ireland and say Mass."
"Fr Egan was subsequently found by the church to have abused two girls. He denies all of the allegations that were upheld in the church's investigation."
Once again, this type of activity has been so prevalent when a superior received allegations of sexual misconduct by one of his priests. Cardinals and Bishops have always been allowing their offending priests to escape the force of law and move to another Catholic Church where more young boys and girls and women are exposed to these deviants.
As Schnoebelen so forcefully demonstrates, the sheer fact that priests have been sexually deviant for over 1,200 years on every continent on Earth, tells you that the problem is systemic within the Church. It is not a matter of some bad men who became priests, or as the pro-Catholic book, "Goodbye, Good Men", states that homosexuals have invaded the church clergy since World War II.
The problem lies within the powerfully occult nature of the Roman Catholic Church itself!
DVD
III. Shocking news reports that Kagan falsified a medical report in order to protect President Bill Clinton's position on Partial Birth Abortions should cause each of us to pause, to reflect whether we can trust any government official on any subject!
During my tour of duty in U.S. Army Intelligence at a Pentagon-level facility on Okinawa (1969-1970) led me to understand that government officials lie every single day, and even lie when the truth would have done them better!
This news story illustrates the same understanding - no one in government can be trusted, either Democrat or Republican!
NEWS BRIEF: "Kagan's partial-birth abortion scandal", By William Saletan, Slate News, July 3, 2010
"Fourteen years ago, to protect President Clinton's position on partial-birth abortions, Elena Kagan doctored a statement by the American College of Obstetricians and Gynecologists. Conservatives think this should disqualify her from the Supreme Court. They understate the scandal. It isn't Kagan we should worry about. It's the whole judiciary."
"Kagan, who was then an associate White House counsel, was doing her job: advancing the president's interests. The real culprit was ACOG, which adopted Kagan's spin without acknowledgment. But the larger problem is the credence subsequently given to ACOG's statement by courts, including the Supreme Court. Judges have put too much faith in statements from scientific organizations."
Scientific organizations are ridiculously vulnerable to government pressure on any particular issue because of all the grant money which government agencies shovel to Science every single year. I can guarantee you that, when any scientific company gets a phone call from the White House, every single official of that company is simultaneously alerted.
It would be so easy for the White House to gain the cooperation of any scientific organization to falsify any report.
"Kagan's memos and testimony confirm that ACOG consulted the White House and altered its statement accordingly. As a result, the statement reframed ACOG's professional findings to support the policy views it shared with the White House. All of us should be embarrassed that a sentence written by a White House aide now stands enshrined in the jurisprudence of the Supreme Court, erroneously credited with scientific authorship and rigor. Kagan should be most chastened of all. She fooled the nation's highest judges."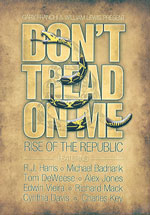 DVD
Kagan did more than just "fool" the Justices of the Supreme Court 14 years ago; she deliberately falsified a report on Partial Birth Abortion and convince scientific organizations to cooperate with her. She is not fit to be a Supreme Court Justice.
However, the deeper problem is that most government officials are just as guilty of this type of evidence tampering and outright lying to the American people!
It is time for a new American revolution as the people rise up to cast these kinds of government leaders out of office. Both parties lie equally to us, so both parties need to be cleansed.
A third party may be necessary.
UPDATED 1PM - New Headline News Analysis Follows Twitter Announcement