---------- This Week's Hot News --------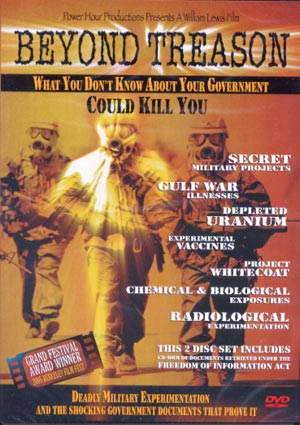 DVD
I. Depleted Uranium poisoning continues to devastate the Iraqi people.
This featured article focuses on the deadly battle of Fallujah in 2004, where immense amounts of Depleted Uranium munitions were used to virtually destroy an entire city.
NEWS BRIEF: "Toxic legacy of US assault on Fallujah 'worse than Hiroshima' ", By Patrick Cockburn, Belfast Telegraph, 27 July 2010
"Dramatic increases in infant mortality, cancer and leukaemia in the Iraqi city of Fallujah, which was bombarded by US Marines in 2004, exceed those reported by survivors of the atomic bombs that were dropped on Hiroshima and Nagasaki in 1945, according to a new study."
Let us stop right here to understand what we have just been told. The mortality rates for certain kinds of illnesses and cancers amongst the survivors of Fallujah exceeds those survivors of the atomic bombing of Hiroshima and Nagasaki! This fact brings to mind immediately the question as to whether the Fallujah survivors were as exposed to uranium poisoning as were the Japanese survivors in 1945.
Indeed, this is the case, as further into the article we read:
"Dr Chris Busby, a visiting professor at the University of Ulster and one of the authors of the survey of 4,800 individuals in Fallujah, said it is difficult to pin down the exact cause of the cancers and birth defects. He added that 'to produce an effect like this, some very major mutagenic exposure must have occurred in 2004 when the attacks happened'."
The key word here -- mutagenic -- is "mutate". Of course, the major effect or uranium on people born after their parents were exposed is mutation! Does this fact prove the use of depleted uranium weaponry at Fallujah? No, but it comes close, because only uranium exposure can cause the kind of massive cancer rates now being seen amongst these survivors.
This next sentence makes it even more plain that depleted uranium is the culprit here.
"US Marines first besieged and bombarded Fallujah, 30 miles west of Baghdad, in April 2004 ... US forces later admitted that they had employed white phosphorus as well as other munitions ... British officers were appalled by the lack of concern for civilian casualties. 'During preparatory operations in the November 2004 Fallujah clearance operation, on one night over 40 155mm artillery rounds were fired into a small sector of the city', recalled Brigadier Nigel Aylwin-Foster, a British commander serving with the American forces in Baghdad."
While admitting that US forces used "other munitions", the mention of 155mm artillery shells absolutely nails the fact that Depleted Uranium was used in the attack on civilians and insurgents alike in Fallujah. You see, American 155mm artillery shells are Depleted Uranium shells. (See also "The truth behind Depleted Uranium (DU) Contamination and its usage", by Peter Eyre)
But, now this next sentence absolutely proves the use of Depleted Uranium munitions in Fallujah.
"... Dr Busby says that while he cannot identify the type of armaments used by the Marines, the extent of genetic damage suffered by inhabitants suggests the use of uranium in some form."
Everyone who is in a position to know that American forces used Depleted Uranium in Iraq dances around the subject, as if they are afraid to come right out and speak clearly and boldly. The Mass Media has virtually clamped down a blackout on this horrible destruction. The destruction caused by Depleted Uranium munitions goes far beyond the death count immediately after the battle; the real carnage is realized 10, 15, and 20 years after civilians and soldiers are exposed to dust contaminated with uranium!
Read our archived article: "Iraq Is Dying".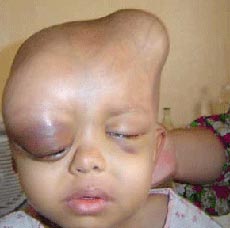 What kinds of illnesses are we seeing in Fallujah?
* "Iraqi doctors in Fallujah have complained since 2005 of being overwhelmed by the number of babies with serious birth defects, ranging from a girl born with two heads to paralysis of the lower limbs."
* "They were also seeing far more cancers than they did before the battle for Fallujah between US troops and insurgents."
* "a survey showing a four-fold increase in all cancers"
* "a 12-fold increase in childhood cancer in under-14s"
* "Infant mortality in the city is more than four times higher than in neighbouring Jordan and eight times higher than in Kuwait."
* "The study, entitled 'Cancer, Infant Mortality and Birth Sex-Ratio in Fallujah, Iraq 2005-2009', is by Dr Busby, Malak Hamdan and Entesar Ariabi, and concludes that anecdotal evidence of a sharp rise in cancer and congenital birth defects is correct."
* "Researchers found a 38-fold increase in leukaemia, a ten-fold increase in female breast cancer and significant increases in lymphoma and brain tumours in adults."
* "At Hiroshima survivors showed a 17-fold increase in leukaemia, but in Fallujah Dr Busby says what is striking is not only the greater prevalence of cancer but the speed with which it was affecting people."
This revelation is most important, because it supports the contention made by a military doctor of a friendly country who contacted me just days after Coalition Forces launched their attack against Iraq. This doctor said that Iraq and Afghanistan were going to be so covered by lethal amounts of D.U. dust that the entire population of these countries would be dead and/or dying in 20 years; these countries would be "unlivable" 20 years after the assault began on March 20, 2003.
Now we see an Irish expert tell us that the uranium poisoning is spreading more rapidly that it did amongst the survivors of Hiroshima. But, of course, that would be the case, because Japanese survivors were exposed once to the uranium poisoning, whereas the people of Iraq are being exposed every single day since 1991 Gulf War One began in February, 1991.
* "... the sex ratio between newborn boys and girls had changed. In a normal population this is 1,050 boys born to 1,000 girls, but for those born from 2005 there was an 18 per cent drop in male births, so the ratio was 850 males to 1,000 females. The sex-ratio is an indicator of genetic damage that affects boys more than girls. A similar change in the sex-ratio was discovered after Hiroshima."
The facts are now clear, and very soon, cannot be denied in the public arena. Iraq is dying. So is Afghanistan. Furthermore, contaminated dust is now blowing 1,000 miles away from the battlefields of Iraq and Afghanistan. (Read NEWS2063 and NEWS1967, which includes maps).
By 2025, over one billion Muslims in this "Non-Integrating Gap" area of the world are going to be badly exposed to uranium poisoning and will be slowly dying! Therefore, the Illuminati has, indeed, declared war on 'Muslim Nation', their protestations to the contrary notwithstanding!
In Constance Cumbey's writings, she revealed that the Illuminati had decided that all peoples who adhere to a monotheistic religion had to be exterminated, because their beliefs in one God would never allow them to accept the polytheistic religion of Antichrist. Of course, there are three monotheistic religions: Islam, Judaism, and Christianity. Cumbey reveled that the first religion to be attacked and destroyed was Islam.
Now you know how important it was for the Presidents who launched this war against Islam to be Skull & Bones men! Presidents Bush Sr. and Bush Jr., are lifelong adepts in the Satanic secret society, Skull & Bones (Read full details in NEWS1314, entitled, "Texas Governor George W. Bush Is Member Of Skull & Bones Satanic Secret Society" and in NEWS2126, entitled "All Bonesmen, Including President Bush, Drink Jesus' Ceremonial Blood During Initiation Into Skull & Bones")
Furthermore, in NEWS2126, reveal that Skull & Bones adepts are required to affirm the Satanic doctrine that the only reason Jesus could do the miracles He did was because He was empowered by occult forces! This is the Unpardonable Sin, which means that these individuals would no longer be restrained by the Holy Spirit, and could, therefore, fall into the deepest sin possible.
When the time came in the planned scenario of finalizing the entrance into the New World Order, the Illuminati made sure they had their hand-picked men in power in the White House who could initiate and carry out the most deadly attack on one billion people imaginable. Neither Bush would have any conscious to bother them as they ordered this uranium attack.
To read still further on Depleted Uranium, please visit our D.U. section.
This DVD, shown above, graphically portrays the scientific truth of the effects of Depleted Uranium on both civilians and the soldiers wielding the weapons. Since this DVD was created in cooperation with the Gulf War Vets Association, its contents are boldly factual and are written to answer the question for their veterans as to why over 75% of them are now slowly dying from "Gulf War Syndrom", which is now proven to Depleted Uranium.
Truly, when you understand the crimes against humanity which the Illuminati has inflicted upon entire civilian populations and upon its own soldiers, you can understand the title, "Beyond Treason".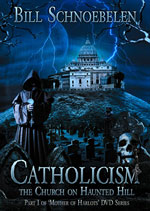 DVD
II. Catholic priests caught on camera in a church engaging in homosexual acts is rocking Rome and the Vatican!
Fully 98% of all Catholic priests in Rome are gay!
NEWS BRIEF: "Video Footage, Report Details Italian Gay Priests Activities In Bars", All Headline News, July 19, 2010
"Rome, Italy (AHN) - Video footage of three Catholic priests inside a gay club and engaging in sex in a church building have Roman Catholic officials fuming in this latest sex scandal to rock the church."
Can you imagine this bold public display by Catholic priests of their debauchery? The entire world is now focused on the spectacle of priests having sex with the young boys in their care, and yet these priests are boldly displaying their homosexuality in public, in a gay bar!
But, even more insidious, these priests are caught on camera engaging in gay sex in a Catholic church building! How can this be? How can these priests carry out such unbelievable sacrilege? To understand this, you have to believe the key points of the new DVD -- shown above -- "Catholicism: A Church On Haunted Hill".
Bill Schnoebelen makes two major points pertinent to understanding how Catholic priests could engage in gay sex in a Catholic Church.
1) Catholic priestly leadership -- from Popes, Cardinals, Bishops and priests -- have long believed that the only reason Jesus could work His miracles was because He was empowered by the dark forces of Satan! As we stated above, this is the Unpardonable Sin!
If the leadership of the Roman Catholic Church has committed this Unpardonable Sin for 1,200 years, you can see how their conscience "seared as with a hot iron". (1 Timothy 4:2)
Since the Holy Spirit does not any longer restrain the sin of one who has committed the Unpardonable Sin, that person can fall into the deepest, darkest sin Hell has ever conceived against God. These priests who had gay sex within a Catholic Church surely had a conscience seared as with a hot iron. They are beyond considering anything sacred or holy.
2) The Roman Catholic Church has never been a genuine Christian church, but a practice of Witchcraft. One former Satanist told me that a Catholic Church is a repository of demonic spirits. He said that he had to walk on the other side of the street from any Catholic Church he was passing, because he could feel the demonic power emanating from the building.
At long last, we are seeing a display of Roman Catholic Witchcraft and pure evil on a daily basis.
Let us return to this featured story for one more detail.
"A member of the clergy quoted by the magazine claims the proportion of gay priests in the Italian capital at '98 percent'."
Wow! Since the Vatican is in Rome, does this statement mean that 98% of Vatican officials are gay? We believe this is the case, because the very hill on which the Vatican sits is "Vaticannus", which in the days of Imperial Rome, was the place where witches performed their rituals anbd where soothsayers and prognosticators of every stripe plied their trade.
The Roman Catholic Church -- which has "spiritiual genes" identical to the priests of the Satanic Babylonian Religion -- logically chose the most demonically possessed hill in ancient Rome on which to build their church headquarters!
DVD
III. As oil recovery crews return to the Gulf Waters following the breakup of Tropical Storm Bonnie, they are having trouble finding the spilt oil!
Has "Mother Nature" done her job in cleaning up her environment?
NEWS BRIEF: "BP Oil Spill: Clean-Up Crews Can't Find Crude in the Gulf", ABC News, July 27, 2010
"For 86 days, oil spewed into the Gulf of Mexico from BP's damaged well, dumping some 200 million gallons of crude into sensitive ecosystems. BP and the federal government have amassed an army to clean the oil up, but there's one problem -- they're having trouble finding it. "
"Even the federal government admits that locating the oil has become a problem. 'It is becoming a very elusive bunch of oil for us to find', said National Incident Cmdr. Thad Allen. The numbers don't lie: two weeks ago, skimmers picked up about 25,000 barrels of oily water. Last Thursday, they gathered just 200 barrels. "
What has happened to the oil spill which many believed might be the "beginning of the end" for our current civilization? This next segment may tell the story:
" '[It's] mother nature doing her job', said Ed Overton, a professor of environmental studies at Louisiana State University. "
Still, even if the oil spill is now winding down, and the massive environmental disaster averted, the Illuminati still has the new regulations over the oil industry which it wanted, and the Environmentalist 'Wacko's" can still block drilling in many areas.
Had BP gone much longer before capping the ruptured well, I am certain that the kind of environmental disaster which many were predicting would have occurred. However, with the oil spill now evidently contained, the forces of nature are now completing the dispersal of the crude oil.
I have noticed that the Illuminati seems to create a disaster in order to gain more power and/or dictatorial control, but not enough to topple the whole system right now.
Thus, after the nightmarish attacks of 9/11, we have had no further terrorist attacks. We have plenty of false government predictions (NEWS1888) but no attacks.
We have had inept terrorists -- the failed Shoe Bomber and the failed Times Square Bomber. Even though these attacks failed, the government was still able to institute new flight rules and get thousands of surveillance cameras in the Times Square area.
In order to overthrow Capitalism so they can institute Fascism in the economy, the Illuminati has repeatedly brought the economy to the brink of the Abyss, but never allowing it to actually go over the Abyss.
The Illuminati pattern is to follow a major disaster which they created with numerous smaller, near disasters that enable them to get the changes they desire without toppling the entire system.
Former Satanist, Doc Marquis, is correct when he told me repeatedly in 1992-1993 that a total overthrow of our entire civilization -- including the economy -- was planned, but would not occur until World War III broke out!
NOTE: This newsletter continues after the Twitter announcement.