WEEKLY UPDATES FROM Cutting Edge Ministries, www.cuttingedge.org
7/30/2005      Over 1,400 Articles Posted! Nearly 100,000 People Downloading A Salvation Page Per Year!
---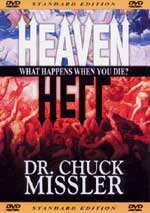 ---------- Inspiration For the Week-------"I'M COMING, MAMA" -- Proof Positive God Allows Some Dying Saints to Look Directly Into Heaven
These were among the last words of a young girl seventeen years of age whose mother died when she was a babe. Her name was Susie Craig. Her home was in Muddlety, Nicholas County, West Virginia, and the facts were given us by her older sister, Mrs. Aggie Thomas of Erbacon, in the same state. For three years she had been an earnest, devoted Christian. After three weeks illness of typhoid fever, it was evident she was very near death. Her father was weeping in a room adjoining the one in which she was lying. She heard him and said, "Tell him not to cry -- tell them all not to shed a tear for me." Then after speaking of the band of angels all around her she added: "Yes, there's ma -- I'm coming ma," and then "O, Maggie," and thus greeting the friends from the other shore, she went to be with them and with her Saviour.
Her words, "O Maggie" were the more remarkable from the fact that Maggie was a cousin -- also an earnest Christian -- who had died only two days before, and of whose death the dying girl had not been informed. ("Dying Testimonies of Saved and Unsaved", #213)
Cutting Edge Note: What a wonderful revelation! Susie Craig looked into Heaven moments before she died, and saw a cousin, Maggie, whom she did not know had passed away! What a glorious understanding, that God does allow some dying saints to look directly into Heaven. This story also tells us that we shall recognize our loved ones in Heaven and that Jesus shall reunite us with them quickly.
Praise be to God in Heaven! He is so very good, so very Omnipotent, and so very Omniscient.
---------- Resource Update ----------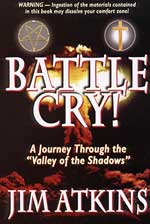 * "Battle Cry! Careful - Reading This Material May Force You Out of Your Comfort Zone!"
The hour is so very late and the true soldiers are so few! Are you ready to respond to the sound of the "BATTLE CRY"?
You will learn the shocking truth about:
1) Satanism and the occult;

2) Secret Societies;

3) New Age Movement and its terribly pervasive invasion of all aspects of American culture;

4) Our Shadow Government and the new "Tolerance", by which we all may go to jail;

5) Local Government and its vital role in overthrowing the old system so the new can be established;

6) The United Nations and its role as the infant Global Government which is designed to grow up "fast and furious";

7) Mind Control; 8) False prophets in the church
Where do all these elements fit in, and what can be done about them? -589 pages, weighs 2 full pounds
http://www.cuttingedge.org/detail.cfm?ID=1090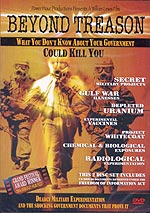 * "Beyond Treason : The Battlefield Disaster Created by Depleted Uranium, Toxic Vaccinations, plus Chemical and Biological Agents With FREE CDROM Providing Written Documentation" -- DVD -- Finally in-stock!
As heard on radio! Brave soldiers are dying by inches from a variety of "unknown illnesses". Some are dying of heart failure, others from organ meltdown, and still others from "mysterious causes". While the Pentagon claims to be totally in the dark, experts now believe that these men are dying in various ways because of a combination of Depleted Uranium, toxic vaccines, chemical and biological agents.
As ailing Gulf War Heroes from all 27 coalition countries slowly die of "unknown causes," they wait for answers from their respective governments… but no satisfying or even credible answers have come forth from the military establishment. Records that span over a decade point to negligence and even culpability on the part of the U.S. Department of Defense and their "disposable army" mentality.
The VA has determined that 250,000 troops are now permanently disabled, 15,000 troops are dead and over 425,000 are ill and slowly dying from what the Department of Defense still calls a "mystery disease." How many more will have to die before action is taken?
The FREE CDROM contains thousands of printed pages of supporting documentation, which can be viewed from most any computer using an internet browser
Hear the testimony of experts and of United States military veterans who demand answers to questions that the Department of Defense will not address. Did you know President Clinton signed Executive Order 13139, allowing the Pentagon to perform any experiment for any reason on any soldier, without his knowledge and/or approval?
DVD runs 114 minutes with bonus material. Produced in cooperation with Gulf War Vets. - http://www.cuttingedge.org/detail.cfm?ID=1069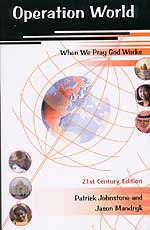 * "Operation World Prayer Guide - 21st Century Edition"
How can a person pray effectively unless he knows the details of the specific need? Voice of the Martyrs has solved that problem with this wonderful prayer guide. Great Resource For Prayer Warriors!
THE definitive prayer guide to the nations, peoples and cities of the world. Revised for the first time in 8 years. Each book contains the following information: 1) Key background information for every country; 2) Major prayer challenges gathered directly from hundreds of on-site Christian workers all across the globe; 3) Answers to prayer carefully logged in; 4) Complete with new maps, cross-references, addresses and indexes.
This is the newest, most comprehensive, up-to-date and wide-ranging compilation of prayer information ever produced. Now you will know specifically what the prayer needs are -- of missionaries, their work, their needs, and of the country in which they are working.
When God's saints pray, God answers those prayers! -- http://www.cuttingedge.org/detail.cfm?ID=1089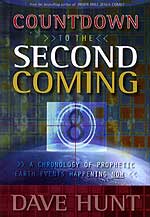 * "Countdown To Jesus' Second Coming" - by Dave Hunt - Paperback
Whether we realize it or not, a countdown is going on. This idea is denied by many, including some who profess to be Christians. The Lord promised that before he returned, however, specific signs would warn us that the prophesied Last Days are approaching. What are those signs, and how do we recognize them? The Bible also talks about what will happen in the final days of earth as we know it.
How close are we to these events? Find out what the Scriptures say about the role of the church in these exciting times. How can we keep from being deceived? Learn how history has proven the authority and authenticity of the Bible and why we know we can trust what it says about the future as well as the past. Discover the hope that only the Christian has in being spared the horrifying events that will take place at the end of this world. Great for gift giving! -- http://www.cuttingedge.org/detail.cfm?ID=1088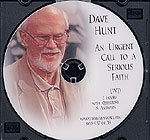 * "An Urgent Call To Serious Faith" - DVD

- Book

- Dave Hunt
In this age of great Apostasy, people who know God's Word must stand straight and tall and fearlessly proclaim the Truth of the Bible, even if people do not want to hear it!
For years, Dave has spoken out against those who would twist or water down the message of salvation. Now with well-researched arguments and compelling biblical proof, Dave explains the meaning and content of the gospel: what God has done for His people through the redeeming work of Christ. At this point in world history, we must take Jesus' End of the Age warning very seriously:
"For it [Day of the Lord] will come upon all who live upon the face of the entire earth. Keep awake then and watch at all times - be discreet, attentive, and ready, praying that you may have the full strength and ability and be accounted worthy to escape all these things taken together that will take place, and to stand in the presence of the Son of Man." (Luke 21:36; Parallel Bible, KJV/Amplified Bible Commentary]
No one can be complacent about their current spiritual state: Therefore, we urge you -- * "An Urgent Call To Serious Faith"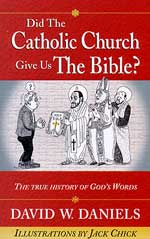 * "Did the Catholic Church Give Us The Bible? Rome gave us really clever counterfeit Bibles"
There is not one history of the Bible, but two. One is a history of God preserving His words through His people. The other is of the devil using the Roman Catholic church to pervert God's words through her "scholars."
Written in a down-to-earth style, and packed with cartoon illustrations by Jack Chick, Daniels shows that the Bibles Rome gave us are really clever counterfeits, designed to eliminate God's preserved words in English, the KJV. You will see why the KJV is the only Bible you can trust.
160 page paperback -- http://www.cuttingedge.org/detail.cfm?ID=1085

Emphasis On That Old-Time Evangelist, C.H. Spurgeon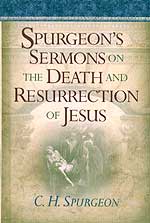 * "Spurgeon's Sermons on the Death and Resurrection of Jesus"
Experience Jesus' death and resurrection with Charles Spurgeon, one of the nineteenth century's greatest preachers. In this collection of over forty sermons, Spurgeon takes us through The Last Supper, Jesus' passion and death, including Christ's cries from the cross, up to his glorious resurrection. Drawing us into the scripture text for each sermon, Spurgeon uses vivid word pictures and thought-providing concepts to make his points.His direct, practical style,wide choice of topics, and biblically-saturated discussions offer a wealth of wisdom that is still dynamic and relevant today. Both lay readers and clergy will find treasures here in Resurrection Day —and throughout the year.
Charles Haddon Spurgeon served for thirty years as preacher and pastor of London's six-thousand-seat Metropolitan Tabernacle, which his growing congregation opened in 1861. His writings, including thousands of sermons, are still popular with pastors and devotional readers who, like him, treasure the gospel of God's grace.
Regularly $19.95, Now On Sale $12.97, Saving Nearly $7.00 -- http://www.cuttingedge.org/detail.cfm?ID=1028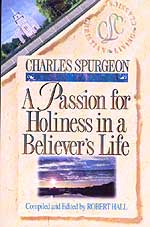 * "A Passion For Holiness In A Believer's Life"
Lifted by the reviving and quickening power of the Holy Spirit, Charles Spurgeon's life and effectiveness was clearly rooted in his deepest desire centered in living a life of God-honoring Christian Holiness. Exalting his Savior in godly living and preaching the Gospel with power were his all-consuming passion. True happiness can only be obtained when we are free from the power of sin, when the Gospel has purified our lives, and when we possess a deepest desire for holiness.
Personal holiness is dynamic, practical, available, and essential for every believer. Spurgeon's teaching will meet you where you live and assist you discover the transforming power of the Holy Spirit in your inner life.
192 pages -- http://www.cuttingedge.org/detail.cfm?ID=818

*"Grace Abounding In A Believer's Life"
Evangelist Charles H. Spurgeon (1834-1892) stands as a giant preacher, teacher, and pastor in the modern era of the Christian Church. Called, "The Prince of Preachers", Spurgeon relied on the Holy Spirit to build London's Metropolitan Tabernacle into the world's largest independent congregation during the 19th Century.
To Spurgeon, God's Grace permeated and engulfed the entire Christian experience. Without Grace, man would go to an eternal Hell. Yet, modern man had cheapened Grace to the point where it was both soiled and changed into something it was never meant to be, thus making it ineffective in the life of the believer.
Even though Spurgeon died in 1892, his observations read like today's newspaper. In this era of extreme Apostasy -- where Christian pastors no longer teach the entire Word of God, voices from the past like C.H. Spurgeon are like "balm" to the soul and abundant water to the parched spirit.
192 pages -- http://www.cuttingedge.org/detail.cfm?ID=814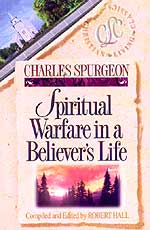 * "Spiritual Warfare In A Believer's Life"
During the remarkable 38-year-old ministry of Charles Spurgeon (1834-1892) in London, no building seemed big enough to house all who wanted to hear him preach. Spurgeon was well known as a passionate Biblical expositor of the Gospel who spoke the language of the common people, meeting them at the point of their deepest needs.
Spurgeon was a seasoned veteran in successfully meeting Satan at every corner, defeating him through the power of the Gospel and of the Holy Spirit. His teaching and preaching contained nothing abstract, ethereal, or mystical. He directed his focus where he found Satan working in the lives of people -- enslaving them to sin, keeping them from the Gospel, hindering spiritual development, and bringing discouragement, depression, and moral failure. Believers need not wonder about Satanic principalities and power, nor about how to engage them in battle. These life-changing messages will meet you where you live, helping you become "more than a conqueror" in spiritual warfare.
192 pages -- http://www.cuttingedge.org/detail.cfm?ID=816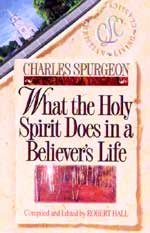 * "What The Holy Spirit Does In The Life of the Believer"
Considered by his peers then and now as "one of Evangelical Christianity's immortals", Charles Spurgeon's (1834-1892) remarkable expository preaching in London ignited a revival explosion which was a wonder to behold.
Lifted by the reviving and quickening power of the Holy Spirit, Spurgeon's life and effectiveness was clearly rooted in this one fact: his deepest desire was to serve Jesus Christ.
Spurgeon credited his success to the powerful work of the Holy Spirit, firmly believing that spiritual transformations in the Book of Acts were only the beginning of mighty works God intended to do. Declaring that Pentecost was not the pinnacle of the church's experience, but only the first unveiling of what could and should happen, this great preacher called upon believers to receive and to live up to the full potential of the Holy Spirit, in us.
192 pages -- http://www.cuttingedge.org/detail.cfm?ID=815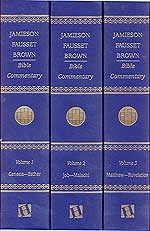 * "Jamieson-Fausett-Brown Bible Commentary" -- 3-Volume Set
Highly recommended by Evangelist C.H. Spurgeon, who said of this Commentary set: "It contains so great a variety of information that if a man has no other exposition (of the Scriptures) he would find himself at no great loss if he possessed and used it diligently."
Jamieson-Fausett-Brown Bible Commentary is such a critical, experimental, and practical Bible commentary, it has been beloved by generations of Christians. This 3-volume set is renowned for its scholarship and keen insight into the Scriptures. During this Last Days' era of extreme Church Apostasy, Christians today need material in which they can place substantial faith -- Cutting Edge Ministries regularly uses Jamieson-Fausett-Brown Bible Commentary; we highly recommend it!
http://www.cuttingedge.org/detail.cfm?ID=977

*"Abandoned To God - Life Story of World's Most Beloved Author"
Enrich your personal life by meeting the essential Oswald Chambers, much-loved author of the enduring and best-selling devotional book, "My Utmost For His Highest". This popular, thought-provoking chaplain has shown the way to a deeper, more satisfying walk with our Lord Jesus to countless millions. At a time of such great spiritual apostasy, we need the "Old Paths" represented by men such as Oswald Chambers.
Chambers was the son of a Scottish Baptist pastor and was converted under the ministry of Charles H. Spurgeon.
336 pages paperback -- http://www.cuttingedge.org/detail.cfm?ID=702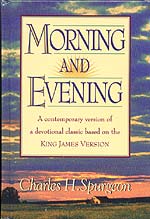 * "Morning and Evening Devotions" - C.H. Spurgeon - Original Classic KJV Version
Over the past century, tens of thousands of Christians have drawn solid spiritual insight and wise counsel from this devotional by C.H. Spurgeon. Now, a new generation of Christians can again enjoy Spurgeon's beautiful prose and elegant command of the English language, as he writes with the power of the Holy Spirit.
In this updated version, Spurgeon's original work is returned to its former brilliance while retaining the beautiful, prosaic language of the original King James Version.
Hardcover -- Regularly $14.95, Now On Sale $9.97, Saving Nearly $5.00
http://www.cuttingedge.org/detail.cfm?ID=781

---------- This Weeks Hot News ----------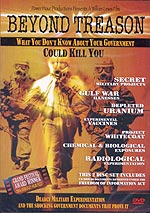 I. Another government officially recognizes that Depleted Uranium is deadly and that soldiers exposed to it need special help. The Louisiana State Legislature passed, and the governor signed into law, a bill that provides DU testing for returning Louisiana soliders!
NEWS BRIEF: "Testing for depleted uranium in Louisiana soldiers passes into law", By Jan Clifford, Contributing Writer, June 27, 2005
"Louisiana became the first state in the nation to pass a bill to give to all military veterans returning from Operations Enduring Freedom and Iraqi Freedom the right to be tested for depleted uranium (DU) contamination. The bill received unanimous bipartisan support, and Governor Kathleen Babineaux Blanco signed it into law on June 16. The bill, Act 69, was introduced in the Louisiana State House of Representatives by Rep. Juan LaFonta and co-sponsored by Rep. Jalila Jefferson-Bullock. Retired Army Command Sgt. Maj. Bob Smith, who served three tours of duty with the Green Berets during the Vietnam War, is responsible for bringing the issue to the attention of the legislature ... Among some military health experts, DU contamination is believed to be responsible for the varieties of symptoms associated with Gulf War Syndrome. They say it can cause leukemia, various other cancers, DNA breakdown and an unusually high occurrence of severe birth defects in offspring of soldiers who have come into contact with it. Current mandatory testing by the Veterans Administration and the Department of Defense has been shown to be ineffective due to the lack of adequate testing procedures.
"Smith hopes that the test will be a best practices health-screening for exposure to DU and will include a procedure involving sensitive methods capable of detecting DU at low levels, using equipment with the capacity to discriminate between radioisotopes in naturally occurring levels of uranium and the far more harmful characteristics of DU."
While this bill does not commit state monies to pay for the testing -- which runs $1,000 to $1,200 -- at least another government entity has publicly acknowledged that Depleted Uranium is very deadly to the soldiers exposed to it in the battlefield nations of Afghanistan and Iraq. In our July 9, 2005, newsletter (Paragraph III), we reported that the Department of Transportation had acknowledged the deadly nature of D.U., and had agreed to start posting the standard warning placard at the end of each truck transporting D.U. on America's highways which states, "Radioactive".
Now, the entire state government of Louisiana, including the governor, has gone on public record stating that Depleted Uranium is deadly to the soldiers who employed that weaponry and that government is obligated to its returning servicemen to test them and to treat them. If other states follow suit, President Bush and The Pentagon will be hard pressed to continue keeping this unbelievable scandal from erupting fully into public consciousness.
As Cutting Edge has repeatedly stated, this is THE most important issue of the Iraqi and Afghanistan wars: our Depleted Uranium munitions have condemned over 30 million civilians to death in these two countries, and over 90% of all soldiers who have fought this battle. The Veteran's Administration is currently struggling with the first wave of D.U. sickness as 103,000 new applications have been received from returning Vets, not the 23,000 expected this year.
If American families of returning Veterans ever understood that Bush and Rumsfeld deliberately sent their sons, husbands, fathers, and daughters to die in a D.U. infested battlefield area, millions of marchers would descend upon Washington, D.C., demanding the scalp of every government leader who had a hand in this debacle.
Please take a moment to review our Depleted Uranium section for articles and resources to understand this issue much more clearly.
Pray that the message of the new DVD, "Beyond Treason" will go far and wide as the radio and print advertising begins. The message of this DVD, backed with so many pages of documentation, needs to be spread far and wide over this great land. Men and women are sick and dying, and no one in government cares.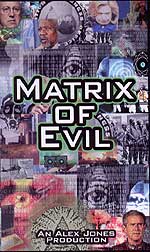 II. A news story last week validated our analysis that the second London bombing was linked to the first; we reached our conclusion on the basis of the common numeric signature of "777", while the news story used a more conventional approach.
NEWS BRIEF: "Two bomb plots 'linked' ", The Guardian (London), July 24, 2005
"Links have been uncovered between the two teams of bombers who have brought terror to the streets of London over the past two weeks, say security sources. Police now believe some of the men they are pursuing for last week's abortive attacks - on Shepherd's Bush, Oval and Warren Street tube stations and on a No 26 bus in Hackney - attended a whitewater rafting trip at the same centre as two of the 7 July bombers, Mohammad Sidique Khan and Shehzad Tanweer. This raises the distinct possibility that the two operations were connected as part of a larger plan to bring carnage to the capital ...
"Scotland Yard has confirmed the explosive used in the 21 July bomb attempts bore a similarity to that used in the earlier attacks. Initial tests on a package found in bushes in Little Wormwood Scrubs, north-west London, yesterday show it may contain the same explosive ... In a report this month, the International Crisis Group warned of a new al-Qaeda cell in Mogadishu, the Somalian capital, led by a young Somali militant who had been trained in Afghanistan. Police and intelligence officials are now trying to establish how the London-based African cell and the largely Leeds-based cell of Pakistani origin fit together."
You are witnessing the day-by-day outworking of pre-planned stories designed to thoroughly convince the public all over the world that the two London bombing blasts were the work of Islamic militants. These daily news stories are also prepared to prevent people from remembering that MI5 admitted that their agents were at the site of the first explosions -- at the same time, carrying out a "simulated drill" using the same scenario, and with agents at the same places where the bombs really did go off -- all the result of a tremendous "coincidence" which discerning people will find most suspicious.
These suspicions will grow even more problematic if a whole lot of people remember that, on 9/11, American intelligence operatives were aboard airplanes, running a "simulated exercise" of airplanes being driven into buildings, at precisely the same time period when three airliners did strike two skyscrapers and The Pentagon.
But, these daily propaganda stories do have a way of burying these suspicions under a mountain of mundane reports about the police "ongoing investigations" to find the perpetrators.
Just today, British police announced they had successfully arrested all four of the alleged bombers of July 21.
NEWS BRIEF: "London, Rome arrest suspected 7-21 bombers", By Jill Lawless, The Boston Globe, July 29, 2005
"LONDON --Raids in London and Rome on Friday rounded up the last of the four suspected attackers from the failed July 21 transit bombings in Britain ... Two of the suspects were picked up in west London following raids by heavily armed police ... Italian police in Rome arrested Osman Hussain, a naturalized British citizen from Somalia, as part of an ongoing investigation in the bombings ... Police said they raided two residences Friday in west London and arrested two men at one address and one at another ... The police operation was carried out in at least two locations in Notting Hill about a quarter-mile apart."
Nevertheless, this news story does provide one interesting, and useful, bit of information: the two bombings are linked -- just as we stated, based upon a similarity of the occult numeric signature of both attacks. Both attacks had strong numeric signature of "77" and "777".
In our article, NEWS2054, we noted the incredibly strong "77" and "777" numeric signature and noted that the infamous Black Magick Satanist, Aleister Crowley, published a book on advanced mind control which had "777" in the title, and that an African-American secret society formed in the 19th Century had "777" in the title of the organization.
However, this week, we discovered another instance where "77" is important in the realm of the Dark Side of the occult. Listen to Anton LaVey as he speaks a powerful invocation to Satan.
"In the name of Satan, the Ruler of the earth, the King of the world, I command the forces of Darkness to bestow their Infernal power upon me!

Open wide the gates of Hell and come forth from the abyss to greet me as your brother, (sister) and friend!

Grant me the indulgences of which I speak!

I have taken thy name as a part of myself ...." (Anton LaVey, "The Satanic Bible", p. 145-6)
"Thy name" -- Satan's name -- is very powerful when invoked as part of ritual.
Anton LaVey then lists the many "Infernal Names" by which Satan is also known, beginning with Abaddon and ending with Yen-lo-Wang. Can you guess how many of these "Infernal Names" which are in the Satanic lexicon? There are "77" names (11x7).
The number "77" is, indeed, a most powerful number, and "777" is merely an intensification of that number.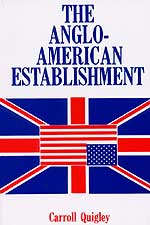 III. While an American exit from Iraq was suddenly being discussed constantly last week, the Council on Foreign Relations issued a stinging rebuke of American policy -- signaling the outworking of a plan seemingly designed to discredit President Bush by handing him a very grave defeat in Iraq.
NEWS BRIEF: "Iraq exit on the agenda", By Jim Lobe, Asia Times, Jul 27, 2005
"WASHINGTON - Growing pessimism about averting civil war in Iraq as well as concerns that the US military presence there may itself be fueling the insurgency and Islamist extremism worldwide, have spurred a spate of new calls for the United States to withdraw its 140,000 troops sooner rather than later ... the absence of tangible progress in turning back the insurgency is adding to fears on Capitol Hill that the administration's hopes of stabilizing the situation, let alone giving birth to a pro-Western democracy in the heart of the Arab world, are delusory ... While the Bush administration still insists that civil war will be avoided and current negotiations to produce a new constitution by the middle of next month remain on track, the continuing high level of violence and the strength and sophistication of predominantly Sunni insurgents and foreign fighters are clearly having an effect here."
NEWS BRIEF: "Lawmakers press Bush over Iraq pullout plan", Dawn International News, July 30, 2005
"WASHINGTON, July 29: Republicans and Democrats said on Thursday that setting a timetable for US troops to leave Iraq would send a message to the world, not to militants there ... "This is a message to the people of the world ... that the US does not intend to stay as a permanent presence in Iraq or Afghanistan', he (Republican Representative Wayne Gilchrest) said. The 45 co-sponsors of a bill 'to develop and implement a plan for the withdrawal of United States Armed Forces from Iraq' come from across the political spectrum, from conservative Republican Walter Jones to left-leaning Democrat Dennis Kucinich."

Suddenly, many people are talking about an American withdrawal from Iraq, causing us to believe that the American public is being pre-conditioned to accept such a plan of exit when President Bush finally decides to deliver a nation-wide address on the subject. Several weeks ago, we first brought to your awareness that Israel accepted an American withdrawal as the matter of fact upon which they were planning to fight the Regional War they feel will erupt in 2006 once the bulk of Coalition Forces will leave (NEWS2053).
Since we posted NEWS2053, we have seen a number of "Iraqi exit" articles, some of which are now coming from traditional, mainline sources, thus adding credibility to the probability that American leadership is truly going to leave a fractured Iraq behind, broken into segments filled with seething hatred toward each other and toward anything pro-Western and pro-Israeli.
Let us now go back to our Asia Times featured article for more insight into this planned withdrawal. We see that there are four (4) scenarios presented by the Asia Times article, above:
1. Civil War Making Impossible For Democracy To Take Hold -- "From the moment American troops crossed the border 28 months ago ... the specter hanging over the American enterprise here has been that Iraq, freed from (Saddam) Hussein's tyranny, might prove to be so fractured ... that [it] would spiral inexorably into civil war. Now, events are pointing more than ever to the possibility that the nightmare could come true', according to Burns, who noted that Shi'ite militias and Shi'ite and Kurdish-led army and police units were taking increasingly aggressive counter-measures, including abducting, torturing, and executing suspected insurgents and their perceived sympathizers and defenders." ("Iraq exit on the agenda", By Jim Lobe, Asia Times, Jul 27, 2005)
Another specter of Vietnam!
American Tactics So Brutal That They Are Spawning An Unlimited Supply of Insurgents -- "... the insurgency appears to be 'growing more violent, more resilient and more sophisticated than ever', and that prosecuting the war is like sowing dragons' teeth. 'We are capturing or killing a lot of insurgents', one senior US Army intelligence officer told the Times. 'But they're being replaced quicker than we can interdict their operations. There is always another insurgent ready to step up and take charge'." (Ibid.)
Another specter of Vietnam!
2. To Begin Withdrawing At Same Time As December 15 Iraqi Elections -- "... on July 15, former Central Intelligence Agency director John Deutch published a column in the Times calling for a 'prompt withdrawal plan', with the initial drawdown set to coincide with the Iraqi elections scheduled for December 15. That would include a timetable for reducing the scope of military operations, while maintaining a 'regional quick-reaction force' in reserve, as well as ongoing intelligence and training programs." (Ibid.)
3. Long-Term Withdrawal -- "A more detailed plan emerged several days later from the Boston-based Project on Defense Alternatives (PDA) calling for complete withdrawal by September 2006, except for the retention of a multinational civilian and military monitoring and training contingent of less than 10,000 (of which the US military presence would be limited to 2,000 troops). The plan, to take effect August 1, would begin with the adoption of a withdrawal timeline, a sharp deescalation of the war in Sunni areas, a shift of US resources to its training mission, and the transfer to elected officials of foreign military control of localities 'without the interference of federal or coalition authorities'." (Ibid.)
"The proximal aim would be to immediately lower the level of conflict inside Iraq by constricting both active and passive support for the insurgency, inside and outside the country."
4. Sharp, Quick Withdrawal -- "Like the two other authors, veteran Middle East analyst Helena Cobban also believes that the continued US military presence in Iraq is counterproductive to longer-term American interests and is effectively fueling the insurgency. But she goes further than the other two, calling for a withdrawal strategy that is 'total, speedy, and generous to the Iraqi people'. Her model is Israel's 2000 exit from southern Lebanon, noting that, despite deep fears that that withdrawal would touch off 'mayhem and revenge, none came to pass'. "
Whichever withdrawal plan is being considered, these analysts all agree on a couple of factors:
1) The US military presence is not a stabilizing factor, nor is it preventing Iraq's descent into civil war even more bloody - Each of the four authors reject this concept totally as being without merit
2) American credibility throughout the world is being damaged every day we remain in Iraq. To preserve our diplomatic clout throughout the world, these analysts believe that President Bush simply must withdraw American troops. As former CIA director Deutch stated: "... continued investment in a losing proposition could result in "an even worse loss of credibility down the road". (Ibid.)

American military commanders began to hint that military forces might be severely reduced. In fact, a top general even suggested a timetable.

NEWS BRIEF: "US hints at pull-out", The Scotsman, by Peter Graff in Baghdad, July 28, 2005
"THE United States hopes to sharply reduce its forces in Iraq by the middle of next year, its top commander on the ground ... General George Casey's remarks are thought to mark the first time since militant violence increased sharply in April that top Pentagon officials have suggested a timeline for withdrawal. At a briefing during a visit by Donald Rumsfeld, the US Defence Secretary, General Casey said he expected troop cuts after Iraqi elections in coming months - a referendum on a new constitution in October and an election for a new leader in December."
General Casey then stated the factors which had to be present for this withdrawal to begin to occur -- as you read his comments, think Vietnam.
" 'If the political process continues to go positively, if the developments with the [Iraqi] security forces continue to go as it is going, I do believe we will still be able to make fairly substantial reductions after these elections - in the spring and summer of next year', he said." (Ibid.)
Here is the scenario the general was painting, a scenario which would allow American forces the fig leaf of an excuse to begin withdrawal:
1) Political processes must "go positively". In other words, the general is flashing the signal to the insurgency that they can get American forces out of their country if they would just reduce their attacks long enough to make it appear that the new "elected" government is functioning well -- operating as a "democracy". If the attacks would just tail off for six months or so, President Bush could declare victory and pull his forces out. Then, if the insurgency mounts a successful attack on the new government, and topples it, Bush can shrug his shoulders, saying that "all along, the war was the Iraqis to win or to lose".
This is exactly the scenario the Nixon Administration employed in Vietnam. However, the North Vietnamese waited two years before they launched their first and only attack; the South Vietnamese government and military collapsed like a house of cards. American leadership simply shrugged their shoulders, saying, "all along, the war was the South Vietnamese to win or to lose".
2) "If the developments with the [Iraqi] security forces continue to go as it is going" -- This lie follows hard on the heels of the first one. In order for the new Iraqi government to pretend it can withstand the insurgents, their military and police forces have to be trained and equipped by the Americans so they can take the lead in protecting the government.
General Casey's comment, above, seems to indicate that such training is going well, proceeding according to American expectations. Yet, any daily reader of the Daily News Update section on Cutting Edge can tell you that stories have been coming out recently which state that the Iraqi military and police forces are no match for the insurgents and may never be any match.
Again, this rhetoric is amazingly similar to Vietnam. President Nixon's fig leaf protection to justify his withdrawal was that he had trained the South Vietnamese army and police forces so they could take over their own defense. When the South Vietnamese military collapsed, President Nixon was no longer in office; instead, his successor, Gerald Ford, was the one to take the heat from Conservatives for the debacle. Is this same scenario about to begin unfolding in Iraq?
The key element is for the insurgents to withhold their fire long enough for Coalition Forces to justify withdrawal, claiming "Victory" all the way. Israeli Prime Minister Sharon loves to use the sentence, "We will not withdraw under fire"! President Bush seems to be of a similar mind set.
3) General Casey seems to be promising a "substantial" withdrawal in the Spring and Summer, 2006. This is the first time any American official has even mentioned a possible time frame. What did we reveal in NEWS2053? Israel was expecting an American withdrawal sometime in 2006, and then is bracing themselves for an all-out regional war, the war planned to ignite World War III -- the Final Birth Pangs War.
When you hear the American hand-picked Iraqi Prime Minister -- who literally owes his life and his job to President Bush -- speaking up during this time period, saying the Americans need to leave quickly, you know a specific plan is being worked out in the daily news. Notice that this Prime Minister was telling Americans to get out quickly, even as Defense Secretary Rumsfeld was standing at his elbow.
NEWS BRIEF: "Iraq PM urges 'speedy' U.S. pullout", The Tehran Times, July 28, 2005
"BAGHDAD (BBC) - Iraq's interim Prime Minister Ibrahim Jaafari has called for U.S. troops to leave the country soon, but added no timetable had been set for withdrawal. Mr. Jaafari was speaking in a joint press conference with U.S. Defense Secretary Donald Rumsfeld, who was in Baghdad on a surprise visit. Mr. Jaafari asked the U.S. to train Iraqi troops faster and to begin handing security control over to local forces."
Since no record was made of Rumsfeld's objections to the Prime Minister's words, we can only conclude that his clarion call for American troops to leave was perfectly in line with the expectations of the Bush Administration. Quite literally, this Iraqi PM knows his very next breath is in the hands of the Americans; yet, he told the world that he wanted American troops out of his country, sooner rather than later.
Can you see the "handwriting on the wall"? Can you see the general outlines of a specific part of the Plan being worked out?
However, the surprise of the day came from the CFR (Council on Foreign Relations), as they issued a report severely criticizing President Bush's policies in Iraq, saying his actions were actually encouraging and strengthening Al Qaeda terrorism! Notice, also that this report was "Bi-partisan", CFR analysts on both sides of the political aisle who were originally critical of Bush's decision to invade Iraq.
NEWS BRIEF: "US failures 'fuel Iraq militants': Council on Foreign Relations study", BBC News, 28 July 2005
"A prestigious US political research body has accused the US government of giving impetus to Iraq's insurgency through a lack of post-war planning. A Council on Foreign Relations study said the decision that reconstruction would not need any more forces than the invasion was a critical miscalculation. Too few soldiers, it said, had left the US ill-equipped to address security, governance and economic demands. Post-war development must be a national security priority like war, it said ... It was headed by two former national security advisers - the Democrat Sandy Berger and the Republican Brent Scowcroft, who was critical of the invasion of Iraq."
"Specifically, it said the perceived failure to prepare properly for the post-war period had given an 'early impetus for the insurgency'."
This "prestigious" Illuminati quasi-government agency has just told the world that President Bush's attack against Iraq has provided the rich breeding ground for the Iraqi insurgency!
Once again, when you hear one Illuminist (CFR) lambasting another (President Bush), you know you are looking at the outworkings of a specific plan. An American withdrawal -- even under the flimsy protection of a fig leaf, seems to be in the making. We shall just have to wait to see how events finally work out.
However, remember our statement in the Summer of 2003, as Americans were so jubilant over our "easy victory" in Iraq, where we stated that, somehow, this Iraq war had to become seen as a disaster for President Bush? That perception is now taking hold and should increase in the weeks and months ahead. A major question is whether the insurgency will withhold its terrible attacks to give Bush the slim cover he needs for withdrawal. Or, will they be obstinate, like the Palestinians, who are forcing Sharon to withdraw, even under fire?
IV. As the aftermath continued in the London terror attacks, sudden "Internet chatter" sprang forth, citing a grave threat to Australia.
NEWS BRIEF: "Internet terror 'chatter' about Australia", by Ian Munro, The Age, July 29, 2005
"Australia has a high profile among Islamist militants using Arab language internet chat rooms to discuss possible terrorist targets, a security specialist has warned. Israeli agents who listen in to terrorist chatter warned at a conference in Turkey last month that Australia was regularly mentioned, said Dr Mark Craig of the Queensland University of Technology. Dr Craig said no specific attack plans or targets were mentioned, but it was clear that terrorists were highly aware of Australia and its role in Iraq."
We have been warning for about a decade now that no country which has a long tradition of electing governments whose actions are limited by a constitution will be allowed to stand once the Final Birth Pangs War begins. The government of Antichrist is planned to be severely, brutally dictatorial, just as the prophecies in Revelation 13 foretell.
Therefore, the coming New World Order -- the kingdom of Antichrist -- has absolutely no room for restrained, elected government. All such governments must fall, which is the reason the mythical "Al-Qaeda" has now been created into the global monster threatening the freedoms and liberties of all men everywhere. As we have stated before, the equation is simple: "Global Terrorism = Global Dictatorship".
Subscribers living in Australia are telling us that Australians are also resisting many of the Patriot Act type of laws which their Federal Government has been demanding. High on that list is the National ID Card. Would a suicide attack in Australia knock down those objections and allow the stalled legislation to leap forward to approval -- just as is now happening in Great Britain and Europe?
You know that is exactly what would happen. Therefore, a "terrorist attack" in Australia may very well be in our near future. Will Australia's internal intelligence and/or police forces be operating in the very vicinity of the attacks, at the precise moment of the attacks, simulating exactly the scenario which is unfolding? Only time will tell.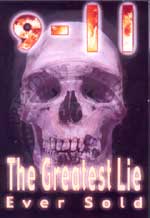 V. Terrorism against American city targets continues to raise its ugly head -- fears of both conventional and nuclear attack.
NEWS BRIEF: "America's Subways Vulnerable to Attack", wmicentral.com, 7/25/2005
"In a normal rush hour at New York City's Penn Station, more than 1,600 people a minute flow into and out of that transportation hub alone. Every weekday in Chicago, riders take more than 1.5 million trips on the elevated railway line, which encompasses 288 miles of track. Each year in Washington, D.C., Metrorail subway passengers traveling in 840 rail cars make more than 200 million trips. In all, during the average workweek in America, public buses, trains and subways transport more than 14 million people every day. In a single month, they carry more passengers than U.S. airlines carry in a year."
"Given those statistics, how can America prevent a mass-transit terror attack like the one that stunned London on Thursday, a multiple subway and bus bombing that left at least 40 dead and 700 injured? The answer from homeland security experts is that it is virtually impossible to deter determined terrorists without the infusion of hundreds of billions of dollars and the imposition of draconian searches of millions of passengers and their bags ... it is virtually certain that U.S. passenger rail and bus systems will remain in the sights of terrorists, the experts say."
The Plan certainly calls for another series of attacks in American cities, but probably not until Israel has separated her population from the Palestinian and is ready to go to war. The subtitle of the video, above, is very revealing:
"Preparing Us For The Next Terror Attack"
Other authorities were warning again of a nuclear terror attack against our cities, with one TV analyst and one congressman proposing a novel idea as to how to counter such an attack.
NEWS BRIEF: "MSNBC's Dietl asserted in the event of nuclear attack by Muslims, U.S. should threaten to bomb Islam's 'most religious places' ", Media Matters for America, July 26, 2005
"Calling in to The Radio Factor, MSNBC analyst Bo Dietl told Fox News host and Radio Factor guest host John Gibson that, in the event of a nuclear attack by Muslim terrorists, the United States should declare "holy war" and threaten to 'bomb the most religious places'. DIETL: Here's a question, John. What would happen -- you know there's about 38 nuclear devices -- briefcase bombs -- that are still missing from the Republic of Russia over the years. What would happen if simultaneously a nuclear bomb went off in Los Angeles, then one went off in New York? What would the president of the United States do against this great Muslim, love-thy-neighbor nonsense?
"You know, if you read the Quran, really read the Quran, and if you learn about what's going on in Saudi Arabia, about this Wahhabism, it is -- they can not co-exist with us. They have to wipe out everybody unless you become one of them. So if that happens, you think the president of the United States would make a statement if there's another nuclear bomb, we're going to bomb Mecca, we're gonna bomb the most religious places. This is a holy war."
This is not the first time an American occupying a relatively high position has called for the bombing of Mecca. Last week, Colorado U.S. Rep. Tom Tancredo "raised the possibility of bombing Mecca if Muslim terrorists set off nuclear weapons in American cities. On a Florida radio show Friday, Tancredo was asked what the response should be to a nuclear attack on U.S. cities. He answered that if fundamentalist Muslims were to blame, "you could take out their holy sites." When he was asked if he meant bombing Mecca, the congressman said, "Yeah." ("Congressman Says He Doesn't Advocate Bombing Mecca", WTOV9, July 18, 2005).
Since this threat has been publicly aired twice in as many weeks, is the Administration trying to send a message to the enemy -- the radical, "extremist" Islamic jihadist? We think not, because this entire threat of a nuclear attack in American cities is simply propaganda nonsense, designed to scare Americans to death with "Wars and Rumors of Wars".
How can we know this? Cutting Edge posted an article two years ago in which we revealed that American and Russian satellites have the capability to to pinpoint the precise location of every nuclear device in the world, in real time (NEWS1938). This reality means that American satellites can see a nuclear device being moved and can even track it minutely as it moves along a freeway, as it takes a specific exit and as it pulls up to its intended target. When you have that kind of capability, the use of nuclear devices as a strategic weapon or as a terrorist weapon is firmly terminated!
Therefore, you know that, if any nuclear device does explode in an American city, the Illuminati was behind it, not some third-rate Islamic militant group!
Likewise, you must also realize that the propaganda flowing almost daily screaming about the alleged threat from Iran and North Korea is strictly contrived. We know that the Illuminati has planned a nuclear confrontation on the Korean Peninsula at the end of the preparatory period designed to produce the Masonic Christ. Listen to the exact wording of that Plan:
"A hair-raising nuclear confrontation in Korea may, towards the end of the period, threaten man's very survival." [Peter Lemesurier, "The Armageddon Script", p. 223]
When you read news stories concerning the North Korean nuclear menace and America's efforts to "solve the problem", remember that the plan is for the nuclear confrontation on the Korean Peninsula to be part of the Final Birth Pangs War and to scare people to death. If citizens of the world were aware that American satellites could pinpoint the location of every nuclear device on earth, neither the scary nuclear terrorist threat against cities nor this Korean nuclear confrontation would be take seriously. Therefore, it is important that no mass media tells the truth of this matter.
Remembering that American and British counter-intelligence agents were on the terrorist scene at 9/11/2001 and 7/7/2005 respectively, carrying out a "simulated" attack at the same time as the real attack, this next story gives one pause.
American Homeland Security is holding terrorist exercises in August on the 33rd Parallel whose theme is a nuclear terrorist attack.
NEWS BRIEF: "Exercise to focus on nuclear terror scenario", U.S. Northern Command, June 29, 2005
"FORT MONROE, Va. -- Here's the scenario…A seafaring vessel transporting a 10-kiloton nuclear warhead makes its way into a port off the coast of Charleston, S.C. Terrorists aboard the ship attempt to smuggle the warhead off the ship to detonate it. Is this really a possibility? Joint Task Force Civil Support (JTF-CS) here is planning its next exercise on the premise that this crisis is indeed plausible. Sudden Response 05 will take place this August on Fort Monroe and will be carried out as an internal command post exercise. The exercise is intended to train the JTF-CS staff to plan and execute Consequence Management operations in support of Federal Emergency Management Agency Region IV's response to a nuclear detonation."
Can this be the cover story for the next terror attack, an attack which may be nuclear? It is certainly possible.
Further, we cannot but help comment on the fact that Charleston, SC, is located on the 33rd Parallel. The number "33" is one of the most important sacred numbers to the occultist. While we are not predicting anything, we do find it highly interesting that this "nuclear terrorist" scenario is occurring on the 33rd parallel and is following the nuclear terrorist theme we have been seeing in the media for weeks now.
But, remember, if a city is hit with a nuclear device, you must realize that the perpetrators were the Illuminati, not Islamic jihadists.
VI. "Vulnerable" countries continued to waste no time in passing new, very stringent, terrorist laws.
NEWS BRIEF: "Fearful Europe steps up security: Vulnerable countries act quickly to bring in new powers", The Guardian (London), July 28, 2005
"Italy - The Italian senate yesterday approved a bill to give the armed forces powers normally reserved for the police, allowing soldiers to search suspects and vehicles. It was the latest in a series of measures endorsed since July 7 in a country that fears it could be the next terror target. A poll published this week by the daily Corriere della Sera found 85% of Italians fear a terror attack within weeks or months ... Last Friday, the cabinet endorsed a package of measures allowing police to detain suspects for up to 24 hours, easing restrictions on surveillance of the internet, giving investigators broader access to telephone records and clearing the way for DNA samples to be taken without consent. Many of the measures came into effect immediately..."
"France -- Impressed by the speed and relative ease with which the London bombers and suspects were identified using video surveillance, the French government this week announced plans to install CCTV cameras in every Paris bus and metro corridor before the end of the year ... The length of time for which telephone and email records must be stored by service providers will be extended to up to three years, and new procedures will give police access to them without the permission of an investigating magistrate ... "
"Germany -- The German parliament has called for increased surveillance of airports, train stations and underground networks ... The interior minister, Otto Schily, says it is necessary to give more power to the federal police. Under the constitution, there is a strict divide between the duties of the federal police and those of the police for Germany's 16 states, which often leads to delays tackling crimes such as international terrorism."
"Spain -- Security has been stepped up at several monuments associated with the country's Islamic past ... Authorities said they would also be boosting security at Granada's Alhambra Palace complex, built by the Moorish kings."
"Scandinavia -- Danish authorities have increased police presence across Copenhagen's transport system and have called for heightened awareness at airports, railway stations and shopping centres ... In Sweden, the government is to introduce a bill later this year to make it easier to call in the military in case of an attack."
"Belgium -- Officials in Europe's capital city, host to the headquarters of the EU and Nato, are divided over its readiness to cope with a terror attack. Véronique Paulus de Châtelet, the governor of Brussels, claimed that the fire department had failed to draw up emergency plans for more than 600 soft targets, including hospitals, tube and train stations."
"Poland -- Poland feels vulnerable to terrorist attack. It has 1,600 troops in Iraq and has been one of the most stalwart US allies in the war. Warsaw's metro system had to be closed down recently following 7/7 and a hoax bomb threat ... a popular new novel, An Attack on Poland, in which al-Qaida affiliates blow up a Warsaw shopping mall, is feeding public anxiety."
"Eastern Europe -- From emptied subway systems to deserted parliaments and shopping malls, the countries of central and south-eastern Europe have been edgy and anxious since 7/7."
As you can see, the bombings in London on 7/7 and 7/21 are producing the calculated effect. Throughout Europe, officials are pushing for draconian dictatorial laws so that they can more easily "defend against attacks on liberties and freedoms". Just as in America, officials are planning to take away freedoms and liberties in the guise of protecting them.
Meanwhile, stricter new terrorist laws were advancing in Great Britain.
NEWS BRIEF: "Strict terror laws advance in Britain", By Sarah Lyall The New York Times, carried by the International Herald Tribune, Europe Division, July 27, 2005
"LONDON -- Britain moved closer Tuesday to introducing stricter antiterrorism laws when the three main political parties agreed in principle to new legislation for Parliament to consider in the autumn ... The three parties have often been at odds over how far antiterrorism legislation should go, and the emergence of an agreement now reflects how the mood of the country, and of Parliament, has changed since the July 7 suicide bombings in the subway and on a bus.

" 'When the main political parties present a united front, then it sends an important signal to the terrorists of our strength and our determination and our unity to defeat them', Blair said. But there is concern that in the rush to get tough, the parties will go too far ... Blair also defended the shoot-to-kill policy for suspected terrorists that resulted in the shooting death of a 27-year-old Brazilian electrician, mistakenly believed to be a suicide bomber, last Friday."
"Earlier in the morning, Blair met with Michael Howard, the leader of the Conservative Party, and Charles Kennedy, the leader of the Liberal Democrats. When they emerged, they said there had been agreement on several pieces of proposed new legislation, including the creation of laws against the preparation and incitement of terrorism, and the training of terrorists. A new law would give the home secretary the power, too, to deport or refuse entry to people with a record of inciting terrorism ... Perhaps the most contentious of these is the proposal to increase the amount of time that terrorism suspects can be detained by the authorities without being charged with a crime ... Another proposal, broadly supported by both the Conservatives and the Liberal Democrats, would change the law to allow the use of intercepted wiretap evidence in court. Another proposal being considered includes allowing the security services to interview suspects who have been arrested on charges unrelated to terrorism."
The leaders of Great Britain have evidently learned a great deal from President Bush and former Attorney General Ashcroft, as they seem to be readying a set of laws similar to the Patriot Act in America. The march toward a world devoid of limited, elected governments continues apace, held back in some countries only because a terrorist attack has not yet occurred there.
An example of 'strict laws' already being implemented in Great Britain is the new police strategy of immediately employing "Shoot To Kill" procedures against a "suspected terrorist". This new strategy has already resulted in the tragic death of an innocent Brazilian man, shot because police on the scene thought he looked, and was acting, like a terrorist.
NEWS BRIEF: "Anti-terror police unit looks to mythic Kratos", asahi.com, 07/26/2005
"In Greek mythology, the creator of humankind, Prometheus, incurs the ire of Zeus for stealing fire and giving it to the human race. In "Prometheus Bound," a tragedy by Aeschylus, Zeus orders his servant Kratos, the god of strength, to chain Prometheus to the rocks on a barren mountainside.
'In response to the terrorist bombings in London, the city's Metropolitan Police reportedly adopted new internal guidelines. Code-named Operation Kratos, the guidelines allow anti-terrorism troopers to aim for the head, not the body, if they suspect someone is carrying explosives. At a London subway last Friday, police shot a man at point-blank range. It was later determined the man had nothing to do with the bombings. Police were obviously trying to do all they could to prevent a third terrorist bombing in London. Londoners, meantime, must be praying to get through each day without incident."
"Suspicion fires the imagination and makes one jump at shadows. In this vicious cycle of suspicion breeding fear, people do extreme things they normally would not do ... Back to Greek mythology. Kratos had a sibling, Bia, the personification of might and force. The two were always together. The use of terrorist force must never be condoned, of course. Still, crossing the line by resorting to might and force must never happen."
But, of course, "resorting to might and force" is exactly what is planned to happen, and unfortunately, no amount of editorial comment to the contrary will prevent the nations of the world being thrown into the type of panicked atmosphere of which Jesus warned 2,000 years ago.
"And there will be signs in the sun and moon and stars; and upon the earth, there will be distress (trouble and anguish) of nations in bewilderment and perplexity ... Men swooning away or expiring with fear and dread and apprehension and expectation of the things that are coming on the world..." (Luke 21:25-26; Parallel Bible, KJV/Amplified Bible Commentary )
THAT is the Illuminati Plan called "Global Terrorism" and we are in the midst of it now. The worst is yet to come.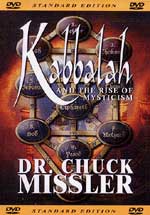 VII. As Israel began to finalize preparations for implementing Prime Minister Sharon's Unilateral Disengagement, a group of mystic Kabbalist Judaic priests uttered a "Death Curse" upon him. This ancient mystical "Death Curse" is likely to fan the flames of fanaticism, against which the Sharon government has been warning for months.
NEWS BRIEF: "Ancient death curse on Sharon", The Australian, July 27, 2005
"JEWISH extremists opposed to Israel's looming pullout from the Gaza Strip have dipped into an ancient ritual to put an Aramaic death curse on Prime Minister Ariel Sharon. In a cemetery ceremony presided over by a rabbi, around 20 radicals held a "pulsa dinura", or rod of fire in Aramaic, imploring God to curse a presumed sinner, said the online edition of the Yediot Aharonot newspaper. The ancient Jewish rite was led by rabbi Yossef Dayan at dawn on Friday in the ancient cemetery of Rosh Pina, in the northern Galilee region.
"Far-right Israeli activists held a "pulsa dinura" to pray for the death of former prime minister Rabin in 1995, a few days before he was killed by a Jewish extremist for trying to make peace with the Palestinians. Rabbi Dayan read out the curse at that ritual too. place near the grave of Shlomo Ben Yossef, a member of the ultra-nationalist Jewish movement Beitar, who was hanged in 1938 under British mandate Palestine for taking part in an attempted attack on an Arab bus ... Israel's chief Ashkenazi rabbi, Yona Metzger, denounced the rite in the strongest possible terms to the country's private Channel Two television."
The first step toward understanding that this "death curse" practice is really steeped in Ancient Witchcraft, not traditional Judaism, is in the use of the word, "ritual". Witches hold "rituals", while true followers of the God of Abraham, Isaac, and Jacob, and of the Son of God, Jesus the Christ, simply worship. In fact, the word, "ritual" does not even occur in the entire Holy Bible!
This Ancient Curse has its roots in the same wicked Kabbala in which the Pharisees and Sadducees were participating during the time when they were persecuting Jesus and planning His sacrificial death (Hear our audio, "Secret Societies Killed Jesus Christ" - 3-Tape Series -= for full details. You will never look at the Gospels the same way again!)
Jerry Golden explains in an email how this "Ancient Curse" has nothing whatsoever to do with genuine Judaism.
NEWS BRIEF: "A Curse Placed On Sharon by Rabbis", The Golden Report, July 27, 2005
"As you may have heard twenty married men, including rabbis and kabbalists preformed a ceremony called a 'pulsa demura' which is Arabic for 'lashes of fire' or a death curse against Prime Minister Ariel Sharon. It was also reported that Rabbi Yosef Dyan enacted the same curse against Yitzhak Rabin a few months before he was assassinated. They say they call upon the angels of destruction to kill someone.
"It is Voodoo plain and simple. It has absolutely nothing to do with Judaism, it is in fact forbidden to use any witchcraft in Judaism or for that matter in Christianity ... Many Haredim in Israel and around the world have taken up the practice of Kabala, which came from Babylon (Iraq) it is mysticism and witchcraft, and from this type of evil practice brings into Judaism such activities as the 'pulsa demura'. It is a huge embarrassment to those Jews who love God and the Torah and stand by God's Holy Word ... twenty men performed this ceremony, please don't confuse this as an act condoned by the Jews of Israel. I can assure you that if Sharon was to die before the Disengagement, it would not be a death celebrated by many. And if such a act would cause some crazy to assassinate him it would be again a terrible disgrace to Israel and the Jewish people."
When Jerry says these men are "Kabbalists", read "Illuminati" - their goals are identical to the worldwide Illuminati. Therefore, they secretly support Sharon's withdrawal plans and are deliberately creating the scenario by which Sharon can launch a crackdown on the really genuine Observant Jew -- hated by Sharon. (Read NEWS1941 for full details)
An attempted assassination of Prime Minister Sharon would give his Unilateral Withdrawal such momentum he could never be stopped. Public rhetoric from the Israeli government in the past few months have warned that "Jewish extremists" are planning just such an attack. Is the "handwriting on the wall"?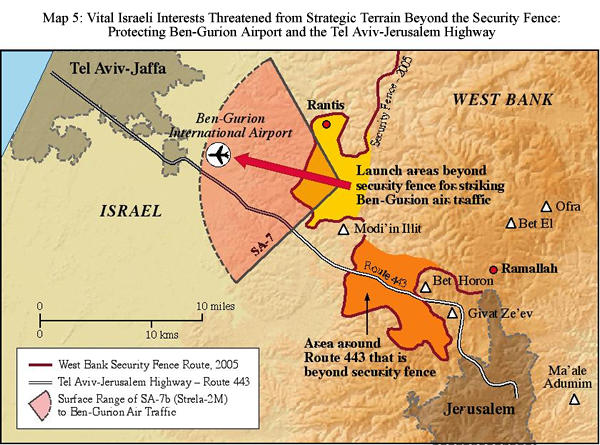 VIII. Israel's Vice Prime Minister, Shimon Peres, started a firestorm debate this past week by suggesting that Jerusalem would have to be divided! Of course, this part of the Plan fully fulfills the Illuminati Plan for the capitol city.
NEWS BRIEF: "Peres: No chance of clinching peace without dividing Jerusalem", Ha'aretz News, July 24, 2005
"Vice Premier Shimon Peres said on Sunday that there was no chance of reaching a 'conclusive agreement' with the Palestinians unless Israel partitioned Jerusalem and ceded the West Bank city of Hebron ... The Labor Party chairman said he believes 'there is no chance of reaching a conclusive agreement with the Palestinian Authority without giving back Hebron and dividing Jerusalem' ... Labor has been Prime Minister Ariel Sharon's key political ally in his bid to implement the disengagement plan. During the Labor premiership of Ehud Barak in the late 1990s, it was reported that Barak had put out feelers to the Palestinians over possible ways to divide Jerusalem, the eastern half of which Palestinians envisage as the capital of a future independent Palestine."
When I was sneaked into the House of Theosophy meeting on August 18, 1991, I learned that the Illuminati had some very special plans for Jerusalem, plans which do not foresee keeping Jerusalem as the "eternal capitol" of the Jewish people. Read NEWS1052 for full details.
Study this map, above, for it illustrates how much danger Sharon's Unilateral Withdrawal plan places key elements of what is left of Israel. The Palestinians would be relocated forward, so that their missiles and mortars could easily strike key locations within Israel. This plan is clearly militarily unfeasible, which should tell you that the reason it is being implemented is not based in military logic or doctrine, but is, in fact, political and prophetic, just as we state in NEWS1422 and NEWS1620.

---------- Articles Posted ----------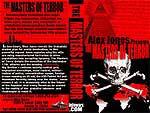 * TERRORIST THREATS CONTINUING TO BE LEVELED AT CIVILIAN CITIES AT AN ALARMING RATE - INCLUDING THE USE OF NUCLEAR WEAPONS" - Terrorism against the cities represents a major portion of the final stage toward the abolition of the Old World Order so the New can be established. Remember Henry Kissinger's infamous quote about terrorism in our cities:
"Today, Americans would be outraged if U.N. forces entered Los Angeles to restore order. Tomorrow, they will be greeted." -- http://www.cuttingedge.org/news/n2059.cfm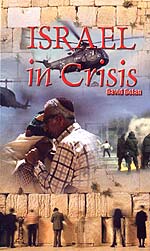 * "JEWISH SETTLER ACTIVISTS ISSUE WORLDWIDE WARNING: ISRAELI GOVERNMENT PLANNING MASSIVE ATTACK ON PALESTINIAN CIVILIANS IN GAZA STRIP AFTER WITHDRAWING JEWISH SETTLERS TO SAFETY!" - Just as Cutting Edge has been teaching for the past 5 years, the Israeli government is withdrawing settlers from Palestinian areas in order to fulfill the prophecies of Obadiah 15-18 and Ezekiel 34. This warning from these human rights activists demonstrates that many in Israel know Sharon's genocidal plans. Not only is prophecy is about to be fulfilled, but the public knowledge of this plan shows the lateness of the prophetic hour. - http://www.cuttingedge.org/news/n2058.cfm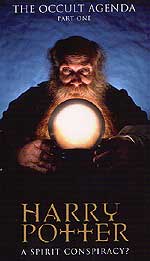 * "HARRY POTTER AND THE HALF-BLOOD PRINCE" - Guest Column by Berit Kjos - "The story of Harry Potter is an allegory: It is written and packaged to look like fantasy when, in truth, it is a carefully written true description of the training and work of an initiate in an occult order.... The story line aligns with real occult books written by Gavin and Yvonne Frost, who, themselves, run the foremost school of witchcraft in the British Isles." (Former member of the Hermetic Order of the Golden Dawn) -- http://www.cuttingedge.org/articles/db055.htm
Beginning in July, 2000, Cutting Edge warned: "Finally, J.K. Rowling not only knows her Witchcraft, but she knows Illuminati Witchcraft. She consistently uses Illuminist symbols to portray key elements in her books, and she uses them in exactly the correct Illuminist meaning. Since the major goal of the Illuminati is to successfully stage the appearance of Antichrist, all Christian parents should be concerned that, just maybe, Harry Potter books are conditioning their precious children to accept him when he arises." ("HARRY POTTER -- FUNDAMENTAL UNDERSTANDINGS")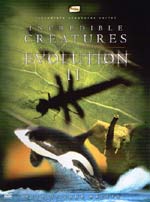 * "INTELLIGENT DESIGN THEORY" - Dialectic At Work: These vs Antithesis = Synthesis Combining Creationism and Darwinism! - The ongoing and extremely heated debate between the thesis of Creationism versus the antithesis of Darwinism (evolution) appears to be headed for the synthesis of "Intelligent Design." -- http://www.cuttingedge.org/articles/p249.htm
The premise--whether overtly stated or not--is that our existence is due to the work of a superior intelligence beyond planet Earth. And that intelligence is not God, but an advanced civilization of "extra-terrestials." This world with its ever-increasing emphasis upon "group-think" is being manipulated by supernatural forces and precious few are even aware of it. The fascination with space travel and UFO's continues to capture the imagination of millions and a mind set is slowly taking shape that fully expects aliens to invade the Earth and take over. As we learned from the New England Director of the House of Theosophy, a belief in UFO's and Aliens is essential to the successful staging of the New Age Christ (NEWS1052)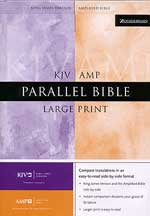 ---------Conclusion----------------God's Eternal Warning To Men Who Sit As Judges -- Psalm 82
"GOD STANDS in the assembly of the representatives of God; in the midst of the magistrates or judges He gives judgment, as among the gods. How long will you magistrates or judges judge unjustly and show partiality to the wicked? Selah [pause, and calmly think of that]!
Do justice to the weak, poor and fatherless; maintain the rights of the afflicted and needy.
Deliver the poor and needy; rescue them out of the hand of the wicked.
The magistrates and judges know not, neither will they understand; they walk on in the darkness of complacent satisfaction; all the foundations of the earth -- the fundamental principles upon which rests the administration of justice -- are shaking.
I said, You are gods, since you judge on My behalf, as My representatives; indeed, all of you are children of the Most High.
But you shall die as men and fall as one of the princes.
Arise, O God, judge the earth! For to You belong all the nations." (Psalm 82; Parallel Bible, KJV/Amplified Bible Commentary)
NOTE: As President Bush and the Senate select new Supreme Court Justices, God's Word is shouting to them that they had best amend their ways. In the past, Justices have legislated from the bench, rather than just interpreting what the Constitution originally stated. From these decisions, America has been ravaged by decisions which banished God from Public Schools, created a radical Abortion Upon Demand system, legalized Sodomy throughout the land, and murdered Terri Schiavo.
God's Word is warning: "How long will you magistrates or judges judge unjustly and show partiality to the wicked? Deliver the poor and needy -- the helpless within the womb and the equally helpless lost in comas, or devalued in some way. Our judges do "walk on in the darkness of complacent satisfaction", serving their Illuminati masters.
But, they "shall die as men and fall as one of the princes" and shall stand before Jesus in judgment for their wicked decisions.
=======================================================
May Jesus Richly Bless You,
David Bay, Director
866-909-2850 Toll Free Customer Service - Order Line
803-356-2850 Toll Free Customer Service - Order Line
803-356-2860 Fax