WEEKLY UPDATES FROM Cutting Edge Ministries, www.cuttingedge.org
7/31/2004      Over 1,200 Articles Posted! Nearly 100,000 People Downloading A Salvation Page Per Year! (Isa 55:11)
---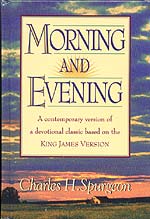 ---------- Inspiration For the Week--------""Whoso hearkeneth unto me shall dwell safely, and shall be quiet from fear of evil." Proverbs 1:33
Divine love is rendered conspicuous when it I shines in the midst of judgments. Fair is that lone star which smiles through the rifts of the thunder clouds; bright is the oasis which blooms in the wilderness of sand; so fair and so bright is love in the midst of wrath. When the Israelites provoked the Most High by their continued idolatry, He punished them by withholding both dew and rain, so that their land was visited by a sore famine; but while He did this, He took care that His own chosen ones should be secure. If all other brooks are dry, yet shall there be one reserved for Elijah; and when that fails, God shall still preserve for him a place of sustenance; nay, not only so, the Lord had not simply one "Elijah," but He had a remnant according to the election of grace, who were hidden by fifties in a cave, and though the whole land was subject to famine, yet these fifties in the cave were fed, and fed from Ahab's table too by His faithful, God-fearing steward, Obadiah.
Let us from this draw the inference, that come what may, God's people are safe. Let convulsions shake the solid earth, let the skies themselves be rent in twain, yet amid the wreck of worlds the believer shall be as secure as in the calmest hour of rest. If God cannot save His people under heaven, He will save them in heaven. If the world becomes too hot to hold them, then heaven shall be the place of their reception and their safety. Be ye then confident, when ye hear of wars, and rumours of wars. Let no agitation distress you, but be quiet from fear of evil. Whatsoever cometh upon the earth, you, beneath the broad wings of Jehovah, shall be secure. Stay yourself upon His promise; rest in His faithfulness, and bid defiance to the blackest future, for there is nothing in it permanently direful for you. Your sole concern should be to show forth to the world the blessedness of hearkening to the voice of wisdom. [C.H. Spurgeon, "Morning and Evening Devotions" ]

---------- Bookstore Resource Update ----------
Books Showing Illuminati Plan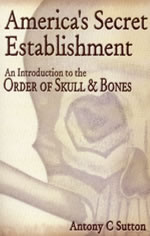 * "America's Secret Establishment: Introduction to the Order of Skull & Bones", published originally in 1986, written by Antony Sutton - This book - published originally in 1986 - is THE classic study of Skull & Bones -- that Black Magick Secret Society to which Presidents Bush and Candidate John Kerry belong! The author shows not only what Skull & Bones is, but also how it fits in the overall Illuminati plan to change America first and subjugate her finally. You will see the elite American families who have been working together for almost 200 years to bring all of American industry, education, and religion under their firm control.
Sutton was the first to identify Skull & Bones as being part of the global "Brotherhood of Death" societies, a devastating fact which then allows you to understand that all initiates go through the same exact rituals as did Adolf Hitler, who was a member of the "Brotherhood of Death" society called "The Thule Society". This book dove-tales with "Fleshing Out Skull & Bones", also written by Antony Sutton. - http://www.cuttingedge.org/detail.cfm?ID=821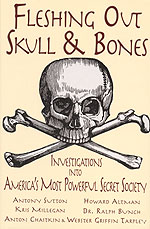 * "Fleshing Out Skull & Bones: The Whole Story", edited by Antony Sutton - Since two out of our last three Presidents have been lifelong Adepts in Skull & Bones secret society, since our current President has refused to disavow this society, and since the current Democrat Presidential Candidate John Kerry is also an Adept, it is highly important for us to know exactly what kind of society this is. This chronicle of espionage, drug smuggling, and elitism in Yale University's Skull & Bones society offers rare glimpses into his secret world. Book is 712 pages, with 8 color photos, 80 black/white photos, 16 illustrations and 24 charts. Reports previously unpublished documents, photographs, and articles that delve deeply into issues such as racism, financial ties to the Nazi Party and illegal corporate dealings. Books prints a complete list of known members, including George Bush and George W. bush, and reprints of rare magazine articles on the Order of Skull & Bones. It is absolutely amazing the depth of material available to a skilled and determined researcher. - http://www.cuttingedge.org/detail.cfm?ID=640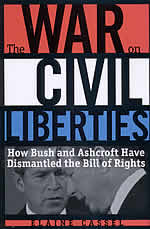 * "The War on Civil Liberties - How Bush and Ashcroft Have Dismantled the Bill of Rights" - President Bush has repeatedly stated that the "War on Terrorism" will be fought in every corner of the globe and on every street corner; however, he didn't tell you that you and your precious freedoms are a planned casualty. Through the Patriot Act, the Homeland Security Act, and dozens of lesser-known laws and Executive Orders, Bush - Ashcroft plus a compliant Congress and Courts, have all but dismantled the Bill of Rights. This book chronicles the major battles of this lost war -- against attorneys, Muslim Charities, immigrants and the elusive "Enemy Combatants" (including American citizens and the prisoners in Guantanamo Bay). The author reports the "Brave New World" of Summary Deportations, vengeful prosecutions, and imperiled freedoms which Bush-Ashcroft have perpetrated on America after 9/11.
It surveys the soldiers on the other side of this war -- the growing grassroots dissent against these efforts of the Bush Administration. And, it considers the damage this war has had on the values forming the heart of America. Elaine Cassel is a practicing attorney and professor of law and psychology. - http://www.cuttingedge.org/detail.cfm?ID=820

Popular Books by Christian Evangelist, Dr. Donald Boys, Ph.D.
Dr. Boys was a member of the Indiana State Legislator for years and so is familiar with rough-and-tumble politics
* "Christian Resistance: A Biblical Idea Whose Time Has Come -- Again" -- Evangelistic pastors have failed for almost 100 years to properly convey Biblical teaching as to when to resist authorities and when to obey. At this time, close to the appearance of Antichrist, Personal Timidity + Biblical Ignorance, may prove spiritually fatal to a great many Christians. The Bible obligates Christians to resist any law conflicting with Scriptural principles. Most pastors are strangely silent on the issue of resistance, and most Fundamental pastors will never admit they have erred in any teaching from their pulpit.

Soft, present-day pastors see government as the final authority, and wrongly urge their people to obey any law of government. The bottom line is there comes a point where a Christian has both the right and the duty to disobey the State when that State has passed laws contrary to Scripture. There can be no greater abomination and fiendish maxim than "My country, right or wrong". Martin Luther stated that, when a law prevents a subject from obeying God's commands, obligation to the State ends as the Christian must obey God rather than men. Today, our authorities who are twisting the Constitution and are passing laws designed to take away freedoms under the pretext of crisis are the ones transgressing the Bible, thus making them the lawless ones.
Dr. Boys attempts to so teach this Biblical principle of resistance that Christians can rightly and accurately know when to resist and upon what grounds, in full accordance with Scripture. This is a book for this present time. - http://www.cuttingedge.org/detail.cfm?ID=812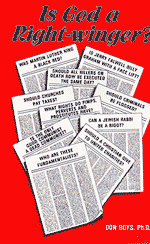 * "Is God A Right-Winger?" - In Seminar 1, I presented a list from the Old Testament showing which crimes God felt so strongly about that He declared the death penalty as punishment. My audience was always aghast, for many of God's Capital Punishment crimes were not even crimes today. But, God never changes, so America sleeps on, unaware of the terrible judgment of God. One of the most exciting, controversial books you will ever read! In 18 hard-hitting chapters, Evangelist Dr. Boys deals with the hottest issues facing Americans today, and demonstrates where God is on each issue, based on Scripture. Some of these issues are: 1) Why are many Fundamentalists also legalists? 2) Should there be any government regulation of Christian schools? 3) Public Schools have become places of rape, riot, and robbery; 4) Why has society become focussed on Pornography, Prostitution, Perversion? 5) Are college students practicing "pigpen morality"? 6) Does a government ever have the right to approve Church ministries and schools? 7) What is the "Separation Confusion"? 8) Is it too late to fight?
When society switches its Values System, former law abiding citizens automatically become the lawbreakers. We are at this point in America; this book teaches boldly where God comes down on the issues of the day. 266 pages - http://www.cuttingedge.org/detail.cfm?ID=813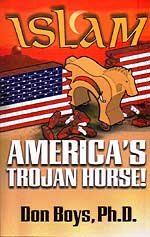 * "Islam: America's Trojan Horse" -- This book only indirectly addresses the characteristics and beliefs of Islam, for its main focus is on the active Islamic plan to take over America first through immigration and then the world. Over 1,300 mosques are now built in the US, with the great majority controlled by the most militant Muslim clerics. Dr. Donald Boys is a nationally recognized expert on Islam plus an excellent Christian Evangelist. People like his no-nonsense, down-to-earth, folksy style, tempered by the Love of the Holy Spirit -- http://www.cuttingedge.org/detail.cfm?ID=810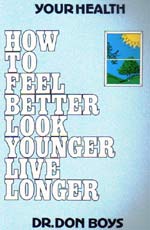 * "Your Health - How To Feel better, Look Younger, Live Longer" - Dr. Boys deals with your total health from a Christian perspective. A person is not "healthy" just because he or she is an active Christian. Spiritual health is only a part of total health. A healthy person will place the proper emphasis on every legitimate facet of living. Dr. Boys discusses the polluted water supply of many cities, of medical studies proving a connection between mental attitude and physical disease, favorite foods containing filth. He also shows how to keep fit and live longer with proper exercise. Dr. Boys identifies the biggest problem of your life and how to solve it, how to live right and be ready to die. Finally, Dr. Boys discussed Rock Music and what it can do to you! - 145 pages - http://www.cuttingedge.org/detail.cfm?ID=811

New Selection of The Most Valuable "Hebrew-Greek Key Word" Study System
(Makes a Hebrew-Greek scholar out of the ordinary reader)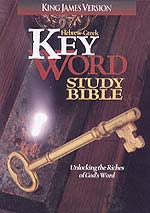 * "Hebrew-Greek Key Word Study Bible" - KJV - Hardcover - Regularly $44.99, now $39.99 - Provides key insights into the original Hebrew and Greek languages, the languages in which the original writings of the inspired prophets and apostles were penned. There are times when original words just cannot be translated accurately because of the lack of corresponding words in English. This unique Study Bible identifies the key words of the original languages and gives clear, precise explanations of their meaning and usage. This Bible is beloved because it contains an entire Library! Each book contains Introductions that explains Bible history, archaeology, and ancient Jewish and Gentile customs that are necessary to fully understand the significance of the passage. Footnotes explain the exegetical, theological, and geographical significance of key passages. Unique Study Helps: Grammatical Codes; Guides To Transliteration; Lexical Aids; Concordance; Scripture Index. This Study Bible will open your understanding of the Scriptures, even if you are not the college-trained scholarly type! - http://www.cuttingedge.org/detail.cfm?ID=805

* "Hebrew-Greek Key Word Study Bible" - KJV - Black Bond Leather - http://www.cuttingedge.org/detail.cfm?ID=804

* "Hebrew-Greek Key Word Study Bible" - KJV - Burgundy Bond Leather - http://www.cuttingedge.org/detail.cfm?ID=545

* "Hebrew-Greek Key Word Commentary - Thoughts On Every Chapter of the Bible -- http://www.cuttingedge.org/detail.cfm?ID=763

Selected Works of Beloved Evangelist C.H. Spurgeon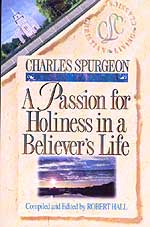 * "A Passion For Holiness In A Believer's Life" - Book - Lifted by the reviving and quickening power of the Holy Spirit, Charles Spurgeon's life and effectiveness was clearly rooted in his deepest desire centered in living a life of God-honoring Christian Holiness. Exalting his Savior in godly living and preaching the Gospel with power were his all-consuming passion. True happiness can only be obtained when we are free from the power of sin, when the Gospel has purified our lives, and when we possess a deepest desire for holiness. Personal holiness is dynamic, practical, available, and essential for every believer. Spurgeon's teaching will meet you where you live and assist you discover the transforming power of the Holy Spirit in your inner life. 192 pages - http://www.cuttingedge.org/detail.cfm?ID=818

* "Grace Abounding In A Believer's Life" - Book - Called, "The Prince of Preachers", Spurgeon relied on the Holy Spirit to build London's Metropolitan Tabernacle into the world's largest independent congregation during the 19th Century. To Spurgeon, God's Grace permeated and engulfed the entire Christian experience. Without Grace, man would go to an eternal Hell. Yet, modern man had cheapened Grace to the point where it was both soiled and changed into something it was never meant to be, thus making it ineffective in the life of the believer.
Even though Spurgeon died in 1892, his observations read like today's newspaper. In this era of extreme Apostasy -- where Christian pastors no longer teach the entire Word of God, voices from the past like C.H. Spurgeon are like "balm" to the soul and abundant water to the parched spirit. - 192 pages - http://www.cuttingedge.org/detail.cfm?ID=814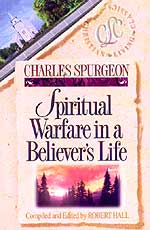 * "Spiritual Warfare In A Believer's Life" - Book - Spurgeon was well known as a passionate Biblical expositor of the Gospel who spoke the language of the common people, meeting them at the point of their deepest needs. Spurgeon was a seasoned veteran in successfully meeting Satan at every corner, defeating him through the power of the Gospel and of the Holy Spirit. His teaching and preaching contained nothing abstract, ethereal, or mystical. He directed his focus where he found Satan working in the lives of people -- enslaving them to sin, keeping them from the Gospel, hindering spiritual development, and bringing discouragement, depression, and moral failure. Believers need not wonder about Satanic principalities and power, nor about how to engage them in battle. These life-changing messages will meet you where you live, helping you become "more than a conqueror" in spiritual warfare. 192 pages - http://www.cuttingedge.org/detail.cfm?ID=816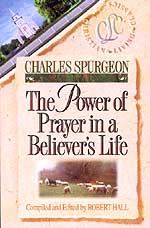 * "The Power of Prayer In A Believer's Life" - Book - While many factors have been highlighted to explain Spurgeon's (1834-1892) most powerful ministry, the foremost secret empowering Spurgeon was his devotion to prayer. When people would walk into the huge Metropolitan Tabernacle, the preacher would take them to the basement prayer room where people were always on their knees, interceding for the church. Spurgeon would then declare: "Here is the powerhouse of this church". This concise statement is confirmed by the amazing number of sermons Spurgeon preached on prayer. Spurgeon believed in passionate, Holy Spirit-directed prayer. His word pictures of the majestic throne of Grace before which God calls privileged believers will thrill your heart to new heights. You will be inspired and challenged in your prayer life, especially if you experience struggles in consistent, powerful prayer. 192 pages - http://www.cuttingedge.org/detail.cfm?ID=817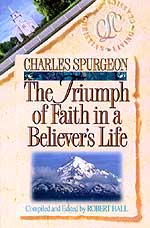 * "The Triumph of Faith In A Believer's Life" - Book - Every believer in Jesus Christ must wrestle and fight for issues of faith. To believe with certainty that God speaks Truth is where Satan and his powers of darkness rage against the believer in the most powerful manner; to concede defeat in a matter of personal faith is devastating. You must understand what faith is and how it is personally obtained. For Spurgeon, the foundation of the Christian faith, the victory and joy of faith, the life and walk of faith, all revolved around the Person of Jesus Christ. He preached Jesus practically, teaching a practical Christian faith. - http://www.cuttingedge.org/detail.cfm?ID=819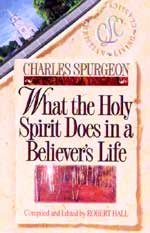 * "What The Holy Spirit Does In The Life of the Believer" - Book - Lifted by the reviving and quickening power of the Holy Spirit, Spurgeon's life and effectiveness was clearly rooted in this one fact: his deepest desire was to serve Jesus Christ. Spurgeon credited his success to the powerful work of the Holy Spirit, firmly believing that spiritual transformations in the Book of Acts were only the beginning of mighty works God intended to do. Declaring that Pentecost was not the pinnacle of the church's experience, but only the first unveiling of what could and should happen, this great preacher called upon believers to receive and to live up to the full potential of the Holy Spirit, in us. 192 pages - http://www.cuttingedge.org/detail.cfm?ID=815

New Evolution Resources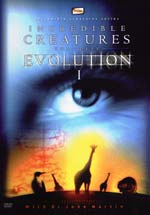 * "DVD- Incredible Creations That Defy Evolution - Vol 1" - God shall never be left without a witness the Bible clearly says. Evolution is shown to be a lie once a person objectively reviews the fossil record. This video will shock you so much when it demonstrates that only God can make animals that defy science. Are there really creatures that produce fire to defend themselves? How does a giraffe get a drink without causing lethal blood pressure to his brain? Dr Jobe Martin was a traditional evolutionist, but his medical and scientific training would go through an evolution, or rather a revolution, when he began to study animals that challenge the scientific assumptions of his education. Powerful evidence proving that animal designs can only be attributed to a Creator, they cannot possibly be explained by evolution. This video will inspire you to look more closely at the world around you. - http://www.cuttingedge.org/detail.cfm?ID=806

Also available in VHS -- http://www.cuttingedge.org/detail.cfm?ID=279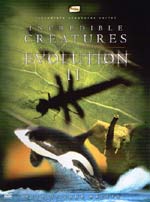 * "DVD- Incredible Creations That Defy Evolution - Vol 2 -- The Incredible Creatures That Defy Evolution Series enters the fascinating world of animals to reveal sophisticated and complex designs that shake the traditional foundations of evolutionary theory.
Featuring Dr. Jobe Martin, who for the past 20 years, has been exploring evolution vs. creation. His finding have been fascinating students around the world as he lectures on these remarkable animal designs that cannot be explained by traditional evolution.
Through this most interesting animals, God shows all Evolutionists for whom they are: "Professing themselves to be wise, they became fools" Romans 1:22. But, these "fools" are teaching your precious children in Public Schools when their minds are the most influenced. This video was the winner of the International Telly Award . - http://www.cuttingedge.org/detail.cfm?ID=807

Also Available in VHS -- http://www.cuttingedge.org/detail.cfm?ID=572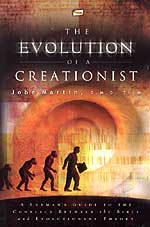 * "The Evolution of a Creationist" - Book - Dr. Jobe Martin chronicles his personal journey from traditional scientist to Creationist; he was a traditional evolutionist, but his medical and scientific training soon set him reeling through a "revolution" when he began to study animals which challenged scientific assumptions.
"But God hath chosen the foolish things of the world to confound the wise; and God hath chosen the weak things of the world to confound the things which are mighty" (1 Cor 1:27) This book takes a look at the smallest of animals which break all of the evolutionary "rules" and which demonstrates that the Bible is an excellent book of science - Softcover, 287 pages - http://www.cuttingedge.org/detail.cfm?ID=808

The Sermon God Used To Begin the 1741 "Great Awakening" Revival

* "Sinners of the Hands of An Angry God" by Puritan Preacher Jonathan Edwards, 1741 -- CD Dramatic Reading - SINNERS IN THE HANDS OF AN ANGRY GOD, by Jonathan Edwards, was used mightily by the Holy Spirit to begin The Great Awakening -- preached from the pulpit of the First Christian Church, Northampton, Massachusetts in 1741 "Their foot shall slide in due time" - Deut. 32:35 was the Bible text upon which this sermon was based. As Edwards read his sermon, people began to beat their breasts, moaning in great conviction of sin. Other people began to fall on the floor, begging for forgiveness of sin. Never had North America seen such an outpouring of the Holy Spirit. This wonderful manifestation of Revival soon spread to other churches throughout New England. If America is to experience Revival now, we need sermons like this one, especially since too many preachers today refuse to preach Judgment in an eternal Hell.



Listen to a segment of this most powerful sermon
Spiritual Warfare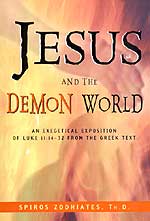 * "Jesus and the Demon World - Spiritual Warfare" - Book - Well-written, easy-to-understand study (exegesis)of the Greek text of Luke 11:14-32. When the Pharisees told the people that Jesus could only perform His miracles because He was in league with Beelzebub, the Chief of Devils below Satan, Jesus responded in a most unbelievable way. Not only did He espouse doctrine critical to our spiritual well-being today, but He announced a new sin - the Unpardonable Sin - a transgression not really understood today

Other gems contained within this study are: 1) Sin of Omission; 2) Declaration of a Religion; 3) Definition of "Types" in prophetic passages; 4) Spiritual blindness; 5) Spiritual Warfare, including the principle of an unclean spirit leaving a person of his own will, and then coming back to re-possess that person, bringing seven more devils more wicked than he! - 184 pages - http://www.cuttingedge.org/detail.cfm?ID=803

---------- This Weeks Hot News ----------
SPECIAL NOTE: The Number One story of the week was not Senator John Kerry's nomination as Democrat Presidential Candidate, but a relatively unknown story about the Iraq war from renowned British journalist, Robert Fisk. Therefore, it is at this point we shall start our newsletter.
I. The Pentagon and Bush Administration are waging a secret war in Iraq -- a war with devastating consequences and one which is not being reported in Mass Media.
NEWS BRIEF: "Unreported war: US document reveals scale of conflict not revealed to journalists", By Robert Fisk, Independent.co.uk, July 29, 2004
"Iraq, we are told by Mr Blair, is safer. It is not. US military reports clearly show much of the violence in Iraq is not revealed to journalists, and thus goes largely unreported. This account of the insurgency across Iraq over three days last week provides astonishing proof that Iraq under its new, American-appointed Prime Minister, has grown more dangerous and violent."
We have long believed that Bush Administration officials and the Pentagon were badly underreporting the story in Iraq. From the beginning, we could only see tiny snippets of information which led us to believe this to be the case. However, we could not get substantive reports to verify our suspicions. Now, British journalist Robert Fisk provides that substantive verification. After making this opening statement, Mr. Fisk then lists the true account of events in Iraq, almost all of which were NOT reported in any media. As you read this information, your heart will break for the poor servicemen put in harm's way by an American President and a British Prime Minister who led their respective nations into war based upon lies, exaggerations and bluster (Read the full account in NEWS1890 and NEWS1890b).
Mr. Fisk reports actions from three days: July 20, 22, 23, NOT reported in media:
20 July
Baghdad -- A US aircraft was attacked by a surface-to-air missile over Baghdad airport. An improvised explosive device detonated under a bridge near al-Bayieh fire station. A second bomb exploded when the "Facility Protection Service" arrived. In other areas, there were four bombings, three RPG assaults and six gun attacks, almost all on US forces.
North of Baghdad -- A civilian supply convoy was attacked at Samarra. A bomb exploded on a bus in Baquba, killing six. A mine went off in Balad. A US convoy was attacked with RPGs and gunfire at Salman Pak. There were roadside bombings of US forces at Mandali, Samarra, Baquba, Duluiya and Muqdadiyeh, and three grenade attacks (at Tikrit, Samarra and Kirkuk, with shootings at Muqdadiyeh, Balad, Hawija, Samarra, Tikrit and Khalis.
West of Baghdad -- An American foot patrol set off a landmine at Khalidiya. A civilian tractor hit a mine at Hit. There was an RPG attack on a school in Karmah. Roadside and other bombs also detonated in Fallujah, Hit, Ramadi and Qaim. There were also attacks on US troops at Hit, Karmah, Saqlawiyeh and Ramadi.
South of Baghdad -- International troops discovered two 107mm rockets aimed at the house of the governor of Diwakineh, and a roadside bomb detonated near Iskanderiyeh. In Basra, the city council co-ordinator and his three bodyguards were killed near a police checkpoint by three men in police uniform.
July 22
Baghdad -- Two roadside bombs exploded next to a van and a Mercedes in separate areas of Baghdad, killing four civilians. A gunman in a Toyota opened fire on a police checkpoint and escaped. Police wounded three gunmen at a checkpoint and arrested four men suspected of attempted murder. Seven more roadside bombs exploded in Baghdad and gunmen twice attacked US troops.
North of Baghdad -- Police dismantled a car bomb in Mosul and gunmen attacked the Western driver of a gravel truck at Tell Afar). There were three roadside bombings and a rocket attack on US troops in Mosul and another gun attack on US forces near Tell Afar. At Taji, a civilian vehicle collided with a US military vehicle, killing six civilians and injuring seven others. At Bayji, a US vehicle hit a landmine. The Americans said gunmen murdered a dentist in at the Ad Dwar hospital. There were 17 roadside bomb explosions against US forces in Taji, Baquba, Baqua, Jalula, Tikrit, Paliwoda, Balad, Samarra and Duluiyeh, with attacks by gunmen on US troops in Tikrit and Balad. A headless body in an orange jump-suit was found in the Tigris; believed to be Bulgarian hostage, Ivalyo Kepov. Kirkuk air base, used by US forces, attacked.
West of Baghdad -- Five roadside bombs on US forces in Rutbah, Kalso and Ramadi. Gunmen attacked Americans in Fallujah and Ramadi.
South of Baghdad -- The police chief of Najaf was abducted. Two civilian contractors were attacked by gunmen at Haswah. A roadside bomb exploded near Kerbala and Hillah. International forces were attacked by gunmen at Al Qurnah.
July 23
Baghdad -- A US military convoy was mortared and a grenade thrown. There were seven roadside bomb attacks and five gun attacks on US forces.
North of Baghdad -- A man threw a grenade at a US convoy at Tell Afar. Two gunmen killed an officer in the new Iraqi Army in Mosul. American troops also came under RPG fire in Mosul. Gunmen attacked a convoy of western mercenaries south of Samarra, a civilian convoy was attacked at Baquba. A former Iraqi army officer, former Major-General Salim Blaish died in a drive-by shooting in Mosul. Americans detained two men who had fired a rocket from a truck in Balad. There were three roadside bomb attacks on Americans in Baquba, Balad and an RPG attack at Kirkuk.
West of Baghdad -- A roadside bomb against US forces at Rutbah. Gunmen also attacked the Americans in Khalidiyeh and Fallujah.
South of Baghdad -- The Mussayib power station was mortared and roadside bombs exploded at Iskanderiyeh and Mussayib."
This is a lot of activity not to be reported in Mass Media - in just three days. We come to the realization that a lot of censorship is going on in Iraq, and that if the truth were ever widely known, a lot of voters would be persuaded not to vote for President Bush. Further, now that we have learned from Mr. Fisk that we are not being told the entire truth about the military conflict being waged in Iraq, this next story takes on new credibility.
NEWS BRIEF: "2,000 U.S. troops killed in Iraq: Russian expert", By Vladimir Radyuhin, The Hindu, India's National Newspaper, July 24, 2004
"MOSCOW, JULY 23. The United States suffers far heavier casualties in Iraq than it officially admits, a Russia military diplomat claimed. The actual U.S. military losses in Iraq may have reached 2,000 personnel, more than twice the official figure of 900, as Washington badly understates its casualty statistics, a military diplomatic source told the Itar-Tass news agency."
Furthermore, the Pentagon is playing games with the way they report deaths and casualties related to Depleted Uranium poisoning. If these figures were included, our total death and wounded toll would likely reach upwards to the 10,000-12,000 level as reported some time ago by retired Colonel Hackworth. Listen carefully and weep.
At least 10% of American forces in Iraq have now been either killed, wounded, or felled by "non-hostile" mysterious ailments that have required the Pentagon to evacuate them from Iraq! The original Roman Empire created the doctrine that, if 10% of their force was put out of action during engagement with an enemy force, the Roman unit was considered "decimated" (key word was "decimal" which denoted increments of 10). By this Roman definition, our troops in Iraq are already decimated.
NEWS BRIEF: "Saddam's in the slammer, so why are we on orange?", by Col. David Hackworth, Ret., WorldNetDaily, December 30, 2003
"Almost daily we're told that another American soldier has sacrificed life or limb in Iraq ... Even I – and I deal with that beleaguered land seven days a week – was staggered when a Pentagon source gave me a copy of a Nov. 30 dispatch showing that since George W. Bush unleashed the dogs of war, our armed forces have taken 14,000 casualties in Iraq – about the number of warriors in a line tank division. We have the equivalent of five combat divisions plus support for a total of about 135,000 troops deployed in the Iraqi theater of operations, which means we've lost the equivalent of a fighting division since March. At least 10 percent of the total number of Joes and Jills available to the theater commander to fight or support the occupation effort has been evacuated back to the USA!"
"Lt. Col. Scott D. Ross of the U.S. military's Transportation Command told me that as of Dec. 23, his outfit had evacuated 3,255 battle-injured casualties and 18,717 non-battle injuries ... Ross cautioned that his total of 21,972 evacuees could be higher than other reports ... I think it's safe to say that, so far, somewhere between 14,000 and 22,000 soldiers, sailors, airmen and Marines have been medically evacuated from Iraq to the USA."
President Bush can only hope that the real truth about Iraq stays well hidden until after the November election!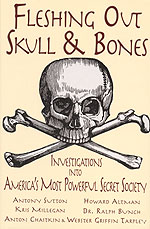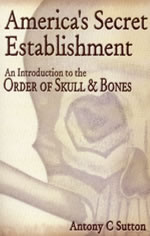 II. Senator John Kerry accepted the nomination of the Democrat Party Thursday night. Before we get into the meat of the Democrat convention, we need to strongly reiterate that the Presidential contest is now Bonesman against Bonesman! Both Senator John Kerry and President Bush are life-long Adepts in the Satanic secret society known as Skull & Bones (Read NEWS1314 for a brief sketch as to the nature of Skull & Bones). President Bush is of the Class of 1968, while Senator Kerry is of the Class of 1966 ["Fleshing Out Skull & Bones, p 676 and 682].
Since Skull & Bones is a Brotherhood of Death secret society ("America's Secret Establishment", Antony Sutton, p. 5). This fact is devastatingly important because New Age author, Bill Cooper, reports that "The Thule Society" from Germany is one of the "Brotherhood of Death" societies. Believe it or not, like it or not, both Bush and Kerry have undergone the same Satanic rituals as did Adolf Hitler! But, why should Cutting Edge readers be surprised, for we have long ago revealed that the Bush New World Order is identical to the Hitler New World Order! (Seminar 1, "America's Leadership of the New World Order" and NEWS1004).
Therefore, the stark reality is that the drive to the New World Order will continue no matter who is elected President. We believe it likely that a deliberate campaign to discredit Bush may be under way in order to justify to the people why he is defeated in the November election. Remember, we are not predicting anything, but if the trends we see continue, President Bush may be replaced in November with Senator Kerry.
But, as we stated, above, it will not matter one whit, for the policies will continue as before. All differences between the two parties are mere labels, just window dressing. Never, ever forget this sad fact. As time proceeds through the election, we shall highlight the instances in which Kerry's policies are the same or stronger than Bush's. Now, let us examine the Democrat Convention just concluded.
A great many interesting stories and revelations concerning the coming dictatorial government were visible. We shall just hit the highlights here.
NEWS BRIEF: "Kerry gunnin' for W: Tough speech foreshadows tough fight for White House", New York Daily News, July 30, 2004
"George Bush, you have a problem. John Kerry made that resoundingly clear last night with an acceptance speech that was smartly written and powerfully delivered. Even its length of 50 minutes worked in its favor because Kerry used the time to touch every base he had to reach. That he left the podium looking drenched and spent was a testament to the forcefulness of purpose he brought to the occasion ... It was a huge moment, and he rose to the challenge of explaining himself and his vision better than I thought he would or could. And he exhibited a toughness that was appealing, given the war in Iraq and the never-ending threat of terrorism. In doing so, Kerry met the litmus test of a nominee - he came across as Presidential. In tone, vigor and commitment, he showed himself as somebody who can not be dismissed as a pretender. It is now possible to imagine him sitting in the Oval Office."
Democrats were hoping that a different John Kerry would show up last night to accept the nomination than usually bores people to death on the campaign trail. Last night was Kerry's huge moment to shine for 300 million people, and he made the most of it. I was surprised that his 50-minute acceptance speech did not begin until 10pm, East Coast time, but the professionals running the convention must have been convinced that the West Coast audience was more important than the East Coast.
Let us quickly list some of Kerry's more important points:
* On domestic issues, Kerry painted a picture of a benevolent government that solves virtually every problem man has. Only the rich and job-exporting corporations better watch their backs. Everybody else looks to be in line for a new government subsidy.
* Those promises came just a day after running mate John Edwards described an agenda that seemed Socialist in its commitment to equality
* "I will be a commander in chief who will never mislead us into war" -- Throughout the convention Kerry's forces portrayed him as a Vietnam War hero running against a Vietnam War coward who shirked his duty in the Air National Guard and who is today trying to hide his records so voters will not realize how little time he spent on duty. One article recently hit this very theme, being titled, "It's war hero vs. war dodger" (New York Daily News, July 28, 2004)
Kerry is two very important things in this sentence. First, he is saying that he is a tough former officer who experienced enemy fire and who knows the terrible cost of war; therefore, when he leads men into combat, the cause will be right and just. Secondly, Kerry is saying that President Bush mislead this nation into the wars of Afghanistan and Iraq, a theme you may expect to hear again and again and again until November.
Of course, the truth is just a little bit different than Kerry's rhetoric. President Bush has "admirably" fulfilled every Illuminati plan since 9/11. The wars in Afghanistan and Iraq were planned to be the trigger war for the World War III "Final Birth Pangs" war which will produce Antichrist.
* "I want an America that relies on its own ingenuity and innovation - not the Saudi royal family." -- This statement comes very close to the charge made repeatedly by Michael Moore's "Fahrenheit 9/11". Moore hits this theme very hard and consistently through his movie, ascribing the entire war effort in both Afghanistan and Iraq to Bush family greed for oil revenues.
* Kerry sought to portray himself as being tough enough to win the terror war while being smart enough to know America cannot do it alone. ""We need to rebuild our alliances so we can get the terrorists before they get us' he said." Kerry continued in this vein: ""I know the reach of our power and I know the power of our ideals," Kerry also said. "We need to be looked up to and not just feared."
His speech was so good, it probably galvanized many an American undecided voter. President Clinton and Senator Ted Kennedy must have looked on with joy.
One final note before we proceed to the next convention article. Seasoned Cutting Edge subscribers know very well that this entire electoral process is a sham. Most of the races are predetermined and all the really important ones are fixed. Further, since both candidates are trained in either the CFR, or the Trilateral Commission, or the Bilderbergers, the New World Order plan will go forward no matter who gets elected, or which party wins the position.
In fact, the American electoral system is patterned after the controlled conflict of the Dialectic Process. Read our explanation of the Dialectic in NEWS , remembering that the Democrat Party serves as the "Thesis" in the equation, while the Republican Party serves as the "Antithesis". Their public debating and sparring produces the new, hybrid system known as the New World Order.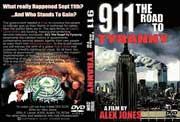 III. Boston was so protected from terrorism during the Democrat Convention, it strongly resembled a fortress with a jail for dissidents built close to the FleetCenter.
NEWS BRIEF: "Tightened security chills mood: Boston's Fleet Center is a fortress, sewer manhole covers have been welded shut", Detroit News, July 26, 2004
"BOSTON — ... Fear of a terrorist attack at the Democratic National Convention has turned Boston's Fleet Center into a paranoid political Fort Knox, complete with face-scanning cameras, chemical bomb treatment kits and random subway searches. Balloons will still fall and drinks will still flow, but the first convention after September 11 will be filled with reminders that Americans no longer feel safe. It's an issue that resonates far beyond the 8-foot wire fence and concrete barricades surrounding Boston's convention center this week ... Homeland Security Director Tom Ridge warned that the conventions could be a target for terrorists looking to 'disrupt our democratic process' ... Seventy-five high-tech video cameras operated by the federal government monitor the area around the convention center, with officials in Boston and Washington, D.C., zooming in on the faces of pedestrians and license plates of cars. The Coast Guard scours Boston Harbor with infrared devices and night-vision cameras. Thousands of bioterror antidote packs have arrived in the city. A major freeway that runs near the Fleet Center will be shut down in the evenings during the convention ... All vehicles downtown are subject to random searches. Trash cans through much of the city have been removed so that terrorists can't hide bombs in them. Sewer manholes have been welded shut. Delegates won't be able to escape the heightened security even in their hotels, where guards will be stationed around hotel ventilation systems."
Within a few hours after the first plane hit the World Trade Center towers, TV anchormen and "seasoned analysts" were asking the question near and dear to the heart of the Illuminati: how many liberties will Americans be willing to give up in order to achieve increased security?" The conditioning of the masses has continued along those lines ever since then, so it should not be too surprising to see that this first political convention since 9/11 has taken away so many of the private liberties Americans have long enjoyed, turning Boston into a massive fortress in the process.
How tightly were the security screws tightened on Bostonians during the Democrat Convention? So many residents bolted out of the city before the convention started that businesses reported virtually so sales. And, the expected business from the 35,000 Democrat delegates did not happen, either, as most of them stayed inside their hotels so they would not have to contend with the nasty security personnel patrolling just outside. After all, there is no reason to get accidentally shot by a security guard in the middle of the night who might just think your skin is too dark to be American!
Things were just that bad. A subscriber who is a regular security guard in downtown Boston called me yesterday to report that Boston was almost at the point of Martial Law. Guards were very heavily armed -- some with M-16 military rifles -- and were very nervous. He reported that the "Free Speech Zone" constructed well away from the FleetCenter really did resemble a World War II military concentration camp, with razor wire all around; it just looked nasty, totalitarian. But, security forces also threw up a security fence all the way around the entire FleetCenter complex, with entrances closely guarded. Can you blame the delegates for not wanting to go through such security procedures twice to go downtown during the evening? Boston Mayor Menino may pay for this terrible turn of events with his job during the next election.
IV. Speakers at the Democrat Convention showed their schizophrenia over the inflammatory issue of religion. On the one hand, since President George Bush is perceived to have seized the Evangelical Christian Right Wing, the Democrats were anxious to portray themselves as sympathetic to that segment, while on the other hand, Democrats needed to appeal to their traditional Liberal religious roots which hate anything smacking of fanaticism. Speakers at this convention spoke to both of these sides of the issue, albeit on different days.
NEWS BRIEF: "Party refuses to cede the religious vote", The Boston Globe, July 29, 2004
"Inside a dim, windowless ballroom in the Hyatt Regency Boston, Alabama delegates stomped, cheered, and shouted 'Amen' as Ron Sparks, the state's commissioner of agriculture and industries, yesterday delivered a stirring address in which he described attending church with his grandmother as a boy. 'Let me say this one thing: It really aggravates me every time one of those Republicans tell me that I don't know anything about Jesus Christ', Sparks said, prompting a round of 'That's right!' from other delegates. Then Paul R. Hubbert, executive secretary of the Alabama Education Association, sparked applause by saying, 'We have allowed the other side to bully us, in talking about values, values that we treasure'."
This article never mentioned what the response was from the pro-abortion delegates at the convention. No record was made as to whether pro-ACLU delegates spoke out during this speech. But, of course, the Republican Party has these types of delegates, too. However, I felt a surge of rank hypocrisy sweep over me as I read of this speech. Truly, both major political parties speak with a "double-minded" tongue.
As the article continued, you could see that this speech was just one part of a concerted effort to capture a portion of the religious vote. Since Bush seems to have the more conservative, Evangelical vote sewn up, the Democrats naturally are reaching out to a more Liberal, Inter-Faith bunch.
"Democrats, gathered in Boston for their quadrennial national convention, are making what they say is an effort to reclaim the language of faith and to reach out to religious voters. Their drive comes as political observers talk of a 'God Gap', as the Bush campaign is aggressively reaching out to church members, and as polls show the more often a voter goes to church, the more likely one is to vote Republican. Yesterday, the Democratic National Committee sponsored its first convention caucus for "people of faith," and last week the party hired a Christian Church (Disciples of Christ) minister as a senior adviser on outreach to religious voters. On Monday night, the Democratic National Committee allowed a rabbi, William Hamilton of Congregation Kehillath Israel in Brookline, onto the convention floor to lead about 50 delegates in a postadjournment chanting of the Book of Lamentations to mark the Jewish holiday of Tisha B'Av." (Ibid.)
In terms of sheer numbers, the Inter-Faith group probably adds up to as many members as Evangelical Christianity.
Now that the "Christian" voters were satisfied with the Democrat Party, actor Alec Baldwin delivered a speech designed to appeal to the far left voters within the Party, those who feel that much too much noise is being made today as to the importance of Christianity in religion. Listen carefully, for you will see one of the elements by which President Bush is being discredited right now. You will likely hear more of this type of anti-fundamentalist rhetoric in the weeks and months ahead.
NEWS BRIEF: "GOP Hijacked by 'Fundamentalist Wackos,' Actor Says", By Marc Morano, CNSNews.com Senior Staff Writer, July 29, 2004
"Boston (CNSNews.com) - Actor Alec Baldwin slammed the influence of religious conservatives on Wednesday, telling Democrats that the Republican Party 'has been hijacked by these fundamentalist wackos'. The audience, which included Democratic National Committee Chairman Terry McAuliffe, greeted Baldwin's comment with sustained applause. 'To me, the Republican Party is the real great tragedy of the last 25 years because there are lot of good and decent people and a lot of good political points [that have] come from the Republican Party in the post-war period, but it has been hijacked by these fundamentalist wackos', Baldwin said."
In the past two years, many articles have been written alleging that one of the major factors influencing his decision to go to war in Iraq was his Fundamental, Evangelical belief in End of the Age prophecy. According to this view -- which is propaganda and not the truth -- Bush so literally believes in Biblical prophecy concerning the Last Days that he launched the war in Iraq, believing he was helping fulfill prophecy. Right on cue, Christian leaders like Tim LaHaye and Dr. Timothy Ice began propagating the notion that, because Bush had "liberated" Iraq from the iron-clad fist of dictator Saddam Hussein, efforts could now begin to rebuild the Ancient city of Babylon to the point where she could become the key city during the reign of Antichrist. The "Left Behind" series portrayed this belief perfectly, stating that "New Babylon" was the headquarters city of Antichrist.
The point is, that President Bush's Iraq war has been largely laid at the feet of the Evangelical Christian camp, because he supposedly ordered our boys into Iraq based upon his "apocalyptic" viewpoint. Therefore, every notch downward the President falls because Iraq has turned into a disaster, Evangelical Christianity falls with him. If George W. Bush and his Iraq war are totally discredited, Evangelical Christianity will be totally discredited. If you have not yet read our treatise on this subject, please stop now to read NEWS1929, entitled, "Campaign To Discredit President Bush Seems To Be Moving Into Higher Gear".
Too many Christian leaders have blindly allowed themselves and their congregations to become tied tightly to the President Bush bandwagon. If he is brought down into deep disgrace, Fundamental Christianity will go down with him, possibly even to the point to where we can be persecuted.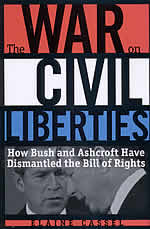 V. The current movie, "Manchurian Candidate" is said by some to be more devastating to the Bush campaign effort than "Fahrenheit 9/11" could possibly be.
NEWS BRIEF: ""Manchurian Candidate More Partisan Than Fahrenheit 911", Drudge Report, July 22, 2004
" 'I cannot recall when Hollywood last released a big-budget mainstream feature film as partisan as this one at the height of a presidential campaign' . So believes NY TIMES's Frank Rich about the upcoming PARAMOUNT thriller MANCHURIAN CANDIDATE. 'Freed from any obligations to fact, MANCHURIAN CANDIDATE can play far dirtier than FAHRENHEIT 911', writes Rich in a column set for release this Sunday, newsroom sources tell DRUDGE. ' This movie could pass for the de facto fifth day of the [Democrat] convention itself.'"
I do not believe that the timing of "Fahrenheit 9/11" and of this "Manchurian Candidate" was by chance. Since both movies are exceedingly critical of President Bush and his policies, their timed release within a critical time period leading up to the Democrat Convention strongly suggests deliberate partisan planning. While "Fahrenheit 9/11" takes Bush to task over his invasion of Iraq, "Manchurian Candidate" takes Bush-Ashcroft to task over their deliberate legal dismantling of our many rights and liberties. This article on Drudge continues to tell us more about "Manchurian Candidate".
" 'The American people are terrified', says Streep's villainous senator early on as, John Ashcroft-style, she wields a national security report promising 'another cataclysm, probably nuclear'. And so we watch her and the rest of the Manchurian Global cabal exploit that fear in any way possible, using the mass media as a brainwashing tool, manipulating patriotic iconography for political ends. 'Compassionate vigilance' is one campaign slogan. A televised election night rally features a Mount Rushmore backdrop (as in a signature Bush photo op) and a chorus line of heroic cops and firemen (reminiscent of the early Bush-Cheney ads exploiting the carnage at ground zero)." (Ibid.)

You will immediately recognize that this movie plot closely parallels the real-life events of the past 3 years since 9/11. We posted an indepth study of the many repeating headlines since 9/11 that have not only proven bogus, but have terrified tens of millions of Americans into a form of mass brainwashing. One of our authors told me recently that she never anticipated that the final drive toward the global citizen serving the global dictatorship would come out of an event like 9/11, which turned out to be thoroughly wrapped in patriotism and the American flag. This movie picks up this theme as well -- "manipulating patriotic iconography for political ends" as a means to brainwash an entire population.
Now, let us turn to another movie review, more recent than the Drudge Report. This review gives a very succinct preview of the movie plot.
NEWS BRIEF: "THE MANCHURIAN CANDIDATE: Delusions and grandeur", New York Daily News, July 30, 2004
"The Manchurian Candidate" is a thunderbolt. Denzel Washington speaks straight to the camera during one fevered moment as if to reach through the screen and throttle the audience. 'Wake up, America! You've been brainwashed'! ... this update is remarkable for its performances, resolve and timeliness ... Put it on a double bill with Michael Moore's "Fahrenheit 9/11" and it could galvanize voters, because this movie is as dismayed by the Bush administration as the original was by McCarthyism."
"Surviving members of an ambushed military squad (this time in the first Gulf War, rather than Korea) begin to doubt what went down. If their disjointed nightmares are correct, then Sgt. Raymond Shaw (Liev Schreiber) isn't the war hero everyone thinks he is, and shouldn't be his party's vice-presidential candidate. Even Shaw has his doubts. What kind of hero is so stiff and miserable, and plagued by such an overbearing mother (Meryl Streep)? Maj. Bennett Marco (Washington) is the guy who starts putting together the pieces; the more passionate he gets, the more he himself unravels. His suspicions point at something sinister and entrenched and uncomfortably close to home - especially if you've seen "The Corporation," a recent documentary about the manifest destiny of conglomerates.
"All fingers point to Manchurian Global, a Halliburton-like company that profits from the business of war ... No political parties are mentioned in this nonetheless eminently partisan film. "The Manchurian Candidate" unleashes its fury on an administration in bed with big business. If it does become a crossover hit, that crossover will be felt among blue states and red states alike."
Very few people like to admit they have been brainwashed, for that implies they are stupid. However, all people educated in Public Schools since World War II have been thoroughly brainwashed. Their academic textbooks have been dramatically dumbed down to the point where numerous high school graduates cannot read, logic is no longer even taught, history has been rewritten so people will not recognize the global changes occurring all around them and so that they will trust Big Government and Big Media. Today, most people depend upon their local newspapers and CNN for their news, not realizing they are not getting enough information to be fully informed.
Throw in TV movie plots that glorify Homeland Security, the FBI and the CIA and you have all the makings of sophisticated brainwashing.
However, since the attacks of 9/11, that conditioning has moved into high gear. Using all the manipulative tools at their disposal, and aided by the great fear of more terrorist attacks fueled by incessant false "terror alerts", master propagandists have been able to convince people to look the other way when Congress acquiesces to the demands of President Bush and Attorney General Ashcroft for extreme dictatorial powers. The key to keeping the people asleep until all plans are finalized is to pass the law but not enforce it right away; thus, "gloom and doom" purveyors who warn that our liberties are being eroded away are discredited because these terrible laws are not immediately enforced. A fool who jumps out of an airplane at 30,000 feet without a parachute is correct in his belief that he can defy the laws of gravity right up to the 29,999 foot mark. Likewise, the citizen is foolish who looks at the fact that America has had these dictatorial laws on our books for almost 2 years now, and we are still free, as "proof" that our liberties are not in danger and that American citizens are not the target of these "terror laws".
Yes, we believe it likely that "Manchurian Candidate" is part of the deliberate campaign to discredit President Bush, as was "Fahrenheit 9/11".
VI. Russia is reportedly close to agreeing to send 40,000 troops to fight in Iraq! The armed militaries of the nations of the world are pouring into the Middle East (Valley of Jehoshaphat) just as Joel 3 foretells! Another sign of the End of the Age is unfolding right in front of us.
When President Bush announced that foreign nations he called the "Coalition of the Willing" were backing him either militarily or monetarily in his invasion of Iraq, 45 nations answered the call ("45 nations join 'coalition of willing' ", WorldNetDaily, March 19, 2003). Christians knowledgeable in the remarkable prophecies of Joel 3 were excited, for a major prophecy was in the process of unfolding in our daily news. Today, over 150,000 foreign troops are in Iraq, and are slated to remain for years. Now, Russia may be about to commit 40,000 troops.
NEWS BRIEF: "US and Russia conduct negotiations to dispatch Russian peacemakers to Iraq", Pravda, July 21, 2004
"Moscow and Washington conduct negotiation to dispatch up to 40,000 Russian military men to Iraq in return to economic concessions. The Bush's administration addressed to the Russian government with a proposal to dispatch Russian military men to Iraq or Afghanistan, the US analytical information agency Stratfor reported with reference to Russian sources. It reportedly goes about 40,000 military men, including three infantry divisions and an airborne brigade. The agency's sources close to the Russian Security Council said, President Putin 'theoretically agreed' to meet the White House's wishes. It was said Putin ordered the General Headquarters to develop the plan of the operation by the end of July. Supposedly, Russian military units will be deployed on the entire territory of the country."
If 40,000 Russian troops were deployed to Iraq, Coalition Forces there would be seriously reinforced. About 6 months before Bush ordered the Iraqi invasion, the Army Chief of Staff testified before Congress that 260,000 American troops would be needed to accomplish Administration goals. Only one-half that number was sent; therefore, 40,000 Russian troops would bring the total number of Coalition Forces would be brought toward the level of 200,000, a lot closer to the original number.
However, Russian forces are not the only foreign troops which may be sent to Iraq. Muslim forces may be on the way, to fight for the pro-Coalition Interim Government.
NEWS BRIEF: "Saudis back Allawi peacekeeping appeal", By Guy Dinmore in Washington, and Reuters news agency, FT.Com, July 29 2004
"Iyad Allawi, Iraq's interim prime minister, on Thursday secured important backing from Saudi Arabia for his appeal to Muslim countries to contribute peacekeeping forces ... analysts say Iraq is hoping that Saudi Arabia's position as guardian of Islam's holiest shrines, and its considerable financial weight, will persuade countries such as Egypt, Pakistan and Bangladesh to reconsider their refusals to become involved ... Indonesia, the world's most populous Muslim nation, said it would only consider contributing troops if it was a UN blue-helmet force under UN command."
Notice the countries mentioned as possibly sending forces to Iraq: Saudi Arabia, Egypt, Pakistan, Bangladesh, and Indonesia.
A related article said up to 22 members of the Arab League were willing to discuss sending troops to Iraq to protect UN interests in the country ("Iraq troop plea discussed in Tunis", Aljazeera News, Thursday 29 July 2004).
The nations of the world are either pouring troops into the Middle East or are contemplating doing so; is Joel 3 being fulfilled in your Daily News? Let us quickly review the prophecy, which begins only after Israel comes back to her land as a nation.
Once this terrible judgment of war begins -- most likely starting before the "Final Birth Pangs War" to produce Antichrist (Matt 24:24) -- it will continue into a significant portion of the 7-year Tribulation Period. We are looking at constant war in this region for many years until Jesus finally returns! The "Day of the Lord" is an elastic period of time at the End of the Age where God continually pours forth His wrath.
VII. Last month, we posted an article (NEWS1934) in which we stated that the US Supreme Court had issued a ruling that takes away significant liberties and protections offered American citizens in our Constitution. This case was "Hamdi Decision. Cutting Edge has continually predicted that, given the onerous erosion of liberties and rights within Patriot Acts I and II, a Supreme Court decision giving the President the authority he is demanding that will allow him dictatorial powers seemed inevitable. In the guise of "fighting terror", a significant portion of the liberties and rights of many an average American citizen has just taken away!
We based our article on an Associated Press article printed and reprinted in many newspapers and their online equivalents. This was the news article:
NEWS BRIEF: "Bush Can Hold Citizens Without Charges", By ANNE GEARAN, My Way News, June 28, 2004
"WASHINGTON (AP) - The Supreme Court ruled narrowly Monday that Congress gave President Bush the power to hold an American citizen without
charges or trial, but said the detainee can challenge his treatment in court. The 6-3 ruling sided with the administration on an important legal point raised in the war on terrorism ... The careful opinion seemed deferential to the White House, but did not give the president everything he wanted ... Congress voted shortly after the Sept. 11 attacks to give the president significant authority to pursue terrorists, but Hamdi's lawyers said that authority did not extend to the indefinite detention of an American citizen without charges or trial.
"The Bush administration contends that as 'enemy combatants', the men are not entitled to the usual rights of prisoners of war set out in the Geneva Conventions. Enemy combatants are also outside the constitutional protections for ordinary criminal suspects, the government has claimed."

This was the news article upon which we based NEWS1934. We know that major news organizations retain lawyers whose job is to supply journalists with opinions of legal decisions soon after they are handed down. Based upon a respect for the lawyers retained by Associated Press, we readily ran with the story as it was given. However, within the article, we stated that we were having a lawyer read this decision and we would change anything he has discovered.
A lawyer working with Cutting Edge has now read the Hamdi decision, and based upon his findings, we have pulled our article down. The Supreme Court really upheld the rights of American citizens and delivered a serious blow to the Bush Administration's efforts to trample on citizen's rights by simply declaring them to be "Enemy Combatants".
We are still puzzled why the Associated Press got the story all wrong. But, we have learned a valuable lesson: in matters of legal decisions, we must rely upon our own lawyer reading the decision. We apologize for our original story, but we did take it down immediately after learning of the truth. In the final analysis, what the Supreme Court rules or does not rule in matters of citizen's rights and liberties is probably moot, for once the planned crisis explodes, the entire government is going to be dissolved, including Congress and the High Court.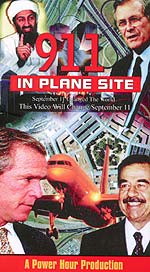 DVD or VHS VIII. After the Kerry campaign noted that President Bush could immediately enact 25 of out 41 proposed changes from the 9/11 Commission, President Bush announced that he was starting to work to issue those Executive Orders!
NEWS BRIEF: "Real test of adopting 9/11 reforms", Gulf News, July 27, 2004
"Washington: Of all the big reforms that the September 11 commission's new report is pushing Congress to enact, the toughest ones to get passed may be those calling for Congress itself to change the way it oversees intelligence and counterterrorism activities ... responding to pressure from both Congress and Democratic challenger John F. Kerry, the White House has signalled that President George W. Bush was likely in coming days to adopt at least some of the reforms recommended by the commission investigating the September 11 terrorist attacks ... But Kerry overtook Bush again, with his advisers announcing that they had already completed their own analysis and determined that 25 of the 41 recommendations did not require congressional action."
This is a terrible situation to behold! As we noted in earlier newsletters, Bush appointed Council on Foreign Relations men to this panel, plus academic men whose colleges are firmly dependent upon Federal grant monies to continue operating; therefore, this commission was most definitely not independent, but would simply give the Illuminati the declaration they wanted, under the guise of respectability. The major positive accomplishment of this commission was to indirectly declare that the official government version of how the 9/11 terrorist attacks was correct. Based on this fallacious assumption, the panel set to work to find "intelligence failures" that allowed this attack to occur. And, of course, the commission would find President Bush and his lieutenants not guilty of any incompetence or any prior knowledge.
However, once that goal was accomplished, the commission had another major bit of work to do. Since the Mass Media and the White House worked together to bestow a large measure of respectability upon the commission, the public waited with baited breath to discover what "solutions" they recommended in order to prevent other attacks, possibly greater than the attacks of 9/11.
Therefore, the 9/11 panel gave the Illuminati the opportunity to advance their next steps toward the dictatorship planned for all of us; these "next steps" would come forth covered with the respectability aura bestowed upon them by the commission. Rather than properly examining each of these "recommendations" and fight them on their lack of merits, people will breathlessly await the moment when either the Congress and/or the White House enact them into law. Very few people will actually question whether these recommendations are worthy or dangerous.
However, did you notice the bipartisan nature of these recommendations? Before President Bush could begin work on his Executive Orders which would fulfill the panel's counsel, Candidate Kerry jumped into the fray. Listen:
"But Kerry overtook Bush again, with his advisers announcing that they had already completed their own analysis and determined that 25 of the 41 recommendations did not require congressional action." (Ibid.)
Thus, Kerry was announcing that his own team of advisers had studied the proposed changes and had determined that 25 out of the 41 recommendations could be immediately set into place through Executive Orders. Since Presidents are not effectively restrained by Executive Orders, many Constitutional scholars believe they are unlawful, dangerous and should be halted. Indeed, some of the most draconian measures aimed at our liberties were set in motion by an Executive Order.
The way Kerry was pressuring Bush to act quickly will propel the effort to immediately enact the recommendations of the 9/11 commission, first by Executive Order and then by Congress. Late last week, Congress announced plans to begin working on the panel's recommendations which do need Congressional approval; and, since the issue is so important to national security, the Congressional committees working on the project will continue working through Summer Recess.
Once again, you see another issue in which Kerry's position is either identical to that of President Bush, or very close.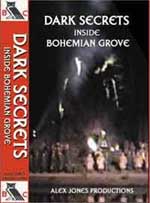 IX. Members of the Satanic group, Bohemian Grove, began their meeting in Monte Rio, California, with their attendence list as difficult as ever to obtain.
All former occultists who have advised me since 1992 have firmly stated that Bohemian Grove is exceedingly Black Magick Satanic. In recent years, a major effort has been waged to convince people that this meeting is simply a harmless get-together of elite government, industry and entertainment people to discuss the issues of the day. Of course, nothing could be further from the truth.
Descriptions of the type of Satanic activity which goes on at the Bohemian Grove is so shocking as to defy belief. However, one article posted in the California, Press Democrat, reveals one of the rituals which former Satanist Cisco Wheeler mentions in her Mind Control book ("The Illuminati Formula To Create An Undetectable Mind Control Slave").
NEWS BRIEF" "ROUGHING IT' BOHO-STYLE: At the Bohemian Grove", The Press Democrat, July 24, 2004

"It begins with the Cremation of Care, a ceremonial bonfire beneath a giant statue of an owl that is meant to symbolize the release of burden. The robed men gathered at the edge of the lake include world leaders, captains of industry and celebrities, as well as lesser-known businessmen, academics and even a musician or two. They are drawn every July to a pristine forest of redwoods along the Russian River, where access is strictly limited to invited members and guests. Bizarre ritual and secrecy aside, the real attraction of the Midsummer Encampment at Bohemian Grove is escape from worldly concerns."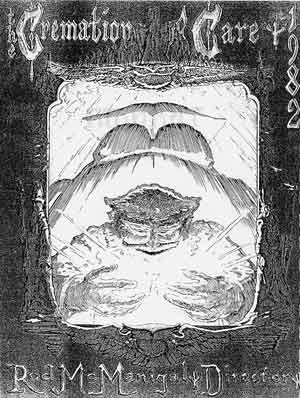 Cisco Wheeler describes this Cremation ritual somewhat differently. You see, the "Cremation of Care" is a standard Black Magick ritual, of which Satanists are well aware. This picture of Cremation Care was taken from a Satanic flyer in 1982 entitled, "Rod McManigaly Directory". The hooded man in the foreground is the Witch performing the ritual while the fire god, Molech, towers above him. Notice the owl at the very top of the picture spreading its wings over the proceedings.
Wheeler states that this was a "cover of the program of ritual at Bohemian Grove in which a child is sacrificed and a snuff film is made of it" ["The Illuminati Formula To Create An Undetectable Mind Control Slave", Page 31]
The most incredible evil is annually performed at Bohemian Grove, while Americans sleep on, content to believe the propaganda lie that this meeting is harmless.
Now, let us examine another news story which tells of some of this year's participants.
NEWS BRIEF: "ECLECTIC CROWD FOR ANNUAL BOHEMIAN GATHERING", The Press Democrat, July 24, 2004

"Secretary of State Colin Powell, Defense Secretary Donald Rumsfeld, the CEO of Bechtel Corp., former Grateful Dead bandmates and vintner Robert Mondavi
are all scheduled to attend the Midsummer Encampment of the Bohemian Club of San Francisco. So, too, is conservative author William F. Buckley Jr., liberal TV personality Chris Matthews and gay porn star Chad Savage ... Former Secretary of State Henry Kissinger, a perennial camper, arrived Thursday by private plane at the Charles M. Schulz-Sonoma County Airport. Fifty to 100 private jets have landed at the airport daily in the past two weeks ... Its guest list this year includes George Schultz, a former secretary of state; David O'Reilly, chairman of ChevronTexaco; H.B. Atwater Jr., chief executive officer of General Mills; and Edgar Kaiser Jr., founder of the Kaiser Foundation ... Rumsfeld and former President George Bush are members of the Hill Billies camp, although it's unclear whether either is actually going. Former President Gerald Ford, however, apparently won't be in attendance, as his name does not appear on the guest list. Former President Ronald Reagan also appears on the list despite his June 5 death."
The fact that the "Grateful Dead: are attending should tell you a lot, for that group was very occultic, very sold into the values system of the Evil One. The Bohemian Grove has been meeting for 125 years, and is the one time yearly when the key Republican members of the Illuminati can get together, participate in occult rituals, and talk strategy for the upcoming year. Remember the fact that the Illuminati believes that they cannot achieve their New World Order without a huge, monstrous flow of human sacrificial blood. Wars count as human sacrifice, but young children are the most precious to Lord Satan.
Since President Bush is listed as a member, we shall have to add this fact to his list of Evil Fruits.
---------- New Articles Posted This Week ----------
* "IS ISRAELI PRIME MINISTER SHARON USING THE FORCED SETTLER EVACUATION AS AN EXCUSE TO CRACK DOWN ON ORTHODOX, OBSERVANT JEWS?" Devoutly religious Jews are the designated enemy of the Illuminati, as I learned directly in 1995. Sharon suddenly seems to be attacking these religious groups without provocation and without evidence. Is a confrontation between Israeli authorities and these devout Jews on the horizon? - http://www.cuttingedge.org/news/n1941.cfm
* "GAY REPUBLICAN GROUP VERY PLEASED THAT THE REPUBLICAN NATIONAL CONVENTION HAS SELECTED PRO-GAY SPEAKERS TO ANCHOR THE CONVENTION POISED TO SELECT PRESIDENT BUSH FOR RE-ELECTION" - In NEWS1938, we noted that President Bush has gone from a pro-Gay President in the first half of his Presidency to a "Conservative Christian" President just in time for re-election. However, Governor Racicot, Chairman of the Bush-Cheney '04 campaign -- and darling of Republican Gays -- ensured that the nominating convention speaker list was pro-Gay, thus showing the true colors of this Administration. -- http://www.cuttingedge.org/news/n1940.cfm
* "RICHES AND RESPONSIBILITY" - What Does God's Word Say About Preachers Who Promote The Desire To Be Rich? - http://www.cuttingedge.org/articles/p229.html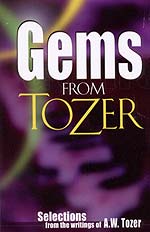 ---------Conclusion----------------"Dangerous Misconceptions -- The Devil's Booby-Traps"
"Faith", said the early Lutherans, "is a perturbing thing". But something has happened to the doctrine of justification by faith as Luther taught it. The faith of Paul and Luther was a revolutionizing thing. It upset the whole life of the individual and transformed him into another person altogether. It laid hold on the life and brought it under obedience to Christ. It had a finality about it. It snapped shut on a man's heart like a trap. It realigned all life's actions and brought them into accord with the Will of God.
Faith now means no more than passive moral acquiescence in the Word of God and the cross of Jesus. To exercise it, we have only to rest on one knee and nod our heads in agreement with the instructions of a personal worker intent upon saving our soul. Such a faith as this does not perturb people; it comforts them. The face of their ego is washed and their self-confidence is rescued from discouragement. People must be told that the Christian religion is not something with which they may trifle. The only man who can be sure he has true Bible faith is the one who has put himself in a position where he cannot go back.
In the divine scheme of salvation, the doctrine of faith is central. Every benefit flowing from the atonement of Christ comes to the individual through the gateway of faith. We dare take nothing for granted concerning it. For a number of years, my heart has been troubled over the doctrine of faith as it is received and taught among evangelical Christians everywhere. My fear is that the modern conception of faith is not the Biblical one. Faith is not the believing of a statement we know to be true. Faith based upon human reason is "faith of a kind", but it is not the character of the Biblical faith. True faith rests upon the character of God and asks no further proof than the moral perfection's of the One Who cannot lie. It is enough to know that God has said it.
Faith as the Bible knows it is confidence in God and His Son, Jesus Christ; it is the response of the soul to the divine character as revealed in the Scriptures, and yet even this response is impossible apart from the prior inworking of the Holy Spirit. Faith is a gift of God to a penitent soul and has nothing whatsoever to do with the senses of the data they afford. Faith is a miracle; it is the ability God gives to trust His Son ... Faith and morals are two sides of the same coin. Indeed, the very essence of faith is moral. Any professed faith in Christ as personal Saviour that does not bring the life under plenary obedience to Christ as Lord is inadequate and must betray its victim at the last.
The man who believes will obey. God gives faith to the obedient heart only. Where real repentance is, there is obedience. To escape the error of salvation by works we have fallen into the opposite error of salvation without obedience. God will take nine steps toward us, but He will not take the tenth. He will incline us to repent, but He cannot do our repenting for us. A whole new generation of Christians has come up believing that it is possible to "accept" Christ without forsaking the world ... the whole world has been booby-trapped by the Devil. [A.W. Tozer, "Gems from Tozer", p. 50-52]

=======================================================
May Jesus Richly Bless You,
David Bay, Director
866-909-2850 Toll Free Customer Service - Order Line
803-356-2850 Toll Free Customer Service - Order Line
803-356-2860 Fax