WEEKLY UPDATES FROM Cutting Edge Ministries, www.cuttingedge.org
8/9/2003      Over 1,100 Articles Posted! 7 Salvation Page Downloads Per Hour!
---
Special Note : DO NOT REPLY TO THIS EMAIL.
Responses are not read but are used to maintain the mailing list. If you wish to email us go to http://www.cuttingedge.org/email.html
If you wish to unsubscribe, use the link at the bottome of the page.
---------- Inspiration For the Week---------------------- Spiritual Nourishment
"Building up yourselves on your most holy faith." (Jude 20)
There was nothing either of the nature of impulse or of cold-bloodedness about Our Lord, but only a calm strength that never got into panic. Most of us develop our Christianity along the line of our temperament, not along the line of God. Impulse is a trait in natural life, but Our Lord always ignores it, because it hinders the development of the life of a disciple. Watch how the Spirit of God checks impulse; His checks bring a rush of self-conscious foolishness which makes us instantly want to vindicate ourselves. Impulse is all right in a child but it is disastrous in a man or woman; an impulsive man is always a pampered man. Impulse has to be trained into intuition by discipline.
Discipleship is built entirely on the supernatural grace of God. Walking on the water is easy to the impulsive pluck of a person, but walking on dry land as a disciple of Jesus Christ is a different thing. Peter walked on the water to go to Jesus, but he followed Him afar off on the land. We do not need the grace of God to stand crises: human nature and pride are sufficient, for we can face the strain magnificently. But, it does require the supernatural grace of God to live 24 hours in every day as a saint, to go through drudgery as a disciple, to live an ordinary, unobserved, ignored existence as a disciple of Jesus. It is inbred in us that we have to do exceptional things for God, but we have not. We have to be exceptional in the ordinary things, to be holy in mean streets, among mean people, and this requires the supernatural grace of God. This type of character is not learned in five minutes. ("My Utmost For His Highest", by Oswald Chambers, p. 218)
---------- This Weeks Hot News ------------------------Remembering the Plan for World War II that produces Antichrist:
Three (3) wars plus terrorism in the cities of US, Great Britain, Europe, Australia - The wars are to be: 1) Middle East with Iraq as the "Trigger" War; 2) Korean Peninsula; 3) China invading Taiwan
I. Iraq War News -- Two issues dominated last week's news from Iraq. First, the father of a female soldier who died of pneumonia charged that the Pentagon was covering up her death; secondly, news reports are indicating that "non-combat deaths" are pushing the total US dead to about double what is being reported by the mass media. For the past two weeks, Cutting Edge has been predicting this latter occurrence. Let us review these stories:
NEWS BRIEF: "Father of dead soldier claims Army coverup", The Washington Times, August 7, 2003.
"WASHINGTON, Aug. 7 (UPI) -- The father of a soldier who died of pneumonia this spring said Thursday the Army has excluded her death from its investigation of deadly pneumonia because it wants to cover up vaccine side effects. "The government is covering this up and it is a dog-gone shame," said Moses Lacy, whose daughter, Army Spc. Rachael Lacy, died April 4 at the Mayo Clinic in Rochester, Minn., after getting pneumonia. 'Lacy said his daughter "was a healthy young woman" but got ill within days of getting anthrax and smallpox vaccinations on March 2 in preparation for deployment to the Persian Gulf. She was too ill to ever be deployed'."
During the buildup to Gulf War I, many concerned groups raised the issue of vaccinations being so toxic and containing so many different elements that they were killing our soldiers. After this war, the Pentagon refused to admit either that the vaccines were responsible for deaths or that Depleted Uranium was dangerous; yet, evidence is strong to suggest that the mysterious "Gulf War Syndrome" is really a combination of these deadly vaccines and Depleted Uranium. Yet, even though our military and civilian leadership knew the 12-year statistics of horror from these two deadly sources, we gave our soldiers the same type of mixed vaccination and sent them to wage war with up to 10 times more Depleted Uranium that we used in Gulf War I.
NEWS BRIEF: "Death marches at double in Iraq but US public unaware", August 5, 2003, smh.com.au
"United States military casualties in Iraq are running at more than twice the number most Americans have been led to believe they are. The public is largely unaware of a high number of accidents, suicides and other non-combat deaths ... Military observers say it is unusual, even in a 'low-intensity' guerilla war, for non-combat deaths to outnumber combat casualties ... Wounded US soldiers continue to be flown back to Andrews Air Force Base near Washington at a relentless rate. The Walter Reed Army Hospital in Washington was so overwhelmed by the influx that it had taken over beds normally reserved for cancer patients, a CBS report said."
As we discussed during our report on Depleted Uranium poisoning, the Pentagon is likely to hide the true effects of this deadly agent on our troops in Iraq. We said the Pentagon was likely to lie and to confuse the issue of the true numbers of soldiers being killed and/or incapacitated by DU and by the side-effects of the toxic vaccinations. Sadly, this assertion seems to have been altogether too correct. Yet, most Americans sleep on, convinced they are getting the full truth from American news sources like Fox, CNN, NBC, CBS, and ABC, as well as standard printed news sources.
NEWS BRIEF: "Rumsfeld activating 10,000 more troops", ABC National Radio, July 13, 2003, 6:00 A.M., ABC Radio Network.
"On July 13 Secretary of Defense Donald Rumsfeld, asserting that more manpower was needed to continue to carry out Bush Administration policies, stated his intentions permanently activate our entire army reserve. ABC News correspondent Sherry Preston said that military leaders were stunned by this announcement!. On July 17, 2003, it was announced that Rumsfeld also intends to activate 10,000 National Guard troops, sending them to Iraq."
These are troops that are supposed to be guarding our homeland. In Seminar Two, "America Determines The Flow of History", we shared the Illuminati plan to so empty this country of organized military units that, when t he planned city riots explode across our land, we will be "forced" to call upon the United Nations to provide the military manpower needed to "restore order". Sadly, this portion of the plan seems to be in the process of being carried out.
The fact that Rumsfeld seems to be in the process of carrying out this planned emptying of American-born native troops takes on added significance when you realize that armed military forces under foreign control are actively and aggressively carrying out troublesome actions along our border with Mexico -- (Read NEWS1845, described below). We have been warning of this emptying out of American forces since 1993, over 10 years ago! Therefore, the original plan we learned of from our various occult sources is still on track and just now coming to fruition!
We have also postulated that this is the moment when Americans will lost their guns, as foreign troops will have no compunction about brutally killing Americans as they go door to door to seize the guns. As soon as the Middle East blows up into all-out war and Korea explodes, America may have no organized military units left in-country. Are we getting closer to this reality? You will know when that terrible scene is close when the Korean "hair-raising confrontation that will threaten mankind's very existence" begins to unfold, as this crisis will drain away whatever military units we have left in the country.

II. Ominous Developments Continue to Build Toward Conflict In Israel -- Both Palestinian and Israeli sources are reporting that the situation continues to decline precipitously. Even though we reported continuously that peace was never possible, too many people truly believed the standard line that the "Road Map" would lead to peace in the region. Let us review the stories that reveal the truth:
NEWS BRIEF: "Sharon is ready to pound Palestinians the way Bush whipped Saddam", By Zev Chafets, August 5, 2003, The Jewish World Review
"The Palestinians lost the last intifadeh, which is why they asked for a ceasefire. And they will lose the next. The difference is, this time it will be Israel's intifadeh. And America won't be there to stop it. In fact, the United States will be rooting Israel on ... Sharon is demanding nothing less than 'a total cessation of violence' and 'the fulfillment of every obligation included in the road map.' In plain Hebrew, this means that if the Palestinians don't go after the terrorists, he will. The day after Sharon's speech, Palestinian security chief Mohammed Dahlan responded by saying he would not disarm Hamas and other groups because it would lead to a civil war. He's calling Sharon's bluff. And Bush's. This will be a painful mistake ... The campaign Sharon has planned will take its tactical cues from U.S. operations in Iraq. Rules of engagement will be the same. Leaders once considered immune - the chief of Hamas, the heads of Islamic Jihad in Damascus and perhaps Arafat himself - will get the Saddam Hussein treatment. When the fighting stops, Sharon intends for the Fatah-dominated Palestinian Authority to be as dead as the Iraqi Baath Party."
IF -- and this is a big IF -- this is the End of the Age battle for Israel's survival, when the shooting stops, the Palestinian Authority will not be the only entity that will be dead; the End of the Age battle between Israel and the House of Edom (Palestinians) will follow the line of Obadiah, verses 15-18, and will result in the annihilation of this entire people. As incredible as this scenario may sound, this is Biblical prophecy and it seems to be coming closer every day and with every terrorist attack. If you have not read our articles to this effect, we encourage you to do so.
In fact, we encourage you to read these two articles in the order in which we wrote them, for the second one builds upon the first. You will think you are reading today's newspapers. As you read these two articles, you will understand the strategic and prophetic importance of these fences Israel has been building since early November, 2000. When you see how vigorously the Palestinians have been protesting these fences to the UN, the EU, and to whomever will listen, you will realize that they might just be effective in isolating the Palestinian population once the "pummeling" begins.
NEWS1422

--

The Coming Prophesied Annihilation of the Palestinians -- The House of Esau

NEWS1620

--

Prime Minister Sharon States that Israel Will Create Buffer Zones To Physically Separate Themselves From Palestinians
If Sharon delivers the kind of pummeling to the Palestinians that the US gave to Iraq, we may see the entire region go up in the flames of war. In fact, the original demonic vision to Freemason Albert Pike in 1870 foretold that the Third World War that actually produces Antichrist will occur between Israel and her Arab neighbors; the Illuminati added the Iraq war after Worlds War II to be the "trigger war" for this global conflict.
News this week pointed out the uselessness of the "hudna" ceasefire to which the Palestinians and the Israelis agreed. Surprise! The Arabs are using this temporary ceasefire to their advantage to rearm, retrain, and use the areas Israel has turned over to them as staging areas. Listen:
NEWS BRIEF: "Islamic Jihad confirms it's rearming under 'hudna' ceasefire", The Jerusalem Post, 10 August 2003.
"Mohammed al-Hindi, head of Islamic Jihad in Gaza, has confirmed that the terrorist organization is rearming under the 'hudna'. It is natural that we strengthen ourselves during hudna," he told the The Scotsman newspaper in an interview appearing Sunday. He suggests that other Palestinian groups follow suit ... He predicted more bloodshed unless Israel makes additional concessions."
As we have stated earlier, the Muslim concept of "Hudna" is a tactical retreat in the face of superior forces that are threatening the existence of the Muslim armies. From the beginning, the Muslims are to act hypocritically concerning the ceasefire; they are to demand the other side observe all the conditions set down while they boldly refuse to abide by any of their agreements and/or obligations. They are to simply expend every bit of energy and resources to rebuild their forces so that, when they break the "Hudna", they may be able to defeat the Infidels. From the very first day of this Hudna, every Palestinian leader was faithfully following this concept, no matter what they were saying in public.
Then, Hamas made everything official. Listen:
NEWS BRIEF: "Al Aqsa Martyrs' Brigade has ended its cease-fire with Israel", DEBKAfile Intelligence, 3 August 2003.
"The al Aqsa Martyrs' Brigade has ended its cease-fire with Israel. The decision came after Palestine National Authority (PNA) security personnel arrested 20 brigade members who had been under the protection of PNA Chairman Yasser Arafat in Ramalah. A statement from the group said, 'We have ordered the resumption everywhere of our attacks and, in particular, suicide operations.' The group charged that Palestinians who were collaborators with Israel carried out the arrests. The group's decision was announced Saturday, Aug. 2."
Immediately, Israeli security forces went on the highest alert possible, with emphasis upon possible and probably mega-terror attacks that are planned to rival -- or even exceed -- the 9/11 attacks. We can only watch and wait for this planned scenario to develop; remember that the true skill of the propagandist is to make planned events seem accidental.
III. "Peace Talks" were announced this week on the Korean Peninsula, as China is to once again play host to 6-nation negotiations. At once, the world's media jumped on this story, treating these negotiations as being equal to a settlement that will solve the crisis brought about by North Korea's nuclear weapons program. Let us review the pertinent news stories.
NEWS BRIEF: "North Korea six-way talks may start Aug 26", ABCNewsOnline, August 9, 2003.
"Six-way talks aimed at resolving the standoff over North Korea's nuclear program may begin on August 26, Japan's Nihon Keizai Shimbun daily said ... The United States, South Korea and Japan have conveyed to China their wish to start two days of talks on that date in Beijing ... A Chinese delegation is now in Pyongyang trying to make the final arrangements, it said. The report comes at the start of a weekend of shuttle diplomacy ahead of the negotiations. North Korea agreed last week to take part in multilateral talks..."
As I stated, mass media pundits and commentators have jumped on this development as if the start of talks is equivalent to a peaceful resolution. However, I remember well the buildup earlier this year, when for months on end, we heard a steady media buildup about the importance of holding such talks; as now, the talking heads were all urging talks as the only method to "solve" the North Korean nuclear crisis. Finally, talks were scheduled April 23-25, in Beijing. However, the day our negotiator left Washington, D.C., to travel to China, the Pentagon deliberately "leaked" a damaging memo written by Defense Secretary Rumsfeld in which he boldly called for a "regime change" in North Korea.
Thus, the atmosphere was poisoned the day before the talks began, virtually guaranteeing a disastrous result. For the first two days, the North Korean delegation simply delivered steady anti-American war rhetoric. Then, on the third and last day, the American delegation did not even show up for the scheduled meeting. Without notifying either the North Korean delegation or the Chinese host, our negotiator was in the air on the way back to Washington, D.C. Such a "slap in the face" was coldly calculating, knowing that we had just caused Orientals to "lose face" -- a lot of lost face. We encourage you to read our report on this terrible incident in NEWS1805.
Will matters proceed differently this time around? Have Bush Administration officials learned their lesson so that they will take special care not to insult either the Chinese or the North Koreans prior to these critically important "negotiations"? Sadly, the answer appears to be "No". Listen:
NEWS BRIEF: "North Korea bans Bolton from talks", The Washington Times, August 4, 2003.
"SEOUL — Pyongyang, calling a senior American official 'human scum' for criticizing North Korea's leader, banned him from U.S.-proposed multilateral talks on its suspected development of nuclear weapons. North Korea said that it won't deal with U.S. Undersecretary of State John Bolton because he described communist leader Kim Jong Il as a 'tyrannical dictator' and said 'life is a hellish nightmare' for many North Koreans. Mr. Bolton made the remarks during a visit to South Korea last week. 'Such human scum and bloodsucker is not entitled to take part in the talks,' said a North Korean Foreign Ministry spokesman..."
While these remarks may seem rather mild to us, they are fightin' words to a regime such as North Korea, and our leaders know it fully well! Once again, our leaders are seemingly making deliberate statements that we know will infuriate the North Koreans and give them the opportunity to scuttle the talks. We need to watch carefully to see if any further aggravating remarks come out of Washington in the days prior to the August 26 talks.
But, do not hold out any hope that these 6-way talks will resolve anything, for the Illuminati has planned this crisis that will threaten mankind's very existence. Therefore, the Illuminati once again controls both sides of the conflict and once again will plunge the region into the planned disaster.
IV. China ratcheted up her planned attack against Taiwan. On Daily News Updates for August 8, we carried two articles that carry a combined huge threat against Taiwan. With these articles appearing during the time of increasing activities in the other portions of the planned World War III, we need to sit up and take special notice. These two articles are:
NEWS BRIEF: "North Korea a smokescreen for China", By Paul Lin, Friday, Aug 08, 2003, Page 8, Taipei Times
"July 27 was the 50th anniversary of the signing of the armistice that ended the Korean War. In that three-year war, which became primarily a war between the US and China in its later stages, the US side suffered over 100,000 casualties ... This war blocked the communist camp's further expansion -- a fact of extraordinary importance ... Nor should the US forget this war ... China is not terribly sincere about helping the US resolve the North Korean problem ... For the sake of its own interests, Beijing will sacrifice some of North Korea's interests when necessary, but a corresponding price must be paid. When China was opposing the US and assisting Korea, it lost the opportunity to "liberate" Taiwan. Today, they are planning to feign the sacrifice of North Korea in exchange for the US abandonment of Taiwan."
Since Paul Lin is Taiwanese, he is loathe to actually speak of a Chinese attack on Taiwan, preferring to speak of "the US abandonment of Taiwan." However, once the US is fully bogged down in the Middle East and the Korean Peninsula, the Chinese will then be free to attack Taiwan without fearing American military power. Remember, I was sneaked into the 1999 US Naval Annual War College Review and heard from "the horse's mouth" that, once America was fully engaged as described above, we could not effectively protect Taiwan [Read NEWS1299, "DR. JAMES KURTH, CURRENT STRATEGY FORUM, NAVAL WAR COLLEGE, 16 JUNE 1999, "U.S. Foreign Policy In A New Era: Themes and Trends"]. Once again, you realize that plans laid far back in the past are just now being enacted!
NEWS BRIEF: "China Getting Ready for Severe Blitzkrieg", Pravda, August 1, 2003, http://english.pravda.ru/world/20/91/366/10637_korea.html
"Analysts from the Pentagon think that Chinese are getting ready for a military operation against Taiwan. Beijing is speedily increasing the missile potential of its armed forces and increases the army budget. The Pentagon says the main factor of this alleged operation must be "unexpectedness, cunning and shock". They also add that Chinese may use their missiles against the US base on Okinawa in case if the USA decides to help Taiwan. The US Department of Defense thinks that making preparations for a military conflict in the Taiwan Strait, Taiwan is becoming the key driving force of military modernization of China."
Indeed, seizing Taiwan has been the major obsession of the Chinese government since Mao Tse Tung. In NEWS1282, we revealed that the Illuminati planned to allow China to seize Taiwan all the way back in 1952! The Illuminati may take their time fulfilling their plans, but they do finally reach the moment when each part of their plan is enacted, timing we know is mandated by God.
VI. Cities were warned again that they may face terrorism.
NEWS BRIEF: "Police given 'shoot to kill' orders in new terror alert", By David Bamber, Home Affairs Editor, news.london.co.uk, 10 August 2003.
"Police have been ordered to "shoot to kill" suicide bombers following intelligence warnings that an al-Qa'eda terrorist attack in Britain may be imminent. The Telegraph can reveal that Sir John Stevens, the Metropolitan Police Commissioner, placed his force on its highest alert last week. He also took the unprecedented step of ordering all front-line officers to be trained in how to spot potential suicide bombers and how to respond. The decision to issue new guidance has been prompted by intelligence passed to Britain by the FBI in a secret briefing in late July. It warned that London, along with several other foreign cities, was facing an increasing threat of a suicide bomb attack."
Tourists in London and other cities in Europe and the United States had best not act like terrorists now, or they may be shot on sight! Not even in war-torn and terrorist-torn Israel do policemen shoot on sight, unless they see hardware bulging out of the suspect, or unless he attempts to push past an armed guard. Thus, the Illuminati is placing a burden upon the policemen of these countries that not even Israeli policemen carry. This unprecedented new authority thus pushes the specter of new city terrorist attacks to new heights.
In this next news story, you will see that Attorney General John Ashcroft is so concerned about the sentences that criminals are receiving that he has taken steps you would expect only in a dictatorial regime. Remember, the planned effect of these city terror attacks is to allow the governments of all democratically elected countries to seize control and dissolve the existing government. Attorney John Ashcroft has planned concentration camps ("Attorney-General John Ashcroft's Concentration Camp Program" — Audio Tape, http://www.cuttingedge.org/detail.cfm?ID=508). Thus, this story took on added significance.
NEWS BRIEF: "Ashcroft Orders Tally Of Lighter Sentences: Critics Say He Wants 'Blacklist' of Judges", The Washington Times, August 7, 2003.
"Attorney General John D. Ashcroft has ordered U.S. Attorneys across the country to become much more aggressive in reporting to the Justice Department cases in which federal judges impose lighter sentences than called for in sentencing guidelines ... The effect of the change will be to shift most decisions on whether to appeal a sentence that is less than called for in sentencing guidelines from prosecutors in the field to Justice Department lawyers here."
Thus, you can see that Ashcroft/Bush are not only Federalizing state and local law enforcement, they are also Federalizing the Judiciary Branch through coercion tactics such as these. More and more dictatorial authority is flowing to Ashcroft/Bush, a trend started immediately after 9/11 and codified in the Patriot Act. Meanwhile, Ashcroft continues to demand even more dictatorial power through Patriot Act II.
VII. In "Non-Integrating State" Indonesia, a major new hotel blast occurred last week. Let us examine the details of this bomb blast and then analyze them.
NEWS BRIEF: "Car Bombing In Jakarta: Many Dead & Injured", 8-5-3, Rense.com News
"A huge car bomb killed 10 people and wounded dozens more after ripping through a luxury hotel in the heart of Indonesia's capital. The city's governor said a suicide bomber was probably responsible for the attack -- timed as thousands of office workers poured onto the streets for their lunch break ... The Marriott, which opened in September 2001 and has 33 floors and 333 rooms, is the latest luxury hotel in the bustling city..."
Did you catch that bold Illuminati signature? The victimized hotel had exactly 33 floors and 333 rooms! Since the Illuminati fulfills Romans 1:25 precisely, one of the "creatures" they worship is Numbers. They believe Numbers contain inherent power; they further believe that a good plan must be carried out "by the sacred occult numbers" if the plan had its best chance of success. Thus, when they carry out a plan, they do so "by the numbers" by which the operation is performed; thus, Illuminist events nearly always contain this "Occult Numeric Signature".
The attacks of 9/11 contained one of the boldest occult "Numeric Signatures" I have ever seen [Read NEWS1789]. The number "11" signifies the number of the coming New Age Christ, consistent with Daniel 7:7-8, where Antichrist is pictured as the "11th Horn" arising after the nations of the world are reorganized into just 10, each one with a leader, a "horn". To the Illuminati, multiples of "11" are also used to numerically signify Antichrist.
Thus, we see once more where a "Non-Integrating" country is being torn apart by the "Controlled Conflict" necessary to move that nation and the nations in the region, into the "Core States" -- those states who are currently ready to join the New World Order. Occultists throughout the world will know by "Occult Signatures" such as this that the Illuminist plan is continuing on track and on schedule.
Remember, the Illuminati struck a luxury hotel in Bali, Indonesia, most likely using a "micro-nuke" warhead on October 13, 2002 [Read NEWS1715 for full details]. Once a particular country in a "Non-Integrating" region is singled out for attack or for threat of attack, the Illuminati believes the rest of the nations in that region will "get the message" sufficiently so that they will voluntarily and speedily make the changes necessary to move them into the New World Order, thus relieving the Illuminati from the burden of invading all such countries within that region.

VIII. America is now being flooded by Gay and Lesbian activities. The Supreme Court decision to legalize Sodomy and the Gay lifestyle behind it, has had the effect of creating a mighty flood of the magnitude you would expect if a huge dam were suddenly blown up. Our entire land is being inundated with the Gay - Lesbian lifestyle, as these stories reveal. When I read the news reports of the Supreme Court decision, I had more of a sense of the End of the Age than with any event since 9/11; I could just see that America had crossed the Judgment Line with God, remembering the following verse:
"For her iniquities, her crimes and transgressions are piled up as high as heaven and God has remembered her wickedness and her crimes and calls them up for settlement." [Revelation 18:5]
Few people and even fewer nations are brought under God's physical judgment knife as the result of one sin, however grievous; God generally gives much time space to people and to nations, wishing that this delay in delivering judgment will lead that person or nation to repentance and restoration. However, America is following the same path to destructive Divine Judgment as did Israel in the Major and Minor Prophets [Isaiah to Malachi]. For over 100 years prior to the actual physical destruction of the entire nation, God repeatedly warned His people to turn, repent, so they could be restored. However, Israel refused to repent, in no small measure because of the words of their false religious prophets., who were pointing to Israel's unprecedented material prosperity, arguing that God would not bless them if He was really displeased with them.
Did you know that as Israel marched toward her date with physical annihilation, they became more and more prosperous? Listen:
"The messages of Amos reflect the era of unprecedented economic and political prosperity in the northern kingdom of Israel. Not since the days of Solomon had times been so good." (Book of Amos, Analysis, Parallel Bible, KJV/Amplified Bible Commentary]
Similarly, Lot was attracted to the plains of Sodom and Gomorra simply because they were so very prosperous [Genesis 13:7-11].
Too many people in Western Society today are making the same fatal mistake of looking at the material prosperity of our land and concluding that God cannot be too angry with our grievous and multiplied sins. Such people are Biblically ignorant, not realizing that God's judgment is nearly ready to fall upon this wicked nation. God has historically acted against homosexuality in such a manner that can only be described as unique and unprecedented, for when He moved against Sodom and Gomorra, He did so in such a manner that they never lived again. God will destroy America in the same manner and for the same reason.
Now, let us review some of the stories of this historically unprecedented flood wave of homosexuality sweeping over our land.
NEWS BRIEF: ""Most Shocking Gay Day Event Ever At Walt Disney World", Raiders News, July 10, 2003.
"Orlando – 'This was the most shocking Gay Day event ever,' Martin Mawyer, president of Christian Action Network, said of his experience during the annual Gay Day at Walt Disney World. The homosexual celebration, which ran from June 3rd to June 8th, featured topless homosexuals engaged in hugging, kissing and public fondling at a Disney theme park ... 'It's absolutely impossible to describe the depth of depravity we saw. Not only did we see men kissing men, but these shirtless homosexuals were twisting the nipples of each other and fondling the butts and groins of their 'lovers'. And all this occurred right out in the open at a Disney theme park,' Mr. Mawyer said."
As the story of Sodom and Gomorra unfolds, you realize that the boys and men who were demanding that the angels come outside Lot's house had every intention of having public sex with them! Public sex seems to be a particular obsession with the gay mindset. In America for decades, police have continually fought public sex in parks and highway rest stops. Therefore, as the gay lifestyle floods the American countryside, we should expect more demonstrations of public sexual activity. That this early demonstration has occurred in the "family friendly" Disney theme park speaks more clearly of the truly black heart of Disney officials than it speaks to any other subject. American families must simply and finally understand that the Walt Disney Company is, and always has been, deeply occultic; after all, Walt put a witches hat on Mickey Mouse and a magic ritual wand in his hand in the 1940's. Disney has always been at the forefront to change global society from the inside out.
NEWS BRIEF: "Queer Across The Dial", Lesbian Nation, August 8, 2003. NOTE: This website is a Lesbian site and its article reflect that viewpoint.
"Last season was a virtual desert for gay images on the TV screen. There were Will & Grace, Queer as Folk, and Six Feet Under, but little else. Then came the summer, and all of a sudden we burst through the closet door ... The big hit this summer, is of course, Queer Eye for the Straight Guy. The Bravo production has been building the biggest numbers the cable channel has ever seen. It has become so popular NBC is giving it a second airing on he main network in a move seen as a forerunner of getting a prime time NBC slot in January. Also this fall, Ellen DeGeneres makes a return to television, this time with her own talk show. The syndicated daily has been picked up in all major markets across the country. ABC will unveil a new sitcom, It's All Relative from Craig Zadan and Neil Meron the gay producers of Chicago ... "With the Supreme Court's recent decision striking down state laws against sodomy, and the movement to legalize gay marriage gaining momentum, the timing for Relative is perfect," Zadan said."
We could not have said it better: the Supreme Court's decision to legalize Sodomy has produced a sea-change virtually overnight.
NEWS BRIEF: "Philadelphia Phillies Welcome Gays and Lesbians at Veterans Stadium for Gay Community Day", Outsports, http://www.outsports.com/local/2003/0707phillies.htm
"The Philadelphia Phillies and the lesbian, gay, bi-sexual and transgendered (LGBT) community are excited to be working together for a special night of baseball! Game date is Tuesday, August 12, 2003 at 7:05pm, when the Phillies host the Milwaukee Brewers at Veterans Stadium. Similar events have already taken place in past years with major league baseball teams in Atlanta and Chicago, but never in Philadelphia."
Other news reports indicate that a homosexual fan will throw the first pitch. Organized Baseball is thus in the process of legitimizing the Gay and Lesbian lifestyle to hundreds of thousands of young, impressionable minds. Just as in Sodom and Gomorra!
NEWS BRIEF: "Leno to Get Makeover from 'Queer Eye' Guys", Reuters, August 4, 2003
"LOS ANGELES (Reuters) - Is a "Queer Eye" plus Jay Leno's big chin the right look for good ratings? Television network NBC thinks so. With new show "Queer Eye for the Straight Guy" having become a smash hit for the Bravo cable TV channel, Bravo parent NBC said on Monday it will bring the show's "Fab Five" makeover artists onto "The Tonight Show with Jay Leno" for a special "make-better" session with show host Leno."
NEWS BRIEF: "'It is not supposed to feel natural': Conservative Anglicans predict the death of their church", Guardian, August 11, 2003.
Viewpoint of Charlotte Allen Los Angeles Times: ""The Episcopal church's confirmation last week of the openly gay Gene Robinson as bishop of New Hampshire was hailed as a victory for the forces of inclusiveness and diversity. That may be, but it was also another step in the church's prolonged ecclesiastical suicide."
Viewpoint of Deborah Caldwell New York Times: ""American conservatives have teamed up with dozens of Anglican leaders in Africa, Asia and Latin America, who say they won't associate with a church that permits a gay bishop ... "
The Gay - Lesbian flood is covering the entire countryside of Western Society, inundating the institutions of public schools, entertainment, and former Christian Churches. Truly, Jesus was correct when He said "As in the days of Lot ... so shall it be when the Son of Man is revealed."

IX. United Nations continues to flash occult numbers in public news stories.
NEWS STORIES: "Imagine a 9/11 every day for 666 days", York Sunday News, By GEORGE GEDDA The Associated Press, June 29, 2003, http://www.yorksundaynews.com/Stories/0,1413,137%257E10047%257E1484703,00.html
"WASHINGTON -- Which war has claimed the most lives since World War II? Korea? Vietnam? Not even close. The answer is the continuing conflict in Congo. There are no firm figures on the death toll, but the range is believed to lie between 2 million and 4.7 million. Assuming the low end estimate, that's equivalent to a 9/11 every day for 666 days. The International Rescue Committee estimates that 3.3 million people have died throughout Congo, most of them from war-induced famine and disease."
This incredible story thus gathered together some very important Satanic sacred numbers designed simply to flash the signal to fellow Illuminists the world over that the military and diplomatic activities being taken in the "Non-Integrating" countries of Central-South Africa are being taken to produce the Kingdom of Antichrist, aka, New World Order. Remember our earlier statement that the Illuminati is depending upon having to invade, or threaten to invade, just a limited number of states within any particular "Non-Integrating" region, hoping that the rest of the countries within that region will "get the message" and make the internal changes necessary to allow them to integrate into the Global Government, Economy, and Religion of Antichrist
---------- New Articles Posted This Week -----------
I. "WHILE AMERICA WATCHED THE IRAQ WAR ON T.V., NO ONE WAS WATCHING OUR MOST POROUS BORDER WITH MEXICO" - "The simple truth is that we've lost control of our own borders, and no nation can do that and survive. We ignore America's lost sovereignty at our peril." - President Ronald Reagan Is our survival really at stake in our wide-open borders with Mexico? - http://www.cuttingedge.org/news/n1845.cfm
II. "IS POSSESSION OF A BIBLE NECESSARY FOR SALVATION?" - In Other Words, Can A Person Be Saved Without One? - http://www.cuttingedge.org/articles/p207.htm

III. "PLAYING CHURCH BY THE NUMBERS" -- Chapter 8, Outcome-based Religion: Purpose-Driven Apostasy, http://www.cuttingedge.org/news/n1506ch8.html
IV. "ANTICHRIST DECEPTION: "WHITE MAGIC" BEING PRACTICED IN THE CHURCH" - Satan's final deception for mankind could not have been possible were it not for his successful invasion of the Charismatic Church powered by actual White Magic Witchcraft, dressed up to look like Christianity, of course. "Looking like a Christian Without Christian Theology" -- http://www.cuttingedge.org/news/n1844.cfm

--------Resources------------------------------------------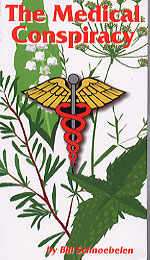 "The Medical Conspiracy": -- Video by Former Satanist Bill Schnoebelen. The Church was originally in charge of health and healing. Bill reveals the occult, conspiratorial origins of American medicine; how the ruling elite stole medicine from the Church and set up the an evil cabal medical establishment to reduce population by withholding cures. Bill will speak on how our medical establishment is out of balance. He will expose The Iron Triangle: How the Federal Drug Administration, the drug companies, and the medical schools collude together to control and destroy your health. He is a Nutritional Herboligist, as are most serious Satanists. He has been studying herbs for thirty years, and is a Doctor of Naturopathy (natural healing). He will teach how to use herbs to strengthen your immune system and health. Herbs can be used for super-food to make up for what is lacking in your diet. This video separates the Biblical truth from the new age nonsense. -- http://www.cuttingedge.org/detail.cfm?ID=585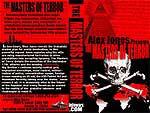 "NEW!! The Masters of Terror" -- Video by Alex Jones. As the rhetoric is racheting up once again that our cities are threatened with terrorist attacks, you need the information this video provides in order to alert yourself, your family and your friends and/or co-workers. In this powerful 2-hour expose, Jones explains why the elite are using manufactured terrorism to drive the populations into accepting tyranny. The Masters of Terror details the execution of the September 11th attacks and the ensuing whitewash, the cashless society control-grid, implanted microchips, mind-control, militarization of police, concentration camps, foreign troops massing on US soil, the USA Patriot Act, and Homeland Security taking over the states. -- http://www.cuttingedge.org/detail.cfm?ID=583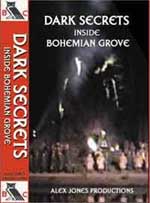 "Dark Secrets Inside Bohemian Grove" -- Video by Alex Jones. Now that actor Arnold Schwarzenegger has been selected by the Bohemian Grove to be the leading candidate for the governorship of California (Excerpt from: "Hallinan panned for giving alleged Fajitagate victim a break", SF Gate, July 23, 2003) and now that Defense Secretary Donald Rumsfeld has admitted his membership, you need to know all you can about this Black Magick society. Every former Satanist with whom I have ever worked has stated -- independently of each other -- that the Bohemian Grove society is as dark, evil, and Black Magick as you can possibly imagine. Therefore, Alex Jones did a very brave thing when he sneaked onto the premises with a camera to actually shoot one night of rituals. With the Mass Media spinning Bohemian Grove as a harmless, rich, "Good Ole' Boys" club, you will know the stark truth. - http://www.cuttingedge.org/detail.cfm?ID=581
* "America Destroyed By Design: -- Video by Alex Jones. A must-see video by all those who really want to understand how America's leaders could deliberately destroy the very Constitution and liberties they have sworn to protect. See how the National Sovereignty of the US is constantly being subordinated to the International Community, to the Presidio, and to the United Nations. See why we gave up control of the Panama Canal, even though we knew the Chinese would take it over. See how our precious children are being indoctrinated to become good occult Global Citizens. Extra-special footage of the Oklahoma City bombing. Over 2 1/2 hours long. VHS format only. -- http://www.cuttingedge.org/detail.cfm?ID=582

----------Conclusion---------------------------------------"Casting Off Restraint"
"Where there is no vision, the people cast off restraint." (Proverbs 29:18; R.V.)
There is a difference between an ideal and a vision. An ideal has no morel inspiration; a vision has. The people who give themselves over to ideals rarely do anything. A man's conception of Deity may be used to justify his deliberate neglect of his duty. Johan argued that because God was a God of justice and of mercy, therefore everything would be all right. I may have a right conception of God and that may be the very reason why I do not do my duty. But wherever there is vision, there is also a life of rectitude because the vision imparts a moral incentive.
Ideas may lull to ruin. Take stock of yourself spiritually and see whether you have ideals only, or if you truly have vision.
"Ah, but a man's reach should exceed his grasp, Or what's a heaven for?"
"Where there is no vision..." When once we lose sight of God, we begin to be reckless, we cast off certain restraints, we cast off praying, we cast off the vision of God in little things, and begin to act on our own initiative. If we are eating what we have out of our own hand, doing things on our own initiative without expecting God to come in, we are on the downward path, we have lost the vision. ("My Utmost For His Highest", by Oswald Chambers, p. 93-94)
Today, all of Western Society -- including the United States -- has long ago lost the vision of God, and having lost that Biblical vision, has now lost the fear of God. With our recent Supreme Court decision that legalizes the sex acts of homosexuality, America has crossed that line with God where His physical annihilating judgment is so inevitable. If you do not find your spirit greatly sorrowed by all this horrible sin around us -- from abortion to acceptance of homosexuality and many more sins in between -- you need to examine your heart before God, for you may not be genuinely saved. If this is you, we urge you to visit our Salvation Page, as we have written the Plan of Salvation to include a Salvation Checklist to determine for yourself whether you are genuinely saved. If you are not truly saved, the rest of this section shows you how to proceed, step-by-step to being Born Again just as Jesus told us was so necessary if you are ever to enter Heaven's gates.
Our Daily News is screaming to all who will listen that the time of God's judgment is at hand, for we can see an entire people casting off the restraints and descending into the Hell of the deepest sin. What will you do with eternal Jesus?
May Jesus Richly Bless You,
David Bay, Director
866-909-2850 Toll Free Customer Service - Order Line
803-356-2850 Toll Free Customer Service - Order Line
803-356-2860 Fax
customerservice@cuttingedge.org
+--
++