'Secrets of the Illuminati' DVD's
Our Most Popular Videos!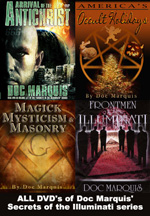 Combo Offer DVD: 'Secrets of the Illuminati' Series
Regularly $139.96 if bought individually
On Sale $99.96, Save $40
Individual Titles
by Doc Marquis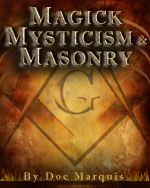 "Magick, Mysticism, and Masonry"
#4 of 4 In Series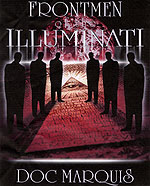 "Front Men of the Illuminati"
# 3 of 4 In Series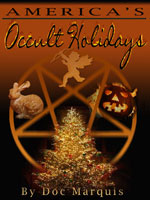 "America's Occult Holidays"
#2 of 4 In The Series
-------
"Arrival of the Antichrist"
2-DVD Set, 3 1/2 Hours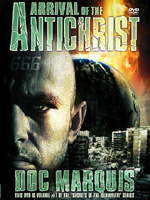 Dramatically Expanded and Updated, by Former Satanist Doc Marquis
#1 of 4 in Series
---
Founding Fathers New DVD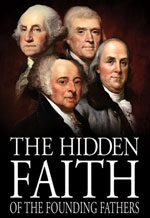 "Beyond Blasphemy: The Hidden Faith of Our Founding Fathers"
by Chris Pinto
Public Rebuttal of David Barton and His Teachings On Masonry
Shipping Late-August
---
"The Mystery of Contemplative Prayer": New Age Practice Invading Churches - Trail Leads Directly To The Vatican
---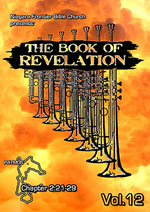 'Book of Revelation' Study - VOLUME 12
Part 2 of 2 of The Church Which Tolerated Sin Series6 DVD Set
Big Savings on Closeouts and sale items

---
Bookstore Resources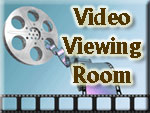 Video Trailers
SHOPPING
New Hoggard DVD!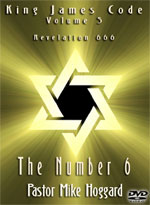 "Revelation 666"
King James Bible Code Series, Volume 5
Regularly $29.99, Now Only $14.99
Pastor Hoggard continues his signature series THE KING JAMES CODE with this latest DVD. You will discover that the Number 6 carries unique meaning for both God's Plan and Satan's counter-plan.
Gods Plan - You will see Gods numerical signature in the King James Bible and gain a deeper understanding of the use of the number 6 as it relates to Bible Prophecy. God assigned the Number 6 as the number of man and 666 as the Number of the Ultimate Man, Antichrist.
Satan's Plan -- In full accord with God's Plan, Satan assigned Number 6 to their 'Perfected Man' and the Number 666 as the Number of the Ultimate Perfected Man, the Masonic Christ. As always with Satanists, a man becomes Perfected through Masonic rituals.
The hexagram is Satan's most powerful, most evil symbol in all the world. Therefore, Hoggard emphasizes the hexagram in his presentation. 1 hour, 40 minutes - http://www.cuttingedge.org/detail.cfm?ID=2239
---------- This Week's Hot News --------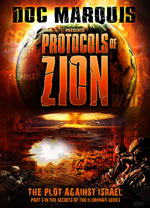 DVD
I. Doc Marquis reveals in this DVD that one of the Illuminati goals is to have their leaders serve incompetently in their office!
The goal is to so weary the citizenry that they will accept any new government proposal by the coming Masonic Christ!
NEWS BRIEF: "Rangel: 'Don't leave me swinging in the wind' ", MSNBC News, August 10, 2010
"WASHINGTON — A combative Rep. Charles Rangel told the House on Tuesday he's not resigning despite 13 charges of wrongdoing and demanded the ethics committee not leave him 'swinging in the wind'. Rangel, who is 80, spoke without notes in an extraordinary, often emotional 37-minute speech that defied his lawyers' advice to keep quiet about his case."
Intentional Incompetence! That is one of the planks of the Illuminati Plan called "The Protocols of the Learned Elders of Zion". A key argument which Marquis makes regarding "The Protocols" is that you know they are real because so many individual parts of the Plan have either come true in the last 100 years or they are coming true right now or we can see the stage being set for them to come true now.
This story of the clumsy corruption of Rep. Rangel is a good case in point.
"Rangel, who is 80, spoke without notes in an extraordinary, often emotional 37-minute speech that defied his lawyers' advice to keep quiet about his case ... Expulsion is the harshest penalty that can result from an ethics case. It would be highly unlikely in Rangel's case because the former chairman of the tax-writing Ways and Means Committee is not accused of corruption. Rangel, who said he has lost much sleep during the two-year investigation, was interrupted by applause twice — including when he said: 'I am not going away. I am here'."
What, exactly, is Representative Rangel guilty of doing? Is his wrongdoing innocent and small potatoes?
"The Democrat from Harlem acknowledged that he made mistakes, especially in belatedly reporting hundreds of thousands of dollars in assets and income, but he insisted he was not corrupt..."
When I read of Rangel's weak defense, I thought instantly of President Bill Clinton's weak defense in charges that he had had sex with Monica Lewinsky. Do you remember that the President's defense rested upon a re-definition of a tiny English word?
"It depends upon your definition of what 'is', is."
President Bill Clinton may go down in history as one of the greatest examples of an Illuminati officeholder deliberately operating his office incompetently. The Global Elite surely love that man!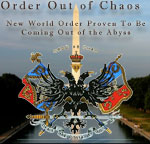 DVD
II. The Global Plan continues to churn out "rumors of wars" -- this time from Iran.
An Iranian Guard Commander says that Iran is digging huge mass graves for American soldiers in the event of an invasion. Does anyone remember Saddam Hussein's empty bluster when he called upon his inept troops to fight so hard that people throughout the world would remember this war as "The Mother of All Wars"?
NEWS BRIEF: "Iran digging graves for US troops if they attack", Excite News, August 10, 2010
"TEHRAN, Iran (AP) - Iran has dug mass graves in which to bury U.S. troops in case of any American attack on the country, a commander of the elite Revolutionary Guard said Tuesday, warning that a military strike would spark an 'extensive war' in the region."
This statement is simply "Rumors of Wars", as is the entire idea that Western powers might actually launch a massive attack on Iran. We have insisted, over the past seven years, that since Iran is Ancient Persia, and as such, is protected against a massive military strike by the Ezekiel 38-39 prophecy.
Now, let us return to this featured news story:
"The deputy commander of the Revolutionary Guard, Gen. Hossein Kan'ani Moghadam, said graves for any attacking U.S. troops have been dug in Iran's southwestern Khuzestan province, where Iran buried Iraqi soldiers killed during the ruinous 1980-88 war between the Islamic republic and Iraqi leader Saddam Hussein's regime."
"The mass graves that used to be for burying Saddam's soldiers have now been prepared again for U.S. soldiers, and this is the reason for digging this big number of graves," Moghadam said, according to the semiofficial Fars news agency."
For seven years, we have taken a stand on God's Prophetic Word to say that there will be NO attack against Iran. Still people want to believe that they can trust the world of Mass Media and of their favorite alternative media source.
Take it to the bank: There will be NO attack on Iran.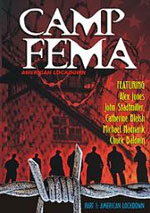 DVD
III. Dictatorial surveillance measures continue to encroach upon our lives, as a proposed law would put surveillance cameras inside new cars!
Of course, the FBI has rushed to assure us that they would never, ever actually use these cameras! Of course, we believe them, right?
NEWS BRIEF: "Proposed Law Would Put Video Cameras In Cars", Cryptogon News, August 10, 2010
"I'm sure the FBI wouldn't access these cameras, like they access the microphones on the cell phones that people are carrying around. Oh no. Never."
"Lawmakers are considering controversial new legislation this week that would allow vehicles to be equipped with dashboard cameras to record the moments leading up to accidents. The proposed law, AB1942, would promote safer driving habits and reduce accidents by permitting video recorders to be installed on the windshield."
"The bill currently allows devices to record video, audio, how fast and which direction the vehicle is traveling, a history of where your car has been, steering and brake performance and seat belt usage."
"Proponents say there are enough safety measures to avoid an invasion of privacy, but others call the proposal a huge overreach of government power."
The real danger is that the government will demand, and get, "backdoor" access in all this type of new technology so that they can gain the very access they deny they want at the particular moment when the "high-value target" is in the car. By being able to see what this target is doing and saying in real time will be too special for the government to ignore.
Especially when the target is a gun-owning Christian Patriot!
---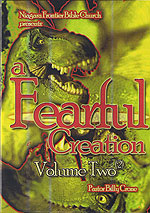 A Fearful Creation - Volume 2 - by Pastor Billy Crone - 4 DVD Combo

DVD - A Fearful Creation - Volume 2 - Open any children's book on dinosaurs and what do you usually see on the very first line of the first page? 'Millions of years ago', right? But have you ever stopped to think that if God created all the life on this planet, including dinosaurs, then why doesn't the children's book say 'In the beginning,God'?
Can it be that we are being brainwashed with an evolutionary lie about dinosaurs that most people will never discover the Biblical truth about God?
The answer, simply, is 'yes'. This series not only shows the true history of dinosaurs, but it also demonstrates the true lesson of dinosaurs.
Four provocative chapters: 1) Are Dragons really dinosaurs? 2) Do dinosaurs still live today? 3) Do we have conclusive evidence of dinosaurs? 4) Did dinosaurs really walk with man?

http://www.cuttingedge.org/detail.cfm?ID=2238
---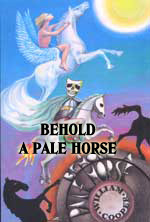 Behold A Pale Horse
IV. The Illuminati wastes no crisis that enables it to snare nations in her global economic net.
The World Bank is set to ensnare Pakistan economically through offers of "aid" to get her through the massive flooding now plaguing that nation.
NEWS BRIEF: "World Bank to Draft Pakistan Plan as Nation Grapples With Worst-Ever Flood", Bloomberg News, August 11, 2010
"The World Bank said it will draft a reconstruction plan for Pakistan as the lender leads efforts to assess the impact of the nation's most destructive flood ... The Washington-based lender said it has made available a $1.3 million grant to Pakistan for rescue, relief and recovery operations. The flood is Pakistan's "worst natural disaster" since the country's creation in 1947 and has set back the nation's development by many years...."
" 'The World Bank is working closely with the government of Pakistan and other development partners to respond to the flooding', Sharjeel said. 'The bank's support is focused on medium- to long-term reconstruction, but we are working closely with those providing humanitarian disaster relief'."
You have to hand it to the Global Elite. They always seem to have a crisis ready-made that will bring one or more nations under her control. Before this crisis is over, Pakistan will be in serious debt to the World Bank.
And, debt equals control.
Isn't it "coincidental" that a massive flood occurs at just the right time for Pakistan to be fettered more tightly to the Western orbit?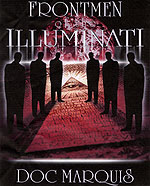 DVD
V. The European Union is finally putting the ending touches on her transition from many individual nations into one supernation, after 17 long years!
When you consider how long it took for the E.U. to finally become a functioning nation, can you gain a little perspective on how long it might take for the final seven supernations to come together?
NEWS BRIEF: "After 12 years, EU license plate gets traction", Excite News, August 10, 2010
"BRUSSELS (AP) - How do you unify a half-billion people from the Azores to the Arctic? Europeans balked at a continent-wide constitution. EU officials hope license plates might help do the job. This summer, Europe's vacationers are hitting the highways with more or less uniform plates, after 12 years of slow-as-syrup and at times impassioned debate over color schemes and the EU's role in everyday life. Belgium finally settled a political argument over the tags in June, clearing the last major hurdle to introducing the new plates in all 27 EU nations."
Do you remember that the European Union was the first supernation to be established? She was officially formed at Midnight, December 31, 1992. Her progress into a unified nation has been exceedingly slow and politically painful since that dramatic moment.
Let us consider the pertinent prophecy and the ensuing history of the European Union.
The prophecy:
"I considered the [10] horns, and, behold, there came up among them another little horn ... and, behold, in this horn were eyes like the eyes of man, and a mouth speaking great things." (Daniel 7:7-8)
Antichrist is the 11th horn , appearing on the world scene after the 10 final rulers had made their appearance. This prophecy demanded that, soon after the Old World Order had been eliminated and the New World Order established, the world be reorganized into 10 super nations. After World War II, the Illuminati realized their precious new order would not come about by military conquest, but through gradual and peaceful means. Thus, the plan to reorganize the world into 10 super economic nations was created, with the understanding that, after people get used to an economic organization, a political government along the same lines could follow more easily. [To read full details of this plan, read NEWS1002].
Thus, the plan was set in motion as outlined NEWS2363, that would reorganize the world into 10 economic super nations. The first nation to be thus created was Western Europe, which was officially created on December 31, 1992. The unification of Western Europe was finally realized, an occult goal since the early 1600's.
Today, seven of the ten planned supernations are still not fully formed. Three of the supernations have not even started yet. If each of them takes 17 years to fully form, Antichrist cannot arise for several decades, as Daniel 7:7-8 clearly states that Antichrist cannot arise until the prophesied ten nations are formed and functioning.
Since Antichrist will be produced on the world scene by World War III, the reality is that this conflagration will not occur for several decades at least, unless the pace of forming them is radically increased.
This means that several events which are awaiting World War III to occur cannot happen soon:
1) Economic worldwide collapse will await until the final 10 nations are formed;
2) Global Dictatorship and the overthrow of the sovereignty of individual nations is still quite a ways off;
3) The Middle East will not produce the all-out regional war which shall transition into World War III will not occur before the world is totally reorganized into ten.
3) Russia's invasion of Israel will wait.
None of these parts of the Illuminati Plan will occur ahead of its schedule. All these events are pegged to the beginning of World War III, and that is pegged to the fulfillment of Daniel 7:7-8.
Therefore, do not allow yourself to be needlessly panicked by these "gloom and doom people" who are trying to ride one issue without looking at the global prophetic picture. These many websites who have been predicting "imminent" economic collapse for over 10 years, or who have been predicting another terrorist attack "soon", remind me of another prophecy, in Matthew 24, a prophecy related to the coming of "The Christ" (Antichrist)
"For there shall arise false Christs, and false prophets ... ; insomuch that, if it were possible, they shall deceive the very elect ... Wherefore if they shall say unto you, Behold, he is in the desert; go not forth: behold, he is in the secret chambers; believe it not."
In other words, at the End of the Age, Jesus prophesies that people will arise who will try to panic the citizenry into believing that Antichrist is arisen and is in certain places -- the desert or in "the \secret chambers".
This is exactly what the "gloom and doom people" are doing. They are attempting to panic you into believing that certain events which will eventually occur that will produce Antichrist, are about to occur now.
And, in the process, they hope to sell you all sorts of "survival stuff" that will enrich them now. The only event which will occur "soon" is the enrichment of these survival news sites. They seed "handwriting on the wall" of an event which will occur some time away and trumpet to a fearful people that the time they will occur is "soon"!
Do not be mislead. Keep your eyes on Daniel 7:7-8 (NEWS2363) for that one sequential prophecy will keep you fully informed as to the true prophetic timeline this world is really on.
---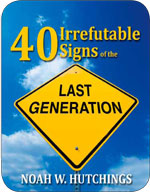 "40 Irrefutable Signs That We Are The Last Generation"
New Book by Dr. Noah Hutchings
Jesus Christ said there would be a last generation. Is This Generation It?
Forty is the biblical number of probationary judgment, and in this forty-chapter book, Noah Hutchings presents without controversy forty signs given in eschatology related to the last generation.
All these signs are in evidence right now!!
Jesus, Peter, and Paul all stated that the last generation would be without excuse concerning the signs of the last generation. Peter said, 'Knowing this first, that there shall come in the last days scoffers, walking after their own lusts, And saying, Where is the promise of his coming? for since the fathers fell asleep, all things continue as they were from the beginning of the creation. For this they willingly are ignorant. . .' II Peter 3:3-5.
Can we really know if this is the last generation of this age? How many signs would it take to convince you? 212 pages -- http://www.cuttingedge.org/detail.cfm?ID=2237
Cutting Edge Is Now Using Twitter!
We have now begun to use the new medium of communication, Twitter. Whenever we see a story which needs to be disseminated quickly, we shall post it on Twitter. To follow Cutting Edge on Twitter, go to http://twitter.com/cuttingedgenews or you can use the RSS feed by clicking the icon below. Follow us on

or

RSS feed
---
New Headline News Articles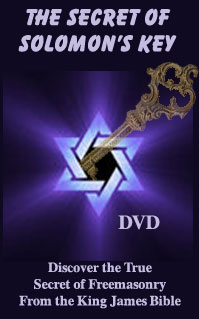 "New Prophetic First -- One-half of Jewish people now support rebuilding the Temple on the Temple Mount"
Normally secular Israel has never shown this strong of support for rebuilding the Temple, showing the effects of Orthodox Judaism. Will the Islamic Dome of the Rock be destroyed on the 'Ninth Day of Av', the most horrible day of the year for Israel?
http://www.cuttingedge.org/news/n2424.cfm
"Take from Freemasonry its dependence on the Temple; leave out of its ritual all references to that sacred edifice, and to the legends and traditions connected with it, and the system itself would at once decay and die ... " (Noted 33º Masonic author, Albert Mackey)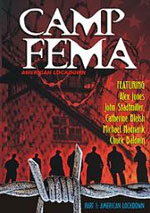 DVD
"Top Secret America Is Now Here!"
Virtually every single communication in America can be copied and reviewed. The unparalleled surveillance capability which is foretold in the Mark of the Beast prophecy is now enveloping America. The face of the coming Absolute Dictatorship is now visible; the attacks of 9/11 were the keys to making this possible!
But, we warned nine years agao that this was the goal and that 9/11 was the catalyst by which this agenda would occur. We quote extensively from the warnings of NEWS1576, posted in early November, 2001, to demonstrate that our original warnings were exceedingly accurate! http://www.cuttingedge.org/news/n2423.cfm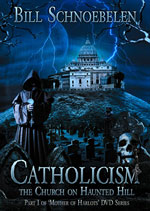 "Catholic Priestly Sex Abuse Is Now Oozing Over Every Continent on Earth!"
The sheer magnitude of the priest's sex scandal is shocking beyond belief; but, remember, the statistics we are about to share with you is simply the proverbial "tip of the iceberg"! The true total numbers of deviant priests and victims reach into the many millions of victims.
Even the infamous Kinsey Report may have its roots in the 12 Centuries of sexual deviancy from priests and nuns and their victims!
http://www.cuttingedge.org/news/n2422.cfm
"Why Liberals Should Love The Second Amendment Which Guarantees Our Right To Own Guns "
One day, they will be very sorry they do not have any guns, when foreign troops start their attack to take them away.
http://www.cuttingedge.org/news/n2421.cfm

Warning To All Islamic Leadership: You Will Be Destroyed If You Persist In Plotting The Annihilation of Israel!
God's Omen of Protection is hovering over Israel today just as it did in Ancient Israel. No weapon can destroy God's nation, or God's promises will be proven to be impotent and He a liar -- which is utterly impossible!

"Has Iran Outflanked and Outmaneuvered The West In Its New Deal To Swap Nuclear Fuel With Turkey?"
Suddenly, the West powers are faced with a nearly complete loss of "moral high ground" on the issue of Iran's enrichment of nuclear fuel needed to produce nuclear warheads. Talk of severely tight sanctions on the Persian Kingdom is almost meaningless.
Iran, Brazil and Turkey have turned the tables on the West; will Israel, the United States, and the E.U. now accept the very proposal they originated several years ago? The Anti-American bloc has scored a significant diplomatic coup.

Global Illuminized Freemasonry Is Secretly Committed To The Preservation of National Israel
Secretly-held Masonic doctrine absolutely guarantees that the Illuminati will not allow national Israel to be destroyed. Even though current news seems to be demonstrating that President Obama is not Israel's friend and may desert her in favor of Islamic nations, the President's controllers will never allow national Israel to be defeated, for such a defeat would destroy Freemasonry.
---
Purchase a 1-Year Subscription, you may select 1 FREE gift
Purchase a 2-Year Subscription, you may select 2FREE gifts
Purchase a 3-Year Subscription, you may select 3 FREE gifts
Purchase a 4-Year Subscription, you may select all 4 FREE gifts
We have changed our FREE gifts available to you when you subscribe to Headline News, adding two Pastor Hoggard DVD's to the Seminar Tapes and the Radio Collection CDROM.
---
--------Concluding Inspiration ---------"Thou shalt be called, Sought out." Isaiah 62:12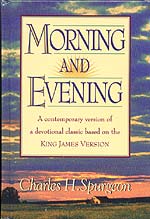 The surpassing grace of God is seen very clearly in that we were not only sought, but sought out. Men seek for a thing which is lost upon the floor of the house, but in such a case there is only seeking, not seeking out. The loss is more perplexing and the search more persevering when a thing is sought out. We were mingled with the mire: we were as when some precious piece of gold falls into the sewer, and men gather out and carefully inspect a mass of abominable filth, and continue to stir and rake, and search among the heap until the treasure is found. Or, to use another figure, we were lost in a labyrinth; we wandered hither and thither, and when mercy came after us with the gospel, it did not find us at the first coming, it had to search for us and seek us out; for we as lost sheep were so desperately lost, and had wandered into such a strange country, that it did not seem possible that even the Good Shepherd should track our devious roamings.
Glory be to unconquerable grace, we were sought out! No gloom could hide us, no filthiness could conceal us, we were found and brought home. Glory be to infinite love, God the Holy Spirit restored us!
The lives of some of God's people, if they could be written would fill us with holy astonishment. Strange and marvellous are the ways which God used in their case to find His own. Blessed be His name, He never relinquishes the search until the chosen are sought out effectually. They are not a people sought today and cast away tomorrow. Almightiness and wisdom combined will make no failures, they shall be called, "Sought out!" That any should be sought out is matchless grace, but that we should be sought out is grace beyond degree! We can find no reason for it but God's own sovereign love, and can only lift up our heart in wonder, and praise the Lord that this night we wear the name of 'Sought out'.

(" Morning and Evening Devotions", by Charles Spurgeon, Emphasis added)
New 'Secrets of the Illuminati' DVD's
Protocols Shipping Thursday, 8/5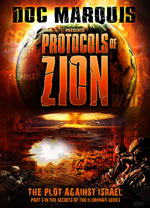 "The Illuminati's Protocols of Zion
No other document in the past 2,000 years has continually set the world on fire more than the Protocols of Zion.
Marquis shall prove that, while the Protocols is NOT a Jewish conspiracy, it is an Illuminati conspiracy to take over the world for their Masonic Christ.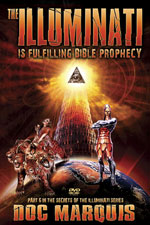 "Illuminati Is Fulfilling Biblical Prophecy"
Marquis will demonstrate how completely the Illuminati Plan will fulfill Bible prophecy once it is completely worked out. This DVD is intended to prove to the unsaved that Jesus Christ is real and will sit in judgment one day for all mankind.
Plan of Salvation will be presented at the end
Both Are 3 Hours Long, 2-DVD Set
Both DVD's Regularly $39.99, Now Only $29.99
---
New DVD's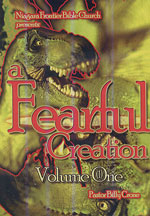 " A Fearful Creation"
New DVD by Pastor Billy Crone
Four-DVD Set, 4 Hours
---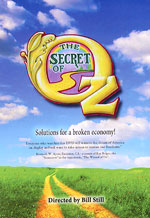 "The Secret of Oz"
Blueprint For Solving Our Broken Economy, by Bill Still
---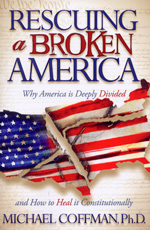 "Rescuing A Broken America"
New Book by Dr. Michael Coffman
---
Hoggard Masterpiece DVD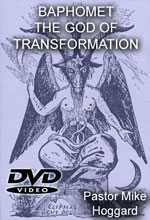 "Baphomet: The God of Transformation"
Paradigm Shift Coming When Everything Is Suddenly Changing
---
DVD
---
New Hoggard Books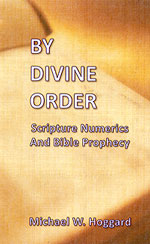 "Written By Divine Order"
Scripture Numerics and Bible Prophecy -- Connection?!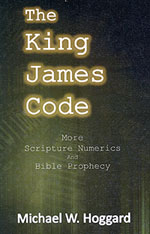 "The King James Bible Code"
More Scripture Numerics and Bible Prophecy
---
Hoggard DVD's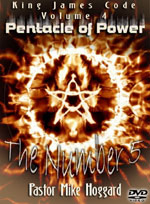 "Pentacle of Power: Power of #5 both from God and Satan"
Volume 4 of the King James Bible Code Series
On Sale!
---
New Books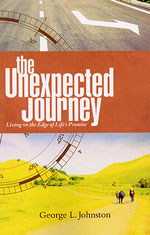 "Unexpected Journey: Personal Battle With Parkinson's Disease"
---
New Hoggard DVD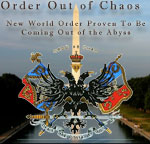 "Order Out of Chaos"
New World Order Proven To Be Coming Out of Satan's Pit
---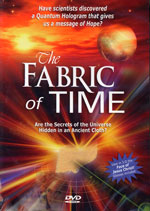 "The Fabric of Time DVD"
Shroud Of Turin Yielding Exciting Evidence