WEEKLY UPDATES FROM Cutting Edge Ministries, www.cuttingedge.org
8/16/2003      Over 1,100 Articles Posted! 7 Salvation Page Downloads Per Hour!
---
Special Note :DO NOT REPLY TO THIS EMAIL.
Responses are not read but are used to maintain the mailing list. If you wish to email us go to http://www.cuttingedge.org/email.html
---------- Inspiration For the Week----------------------A New Look At The Passage, "Where Two or Three Are Gathered"
If the task now before you is to bring a sinning brother back into intimate fellowship with Jesus and His body, you no doubt are earnestly seeking prayer for this.
When our Lord Jesus first gave the promise to be present in the midst of the gathering of two or three, He was not primarily guaranteeing His presence when even a few of His faithful children gathered to worship Him and break bread together. Of course, that is wonderfully true, and how happy we are to know His sweet presence in the smallest company of believers, but the main application to His wonderful promise is closely connected to the task before you - of restoring a wayward brother or sister in Christ. When a brother sins, and the pattern that our Lord Jesus laid down in Matthew 18 to deal with that fallen brother is being prayerfully applied - by first confronting him alone, then going to him with another one or two witnesses if he will not repent, and if necessary presenting his rebellion before the entire body of believers - in all this we discover how painfully and naturally unpleasant it is to have to be involved in such a redemptive spiritual ministry
On the low level of earthly wisdom, we recoil at this last resort to bring a sinning brother back into intimate fellowship with Jesus and His body. We do not want to appear arrogant or censorious; we do not want to offend the brother or drive him away from the life of God that he needs in the fellowship of the members of the body of Christ. Although we know this is God's appointed way, not only to bring full redemption to the erring, but also to be a sanctifying influence in the church, still we feel awkward and wish we did not have to deal face to face with the leaven that threatens the purity of the loaf
It is for this very circumstance that our Lord gave the promise of His presence. It was when two or three were gathered for the express purpose of winning a brother back into the favor of the Lord than the Lord promised He would be present in the midst. His presence turns the occasion into a holy ministry rather than an unpleasant task. This is the first and primary application of His promise.
When you must go before the sinning brother, the best prayer for you is not primarily to ask the Lord to give you the right words or that the timing be perfect; it is not to ask the Lord to make the erring brother understand that you are speaking the truth in love or that yon might be bold. Instead, the best prayer is that you will know the Lord's presence in your midst. Pray that your obedience to Him will be an act of worship, and that its issue would be both purifying and redemptive to all involved.
As the apostle Paul was caught up into the presence of the Lord in terms of the very thorn he prayed so diligently to avoid, so the time you dread may actually become a third heaven experience for you, as the Lord manifests His presence to your faith. ["God's Dawn For Every Darkness", by Brother Ed Miller, p. 203-204]
---------- This Weeks Hot News ----------The Key News Story Is Our Dying Men In Iraq, Not The Blackout!
I. Reporter on the ground in Baghdad reported that American soldiers are dying at the rate of 5 per day; and the news media is not reporting it!
NEWS BRIEF: "Dispatch From Baghdad - 'A Catastrophe Here' ", From Anita Roddick.com, 8-14-3, Rense.com, http://www.rense.com/general40/cva.htm
"We get reports that many more us soldiers are dying than the Pentagon admits. Perhaps 5 a day ... George Bush and Donald Rumsfeld and Paul Wolfowitz and Condoleezza Rice and Tony Blair and Dick Cheney are insane ... They have caused a catastrophe here.
NEWS BRIEF: "GIs In Iraq Dying In Their Sleep: Calendar Of Military Dead During Iraqi War", 8-14-3, Rense.com, http://www.rense.com/general40/dying.htm
"Staff Sgt. Richard S. Eaton Jr., 37, of Guilford, Conn., died on August 12 in Ar Ramadi, Iraq. A fellow soldier tried to wake Eaton and noticed he was not breathing. Eaton was assigned to the 323rd Military Intelligence Battalion, U.S. Army Reserves, based at Fort Meade, Md.
"Spc. Levi B. Kinchen, 21, of Tickfaw, La., died on Aug. 9 in Baghdad, Iraq. A fellow soldier tried to wake Kinchen and noticed he was not breathing. Kinchen was assigned to 2nd Armored Cavalry Regiment, Fort Polk, La.
"Pvt. Matthew D. Bush, 20, of East Alton, Ill., died on Aug. 8 in Camp Caldwell, Iraq. A fellow soldier tried to wake Bush and noticed he was not breathing. Bush was assigned to F Troop, 1st Squadron, 10th Armored Cavalry Regiment, Fort Hood, Texas. "
NEWS BRIEF: "Marine dies after returning from Iraq", CNN.com, August 12, 2003.
"WEARE, New Hampshire (AP) -- After eight months in Kuwait and Iraq, Marine Master Sgt. Dale Racicot just wanted to see his wife and two daughters ... Back home three hours later, Racicot collapsed onto his dining room floor, dead of a heart attack at 54. His wife, Janet, said she heard the thud from the kitchen, where she was getting a glass of water."
NEWS BRIEF: "Death marches at double in Iraq but US public unaware", sm.com.au, August 5, 2003
"United States military casualties in Iraq are running at more than twice the number most Americans have been led to believe they are. The public is largely unaware of a high number of accidents, suicides and other non-combat deaths."
NEWS BRIEF: "7 MORE CASES OF MYSTERY ILLNESS IN IRAQ", TheLakeSunLeader, By Marsha Paxson, August 7, 2003.
"LAKE OF THE OZARKS -- Seven more soldiers in Iraq have contracted the same puzzling illness that has killed two soldiers, including one from the lake area. The latest cases bring the number of affected troops to 19 ... It is believed Neusche contracted the illness, first thought to be pneumonia, while conducting cleanup operations with the 203rd Engineer Battalion in Baghdad ... When Neusche's parents arrived in Germany on July 9, the illness had already begun ravaging his muscles, liver and kidneys. Neusche died in an ambulance on the way to another hospital for dialysis. Cindi and Mark Neusche said that as they watched their son's health get worse, they noticed other soldiers were beginning to fill nearby hospital rooms."
NEWS BRIEF: "Father of dead soldier claims Army coverup", By Mark Benjamin, Investigations Editor, The Washington Times, August 8, 2003.
"WASHINGTON, Aug. 7 (UPI) -- The father of a soldier who died of pneumonia this spring said Thursday the Army has excluded her death from its investigation of deadly pneumonia because it wants to cover up vaccine side effects. 'The government is covering this up and it is a dog-gone shame,' said Moses Lacy, whose daughter, Army Spc. Rachael Lacy, died April 4 at the Mayo Clinic in Rochester, Minn., after getting pneumonia."
NEWS BRIEF: "Troops sent home after collapsing in heat", By Bob Graham, Evening Standard, in Baghdad, 16 August 2003.
"British troops have been flown home from Iraq as casualties of the desert heat ... The Ministry of Defence admitted today its soldiers are falling "at the rate of three a day" from temperature-related problems ... down at the rate of 10 a day from heat exhaustion."
Suspecting that we were seeing just the tiny tip of the proverbial iceberg, I sent these stories to my medical source, a doctor in a foreign army, asking for an expert opinion as to what is truly going on in Iraq, and how seriously this situation could get. After several emails back and forth, this doctor called me from overseas. The news was shocking, but it did tie into the Illuminati ultimate plan as we have been teaching.
The body of every soldier in Iraq is now being assaulted by the following elements:
In the daily campaign in Iraq, soldiers are breathing in the toxic Depleted Uranium, and many of them are being constantly bitten by the local insects. These two elements join the toxic vaccine already in the body. Because of the unrelenting, searing heat, nearly every soldier is dehydrated to some degree, thus allowing this deadly combination of toxins to build up to dangerously concentrated levels. Further, this doctor related how American scientists keeping watch over the radioactive poisoning of the Pacific islands at which France and the United States conducted nuclear tests several decades ago, are constantly finding mutated organisms that have never been identified before! Uranium poisoning in our soldiers is very likely mutating with these other elements to create strange and deadly organisms for which the soldiers have not been prepared to face.
The way in which these five elements combine to make the solider sick, or to kill him, will vary widely with each soldier. The age of the soldier plays a part, as does the individual genetic code, as does the health of the immune system. Thus, soldiers will be getting sick at various points along the time spectrum. Further, the exact cause of death will vary so widely that it will be difficult to prove any single cause. Some soldiers will die of pneumonia, some of internal organ meltdown, some of apparent heart attack, and some will die of maladies perhaps not yet seen in medical science.
This doctor felt strongly that our government officials knew exactly that this scenario would develop, and deliberately bypassed the cool time of the year -- November to February -- so that our troops would be fighting a guerilla war during the searing heat time of year. This high heat accelerates the process of getting sick tremendously. If our soldiers are already dying and/or getting sick at the rate of 5 per day, how long will it take to reach 50 per day, and then 100? At which point will the pressure build up about the true situation so that the news cannot be suppressed any longer?
The situation facing our troops in Iraq is simply unprecedented!
II. Unprecedented Massive Electricity Blackout Hits Northeast U.S. and Canada on Friday, August 15, 2003. We shall examine the facts of this blackout, then the facts of the "Blaster" Internet/computer worm, and then combine these facts into an analysis, below. First, the facts of the blackout.
NEWS BRIEF: "U.S., Canada Power Outage Leaves Millions in Dark", Reuters, Friday, August 15, 2003, The Washington Post.
"NEW YORK (Reuters) - The biggest power outage in North American history blacked out New York and other major U.S. and Canadian cities on Friday, leaving millions of people in the dark and forcing thousands of stranded commuters to sleep in the streets of Manhattan. As the lights went out on Broadway, officials ruled out sabotage, but could not agree on the cause of the blackout. 'The one thing I can say for certain is that this was not a terrorist act,' President Bush told reporters. The power grid failure spread as far as Detroit and Cleveland, and across the Canadian border to Toronto and Ottawa."
"In New York, the blackout trapped thousands in crowded subways, forced millions of evacuated office workers onto the streets, darkened Broadway and hit late trading on U.S. financial markets. It briefly closed the city's three main airports and jangled nerves among New Yorkers whose memories of the airliner hijacking attacks of Sept. 11, 2001, are still raw. People could be seen running through the city's downtown financial district. 'Everybody just flipped out,' said nurse Mary Horan, stranded, with hordes of others, outside Grand Central Station. 'Suddenly you start thinking about 9/11'."
NEWS BRIEF: "System's Crash Was Predicted", By Peter Behr, Washington Post Staff Writer, Friday, August 15, 2003
"The warning from David Cook, general counsel for the nation's electric reliability organization, was stark: 'The question is not whether, but when, the next major failure of the grid will occur'. Cook was speaking to Congress two years ago, and yesterday his prediction came crashingly true in what may have been the largest power blackout in history, a catastrophe for the industry that experts said has exposed the steadily growing vulnerability of the nation's nearly 200,000-mile network of high-voltage transmission lines. The country's halting moves toward electricity deregulation over the past decade have dramatically increased the volume of power flowing on the grids. But the transmission towers themselves remain the stepchildren of the nation's energy infrastructure. People don't want them in their back yards or on their farms. Energy companies aren't interested in building them. And while the system is linked together with advanced computer systems, much of the equipment that opens and closes connections around the nation's three major grids is 1950s vintage, officials said. 'We're a superpower with a Third World grid,' New Mexico Gov. Bill Richardson, a former energy secretary, said yesterday."
Come cities imposed curfews and other restrictions to allow the governments to restore power and order.
When my wife and I were watching the Evening News at 6:30pm, Friday, 8/15, the mayor of Detroit was interviewed live via telephone hookup. When he stated that his office was in full cooperation with F.E.M.A. and Homeland Security, our ears perked up dramatically. For the past decade, I have been watching our energy infrastructure getting old and frail and the construction of new power plants being stopped nearly dead by environmentalists even though demand for electricity has shot up dramatically; therefore, this blackout could have occurred by accident, just as the reporters and the pundits are alleging. However, if our Congress really cared about the health and well-being of this nation, they would have acted 15 years ago to solve the problem, with Federal mandates if nothing else; thus, the fact they did not act must bring the question to your mind as to whether they wanted this blackout.
Finally, the timing of this unprecedented blackout is suspicious, as you will see in a few moments.
III. Unprecedentedly effective computer worm strikes computers worldwide that use Microsoft operating systems.
NEWS BRIEF: "'Blaster' still worming around Net: Hundreds of thousands of PCs infected, but spread slowing", MSNBC News, August 13, 2003.
"A computer worm that silently attacks vulnerable Windows computers continued to infect machines around the globe Wednesday, mystifying many whose only hint of trouble came when their computers suddenly began restarting. About 275,000 computers were infected and actively spreading the worm at 7 p.m. ET Wednesday — but some experts said they believed close to 1 million computers had been hit by the worm during the past 48 hours."
Cutting Edge webmaster emailed me from his trip to tell me that I had better download the latest Microsoft patch, or our computers here at the office would most assuredly become infected. This worm was unprecedented in that it had nothing to do with email, and most certainly was not dependent upon the victim opening an email attachment. Let us go back to this news story for more information.
"While the rate of the worm's spread has slowed, experts are concerned MSBlaster might have a slow, steady burn, and continue to infect vulnerable machines for months. The worm, also known as LovSan, attacks a widespread security flaw found in Microsoft Windows last month. Experts had been predicting an outbreak since the flaw was revealed."
The logical question that immediately sprang up when I read this paragraph was that, if security experts had discovered the " widespread security flaw" in the Windows operating system a month ago, why did they not fix it so tightly that no program could be created that would infect machines worldwide? If Microsoft knew of this huge problem a month ago, why did they not issue a patch so complete that the "Blaster" would have been stopped dead in its tracks? Did someone in Microsoft or in government want the "Blaster" to attack our computers?
IV. Combination of three unprecedented events hitting at once. As you can see, we have three very serious events that are occurring at the same time:
V. China accelerates preparations to attack Taiwan, assigning their most senior military commanders to the war plans.
NEWS BRIEF: "China puts air force and navy generals in key posts: By tapping officials with air and coastal warfare experience, it is positioning itself for any battle over Taiwan Strait", By Oliver Chou, The Straits Times, August 17, 2003.
"CHINA has stepped up preparations for any battle over the Taiwan Strait by moving several generals with experience in air and coastal operations to key positions. The implications are obvious: Should hostilities break out over the Taiwan Strait, it is the air force and navy of the People's Liberation Army that will do most of the fighting ... Observers say the shuffling is to enhance inter-region and inter-services coordination, all in preparation for any fighting over the strait."
For years, we have been following the story of the Chinese preparations to attack Taiwan to fulfill the Illuminati plan to start the third war of World War III, and we have never seen such a startling development! China is preparing for war with Taiwan! Now, we have all three wars prominently in the Headline News, do we not? The Middle East is about to blow up, the Korean Peninsula war is inching toward its beginning, and now China is accelerating her preparations to attack Taiwan.
VI. Korean Peninsula -- "Hair-raising confrontation that will threaten mankind's existence" -- This is the plan, and it is slowly moving toward its completion. But, first we have a fake "peace negotiations" to go through. In last week's newsletter, we noted that the United States is alternating stories of war with stories of our desire for peace. We also noted that our Envoy, John Bolton, uttered some very harsh words toward the leadership of North Korea, angering this nation even as we are supposedly attempting to "solve" the crisis through diplomacy. Let us review some of the North Korean pertinent news:
NEWS BRIEF: "US may give 'no attack' guarantee", The Straits Times, August 16, 2003.
"WASHINGTON - The Bush administration is prepared to give Pyongyang written assurance, guaranteed by the parties to six-nation talks in Beijing later this month, that it has no intention of attacking North Korea, two senior administration officials told CNN. The deal would also include economic incentives, including an end to a long-standing trade embargo and US assistance in helping North Korea secure loans from institutions like the International Monetary Fund and the Asian Development Bank ... The US is prepared to support these incentives for North Korea if Pyongyang guarantees to dismantle its nuclear weapons programme ..."
"The devil is in the details", is the standard line in negotiation. The "devil" in this case is the last sentence -- our insistence that North Korea give up its nuclear arms program, a demand that includes submission to international inspection. North Korea has stated many times before that they have learned a most valuable lesson from the way in which America and Great Britain demanded that Saddam Hussein submit to international inspection. Every time he allowed UN investigators in his country, the war rhetoric ratcheted upward. Finally, even though the UN inspection team flatly and boldly stated that they could find no evidence that Saddam possessed nuclear, chemical, or biological weapons! Immediately after this UN proclamation, Coalition Forces attacked. North Korea has flatly insisted that it will not submit to international inspections!
NEWS BRIEF: "The intelligence 'black hole' over N Korea", BBC News 17 July 2003.
"How much confidence can anyone have about intelligence estimates regarding North Korea's nuclear programme, in light of the row over Iraq's Weapons of Mass Destruction? North Korea is widely considered by intelligence officers as the hardest target to crack in terms of reliable information, and there are political pressures at work within the Bush administration that raise the spectre that intelligence may also be manipulated for ideological purposes."
Remember this fact firmly, and never let it out of your mind. Even though news comes out almost daily that American and British intelligence was "manipulated" the facts about Iraq's WMD program, the Administration and the Mass Media are using the same tired propaganda to justify an attack on North Korea. The one difference is that North Korea has bragged about its possession of nuclear weapons; however, many analysts like those at BBC are not convinced that North Korea really has these weapons.
NEWS BRIEF: "Analysis: North Korea may to walk out of nuke talks", New Straits Times, August 14, 2003.
"NORTH Korea will play hard to get during upcoming six-party talks over its nuclear weapons programme and could walk out in order to raise the stakes, analysts say. While the format and dates for the Beijing discussions may finally be in place, little progress is expected to be made ... The six-way talks among North and South Korea, the United States, Japan, China, and Russia are expected to run for three days from Aug 27 in Beijing following a hive of diplomatic activity as each side stakes out its ground."
These talks are going to feature a lot of sight, sound and fury, but will likely collapse without agreement. In fact, if we are at the place where World War III is about to begin, the collapse of these talks may be followed by the "hair-raising confrontation that threatens mankind's existence".

VII. Israel suffers more suicide attacks after Al Aqsa Martyrs -- commanded by Arafat -- announced that they were no longer going to abide by the "hudna" ceasefire with Israel. Several news stories are worthy of consideration.
NEWS BRIEF: "West Bank cities could be freed", By Mark Heinrich, Swissinfo.com, August 16, 2003.
"JERUSALEM (Reuters) - Israel has agreed to hand security control of four West Bank cities to Palestinian authorities by the end of August to push Palestinian militants to honour a truce crucial to peace moves, security sources say. They said any further "terror attacks" would scuttle the accord reached by Defence Minister Shaul Mofaz and Palestinian Security Minister Mohammed Dahlan after a weeks-long impasse over how to implement a U.S.-backed 'road map' peace plan."
This situation where Israel rewards Palestinian suicide attacks on Jewish citizens by either ignoring a meaningful military response or by giving them more concessions is beyond belief! Ever since the signing of the Oslo "Peace" Accord in 1993, the Palestinians have struck again and again and again in bloody suicide attacks. In each instance, the dovish Israeli government -- heavily influenced by Shimon Peres -- made the announcement that they were not going to allow this latest bloody attack to derail the "peace process". After 10 long, bloody years, with the Palestinians no closer to living side-by-side with Israel than they were in 1993, the Israeli government is still rewarding the Palestinian aggression!
NEWS BRIEF: "Israel releases more Palestinian prisoners", The Jerusalem Post, August 15, 2003.
"Israel began releasing more Palestinian prisoners Friday, but Palestinian leaders have said such releases in small numbers fall far short of their demands of a mass release ... Palestinians demand that instead, Israel must free many of the 7,000 other prisoners it is holding, including uprising leaders, but Israel refuses to release Palestinians involved in terror attacks."
In a blatant attempt to appease Palestinian leaders -- the same terrorists that have been terrorizing Israel for years -- the Sharon government is bowing to Bush Administration pressure to release these jailed terrorists in order to "save" a "peace process" that is doomed to failure simply because the Palestinians will not be satisfied with anything other than the complete annihilation of Israel so they can have 100% of the Holy Land.
NEWS BRIEF: "PA adds 'confiscated' Qassam rockets to armory", The Jerusalem Post, August 15, 2003.
"Israel Radio Territories Correspondent Avi Yissakharov reported on the noon news program that Palestinian security sources claim that have confiscated ten Qassam missiles as well as mortars in the Gaza Strip. 'Since the Palestinians have made no indication that they plan to follow the Roadmap and transfer the weapons to a third party (e.g. America) for removal, it would appear that if the Palestinian report is correct that they have come up with a novel way to arm their security forces with weapons systems that are beyond those permitted in the Oslo agreements,'[ Dr. Aaron Lerner, Director IMRA (Independent Media Review) told The Jerusalem Post."
Indeed, our sources within Israel are reporting that the Palestinians are using the cities and towns which the IDF handed over to their control recently as staging areas for either more terrorist attacks or from which to launch a full military attack. IDF soldiers are said to be watching Palestinian terrorists loading car trunks with explosives and then driving the car into thick traffic in an attempt to disappear from IDF sight. Many Israelis are said to be very depressed right now and more than a little afraid. They instinctively feel that something big is about to break wide open.
VII. The Federal Government was "busted" this week by none other than ABC News Online for "setting up" a British citizen on charges of attempting to smuggle anti-aircraft weapons into this country. Let us get the news story first, and then the ABC News rebuttal.
NEWS BRIEF: "Arms dealer wanted to smuggle 50 missiles into US: FBI", India Times Online, August 14, 2003.
"NEWARK, New Jersey: A British suspected arms dealer ordered held without bond Wednesday had begun arranging to smuggle 50 more shoulder-fired missiles into the United States soon after securing one of the weapons, which he thought was intended to shoot down a jetliner, according to an FBI affidavit. The document also said that Hemant Lakhani, dealing with an undercover FBI agent he believed to be a Muslim terrorist, was recorded as referring to the Sept. 11 attacks, saying Osama bin Laden 'did a good thing' and 'straightened them all out'. Lakhani, 68, described as a 'significant international arms dealer,' is charged with attempting to provide material support and resources to terrorists and acting as an arms broker without a license. 'The terrorists who have threatened America lost an ally in their attempts to kill our citizens,' Christopher J. Christie, the U.S. attorney for New Jersey, said after Lakhani's arraignment."
Once again, at a time when most Americans were beginning to relax about terrorism in our cities and beginning to feel safe about flying, this major story breaks. Airline officials must be pulling their hair out over this very scary story. Even though technology exists for commercial airliners to be outfitted with sophisticated electronic equipment that causes anti-aircraft missiles to miss their target, these stories did not mention this fact, choosing instead to focus on the very frightening prospect of terrorist shooting airliners out of the sky.
Then, ABC News broke that story that this operation was nothing more than a "set-up" against a very minor arms figure! Listen:
NEWS BRIEF: "Less Than Meets the Eye? U.S. Government Sting Operation Criticized as Setup", by Bryan Ross, ABC News Online, August 13, 2003.
"Administration officials are leaving out key facts and exaggerating the significance of the alleged plot to smuggle a shoulder-launched missile into the United States, law enforcement officials told ABCNEWS. They say there's a lot less than meets the eye."
The facts quoted by ABC News are numerous and too complicated for us to fully explore here. We have issued an analysis of this deliberate set-up in NEWS1846; we encourage you to read it, for once again, we have caught the US Government lying to its own people and planting evidence in order to set up a man possibly innocent. If we can do this to foreigners, the time will shortly arrive when the government is doing it to American citizens.
VIII. Sniper is possibly on the loose again, shooting people at night filling their cars in convenience stores!

NEWS BRIEF: "2 gunned down: Woman, man shot dead outside Campbells Creek, Cedar Grove gas stations", By Paul Wilson, Staff Writer, The Charleston Gazette, Charleston, West Virginia, August 15, 2003.
"Two people were killed late Thursday in separate shootings outside Kanawha County convenience stores, in what police said could be related random shootings. The two became the second and third people shot dead outside Kanawha Valley convenience stores within four days, and the third and fourth people murdered in Kanawha County on a bloody Thursday. Thursday night, a woman was gunned down while pumping gas at a Campbells Creek convenience store about 10:20 p.m., while another person was shot slightly more than an hour later outside a Cedar Grove store. Both were killed."
Is a sniper loose again, like the Beltway Sniper of last October? This remains to be seen, but it is possible. We shall just have to wait to see if this shooter is killing his people in a pattern like the Beltway Sniper. If you have not read our expose articles demonstrating that the Beltway Sniper(s) were shooting in a pattern of an inverted Goatshead of Mendes Pentagram, or that they were under Mind Control, we urge you to read these following articles.
* NEWS1710 -- "ORIGINAL MARYLAND SHOOTINGS SHOWN TO BE: 1). NOT GEOGRAPHICALLY RANDOM; 2) OCCURRING ON A SATANIC HOLIDAY DEVOTED TO THE DESTRUCTION OF THE OLD ORDER. 3) SHOOTING PATTERN FORMS A BROKEN CROSS!"
* NEWS1714 -- "SHOT #11 ON OCTOBER 11 IS IN A LINE THAT FORMS A SATANIC PENTAGRAM ON THE GROUND IN MARYLAND, WASHINGTON, D.C., AND FREDERICKSBURG, VIRGINIA. ORIGINAL BROKEN CROSS PACKS POWERFUL WALLOP IN MESSAGE TO FUNDAMENTAL CHRISTIANS!"
* NEWS1718 -- "SURPRISING -- AND UNEXPECTED -- OCCULT SYMBOLISM UNCOVERED BY STUDYING THE BELTWAY SNIPER SHOOTING PENTAGRAM!"
* NEWS1722 -- "BELTWAY SNIPER KILLS IN ASPEN HILL, MARYLAND, WITHIN 100 YARDS OF SHOT #1 WHICH MISSED HIS TARGET AND DID NOT KILL INITIALLY "
* NEWS1725 -- "WE HAVE CAUGHT THE SNIPER LIKE A DUCK IN A NOOSE" -- ILLUMINATI MIND CONTROL TRIGGER"
Please follow all the details with us of this shooting spree to determine whether we have a similar sniper shooting pattern developing. Email us any pertinent information you uncover from any credible source. Since average citizens are to be panicked to such a high degree that they will accept loss of liberties in order to "solve" terrorism in our cities, a sniper shooting in urban areas would further such panic. We have already suffered panic producing events such as the Blackout and the computer virus, so a new sniper shooting scenario would just add to the angst of the American citizenry.
IX. City Terror alerts continued to come out in the news last week.
NEWS BRIEF: "Australia says next major terror attack`a matter of time', Taipei News, Thursday, Aug 14, 2003.
"Prime Minister John Howard said yesterday he agreed with the nation's intelligence chief that another 'catastrophic' terrorist attack against Western interests was just a matter of time and Australia was a probable target. 'It may sound a rather grim warning but that's the kind of world we live in,' Howard told Sky News Television. 'Nobody should underestimate how much the world changed on the 11th of Sept. 2001'."
Nearly 2 full years after the 9/11 attacks, governments continue to get great mileage out of them in order to further their own agendas for establishing the New World Order and the dictatorships that are planned. Not only have Americans suffered innumerable fake terrorist warnings from our own FBI and Homeland Security, but now other governments are jumping on the bandwagon.
NEWS BRIEF: "Australia's Spy Agency Warns of Biological, Chemical Attacks", Bloomberg Report, August 13, 2003.
"A biological or chemical attack carried out by terrorists is ``only a matter of time,'' said Dennis Richardson, the chief of Australia's security agency. 'There is a genuine concern that a catastrophic attack is certainly only a matter of time,' said Richardson, the director- general of the Australian Security Intelligence Organization. It is unlikely any victory in the war against terrorism will be declared 'any time soon,' he said. The security body released a transcript of Richardson's speech, which was made last week, on the day a car bomb killed 11 people in Indonesia's capital, Jakarta."
NEWS BRIEF: "Ashcroft Planning Multi-City Tour to Tout Patriot Act", AP Breaking News, Aug 11, 2003.
"WASHINGTON (AP) - Attorney General John Ashcroft will embark on a multi-city tour later this month to talk about the war on terrorism and the benefits of the USA Patriot Act ... Ashcroft plans to kick off the tour Aug. 19 in Washington and visit more than a dozen cities ... The Patriot Act, passed a few weeks after the terrorist attacks on Sept. 11, 2001, strengthened the government's surveillance powers, beefed up anti-terrorism laws and made it easier to go after financial backers of terrorism. Critics say the law threatens civil liberties and improperly allows the government to snoop into people's lives."
This reference to "critics" of the Patriot Act is much too soft; the Patriot Act gives the President, the Attorney General, F.E.M.A., and Homeland Security dictatorial powers not seen since the days of Josef Stalin and Adolf Hitler , and I do not exaggerate! Now, Attorney General Ashcroft is not only going to speak in favor of the original Patriot Act, but will also be pushing "Patriot Act II", which has now been renamed the "Victory Act". We have obtained a copy of this new threat to our liberties and shall be issuing a news article shortly.
X. Australia seems to be taking the lead in forcing Pacific Region "Non-Integrating" countries to reform rapidly so they can smoothly meld into the coming New World Order. If you have not read our article detailing this critically important plan to attack countries deemed "Non-Integrating" into the coming global government, economy and religion, we urge you to stop and read this article right now. You will then understand why countries as diverse as Liberia, Africa and The Solomon Islands in the Pacific Region are being invaded by Capitalist countries. You will also discover why we invaded Iraq and why the Middle East is slated for such huge war. This article is NEWS1833.
In the past few weeks, it has become apparent that America is not having to act against "Non-Integrating" countries in the Pacific Region, because Australia has taken that role for us. Listen:
NEWS BRIEF: "Big neighbours flex muscles", by John Armstrong, The New Zealand Herald, 16 August 2003.
"Wellington (New Zealand) had already harboured reservations about the clumsy manner in which the Australian-led intervention in the Solomon Islands was put together - which seemed to bear out suggestions that Australia now views itself as the self-appointed 'regional policeman' ... More difficult to sweep under the carpet is Australia's subsequent rubbishing of the notion that United Nations approval must be an essential prerequisite for using force to deal to such so-called rogue states."
This term, "rogue states" is being applied to "Non-Integrating" countries who need to be quickly and forcefully moved into the global system known as the New World Order. Invasion of selected countries within a region and a threat to invade others within that region, is designed to quickly force all such countries to adopt the kind of changes needed so they can join all the rest of the nations in the global government, economy and religion of the Kingdom of Antichrist.
If you review Daily News Updates for this past week, you will discover daily news stories about changes being forced and threatened in these "Non-Integrating" countries. The number of such stories is so vast we cannot possibly cover them in this electronic newsletter. We shall be dovoting space in each of our Daily News Updates to this most important subject, for the movement of these backward type of countries must occur before Antichrist can arise.
XI. Ashcroft leaves open possibility of same-sex civil unions in US. How can this be, for Attorney General Ashcroft is supposed to be a Born Again Christian who holds daily prayer and Bible studies in his Justice Department! Sadly, we see yet another instance of bad, bitter spiritual fruit emanating from the Bush Administration. Let us review this news story.
NEWS BRIEF: "Ashcroft leaves open possibility of same-sex civil unions in US", Sun Aug 3, 2003, http://story.news.yahoo.com/news?tmpl=story&u=/afp/20030803/pl_afp/us_gays_030803212927
"WASHINGTON (AFP) - Attorney General John Ashcroft (news - web sites) Sunday left open the possibility of allowing a system of civil unions for same-sex couples, amid a raging debate over gay marriage in the United States ... he declined to comment on the Bush administration's stance on civil unions, which would grant same-sex couples many of the same rights enjoyed by married couples. 'That's a very complex question that I'm not going to make a recommendation on. We're doing research on that now,' Ashcroft told the "Fox News Sunday" television program."
Now, why would a man supposedly Born Again, with the Holy Spirit dwelling within his heart and extensive knowledge of Scripture firmly in his mind, need to "do research" on the "complex question" of granting same-sex couples many of the same rights enjoyed by married couples?! The Scripture says homosexuality is not only grievous sin, but worthy of the Death Penalty as well! We shall be issuing a series of articles on this subject, with Part 1 beginning on Monday.
Once again, we see bad spiritual fruit in the Bush Administration. Now you can see why Lesbian and Gay groups have been so enthusiastic over the Bush Administration and why Concerned Women of America warned in mid-2002 that Bush's Gay policies were identical to Clinton's! [Read NEWS1652 for full details].
---------- New Articles Posted This Week ----------
* "SAME-SEX MARRIAGES DEFILING 'THE MARRIAGE OF THE LAMB", Satan loves to counterfeit and to blaspheme the true institutions of God. Gay - Lesbian "marriages" and the sexual lifestyle they practice, represents THE ugliest, most polluted counterfeit blasphemy against God possible. As the world explodes in acceptance of homosexuality, rest assured you are watching one of the final prophecies to be fulfilled prior to the appearance of Antichrist and the Rapture of the Church. -- http://www.cuttingedge.org/news/n1847.cfm
* "HAS GOVERNMENT BEEN "BUSTED" IN LYING ABOUT MISSILE STING OPERATION?", We have always had difficulty convincing Americans that their government routinely lies in order to achieve their globalist goals. This news story demonstrates this reality, and pertinent information from Dr. Dennis Cuddy shows numerous historical instances in which lying achieved the government's goals. As you read this article, bear the following Illuminati doctrine in your mind:
"In all ages the people of the world .... have accepted words for deeds, for THEY ARE CONTENT WITH A SHOW and rarely pause to note, in the public arena, whether promises are followed by performance." [Protocols of the Learned Elders of Zion, Protocol 5 -- DESPOTISM AND MODERN PROGRESS; Emphasis was in the original] -- http://www.cuttingedge.org/news/n1846.cfm

* "PLAYING CHURCH BY THE NUMBERS", Outcome-based Religion: Purpose-Driven Apostasy", http://www.cuttingedge.org/news/n1506ch8.html
We shall be posting an article reporting a "Purpose Driven" church service in which I personally sat. You will be horrified to learn of the gross distortions of key biblical doctrine coming from that one church service and from that one sermon. Truly, you will agree that this "Purpose-Driven Church" is the prophesied Laodicean Church of Revelation 3! The very existence of this church is fulfilling Bible prophecy right in front of our eyes, in our Daily News!
---------- Resource Update ----------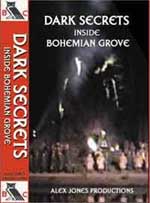 We are back instock of Bohemian Grove video. This video reports the actual inner workings of this most Black Magick society, the same society who publicly chose Arnold Schwarzenegger to be California Governor candidate. Here are the details of this must-see video:
"Dark Secrets Inside Bohemian Grove" -- Video by Alex Jones -- http://www.cuttingedge.org/detail.cfm?ID=581
"America Destroyed By Design" -- Video by Alex Jones. A must-see video by all those who really want to understand how America's leaders could deliberately destroy the very Constitution and liberties they have sworn to protect. See how the National Sovereignty of the US is constantly being subordinated to the International Community, to the Presidio, and to the United Nations. See why we gave up control of the Panama Canal, even though we knew the Chinese would take it over. See how our precious children are being indoctrinated to become good occult Global Citizens. Extra-special footage of the Oklahoma City bombing. Over 2 1/2 hours long. -- http://www.cuttingedge.org/detail.cfm?ID=582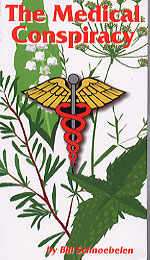 We are going to be back instock of our newest video, "The Medical Conspiracy", by former Satanist, Bill Schoebelen. This video reveals the conspiratorial origins of American medicine; how the ruling elite stole medicine from the Church and set up the an evil cabal medical establishment to reduce population by withholding cures. Bill will speak on how our medical establishment is out of balance. He will expose The Iron Triangle: How the Federal Drug Administration, the drug companies, and the medical schools collude together to control and destroy your health. Sadly, you will discover the Biblical truth that the Church was originally in charge of health and healing. Bill excellently separates the Biblical truth from the new age nonsense. http://www.cuttingedge.org/detail.cfm?ID=585
------Conclusion--------------Instructions On "Entry Into The Eternal Kingdom"
2 Peter 2:2-11
"May grace (God's favor) and peace (which is perfect well-being, all necessary good, all spiritual prosperity, and freedom from fears and agitating passions and moral conflicts) be multiplied to you in [the full, personal, precise, and correct] knowledge of God and of Jesus our Lord. For His divine power has bestowed upon us all things that [are requisite and suited] to life and godliness, through the [ full, personal] knowledge of Him Who called us by and to His own glory and excellence (virtue). By means of these He has bestowed on us His precious and exceedingly great promises, so that through them you may escape [by flight] from the moral decay (rottenness and corruption) that is in the world because of covetousness (lust and greed), and become sharers (partakers) of the divine nature.

For this very reason, adding your diligence [to the divine promises], employ every effort in exercising your faith to develop virtue (excellence, resolution, Christian energy), and in [exercising] virtue [develop] knowledge (intelligence), And in [exercising] knowledge [develop] self-control, and in [exercising] self-control [develop] steadfastness (patience, endurance), and in [exercising] steadfastness [develop] godliness (piety), And in [exercising] godliness [develop] brotherly affection, and in [exercising] brotherly affection [develop] Christian love.

For as these qualities are yours and increasingly abound in you, they will keep [you] from being idle or unfruitful unto the [full personal] knowledge of our Lord Jesus Christ (the Messiah, the Anointed One). For whoever lacks these qualities is blind, [ spiritually] shortsighted, seeing only what is near to him, and has become oblivious [to the fact] that he was cleansed from his old sins. Because of this, brethren, be all the more solicitous and eager to make sure (to ratify, to strengthen, to make steadfast) your calling and election; for if you do this, you will never stumble or fall.

Thus there will be richly and abundantly provided for you entry into the eternal kingdom of our Lord and Savior Jesus Christ." [Parallel Bible, KJV/Amplified Bible Commentary]
This passage is one of my most favorite, and one so meaty and rich that you should literally spend years studying it and still not appropriating to your heart the full depth, width, and height of its meaning. This passage is one of those of which our Lord had in mind in Psalm 1:2, where He urged His people to: "habitually meditate (ponder and study) by day and by night."
May Jesus Richly Bless You,
David Bay, Director
866-909-2850 Toll Free Customer Service - Order Line
803-356-2850 Toll Free Customer Service - Order Line
803-356-2860 Fax
customerservice@cuttingedge.org