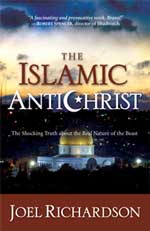 "The Islamic Antichrist:
The Shocking Truth about the Real Nature of the Beast"
In "The Islamic Antichrist", Joel Richardson breaks new ground with this devastating account of the possible connection between the Biblical Antichrist and the Islamic Mahdi. The Bible predicts that in the last days a charismatic leader will establish a global following in the name of peace. The Koran also predicts that a man will rise up to lead the nations, pledging to usher in an era of peace. The man in the Koran is called the Mahdi, or Islam's savior. However, the man in the Bible is the Antichrist. Could it be possible that this is the same person?
Indeed, the Bible states that Antichrist - he who comes in the guise of Jesus - will draw all peoples and religions of the earth to himself and his false prophet. Indeed, the Biblical Antichrist and the Mahdi the Muslims are expecting are the same person
Richardson's stunning research and analysis suggest that it is. In "The Islamic Antichrist", he exposes Western readers to the traditions of Islam and predicts that the end times may not be that far away. His book will stun readers who are unaware of the similarities between the Antichrist and the 'Islamic Jesus.'
We do not necessarily agree with all Richardson's conclusions, but you will find the detail about Islam to be priceless and stunning.
Introductory Book Sale: Regularly $25.95, On Sale $16.99, Saving You Almost $10.00!
Hardcover: 320 pages - http://www.cuttingedge.org/detail.cfm?ID=2096
---
---------- This Week's Hot News ---------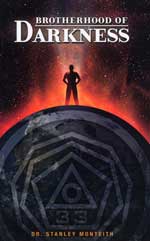 Book
I. Now the truth of Mass Media and government statistics is fully known! 83% of all statistics in the Climate Change scare are completely made up!!
This revelation applies to all other areas of the government scare machine.
NEWS BRIEF: "83 Percent of All (Scientific) Statistics are Made Up on the Spot", By Dr. Tim Ball, Canada Free Press, August 31, 2009
"Saki (H.H Munro) said, "A little inaccuracy sometimes saves tons of explanation." Today we have tons of inaccuracy and very little explanation. Most inaccuracies come from claims based on non-existent or inadequate historical data, extremely crude estimates, computer model projections, or are simply incorrect. It's prevalent in environmental issues but particularly bad with climate and animal extinctions."
"As Henry Adams said, "Practical politics consists of ignoring the truth."
Too many people in every land trust their government and their Mass Media to give them the truth. In fact, the age-old misconception was that "if something is in print, it must be correct". Seizing upon this misconception, Illuminati governments and their obedient Media partners have conspired to cook up the most unbelievable statistics in order to panic their citizens to allow the most drastic changes you can ever imagine to be forced upon them.
Nowhere is this premise more true than in the debate over Climate Change and Species Extinction.
"A good example is a 2008 report that claimed, 'Human activity is wiping out close to one per cent of every other species on Earth every year, a global environmental report said Friday'. What absolute rubbish. They can't possibly substantiate these claims. We don't know how many species there are. We are finding new species all the time. We don't have even crude estimates of populations. We don't know how much population numbers vary. What do they mean by 'every other'? They should name all the species that comprise their claims?"
"Numbers in the 2008 Report are part of the ridiculous, completely unscientific, claims made originally by E.O. Wilson about species extinction. Self-proclaimed Canadian environmentalist David Suzuki traveled across the country a few years ago claiming the demise of 2 species an hour. He wouldn't name any of them because it's a false claim...."
Why are human beings so susceptible to these false claims? Do we want to believe them?
"Claims of declining numbers work because we're emotionally vulnerable to charges we're negatively impacting animal populations. They work because people believe populations don't change much; naturally therefore large or sudden changes are due to humans. "
"Human activity" is the buzzword of the Global Warming fanatics like Al Gore. Their goal is to reduce the world's population down to the "sustainable level" of 2 billion people. In order to achieve this goal, the Illuminati has created five major global crises which are intended to so scare people that citizens of every country will allow drastic changes to be made, like abolition of our Industrial Civilization.
We return one more time to our featured article, allowing Dr. Bell to sum up this wonderful insight.
"It's Time to Expose Scientific Nonsense: Animal populations and distributions vary considerably over time. Every report of decline or discovery in a new location is now attributed to human induced climate change or other human activity. Perhaps the most outrageous is the claim of humans hunting Ice Age species to extinction. All ignore natural variability, but that is the pattern of anti-humanity environmental hysteria. As Lord Dunsany said, 'It is very seldom that the same man knows much of science, and about the things that were known before science came' His comment is even truer if the science is perverted to political ends."
Now you know the truth. In each of these five major crises designed to panic people into allowing drastic government action to effect the even more drastic changes which the Global Elite want to make, political and scientific activists and Mass Media are issuing the most ridiculous false claims imaginable!
The truth is out; spread the truth!
DVD
II. The Massachusetts legislature is trying to pass a bill granting police authorities the most sweeping dictatorial powers in order to force citizens to accept the Swine Flu vaccination.
NEWS BRIEF: "Cops jump on swine-flu power: Shots heard 'round the world: Pandemic bill allows health authorities to enter homes, detain without warrant", World Net Daily, September 01, 2009
"A 'pandemic response bill' currently making its way through the Massachusetts state legislature would allow authorities to forcefully quarantine citizens in the event of a health emergency, compel health providers to vaccinate citizens, authorize forceful entry into private dwellings and destruction of citizen property and impose fines on citizens for noncompliance."
What is the proposed level of punishment for anyone refusing to be vaccinated?
"If citizens refuse to comply with isolation or quarantine orders in the event of a health emergency, they may be imprisoned for up to 30 days and fined $1,000 per day that the violation continues. "Pandemic Response Bill" 2028 was passed by the Massachusetts state Senate on April 28 and is now awaiting approval in the House."
Listen to the unconstitutional and dictatorial provisions of this bill:
"... upon declaration by the governor that an emergency exists that is considered detrimental to public health or upon declaration of a state of emergency, a local public health authority, with approval of the commissioner, may exercise the following authorities (emphasis added):
* "to require the owner or occupier of premises to permit entry into and investigation of the premises;
* "to close, direct, and compel the evacuation of, or to decontaminate or cause to be decontaminated any building or facility, and to allow the reopening of the building or facility when the danger has ended;"
* "to decontaminate or cause to be decontaminated, or to destroy any material; "
* "to restrict or prohibit assemblages of persons;"
* "to require a health care facility to provide services or the use of its facility, or to transfer the management and supervision of the health care facility to the department or to a local public health authority;
* " to control ingress to and egress from any stricken or threatened public area, and the movement of persons and materials within the area;"
* "to adopt and enforce measures to provide for the safe disposal of infectious waste and human remains, provided that religious, cultural, family, and individual beliefs of the deceased person shall be followed to the extent possible when disposing of human remains, whenever that may be done without endangering the public health;"
* "to procure, take immediate possession from any source, store, or distribute any anti-toxins, serums, vaccines, immunizing agents, antibiotics, and other pharmaceutical agents or medical supplies located within the commonwealth as may be necessary to respond to the emergency;
* "to require in-state health care providers to assist in the performance of vaccination, treatment, examination, or testing of any individual as a condition of licensure, authorization, or the ability to continue to function as a health care provider in the commonwealth."
* "to collect specimens and perform tests on any animal, living or deceased; "
As you can see, this bill, if passed and then fully implemented, will turn the State of Massachusetts into a dictatorship. Numerous Constitutional protections would be immediately set aside. By the time any citizen or organization could set the matter before the Supreme Court, the damage would be done and the crisis passed. Given the extent of the Illuminati control over the Supreme Court, we believe the High Court would not rule to overturn these obvious Constitutional breeches of our rights and liberties.
"Law enforcement authorities are authorized to "arrest without warrant any person whom the officer has probable cause to believe has violated an order for isolation or quarantine and shall use reasonable diligence to enforce such order. Any person who knowingly violates an order for isolation or quarantine shall be punished by imprisonment of not more than 30 days and may be subject to a civil fine of not more than $1,000 per day that the violation continues."
These fines are heavy-duty and will scare most citizens into compliance.
Let us close this segment out with the report from Australia that their Winter Season Flu problem was mild, posing much less of a problem than authorities originally envisioned.
NEWS BRIEF: "Official: Swine flu near peak in Australia: 147 people have died, far fewer than expected", Gulf News, August 28, 2009
"Canberra: Australia's swine flu epidemic appears to be peaking after 147 people died with the virus, far fewer than initially expected, a top health official said Friday .... Government chief medical officer Jim Bishop said doctors around Australia were reporting fewer patients with flu-like symptoms. There was no sign that the virus has mutated into a more deadly form, he added ... He said the death toll was far lower than initial forecasts that more than 3,000 of Australia's 22 million people could die of the virus..."
As we have stated before, this current Swine Flu pandemic is probably going to be far less of a problem than government and health authorities are predicting. However, this crisis is going to be used as a means by which the national infrastructure can be set in place which will allow the government to lock down this country when the final plague -- the plague of Seal 4 in Revelation 6 -- finally hits.
The passage of this Massachusetts bill is a good case in point. There is no way in the world that any state could even contemplate passage of such draconian legislation under normal circumstances. But, given the high level of official hysteria over Swine Flu possibly killing 90,000 Americans, officials in Massachusetts believe they can pass such horrific legislation.
Welcome to the New World Order.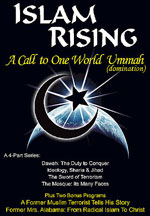 DVD
III. President Obama continued to reveal his Islamic connections and foundations.
NEWS BRIEF: "Obama praises Islam at official Ramadan meal ", The Jerusalem Post, September 2, 2009
"US President Barack Obama on Tuesday praised American Muslims for enriching the nation's culture at a dinner to celebrate the Islamic holy month of Ramadan."
Where did the President hold this Islamic honoring dinner? At the State Department Dining Room.
Listen to the praises Obama lavished on Islam.
" 'The contribution of Muslims to the United States are too long to catalog because Muslims are so interwoven into the fabric of our communities and our country', Obama said at the iftar, the dinner that breaks the holiday's daily fast. The president joined Cabinet secretaries, members of the diplomatic corps and lawmakers to pay tribute to what he called 'a great religion and its commitment to justice and progress'."
The major objection I have to this glowing tribute is that it is simply not true. The only "commitment to justice and progress" which Islam knows is the "justice and progress" a person or a community or a nation makes when they covert to Islam, often at the point of a very bloody sword.
Islam remains the greatest killer of Christians in the Church Age. The only reason much of the Middle East is so predominately Muslim today is because the forces of Islam systematically murdered -- annihilated -- the Christian community about 1,000 years ago.
Nine years ago, we posted an article revealing the true heart and soul of Islam. Please take a moment to read NEWS1418, entitled, "PALESTINIAN MUSLIM CLERIC URGES ALL ARABS TO KILL JEWS, CHRISTIANS, AND AMERICANS WHEREVER THEY HAPPEN TO LIVE!"
Quoting just a segment of this most important article reveals much about both Islam and Freemasonry.