When President Bush, Prime Minister Sharon and "Prime Minister" Abbas met at Aqaba on June 3-6 to declare a Palestinian State, we declared that the "state" proclaimed at Aqaba would lead to nowhere [NEWS1819]. We predicted that events would demonstrate that even though a Palestinian State was declared, "nothing shall be there". Today, this is the reality in Israel. You have just had the privilege of witnessing fulfillment of prophecy in your Daily News!
Arafat Proof Positive That Neither Israel Nor America Is Truly Trying To End This Conflict: After struggling with over 20 years of suicide attacks, you would think that Israel would no longer put up with the leadership of the Palestinian who has been delivering these blows. That means killing or imprisoning Arafat. Either Israel or the U.S. could end Arafat's life and his influence in minutes. After all, when you are facing a deadly snake, you kill him by cutting off his head, not by cutting off small pieces of his tail!
Yet, when Israel sends her forces into Palestinian cities to root out terrorist infrastructure and when they kill a terrorist leader or ground soldier militant, she is simply cutting off the tail. Every day Arafat stays alive to continue to carry out his murderous terror, you will continue to know that Israel is really protecting him, their public statements to the contrary notwithstanding.
In NEWS1429, we report that the Illuminist Russian KGB blackmailed Arafat into becoming leader of the PLO; the equally Illuminist American CIA controlled Israel. Today, Arafat stays alive simply because he has a role to play in the coming all-out war between Israel and the Palestinian Authority. Therefore, do not be deceived by constant Israeli attacks on terrorist leaders and followers, nor by their public pronouncements. Look at Arafat. As long as he is alive and governing, he still has a role to play in the coming war.
III. U.S. Army announced it had "discovered" what caused the deaths of several soldiers to the "mysterious pneumonia" reported in Iraq. On the surface, this news sounds like the best possible! Our Army medical staff says it has "discovered" what caused the "mysterious deaths" of several of our soldiers! However, something in their explanation did not seem right to me so I sent the article to our medical source, a doctor in a foreign army. The reply from this doctor was most disturbing.
But, first, let us examine the original news story:
NEWS BRIEF: "Army finds cause of four cases in unusual rash of pneumonia", By Pauline Jelinek, ASSOCIATED PRESS, 1:00 p.m. September 4, 2003.
"WASHINGTON -- Army officials investigating a number of serious pneumonia cases among troops in the Iraq and Afghanistan campaigns say they have discovered what sickened four soldiers ... Two of the cases were fatal... Blood tests also showed that 10 of the 19 had larger than normal numbers of eosinophilia white blood cells known to fight certain infections, especially parasitic ones."
This is the Army's "discovery" -- "larger than normal numbers of eosinophilia white blood cells". Let us allow this doctor to explain, in his own words, in a return email.
""AHHHH YES!!! Eosinophils!!! Infectious disease and parasitic infections - sounds a lot like the beginning of the Gulf War Syndrome ... The article really doesn't say a lot. Just without saying it, they are saying: 'right now, folks, we're clueless". Even though the article does state in the beginning that they do know what harmed the soldiers. Read it again, and see for yourself. All they're saying is the eosinophils are elevated, which could be this, that, or the other. But they have not, I REPEAT NOT given a DIAGNOSIS of what is wrong."
Whenever a person enters a doctor's office -- or the Emergency Room -- with a raging fever, the doctor will rightly conclude the person has an equally raging infection in his body. The first step he will perform is to take a blood sample and the very first thing he will do is to examine the white blood count, including eosinophilia blood cells.
Thus, when the Army doctors said in this article that they had noted that these guys had an elevated level of eosinophilia, they were simply describing Step One of the medical discovery process to determine what the problem was; yet, this article presents the finding of an elevated eosinophils as the "discovery", saying that that they know what the cause of death is because they see that the eosinophils are elevated! Instead of knowing what the problem is, these doctors are really saying that they are stuck on Step One of the medical discovery process! As our doctor said, they are "clueless".
We have issued a full-length article on this subject (NEWS1853) in which we discuss this "discovery" in excellent detail, and tie it into the terrible subject of Depleted Uranium + Vaccines + Toxins from local biting insects + Searing heat. A new "Gulf War Syndrome is developing and it will be identical to Gulf War I Syndrome, a malady caused by these four elements interacting within each body of the soldier.

IV. President Bush dramatically strengthens the United Nations as his policy in Iraq is increasingly seen as disastrous. During the early days of the invasion of Iraq, we pointed out that the Bush/Blair invasion of Iraq was a pre-eminent exercise of National Sovereignty. The United Nations had refused to authorize this invasion; therefore, Bush was threatening the collective worth of the U.N. Had his invasion turned out spectacularly with no serious downside, people around the world would begin to have less faith in the U.N. and more faith in the individual decision-making of national leaders! The Illuminati has staged two world wars to establish the U.N. as the future global government that Antichrist will ultimately control. The underlying theme for the entire 20th Century has been that National Sovereignty is evil and must be abolished, giving way to the global "collective wisdom" of the United Nations. Therefore, if Bush's policy was completely successful, the United Nations could be relegated to the level of irrelevance. The American patriot movement to get the U.S. out of the U.N. might become a parade of nations from around the world!
This past week, a host of articles posted in Daily News Updates have been shouting that Bush's policies are failing badly. Daily casualties, a lack of control over Iraq's internal affairs, spectacular terrorist attacks, and nagging reports of Coalition soldiers dying of a "mysterious disease" have all contributed to a revival of the UN as a worthy global government is growing. President Bush has even signaled that he wants the UN to take internal control of Iraq, and that he wants international military "peacekeepers" to take pressure off Coalition soldiers-- provided such soldiers remain under American control.
Space and time fail us here to tell this full story, but we shall issue a thorough study on Monday.
VI. China's invasion of Taiwan is the third planned war of the World War III to produce Antichrist. In our last newsletter, we noted that the Chinese have made the necessary military command changes you would expect if an invasion is close. This week, we saw that the Taiwanese have sent a strong warning of their own to the Communists on the Mainland.
NEWS BRIEF: "Taiwan holds massive wargames amid warnings of future Chinese threat", Yahoo News, 9/4/03.
"LITZECHIEN, Taiwan (AFP) - Taiwan staged its biggest ever live-fire military wargames here, firing sophisticated missiles and mobilizing high-tech weaponry in a mock "invasion" by rival China. The exercise, staged in the northeastern Ilan county and codenamed "Han Kuang 19" (Han Glory), was aimed at fully illustrating the defense capability of Taiwan's armed forces ... "The Chinese communists have actively expanded their military strength in recent years, striving to develop the projection capabilities of their navy and air force ... accordingly posing a serious threat to our national security," Taiwanese President Chen said.
"He warned that, should a war break out, the People's Liberation Army would use high-tech weaponry and launch blitzes to paralyze Taiwan's military commands, bunkers and major government establishments."
If Taiwan is attacked, she will find her armed forces will be facing an enemy greatly strengthened technologically over the past decade because of President Clinton's policy of trading, giving away, and allowing Chinese spies to steal whatever secrets they wanted. When China wins, they should hold a parade for President Clinton! We have written extensively on this subject, and we encourage you to thoughtfully read them, for you will realize how far back the decision to allow China to conquer Taiwan was made. You will also see that Clinton was just carrying out a 150-year Illuminati plan!
Here are our archived articles on this most interesting subject:
The blackout occurred also 13 days prior to August 27, the time of the closest Mars approach to earth!
Since then, blackouts have occurred in other areas of the Industrialized world.
* London, England, a massive blackout occurred during rush hour, Thursday afternoon, August 28. The Mayor noted that the disruption would have been far worse had it occurred during the heat of the summer rather than on a cool, rainy day
* Sydney, Australia, Tuesday, September 2. Blackout was blamed on underground fire
* Five states in Malaysia suffered massive blackout on September 1. "Losses would have doubled if the blackout had not occurred on a public holiday..." ["Malaysian blackout cost industries $13.8 million", Straits Times, September 1, 2002]. An interesting fact is that the majority of the blackout occurred in the wealthy tourist and manufacturing sectors, both areas greatly hated by the Illuminati [Read NEWS1693].
* Southern Yucatan peninsula lost power affecting 3 million customers. Hardest hit were tourist areas. "The popular coastal resort of Cancun in Quintana Roo state was hardest-hit by the power loss." ["Blackout hits southern Mexico", Xinhua News Agency, September 3, 2003]
Thus, major blackouts hit America and Great Britain on August 14 and 28, respectively, and on September 1, 2 and 3 in other Industrialized countries. It is typical of the Illuminati to stage events both as tests, and to send signals to other occultists throughout the world. Given the intense hatred the Illuminati has toward our Industrialized Civilization, we would not dismiss the possibility that the blackouts have not only given the Illuminati a great opportunity to test their ultimate blackout during the coming planned panics, but have been staged "according to the numbers" in order to send a signal to fellow occultists throughout the world that the planned demise of the Industrial Civilization is on track, awaiting only the coming of the Great One who will finish the process and "cleanse" Mother Earth.
Right on schedule, the FBI declared they were "concerned" about a terrorist threat in a future blackout.
NEWS BRIEF: "FBI concerned about threat of terror-induced blackouts", CNN, September 5, 2003.
"WASHINGTON (CNN) -- The FBI found no evidence of any type of terrorism or criminal hacking in its investigation of the August power blackout in the Northeast, but the threat of such action remains a concern, the FBI's top counterterrorism official told a House committee Thursday."
Then, in this morning's news, we read a story from England that shocked us greatly. Listen:
NEWS BRIEF: "MASS EVACUATION OF LONDON PLAN DRAWN UP: Residents could be herded into rest and reception areas", Sat Sep 06 2003 22:32:11 ET
"Plans have been drawn up by the Government for a mass evacuation of London in the event of a terrorist attack ... Leaked documents are said to detail how residents could be herded into 'rest and reception areas' in the Home Counties in the event of an actual or imminent attack. The confidential plan, codenamed Operation Sassoon, was presented to the London Resilience Forum at the Cabinet Office in July, according to The Sunday Times."
The last time we heard about populations being herded anywhere was the Bush Administration initiative soon after 9/11 in which entire cities could be cordoned off during Martial Law and people herded into public areas like sports stadiums in order to receive a forced vaccination [Read NEWS1577 for details]
Right on cue, a top British "terrorism expert" spoke out forcefully to warn of the inevitability of attacks against cities. Listen:
NEWS BRIEF: "Top British cop says terror attack inevitable", 9/5/2003, New Zealand Herald.
"LONDON - Britain faces a threat from suicide bombers, with a terror attack almost inevitable, says Britain's top police officer.
"The suicide threat is there and we have to take account of that," Sir John Stevens, who runs London's police force, said yesterday ... 'We are at the highest level of alert, I think, that we have ever been' ... There has never been a suicide bomb attack in Britain but the threat took 'a quantum leap', Stevens said, after a series of deadly attacks this year on targets stretching from Saudi Arabia to Morocco to Indonesia. "
We sense that a steady propaganda build-up is now reaching a climatic point to where, at the time when the people of Industrialized countries are the most nervous about attack, attacks will actually be staged. During the time when all-out war breaks out in the Middle East, when a crisis erupts on the Korean Peninsula that "threatens mankind's existence", and when China invades Taiwan, government provocateurs are poised to instigate disastrous rioting in multiple cities in the United States, Great Britain, Europe and other Industrialized countries. A blackout would greatly encourage the criminal element, sending city riots spinning out of control. Since our National Guard and Army units are planned to be sent outside the country because of the above-mentioned wars, local and state police will not be able to re-establish control. At that moment, FEMA or Homeland Security will request the United Nations to send foreign troops to land on American soil to restore order. At that moment, the 1952 Illuminati plan to reduce America to foreign patrol zones rather than a sovereign nation will be instituted, just as NEWS1328, mentioned above, reports.
In the meantime, Attorney General John Ashcroft's Concentration Camp plans take on new meaning, do they not? [Read NEWS1691 and listen to Texe Marrs audio-tape set, "Attorney-General John Ashcroft's Concentration Camp Program"]
VIII. The confusing Dialectic principle was in full view with North Korea this past week. Let us review the stories.
American Concessions
Track #1
NEWS BRIEF: "US policy key obstacle to ending nuclear crisis: China", AFP, MANILA, September 1, 2003.
"US policy on North Korea is the biggest obstacle to resolving the nuclear crisis in the Korean peninsula, China's chief delegate to the six-nation talks on the stand-off said here ...Washington has reportedly rejected Pyongyang's demand for a non-aggression pact and other concessions as a precondition to dismantling its nuclear programmes."
Track #2 -- Seemingly Contradictory
NEWS BRIEF: "U.S. May Give North Korea Aid Before Full Arms Halt", Bloomberg.com, September 4, 2003.
"The U.S. told North Korea it was willing to offer incentives, including addressing the reclusive country's security concerns, before the communist regime must completely and verifiably dismantle its nuclear arms program."
Thus, on September 1, the US rejects the idea of any compromise prior to North Korea dismantling their nuclear arms program, but then on September 4, we turn completely around to agree to offer concessions prior to North Korea dismantling their nuclear program!
North Korean Participation In Future Six-Way Talks
Track #1

NEWS BRIEF: "North Korea reverts to nuclear threat", Times of India, August 31, 2003.
"BEIJING: North Korea took less than a day to break the modest agreement it had made with the United States and four other nations at a six-party summit: to hold more talks aimed at ending a 10-month standoff over its nuclear weapons program. Instead, North Korea angrily dismissed the possibility of further negotiations over its nuclear program ... "The talks only reinforced our confidence that there is no other option for us but to further increase the nuclear deterrent force," the North's Foreign Ministry said Saturday..."
Thus, on August 31, North Korea was firmly ruling out more talks.
Track #2 -- Seemingly Contradictory
NEWS BRIEF: "North Korea seeks more six-party talks", Asia Pacific, September 5, 2003.
"North Korea has told South Korea and China that it plans to take part in a future round of six- party talks to resolve a standoff over its nuclear programme."
Therefore, on August 31, North Korea rejected any idea of further six-way negotiations but then on September 5, the same North Korean government "seeks more six-party talks".
What is going on? Why are we having so many contradictory statements on the same issue? We are seeing a typical Illuminist outworking of the "Dialectic Principle" that controlled conflicts bring about controlled change. Remember the principle that the Illuminati controls both side of any conflict: they control President Bush and the North Korean leadership.
Both parties are once again following an established Illuminati Dialectic principle of following a jagged path from Point A to Point Z so as to hide his true objective and to confuse both his enemies and the people over whom he is ruling.
This principle is called the "Dialectic". Since most of you probably have never heard of this term before, let us begin our discussion with a definition of the term. Dialectic was an hypothetical proposition originated in 1823 by a German professor, Hegel, which stated that the only two constants in the world were change, and the conflict that was inevitable from opposing forces that produced such change. Hegel pronounced that "Conflict produces Change, and that Controlled Conflict Produces Controlled Change". Therefore, if one wants to reach a certain controlled end result, he would best be served if he could create a conflict between opposing parties, the end result of which would be the end he sought.
A "positive" result of this conflicting and confusing manner of controlling the news of the world is that people are confused and turned off from following daily news events. Thus, when the news takes an abrupt turn, these type of people will not even know what has just happened to them. The Illuminati Plan for global dictatorship is thus greatly aided by an ignorant electorate.
Then, of those who do read Daily News, a high percentage of them refuse to believe that government leaders want to enslave them. It is much easier to assume that government leaders have the best interests of the people at heart, ignoring mountains of evidence to the contrary. Most of the obviously terrible decisions made by our leaders are ascribed to greed, stupidity, or incompetence. No one wants to believe that their leaders want to enslave them, and are set out on a path to do just that.
Thus, when these leaders are deliberately following a zig-zag Dialectic Path to get from Point A to Z, over 90% of the electorate either do not know, or do not want to know, what is really occurring. I guess this article is aimed at those 10%, or fewer, people who have the courage to face the truth, and to warn others, especially in spiritual matters.
Likewise, this jagged path of events between North Korea and the United States will continue to follow a seemingly contradictory path. When you see such contradictory stores, just remember the ultimate goal. The Korean crisis is War #2 in this planned World War III and is designed to get so bad that mankind will believe they are going to be killed in an all-out nuclear exchange.
Therefore, do not be surprised if you see an atomic "test" explosion in the near future, even though North Korea has stated that they do not have the bomb. Remember the time(s) they stated that they do have the bomb. The confusing dialectic will continue until the final purpose of staging Antichrist on the world scene is realized.
IX. Yellowstone Super Volcano news got really serious last week. Last week, we posted a thorough article [NEWS1852] on the very real possibility that the Yellowstone Super Volcano was already in the first stage of an explosion. We noted the unbelievably huge ground deformations in two locations in the park -- at the bottom of Yellowstone Lake and in the Norris Geyser Basin. Further, we quoted geology sources who stated that such ground deformations are a reliable indicator of an impending eruption. If Yellowstone Super Volcano does explode, the devastation could reach 600 mile radius, a statistic so frightening we included a map depicting the full area of the potential devastation.
This week, we posted two emails on discussion boards giving first-hand evidence that a tremendous eruption may be very close. Let us review these personal accounts.
* "Anonymous warning from visitor to Yellowstone", Tue Sep 2 2003 3:10:31 pm. "Hello folks, next door neighbor just got back from a weeks stay in Yellowstone. we talked and I was told a lot more camping areas have been closed off besides around the Lake. he is an avid fisherman, said the fish are ffloating dead in the streams, and the lake is closed. A very strong smell of H2SO4 (sulfur) People were leaving due to smell --- He also mentioned that the Seismo sites had been shut down!?????? Did some homework on Utah and Montana sites YEP---- looks like things are not being updated after Aug 29-30."
* "Yellowstone is worse than we thought", Wed Sep 3 2003 11:29:11 pm. "The husband of my daughter´s social studies teacher is staying at the Crow Reservation in Montana, 100 miles from Yellowstone. He said that over and above everything we have heard to date (which he says is absolutely true), there is a large dead zone of animals and vegetation. Immediately outside this dead zone, vegetation has stopped growing and animals are migrating out of the area. New geysers and mud pots are springing up daily. You can physically see the ground bulging up, not only at Yellowstone Lake, but in several places in the park. They have closed more areas to the public than is being reported. There are several areas where the ground temperature tops 200 degrees. And earthquakes are becoming a daily occurrence."
Intense sulphur smell, dead fish floating in the water, dead zones of animals and plant life, ground bulging upward, mud pots springing up daily, ground temperatures exceeding 200° F. and daily earthquakes are all ominous signs that an eruption is coming, and may be closer than you think. The most frightening disclosure is that the ground temperature is over 200°, for that means the magma is very close to the surface! When magma gets that close, an eruption is nearly a foregone conclusion.
X. For most of the past week, violent clashes have been occurring in the Kashmir area between Indian military and Muslim terrorists, with the tacit support of the Pakistani military. Remember, both India and Pakistan are nuclear powers and had nearly gone to nuclear war in 2002. If the militant Muslims can cause a conflict to explode between Pakistan and India at the same time Israel is battling the Palestinians/Syrians, and Egyptians, they can throw the entire Middle East into all-out war which they believe will favor the Muslim nations because of their superior numbers. Pakistan also knows that China will come to their defense should India begin to win; what the Pakistani leadership does not realize is that China is going to come to her aid because of prophetic considerations [Read NEWS1602].
Let us review some of the points of conflict in Kashmir that just may send this region into war:
NEWS BRIEF: "Car bomb blast at Kashmir market", CNN, Saturday, September 6, 2003
"SRINAGAR, Indian-controlled Kashmir (CNN) -- A remote-controlled car bomb has exploded at a crowded marketplace in Indian-Kashmir's summer capital Srinagar, killing six people and wounding about 29 others, police say ... It is the latest in a string of violence over the past few weeks in the restive region of Jammu and Kashmir. More than 70 people have died in Indian-controlled Kashmir since soldiers said they killed a top rebel commander, Gazi Baba, last Sunday ... Meanwhile, a gun battle between suspected militants and Indian security forces continued for the fourth day on Saturday in Kathua district in Jammu, near the Line of Control that separates the Indian-controlled part of the region, from the Pakistani-controlled area."
Four continuous days of battle between Muslim terrorists and Indian forces may throw the region into war. We shall just have to wait to see how events continue to unfold, remembering that a battle in this region will have Biblical prophetic implications.
However, a recent development has occurred that has added new urgency to this entire Kashmir crisis. China is moving troops!
NEWS BRIEF: "China readies buildup on its disputed border with India", Stratfor Intelligence,5 September 2003
"Chinese military forces are conducting aggressive patrols inside the disputed border with India ... China, meanwhile, is quietly building up its presence in the eastern border region, creating all-weather roads and logistical support facilities that appear designed for rapid deployment of troops and forces."
The Chinese are doing what? They are "creating all-weather roads and logistical support facilities that appear designed for rapid deployment of troops and forces." This is the very area that their all-weather road built long ago to transport enormous men and materiel from China to the Middle East is located [Read NEWS1602 for full details]. Are we witnessing the beginning of the plan to move Chinese troops to the Middle East? With so many other End of the Age prophecies coming true right now, we can only pause to consider the enormity of consequences that are prophesied to occur once the "Kings of the East" make their move. We are looking at a prophecy that will occur late in the 7-year Tribulation Period, so it makes sense that China might begin her final logistical preparations now.
As you witness the unfolding dispute between India and Pakistan, remember that China will never allow India to win and take over Pakistan's portion of Kashmir, for that is the region through which this current all-weather road passes!
XI. Bush dramatically increases the "Regime Change" rhetoric against Iran, using a United Nations report as ammunition.
NEWS BRIEF: "Bush on warpath over UN's shock report on Iran A-bomb", 07/09/2003, news.telegraph.co.uk
"America will tomorrow demand that the United Nations takes urgent action to prevent Iran acquiring the atom bomb as fears mount that Teheran is on course to develop a nuclear weapons capability within two years. United States officials will make the demand at a special meeting of the International Atomic Energy Agency (IAEA) in Vienna that has been arranged to consider a 10-page report by Mohammed al-Baradei, the agency's director-general, into the state of Iran's nuclear programme."
While President Bush listed Iran as one of the three "Axis of Evil" nations [Read NEWS1750], the likelihood that we might actually invade Iran seems low, unless we use different tactics that relied upon our own very special weapons. For the time being, Bush seems content to allow the United Nations to take the lead in forcing this particular "Non-Integrating State" [NEWS1833] into line so it can be incorporated into the New World Order.
---------- New Articles Posted -----------
* "U.S. ARMY ANNOUNCES IT HAS FINALLY DISCOVERED WHAT CAUSED "MYSTERIOUS ILLNESS" OF SEVERAL SOLDIERS! Once you understand the medical "lingo" used in this article referenced above, you will realize that the Army has just announced they are stuck at Stage One in trying to discover what is killing these men! Our original analysis stands even stronger today than a month ago!" - http://www.cuttingedge.org/news/n1853.cfm
* "Ban Truth - Reap Tyranny", by Berit Kjos. Ten Commandments being removed is an accurate barometer of America's spiritual condition before God. "Be astonished, O heavens, at this, and be horribly afraid..." says the Lord. "For My people have committed two evils: They have forsaken Me, the fountain of living waters, and hewn themselves cisterns—broken cisterns that can hold no water." Jeremiah 2:12-13 -- http://www.cuttingedge.org/articles/db031.htm
* "YELLOWSTONE SUPER-VOLCANO MAY BE IN "EARLY STAGES" OF ERUPTION! As we review the signs -- especially the huge rock deformations that have occurred -- be advised that geologists have admitted that the Yellowstone Super-Volcano is 20,000 years past due for a major eruption. Rock deformation has already occurred that dwarfs that of Mt. St. Helens in 1980! Is this eruption the event that will deliver the planned 9.0 earthquake in Los Angeles? -- http://www.cuttingedge.org/news/n1852.cfm
--------Christian Resource Update---------------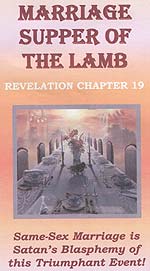 * "Same-Sex Marriage vs Marriage Supper of the Lamb" - Video -- Since US Supreme Court ruled that homosexuality is legal, a flood of gay news, TV shows and entertainment exposure has exploded. We are truly being inundated with this filthy flood. As America becomes like Sodom, we would do well to realize what is happening on the spiritual plane. As the true Marriage Supper of the Lamb draws nigh, Satan has established his own horrific counterfeit: Same Sex Marriage. Once you see this video, you will understand why it is so important for the Gay/Lesbian activists to legalize Same Sex Marriages! You will see how very far down the road to ruin this country is, and you just might hear the faint sound of distant trumpets in your ears! -- http://www.cuttingedge.org/detail.cfm?ID=603
* "The Rapture of the Church: Christianity's Most Preposterous" Belief -- Audio Tape 2-tape set w/Notes -- Clearly, the idea of the Rapture can be considered the most preposterous belief in Biblical Christianity. The situation regarding the doctrine of the Rapture is painfully similar to the famous quote by Dr. Richard Feynman, speaking of quantum physics: "I think it is safe to say that no one understands quantum mechanics... in fact, it is often stated of all the theories proposed in this century, the silliest is quantum theory. Some say that the only thing that quantum theory has going for it, in fact, is that it is unquestionably correct." Your faith will be strengthened by this 120-minute presentation. -- http://www.cuttingedge.org/detail.cfm?ID=602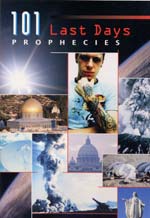 * "101 Last Days Prophecies" -- 31-page Booklet -- 10/Pack -- If people could just see how many Last Days prophecies are coming true right now, in our Daily News, they might be convinced that the End of the Age is truly upon us. This 31-page booklet carefully and accurately explains each prpohecy that either has been fulfilled or is in the process of being fulfilled. There are 101 prophecies explained!!
This booklet makes such a great soul-winning tool, you should give a person the booklet
"Parable of Hell" afterward. You save $5.00 if you buy the "101 Last Days Prophecies" in multiples of 10. -- http://www.cuttingedge.org/detail.cfm?ID=601
May also be bought individually for only $2.49 -- http://www.cuttingedge.org/detail.cfm?ID=600

* "A.W. Tozer CD-ROM Library - Computer Software Program -- Study the wonderful works of the Christian Missionary Alliance leader who strongly opposed the denomination's entrance into the 'Evangelical Movement'! For the price, this Bible study program may be the best value. Searchable database containing the vast majority of Tozer's written works. This invaluable resource is a user-friendly devotional and ministry tool that will become a vital part of your library. With its text and verse search capabilities, The Tozer CD-ROM Library will allow you to access to the immeasurable wealth of Tozer's writings. Also contains 3 books by A.B. Simpson. A tremendous amount of priceless writings for only $44.99 - http://www.cuttingedge.org/detail.cfm?ID=599
----------Conclusion---------------------------------------Heaven and Hell
The most godly Christian is the one who knows himself best, and no one who knows himself will believe that he deserves anything better than hell. The man who knows himself least is likely to have a cheerful if groundless confidence in his own moral worth. Such a man has less trouble believing that he will inherit an eternity of bliss because his concepts are only quasi-Christian, being influenced strongly by chimney-corner scripture and old wives' tales. He thinks of heaven as being very much like California without the heat and smog, and himself as inhabiting a splendiferous palace with all modern conveniences, and wearing a heavily bejeweled crown. Throw in a few angels and you have the vulgar picture of the future life held by the devotees of popular Christianity.

This is the heaven that appears in the saccharin ballads of the guitar—twanging rockabilly gospellers that clutter up the religious scene today. That the whole thing is completely unrealistic and contrary to the laws of the moral universe seems to make no difference to anyone.
The man who is seriously convinced that he deserves to go to hell is not likely to go there, while the man who believes that he is worthy of heaven will certainly never enter that blessed place. ["Quotable Tozer, Tozer Library]
May Jesus Richly Bless You,
David Bay, Director
866-909-2850 Toll Free Customer Service - Order Line
803-356-2850 Toll Free Customer Service - Order Line
803-356-2860 Fax