As we stated in NEWS1854, the fundamental goal for which the United Nations is aiming is to play the "Good Cop - Bad Cop" routine, trying to convince all "Non-Integrating States" that, if they would disarm in cooperation with the U.N., they would not have to fear an invasion by the U.S.!
However, once Iran and North Korea reject this routine, it shall be interesting to see who actually invades: a U.N. or a U.S. force.
VIII. Hurricane Isabel is a potentially 4 or 5 Category Hurricane and may hit the U.S. with devastating force. In the past several days, Hurricane Isabel has been attracting a lot of attention because she has become so powerful, and because her projected path indicates that she might hit the U.S. mainland very strongly.
NEWS BRIEF: "Hurricane Isabel weakened somewhat but still very powerful", Accuweather, September 13, 2003.
"Hurricane Isabel has strengthen again Saturday afternoon ... The maximum sustained winds have increased again to 160 mph with gusts to 195 mph, back to a category 5 hurricane ... An eyewall replacement cycle took place this morning, which caused the winds to increase this afternoon."
Speaking of the "eye" of the storm, we noticed a very interesting shape within the eye of this hurricane. For all the world, the shape seemed to be in the form of a Masonic Pentagram Logo. Were this pattern any less noticeable, we would not have taken note, passing off this incident as simply coincidental.
However, we are well aware that the Illuminati has controlled the weather for the past two decades at least [Read our articles of Weather Control]. Not only can hurricanes and typhoons be created, they can be dissolved and they can be steered! There is no reason whatsoever that a hurricane should ever devastate any land anymore. Consider this news article published not too many years ago.
WALL STREET JOURNAL REPORTS -- 1997
NEWS BRIEF: "Malaysia to Battle Smog With Cyclones", by Chen May Yee, Staff Reporter of the Wall Street Journal, The Wall Street Journal, Thursday, November 13, 1997, page A19.
"KULA LUMPUR -- Malaysia's war on smog is about to get a new twist. The government wants to create man-made cyclones to scrub away the haze that has plagued Malaysia since July. 'We will use special technology to create an artificial cyclone to clean the air', said Datuk Law Hieng Ding, minister for science, technology and the environment. The plan calls for the use of new Russian technology to create cyclones -- the giant storms also known as typhoons and hurricanes -- to cause torrential rains, washing the smoke out of the air. The Malaysian cabinet and the finance minister have approved the plan, Datuk Law said. A Malaysian company, BioCure Sdn. Bhd., will sign a memorandum of understanding soon with a government-owned Russian party to produce the cyclone. "Datuk Law declined to disclose the size of the cyclone to be generated, or the mechanism. 'The details I don't have', he said. He did say, though, that the cyclone generated would be 'quite strong'. Datuk Law also declined to disclose the price of creating the cyclone."
This article is written by the prestigious Wall Street Journal, and it reports, very matter of factly, that Malaysia is ordering a cyclone just as someone might order some lawn furniture from a catalog! We also learned that the Russians do have the capability of creating such a huge storm for a fee. Also unsaid, but inferred, is that this cyclone could be steered or controlled so that it would come close enough to Malaysia to clear away the haze that was bedeviling that nation, but not so close it would cause any damage. Further, the nations close to Malaysia are not quoted as being overly concerned that this most powerful of storms might accidentally hit their shores.
One Cutting Edge subscriber, an American living in Moscow -- called our office to talk about Weather Control and Warfare. He said that, if he mentioned weather control to an American, he would be looked at as though he had three heads; however, the average Russian accepts weather control as a normal factor of life. Almost daily, some "Weather Modification" company is advertising their services, and such companies are now public!
For full details, read NEWS1694.

But, for those who wish to create such a series of devastating events over a period of time that people will accept a radical change for a New World Order [Read NEWS1855 for full details], powerful storms can be very effective. A hurricane produces enough devastation that it disrupts normal life in the community. It can force people from their homes, leaving them to police and/or military control especially if Martial Law is imposed. Finally, people who have suffered grievous losses are dependent upon FEMA if their home insurance will not cover all the loss; thus, people are led to trust the very wolf that will one day eat them!
Finally, one day -- after a number of horrendous natural disasters have hit this country and throughout the world -- a spiritual "superman" will announce that the reason America has been suffering so much is that our Industrial Civilization is imposing stresses on "Mother Gaia" ("Mother Earth") that are intolerable to the goddess; therefore, Mother Gaia has finally started to take manners in her own hands by imposing these disasters. Therefore, Antichrist will order that "Re-Wilding" be carried out throughout the world [Read NEWS1368], a draconian plan in which most of the land in the world will be set aside, prohibiting mankind from carrying out any "human activity". All humans will be shoved into very tightly controlled land areas. The USA map in NEWS1368 tells the story, so we suggest you study it carefully. Note that virtually the entire East Coast is designated either "Core Reserves -- Little or No Human Use" or Buffer Zones -- Highly Regulated". This area is precisely the areas affected by Atlantic hurricanes!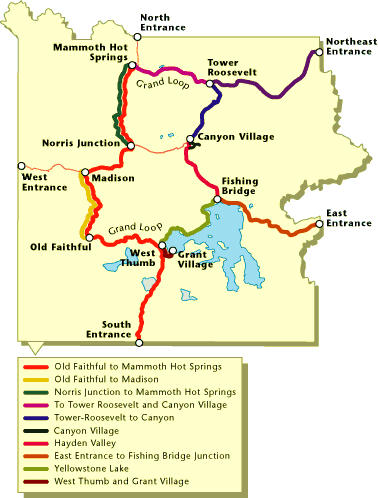 IX. Last week, a British newspaper broke the story that the Yellowstone Super Volcano might devastate much of the earth! We have been posting many articles about the impending Super Volcano eruption in Yellowstone in Daily News Updates, in addition to our article -- NEWS1852. Now, a British major paper has broken the news to their readers.
NEWS BRIEF: "A Monster That Could Destroy Life On Earth As We Know It", by Ian Gurney, UK Daily Express, Wednesday, 10 September 2003, 7:11 p.m.
"In the heart of America lies a monster that could destroy life on earth.Part of America's Yellowstone National Park was closed to visitors on July 23rd. this year and remains closed today due to high ground temperatures and increased thermal activity in the park ... On August 7th. the United States Geological Survey (USGS) reported that scientists were planning to set up a temporary network of seismographs, Global Positioning System receivers and thermometers to monitor increasing hydrothermal activity in the Norris Geyser Basin and gauge the risk of a hydrothermal explosion. On August 10th. the Denver Post reported that Liz Morgan, a U.S. Geological Survey research geologist had discovered a huge bulge underneath Yellowstone Lake that had risen 100 feet from the lake floor. The bulge is two thousand feet long and has the potential to explode at any time."
We have reported all this to you in our article, NEWS1852, except for the sudden burst of activity by the USGS. As we have stated before, geologists know that, when you see significant land deformation, you know an eruption is both inevitable and imminent.
Now, let us return to this British article:
"Then, on August 24th. The University of Utah Seismograph Station reported that a magnitude 4.4 earthquake occurred just 9 miles southeast of the southern entrance to Yellowstone National Park. USGS scientists agreed that the earthquake was "uncommon" in that it was a very shallow earthquake, occurring just 0.3 miles below the surface."
Once again, this activity is very common when the magma is jolting its way toward the top of the rock dome still sealing the magma within. However, if magma is only at 0.3 of a mile down, an eruption seems clearly close. Then, this article quotes Dr. Bruce Cornet, a geologist and paleobotanist with the USGS, information we have been following also. Now, this British article gets to the meaty part of the problem.
"Initially this should be of little or no consequence to anyone apart from those planning to visit Yellowstone.....................except for one thing. Lurking beneath Yellowstone National Park is one of the most destructive natural phenomena in the world - a massive supervolcano. Only a handful exist in the world but when one erupts the explosion will be heard around the globe. The sky will darken, black acid rain will fall, and the Earth will be plunged into the equivalent of a nuclear winter. It could push humanity to the brink of extinction."
We have always discounted this "nuclear winter" scenario, especially the since the ash from Mt. St. Helens fell at a much faster rate than scientists had originally believed possible. But, there is no doubt, given the magnitude of the two land deformations in Yellowstone Park, that this imminent eruption is going to be consistent with a Super Volcano, thus meaning that at least 20 states may be "re-wilded" in a matter of days.
We also noted that an unprecedented typhoon (hurricane) has just devastated South Korea.
NEWS BRIEF: "South Korea's most powerful typhoon ever leaves 72 dead, 24 missing", by Vijay Joshi, Associated Press, TheStarOnline.com, Sunday, September 14, 2003.
"SEOUL, South Korea (AP): A typhoon lashed coastal South Korea with a fury unseen in a century, lifting shipping containers in the air, toppling gigantic cranes and flipping a cruise ship on its side. At least 72 people were killed and 24 missing by the time the storm subsided. Typhoon Maemi hit the southeastern coast Friday night with gale winds blowing at a record 216 kilometers (135 miles) per hour before weakening into a tropical storm Saturday. More than 24,900 people fled their homes to seek shelter in schools and public facilities, said the National Disaster Prevention and Countermeasures Headquarters, or NDPCH. Vast tracts of farmlands, cities and rivers were flooded ... Maemi is by far the most powerful typhoon since we began compiling weather records in 1904 ... Maemi's wind speed was the fastest ever, topping the 210 kph (129.6 mph) record set by Typhoon Prapiroon in 2000."
We seem to be seeing a series of historically unprecedented natural disasters occurring in the same time frame as so many other prophecies are either occurring in our Daily News, or having the stage set for their fulfillment! How is this for a coincidence?
---------- New Articles Posted ----------
* "SMOKING GUN" PROOF THAT ILLUMINATI PLAN TO ATTACK ON 9/11 AND BEYOND WAS WELL KNOWN AS FAR BACK AS 1995! Part 1 - Future Cataclysmic Events Accurately Foretold In 1995 Illuminati Card Game -- 9/11 Attack and the Rapture of the Church Foreseen - http://www.cuttingedge.org/news/n1753.cfm
* "SMOKING GUN" PROOF THAT ILLUMINATI PLANNED TERRIBLE EVENTS MANY YEARS AGO TO BRING DOWN OUR CULTURE: Part 2 - Cataclysmic Events Accurately Foretold In The 1995 Illuminati Card Game -- "Events That Have Already Occurred" - http://www.cuttingedge.org/news/n1855.cfm
* "PRESIDENT BUSH'S IRAQ FIASCO IS ACTUALLY STRENGTHENING THE UNITED NATIONS!" Bush's Iraq attack cannot be allowed to succeed, for his unbridled success will strengthen National Sovereignty and destroy the U.N. Now that Bush's Iraq policy is widely seen as a disaster, some people are beginning to look to U.N. as the Savior - http://www.cuttingedge.org/news/n1854.cfm
* "U.S. ARMY ANNOUNCES IT HAS FINALLY DISCOVERED WHAT CAUSED 'MYSTERIOUS ILLNESS' OF SEVERAL SOLDIERS!" Once you understand the medical "lingo" used in this article referenced above, you will realize that the Army has just announced they are stuck at Stage One in trying to discover what is killing these men! - http://www.cuttingedge.org/news/n1853.cfm
* "Ban Truth - Reap Tyranny", by Berit Kjos, Guest Columnist. Like ancient Israel, America has gradually been turning its back to God. Ten Commandments is just the latest symptom! http://www.cuttingedge.org/articles/db031.htm
---------- Resource Update ----------

* "Big Bookstore Sale: Up to 50% Off: As we bring in new titles of books, videos, and audios for the Fall, we need to sell out some of our older titles. Therefore, we have begun a sale that gives you the opportunity to buy great titles of product for savings between 33 - 50%. At these prices, you can afford to buy merchandise to give as gifts! - http://www.cuttingedge.org/onsale.cfm
* "The Rapture of the Church: Christianity's Most Preposterous Belief" - Video Tape - "Clearly, the idea of the Rapture can be considered the most preposterous belief in Biblical Christianity. The situation regarding the doctrine of the Rapture is painfully similar to the famous quote by Dr. Richard Feynman, speaking of quantum physics: I think it is safe to say that no one understands quantum mechanics... in fact, it is often stated of all the theories proposed in this century, the silliest is quantum theory. Some say that the only thing that quantum theory has going for it, in fact, is that it is unquestionably correct. There continue to be many questions concerning the "Rapture" of the Church and its apparent contrast with the "Second Coming" of Jesus Christ. Where does this strange view come from? Is the term "rapture" even in the Bible? http://www.cuttingedge.org/detail.cfm?ID=604
Also available as an audio tape -- http://www.cuttingedge.org/detail.cfm?ID=602
* Soul-Winning Products -- We are beginning to amass some very good soul-winning materials, a must in this End of the Age time period. These products can be used in combination for even greater effect. These products are the perfect way in which to witness to someone about Jesus Christ, as you can put into their hands the exact product they need to recognize the urgency of the hour and then know the steps by which they can receive Jesus as their Savior.
These soul-winning items are: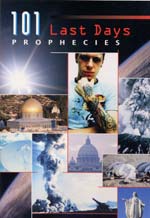 1. 101 Last Days Prophecies -- Booklet -- 10/Pack -- If people could just see how many Last Days prophecies are coming true right now, in our Daily News, they might be convinced that the End of the Age is truly upon us. This 31-page booklet carefully and accurately explains each prpohecy that either has been fulfilled or is in the process of being fulfilled. - http://www.cuttingedge.org/detail.cfm?ID=601
2. Parable of Hell Booklet -- 10-pack -- Most graphic portrayal of the tormented condition of a lost soul in eternity. A father and loving husband lay dying, carrying a secret in his heart that he had kept from his wife and family: he was a counterfeit Christian! Before he could change anything, his soul stepped into eternity, and he found himself in a most terrible Hell. NOTE: Comes with a FREE Salvation Tract - http://www.cuttingedge.org/detail.cfm?ID=590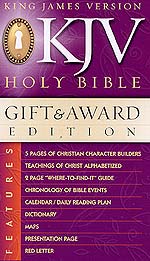 3. KJV Ministry Bible Black, $3.99 -- An inexpensive KJV paperback Bible meant to be purchased in large quantities. Has dictionary and concordance, 800 pages long, and 5 3/4" x 7 1/2". - http://www.cuttingedge.org/detail.cfm?ID=360
Now that you are equipped with the tools, go out aggressively to save their souls!!

"Behold, I say unto you, Lift up your eyes, and look on the fields; for they are white already to harvest. And he that reapeth receiveth wages, and gathereth fruit unto life eternal: that both he that soweth and he that reapeth may rejoice together." John 4:35-36

--------Conclusion---------Abandonment to Christ
When a man takes his place on the cross with Jesus Christ once and for all, and commends his spirit to God, lets go of everything and ceases to defend himself—sure, he has died, but there is a resurrection that follows!
IF JESUS CHRIST IS NOT controlling all of me, the chances are very good that He is not controlling any of me.
THE MAN WHO SURRENDERS to Christ exchanges a cruel slave driver for a kind and gentle Master whose yoke is easy and whose burden is light.
I WONDER HOW MANY CHRISTIANS in our day have truly and completely abandoned themselves to Jesus Christ as their Lord. We are very busy telling people to "accept Christ"—and that seems to be the only word we are using. We arrange a painless acceptance. [Quotable Tozer, Tozer Library CD-ROM]
=======================================================
May Jesus Richly Bless You,
David Bay, Director
866-909-2850 Toll Free Customer Service - Order Line
803-356-2850 Toll Free Customer Service - Order Line
803-356-2860 Fax