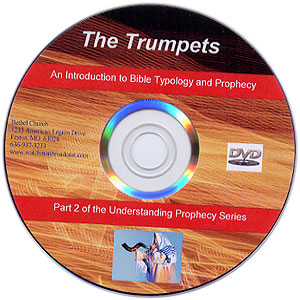 New Pastor Hoggard DVD
"God's Fantastic Trumpets"
A Study of Prophetic Types In Biblical Prophecy
Part 2 of "Understanding Prophecy" Series
This video is the second part of Pastor Hoggard's Understanding Prophecy series. God has painted wonderful pictures in the King James Bible of future events. Pictures (types) that reveal plain truths of the Rapture, the rise of the antichrist, and the salvation of Israel in the last days. Using Biblical stories such as The Two Silver Trumpets, The Feast of Trumpets, The Breach of Uzzah, and others, you will see incredible details in the Bible that you never saw before, all of them in plain sight.
I have always loved the study of prophetic Types in the Bible, but I have never studied them from the aspect of being tied to prophetic Trumpets. Your faith will really be strengthened when you view this DVD.
Regularly $29.99, On Sale $14.99, Saving You 50%! - http://www.cuttingedge.org/detail.cfm?ID=2107
---
---------- This Week's Hot News ---------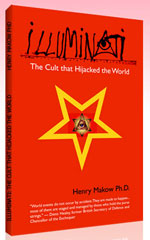 I. One of the top Illuminati figures in the world advocates that American fighters shoot down Israeli jets as they cross Iraqi air on way to an attack on Iran!
Zbigniew Brzezinski is probably second in global authority in the Illuminati to Henry Kissinger; therefore, when he speaks, people had better listen.
NEWS BRIEF: "Brzezinski suggests Obama shoot down Israeli jets if they attack Iran, World Net Daily, September 21, 2009
"The national security adviser during President Jimmy Carter's administration says the U.S. should confront Israeli jets if that nation chooses to take military action against Iran's nuclear threat. Zbigniew Brzezinski, in an interview with the Daily Beast website, declared, 'We are not exactly impotent little babies'."
The Illuminati has always been the silent "power behind the throne", so when one of its most important officials makes a statement like this one, Israeli officials had better pay attention. Brzezinski demonstrates his global elite credentials very impressively. Consider just three facts:
1) Brzezinski was a co-founder of the Trilateral Commission, whose major aim is to transition the world's many economies into just one.
2) Brzezinski was President Carter's Foreign Policy Adviser
3) Brzezinski was Candidate Obama's Foreign Policy Adviser during his 2008 presidential campaign (Read full details in NEWS2267, entitled, "Senator Obama Has Strong Ties To Illuminati - Communist Illuminati At That!")
We noted that Zbigniew Brzezinski is not only Illuminati, but Marxist in his inner core. Already, we have seen numerous hints of a Communist/Fascist slant in President Obama, and will continue to see that trend as his administration continues to unfold.
Now, let us return to Zbigniew Brzezinski's startling remarks.
"... an Israeli attack on Iran probably would have to fly over coalition airspace in Iraq. 'Are we just going to sit there and watch?' Brzezinski asked .... He said the U.S. has to be 'serious' about denying Israel the right to attack. 'That means a denial where you aren't just saying it. If they fly over, you go up and confront them. They have the choice of turning back or not', he said."
The Global Illuminati has just thrown up a line of defense between Israel and Iran! Now, Israel knows that the United States could very well attack her fighters as they fly over Iraqi airspace on the way to attacking Iran.
But, why should we be surprised? In April, 2003, just days after Coalition Forces captured Baghdad, Russia's President Putin warned that Russia would not allow America to overthrow another regime in the Middle East! (Read full details in NEWS2003, entitled, "Russian Checkmate In The Middle East")
In 2007, Putin went even further in his warnings against a Western attack on Iran, when he stated that an attack on Tehran (Iran) would be considered an attack on Moscow (Russia). Therefore, Putin put the entire world on notice that any power attacking Iran would be instantly at war with Russia.
American Defense Secretary Robert Gates has consistently stated the CFR desire to not see an attack on Iran. Gates served both President Bush and Obama as Defense Secretary, so the CFR has been warning American presidents for nine years not to contemplate attacking Iran. Talking about an attack is all right, for it foments a "Fear of War" mindset; but, the CFR has warned, 'do not actually attack' the Ancient Persian Kingdom.
Iran and Russia and all the nations foretold to march against Israel at the End of the Age (Ezekiel 38-39) will receive their destruction from God Himself. Until that point, no Western force shall attack Iran! You can ignore all calls from all quarters to the contrary!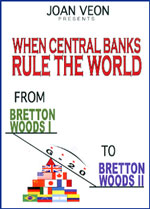 DVD
II. President Obama is planning to push for an economic New World Order AND establishment of a global currency!
The push to a New World Order has just received a huge boost.
NEWS BRIEF: "U.S. to push for New economic World Order at G20", By Alister Bull, Reuters News, September 21, 2009
"The United States will urge world leaders this week to launch a new push in November to rebalance the world economy ... The United States envisages the IMF playing a central role in a process of "mutual assessment" by making policy recommendations to the G20 every six months.
"Finance ministers and central bankers from the G20 countries are due to meet November 7-8 in Scotland. "
When President Obama calls upon the IMF to take the Central Bank role in managing the economy of the world, he is officially placing America's Central Bank (Federal Reserve) under the authority of the global Central Bank (International Monetary Fund).
This announcement is huge! It means that the Central Banks throughout the world are now going to be under the authority of the IMF, which means that the economic New World Order is almost here! Joan Veon understands this developing situation very well in her DVD, "When Central Banks Rule The World")
The authors of this Reuter's News article are entirely correct: Obama has committed the United States to work for an economic New World Order!
Now that you understand this reality, the next news story makes a lot more sense than it did originally.
NEWS BRIEF: "US backing for world currency stuns markets ", Telegraph.co.uk, 25 March 2009
"US Treasury Secretary Tim Geithner shocked global markets by revealing that Washington is 'quite open' to Chinese proposals for the gradual development of a global reserve currency run by the International Monetary Fund ... David Bloom, currency chief at HSBC, said the apparent policy shift amounts to an earthquake in geo-finance. 'The mere fact that the US Treasury Secretary is even entertaining thoughts that the dollar may cease being the anchor of the global monetary system has caused consternation', he said."
To be sure, Treasury Secretary Geithner paid lip service to maintaining the Status Quo:
"Mr Geithner later qualified his remarks, insisting that the dollar would remain the 'world's dominant reserve currency ... for a long period of time' but the seeds of doubt have been sown. "
Indeed, the seeds for this dramatic change were sown in March. Now, the time to reap the harvest will begin in earnest in November.
Gradually, but steadily, the movement toward the planned Global Fascist Economy continues its inevitable and inexorable march. Soon, the world will have the global economy of which the Book of Revelation speaks.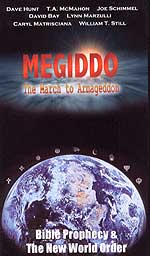 DVD
III. While the top American/NATO military commander is warning that the Afghan War could be lost within a year unless a strong infusion of new troops is carried out, Obama is said to be considering reducing American troops!
NEWS BRIEF: "Afghanistan could be lost in a year: US commander", AFP News, September 22, 2009
"The Wall Street Journal, citing defense officials, reported that US Defense Secretary Robert Gates has asked McChrystal to delay submitting his request for more troops until the completion of a review of the US war effort. McChrystal's assessment was leaked to the Washington Post a day after Obama, who faces sliding support for the war both within the Congress and among the US public, defended the delay in making a decision about more troops."
" 'We're going to test whatever resources we have against our strategy', he said Sunday. 'We will do what's required to keep the American people safe'."
"McChrystal said a new strategy was needed, and warned that "inadequate resources will likely result in failure. 'Failure to gain the initiative and reverse insurgent momentum in the near-term (next 12 months) -- while Afghan security capacity matures -- risks an outcome where defeating the insurgency is no longer possible', he wrote."
In other words, the time was quickly coming that Humpty Dumpty was going to fall off the Afghan Wall and nobody in the kingdom -- from the King on down -- would ever be able to put Humpty Dumpty together again!
Secretary of State Hillary Clinton -- herself a military genius, no doubt -- immediately counterattacked.
"US Secretary of State Hillary Clinton pushed back against the US military's blunt warning that the battle against insurgents in Afghanistan would likely be lost within a year without more US troops ... In the interview, Clinton expressed "respect" for McChrystal's assessment that the United States would likely lose the war in Afghanistan within a year without more US forces.
" 'But I can only tell you there are other assessments from very expert military analysts who have worked in counter-insurgencies that are the exact opposite', she said. Clinton's remarks were the latest sign of resistance by the administration of President Barack Obama to a major escalation in the US commitment in Afghanistan without a lengthy internal review and debate."
Indeed, the Obama Administration is strongly leaning toward a de-escalation of the Afghan War.
NEWS BRIEF: "Obama Is Considering Strategy Shift in Afghan War - Biden pushing scale back American forces,", The New York Times, September 22, 2009
"WASHINGTON — President Obama is exploring alternatives to a major troop increase in Afghanistan, including a plan advocated by Vice President Joseph R. Biden Jr. to scale back American forces and focus more on rooting out Al Qaeda there and in Pakistan ... The options under review are part of what administration officials described as a wholesale reconsideration of a strategy the president announced with fanfare just six months ago."
This article then admits that the gloomy assessment by General McChrystal were accurate.
"The sweeping reassessment has been prompted by deteriorating conditions on the ground, the messy and still unsettled outcome of the Afghan elections and a dire report by Mr. Obama's new commander, Gen. Stanley A. McChrystal. Aides said the president wanted to examine whether the strategy he unveiled in March was still the best approach and whether it could work with the extra combat forces General McChrystal wants."
Cutting Edge has always maintained that both the Afghan and the Iraqi Wars were conflicts which the Illuminati did not plan on Western forces to win . Our seven-year assessment seems to be coming more true every day.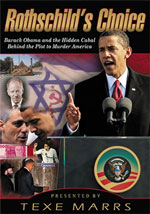 DVD
IV. President Obama managed to make Israeli PM Netanyahu look like a Conservative genius while humiliating Palestinian President Abbas during their "Trilateral Talks" at the UN yesterday.
NEWS BRIEF: "Urging Israeli-Palestinian talks, Obama backs down on settlements ", The Christian Science Monitor, 09.23.09
"President Barack Obama may be dropping – or at least softening – his administration's demand that Israel freeze settlement growth in the West Bank as a precondition to starting peace negotiations with the Palestinians. That would mark a stark change for the administration, which had pressed Israel to declare a full freeze to all settlement growth in the West Bank to jumpstart Israeli-Palestinian peace talks."
As we have stated all along, the skill of the propagandist is to make pre-determined events unfold as though they were not preplanned, as if they were occurring either randomly or the hard work of one dedicated man. In this instance, the eventual outcome of these talks is a Palestinian State; but, to prepare people to accept -- even want -- a Palestinian State.
One obvious condition to getting the Israeli people to accept a Palestinian State is to get them to think that their leadership was very prudent in their negotiation with the Palestinian leaders, a leadership which has made it quite clear that they want Israel dead.
In other words, Jews have to believe that their leaders negotiated in such a way as to protect the national existence of the tiny state of Israel. President Obama may have just accomplished this feat at the Trilateral Summit at the United Nations in New York City. The President made Israeli Prime Minister Netanyahu look positively Conservative -- Right-Wing, hard nosed Conservative!
Obama also made the Palestinian leader look foolish and humiliated, another boon for Netanyahu! How did the new President of the United States accomplish all these things?
He backtracked badly on his "insistence" that Israel freeze settlement construction as a requirement to enter into final negotiations with the Palestinians. Israeli hawks were ecstatic that their boss "stood up" to the President of the United States while Palestinians were "beside themselves" with anger.
"Officials from all three sides said after the meeting that Obama had abandoned the ultimatum he had given Israel, according to some news reports ... Abandoning the terminology the US has been using in months of urging a halt to growth in the Israeli outposts on land claimed by Palestinians, Obama Tuesday referred to 'restraining' settlement activity, rather than freezing it ... the shift in language was widely interpreted by Palestinians and Israelis as a sign the Obama administration was jettisoning a U.S. stance that had a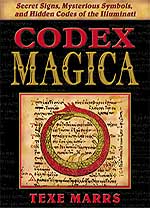 alienated many Israelis and their U.S. supporters."
While Israeli Right-Wing politicians were gloating at how strong their Prime Minister was, Palestinians were furious as to how weak Obama's concession made President Abbas look.
NEWS BRIEF: "Palestinian Officials: Obama Disgraced Us, Surrendered to Israel", by Tzvi Ben Gedalyahu, Israel National News, 9/23/2009
"Palestinian Authority officials traveling with PA Chairman Mahmoud Abbas said that the mini-summit conversation in New York Tuesday was a 'disgrace to the PA' and a 'surrender to Israel'."
Remember that the book, above, "Codex Magica", reveals in two separate chapters that President Abbas of the Palestinian Authority is a Freemason -- an Arab Freemason. The only way Abbas has been able to hold on to power against the far more radical and Islamic "pure" leadership of Hamas was because Israel and the United States were propping him up. His reputation has taken such a hit from Obama's concessions to Israel that even Western power might not keep him in office.
"Abbas was in trouble before he left Ramallah to travel to New York. "This [summit] is the best recipe to kill the last hope Mahmoud Abbas had as our President. He lost it big time," one Arab journalist told Fox News' Michael Tobin."
If Hamas succeeds in overthrowing Abbas over this snafu, the prospect of a Palestinian State will have taken a terrific body blow, and the prophecies of Obadiah 15-18 and Isaiah 34 may just be a very long ways away.