WEEKLY UPDATES FROM Cutting Edge Ministries, www.cuttingedge.org
10/9/2004      Over 1,200 Articles Posted! Nearly 80,000 People Downloading A Salvation Page Per Year!
---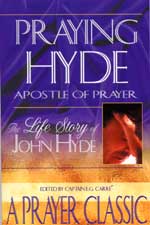 ---------- Inspiration For the Week-- "I'll smash the convention"
One young fellow, thumping the table, said, "I'll smash the whole convention". I had a quiet talk on the subject with Hyde. He was one of the committee and manifested such a tender, loving spirit and was so sane through it all ... He said that the committee had never called for confessions, that it was the Spirit of God that had moved men to confess. He said that legislation on the question, and setting apart special meetings for confessions, would be like taking the matter out of the Holy Spirit's hand ... I well remember how earnestly he said that the sin of immorality was more prevalent among the Christians than any one dreamt and that the Holy Spirit saw that extreme measures were needed to get men to realize the sin. "Some men, I fear", said Hyde, "are guilty, and are afraid that the Holy Spirit will compel them to confess". How tenderly he spoke of these men, how confident he was that the Lord, at the right moment, would reveal clearly His will in the matter; it was one of the darkest hours of the Sialkot Convention, and yet Hyde's face was full of joy, for he knew that victory was assured.
Victory came: those who opposed confession went together in the prayer room, hoping to discuss the question. Hyde was praying, several others of the committee were praying, and they gave such a hearty welcome to those men to pray with them that they did so, and after some time ... someone began to praise God, and all joined in singing and the prayer room became once more a praise room ... how much better it would be to settle our differences by meeting together to pray, by allowing the Holy Spirit to have His way with us ...the best way to meet all this was to keep quiet in a corner, praying that the Holy Spirit might come and reveal His will and direct men's thoughts in the right path ... This was Hyde's way of meeting difficulties, and this was the way of the Master ... Whatever may be the trouble, let us put ourselves in the right attitude towards God and then wait for the Holy Spirit to work in us to do what is right ... [Hyde] lived so near the Lord that he was sensitive to the slightest promptings of His will, and he seemed to know at once when the Lord was not with him. How everything fitted together because all was under the direct control of God for the good of His servant! ["Praying Hyde: A Prayer Classic", p. 79-81]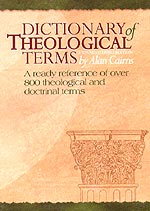 --------Focus: Key Doctrinal Truth----------"African Theology"
The attempt to marry the theology of the traditional African religions with the contemporary "Christian faith"; an attempt to synthesize Christianity with African traditional religions. African Theology is not merely the interpretation of Christian theology by African theologians, using African thought forms. It is the exploration of what the traditional pre-Christian, animistic religions have been saying on the presupposition that they represent divine revelation. In the subsequent synthesis with Christianity the Bible's data is accepted only if they support what has already been established from African traditional religions. In itself, the Bible is not the source of truth for proponents of African Theology.
Though hailed by many both within and outside Africa, African Theology deserves ... criticism. It is a funeral march of Biblical Christianity and a heralding of syncretism and universalism. It has for its funeral directors the undiscerning theologians who fail to see the spiritual issues at stake because of their unguided enthusiasm for projecting African personality. [Alan Cairns, "Dictionary of Theological Terms: Ready Reference of Over 800 Theological and Doctrinal Terms", p. 12-13]
---------- Resource Update ----------
Which Is True? Calvinism or Free Will?
This subject has been one of the most hotly debated issues within Christendom for the past 500 years. Today, the debate rages onward, threatening to divide a body of Christian believers at the very End of the Age, a time when they ought to be uniting against the coming Kingdom of Antichrist -- New World Order. In order to allow each of our readers the opportunity to study both sides of the debate and reach their own conclusion, Cutting Edge is pleased to offer two resources on each side of this debate; in fact, we even offer both at a very special savings, hoping you will study both sides and reach your own conclusion.
* "Five Points of Calvinism: Defined, Defended, Documented" - Book - $12.99 - This 40th Anniversary reprinting of the classic "Five Points of Calvinism" is sorely needed in a Christian Church which is sliding quickly into the Abyss prepared for it by the doctrine of "Free Will". You could not ask for a treatise on God's Sovereignty than this one, as it lists many dozens of Scriptures from both Testaments proving that God alone saves the sinner through His Grace. The great evangelist, C.H. Spurgeon, stated it best: "That God predestinates, and yet that man is responsible, are two facts that few can see clearly ... I do not believe they can ever be welded into one on any earthly anvil, but they certainly shall be one in eternity ... they do converge, and they will meet, somewhere in eternity, close to the throne of God ..." 238 pages -- http://www.cuttingedge.org/detail.cfm?ID=918

* "What Love Is This?" - Video by Dave Hunt - $24.99 - This video presents the Biblical case for "Free Will" while critically examining Calvinism. Hunt's view is that, in Eternity Past, God predestinated men to be saved based upon His foreknowledge as to who would accept and who would reject. God did NOT choose certain individuals and reject other individuals. In the life of every person, an opportunity would arise for that person to either accept or reject the Gospel.
Does the Bible present a gospel which can only be understood by a select group of theologians? This power-packed presentation captures the essence of Dave's recent book and provides a succinct historical overview for a careful analysis of the issues involved. The system resulting from Augustine's role in the theology of Luther and Calvin may be seen as nothing other than a doctrinal superimposition upon the Scriptures and a misrepresentation of God, who is love. -- http://www.cuttingedge.org/detail.cfm?ID=919

* "Calvinism or Free Will? Combination Offer" - "Five Points of Calvinism" Book PLUS "What Love Is This" Video -- $37.98, Sale Price: $29.98 - One of the greatest spiritual debates of the past 100 years has been over Predestination. If you believe that, in Eternity Past, God chose individuals to save based upon His sovereignty and according to His Free Grace, that is Calvinism. But, if you believe that God chose the plan whereby man may be saved, but did not choose individuals and exercised His sovereignty only to know which persons would accept His salvation, that is Free Will. We present both sides of this most important issue so you can make up your own mind. The church over the past 100 years has generally moved to the Free Will position. Is it Biblical?
Save $8 over buying these 2 items separately. -- http://www.cuttingedge.org/detail.cfm?ID=923

Other Biblical Resources New Items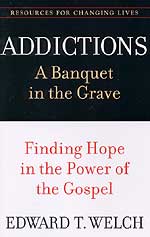 * "Addictions: A Banquet In The Grave: Finding Hope in the Power of the Gospel" - Addiction: A Worship Disorder -- Will we worship ourselves and our own desires or will we worship the living, true God? Scripture reveals the actual condition of an addict: "Like guests at a banquet thrown by the 'woman Folly'. They are already in the grave." (Prov 9:13-18) Can we not escape our addictions? Following Jesus, we have immense hope that God is ready to give us power so that we are not mastered by addiction.
Destroys the myth that addiction is a disease and sin is a sickness. Welch shows that the helpless cycle of 'sickness, recovery and relapse' must be replaced with the Biblical view of 'sin, salvation and sanctification'. As a pastor, Biblical counselor, and redeemed ex-heroin addict, Welch has given every pastor, parishioner and anyone caught in the bondage of idolatry/addiction a Biblical road map to lasting freedom. 289 pages - With Americans more caught up in various types of physical, mental, emotional, and spiritual addictions as never before, this book is sorely needed. It provides the Biblical answer as to how Jesus Christ and His Gospel can deliver anyone caught up in any addiction -- gloriously deliver them! http://www.cuttingedge.org/detail.cfm?ID=924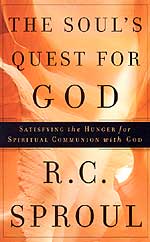 * "The Soul's Quest For God: Satisfying the Hunger for Spiritual Communion With God" - by Dr. R.C. Sproul - Something is missing -- a depth of spiritual communion with God. Worship is unsatisfying to the multitudes and the Christian life is often marked by more a sense of the absence of God than a vital sense of his presence. This book is about a quest, the most important quest of our lives. Dr. Sproul examines the soul's urgent quest for God -- to discover the wellspring of life, the taste of the sweetness of honey in our mouths, and the Divine Light which alone can illumine our darkest chambers.
Dr. Sproul examines the Biblical pattern for spiritual growth, the Biblical models given us, the nature of the soul, the barriers to realizing our quest and the soul's ultimate destination.
This Biblical truth is the cure for mental or spiritual confusion and depression. 266 pages -- http://www.cuttingedge.org/detail.cfm?ID=920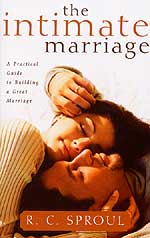 * "Intimate Marriage" - by R.C. Sproul - Book - Your marriage can be a joyous delight! Do you know someone getting married in the near future? You want them to experience a fulfilling marriage based on solid Biblical principles that will last a lifetime. Help a friend or loved one get their marriage off to a great start. This book is an ideal shower, wedding, or anniversary gift. Most couples happily in love on their wedding day probably do not realize the skill needed to keep the marriage emotion and commitment vitally alive for a lifetime - 'til death do us part'. Dr. Sproul masterfully guides the couple through various problems too often seen in a typical marriage. Here, he offers the tools and expertise needed to build a marriage solidly on Biblical Wisdom, so terribly lacking in today's divorce-ridden society. 163 pages -- http://www.cuttingedge.org/detail.cfm?ID=917

The related item, "Biblical Lovemaking: A Loving Look At The Song of Solomon" is also in stock -- http://www.cuttingedge.org/detail.cfm?ID=403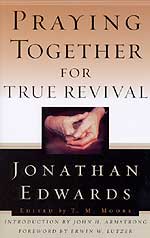 * "Praying Together For True Revival" - by Jonathan Edwards, 1703-1758 - Jonathan Edwards (1703-1758)-- This book reprints Edward's timeless call for Christians to unite in prayer "for those great effusions of the Holy Spirit" that advances the kingdom of God. The Holy Spirit greatly used Jonathan Edwards, through whose ministry He poured His "Great Awakening Revival" of 1741 in the North American colonies. Edwards calls here for a season of uncommon and serious prayer, so people today will realize the critical relationship between prayer and true revival.
Genuine Christians today are crying out for revival, but many do not know how to properly pray for it. "Return to the Old Paths" intones God. This classic sermon certainly returns to the Old (and Forgotten) Paths. 208 pages - http://www.cuttingedge.org/detail.cfm?ID=916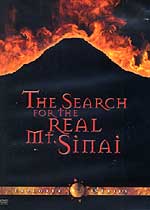 * "DVD - The Search For The Real Mt. Sinai" - Two explorers take an incredible expedition into the blistering Arabian Desert to discover what many scholars believe to be one of the greatest discoveries in history -- the real Mount Sinai, the holy mountain on which God gave Moses the Ten Commandments
This DVD tells their amazing story. How they crawled into forbidden military installations; how they used night vision goggles to avoid being detected as they pursued their mission; how they discovered a dozen significant remnants still remaining at the site. These explorers embarked upon a journey which would change their lives forever, finding remarkable evidence that confirms the Bible as being historically accurate. This exciting footage literally leaps off the screen to document a story you'll never forget.
"What could possibly upstage the discovery of the Dead Sea Scrolls? Maybe the news that Mount Sinai has been found." (Ian Reed, Reuters News Agency) -- http://www.cuttingedge.org/detail.cfm?ID=915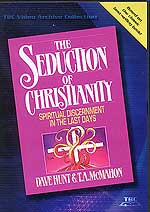 * DVD - "Seduction of Christianity", by Dave Hunt - The classic that first sounded the alarm that Church Apostasy was reaching the levels prophesied about churches at the End of the Age. The common response is that the book both articulates and documents biblical concerns many are having with teachings and practices coming into their own churches. More needed than ever, as delusions and deceptions continue to grow. Contains four video programs on one DVD.
Filmed exclusively to address concerns raised in the authors' best-selling book, the programs include, Faith, Self, Godhood, and Humanism. Each segment contains an in-depth discussion of New Age concepts such as mind power, mind control, New Thought, selfism, pantheism, Atheism, pragmatism, psychological techniques and many other topics. -- http://www.cuttingedge.org/detail.cfm?ID=900

Book - "Seduction of Christianity" -- http://www.cuttingedge.org/detail.cfm?ID=114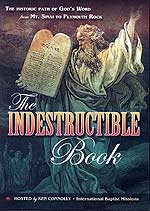 * DVD - "The Indestructible Book" - The Scriptures were banned, burned, and ridiculed by rulers of every age, from Roman emperors to English monarchs. Many who dared to read and share the Word met horrible deaths. Yet God's truth could not be crushed. This four-volume video commentary by Ken Connolly is a spectacular sweep of history, filmed on location in Israel, Europe, Britain, and the U.S.
Retrace the Historic Path of God's Word from Mt. Sinai to Plymouth Rock. Meet the scholars, teachers, and missionaries whose passionate faith preserved the Indestructible Book.
Volume 1 How the Bible Began
Volume 2 A Bible for the Common Man
Volume 3 Martyrs for the Bible
Volume 4 From the King James Bible to the Shores of America
Christian Classics Originally Written By Christian Authors - Modern Scholars Deleted The Christian Emphasis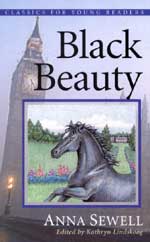 * "Black Beauty" by Anna Sewell -- Did you know that Black Beauty was originally written to show a Christian's natural tenderness to all of God's creatures? Proverbs 12:10 says, "A righteous man cares for the needs of his animals." Black Beauty has been one of the world's favorite animal stories for over 100 years. Follow Black Beauty as he experiences the joys of kind caretakers and the hardship of cruel owners in industrial-era England.
This book has captured the hearts of children for many generations, serving as a model of integrity and honor for youngsters to emulate as they develop their character. Now, the original Christian content has been faithfully restored. - Ages 9-13 -- http://www.cuttingedge.org/detail.cfm?ID=922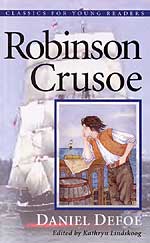 * "Robinson Crusoe", by Daniel Defoe -- Did you know this novel was written about a young Robinson Crusoe who struggled long and hard with God and then dramatically changed after studying God's Word under extremely great stress and danger? This book carefully preserves these original Christian details.
For more than 270 years, readers everywhere have been fascinated by the young fool who ran away from wealth, security, and family for a rough life at sea - a young lad who came to his senses too late, alone on a tropical island. Alone, that is, except for hungry cannibals, and God.
Robinson Crusoe's adventure takes places on a remote island. Adjusting to the primitive conditions, he learns to make tools, shelters, bread and clothes. Most importantly, he becomes a genuine Christian. This timeless classic has captured the hearts of children for generations and has served as a model of integrity and honor. Ages 9-13 - http://www.cuttingedge.org/detail.cfm?ID=921

Evolution vs Creationism Classic Videos -- Affordably Priced -- Great For Homeschoolers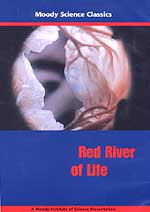 * "Red River of Life"- Science Classics - Step inside the most complex factory ever designed. With thirty trillion cylinders. Powered by a pump that's far superior to the finest steel. In Red River of Life, you'll see what makes your blood, your lifeline, carry its precious cargo of oxygen to every corner of your body. And more importantly, you'll learn how the shed blood of Jesus Christ is the source of life in the Spirit."
DVD - Only $12.99

-- VHS - Only $9.99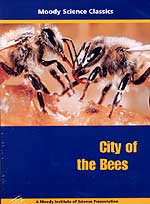 * "City of the Bees" - Science Classics - In the City of the Bees, you'll learn how these amazing insects live and work. And you'll be amazed at the harsh law of the hive, which has no place for sick or unproductive members. Finally, you'll learn why God's design for human relationships is vastly different from His system for bees.
DVD - Only $12.99

-- VHS - Only $9.99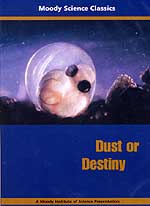 * "Dust or Destiny" - Classic Science Series - In Dust or Destiny, you'll marvel at some of the world's most astonishing natural wonders. And learn how each of them gives fervent testimony to the fact that this planet was not formed from ordinary dust. But from the loving hands of a living God.
DVD - Only $12.99

-- VHS - Only $9.99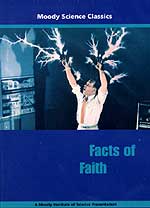 * "Facts of Faith" - Science Classics - In Facts of Faith, you'll watch one million volts of electricity blaze through a man's body. And witness a whole series of sophisticated experiments all designed to demonstrate some powerful spiritual truths, such as, what faith is and how you can have it.
DVD - Only $12.99

-- VHS - Only $9.99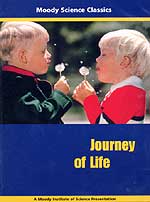 * "Journey of Life" - Science Classics - Witness a fantastic voyage through floods, fire, and storms. A valiant struggle against impossible odds. All performed by a perfectly ordinary, yet truly remarkable creation: the simple seed. But Journey of Life is more than a fascinating look at God's design for growing plants. It's also a wonderful picture of the most important voyage of all, the journey of the living seed of God's Word, taking root in human hearts. This highly acclaimed video urges us to examine our lives. And to look beyond present struggles to the promise of eternal life.
DVD - Only $12.99

- VHS -- Only $9.99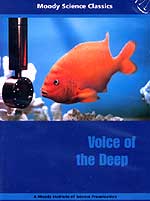 * "Voice of the Deep" -- Science Classics -- Have you ever heard a fish that croaks? How about porpoise that moo? The "silent deep" is not so silent after all. Take a trip beneath the sea to discover many strange facts about a little-known world. In Voice of the Deep, we see that a person needs not only new ears but a new life to fathom the mysteries of the spiritual realm.
DVD -

Only $12.99 -- VHS - Only $9.99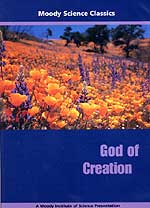 * "God of Creation - Science Classics -- Only available in DVD --

Only $12.99 -- A creeping caterpillar takes wing as a graceful butterfly. Flowers open their blooms before your eyes. A twinkling point of light reveals a solar system millions of light-years away. It's all the work of the God of Creation. This all-time Moody favorite explores the power and beauty of the universe we live in. You'll see the food "factories" that plants use. And you'll peer through a telescope into the vast reaches of space, while you ponder the God who put the galaxies in place. The same God who gave His Life for us on the cross.
---------- This Weeks Hot News ----------
I. An NBC News affiliate weatherman from Idaho confirms long-term Cutting Edge teaching on two very important issues: 1) That scalar weaponry is real; 2) That weather is being globally controlled by scalar weaponry!
NEWS BRIEF: "Serious question: Are Hurricanes: Scalar?", Guest Column written by Scott Stevens, NBC Affiliate Weatherman, Urban Survival, October 3, 2004, http://urbansurvival.com/stevens.htm
" am a meteorologist at an affiliate in the Northwest who now uses scalar weapons signatures within the clouds to better my forecasting record. After closely watching high-resolution visible satellite imagery there is no question in my mind that these storms weren't (sic) altered and guided to their final destinations. No doubt what so ever. I have come to a further conclusion; that the entire Earth's weather had been digitized. There is not a flood, thunderstorm, cyclone, or drought that isn't allowed to happen. Control over global weather is complete. This way it is much easier to control portions, hurricanes/storms, within this system."
Did you catch this weatherman's statement?
"Control over global weather is complete. This way it is much easier to control portions, hurricanes/storms, within this system."
Before I decided to report this news story, I asked a retired FBI investigator to check this Scott Stevens out to ensure that he was really who he claimed to be. The results were positive, i.e., Scott Stevens is a real weatherman, working for an NBC affiliate in Idaho. You can check yourself by clicking to the NBC Newschannel 6 website, where you will see Scott's picture as the "Weather Anchor". This picture matches the picture shown in the Urban Survival article.
Further, if you click on Scott Stevens' name, you will see his biography. Notice that the awards Scott has won over the past few years have been awarded on the basis that his weather forecasting was the best -- exactly the point Scott made in the first sentence of this article, as we quoted above.
I emailed Scott to ask him if he really wrote this article in Urban Survival, and he emailed back to say, "Yes", he had written that article. In this email, he stated that the scalar energy field is used to control global weather 24/7. He further stated that this control 100% of the time is necessary or "they" would lose control. I have an email into Scott clarifying who the "they" is, but since Lt. Col. Beardon has stated that Russia uses Scalar Weaponry while the United States uses HAARP, we would assume that the "they" using scalar weaponry to control the weather are the Russians.
Now, look above at this statement again, quoting from the Urban Survival article:
"... the entire Earth's weather had been digitized. There is not a flood, thunderstorm, cyclone, or drought that isn't allowed to happen. Control over global weather is complete. This way it is much easier to control portions, hurricanes/storms, within this system."
Global control over weather has been accomplished by the use of scalar weaponry! This means that Cutting Edge has been correct when we state that hurricanes have been created and steered exactly where the Illuminati wants them to go, undoubtedly to achieve their long-term goal of massive social engineering through the U.N. "Reserve and Corridor System To Protect Biodiversity". (Read NEWS1368, NEWS1862, NEWS1953, NEWS1960)
Now, we know the truth, because an NBC weatherman has possessed the courage to tell us. Scalar Weaponry signals are controlling weather globally, with the capability of steering the storms exactly where global authorities (Illuminati) wants them to be steered!
SPECIAL ELECTION NOTE: We have posted our stance on this election in a new article entitled, "Cutting Edge Position On This 2004 Election". This is a free article and we ask you to please read it. But, we wish to add this additional thought: Bush, Cheney, Clinton, Gore, and Kerry are all dedicated to the same global plan to reorganize the world gradually into a global government, economy, and religion, and then stage their New Age Masonic Christ - a global plan which fully fulfills Bible prophecy.
Therefore, if Gore had been elevated to the White House in the 2000 elections, the attacks on 9/11 would have occurred on schedule, and Gore would have committed America to the same overseas actions as did Bush. Gore would have demanded Patriot Acts I and II. Gore would probably have used the same lying rhetoric as Bush used to justify the invasion.
Further, if Kerry had gone to the White House in 2000, he would have done the exact same things as Bush has done.
Why? Because these men are following a scripted plan created for them many decades ago. Former Satanist, Bill Schnoebelen told me several times over the phone that the Bilderberger meeting of 1952 decided that America would lead an invasion of Iraq, planned to be the origin of Muslim hatred against the West so that, when the spark is ignited that will so enrage the Muslims that they will go to war, their hatred will have been made stronger and deeper because of our invasion.
When we criticize Bush, it is because he is the President and he is the one terribly deceiving millions of genuine Christians; but, our criticism does not let John Kerry off the hook, because he is identical to Bush, as evidenced his membership in the same Skull & Bones satanic secret society. With this understanding, let us now review pertinent news relating to Iraq and this election.
II. Just one week ago, President Bush's own weapons inspector issued his final report on WMD in Iraq and his conclusion was that Iraq never did have WMD! Then, just one day before the second Presidential debate, Bush and Cheney admitted that no WMD ever existed in Iraq!
NEWS BRIEF: "Definitive and deadly", The Guardian (London), October 8, 2004, http://www.guardian.co.uk/leaders/story/0,3604,1322325,00.html
"Over recent months George Bush has brushed away questions about Iraq's weapons of mass destruction with the words: 'Wait till Charlie gets done'. Now Charles Duelfer, head of the Iraq Survey Group, has produced his report - and the verdict could not be starker. Its thousand and more pages, painstakingly researched by 1,200 staff, obliterate an entire arsenal of familiar phrases about gathering threats, clear and present dangers, and Condoleezza Rice's catchy but preposterous line about a smoking gun becoming a mushroom cloud. Saddam Hussein, the report concludes, did not have any chemical or biological weapons in 2003. Almost certainly he disposed of any stockpiles 12 years previously, when UN sanctions were imposed after the Gulf war."
"Tony Blair argued for months that, even if Iraq had no stockpiles of illicit weapons, there were programmes to develop them. Now there are no programmes either. The main justification for war, both in Washington and London, has been shown to be baseless - and by a body working directly for the US government. Critics of Messrs Bush and Blair have been vindicated."
One year ago, Cutting Edge issued two articles showing how President Bush and Defense Secretary Rumsfeld collaborated to deliberately deceive the American public about Iraq. These two articles were entitled: "Bush/Blair Justification For Iraq Invasion: Shown To Be Lies, Distortions, Exaggerations" - Part 1 - Part 2
The key point of these two articles was that Bush and Rumsfeld had created a phony intelligence service in mid-2002, when the CIA refused to sign off on bogus "intelligence" reports which were designed to so scare the American people that they would support an Iraqi invasion. This bogus intelligence agency was named the "Office of Special Plans - OSP". This office was the originator of such patently false reports that Saddam had WMD that he could launch within 45 minutes, and that Saddam had placed his WMD on a fleet of "terror ships" which were circling in international waters.
All along, we stated that Bush's rationale for going to war was a lie. Listen now to a recent report which compared Bush's original rationale for war with the reality our inspectors discovered once we had conquered the whole country.
NEWS BRIEF: "President's speech laid down the foundations for war", Gulf News, 7 October 2004
"Washington : The US president George W Bush laid out in an October 7, 2002, speech what he described as Iraq's threat:
-- "It possesses and produces chemical and biological weapons. It is seeking nuclear weapons."

----"We've also discovered through intelligence that Iraq has a growing fleet of manned and unmanned aerial vehicles that could be used to disperse chemical or biological weapons across broad areas."

-- "Iraq possesses ballistic missiles with a likely range of hundreds of miles far enough to strike Saudi Arabia, Israel, Turkey and other nations in a region where more than 135,000 American civilians and service members live and work. "
----A single artillery shell filled with two chemicals that, when mixed while the shell was in flight, would have created sarin. US forces learned of it only when insurgents, apparently believing it was filled with conventional explosives, tried to detonate it as a roadside bomb in May in Baghdad. Two US soldiers suffered from symptoms of low-level exposure to the nerve agent. The shell was from Saddam's pre-1991 stockpile.

----Another old artillery shell, also rigged as a bomb and found in May, showed signs it once contained mustard agent.

----Two small rocket warheads, turned over to Polish troops by an informer, that showed signs they once were filled with sarin.

----Centrifuge parts buried in a former nuclear scientist's garden in Baghdad. These were part of Saddam's pre-1991 nuclear programme, which was dismantled after the 1991 Gulf War. The scientist also had centrifuge design documents.

----A vial of live botulinum toxin, which can be used as a biological weapon, in another scientist's refrigerator. The scientist said it had been there since 1993.

----Evidence of advanced design work on a liquid-propellant missile with ranges of up to 1,000 kilometres. Since the 1991 Gulf War, Iraq had been prohibited from having missiles with ranges longer than 150 kilometres."
As you can see, our forces found no physical evidence to ever back up Bush's assertions that we had to go to war NOW to prevent that bad guy, Saddam, from launching his WMD against us or our Middle Eastern allies. But, why should anyone be surprised? In the six months before the Iraq invasion, Cutting Edge Daily News Updates were daily chronicling news stories which were telling the world that Bush's claims could not be verified, either by U.N. Weapons Inspectors or by any private source. People who were carefully and thoroughly reading our news stories knew that the claims spewing forth from Bush, Blair, and Rumsfeld could not be independently verified and were probably false.
Now, just before the election, at the worst possible moment for the re-election of President Bush, concrete verification comes out from Bush's own inspectors that all the rhetoric was patently false. Yesterday, the news got so bleak that both President Bush and Vice President Cheney were forced to admit that Iraq had no WMD.
NEWS BRIEF: "Bush, Cheney Concede Saddam Had No WMDs", My Way News, October 7, 2004, http://apnews.myway.com/article/20041007/D85ISTE80.html
"WASHINGTON (AP) - President Bush and his vice president conceded Thursday in the clearest terms yet that Saddam Hussein had no weapons of mass destruction ... Cheney dismissed the significance of Duelfer's central findings, telling supporters in Miami, "The headlines all say 'no weapons of mass destruction stockpiled in Baghdad.' We already knew that."
We did already know that Saddam had no stockpiled WMD, Mr. Vice President? When did we know that? Not from your rhetoric, that is for sure. Your rhetoric clearly and consistently -- from 2002 to last week -- trumpeted that we had clear evidence that Saddam had lethal, operation WMD which could be launched in 45 minutes!
Now, Cheney and Bush are trying to switch their rationale for war once again, this time to the Oil-For-Food scandal now breaking upon the world scene!
"This week marks the first time that the Bush administration has listed abuses in the oil-for-fuel program as an Iraq war rationale. But the strategy holds risks because some of the countries that could be implicated include U.S. allies, such as Poland, Jordan and Egypt. In addition, the United States itself played a significant role in both the creation of the program and how it was operated and overseen." (Ibid.)
How ridiculous is this latest sophomoric attempt to justify this war? First, Bush shouted to the world for two years that we had to invade Iraq NOW in order to prevent him from using Weapons of Mass Destruction. Then, some months ago, Bush and Blair shifted their rationale to say that we needed to invade because Saddam had killed over a quarter of a million of his own citizens, a report which also proved false. (Newsletter July 24, 2004, /Story "V")
Then, weeks ago, Bush stated that our invasion was justified because Saddam was behind bars. Former Democrat Senator Eageleton refuted that rationale. Listen:
NEWS BRIEF: "IRAQ: One word says it all: disaster", by Thomas F. Eagleton, Democratic U.S. senator from Missouri (1968-1987), St. Louis Today, 9/29/2004, carried in Daily News Updates, October 1, 2004
"We do not need to recount yet again the history of the war in Iraq. It will go down as one of the most ill-conceived military undertakings in our history. The recently disclosed July report of the National Intelligence Council to President Bush tells us we are in grave trouble ... President George W. Bush often asks, rhetorically, 'Isn't the world better off with Saddam Hussein out of power?' The answer is no, no, no. Saddam, a brutal dictator, is in jail. That's good. But we have paid a bloody, awful price; a price we will be paying for years to come. The Iraq we created now is an international menace, a citadel for terrorism far more dangerous than the declining Saddam regime we deposed. Sometimes, the cure really is worse than the disease."
Former Senator Eagleton is absolutely correct: history will record that the act of jailing Saddam Hussein was most definitely not worth the bloody price of thousands of dead Iraqi citizens, of thousands of dead American servicemen, and of the ultimate price exacted from Depleted Uranium Poisoning, a reality which will record that nearly all our servicemen and the entire country of Iraq will finally perish over the next 20 years. Even American wives are being poisoned now and babies are being born deformed because of this Iraqi War (NEWS1965 and the video from Congressman Dennis Kucinich)
Graphic reality on the ground for our servicemen is much graver than most Americans realize, backing up the condemnation from Senator Eagleton.
John Kerry was quick to attack the President on his latest switch in rhetorical justification. Going back to our My Way News article, above.
"Ridiculing the Bush administration's evolving rationale for war, Democratic presidential candidate John Kerry shot back: 'You don't make up or find reasons to go to war after the fact'."
When the debates continue tonight, it will be interesting to see if Kerry forces Bush to face his own record of "shifting sand" rationale for going to war.
Truly, political cartoonist Robert Ariel, has succinctly captured the essence of this collapse of Bush's rationale for going to war. ("You Don't Switch Horses In Mid-Stream")
III. Insurgents continue to fire rockets and mortars and sneak bombs into the most sensitive areas in Baghdad.
NEWS BRIEF: "Militants fire rockets at Baghdad hotel", Boston Globe, October 8, 2004
"BAGHDAD -- Militants fired rockets at a hotel housing foreigners in the heart of Baghdad last night, causing minor damage, while US officials said two American soldiers were killed by roadside bombs outside the capital ... Three Katyusha rockets slammed into the Sheraton hotel, the Interior Ministry said, triggering thunderous explosions, shattering windows and setting off small fires. Dazed guests, including Western journalists, contractors, and a bride and groom on their wedding night stumbled to safety through the smoke and debris ... The hotel is across the Tigris River from the US Embassy compound in the heavily guarded Green Zone."
Insurgents have regularly been targeting the "Green Zone", which is the Headquarters for the Coalition Forces. The situation is getting so serious that insurgents are regularly bombarding the area around and within the heavily-guarded Coalition Headquarters. This area is one in which our greatly superior forces should be able to protect. The fact that they cannot prevent almost daily attacks on the Green Zone should alert everyone that the security situation is grave and getting worse. This next story illustrates this reality all too plainly.
NEWS BRIEF: "Baghdad's safe zone infiltrated: A bomb found in Green Zone Cafe bodes ill for the U.S. base of operations", The State, October 8, 2004
"BAGHDAD, Iraq — Residents of the fortress-like American headquarters in Baghdad known as the Green Zone were on high alert Thursday after the discovery of a bomb there indicated that insurgents had infiltrated the village-sized, supposedly impenetrable compound. In another brazen attack on Western targets, insurgents fired at least two rockets Thursday night at the heavily guarded compound that houses the Palestine and Sheraton hotels, home to many foreign journalists. No one was reported injured in the attack, which pierced the lower levels of the Sheraton and scattered debris throughout the atrium. The Green Zone bomb, thought to be the first insurgents had planted in the secured area, was discovered in a burlap bag at the Green Zone Cafe minutes before a U.S. Embassy official was to enter for lunch Wednesday.."
If that bomb had exploded as planned, killing an American Embassy official, the insurgents would have received a great shot in the arm, while the Bush Administration would have been embarrassed once again. When insurgents can continuously -- almost daily -- mount these kinds of attacks against key American targets, you must realize that the security situation is deteriorating, not improving. Even though our forces are publicly claiming success in "neutralizing" Najaf, seizing operational control over the insurgents, the overall situation continues to slid downward.
Even the United Nations is taking notice.
NEWS BRIEF: "Annan urged to withdraw UN staff from Iraq", Asia Times, October 8, 2004
"UNITED NATIONS - Two organisations representing more than 60,000 United Nations staff members urged Secretary-General Kofi Annan yesterday to pull all UN staff out of Iraq because of the 'unprecedented' risk to their safety and security. In a joint letter to Mr Annan, the staff organisations cited a dramatic escalation in attacks in Iraq and said 'the UN has become a direct target, one that is particularly prone to attacks by ruthless extremist terrorist factions'."
At this point, it seems time to ask where these insurgents are getting this seemingly endless supply of mortar rounds, rockets, machine gun ammunition, bombs, and vehicles with which to attack American forces? This next article tells you that the insurgents are well supplied with resources.
NEWS BRIEF: "BMW drivers have wrong set of wheels for Baghdad", The New Zealand Herald, October 7, 2004
"BAGHDAD - They're every Iraqi's favourite car, but perhaps not for much longer.
Police in Iraq have started hauling over drivers of BMWs -- particularly those with black, blue and dark gray models -- following intelligence reports that insurgents are using them to carry out drive-by shootings, kidnappings and other attacks."
Now, BMW cars are very expensive. If the "insurgents" have ready access to these types of cars, plus endless supplies of the munitions we have mentioned, above, then where are they getting these resources? After all, American officials have continuously painted the insurgency as being comprised of only a few thousand Saddam sympathizers, plus criminals and street thugs. Yet, this group seemingly is drawing upon an deep supply of the types of weaponry which only a State army can possess. Is it time to think that the earlier reports of arms stashed in deep underground bunkers might have been correct? The Iraqi Army did not use even a small fraction of the munitions and weapons it possessed before the invasion . If this is true, will we be soon seeing weapons which can kill Abrams Tanks and Stryker vehicles?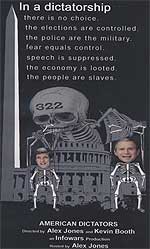 IV. Popular Opinion Polls heading into tonight's debate indicate that Kerry has taken the slimmest of leads.
NEWS BRIEF: "Kerry grabs lead in poll, gaining on all issues", By RON FOURNIER, The Associated Press, reprinted in The State, October 8, 2004
"WASHINGTON — Sen. John Kerry holds a slim lead over President Bush, according to an Associated Press poll showing the Democrat gaining ground while Bush lost support on personal qualities, the war in Iraq and national security ... The race was tied 47-47 percent among all voters. Significantly, fewer voters than a month ago believe Bush is the best man to protect the country and fight the war. The AP-Ipsos Public Affairs poll, completed on the eve of the second presidential debate, charted a reversal from a month ago, when the incumbent had the momentum and a minuscule lead. Since then, bloodshed increased in Iraq, Kerry sharpened his attacks, and Bush stumbled in the initial debate."
Back in February, Cutting Edge was shocked when retired Marine General Zinni suddenly reversed direction and began attacking Bush for his Iraq invasion in the harshest possible terms. This verbal attack was followed by several other insiders attacking Bush as well. Then, in May, the Council on Foreign Relations magazine ran an article saying that the only reason America has not successfully disarmed North Korea was because of the inept manner in which the Bush Administration had handled the entire affair.
Whenever you see one Illuminist insider attacking another, you are looking at the outworking of a specific plan, for none of these men are "loose cannons", doing or saying something they are not supposed to do or say. Therefore, it seemed to us that, perhaps, the plan for this election year was to slowly, steadily discredit President Bush. IF -- and that is a big IF -- the plan is for Bush to only serve one term as did his Dad, the American voter would have been properly preconditioned to accept it.
Therefore, we find it interesting that so many negative events are occurring just days before the election, some of which we have already noted, above. Remember, we are not predicting a Bush defeat, but he has certainly been deliberately discredited just before the election.
V. Israel suffered a major terrorist attack on two resort hotels filled with Jewish vacationers. The irony is that these hotels are located outside Israel, in the Sinai!
NEWS BRIEF: "IDF: 26 people killed in Sinai attacks, most of them Israeli", Ha'aretz News, October 8, 2004
"At least 26 people, including many Israelis, were killed and 124 were wounded Thursday night in three attacks on two Red Sea holiday resorts packed with Israeli tourists, the Israel Defense Forces Home Front Command said Friday. Egyptian officials previously said that up to 35 people had been killed in the attacks on the Sinai Peninsula, when terrorists targeted the Hilton Hotel in Taba, close to the Egypt-Israel border, and the resort town of Ras Satan, some 50 kilometers south of the frontier crossing."
This attack demonstrates sophistication when two resort hotels 50 kilometers apart are attacked nearly simultaneously. Terrorist attacks within Israel have been steadily declining during the past year, as more and more of the land is divided by the Security Wall. Nevertheless, the depth of the hatred in the hearts of Palestinians toward the Jews is evident from these attacks.
Significantly, just before the current holiday period began, the security service, Shin Bet, announced that they had thwarted a terrorist attack against Israeli citizens in the Sinai during the Rosh Hashanna holiday period.
NEWS BRIEF: "Shin Bet chief says Gaza operation foiled Sinai attack", Ha'aretz News, September 20, 2004
"Shin Bet chief Avi Dichter told government ministers on Sunday that the Shin Bet had specific warning of a planned terrorist attack against Israeli tourists in the Sinai over the Rosh Hashanah holiday. During the weekly cabinet meeting, Dichter said that the attack was never executed, in all likelihood as a result of an Israel Defense Forces operation in Gaza last week, in which at least 13 Palestinians were killed."
In early September, Jewish terrorists were warned of the terrorist threat in popular Sinai hotels.
NEWS BRIEF: "Israelis unfazed by Sinai terror alert", The Jerusalem Post, September 8, 2004
"Israelis appeared to be undeterred by the warning issued by the prime minister's counter-terrorism adviser calling on citizens to refrain from visiting Sinai and telling those there to leave. "Specific, concrete information of plans by terrorists to launch attacks in the near future against Israelis vacationing in Sinai have been received," a security official told The Jerusalem Post. The warning does not relate to a specific time frame, the official said, but to information that terrorists will attempt to attack Israelis in the near future ... 'Most Israelis I spoke to said they were unconcerned by the warnings and refuse to allow terror to dictate their lives', he said. 'Some said that if they remained at home they could just as easily be blown up on a bus or be attacked in the Azrieli Towers," he said. With the High Holy Days coming up, Chai said officials estimated that up to 70,000 Israelis will cross into Sinai next week."
Undoubtedly, many Israelis who ignored the official warning on this basis were moaning over their shortsightedness as they surveyed the carnage. The destruction was devastating.
NEWS BRIEF: "Israeli tourists mourn lost paradise on Sinai beaches", Ha'artez News, October 8, 2004
"Sagit Levy went to Sinai's beaches to find a paradise of peace, away from the daily fears of violence-wracked Israel. She staggered home to the Jewish state on Friday slashed by shrapnel and with her eardrums perforated ... Rescue workers on Friday discounted the chances of finding additional survivors in the wreckage of the Hilton Hotel in Taba, Sinai, the morning after blasts shattered the building, causing one of its wings to collapse ... "The gates of Hell suddenly opened," an Israeli doctor, a guest at the shattered Taba Hilton, told Channel 1 television Thursday, shortly after a blast ripped through the hotel, killing at least 25 people and wounding more than 100 others."
Since 1982, Israeli citizens have been dying at the hands of Palestinian terrorists. Yet, their government does nothing militarily significant to defeat this terror. During the decades of the '80-90's, the mantra emanating from the office of the Prime Minister was that the "would not let this attack derail the peace process". It did not matter whether the Prime Minister at the time was from "Liberal" Labor or from "Conservative" Likud, the mantra was the same. The response from the IDF was also painfully familiar, as they would attack meaningless empty buildings, usually after giving the people inside more than an hours warning.
Now, after 22 years of Palestinian terrorist attacks and ineffective Israeli government reprisals, where is the "peace" which was promised? Where is the "peace" that was so important that the Israeli government refused to take any action to "threaten that peace"? On the contrary, "Conservative" Prime Minister Sharon is ordering a complete, forced evacuation of all Jewish citizens from the Gaza Strip and portions of the West Bank, thereby rewarding the Palestinians for their 22 years of terror.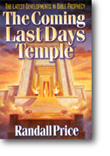 VI. As religiously observant Jews contemplate Sharon's planned withdrawal with horror, some of them are praying for deliverance in a most interesting manner.
NEWS BRIEF: "Rabbis in Israel are praying for a King, and Salvation", The Golden Report, October 07, 2004
"Rabbis throughout Israel have become so outraged with Sharon and his disengagement plans for Jewish removal from Gaza that some even openly are praying for his death; Rabbi Yosef Dyan. As Rabbi Dyan and Professor Hellel Weiss who is a well known Temple Mount activist gathered with a large crowd of Jews at the Pool of Shiloah or better known as the Shiloah Springs in the village of Silwan (City of David). They preformed a ceremony known as the (Nisuah Hamayim), from the first and second Temple Period when they drew water from this spring and carried it to the Temple Mount to purify the Temple objects as well as the High Priest.
"But this ceremony took a slightly different course in meaning, they are saying that this ceremony will begin the removal of Ariel Sharon and replace him with a King. But what I found even more interesting in regards to end times prophecy is they also said, that in order to change this government we then need to draw from the pools of salvation, reminding me of the time when Yeshua stood on the day of Sukkot stating that if you want the waters of salvation come to me. So it has occurred to me that the Rabbis are now praying for the King ..."
Isn't that amazing? Faced with the greatest possible internal stress, brought about by the unexpected turnaround of the "Conservative" former war general Sharon, religiously observant Jews are suddenly praying for a Messiah King! The Bible foretells, of course, that just such a messiah will present himself to the Jews, but he was be Anti-Christ, not the real Christ. Therefore, is God working through these terrible events within Israel to put a yearning into the hearts of many Jews fro their Messiah to come deliver them? That seems highly likely, thus furthering our suspicion that the world is hurtling so very close to the moment when Antichrist will step on to the world scene, marching through the death and destruction of the "Final Birth Pangs" war called World War III.
Of course, the new Jewish "Messiah" will need to rebuild the Solomon type Temple (Read NEWS1643), but how on earth is he going to clear the Temple Mount of the current Islamic Dome of the Rock Temple? Even though Arafat hinted that he and his men might destroy the Dome of the Rock (NEWS1404), presumably to unite all the world's Muslims against the Jews, worry is currently building that the Dome of the Rock might collapse next month when hundreds of thousands of Muslim worshippers will crowd inside form Ramadan.
NEWS BRIEF: "Temple Mount Collapse Atop Moslem Worshipers Feared", Israel National News, September 27, 2004, http://www.israelnationalnews.com/news.php3?id=69458
"An Israeli report, based on Egyptian findings, states that there is an immediate risk that the Temple Mount could collapse when many thousands of Moslems arrive for Ramadan prayers in three weeks. report by the Israel Antiquities Authority, based on the findings of an Egyptian engineering team, states that there is an immediate risk that the Solomon's Stables area of the Temple Mount could collapse when many tens of thousands of Moslem worshipers arrive for Ramadan prayers in three weeks' time. The Authority's report says that the danger is "almost certain."
"Israeli security officials are taking the warnings seriously, but it appears that the Moslem officials are less concerned. Although Israel is sovereign over the area, Moslem Waqf officials have forbidden Israeli engineers from entering the area to evaluate the risk. The Waqf has also refused to limit the number of worshipers at the Temple Mount during Ramadan prayers. Even a visit by Jerusalem Police Chief Ilan Franko to Jordan in an effort to have the Jordanians exert pressure on the Waqf has apparently not succeeded ...Over the past several years, the Waqf has made major structural changes on and under the Temple Mount, in a two-pronged effort to expand the mosques there and erase any vestiges of Jewish history at the site ... Moslem worshipers are now directed to two main areas on the Mount - on the ground level and on a roof supported by pillars in which cracks have been noted. The unsupervised digging under the site, heavy tiles placed on the upper plateau, and recent earthquakes and weather conditions have all greatly increased the danger of collapse ...
"A collapse of the pillars could bury many thousands of worshipers, and the Moslem world would likely blame Israel."
Exactly! For the first time since Israel became a nation again in 1948, all Muslim nations in the world would be forced by raging anger within their populations to declare war against Israel, thus setting in motion the terrible prophecies of Zechariah 12. An email from a professional contact within Israel confirms that many, many Jews are extremely worried that this may be the year when the Dome of the Rock does collapse.
However, this scenario is not quite what the Illuminati Plan states. While they plan to clear the Temple Mount area of the Dome of the Rock, their plan sees a slightly different manner of accomplishing this feat. Listen to the plan: Speaking of the appearance of their "New David", the Messiah (Antichrist):
"It is axiomatic, for a start, that he (Messiah) must already be in Jerusalem, and preferably in residence on the Mount of Olives, before the expected earthquake ... it may be possible for the New David to ride into Jerusalem in all his resplendent majesty. Note the word 'ride' ... on a donkey as predicted in Zechariah 9:9 ... it would seem advisable for the new Messiah to repeat it, donkey and all ... The processional route will, of course, lie directly across the Kidron ravine, as close as possible to the Temple Mount ... he must be duly enthroned and anointed with oil (in token of Psalm 45:6-7) amid the rubble of the dome of the Rock ..." [The Armageddon Script, Peter Lemesurier, p. 233-35]
Does this mean that the Illuminati plans to destroy the Dome of the Rock with an earthquake? If the Muslim Temple were to be destroyed by an earthquake, Muslims would be harder pressed to blame its destruction upon Israel. Of course, you and I know that, through HAARP and Scalar wave technology, both the Russians and the United States can cause an earthquake any place on earth at any time desired, of any severity (Weather Control Section of Articles).
Stay tuned, and alert, for things might get very interesting.

VII. Using the recommendations of the whitewash 9/11 Commission as a cover, Congress may about to ready to rush a bill through which would threaten our Life, Liberty and the Pursuit of Happiness in ways we have become all too accustomed to seeing since the passage of Patriot Act I.
NEWS BRIEF: "House About to Strip More Civil Liberties in Name of Anti-terrorism", The News Standard, October 6, 2004, http://newstandardnews.net/content/?action=show_item&itemid=1074
"Oct 6 - Civil liberties and immigrant rights advocates say House Republicans are using legislation based on the 9/11 Commission's recommendations as cover to implement a series of troubling, un-related reforms condoning torture, limiting immigration and increasing surveillance of both non-citizens and citizens. The House will vote on the 9/11 Recommendations Implementation Act this week. Opponents say the Republican leadership rushed the legislation to the floor without much time for debate or public input, just as Congress prepares to recess for a pre-election break."
Even as the world continues to stagger through the immense weight of American atrocities against Muslim prisoners in Afghanistan, Iraq, and at Guantanamo Bay Prison in Cuba, we are now discovering that Congress may be about to authorize torture in this country? While the above statement tells us that this bill will limit immigration and increase surveillance of "non-citizens and citizens", it does not clearly define whether torture will be authorized for citizens. However, since the word, "torture" appears in the same sentence, it seems likely that American citizens will be subject to such harsh treatment.
Even though this bill is being ramrodded through Congress by the Republican leadership without debate and little fanfare, where is the Democrat outrage? Since Kerry is locked in a tight race with Bush for the Presidency, this issue would be perfect for him to lambaste the President and announce that he and the Democrats are not going to stand for this nonsense.
Sadly, though, you will most surely not see this issue raised during tonight's debate, or ever during the campaign. The reality is that the Democrats are as much a part of this whole plan as are the Republicans. The sooner everyone realizes this fact, the better we all will be.
VIII. Cutting Edge has always maintained that worshippers of the occult have been told for over a decade now that the "Rapture of the Christian Church" is a reality and will occur shortly after Antichrist arises. Our researcher and author, Mac Dominick pulled up to a string of cars behind a red light and was shocked to see a most shocking pagan bumper sticker.
On the extreme left side the bumper sticker had a pentagram as did the extreme right hand side. In between the two pentagrams, this message appeared.
"Come the Rapture: We will have the Earth to ourselves" (Mac Dominick, October 5, 2004)
But, one of the most surprising facts about the coming Rapture of the Church is that the leadership of the New World Order is also mightily looking forward to this Rapture! At this point, I can just see many of you saying, "What? How could the Luciferic leadership of the New World Order even be aware of the Rapture of the Church since they do not believe in Scripture? And, if they are aware of it, and do believe it, then why are they looking forward to it?"

These are excellent questions. Let us begin with the question as to how they could even believe in this Rapture, since they do not believe in Biblical inerrancy, or prophecy. Each meaningful leader of the New World Order has his own 'Familiar Spirit', usually called their 'Guiding Spirit'. These 'Guiding Spirits' are nothing more than demonic spirits working for Satan in achieving his goals on Earth. These 'Guiding Spirits' have given much insight into how changes need to be made politically, spiritually, and economically in the world to achieve the Kingdom of the New Age Christ. All aspects of this New World Order Plan have been communicated through these 'Guiding Spirits'. Even most of the books published in New Age bookstores are written by a 'Guiding Spirit', writing telepathically through the human host, a procedure known as 'Automatic Writing'. Certainly, without this supernatural leadership, human leaders, working together for the past 300 years, could never have achieved this New World Order!
Beginning in 1987, 'Guiding Spirits' of key New World Order leaders began to inform these human leaders to start preparing their adherents for a spectacular global event, that would occur just after The New Age Christ [Antichrist] will make his appearance. What was this spectacular event to be? As these 'Guiding Spirits' explained, when The Christ appears, there will be many people throughout the world that could never accept his views or his teachings. These people would prove to be a great obstacle in the way the New Age Christ wanted to move the peoples of the world.
Therefore, the 'Masters of the Logos' had decided, these 'Guiding Spirits' said, to suddenly snap these people into another dimension, soon after The Christ arose. These recalcitrant people would be retrained in spirit, so that, when they reenter the 'Reincarnation Cycle', they will be fully persuaded as to the merits of the New World Order. Of course, when these people get back to earth in reincarnated bodies, the New World Order will have been in full swing for several hundred years, and everyone will know then how wonderful it is!
Thus, the unsaved people left on the earth after the Rapture will be thoroughly deceived as to what really occurred. I personally heard this New Age lie when I was surreptitiously sneaked into a seminar given by the New England Director of the House of Theosophy, on August 18, 1991. Here is how the Director, Bill Lambert, described the Rapture of the Church, as it was described to him by his 'Guiding Spirit'. These people were described as people whose personal consciousness was not now, nor could ever be, raised sufficiently to accept The Christ. Bill likened them to a person who had spent his entire life in a totally darkened room. If a sudden, intense light were to shine into this room, the person's eyes would not be able to endure the light. The person would try to flee the light and go into another room which was dark. Similarly, these persons will "elect to leave for another room".
At this point, I raised my hand and asked, "How do these people do this, Bill? No one can simply declare his spirit to leave this world. Do these people commit suicide? Bill answered emphatically, "NO". He said, "I do not know how it will happen, but these people will leave this dimension."
"These people will leave this dimension."
Note also that these occult worshippers are also told when this Rapture of the Church will occur: "soon after The Christ arose".
Since the 7-year Tribulation Period does not begin when Antichrist makes his appearance on earth -- as too many Christians believe -- but begins when he confirms the covenant with Israel's leaders (Daniel 9:27), we believe there will likely be a period of 3-9 months in which this false Messiah stages false fulfillment's of Bible prophecy so the people will believe he is their long-awaited Jewish Messiah.
Thus, a pre-Tribulational Rapture position means that the genuine Church will be taken sometime before Antichrist's pen touches the paper to sign the covenant. Since the timing of the Rapture as revealed by occult leaders is "soon after the Christ" appears, that is consistent with the pre-Tribulational Rapture position. Isn't it interesting that, even as Christians vigorously debate amongst themselves as to whether the Rapture will occur pre-, mid- or post-Tribulation, the occult world seems united in its belief that the Rapture will occur pre-Tribulationally?

---------- New Articles Posted This Week ----------
* "AMERICAN SOLDIERS RETURNING SICK FROM IRAQ WITH DEPLETED URANIUM POISONING ARE POISONING THEIR WIVES -- THIS STORY FOCUSES ON ONE FAMILY WHOSE BABY WAS JUST BORN WITH DEFORMITIES! While the Pentagon is denying, denying, and lying again, telling its soldiers that nothing is wrong with them, or telling them they are suffering from mental maladies, the poisoning of Depleted Uranium is spreading beyond the contaminated soldiers to their wives through intimacy and to their precious newly born babies. -- http://www.cuttingedge.org/news/n1965.cfm
* "YOU ARE WRONG, MR. BUSH! THIS IS A RELIGIOUS WAR!!", By Don Boys, Ph.D. - Despite President Bush's mistaken insistence that Islam is a "peaceful religion" historical records prove that no more bloody religion has ever been created, nor will ever likely be created. -- http://www.cuttingedge.org/news/n1964.cfm
* "JIHAD: THE SIXTH DEADLY PILLAR OF ISLAM!" by Don Boys, Ph.D. -- In light of the Conventional Wisdom telling us that Muslim terrorists attacked the World Trade Center and the Pentagon armed only with box cutters, and in light of the reality that virtually the entire Muslim world is about to declare a "Global Jihad" against the "Western World", we need to understand that "Jihad" is THE central foundation of Islam! -- http://www.cuttingedge.org/news/n1963.cfm
* "CUTTING EDGE POSITON ON THIS 2004 ELECTION" Some people have written in, suggesting we are really pro-Democrat and/or pro-Kerry. Nothing could be further from the truth! We will quote some of our past statements and articles in this regard so you can see that Cutting Edge has the proper understanding that prevents us from being either pro-Republican or pro-Democrat in this, or any, election. -- http://www.cuttingedge.org/news/n1962.cfm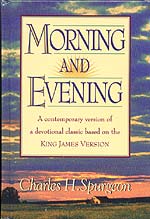 ---------Conclusion----------------"Delight thyself also in the Lord." Psalm 37:4
The teaching of these words must seem very surprising to those who are strangers to vital godliness, but to the sincere believer it is only the inculcation of a recognized truth. The life of the believer is here described as a delight in God, and we are thus certified of the great fact that true religion overflows with happiness and joy. Ungodly persons and mere professors never look upon religion as a joyful thing; to them it is service, duty, or necessity, but never pleasure or delight. If they attend to religion at all, it is either that they may gain thereby, or else because they dare not do otherwise. The thought of delight in religion is so strange to most men, that no two words in their language stand further apart than "holiness" and "delight." But believers who know Christ, understand that delight and faith are so blessedly united, that the gates of hell cannot prevail to separate them. They who love God with all their hearts, find that His ways are ways of pleasantness, and all His paths are peace. Such joys, such brimful delights, such overflowing blessednesses, do the saints discover in their Lord, that so far from serving Him from custom, they would follow Him though all the world cast out His name as evil. We fear not God because of any compulsion; our faith is no fetter, our profession is no bondage, we are not dragged to holiness, nor driven to duty. No, our piety is our pleasure, our hope is our happiness, our duty is our delight. Delight and true religion are as allied as root and flower; as indivisible as truth and certainty; they are, in fact, two precious jewels glittering side by side in a setting of gold. "'Tis when we taste Thy love, Our joys divinely grow, Unspeakable like those above, And heaven begins below." [C.H. Spurgeon, "Morning and Evening Devotions"]
=======================================================
May Jesus Richly Bless You,
David Bay, Director
866-909-2850 Toll Free Customer Service - Order Line
803-356-2850 Toll Free Customer Service - Order Line
803-356-2860 Fax