Lucifer's Conspiracy and Spiritual Warfare
New DVD by Pastor Hoggard
Spiritual Nature of Conspiracies are working feverishly in the world today, driving all mankind into the New World Order (Isaiah 14:12-14). Hoggard reveals how evil spirits are leading wicked men to create events which will establish Antichrist on the world scene in such a way as to create the Kingdom of Antichrist.
These poor world leaders are forced to create a plan which fulfills God's Prophecies precisely, even thuough they hate him exceedingly .
Hoggard further demonstrates the sacred occult numbers by which the Satanic New World Order is being established, in current news events -- 11, 22, 33, 77, 99. INCREDIBLE!
This DVD is most definitely Pastor Hoggard's best, and one of his longest, 1 hour, 48 minutes. Still only $14.99
"IndoctriNation DVD"
"Public Schools Contributing To The Decline of Christianity in America"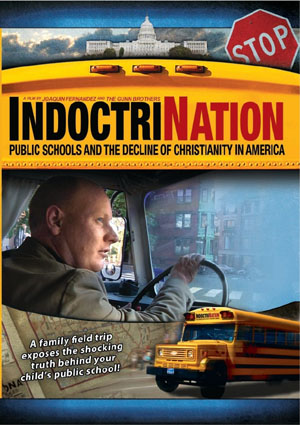 Over the past 100 years, public school curricula has systematically been changed to the point where, today, Christianity is completely banished in most public schools in America.
This DVD explores the origins of the American education system, the effects of public schools on the Christian family, and the turning of the hearts of parents to their children through home education.
You should be shocked at the revelations of this video. One expert witness says that parents do not realize the extent to which public school curricula is stealing their children's minds because the child's body is left with the parents!
Incredible facts will persuade you to take your children out of public schools no matter what the cost. We all have to answer Jesus on Rewards Day as to how we have protected the precious souls of our children.
Available October 19
---
---------- This Week's Hot News -------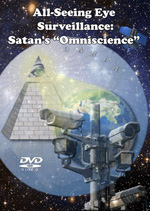 I. Should we worry what personal information is available to the government through Facebook?
If Facebook were a government agency, we would be very concerned, and protesting mightily about the utter compromise of our privacy.
NEWS BRIEF: "Facebook's power should worry us all ", The Sydney Morning Herald, October 10, 2011
"If Facebook was a government agency, its power would be as undisputed as it would be frightening. For a single organisation to know as much as it does about the habits, interests and behaviour of 10 million Australians is unsettling."
The problem about Facebook is that people routinely tell such private information about themselves that they unknowingly put themselves at great risk -- both from criminals and from the officials of a government who are planning to clamp an Absolute Dictatorship on us all.
"If a government department had so much up-to-the-minute information about who we know, where we have been and what we are doing at its fingertips then one can only imagine the outcry. And yet here we have a privately-owned company accountable to no one operating with apparent immunity from the law."
DVD
"Facebook's power continues to grow (800 million users and counting) and, on the face of it, the only real alternative left open to us is to either beat a retreat into a self-imposed disconnected world or total surrender ... At present the federal privacy watchdog has limited powers and resources to pursue companies like Facebook through the courts ... Perhaps the federal privacy commissioner, Timothy Pilgrim, was all too aware of these limitations when he said he was not going to investigate Facebook for tracking people's movements across the internet even after they had logged out of their Facebook account."
Did you know that Facebook technology can continue to track where you go on the Internet, even after you had closed the program down? This capability should give us all reason to pause, because that is the kind of technology which any dictatorial government in history would love to have. This literally means that, once you put Facebook on your computer, someone unknown to you can track your path through the Internet!
This kind of invisible tracking technology might very well be used by Antichrist and his False Prophet to fulfill this prophecy.
"And he causeth all, both small and great, rich and poor, free and bond, to receive a mark in their right hand, or in their foreheads: And that no man might buy or sell, save he that had the mark, or the name of the beast, or the number of his name." (Revelation 13:16-17)
Bible scholars have wondered for several hundred years how this verse could be possible. How could any government so specifically track all its people in real time so that they could prevent anyone from paying for something with cash or gold or silver or by bartering for it. As soon as the computer became available, scholars realized that the technology existed for tight, minute-by-minute tracking of all citizens.
This Facebook technology brings us even closer to this prophesied tracking of all citizens at all times.
Meanwhile, Facebook continues to initiate programs which will violate a person's right to privacy.
"Even today Facebook continues to deny there is a problem with its tracking and is pushing ahead with "frictionless sharing", whereby a user's activities are published on their profiles without any prompting by them. Both Facebook and Google prefer to talk about empowering you the user to exert control over your privacy settings, rather than what they are doing with your information and with whom they are sharing it. "
In other words, Facebook and Google place a high premium on your identity. With this thought in mind, let us go back to our featured news story one more time.
"It's the price we pay for such free services, the Faustian pact into which we have entered in order to survive in an age of constant connectivity where the tentacles of Facebook — with its ambition to be the "identity platform" — are extending to every corner of the internet. Which raises the question - if Facebook and Google place a value on your identity then why shouldn't you?"
To be forewarned is to be forearmed!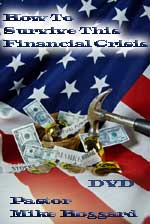 II. Did you find it fascinating to see the tremendous Columbus Day stock market rally occurring according to sacred occult numbers?
Remember, Columbus Day occurred on 10/10/2011, which twice yields the occult number '11', the number of the coming Masonic Christ.
NEWS BRIEF: "Markets Discover 330-Point Rally on Columbus Day Amid Euro Hopes ", Fox Business News, October 10, 2011
"Wall Street celebrated Columbus Day with a 330-point buying binge on the Dow as traders around the world breathed a sigh of relief that European leaders pledged to bolster their banks and the markets look ahead to the start of earnings season."
Not only did the date yield an '11', but the amount of increase in the Dow contains a '33', which is not only '3x11', but which is the most sacred number in all of the occult world. For full details, please read NEWS1478, entitled, "33 33 33 = 666: SATANIC NEW WORLD ORDER THINKING ".
You can also read how the attacks of 9/11/2001 occurred according to the sacred occult numbers '11' and '33'. Please read NEWS1756, entitled, "EVENTS CONTINUING TO OCCUR "BY THE NUMBERS" -- SACRED OCCULT NUMBERS".
Finally, you can read how important the '33rd' Parallel is to Masons and why they revere shed blood on this parallel! Please read NEWS1766, entitled, "MASONS AND OTHER OCCULTISTS REVERE THE NUMBER '33' ABOVE ALL OTHER NUMBERS. MANY ACTS OF WAR, MURDER, AND ASSASSINATION HAVE OCCURRED ON OR NEAR THE 33RD DEGREE PARALLEL".
The number '33' is so sacred to Satan that Adolf Hitler came to power in 1933 -- no coincidence, believe me. Occult practitioners were very excited when Hitler arose to power, because their Guiding Spirits had told them that he was the Great One -- the occult Christ for whom they had long been awaiting.
Now, let us return to our featured story.
"The Dow Jones Industrial Average soared 330.06 points, or 2.97%, to 11433.18, the Standard & Poor's 500 jumped 39.43 points..."
Notice that the Dow Jones Industrial Average ended at 11,433, which yields an '11' and a '33'.
The number '39' is also considered sacred because it is the multiplication of '13 x 3'. The number 13 represents the highest level of rebellion against God's constituted authority while '3' is the number of the pagan trinity.
The number '39' was so sacred to Nazi dictator, Adolf Hitler, that he launched World War II in the year, 1939.
This news story contains more instances of occult numbers.
"While bond markets in the U.S. were closed for the holiday, the bulls on Wall Street did anything but stay home, sending the blue chips to their biggest one-day point gain since August 11."
What does all this mean? I am not sure, but I have learned that there are no coincidences in this drive to the Satanic New World Order.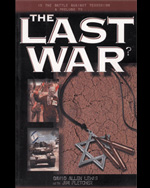 III. The Palestinians continue to pursue a course which is guaranteed to bring God's physical judgment down upon their heads!
NEWS BRIEF: "Palestinians Keep Up The Pressure At The UN For Instant Statehood", Canada Free Press, October 10, 2011
"The Palestinians' campaign to get official United Nations approval of their bid for statehood status is proceeding on multiple fronts."
1) "Their application for full UN member state status, submitted with great fanfare to the Security Council on September 23rd, is making its way through the Security Council Committee on Admission of New Members."
2) "Meanwhile, the Palestinians are also pursuing membership in the United Nations Education, Scientific and Cultural Organization (UNESCO). The Palestinians' UNESCO bid is on the faster track. It cleared a major hurdle by receiving the approval of forty out of the fifty-eight countries on UNESCO's executive board to move forward with a vote by UNESCO's entire 193 state membership later this month ..."
3) "However, UNESCO is a sideshow. The Security Council is the center stage for the Palestinians' campaign to become a full-fledged member state of the United Nations. The Palestinians need nine members of the Security Council in favor of their application, with none of the five permanent veto holding members opposing it. India, Brazil, South Africa, Russia, China and Lebanon are the Palestinians' strongest supporters on the Security Council."
However, the Palestinians fail to meet the United Nations' 'Statehood Test'!
"Article 4.1 states: "Membership in the United Nations is open to all other peace-loving states which accept the obligations contained in the present Charter and, in the judgment of the Organization, are able and willing to carry out these obligations."
Furthermore, "Palestine first has to be deemed a state under the standards of international law. And it has to accept all the UN Charter obligations. One of those obligations is 'to refrain in their international relations from the threat or use of force against the territorial integrity or political independence of any state, or in any other manner inconsistent with the Purposes of the United Nations'." (Article 2.4)
Therefore, when the Palestinians continue to fire terror rockets against Israeli cities and when they openly call for Israel's eradication, they fail this U.N. standard.
"The Palestinians fail the statehood test. Under the 'Montevideo Convention on the Rights and Duties of States', used under international law in determining whether a new state has actually come into existence, the Palestinians must demonstrate that they have a defined territory and an established government. The Palestinians lack clear and settled territorial boundaries, which, under the terms of UN Security Council Resolution 242, must be agreed upon first between the Israelis and Palestinians in negotiations leading to a 'just and lasting peace'. And, despite the attempt at creating a "unity" government bringing together the Fatah and Hamas factions, there are currently still two distinct governing authorities asserting jurisdiction over the West Bank and Gaza. That would be Palestinian President Mahmoud Abbas's Fatah party and the Iran-backed terrorist organization Hamas respectively."
Wow! I did not realize that the Palestinian Authority lacked so much of the international rules governing what constitutes a nation. Should any part of the United Nations recognize the Palestinian State, that declaration will be completely hollow and meaningless. What does prophetic Scripture foretell about the End of the Age declaration of the leaders of Edom (Palestinian) of a state?
"They shall call its nobles to proclaim the kingdom, but nothing shall be there, and all its princes shall be no more." (Isaiah 34:12)
When the United Nations votes to admit the Palestinian State, all Palestinian Authority officials will have just sealed their personal doom, for this Scripture declares that, after a meaningless nation is proclaimed the Palestinian officials "shall be no more"!
---
"Defiant" New Book!
"Defiant Grace"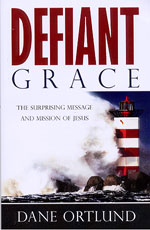 Jesus Defiantly Proclaimed Salvation By Grace; We Need to Defiantly Live Our Lives By His Defiant Grace
The Bible tells us that 'Salvation Belongs To The Lord - Ps 3:8. Yet, Christians believe that, after we are saved, we have to work to keep our salvation. The difference between 'religion' and the gospel of grace is that religion ADDS burdens by announcing that Jesus plus something equals everything while the gospel of grace ABSORBS burdens by announcing that Jesus plus nothing equals everything.
Law feels safe. Grace feels risky. We often speak about grace with a thousand qualifications which reveal a paralyzing fear that grace will be taken too far.
It is time to enjoy grace anew, Paul promised, 'Ye are not under law but under grace" (Rom 6:14) Paul also said 'For it is by Grace ye are saved, not of works...Eh 2:5
This book is for the mature Christian who is frustrated by the lack of spiritual progress in their life; get ready to dive deeply into the ocean of Grace!
---
Back In-Stock!
"The Ancient Book of Enoch DVD: The First Book Ever Written "
The Book of Enoch is a treasure, perhaps hidden away just for these last days. Many know of it but few know of its contents. Can this ancient text be trusted? Is it credible? In this 6-hour DVD series, J. R. Church and Gary Stearman take you on a comprehensive, cover-to-cover tour of this amazing book.
You will learn about the fallen angels who entered Earth through a "stargate," located on the peak of Mt. Hermon, where they swore an oath to complete their corrupting work among men. Enoch enters a flying house and journeys to heaven, sheol and all around the world! His descriptions are absolutely breathtaking in their realism; he literally travels through time!
5 hours on 4 DVDs
Watch TV Interview on "The Ancient Book of Enoch"!
---
'2012 & Beyond: Combination Offer'
Saves You $30.00!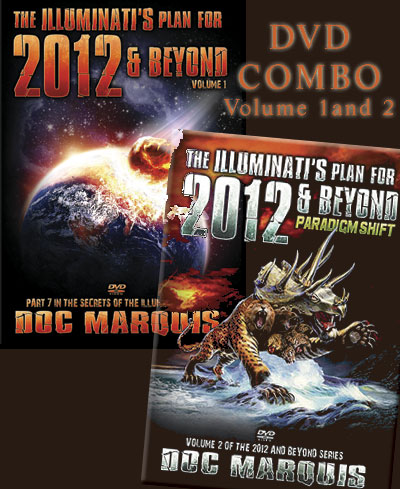 '2012 & Beyond: Combination Offer'
Regularly $79.88 If You Buy Them Separately
Now Only $49.88
This world may, indeed, suffer the greatest calamity in history, but this catastrophe will NOT be any of the proposed doomsday scenario for December 21, 2012, offered by the Mass Media.
This DVD series examines many of the Mass Media scenarios and then shows how each of them simply will not occur.
What may occur, however, is a demonic plan revealed only by the Black Magick Secret Society, The House of Theosophy. This disaster from the Abyss is called the 'Paradigm Shift Producing The Universal Mind'.
Doc Marquis correctly identifies it as a global demonic possession of all unsaved people!
We also examine the possibility that God might send His 'strong delusion' (2 Thess 2:11) This DVD closes with a dramatic appeal for genuine Christians to aggressively reach out to sow Gospel Seed to the unsaved people in their lives, before this 'strong delusion' hits with full force.
This combination offer contains 4 DVD's and has nearly 7 hours of teaching. A Plan of Salvation is offered at the very end of both DVD sets. http://www.cuttingedge.org/detail.cfm?ID=2367
Watch Trailer For Volume 2, Paradigm Shift
---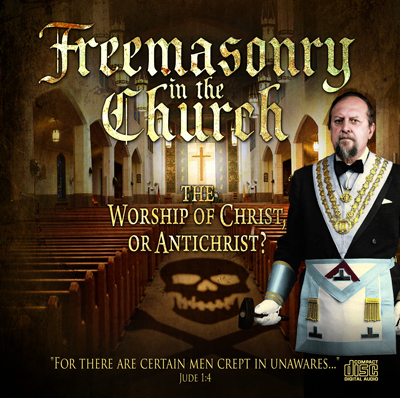 New!
"Freemasonry In The Church: Worship of Christ or Antichrist"
"I'm Lucifer!" exclaims an elderly man, "And I'm pure and virtuous, and holy!" Incredibly, this same man goes on to say that he is a Christian, and insists that Jesus Christ is his Lord.
How can he be "Lucifer" and a follower of Christ? "Because I'm out helping people," he says.
Such is the declaration made by a modern Freemason, and is indicative of perhaps the greatest spiritual cancer afflicting the Church in America today. There are literally thousands of pastors, elders, deacons and regular members in churches that are involved in Masonry. But is their worship toward the Lord Jesus Christ? Or after the spirit of antichrist?
In this dynamic and powerful audio CD, documentary filmmaker Chris Pinto explores the issue of Freemasonry in the Church, and how this secret society is working to change the Gospel and undermine the Christian faith.
CD, MP 3 format, by Chris Pinto, 4 hours 21 minutes of teaching - http://www.cuttingedge.org/detail.cfm?ID=2359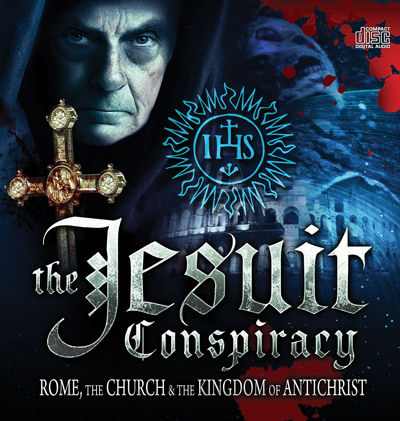 "The Jesuit Conspiracy: Rome, The Church And The Kingdom of Antichrist "
"My history of the Jesuits is not eloquently written ... If ever there was a body of men who merited eternal damnation on earth and in hell, it is this Society of Loyola." - John Adams, President of the United States

"It is my opinion that if the liberties of this country – the United States of America – are destroyed, it will be by the subtlety of the Roman Catholic Jesuit priests …" – Marquis de LaFayette, Revolutionary War hero
Discover the role of the Jesuits in the Great Inquisition, the American Civil War, Vietnam, World War II and Nazi Germany, and their working in the United States through the Ecumenical Movement, Dominionism and the New World Order.
CD, MP3 Format, by Chris Pinto - 3 hours 23 minutes of teaching - http://www.cuttingedge.org/detail.cfm?ID=2360
---
NEW! BIG BOOK OF HISTORY!!!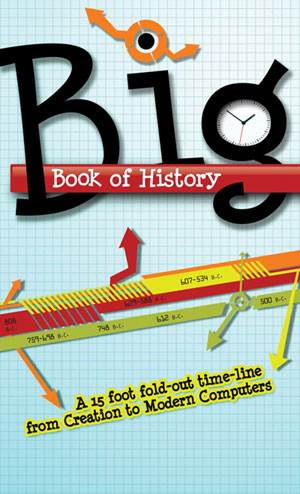 "BIG Book of History: Learning Just Became 15 Feet of BIG Fun"
Families, schools, and churches can unfold 15 feet of the most interesting history of the world. This easy to follow, color-coded, multi-stream timeline teaches six thousand years of world history to children ages seven through thirteen.
These exciting facts and so much more wait inside:
1) Who were the first emperors of China and Rome
2) What discovery unlocked the secrets of a forgotten language
3) How modern robotics had its roots in the tea dolls of Japan
4) Where Christians faced death for the entertainment of thousands
5) Why the languages of Greek and Hebrew were used to write the Bible
6) How the Age of Discovery meant wealth some, and the destruction of civilization for others.
Understanding how the past has shaped our future will inspire young learners to make history for themselves!
Uniquely designed to capture your child's interest, as history flows out 15 feet covering many centuries of exciting history. http://www.cuttingedge.org/detail.cfm?ID=2366
---
New Headline News Articles
Compilation of False But Scary Economic Collapse Headlines - Beginning in 2001, Continuing through 2005 -- Part 1
We shall prove that fake news headlines screaming imminent economic collapse have occurred regularly every single year since 2001! All these headlines have proven to be false, but people still are scared when another fake collapse headline occurs in their daily news.

What did Jesus predict at the End of the Age: "... men's hearts failing them for fear"
Ezekiel 38-39 Russian Led Invasion of Israel
The Demonic Overlord of Russia Will Lead The Way!
Mitt Romney Is Hiding A Secret He Does Not Want You To Know
Mitt Romney – The Man Who Plans To Become A God In This Lifetime! A guest column from Ed Decker, Founder, Saints Alive
Is America In Danger of Being Taken Over By Islam?
You can ignore the three Brotherhood people in the White House, the ascendancy of Islamic culture within our public schools and in our court system. The truth is that the Illuminati is waging annihilating war against Islam!
If Satan Preached The Gospel, Could People Still Be Saved?
In today's Apostate Churches, this question has more merit than at any other time since the Resurrection of Jesus Christ.
Bad News Is Designed To Depress and Scare YOU!
Incredibly, the Plan was written almost 200 years ago to use the Mass Media (Press) as the bloody battering ram to destroy the present world order so the New World Order may be established, through "oceans of blood and tears"!
---
New Fascinating DVD's
The Watchers Have Returned!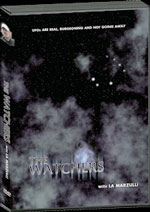 "The Watchers: UFO's Are Not Going Away"
New DVD by Dr. Marzulli - Recognized Expert On The Nephilim
Dr. LA Marzulli has produced a spectacular DVD on the UFO phenomenon, one of the most confusing and unexplained mysteries of our time. Until now. Marzulli offers his own unique perspective on the subject and how this deception plays a part in end-time prophecy. When will the world meet these alien creatures in their flying machines? Is a face to face encounter right on the horizon? Marzulli believes we are being set up for a great deception.
He answers a lot of questions on his DVD including: 1) What are those strange lights in the sky? 2) What factual proof is there of UFO's 3) Are people interacting with UFO's now? 4) Why do people feel the phenomena is benevolent? 5) Cattle Mutilations 6) Abduction Phenomena 7) Alien Implants
You will be amazed! http://www.cuttingedge.org/detail.cfm?ID=2347 Watch the interview of Dr. Marzulli or order at this link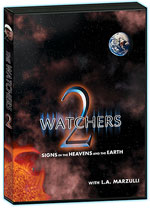 "The Watchers 2: Signs In The Heavens and the Earth"
New DVD by Dr. Marzulli - Recognized Expert On The Nephilim
Why are the nations of the world in turmoil? What is happening with all the changes in the sun and the moon? Why are birds dropping out of the air and millions of fish dying without explanation? Why are sinkholes of gigantic proportions appearing all over the Earth? What is causing increased volcanic activity in Japan, Italy and Iceland? Why are we seeing earthquakes of 7.0 or greater, seemingly on a weekly basis? And what about the UFO seen over the Temple Mount? Was that from God and his angels, or from the dark side?
Something has changed and Watchers 2 will try to investigate to see if the ancient texts are accurate. Are we entering a period where there will be an escalation in wars, earthquakes and famines, including signs in the skies and the heavens? L. A. Marzulli interviews the experts in this sequel to The Watchers.
What a marvelous quality presentation! Watch the trailer or order http://www.cuttingedge.org/detail.cfm?ID=2348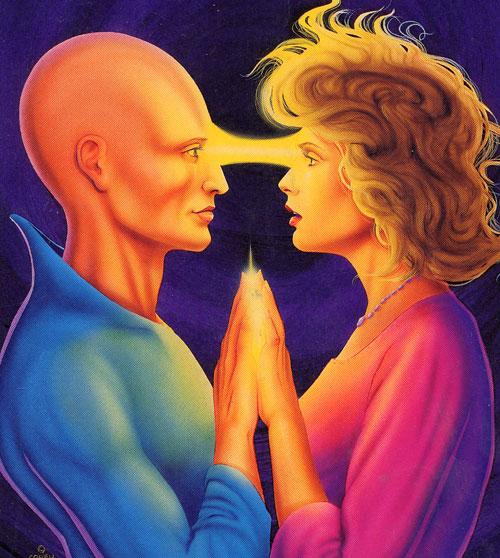 Quotable Quotes
"UFO's and Aliens are part of the New World Order. They are benevolent beings which will aid mankind in attaining the goal of becoming one humanity. They will appear at the proper time to enable mankind to make that Quantum Leap of Collective Consciousness -- when the Christ appears." (Bill Lambert, New England Director, House of Theosophy, Seminar, August 18, 1991)
"[New World Order Planners] have plans to bring about things like earthquakes, war, the Messiah, an extraterrestrial landing, and economic collapse. They might bring about all of these things just to make sure it does work...The Illuminati has all the bases converged." (New Age author, Bill Cooper, Behold A Pale Horse, p. 177
---
New Bible Study Resources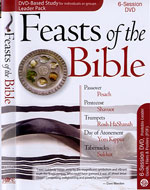 "Feasts and Holidays of the Bible"
DVD - Enriching Your Worship
Many Christians miss the importance of Biblical feasts, seeing them as merely 'Jewish holidays'; however, Scripture reveals that these Feasts of the Lord are established for all people of all time. Dr. Sam Nadler, a Jewish scholar / believer teaches that these Feasts point to Jesus Christ.
Now you can 'connect the dots', understanding the Hebrew roots of Christianity. Topics are: 1) What are the Biblical Feasts and the Sabbath rest? 2) What is the meaning and fulfillment of Passover? 3) What is the Feast of Pentecost and what does it teach about the Christian Church? 4) The Feast of Trumpets; 5) The Day of Atonement (Yom Kippur), the scapegoat and other symbols; 6) The Feast of Tabernacle, to be fulfilled by Jesus' Second Coming.
Contains also a CD with PDF files for the leader guide, poster, flier, postcard, bulletin insert, and banners for promotion - http://cuttingedge.org/detail.cfm?ID=2345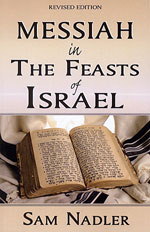 "Messiah In The Feasts of Israel"
Book by Dr. Sam Nadler, Jewish Believer In Jesus
God's Redemptive Plan is unveiled through the Feasts of Israel. Discover how God's appointed times are still relevant for our lives today and how they point to our glorious future with Jesus, the Messiah! Join Bible teacher, Dr. Sam Nadler for an in-depth and fascinating study of the Feasts of Israel that will change the way you read Scripture
Dr. Nadler is a Jewish believer in Jesus, founder of Word of Messiah Ministries 30 years ago.
236 pages - http://cuttingedge.org/detail.cfm?ID=2346

---

Purchase a 1-Year Subscription, you may select 1 FREE gift
Purchase a 2-Year Subscription, you may select 2FREE gifts
Purchase a 3-Year Subscription, you may select 3 FREE gifts
Purchase a 4-Year Subscription, you may select all 4 FREE gifts
We have changed our FREE gifts available to you when you subscribe to Headline News, adding two Pastor Hoggard DVD's to the Seminar Tapes and the Radio Collection CDROM.
---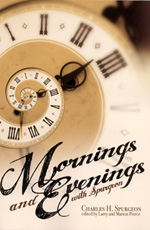 --------Concluding Inspiration ---------Let us lift up our heart with our hands unto God in the heavens." Lamentations 3:41
The act of prayer teaches us our unworthiness, which is a very salutary lesson for such proud beings as we are. If God gave us favours without constraining us to pray for them we should never know how poor we are, but a true prayer is an inventory of wants, a catalogue of necessities, a revelation of hidden poverty. While it is an application to divine wealth, it is a confession of human emptiness.
The most healthy state of a Christian is to be always empty in self and constantly depending upon the Lord for supplies; to be always poor in self and rich in Jesus; weak as water personally, but mighty through God to do great exploits; and hence the use of prayer, because, while it adores God, it lays the creature where it should be, in the very dust. Prayer is in itself, apart from the answer which it brings, a great benefit to the Christian. As the runner gains strength for the race by daily exercise, so for the great race of life we acquire energy by the hallowed labour of prayer. Prayer plumes the wings of God's young eaglets, that they may learn to mount above the clouds. Prayer girds the loins of God's warriors, and sends them forth to combat with their sinews braced and their muscles firm. An earnest pleader cometh out of his closet, even as the sun ariseth from the chambers of the east, rejoicing like a strong man to run his race. Prayer is that uplifted hand of Moses which routs the Amalekites more than the sword of Joshua; it is the arrow shot from the chamber of the prophet foreboding defeat to the Syrians. Prayer girds human weakness with divine strength, turns human folly into heavenly wisdom, and gives to troubled mortals the peace of God. We know not what prayer cannot do! We thank thee, great God, for the mercy-seat, a choice proof of thy marvellous lovingkindness. Help us to use it aright throughout this day!
"Morning and Evening Devotions", by C.H. Spurgeon
---
"President Bush:
Evil vs Good Fruits"
Directory of all news articles
Free Radio Transcripts

Free Headline News Archives

Freemasonry

What Saith Rome

Teachings from the Catechism

Bookstore

Meet the Staff

Weather Control

School Shootings

Understanding Clinton
May Jesus Richly Bless You,
David Bay, Director
866-909-2850 Toll Free Customer Service - Order Line
803-356-2850 Customer Service - Order Line - For Out of Country Customers
803-356-2860 Fax