Hot New DVD - "Sign of the Times Video"
Introductory Sale - Regularly $19.95, Sale $16.95
The film exposes the agenda that Obama was put in place to accomplish, a world government allied with a bank of the world run by globalist eugenicists hell-bent on destroying America's first world status and replacing it with a hollow shell of tyranny. The burgeoning police state, warrantless wiretapping, secret arrests, indefinite detention of citizens, torture, the war in Afghanistan, the war in Pakistan, have all been expanded under Brand Obama despite his promises to reverse them all.
'Fall of the Republic' leaves no room for doubt that the class Obama serves is the elite and it is their agenda he is diligently following. The movie picks up from where The 'Obama Deception" left off.
Click Here to see the full write-up of this incredible DVD!
Related Headline News Articles
1) "President Obama Falsely Reassures Muslims: America Is Not At War With Islam And Never Will Be At War With Islam"
"The Truth is quite the opposite: America launched annihilating wars against Islam in 1991 and 2003, condemning as many as one-half billion Muslims to death by the silent, incessant warfare already waged! The Illuminati planned many decades ago that all members of monotheistic faiths had to be eradicated -- Islam, Christianity, Judaism. The genocide was to begin with the Muslims - and it certainly has!
"Have you missed it?" http://www.cuttingedge.org/news/n2389.cfm
2) "President Obama - Future Pharaoh"

Preacher Tells Obama: "I know Messiah, he is a friend of mine. And Mr. Obama, you are no Messiah"! http://www.cuttingedge.org/news/n2388.cfm
---
---------- This Week's Hot News ---------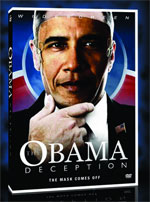 DVD
I. President Obama will sign the heinous "Hate Crimes" bill into law this afternoon (Wednesday, 10/28) at a White House ceremony!
After struggling for many years to "come out of the closet" and be accepted on the same basis as heterosexual ity, homosexual advocates have finally won their most important battle yet.
NEWS BRIEF: "Obama Set To Sign Bill Widening Hate Crime Laws", by Ari Shapiro, NPR News, October 28, 2009
"At a ceremony in the White House Rose Garden Wednesday afternoon, President Obama plans to sign a bill into law that was more than a decade in the making. It is an update to the federal hate crimes statute that Congress initially passed in 1968. For the first time, the law that had previously protected people from attacks motivated by race, religion or ethnicity will include gay, lesbian, transgender and disabled people."
For the first time ever, a Christian who upholds the Biblical standard against homosexuality will be subject to arrest and prison time, for committing a "Hate Crime". We posted an article about one week ago which we urge you to read. It is:
"Are You Ready To Go To Jail?" -- NEWS2387
While many laws have been passed since the attacks of 9/11 which have not been enforced, some officials believe that the Federal Government will use this law extensively. Listen;
"While disability and gay rights groups are happy to see the symbolic statement of this bill, government officials are ready to put the law to use .. Both Perez and Attorney General Eric Holder used to work in the criminal section of the Justice Department's Civil Rights Division, which prosecutes hate crimes. So, as one Justice official put it, 'This law is going to be used extensively'."
If Christians are going to now be persecuted, I guess my response will be to "bring it on". Since 1989, when I realized the direction the Holy Spirit was leading me, I knew the time would come when I would be arrested, unless the Rapture of the Church occurred first.
At that moment I rededicated my heart and my life to Jesus Christ, and have spoken the His eternal Truth boldly, not paying any attention to the consequences. I have entrusted that job to the Holy Spirit. From that day onward, I have attempted to live according to the poem, "The Fellowship of the Unashamed".
With God's precious promises in my heart, I shall die by that motto if that is God's Will.
However, I want to remind everyone in the LGBT community that I have never threatened any person and never advocated any violence toward any group. I simply wish to draw LGBT people to the loving cross of Jesus Christ, Who can forgive all sin and deliver you to Heaven.
We seek to draw you to the love of Jesus.
SPECIAL NOTE: In May, this year, we posted an article in which we predicted that 2009 would be the year in which homosexuality would finally and officially be brought out into the open and accepted as normal by the American Government Establishment.
Please take a few moments to read this article, for it was a foreboding, a presentiment, we had that the LGBT agenda would finally be brought to the public view under President Obama. This article is:
"2009 - The Year Homosexuality Will Come Completely Out Into the Open!" - NEWS2364.
That time is here. America is now the new Sodom! Jesus is not far away. Can you hear the approaching hoofbeats of the Four Horsemen of the Apocalypse?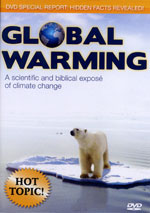 DVD
II. "We must stop eating meat if we are to save our planet"!
You know the science behind Global Warming is excessively weak if its leaders have to resurrect the old Flatulence of pigs and cows as the most important reason to implement Climate Control!
NEWS BRIEF: "Climate chief Lord Stern: give up meat to save the planet", Times Online, October 27, 2009
"People will need to turn vegetarian if the world is to conquer climate change, according to a leading authority on global warming ... In an interview with The Times, Lord Stern of Brentford said: 'Meat is a wasteful use of water and creates a lot of greenhouse gases. It puts enormous pressure on the world's resources. A vegetarian diet is better'."
Having grown up on a dairy farm, I can assure you that all the digestive tract gas in the world cannot ever change the climate! God's world is far, far bigger than that! In fact, I am surprised that this old, 1980's line of argument was even being used today.
The fact that a "leading Climate Control" authority would stoop so low to scoop up this pile of manure tells you that the science behind Global Warming / Climate Control is simply falling apart. Indeed, cutting edge scientists throughout the world have jumped on the bandwagon of warning people of the foolishness of this entire movement.
Then, why are we seeing Global Warming and Climate Control being pushed so hard, even in the face of a gigantic mound of evidence to the contrary? The answer is simple: Global Crises need a Global Government, a coercive government comprised of a "World Council of Wise Persons" which would lead poor mankind into a utopian future.
This kind of stupid public rhetoric is simply ridiculous! I wonder if Jeremy Rifkin is waiting in the wings now to call for a worldwide ban on lawn mowers and backyard barbeques so that Global Warming can be halted!
However, this rhetoric might just lead to a Global Government and to higher prices for meats after all!
"Direct emissions of methane from cows and pigs is a significant source of greenhouse gases. Methane is 23 times more powerful than carbon dioxide as a global warming gas ... Lord Stern, the author of the influential 2006 Stern Review on the cost of tackling global warming, said that a successful deal at the Climate Change Conference in Copenhagen in December would lead to soaring costs for meat and other foods that generate large quantities of greenhouse gases."
The "Climate Change Conference in Copenhagen" is raising its ugly head once again! Last week, we learned that a secret document has been prepared for world leaders at Copenhagen to sign which will officially jump-start the coveted World Government.
And, this worldwide dictatorship will have come into being based solely on the power of the global propaganda machine. Truly, people are supporting this ridiculous concept on the persuasive power of public rhetoric alone!
Adolf Hitler was completely correct when he said:
"It is lucky for rulers that people do not think".
"Truth is not what is; truth is what people perceive it to be."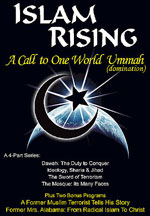 DVD
III. Iraq is exploding into the civil war of which we have been warning.
Will the American withdrawal be slowed or stopped because of this terrific spike of bloodshed?
NEWS BRIEF: "Funerals begin as death toll rises to 155 in Iraq bomb attack", Times Online, October 26, 2009
"Funerals have begun in Baghdad for the 155 people so far known to have died in yesterday's massive car and truck bombings outside government buildings."
The Iraqi Government was the clear target of these suicide bombings. Since the government is headed by Shi'ites, it is logical to believe that the Sunnis were the masterminds behind this very deadly attack. Saddam Hussein's power was sustained by the Sunni Party, and they are itching to regain their former glory.
"A truck carrying a tonne of explosives hidden below the seats exploded at a busy intersection near the Justice Ministry. Almost simultaneously, a car packed with 700kg of explosives went off opposite the nearby provincial government building. The force of the blasts left charred corpses and body parts strewn across the streets of the capital. As in previous attacks, the bombs were targeted squarely at disrupting government services."
This bombing is merely another attack in a long string of suicide attacks in the past several months. However, this bombing seems to take the Shi'ite/Sunni struggle to a new height. And, a worrisome height at that.
Republican Senator -- and former Presidential Candidate -- John McCain quickly became the government leading mouthpiece on this subject, as he stated that the American withdrawal would not change because of these deadly attacks.
NEWS BRIEF: "No rethink of US Iraq pullout despite suicide bombs: Republican Senator McCain", AFP News, October 25, 2009
"WASHINGTON — Twin suicide car bombings that struck Baghdad Sunday, killing at least 99 people, will not slow the pace of the US troop withdrawal in Iraq, a senior Republican US senator said. John McCain, a Republican presidential candidate in 2008, called the attack in Baghdad 'a terrible tragedy' but said it should not prompt the US government to rethink its policy of gradually pulling it troops from the violence-wracked country."
You can expect to hear plenty of platitudes spooned out to an undiscerning public that the Shi'ite Iraqi Government will be able to solve this problem so American troops can leave. Echoes of South Vietnam can be clearly heard in the background.
Finally, I am somewhat surprised that the first American government response to this bombing came from vanquished Republican foe, Senator John McCain, and not from President Obama. Perhaps White House strategists concluded that this reiteration of America's determination to withdraw would be better coming from a perceived "Conservative" politician in the Republican Party.
Please remember that this Iraqi War is fulfilling the End of the Age final judgment against Ancient Babylon (Iraq), as we reported in NEWS1920, while Iraq is due to be invaded by an army drawn from the far quarters of the world, the final act of God's judgment will occur within Iraq. The Medes (Today's Kurds) are prophesied as invading Iraq from within.
In other words, this prophecy in Isaiah 13 begins with an invasion from foreign troops, but ends with internal conflict between the parties comprising modern-day Iraq. This scenario is precisely what is occurring today, right now, in our Daily News.
Consider this sequence of events:
1) The foreign invaders are leaving. They have attacked Ancient Babylon with unprecedented weapons and have killed countless tens of thousands. Iraq is left in complete shambles. The entire country is ruined with Depleted Uranium munitions.
2) Civil War begins between Shi'ite and Sunni forces, a war which shall exhaust the resources of both sides.
3) The Kurds wait on the northern border until both sides have spent their military resources fighting each other, and then the Kurds (Medes) shall attack. They shall wreak destruction in retaliation for hundreds of years of repression by both Shi'ite and Sunni. Listen to the prophetic wording: