WEEKLY UPDATES FROM Cutting Edge Ministries, www.cuttingedge.org
11/6/2004      Over 1,200 Articles Posted! Nearly 80,000 People Downloading A Salvation Page Per Year!
---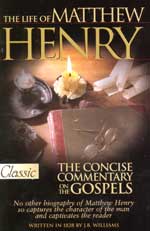 ---------- Inspiration For the Week----------"PROMISES AND ENCOURAGEMENTS" -- 7:14-20
"When God is about to deliver his people, he stirs up their friends to pray for them. Apply spiritually the prophet's prayer to Christ, to take care of his church, as the great Shepherd of the sheep, and to go before them, while they are here in this world as in a wood, in this world but not of it. God promises in answer to this prayer, he will do that for them which shall be repeating the miracles of former ages. As their sin brought them into bondage, so God's pardoning their sin brought them out. All who find pardoning mercy, cannot but wonder at that mercy; we have reason to stand amazed, if we know what it is.
When the Lord takes away the guilt of sin, that it may not condemn us, he will break the power of sin, that it may not have dominion over us. If left to ourselves, our sins will be too hard for us; but God's grace shall be sufficient to subdue them, so that they shall not rule us, and then they shall not ruin us.
When God forgives sin, he takes care that it never shall be remembered any more against the sinner. He casts their sins into the sea; not near the shore-side, where they may appear again, but into the depth of the sea, never to rise again. All their sins shall be cast there, for when God forgives sin, he forgives all. He will perfect that which concerns us, and with this good work will do all for us which our case requires, and which he has promised." ["Matthew Henry - His Life Plus Selected Readings From His Concise Commentary on the Four Gospels", by J.B. Williams in 1828]
---------- New Articles Posted This Week ----------
* "2004 ELECTION RESULTS VALIDATE TWO KEY CUTTING EDGE TEACHINGS - A REVIEW" -- Just as Cutting Edge had been teaching all through this election campaign, two very important events did not occur. As the world proceeds toward the final goal of the appearance of Antichrist, we all must keep our eyes firmly on the global plan. "Rumors of Wars" can be safely ignored until the time comes for the final global war. -- http://www.cuttingedge.org/news/n1973.cfm
* "FUNDAMENTAL CHRISTIAN PASTOR TELLS HIS PEOPLE THAT THE 'NEW WORLD ORDER' IS THE 1,000-YEAR REIGN OF JESUS CHRIST - PREPARING HIS FOLLOWERS TO ACCEPT ANTICHRIST!" The Apostasy of the Christian Church suddenly became a whole lot deeper and more serious when a Pastor told his followers that the New World Order was Jesus' Millennial Reign, instead of the truth that this is the name of the Kingdom of Antichrist. These people are thus being preconditioned to accept the claims of Antichrist! -- http://www.cuttingedge.org/news/n1972.cfm
* "HOW DOES ONE RIGHTLY DIVIDE THE WORD OF TRUTH?" Study to shew thyself approved unto God, a workman that needeth not to be ashamed, rightly dividing the word of truth" (2 Tim. 2:15) Be not deceived--the Bible can easily be twisted to support false doctrines. We must compare Scripture with Scripture and refrain from lifting anything out of context -- http://www.cuttingedge.org/articles/p235.html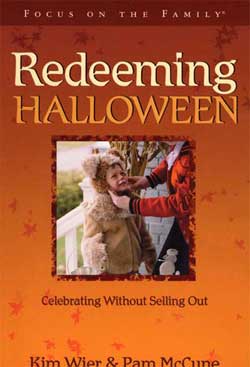 * "FOCUS ON THE FAMILY CONTINUES TO TAKE FOLLOWERS INTO THE ABYSS AS IT URGES CHRISTIANS TO "REDEEM HALLOWEEN"! Part 3 of 3 -- CROSSING GOD'S LINE - USING SAME CURSED OBJECTS OF EVIL AS THE PAGANS!" If these authors were re-creating a completely Christian holiday for us to celebrate on the same day as the pagans, that might not be so bad as to warrant our large outcry. However, they are encouraging you to use the same cursed objects pagans have used, telling you that you can "share the Gospel" through these pagan objects. This is "syncretism" at its worst, is forbidden in Scripture, and crosses God's line of Judgment. -- http://www.cuttingedge.org/news/n1971.cfm
* "FOCUS ON THE FAMILY CONTINUES TO TAKE FOLLOWERS INTO THE ABYSS AS IT URGES CHRISTIANS TO "REDEEM HALLOWEEN"! Part 2 of 3- COMMITTING THE "SIN OF AARON" - Updated 10/30/04 -- Even though Focus On The Family is encouraging Christian families to "Redeem Halloween", we wonder why Christians should even be interested in celebrating a Satanic Black Magick "Festival of the Dead". Two Scriptures come to mind immediately: [Prov 8:36] and [Mark 12:27] -- http://www.cuttingedge.org/news/n1970.cfm
* "FOCUS ON THE FAMILY CONTINUES TO TAKE FOLLOWERS INTO THE ABYSS AS IT URGES CHRISTIANS TO 'REDEEM HALLOWEEN'!" Part 1 of 3 - Updated 10/30/04 -- After telling parents it is all right for them to read Harry Potter to their children and after publishing a book entitled, "Finding God In Lord of the Rings", Dr. Dobson continues his free-fall into the Abyss by telling his followers they can participate in Halloween, because it was a "Christian" holiday whose roots can be traced to the "foot of the cross"! - http://www.cuttingedge.org/news/n1969.cfm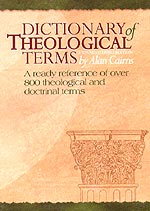 -------Focus: Key Doctrinal Truth----------"Revival"
Literally, a coming to life from the dead (1 Kings 17:22). As distinct from resurrection, the term is used to denote a quickening and kindling of spiritual life in an individual Christian, church, community, or country. In this view, it is the work of God's Spirit, dispelling the darkness and deadness of spiritual declension. True revival always brings a fresh and vivid Scriptural emphasis on the holiness and Justice of God, on His judgment on sin, and on true repentance and the reception of Jesus Christ by faith. The presence of God in awful and overwhelming power is the hallmark of revival, as He moves in glorious Gospel triumph, bringing new life to His church and salvation to many souls. Such a revival leaves a lasting mark.
In the United States, revival is frequently used to describe a special evangelistic effort. In this sense, it is said to be 'conducted' or scheduled However, this terminology confuses evangelism, which is man working for God, with revival, which the sovereign work of God on behalf of men." ("Dictionary of Theological Terms: Ready Reference of Over 800 Theological and Doctrinal Terms", by Alan Cairn, p. 385-386)

---------- Bookstore Resource Update ----------
Fighting Doctrinal Apostasy In Churches Today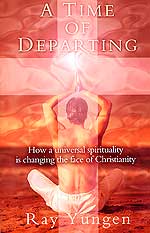 * "A Time of Departing: How A Universal (Occult) Spirituality is Changing The Face of Christianity" - Book - Revealing expose' as to how Mainline Churches have allowed a mystic, Hindu-based, New Age prayer called "Contemplative Prayer", which is transforming churches! Is "Contemplative Prayer" really a valid vehicle to gain a closer walk with God? A New Age, neo-pagan prayer practice is now sweeping the Christian Church. Those participating in "Contemplative Prayer" have seriously departed from Biblical teaching on prayer and have incorporated Eastern religious practices which directly conflict with Scripture.
This book goes to the heart of pagan spirituality and courageously demonstrates how this false, pagan prayer approach is deeply and badly affecting the Evangelical Christian Church.
Jesus warned against unparalleled spiritual deception in Matt 24:24, but did promise that God's Elect will be forewarned so they could not be deceived. This book sounds just this type of warning! -- http://www.cuttingedge.org/detail.cfm?ID=936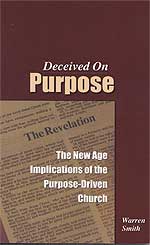 * "Deceived On Purpose: The New Age Implications of the Purpose-Driven Church" - Book - Demonstrates that the doctrinal basis of the "Purpose-Driven Church" is New Age doctrine! Cutting Edge has warned that Rick Warren's "Purpose-Driven Church" is not only part of the Apostasy foretold at the End of the Age, but is one of the 4 religious factors driving the world toward the New Age goal called a "Religious Paradigm Shift". With his New Age background, author Warren Smith had no difficulty spotting the major, serious New Age underpinnings of the "Purpose-Driven Church".
Smith is well aware of the unprecedented spiritual deception occurring right now in "Christian" religious circles; it is just as our Lord forewarned in Matthew 24:4, 11, 24. What is the bottom line warning from author Warren Smith? "Rick Warren is in the process of leading the church astray". Prayerfully read this book, for your precious eternal soul is at stake if you are part of the "Purpose-Driven Church". -- http://www.cuttingedge.org/detail.cfm?ID=882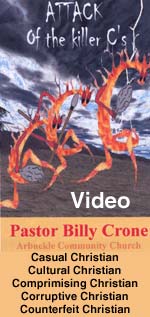 * "Attack of the Killer 'Cs "-- Five Sermons On Three DVD's - The "attack of the Killer 'C's" -- Casual Christian, Cultural Christian, Compromising Christian, Corruptive Christian, Counterfeit Christian. In today's society, when these types of "Christians" are literally opening the door to Antichrist, this video is a breath of fresh air. This disaster is of such magnitude that it makes the Titanic look like "chump change"! This video reveals the cosmic battle in which we are engaged and exposes the seductive weapons Satan uses to keep us from being the mighty army of God. Over 100 years ago, Christian Churches stopped teaching this material, opening the door for the current terrible spiritual state of both our churches and our society. This video sounds the alarm as a good "Watchman On The Wall". We are under attack! Rise up, oh men of God, to battle for the millions of souls deceived and in risk of Hell. -- http://www.cuttingedge.org/detail.cfm?ID=937

Available On VHS - Volume 1

-- Volume 2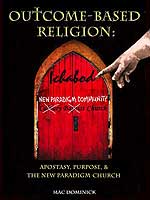 * "Outcome-Based Religion: Apostasy, Purpose, and the Paradigm Shift" - Book on CD, by Mac Dominick, Cutting Edge Ministries - Outcome-Based Religion is another manifestation of the 21st Century that is all about meeting the needs of the consumer with as little inconvenience as possible. It is no secret that we have become a "Super Walmart Society" that flocks to the mega-store, the mega-mall and yes, even the mega-church. Church growth has become the order of the day within broad-based protestantism, evangelicalism, and even fundamentalism with the catch-phrases like "seeker-sensitive," "seeker-friendly," and "purpose-driven" becoming household terms among conservative religious individuals. This book gives the reader the vital information needed to identify the warning signs needed to stand in defense of the Faith in the face of this gathering storm of apostasy.
Finally, this book exposes the very real danger that if this movements continues unchecked, there may well arise a new generation that "knows not the Lord."
This CD is in PDF format, and fully searchable. -- http://www.cuttingedge.org/detail.cfm?ID=899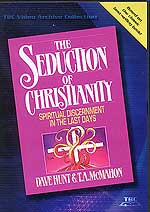 * "Seduction of Christianity" -- DVD

by Dave Hunt - The classic that first sounded the alarm that Church Apostasy was reaching the levels prophesied about churches at the End of the Age. The common response is that the book both articulates and documents biblical concerns many are having with teachings and practices coming into their own churches. More needed than ever, as delusions and deceptions continue to grow.
Contains four video programs on one DVD.
Filmed exclusively to address concerns raised in the authors' best-selling book, the programs include, Faith, Self, Godhood, and Humanism. Each segment contains an in-depth discussion of New Age concepts such as mind power, mind control, New Thought, selfism, pantheism, Atheism, pragmatism, psychological techniques and many other topics. Also available in Book

Fighting Real Satanism In Our Midst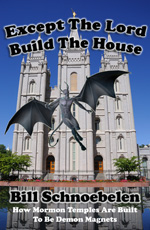 DVD

or VHS

* "Except The Lord Build The House: How Mormon Temples Are Built To Be Demon Magnets" - - The Mormon Temple in Salt Lake City, Utah, was built to honor Satan, inside and outside. For the person who knows Satanic symbolism, the very outside of the Temple proves that Mormonism serves Lord Satan. No Christian symbols decorate the walls of the Mormon Temples. Bill Schnoebelen, former Satanist, sets out to expose the Satanic roots of Mormonism, made especially urgent because Mormonism pretends to be Christian and has deceived many millions of precious souls.
The Mormon Temple is the spiritual focal point for devout Latter-Day saints, but the vast majority of them have no idea that each temple is specifically designed to be a "Magnet For Demons". In fact, while most people have never heard of this term, Satanists consider it most important when creating architecture. This video is most important if you are to truly understand Mormonism and the deep, dark Satanism which underpins the entire church. Only a former Satanist could ever tell this story!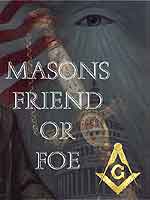 * "Masons: Friend or Foe To The Born Again Christian?" - DVD

- VHS

- Many of our leaders have sworn allegiance to a Masonic Order of one type of another. Our current election features two brothers in a Masonically-based secret society called "Skull & Bones". What are these leaders pledging their allegiance to and how deeply entrenched are their goals to America today? Since Freemasonry has attempted so strenuously to claim that they are just a good old boy fraternity that does good works and has a good time, most Americans would be shocked to learn the bitter truth behind that facade. -- 2 hours, 40 minutes of instruction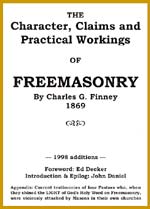 * "Evangelist Charles Finney Speaks Out On Freemasonry In 1869: Character, Claims and Practical Workings" - Book - Did you know that noted Christian Evangelist Charles Finney was a Freemason and Lawyer before the Holy Spirit gloriously saved him? With his intimate knowledge of the rituals, degrees and oaths, Finney devastates all claims Freemasonry makes to being a Christian organization.
Finney compares these secret practices to the Light of God's Word. His deep analysis of Freemasonry is the most brilliant I have ever read. Finney uses his training as a pastor and Bible scholar to analyze Masonry from the inside out and in so doing, cuts Masonry to shreds; yet he does so in God's sweet Love
288 pages - http://www.cuttingedge.org/detail.cfm?ID=790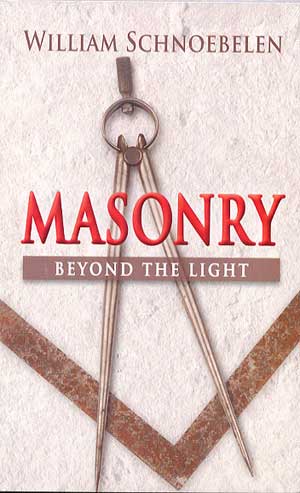 * "The Light Behind Masonry" - Book

- VHS

- An incredible 3 1/2 hour video that covers Masonry like none other! Former Witch and Mason, Bill Schnoebelen, talks of the following subjects: Demolay, Scottish Rite, York Rite, Shriners, Eastern Star, current symbolism, links to the Satanic Egyptian Mysteries, and the 12 steps to get out of the Masonic Lodge. These steps are mostly spiritual, but does include a letter of demit to officially get out of the Lodge.
Also get book, "Masonry: Beyond The Light" How can a true Born Again Christian, who has accepted Jesus Christ as his Savior, the Light of the World as the Bible calls him, go into a Masonic initiation ritual and declare that he is in darkness and searching for light? Yet, this is exactly what a person does during the first three rituals of Masonry. Bill thoroughly explores the true spiritual "light" behind Masonry. You will be shocked!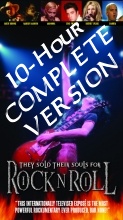 * "10-Hours - They Sold Their Souls For Rock-n-Roll" -- $39.99 for 10 full hours of riveting video -- Contains 6 updated hours of Rock-n-Roll video clips like the "Lesbian Wedding" of Britney Spears, Christini Aguilar, and Madonna! This full length video series contains 10 hours of eye-popping rare and some never before seen footage that will leave you picking your jaw off the ground, as you see hundreds of artists, most of whom were not covered in the abbreviated 4-hour version, being used by Satan to destroy many lives. Come behind the scenes with us as we expose the deceptive agendas of many of yesterday and today's secular artists, such as: Elvis, The Doors, Led Zeppelin, U2, Creed, Madonna, Britney Spears, DMX, Tupac, Tori Amos and many more.
It's time to remove the blinders - guard yourself and those you love from one of Satan's most powerful tools!
This video takes you backstage, showing the true nature and face of Rock stars from the 1950's through today. http://www.cuttingedge.org/detail.cfm?ID=710

Also still available in original 4-Hour video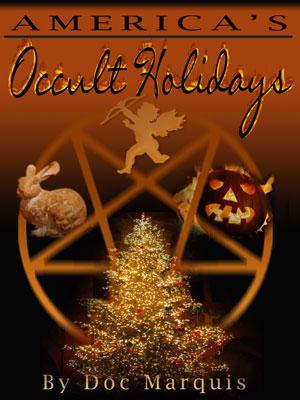 * "America's Occult Holidays" - Video by Doc Marquis, Former Satanist -- Too many Christians are enthusiastically celebrating pagan holidays, thinking they are Christian. Once you understand how very pagan America and the rest of the Western world has become, you can see how God's judgment cannot be far behind. In this video, former Illuminist Satanist, Doc Marquis, demonstrates the truth -- our holidays have been copied from Satanism and just given Christian names. You will be amazed to realize how very pagan our annual celebrations are! You will be shocked to realize how most of the symbols used in our holidays originated within Satanism. - http://www.cuttingedge.org/detail.cfm?ID=587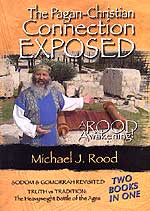 * "Pagan-Christian Connection Exposed - Sodom and Gomorrah Discovered!" -- Plus/FREE DVD -- 2 Books in 1 -- THE best expose' of the Pagan/Satanic roots of our traditions we have ever read. Some of the interesting facts revealed: 1) Christmas tree ornaments are round because of the Egyptian Satanic tradition that the Sun God RA castrated himself and hung his testicles on a tree decorated in his honor; 2) In the tradition of Molech the Fire God, children were placed in his lap just as kids today sit in Santa's lap; the Molech idol was heated very hot so the children immediately died. Also, Molech's hat is the same shape as Santa's hat today. And so very much more!
Plus, this book contains a separate book on the reality no one in Mass Media wants to publicize, i.e., that Ancient Sodom and Gomorrah has been discovered and that the brimstone residue is proof positive to this modern generation that God does judge wickedness and that His record in the Bible is absolutely true. In this era when Gay/Lesbian lifestyle is being legalized and heavily promoted, the lesson of Sodom and Gomorrah is badly needed
Plus, a FREE DVD is included which visually presents both these subjects. Michael Rood presents actual pictures of the brimstone residue.
Great value -- you get two books plus FREE DVD for one low price -- http://www.cuttingedge.org/detail.cfm?ID=800

Historic Bibles Back In Stock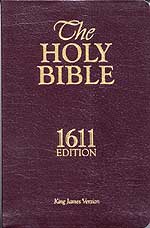 * "1611 King James Bible -- Faithful Reproduction of the 1833 Oxford Edition"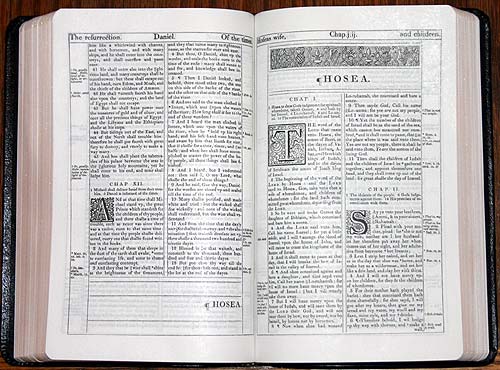 -- Genuine Leather - Burgundy

-- Black

-- Regularly $69.95, Now On Sale $44.95, Save $25! - Finally, a faithful reproduction of the 1611 King James Version Bible, to be enjoyed by all lovers of the KJV. For nearly 400 years, the Authorized Version of the Bible -- popularly known as the King James Version -- has been treasured for its majestic phrasing and stately cadence. This reprint represents the original 1611 text word for word, faithfully reproducing an 1833 Oxford edition, with readable type and attractive woodcuts. The text includes the translator's marginal notes, plus a special essay on early English translations. And, just like the 1833 Oxford edition, the Apocrypha is included
1,536 pages, Genuine Leather, with elegant binding perfect for collectors and for everyone who cherishes the KJV.
SPECIAL PURCHASE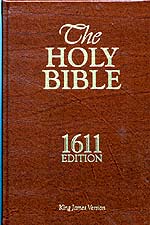 * "1611 King James Bible -- Faithful Reproduction of the 1833 Oxford Edition" -- Hardcover - Regularly $39.95, Now On Sale $24.95, Save $15! - a faithful reproduction of the 1611 King James Version Bible, to be enjoyed by all lovers of the KJV. For nearly 400 years, the Authorized Version of the Bible -- popularly known as the King James Version -- has been treasured for its majestic phrasing and stately cadence. This reprint represents the original 1611 text word for word, faithfully reproducing an 1833 Oxford edition, with readable type and attractive woodcuts. The text includes the translator's marginal notes, plus a special essay on early English translations. And, just like the 1833 Oxford edition, the Apocrypha is included - 1,536 pages, Hardcover - http://www.cuttingedge.org/detail.cfm?ID=779

Special Interest In This Period of Time
* "Christian Resistance: A Biblical Idea Whose Time Has Come -- Again" - Book by Evangelist, Dr. Donald Boys, Ph.D. - Evangelistic pastors have failed for almost 100 years to properly convey Biblical teaching as to when to resist authorities and when to obey. At this time, close to the appearance of Antichrist, Personal Timidity + Biblical Ignorance, may prove sp ritually fatal to a great many Christians. The Bible obligates Christians to resist any law conflicting with Scriptural principles. Most pastors are strangely silent on the issue of resistance, and most Fundamental pastors will never admit they have erred in any teaching from their pulpit. First-Century Christians submitted themselves to the Emperor, but only AFTER Jesus; since Roman law made any commitment to an authority higher than the Emperor, this stand led to the martyrdom of countless Christians.
Soft, present-day pastors see government as the final authority, and wrongly urge their people to obey any law of government. The bottom line is there comes a point where a Christian has both the right and the duty to disobey the State when that State has passed laws contrary to Scripture. There can be no greater abomination and fiendish maxim than "My country, right or wrong". Martin Luther stated that, when a law prevents a subject from obeying God's commands, obligation to the State ends as the Christian must obey God rather than men.
Today, our authorities who are twisting the Constitution and are passing laws designed to take away freedoms under the pretext of crisis are the ones transgressing the Bible, thus making them the lawless ones.
Dr. Boys attempts to so teach this Biblical principle of resistance that Christians can rightly and accurately know when to resist and upon what grounds, in full accordance with Scripture. This is a book for this present time. -- http://www.cuttingedge.org/detail.cfm?ID=812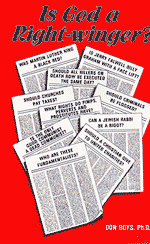 * "Is God A Right-Winger?" by Christian Evangelist, Dr. Donald Boys, Ph.D. -- One of the most exciting, controversial books you will ever read! In 18 hard-hitting chapters, Christian Evangelist Dr. Boys deals with the hottest issues facing Americans today, and demonstrates where God is on each issue, based on Scripture. Some of these issues are: 1) Why are many Fundamentalists also legalists? 2) Should there be any government regulation of Christian schools? 3) Public Schools have become places of rape, riot, and robbery; 4) Why has society become focused on Pornography, Prostitution, Perversion? 5) Are college students practicing "pigpen morality"? 6) Does a government ever have the right to approve Church ministries and schools? 7) What is the "Separation Confusion"? 8) Is it too late to fight?
When society switches its Values System, former law abiding citizens automatically become the lawbreakers. We are at this point in America; this book teaches boldly where God comes down on the issues of the day. Dr. Boys was a member of the Indiana State Legislator for years and so is familiar with rough-and-tumble politics. 266 pages - http://www.cuttingedge.org/detail.cfm?ID=813

---------- This Weeks Hot News ----------
I. Skull & Bones won the Presidential Election of November 2, 2004. This is the major story of this election, no matter how many other little rabbit trails you travel as you research the events of November 2. As we have stated time and time again, the signal the Illuminati was sending to the world by arranging for both candidates to be life-long Adepts of this nefarious "Brotherhood of Death" Satanic secret society was that its global agenda was going to move forward, no matter how many people opposed the Plan and no matter the cost in death and destruction which was going to occur as the plan was being implemented.
Antony Sutton succinctly captured the goal of Skull & Bones in his book, "America's Secret Establishment"; this quote is so to the point and relevant, we need to print it here. Listen carefully, for you will see the shadow of the last four years plus the looming specter of the next four years in this statement:
"The activities of The Order are directed towards changing our society, changing the world, to bring about a New World Order. This will be a planned order with heavily restricted individual freedom, without Constitutional protection, without national boundaries or cultural distinction. We deduce this objective by examining and then summing up the actions of individual members: there has been a consistent pattern of activity over one hundred years." [Page 31; Emphasis added]
This definition of The Plan from Skull & Bones, consistently moving forward for over 100 years, perfectly fulfills President Thomas Jefferson's classic definition of a "conspiracy" and how one can spot a conspiracy in action.
"... a series of oppressions, begun at a distinguished period and pursued unalterably through every change of ministers, too plainly prove a deliberate, systematical plan of reducing us to slavery." [

"The Unseen Hand"

, by A. Ralph Epperson, p. 196]
By this definition, the Skull & Bones global plan -- which runs perfectly parallel to the global Illuminati plan -- so clearly fits the definition of conspiracy that a fourth-grade child could spot it in a second. Thus, our educational system has ridden to the rescue to delete this masterful quote from President Jefferson, while popular radio has raised up show hosts who brilliantly argue that such a conspiracy is impossible, and ridiculing anyone who suggests that one exists.
Since both Antony Sutton and President Jefferson speak of a very repressive and controlled society - a "slavery" in Jefferson's warning -- let us speak of the type of "slavery" the Illuminati has planned for us.
"We can choose to use our growing knowledge to enslave people in ways never dreamed of before, depersonalizing them, controlling them by means so carefully selected that they will perhaps never be aware of their loss of personhood." [Carl Rogers, Humanistic Psychologist, as quoted in "The People Shapers", written by Vance Packard, Introduction, published 1977]
If the Illuminati truly wanted to enslave us without letting us know we were enslaved -- at least in the preparatory period leading up to the Final Birth Pangs war which will produce Antichrist -- could they devise any better scenario than to silently, almost invisibly, seize total control of our electoral process?
II. There is a growing body of evidence that Electronic Voting Machines were manipulated during this election to give President Bush the victory.
Over one year ago, the top executive of the Diebold voting machines told Ohio Republicans that he and his company were dedicated to deliver the state to President Bush in 2004!
NEWS BRIEF: "Voting Machine Controversy", by Julie Carr Smyth, Cleveland Plain Dealer, August 28, 2003, reprinted in Common Dreams News Center. http://www.commondreams.org/headlines03/0828-08.htm (also see AlterNet, http://www.alternet.org/election04oh/19624/)
"COLUMBUS - The head of a company vying to sell voting machines in Ohio told Republicans in a recent fund-raising letter that he is 'committed to helping Ohio deliver its electoral votes to the president next year'. The Aug. 14 letter from Walden O'Dell, chief executive of Diebold Inc. - who has become active in the re-election effort of President Bush - prompted Democrats this week to question the propriety of allowing O'Dell's company to calculate votes in the 2004 presidential election."
Can you imagine the audacity of the Chief Executive of a voting machine company boldly coming out to support President Bush in 2004, even going so far as to say that he and his Diebold Company are dedicated to delivering Ohio votes for Bush in 2004! A company who is manufacturing electronic voting machines should go to great lengths to protect their integrity of impartiality. After all, a voting machine is to be the unbiased instrument by which voters express their will, not the biased means by which one candidate, and his party, achieve a goal which is pre-determined!
This story just gets worse.
"O'Dell attended a strategy pow-wow with wealthy Bush benefactors - known as Rangers and Pioneers - at the president's Crawford, Texas, ranch earlier this month. The next week, he penned invitations to a $1,000-a-plate fund-raiser to benefit the Ohio Republican Party's federal campaign fund - partially benefiting Bush - at his mansion in the Columbus suburb of Upper Arlington." (Ibid.)
Thus, the Diebold company was tightly in the back pocket of President Bush, starting at least as far back as 2003. However, toward the end of this article, we learn that most of the lobbyists for electronic voting machines are also highly connected politically.
"Blackwell said Diebold is not the only company with political connections - noting that lobbyists for voting-machine makers read like a who's who of Columbus' powerful and politically connected. 'Let me put it to you this way: If there was one person uniquely involved in the political process, that might be troubling', he said. "But there's no one that hasn't used every legitimate avenue and bit of leverage that they could legally use to get their product looked at. Believe me, if there is a political lever to be pulled, all of them have pulled it." (Ibid.)
CBS News even got into the fray over rigged elections.
NEWS BRIEF: "E-Voting: Is The Fix In?", CBS News, August 8, 2004, http://www.cbsnews.com/stories/2004/07/28/sunday/main632436.shtml
"CBS: To avoid a fiasco in this fall's election, Congress offered the states $3.9 billion to buy modern voting equipment ... The bad news is, they may have much worse problems all their own. California's experience was nothing like Maryland's ... So many of the machines malfunctioned or ran unapproved software that Shelley took the extraordinary step of decertifying them.
"Then there's the software worry."
At this point, the CBS article begins speaking about the investigations of Avi Ruben, a computer-science professor at Johns Hopkins University. Therefore, let us go right to that article, written in depth by the Jewish Times.
NEWS BRIEF: "Ballot Boxing", by Joel N. Shurkin, JewishTimes.com, October 29, 2004
"One-third of voters in the November election will be using electronic voting machines ... Dr. Rubin and many computer scientists see nothing less than a threat to American democracy in these machines. They are easy to tamper with ... that makes it possible to rig elections ... In many cases, they are set up to prevent recounts in case of disputes ..."
While this sounds potentially very serious, the worst revelation is yet to come. Dr. Rubin accidentally got his hands on the Diebold software program -- Diebold's source code -- which runs the e-voting machines. Let us pick up the story from this point.
"(Dr. Rubin's) students pored over 49,609 lines of 'code', computer language commands that look like hieroglyphics to anyone not trained as a programmer. One line blew them away. It means nothing to laymen, but it was enough to make Dr. Rubin's hair stand on end.
#define DESKEY ((des_Key* "F2654hd4".
"All commercial programs have provisions to be encrypted, protected by secret code so that no one could read or change the contents without the encryption key ... The line that staggered the Hopkins team told them, first, that the method used to encrypt the Diebold machines was a method called Digital Encryption Standard (DES), a code that was broken in 1997 and is no longer used by anyone to secure programs. F2654hd4 was the key to the encryption .. Moreover, because the key was in the source code, all Diebold machines responded to the same key. Unlock one, you can unlock them all." (Ibid.; Emphasis added)
Thus, a person working in cooperation with one of the candidates who is the "Gatekeeper" of the vote totals, could send one signal to all Diebold e-voting machines in his/her district, unlock them all simultaneously, and get inside the system to change the vote totals. While Diebold insists that it fixed its machines, Dr. Rubin says that the machines are not fixable; only a major effort to start all over can fix the problems with e-voting machines.
But, the news gets even worse, as a good hacker does not even need to have this source code to change vote totals! The State of Maryland hired a computer security company -- RABA Technologies -- to investigate the Diebold e-machines. What they found was just as disturbing as Dr. Rubin's discovery.
"RABA supported the Hopkins study in most of its accusations, and found even more problems. RABA's Michael A. Wertheimer and a team of company hackers broke into the Board of Elections computer, changed the results of a mock election and then backed out without leaving a trace. 'We did it in under five minutes', he told 'The Daily Show'." (Ibid.)
We are planning a major article on this subject, because there is so much information pouring out now that vote totals in key e-voting machine precincts that this issue demands a thorough review.
If vote totals were manipulated on behalf of President Bush and his candidates, you can understand why Exit Polls were so far off and why Republicans extended their control of both Houses of Congress. Think of all the implications if our voting system is rigged, and email your thoughts to me, at dbay@cuttingedge.org. We shall consider your insights as we prepare this article.
However, one more thought on this subject is appropriate. All this information is clearly available on the Internet and through professional sources, and the circle of knowledge and revelation is increasing daily. Therefore, Kerry would have had ample reason to hold off his concession phone call and speech until more information had come to the forefront. Therefore, why did he concede just hours after his own Vice-Presidential candidate, John Edwards, vowed to not concede until "every vote was counted"?
The answer is simple: John Kerry is a Bonesman of Skull & Bones. Fraternal oaths more powerful than any oath of allegiance, forbid a Bonesman from hurting another Bonesman in any way, shape or form. Now, do you see a very large reason why it was important to know that both Bush and Kerry were life-long Adepts in Skull & Bones? These facts do influence and shape events and are shaping our lives.
III. How has this electoral victory benefited President Bush?
A. This victory has given him a mandate to continue his policies of the past 4 years -- Almost immediately, President Bush began to use the word, "mandate" in his vocabulary. He even stated that this election had given him "political capital" and he intended to use it! Bush now has reason to pound a Republican-controlled Congress and the American people for full implementation of all his policies, claiming that this election validated everything he had done these past four years.
B. This victory means he can now immediately proceed with his escalation of the Iraqi war without having to wait for the courts to decide who the victor really was. The President can continue his disastrous war in Iraq with startling impunity. Having already committed a force which is too small by 50%, the President can now throw even more troops into this battle. If you remember President Lyndon Johnson committing over 500,000 troops to Vietnam, you will recall that he took this action only after winning a 1964 landslide victory at the polls over Goldwater; even though President Johnson won this victory by promising to keep our soldiers out of Vietnam, he threw them fully into battle less than one year later. Historians now know that the decision to commit a half-million American troops to Vietnam was made many years before Johnson lied to the American people during the election of 1964 (Ralph Epperson, "The Unseen Hand")
U.S. Marines have been preparing for weeks now to launch a terrible attack on insurgents in the Sunni Triangle, Iraq. American commanders induced the President to formally ask Great Britain to move her 850-man elite "Black Watch" force northward from the southern area near Basra toward Baghdad, to protect our flank as we move into the cities of Falluja and Samarra, north and west of Baghdad. Recently-trained Iraqi forces are said to be accompanying our Marines. Daily, our airplanes have been hitting targets in these cities, expending copious quantities of Depleted Uranium munitions.
Cutting Edge has been posting articles on a resumption of the draft for the past year now. The need for a draft is becoming clearer by the day, as our existing troops are too few in number to win the battle, and are getting more sick by the day from Depleted Uranium. Therefore, do not be too surprised to hear one day that Bush has ordered a significant draft; already, plans have been laid just for this purpose.
C. This victory allows the President to demand that Congress pass every tiny part of his repressive domestic "anti-terror" agenda. Expect to hear demands from President Bush that Congress implement every single "recommendation" from the whitewash 9/11 Commission. These recommendations erode our Constitutional guarantees and personal liberties to such a degree that, when the planned panics begin to hit, we will have no more freedoms that the poor Russian people had under the terror reign of Josef Stalin, or the German people had under the repressive dictatorship of Adolf Hitler.
But, why should we be too surprised, since the Skull & Bones secret society of which Bush is a member is an identical secret society to Hitler's Thule Society?
D. This victory will give President Bush the political muscle to fight and to defeat every attempt by dissident groups to get concrete answers to the many questions still remaining about 9/11 and its aftermath. Prior to the election, dissident groups like "911 truth" (http://www.911truth.org/) seemingly were having success in finally getting their case publicly heard that too much has been hidden about the 9/11 attacks. ABC News even posted an acknowledgement of "the existence of alternative research and popular doubts about what really happened on September 11" (http://www.911truth.org/article.php?story=20041101142248872)
Additionally, the New York Attorney General accepted a complaint demanding that a criminal inquiry be held "into the many still unsolved crimes of September 11, 2001 over which he has jurisdiction." (http://www.911truth.org/article.php?story=20041028220743555).
You can expect the White House to now squash any and all such investigations. The official false story of 9/11 will forever stand.
This is terrible news since groups like "911 truth" have been successful in convincing many New York Citizens that government officials knew of the impending attacks ahead of time, but did nothing. If you have not yet read our expose' of this startling reality, please take a moment to read NEWS1956, entitled, "50% Of All New York City Residents, And 41% Of All New York State Citizens, Believe Government Officials Had Prior Knowledge of the Attacks of 9/11 But Took No Action".
Now, all voices like this one which can threaten the President legally will be silenced and/or muzzled.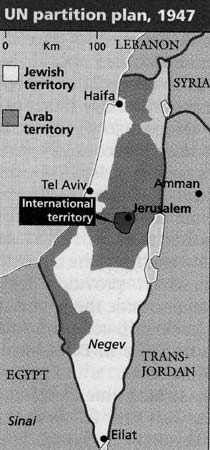 E. This victory now allows President Bush to force Israel to give up even more territory and allow a hostile, armed Palestinian State to be created. Before the election, we posted a story in Daily News Updates that President Bush had attempted to force Sharon into giving up even more territory to the Palestinians than the Israeli Prime Minister was willing to give them. Now that Bush has won re-election, we can expect enormous pressure to fall upon the Israeli government to force Israel into an even less manageable and defensible area.
Perhaps that pressure has already begun. Listen to this startling news story, carried on Daily News Updates:
NEWS BRIEF: "Official Web site recognizes Green Line contrary to policy", Ha-aretz News, 3 November 2003
"The Israeli government's official Internet site, entitled 'Israel Government Gateway', directs surfers to a map service in which the Green Line - the 1949 cease-fire line that separated Israel from the West Bank until 1967 - is marked ... Showing the Green Line deviates from the policy the government has followed for more than 25 years. The cease-fire line had been erased from Israel's official maps at the political instruction of former housing minister David Levy after the Likud rose to power in 1977. Since then, the order was strictly observed."
Military experts for decades have warned that Israel cannot survive if she returns to the 1947 line of demarcation. Such a small territory cannot be defended according to standard military doctrine, especially against a hostile state which has been allowed to rise up from within the country, as a Palestinian State would be if it is ever actually established.
Therefore, one must ask the question if the Israeli government under Sharon has already knuckled under to Bush Administration pressure, and that this official website is merely reflecting that knuckling under. But, now, let us return to this article to hear of an even more shocking fact concerning this official Israeli Government web site.
"The Green Line on the map does not pass through Jerusalem, as it did prior to the 1967 Six Day War, but a gap is found in its place." (Ibid.)
A "gap" is shown on this Israeli Government web site at precisely the place where Jerusalem is located? What could this possibly mean? For starters, it could very well mean that Jerusalem will not be under Israeli control any longer! Notice the 1947 Israeli map we have posted, above; you will see that Jerusalem is shown on the map as a large roundish blob with the title, "International Territory".
Does this map presage the return of Jerusalem to international control? Certainly, that is the ultimate United Nations plan so that Antichrist will have a capital in which to make his headquarters once he arises. We have written extensively on the internationalization of Jerusalem. If you have not read our articles on this subject, please take the time to do so.
*

NEWS1395

--

"THREE GLOBAL MEETINGS TO PRODUCE ANTICHRIST ARE NOW!"

- Posted July, 2000

*

NEWS1413

--

"JERUSALEM NO LONGER BELONGS THE JEWS! IT WILL NOT BELONG TO THE ARAB EITHER. THE DEAL IS DONE, BUT ARAFAT IS NOT AGREEING!"

* NEWS1573 -- "IS JERUSALEM ABOUT TO BE DECLARED AN INTERNATIONAL CITY IN WHICH A COMBINATION JEWISH TEMPLE/MUSLIM MOSQUE/ CHRISTIAN CHURCH CAN BE BUILT?"
* NEWS1587 -- ON 2/15/2000, POPE JOHN PAUL II SIGNED A COVENANT WITH PALESTINIAN ARAFAT CALLING FOR INTERNATIONALIZATION OF JERUSALEM ! THE PLAN OF THE HOUSE OF THEOSOPHY IS ON TRACK [NEWS1052]
* NEWS1635 -- "U.N. HAS OFFICIALLY CONTROLLED JERUSALEM SINCE 1999!"
* NEWS1643 -- FERVENT MASONIC DESIRE TO REBUILD SOLOMON'S TEMPLE IS THE DRIVING FORCE BEHIND THE EVENTS OF THE MID-EAST TODAY. ONCE COMPLETED, END TIMES' PROPHECY WILL BE FULFILLED!

*

NEWS1842

--

"ISRAEL'S FORMER FOREIGN MINISTER PERES DROPS "WORLD CAPITAL" BOMBSHELL: CALLS FOR HOLY PLACES OF JERUSALEM TO BE CONTROLLED BY UNITED NATIONS!"
Once you know how important Jerusalem is to the Illuminati, and how they plan for their Christ to make his capital there for the first seven years of his reign ("Armageddon Script", by Peter Lemesurier), you will understand why this official Israeli Government Green Line map has an obliging hole where Jerusalem ought to be. Israel is proceeding forward with the Illuminati Plan to internationalize Jerusalem!
F. This victory allows President Bush to bring all of the powers of his Presidential office to bear on tying all loose ends together so that the repressive, technologically-capable government foretold at the End of the Age can arise. In a series of articles, we showed how the super-quiet government research office -- D.A.R.P.A. -- is throwing untold millions of dollars into the perfection of an implantable human chip so sophisticated that it fulfills all prophecy concerning the capabilities of the "Mark of the Beast" as foretold in Revelation 13:16-18. This chip is called, "MMEA, Multiple Micro Electrode Array. Once you read these five articles, you will realize that the public attention focused on Digital Angel is probably meant to keep public attention off MMEA. These articles are: NEWS1875, NEWS1875b, NEWS1875c, NEWS1875d, and NEWS1875e.
We expect that President Bush will now pour enormous sums of money into other technical enterprises which Antichrist must have to completely fulfill prophecies of him and of his reign. Technical matters such as Surveillance, Non-Lethal Weaponry, and electronic control of every aspect of a person's life come immediately to mind. Doubtless, you can think of many others.
G. President Bush now has a mandate to begin overthrowing "Non-Integrating States" so that the "Gap" may be rapidly shrunk. Does Venezuela and Cuba have to now fear an actual invasion?
For nearly one year now, the Bush Administration has been mightily attempting to subvert and overthrow the Venezuelan government of President Chavez. Using Special Forces troops assigned to our diplomatic mission (NEWS1906), President Chavez became so alarmed that he publicly warned in March, 2004, that Americans would face a daunting task if they invaded his country (NEWS1900).
This warning was no fluke and was meant as a "shot across the bow" to dissuade President Bush from invading Venezuela in order to force the "Regime Change" deemed necessary to bring Venezuela into the community of nations known as the "Functioning Core". American pressure forced Chavez to call special elections, which occurred in August, 2004. Chavez won the election handily and has now solidified his power. However, now that the American President has won re-election, Chavez has to worry that, one day, he might wake up to a powerful American aircraft carrier group sitting off-shore loaded with Marines! If Chavez is not very careful, he might awaken one day to U.S. Special Forces troops in his bedroom, seizing him by the neck, as they did with Haiti's President Aristide.
Fidel Castro of Cuba is also on Bush's short list for "Regime Change". He, also, has publicly warned President Bush not to invade his country (June, 2004). He has taken steps to solidify his military and political situation, including the monetary change out of American currency. Fidel might wake up one morning looking at an aircraft carrier group sitting off his shore.
There are so many "Non-Integrating States" in the world which must either be overthrown with a "Regime Change" so they can become "Functioning Core" or that must be destroyed (NEWS1967) that we expect President Bush to use some of his earned "Political Capital" to force "Regime Changes" all over the world. When you hear of a nation whose leader has just been deposed through a coup, or of a nation who has just been invaded by some military force, check the map we have provided in these articles to see if that nation is considered a "Non-Integrating State". This reality means that the world is going to experience a lot more war, all across the spectrum of "gap" countries -- just as Jesus foretold in Matthew 24:6-8.
These "Wars and Rumors of Wars", nation rising against nation and kingdom against kingdom are constituting the "Final Birth Sorrows (Pangs)" leading to the birth of Antichrist. They will build in intensity and number, finally resulting in the last "birth pang", World War III, out of which Antichrist will come striding.
IV. Secretary of State Colin Powell admits that the United States is losing the war in Iraq!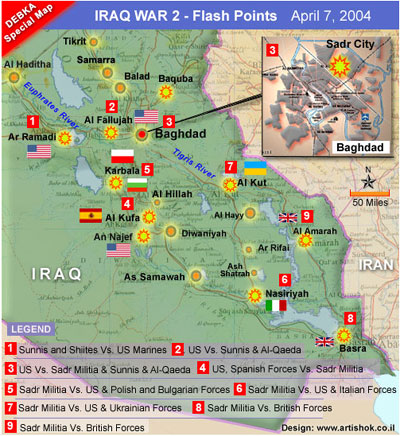 NEWS BRIEF: "Secretary of State Powell: Iraqi Insurgents Are Winning The War", Salon.com, Sunday 31 October 2004
"Secretary of State Colin Powell has privately confided to friends in recent weeks that the Iraqi insurgents are winning the war, according to Newsweek. The insurgents have succeeded in infiltrating Iraqi forces 'from top to bottom', a senior Iraqi official tells Newsweek in tomorrow's issue of the magazine, 'from decision making to the lower levels'. This is a particularly troubling development for the U.S. military, as it prepares to launch an all-out assault on the insurgent strongholds of Fallujah and Ramadi, since U.S. Marines were counting on the newly trained Iraqi forces to assist in the assault. Newsweek reports that 'American military trainers have been frantically trying to assemble sufficient Iraqi troops' to fight alongside them and that they are 'praying that the soldiers perform better than last April, when two battalions of poorly trained Iraqi Army soldiers refused to fight'. If the Fallujah offensive fails, Newsweek grimly predicts, "then the American president will find himself in a deepening quagmire on Inauguration Day'."
For at least two weeks now, the news has been filled with reports of our impending attack against Fallujah and Samarra and other cities of the Sunni Triangle. However, we have been making a lot of plans without initiating a major assault -- at least of this writing. Bush officials have asked the British elite "Black Watch" military force of 850 men to move northward to take up position to protect our forces as they attack these cities.
However, as this short Salon article indicates, the reason we have not yet attacked may be because we do not trust the Iraqi military forces which are supposed to attack alongside our forces. American commanders must be having a recurring nightmare that, as our Marines begin the final assault against these cities, the Iraqi insurgents who comprise the Iraqi forces 'from top to bottom' suddenly turn their guns on Marines! Without warning, our forces could find themselves under attack from the insurgents in the front plus from the insurgents within the Iraqi military forces.
Secretary of State Powell notes the high stakes: "If the Fallujah offensive fails, Newsweek grimly predicts, "then the American president will find himself in a deepening quagmire on Inauguration Day'."
V. As Yassir Arafat -- the Palestinian Arch Terrorist -- lay dying, gay journalists raised the possibility that the "mysterious illness" afflicting him is AIDS! Shortly after this revelation came out, other sources began to report that Arafat may be suffering from AIDS. Of course, in the extremely sensitive Islamic culture, homosexuality is most definitely condemned and its participants quickly lose their lives. Certainly, the followers of Arafat would be very reluctant to admit that their beloved leader was gay.
NEWS BRIEF: "Does Arafat Have AIDS?", by Malcolm Thornberry 365Gay.com, European Bureau Chief, November 1, 2004
"(Paris) As French doctors continue to run tests on Palestinian leader Yassir Arafat some medical authorities not connected directly to his case are suggesting that he may have HIV/AIDS. Palestinian Foreign Minister Nabil Shaath Monday said that all types of cancer had been ruled out. Arafat has been visibly ill for more than two weeks. Last Wednesday he collapsed and briefly lost consciousness. Initial blood tests performed in the West Bank revealed a low blood platelet count. The Palestinian leader was airlifted to France where he is undergoing more tests. But, with leukemia and other forms of cancer ruled out, the list of possible diseases is narrowing.
"A low blood platelet count is a sign of a weakened immune system. In addition to cancer, the low count could be attributed to bleeding ulcers, colitis, liver disease, lupus, or HIV. It is believed that ulcers and colitis have already been ruled out. Arafat has lost a considerable amount of body weight. Hospital d'Instruction des Armees de Percy, southwest of Paris, also has some of France's best HIV/AIDS doctors. For several years there have been suggestions that Arafat was bisexual."
When my wife heard the hospital to which Arafat was rushed, she immediately recognized the name as being one of the best AIDS hospitals in the world.
In October, 2000, Cutting Edge reported that, while young, Yassir Arafat was a flaming homosexual, so active in the underground Egyptian gay network that the Russian KGB found no difficulty filming young Arafat with his lovers and then blackmailing him so he would agree to be the head of the Palestinian Liberation Organization (PLO). Let us review a portion of our article -- NEWS1429 -- entitled, "WorldNetDaily Reports That Arafat Is: 1) Not An Arab; 2) Flaming Homosexual; 3) Tool of the Illuminist Russian KGB".
NEWS BRIEF: "Kremlin Puppets and how they work", by J.R. Nyquist, WorldNetDaily, October 19, 2000
"Americans should remember that the Kremlin has worked closely with Arab and Islamic terrorists for decades ... Militant Arabists or Islamic extremists have often been found within the Russian camp -- working as virtual puppets of the Kremlin. In fact, Islam's strict moral code makes it easy for Russian intelligence services to penetrate Islamic countries and recruit agents, because sin is not taken lightly in such countries, and the KGB has always been good at creating thick files on people with something to hide. Such files usually assure a lifetime of loyalty to Moscow. And such loyalty, based on the law of self-preservation, is the only sure foundation for a puppet and his puppet master."
"One chief example should serve to illustrate. In 1970 the Kremlin became interested in an obscure Arab construction engineer and collector of racecars, named Rahman al-Qudwa. Evidence shows, contrary to later claims, that this "construction engineer" was an Egyptian, born in Cairo during the summer of 1929. Rahman graduated from the University of Cairo and served as an officer in the Egyptian Army during the 1956 Suez campaign. Later he set up a business in Kuwait and made a fortune. He then entered politics, founding a hopelessly small terrorist organization. But this terrorist organization would not remain hopelessly small forever ... Rahman al-Qudwa became an important political ally of the communist bloc following the death of Egypt's president, Gamal Abdul Nasser, in 1970 ... the communists trusted Rahman because he was a voracious homosexual. This alone made him a workable Kremlin puppet, because once the Romanian intelligence services had taped Rahman's sex sessions with men and boys, he was completely in their hands. Afterwards, Rahman's friendship for the communist bloc would be permanent "
"Rahman al-Qudwa is better known as Yassir Arafat, the chairman of the PLO since 1968 and the president of the Palestinian Authority -- which is now at war with Israel .. communist dictator Nicolae Ceausescu ordered his people to bring Arafat over to Romania. In late 1970 the chief of Romanian intelligence in Egypt, Gen. Constantine Munteanu, arrived in Bucharest with Arafat in tow. Munteanu had gathered an extensive file on Arafat, which characterized the PLO leader as 'so much cleverness, blood, and filth all together in one man.' Pacepa says that this was Munteanu's 'standard definition of Arafat.' " (Emphasis added)
This description of Arafat is consistent with his many years as the modern era's most destructive and bloody terrorist. Israelis would certainly agree that Arafat was "so much cleverness, blood, and filth all together in one man." He has killed and maimed thousands of innocent Jewish men, women, children, and babies, all in the name of terrorism as he has tried to destroy Israel.
Arafat is now exposed as the Illuminist-controlled pawn we have always claimed he was. Since the Illuminati was already controlling Israel's Barak and President Clinton, we can see it was also controlling Arafat. Surely, the Plan continues unabated. This is proof that the entire Oslo Peace Accord has been staged from the beginning (1993), with the outcome never in doubt. (NEWS1911) Sharon is taking Israel into the goal originally conceived by the Oslo Accords in 1993, a plan not possible were the Palestinians not controlled by an Arafat, over which the Illuminati exercised complete control.
Now, Arafat is about to meet his Maker in eternity. As we stated before, the Illuminati depended upon this bloody man to keep the Palestinians firmly within the Plan, while the complicated Oslo Accords were worked out. Since no heir apparent to Arafat seems to be trained and waiting in the wings, it shall be interesting indeed to see if Sharon's critically important "Unilateral Disengagement" continues on schedule, or whether it comes to a screeching halt. Sharon based his disengagement plan upon the stated fact that Arafat had proven himself to be "no partner for peace". Will the Israeli government now be pressed to hold up withdrawal to see how cooperative the new Palestinian leader might be? That is certainly possible.
However, Sharon might decide to emulate Barak's abrupt order to the IDF to just quit their positions in Lebanon and literally flee across the border. Will we wake up one morning to just such an abrupt order from Sharon to immediately quit the Gaza Strip and portions of the West Bank? Such a move would seem unlikely, because the settlers would be exposed to the wrath of Palestinian police and paramilitary, without any protection from the IDF; however, one cannot rule out a quick removal of settlers, followed immediately by full military withdrawal.
Matters are definitely going to get more interesting in the immediate time period following Arafat's death. A violent struggle for his position is highly likely. Israel is moving more quickly to the tinderbox analysts have been fearing for decades.
VI. President Bush received over 20% of the Gay vote in this election because gays realize that Bush's same-sex policy is nearly IDENTICAL to Kerry's -- exactly what Cutting Edge has been saying all along!
NEWS BRIEF: "Exit polls: 1 in 5 gays backed Bush", by Karen Ocamb, PlanetOut Network, uk.gay.com, 4 November, 2004
"... Of the120 million votes cast on Election Day (approximately 60 percent of all eligible voters), Bush received 51 percent of the vote to Kerry's 48 percent, with a difference of 3 million popular votes. Bush also claimed 274 electoral votes, four more than the 270 required for victory, to Kerry's 252 electoral votes, according to Associated Press (AP) ... According to AP's National Election Pool exit polls in Florida, Pennsylvania and Ohio, 4 percent of voters self-identified as lesbian, gay or bisexual, 78 percent of whom said they voted for Kerry; 21 percent voted for Bush and 2 percent voted for independent candidate Ralph Nader. A CNN poll placed the LGB vote at 77 percent for Kerry; 23 percent for Bush."
Given the tremendous pro-Christian flavor of the Bush campaign, how could any knowledgeable gay or lesbian vote for President Bush? Another article in uk.gay.com contains the answer.
NEWS BRIEF: "Gay marriage stand helped Bush win", by Lisa Keen, PlanetOut Network, uk.gay.com, 4 November, 2004
"There was at least one huge difference between the US presidential voting results this week and those of November 2000: this time around, many pundits are pointing at gay marriage as a reason why the apparent winner, President George W Bush, has done so well ... But one irony stands out in this evaluation of the results, thus far, in the 2004 presidential race between incumbent President Bush and Democratic challenger Senator John Kerry.
This is that Bush and Kerry held nearly identical views on same-sex marriage."
Did you catch this last phrase? "Bush and Kerry held nearly identical views on same-sex marriage."
Cutting Edge sounded this warning as far back as May, 2002 (NEWS1652), and we have repeatedly sounded the warning. President Bush's gay policy was IDENTICAL to Clinton's until the time came in mid-2003 to start the deception needed to win re-election! However, just in case you missed the poke in the eye President Bush delievered to the Christians just days before the election, we post this most revealing article.
NEWS BRIEF: "With the Christian Right In the Bag, Bush Now Says His Party Is Wrong to Oppose Gay Civil Unions", By ELISABETH BUMILLER, New York Times, reprinted in Raiders News, October 26, 2004
"President Bush said in an interview this past weekend that he disagreed with the Republican Party platform opposing civil unions of same-sex couples and that the matter should be left up to the states ... In an interview on Sunday with Charles Gibson, an anchor of "Good Morning America" on ABC, Mr. Bush said, "I don't think we should deny people rights to a civil union, a legal arrangement ...."
Oh, guillable Christian, how long will you hold to a position of blind trust in this man who says he is a Christian, but shows absolutely no spiritual fruit to back up his verbal claim? If you refuse to see President Bush for who he truly is, how can you possibly think you can see Antichrist for whom he truly is? You proudly assume you will never have to see him, thus setting yourself up for the ultimate deception of all. He will have far less "spiritual baggage" than Bush has, and will be accompanied by "lying signs and wonders", plus a ringing endorsement of President Bush!
Because you deliberately allow yourself to be deceived by President Bush, you are likely to be deceived when he endorses Antichrist as Jesus Christ returned!
---------Conclusion----------------"The Lord reigneth, let the earth rejoice." Psalm 97:1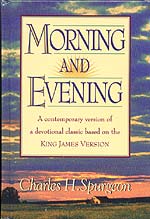 Causes for disquietude there are none so long as this blessed sentence is true. On earth the Lord's power as readily controls the rage of the wicked as the rage of the sea; His love as easily refreshes the poor with mercy as the earth with showers. Majesty gleams in flashes of fire amid the tempest's horrors, and the glory of the Lord is seen in its grandeur in the fall of empires, and the crash of thrones. In all our conflicts and tribulations, we may behold the hand of the divine King.
"God is God; He sees and hears
All our troubles, all our tears.
Soul, forget not, 'mid thy pains,
God o'er all for ever reigns."
In hell, evil spirits own, with misery, His undoubted supremacy. When permitted to roam abroad, it is with a chain at their heel; the bit is in the mouth of behemoth, and the hook in the jaws of leviathan. Death's darts are under the Lord's lock, and the grave's prisons have divine power as their warder. The terrible vengeance of the Judge of all the earth makes fiends cower down and tremble, even as dogs in the kennel fear the hunter's whip.
"Fear not death, nor Satan's thrusts,
God defends who in Him trusts;
Soul, remember, in thy pains,
God o'er all for ever reigns."
In heaven none doubt the sovereignty of the King Eternal, but all fall on their faces to do Him homage. Angels are His courtiers, the redeemed His favourites, and all delight to serve Him day and night. May we soon reach the city of the great King!
"For this life's long night of sadness
He will give us peace and gladness.
Soul, remember, in thy pains,
God o'er all for ever reigns."
[C.H. Spurgeon, "Morning and Evening Devotions"]

=======================================================
May Jesus Richly Bless You,
David Bay, Director
866-909-2850 Toll Free Customer Service - Order Line
803-356-2850 Toll Free Customer Service - Order Line
803-356-2860 Fax