Spiritual Warfare Bookstore Resources

Spiritual Warfare Combination Offer
by Pastor Hoggard - 2 DVD Set
Regularly $39.98, On Sale $19.98, Saving You $20!
Pastor Hoggard presents both the Godly and the Satanic sides in the never-ending spiritual battle in the Heavenlies
"The Seven Spirits of God" DVD reveals through a study of Revelation 1, that the spirit of Antichrist would manifest itself as the OPPOSITE of each of the seven spirits through lying spirits who seek to destroy lives. You will learn how to discern the manifestation of the Holy Spirit or the spirit of Antichrist in a persons life. You will also be prepared to better to discern the real Antichrist when he arises
"Where Dragons Live" DVD reveals through Revelation 12, Jeremiah, Isaiah and Malachi how the demonic host can wreak severe spiritual damage on you and your family
Great Spiritual Warfare study, and you save money by buying them in this combo offer - http://www.cuttingedge.org/detail.cfm?ID=1943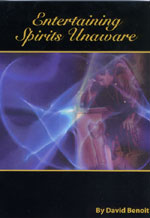 DVD
"Entertaining Spirits Unawares"
This video is a 2 DVD-Set, 4 hours of instruction! These videos are a masterpiece on the spiritual battle we are in today and how to combat our spiritual enemy. The Bible tells us to put these spirits to the test to see if they are of God.
We believe that we are in the last days before the Lord comes back. The Bible clearly shows us that angelic activities will increase in the last days. These videos will help you to know how to look for Satan's subtle attacks on our lives and in our families.
2-DVD-Set - http://www.cuttingedge.org/detail.cfm?ID=1686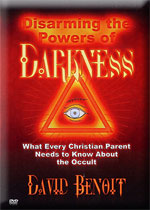 "Disarming The Powers of Darkness"
2 DVD Set
This DVD series teaches every Christian parent what they need to know about the occult demons which is dedicated to their destruction and the destruction of their beloved children. Just as prophecy declares, occult activity today is at its highest level since the days of Jesus' Ministry
Your children are specific targets.
This DVD series answers the following questions: 1) Who was the first Devil worshipper? 2) Can a Christian be a Witch? 3) Is Reincarnation taught in the Bible? 4) Can people actually talk to the dead and what does the Bible say? 5) If God is so powerful, why doesn't He just kill Satan? 6) Can a Christian be demon possessed? 7) Can a person actually sell their soul to the Devil? 8) Seven reasons people get into the occult 9) Five ways Satan can use Fantasy to capture your children - http://www.cuttingedge.org/detail.cfm?ID=1701
---
---------- This Weeks Hot News ----------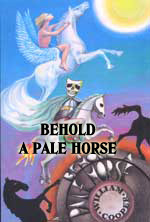 Behold A Pale Horse
I Abruptly, the Illuminati signals that a severe crisis is planned to strike within the first days, weeks, or at the most, months, after President Obama takes office.
Vice President-elect Biden was the first to sound the warning last week, but he was quickly joined by even more prestigious leaders.
Richard Haas, current President of the Council on Foreign Relations (CFR) sounded a somber alarm in this article below.
NEWS BRIEF: "Council on Foreign Relations president predicts coups, genocide and terrorism to test Obama", The Seattle Times, November 6, 2008
"WASHINGTON — In 74 days, President-elect Barack Obama will assume responsibility for guiding the nation out of two wars and through a daunting array of real and potential global crises. Obama is likely to benefit from initial goodwill across much of the planet, where there's profound relief that the Bush years are ending. Still, the new president — untested in foreign affairs — faces what may be the most unsettled global scene since the 1930s and '40s."
New Presidents are said to be always on the guard against a strong foreign power deliberately staging a crisis within the first few months of his administration. During the Cold War years, Russia was the likely enemy, as President John Kennedy discovered as Russian Premier Khrushchev forced the Cuban Missile Crisis upon him.
However, as we know, the script is written for President Obama, just as it has been written for the Bushes, Bill Clinton, and Ronald Reagan. The Illuminati is now very specific in terms of creating a script which the current White House occupant is expected to follow. Obama will be following a similar script.
At this point, the article lists the various points of conflict or threatened conflict around the world awaiting a President Obama. Time and space do not allow us to list them, so we encourage you to read the article thoroughly.
Then, Haas becomes more specific in his warnings.
Test #1 - "Just a day after the election, Iran's military officials Wednesday issued a notice warning U.S. forces that any violation of Iranian airspace will be met with force."
"... Obama has also promised to open diplomatic talks with U.S. adversaries such as Iran."
Test #2 - "Another test may already have come Wednesday, his first day as president-elect. Russian President Dmitry Medvedev announced in his first state of the nation speech that Russia will station short-range missiles near its border with Poland if Obama proceeds with Bush's plan to station missile-defense systems in Poland and the Czech Republic. It was a reminder that Russia, which seemed cooperative during most of the tenure of Obama's two predecessors, has turned anti-Western."
Test #3 - "Richard Haass, the president of the Council on Foreign Relations, said that what makes the current situation unique isn't the multiplicity of challenges facing the United States, but the fact that the U.S. military is stretched in Iraq and Afghanistan and the economic crisis demands attention."
In other words, a President Obama will discover that he must first deal with the realities of two wars on the ground overseas and an ailing economy, before he can undertake any broad new initiative, either overseas or at home.
We have already noted that President Kennedy was severely tested by the Cuban Missile Crisis. Haas then lists other Presidents who were tested early.
"Bush was challenged early in his presidency when a U.S. spy plane collided with a Chinese military jet and crash-landed on Chinese territory. President Clinton's first year saw the 1993 bombing of New York's World Trade Center and the deaths of 18 U.S. soldiers in Mogadishu, Somalia."
Haas then lists the types of tests which Obama may be called upon to face. The list is interesting.
"While foreign leaders may or may not choose to test Obama, 'the one thing I'm sure of is, events will test him," Haass said. "There will be coups. ... There will be genocide. ... There will be terrorism'."
Only six days after Haas made these remarks, a number of Illuminati leaders across the globe uttered more warnings. As my Daddy used to say, "where there is smoke, there is fire".
NEWS BRIEF: "Similar Warnings from world leaders all within 72 hours", The Jerusalem Post, November 12, 2008
"Over the last 72 hours there has been a strange melange of cryptic messages leaked from world political leaders about what could be in store for America over the next few months. These predictions of impending doom come from England, France, Australia and the United States."
This article then lists the various warnings:
"Biden told the top Democratic donors that a "generated crisis" will develop within six months and Barak Obama will need the help of community leaders to control the population as unpopular decisions are made and Americans resist."
"Australian PM Kevin Rudd - 'Nuke strike would make 9/11 insignificant' "
" 'The problems will always be there and there's going to be a crisis which will come along on the 21st, 22nd of January that we don't even know about right now'. (Colin) Powell told Meet the Press."
This statement means that peoples of the world are going to be on tenderhooks through the 22nd of January, expecting some major crisis to erupt. My experience has been that, when a specific date is mentioned, nothing usually happens. But, we shall have to wait to see.
"Lord West, adviser to Prime Minister Gordon Brown on national security says, 'There is another great plot building up again and we are monitoring. It dipped slightly and is now rising again within the context of severe. The threat is huge. We have done all the things that we need to do, but the threat is building - the complex plots are building."
"Across the channel from England you have the French Foreign Minister Bernard Kouchner warning the press that he believes Israel will strike Iran before they can develop nuclear weapons completely ignoring the fact that the chief of the International Atomic Energy Agency, Mohammed ElBradei, said that Iran lacks the key components to produce an atomic weapon."
The author of this article concludes:
"Why are there so many high level politicians around the world in a seemingly coordinated effort warning of huge threats and developing crisis' that may include a nuclear device? Are they preparing the masses for an event or series of events that have been in the making for some time? Is the public being prepared for new and forming enemies with a potential to plunge the entire world into war?"
Former Satanist, Doc Marquis, adamantly stated on numerous occasions that terrorism, wars, famines, earthquakes will occur to produce Antichrist, but that the really big crises that can destroy nations or collapse economies will not occur before the World War III erupts. Out of the smoke, dust and destruction of World War III will stride Antichrist on to the world scene.
None of the planned parts of World War III will occur before that war starts -- and the trigger for that war is all-out war between Israel and her immediate Arab neighbors. . Since major prophecy remains to be fulfilled before Antichrist can arise, whatever crisis does erupt, will be more limited in scope than the outbreak of a world war, or the collapse of entire countries' economies.
What I expect to occur may be a crisis on the scale of the Cuban Missile Crisis. Haas lists some events above as possibilities, but I would like to add the planned nuclear confrontation between North Korea and the Western world, especially the United States. This crisis has been planned for a very long time, and Presidents Clinton and Bush half-heartedly attempted for 16 years to "force" North Korea to abandon her nuclear program.
By now, everyone knows that North Korea has nuclear weapons and the missiles to deliver them, including intercontinental ballistic missiles. The crisis is ready to be exploded on the world scene.
Listen to the wording of the Illuminati Plan!
"A hair-raising nuclear confrontation in Korea may, towards the end of the period, threaten man's very survival." (Peter Lemesurier, "The Armageddon Script")
We had always anticipated that this staged North Korean crisis would occur as part of the World War III scenario, but the Plan only states that the crisis would occur "towards the end of the period". It might be planned to occur within the first six months of an Obama presidency.
Once President Obama successfully defuses this crisis, his popularity will skyrocket, thus giving him the public support needed to carry out his domestic program and his withdrawal from Iraq.
Or, the crisis could come from Russia, who has become very anti-American since April, 2003.
Or, the crisis could come from an assassination attempt on President Obama.
We can only wait to see how this all turns out, understanding that the world is being thrust through with a spear of "Wars and Rumors of Wars" - just as Jesus foretold (Matthew 24:6)
II. Will this 44th President become the dictator for which the Illuminati Plan calls?
A Congressman from Georgia even went so far as to predict that President Obama will become a dictator! He zeroes in on Obama's call for national security force which seems patterned after Adolf Hitler's program -- a plan which solidified the Nazi plan for absolute dictatorship.
NEWS BRIEF: "Georgia congressman warns of Obama dictatorship", Associated Press, November 11, 2008
"A Republican congressman from Georgia said Monday he fears that President-elect Obama will establish a Gestapo-like security force to impose a Marxist dictatorship. 'It may sound a bit crazy and off base, but the thing is, he's the one who proposed this national security force', Rep. Paul Broun said of Obama in an interview Monday with The Associated Press. 'I'm just trying to bring attention to the fact that we may — may not, I hope not — but we may have a problem with that type of philosophy of radical socialism or Marxism'."
"Broun cited a July speech by Obama that has circulated on the Internet in which the then-Democratic presidential candidate called for a civilian force to take some of the national security burden off the military."
Obama's words are surely somber, and did receive considerable press attention when he uttered them.
" 'We cannot continue to rely only on our military in order to achieve the national security objectives that we've set," Obama said in July. "We've got to have a civilian national security force that's just as powerful, just as strong, just as well-funded'."
The parallels between Obama's words and Hitler's actions are well rooted in history.
" 'That's exactly what Hitler did in Nazi Germany and it's exactly what the Soviet Union did', Broun said. 'When he's proposing to have a national security force that's answering to him, that is as strong as the U.S. military, he's showing me signs of being Marxist'."
Both Communist Russia under Stalin and Nazi Germany under Hitler used similar forces to overthrow the Old Order so they could establish the new. The parallels between Obama's plan and these historical forces is uncanny and unsettling.
For some time now, we have had our eye on the 44th President, not knowing who he or she might be. After all, the Illuminati will carry out their plan "by the occult numbers", and '44' is a very powerful number. It is "11x4". The Number '11' is the number of the coming Masonic Messiah (Antichrist), a parallel to the Bible, as Daniel 7:7-8 portrays the "Son of Perdition" arising after the world has been reorganized into 10 super nations; in other words, Antichrist will be the "11th horn".
The number "4" in the occult is special because it is the number of the perfected, completed world of nature. We have four cardinal points to the compass and 4 seasons. Therefore, the number '44' would be the perfected, completed number which shall aid mightily in staging the false Messiah.
If World War III erupts under President Obama's administration, he will be the President who will dissolve our Constitution, dissolve Congress and the Supreme Court, and establish an absolute dictatorship.
The outbreak of World War III is some years away, but could occur during an Obama Presidency!
III. The Communist Party strongly voiced its approval of the Obama victory!
We posted an article months ago pointing out that one of Obama's chief campaign adviser was the pro-Marxist, Zbigniew Brzezinski (Read NEWS2267, entitled, "Senator Obama Has Strong Ties To Illuminati - Communist Illuminati At That!")
This current news story validates our premise, so let us examine it right now.
NEWS BRIEF: "Communist Party ecstatic over '08 election results: Voice of Marxism announces 'hard work is just beginning' ", World Net Daily, November 10, 2008
"Hailing Barack Obama's win as a victory for the "working class," the Communist Party USA is calling on the president-elect to carry out his promises, including his noted commitment to 'spread the wealth'.An editorial by the People's Weekly World said the victory was for "workers of all job titles, professions, shapes, colors, sizes, hairstyles and languages'."
"The paper said Obama's victory is 'important … not only for people here in the U.S., but also for our sisters and brothers around the world'."
Obama has had relationships with Communists before this election.
"In his famous autobiography, 'Dreams From My Father,' Obama reveals that his earliest mentor in Hawaii was a man by the name of Frank Marshall Davis. It so happens that Davis had been sent to Hawaii in the late 1940s by the Communist Party to organize the party in Hawaii', Blumenfeld wrote."
A President Obama might very well pose a real threat to Fundamental, Bible-believing Christians.
"Obama has already proposed the creation of a homeland police force that will no doubt terrorize those in the 'ultra-right' who will become the most vociferous and active opponents of his socialist regime. Hitler had a similar police force called the Gestapo – Geheime Staats Polizie or Homeland State Police – that terrorized the opponents of the Nazi regime', he wrote."
We believe the time may be here for pressure to mount upon Conservatives and/or Christians as Hitler's pressure consistently grew from 1933-1939 when Hitler launched World War II. This last segment draws a very appropriate parallel.
"In 1933 a majority of Germans voted for a demagogue who promised 'change' and seemed to be the answer to their economic and national problems. None of those voters could have foreseen that 12 years later Germany would lie in ruins and be occupied by foreign armies', he wrote."

III. President Obama is assembling a team around him comprised of extremely Leftist Jews who have boldly supported the Palestinian State giveaway program against Biblical Israel!
NEWS BRIEF: "'Jews Around the Next President' ", by Tamar Yonah, Israel National News, November 12, 2008
"The recent appointments of Jews by United States President–Elect Barack Obama to his new administration should not be reassuring to the Jewish community in America or in Israel, says David Bedein, Bureau Chief of the Israel Resource News Agency."
"Speaking on Israel National Radio's Weekend Edition, Bedein said that the Jewish appointees are not pro-Israel."
When Jewish officials start worrying about the type of Jews which Obama is building around him, we should worry, too.
"...he did express concern over Obama's closeness to Jewish policy makers who have pushed for Israel to give up land in the past. In particular, is Rahm Emanuel, the newly appointed White House Chief of Staff. Emanuel's parents are Israeli."
" 'Obama's first appointment in the White House, Rahm Emanuel, was the key person in the Clinton administration to make the Oslo Accords happen in 1993. We are facing a situation of Jews around the next president who are very, very antagonistic to any of Israel's settlement policies in Judea and Samaria. But much more serious than that of course, is that the implication to the rest of Israel. If any of that territory is handed over, we'll see missiles on the center of Israel."
Bedein then noted that Emanuel was close to the original Oslo Accords, which first set out the Israeli giveaway of significant portions of her land to the Palestinians.
"Emanuel personally orchestrated the famous Yitzhak Rabin – Yasser Arafat hand shake at the White House in September of 1993. 'If you liked the Oslo process, Rahm Emanuel is your man. If you didn't like the Oslo process, he's your enemy'. Bedein said."
Then, Bedein expressed concern about other Jewish advisers which Obama is bringing on.
""He [Obama] had hired a number of Jewish advisors who are quite critical of Israel. They are anti-Israel people who fantasize about Saudi Arabia and peace intentions, people who had promoted the intentions of the PLO [Palestine Liberation Organization led by Yasser Arafat]. Those three people are Dennis Ross, Dan Kurtzer and Martin Indyk. They pose a very serious problem to Israel."
With these kind of advisers, the Palestinian State will be a high priority for the Obama Presidency. When the Palestinian State is declared, it will be the end of a very long road, for the process began in 1993 with the signing of the Oslo Accords. This means that the road from Oslo to the Palestinian State will have run through three Presidents: 1) Bill Clinton; 2) George W. Bush; 3) Barack Obama.
Do you realize that this long road fulfills the classic definition of a conspiracy? Listen:
"Single acts of tyranny may be ascribed to the accidental opinion of a day; but a series of oppressions, begun at a distinguished period, and pursued unalterably through every change of ministers , too plainly prove a deliberate, systematical plan of reducing us to slavery." ["The Works of Thomas Jefferson", Volume 1, p. 130]
The creation of a Palestinian State has been "pursued unalterably through every change of ministers".
Therefore, this trek to carve out a hostile Palestinian nation from the heart of Israel fits Jefferson's classic definition of a conspiracy!
God's judgment will not take long to fall.
---------- Articles Posted ----------
There is truly "not a dime's worth of difference between the Republican and Democrat Parties"!

Conservatives elected George W. Bush in 2000, but got the policies of Al Gore! Likewise, Liberals elected Barack Hussein Obama in 2008, but will get the policies of Bush! http://www.cuttingedge.org/news/n2324.cfm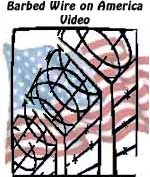 Obama's 'Universal' Service Plan - Part 1 - Training a Socialist Army of World Servers"
Obama: "I will ask for your service and your active citizenship when I am president of the United States ... this will be a central cause of my presidency."
"A really efficient totalitarian state would be one in which the all-powerful executive of political bosses and their army of managers control a population of slaves who do not have to be coerced because they love their servitude. To make them love it is the task assigned... to ministries of propaganda, newspaper editors and schoolteachers." (Aldous Huxley, 'Brave New World')
http://www.cuttingedge.org/articles/db110.html
"Obama's 'Universal' Service Plan - Part 2
Mind Change and Collective Service"
Jesus was a community organizer." (A visitor's response to "Training an army of world servers")
http://www.cuttingedge.org/articles/db111.html
"American Economy Now A Tightly Controlled, Severely Regulated Economy"
Transition To Severely Regulated Fascist Economy Is Now Going Global -- Europe, Great Britain, Ireland, and Iceland Are Going Through Same Planned Disaster As American Companies! The Whole World Is Transitioning To The Planned Regulated Economy of The Coming Masonic Christ.
The "Bailout Plan" was never intended to solve the economic crisis, but only designed to establish a powerful Economic Czar!
Capitalism is DEAD in America - Fascist Economy is now a reality
http://www.cuttingedge.org/news/n2317.cfm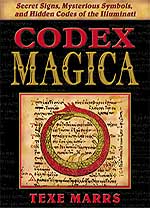 Iranian President Ahmadinejad Revealed To Be A Freemason!
Another Reason That Iran Will NOT Be Invaded or Attacked!
Proof positive that Illuminized Freemasonry controls both sides of any conflict. President Ahmadinejad is one of the Global Elite and, as such, his country will not be prevented from playing the role which Biblical prophecy has assigned it.
Proof positive that the conflict between the West and Iran is staged according to the principles of the Hegelian Dialectic! http://www.cuttingedge.org/news/n2318.cfm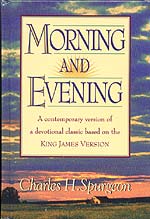 --------Concluding Inspiration ---------------""At evening time it shall be light." Zechariah 14:7
Oftentimes we look forward with forebodings to the time of old age, forgetful that at eventide it shall be light. To many saints, old age is the choicest season in their lives. A balmier air fans the mariner's cheek as he nears the shore of immortality, fewer waves ruffle his sea, quiet reigns, deep, still and solemn. From the altar of age the flashes of the fire of youth are gone, but the more real flame of earnest feeling remains. The pilgrims have reached the land Beulah, that happy country, whose days are as the days of heaven upon earth. Angels visit it, celestial gales blow over it, flowers of paradise grow in it, and the air is filled with seraphic music. Some dwell here for years, and others come to it but a few hours before their departure, but it is an Eden on earth. We may well long for the time when we shall recline in its shady groves and be satisfied with hope until the time of fruition comes. The setting sun seems larger than when aloft in the sky, and a splendour of glory tinges all the clouds which surround his going down. Pain breaks not the calm of the sweet twilight of age, for strength made perfect in weakness bears up with patience under it all. Ripe fruits of choice experience are gathered as the rare repast of life's evening, and the soul prepares itself for rest.

The Lord's people shall also enjoy light in the hour of death. Unbelief laments; the shadows fall, the night is coming, existence is ending. Ah no, crieth faith, the night is far spent, the true day is at hand. Light is come, the light of immortality, the light of a Father's countenance. Gather up thy feet in the bed, see the waiting bands of spirits! Angels waft thee away. Farewell, beloved one, thou art gone, thou wavest thine hand. Ah, now it is light. The pearly gates are open, the golden streets shine in the jasper light. We cover our eyes, but thou beholdest the unseen; adieu, brother, thou hast light at even-tide, such as we have not yet. (C.H. Spurgeon, "Morning and Evening Devotions")
---
May Jesus Richly Bless You,
David Bay, Director
866-909-2850 Toll Free Customer Service - Order Line
803-356-2850 Toll Free Customer Service - Order Line
803-356-2860 Fax