---------- This Week's Hot News -------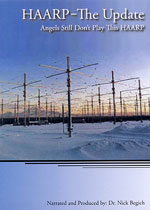 DVD
I. The world's most powerful hurricane (typhoon) has smashed into The Philippines, killing up to 10,000 and devastating the country.
"(Foreign scientists) are engaging even in an eco-type of terrorism whereby they can alter the climate, set off earthquakes, volcanoes remotely through the use of electromagnetic waves." (Defense Secretary Cohen Address 4/28/1997)
NEWS BRIEF: "Philippines storm kills estimated 10,000: Destruction hampers rescue efforts", Reuters News, 11/10/2013
"Rescue workers struggled to reach ravaged towns and villages in the central Philippines on Monday as they tried to deliver aid to survivors of a powerful typhoon that killed an estimated 10,000 people and displaced more than 600,000."
This exceedingly powerful powerful typhoon (hurricane) was much stronger and larger than any other in world history. While Hurricane Katrina was packing winds up to 125mph, Typhoon Haiyan is said to have had sustained winds of nearly 200mph and gusts up to 235mph.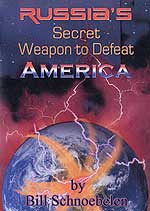 DVD
Such power is simply beyond my comprehension. I cannot help but remember the revelation from Defense Secretary William Cohen in 1997 when he revealed that human scientists control weather functions through electromagnetic waves. Therefore, these tragedies are deliberately created and used as a means by which to put an end to this current civilization so the New World Order can be established.
Two types of electromagnetic wave systems are employed: HAARP and Scalar. "HAARP: The Update" shown above explains the American system, HAARP. The DVD, "Russia's Secret Weapon To Defeat America" explains the Russian Scalar sytem.
We have also maintained a section of articles on Weather Control. Please take a few moments to read the numerous articles we have posted on this most incredible subject. The fact is that the Global Elite are using their control of the Weather to wreak destruction of our current Order so they can bring in their New Order and its Christ (Anrtichrist).
With these facts in mind, let us now consider the amount of damage this hurricane delivered to a country already devastated by powerful earthquakes. Many thousands of people were living in tents when the typhoon struck, because their homes had been destroyed by quakes months earler; no one can survive a typhoon as powerful as this one in a tent.
Do you remember that the Colorado "1,000 Year Rainfall" this Summer hit areas already destroyed by fire? When the rainfall deluge struck, there was no vegetation to hold on to the ground to resist the flowing waters. It seems as both of these storms hit areas already badly hurt by a previous weather disaster.
Now let us return to our featured story to learn more details.
Super typhoon Haiyan destroyed about 70 to 80 percent of structures in its path as it tore through Leyte province on Friday ... Huge waves from one of the strongest storms ever recorded swept away coastal villages. Some officials likened the destruction to the 2004 Indian Ocean tsunami. 'From a helicopter, you can see the extent of devastation. From the shore and moving a kilometer inland, there are no structures standing. It was like a tsunami', said Interior Secretary Manuel Roxas..."
".... Not one building seems to have escaped damage in the coastal city of 220,000 people."
"Nearly 620,000 people were displaced and 9.5 million "affected" across nine regions, the U.N.'s Office for the Coordination of Humanitarian Affairs (OCHA) said in a statement. "
Our prayers go out to the people of the Philippines. Christian ministries have operated for many decades so they are in great need of prayer.
II. Disaster conditions at the crippled Japanese nuclear plant at Fukushima have deteriorated so badly that a scientists is now urging widespread evacuation!
NEWS BRIEF: "Japanese Physician Calls for Evacuation of Tokyo", Energy News, November 11, 2013
"Dr. Shigeru Mita, Mita Clinic in Tokyo: Our patients mostly come from Tokyo, Chiba, Kanagawa, Saitama, and other Northern Kanto areas ... radioactive substances coming from Fukushima Daiichi nuclear power plant have reached Tokyo, and huge amounts of contaminated waste is being burned here as well ... my real hope is to have not just children but also adults move away from Tokyo."
" [The adult] conditions are definitely different compared to how it was before the nuclear accident. With elderly people, it takes more time for asthma to heal. The medication doesn't seem to work. We also see more patients with diseases that had been rare before; for example, polymyalgia rheumatica [...] Before 3.11, we had one or less patient per year. Now, we treat more than 10 patients at the same time."
The area around Fukushima is very active geologically and has had several small earthquakes in the reegion lately. What would happen to the crippled nuclear plant should it be hit by a big quake?
NEWS BRIEF: "Big quake near Fukushima would 'decimate Japan, lead to US West Coast evacuation' ", Russia Today News, November 7, 2013
"The stricken nuclear plant at Fukushima in northern Japan is in such a delicate condition that a future earthquake could trigger a disaster that would decimate Japan and affect the entire West Coast of North America, a prominent scientist has warned ... prominent Japanese-Canadian scientist David Suzuki said that the Japanese government had been "lying through its teeth" about the true extent of the 2011 Fukushima nuclear disaster. "
" 'If the fourth [reactor] goes under an earthquake and those rods are exposed, then it's bye, bye, Japan and everybody on the west coast of North America should be evacuated. And if that isn't terrifying, I don't know what is', Suzuki said. "
We featured the Illuminati Card Game card "Nuclear Accident" above to highlight this section. How did Steve Jackson -- the creator of the Illuminati Card Game -- know in 1994 that one of the events designed to overthrow our current civilization was a terrible nuclear power plant disaster?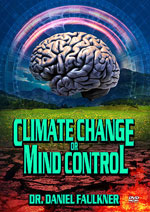 III. President Obama announced that he is making 'Climate Change' a key part of his future agenda!
Right on cue, radical activist scientists began to raise a cacophony of voices warning that Planet Earth could be destroyed if draconian changes are not immediately implemented.
NEWS BRIEF: An executive order puts Climate Change up front", PBS News, 11/3/2013
"... a new executive order by President Obama requiring federal agencies and local governments to account for climate change when undertaking big new projects ... what were those changes? What was that executive order saying?"
"MARGARET TALEV: So the executive order is telling federal agencies and local governments, but especially federal agencies to analyze all of the risks that climate change may have to their missions and what they do and to talk about what they are already doing and what they should be doing. And it sets up a task force to put all of these suggestions and recommendations together and analysis over the next nine months."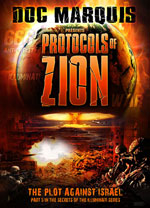 Climate Change is one of those programs envisioned through a particular part of the "Protocols of the Learned Elders of Zion", written 200 years ago. Listen to this quote and then stand amazed at how relevant this quote is to this news.
"When we come into our kingdom [New World Order], our orators will expound great problems which have turned humanity upside down in order to bring it at the end under our beneficent rule. Who will ever suspect, then, that all these peoples were stage-managed by us according to a political plan which no one has so much as guessed at in the course of many centuries?" [Protocols of the Learned Elders of Zion, Protocol #13]
This quote is spectacular, for it not only reveals why mankind is being lied to so heavily about climate change, but it reveals the existence of a 200 year old conspiracy so well hidden that the vast majority of the people have no idea they were being "stage-managed" all their lives!
New Age author, Bill Cooper, revealed that the Illuminati had been planning a series of global catastrophes so that they would have an excuse to "solve" these catastrophies with global government. Listen:
"'The secret societies were planning as far back as 1917 to invent an artificial threat ... in order to bring humanity together in a one-world government which they call the New World Order'." ["Behold A Pale Horse", p. 27]
Several years ago, we posted an article in which we identified five (5) separate stage-managed crises which the Elite were managing. Please take a moment to read: NEWS2193, entitled, "Five Major Created Global Disasters Are Being Constantly Preached To The World As Reasons To Form The Global New World Order!"
What are these five deliberately manufactured crises?
1) Global Warming - Now just called "Climate Change"
2) Global Terrorism - Being used as a battering ram, knocking down our current civilization
3) Global War - Out of World War III, Antichrist will come striding
4) Global Economic Disaster - Will be implemented as soon as World War III begins.
5) Global Virus Pandemic
Satan weaves multiple lies because he knows that he cannot deceive everyone with one lie. But, he has discovered that he can deceive most people with multiple lies. In like manner, the Illuminati has created these five major lies, all of which have one goal in mind, i.e., a global dictatorship of the most severity in history.
This last quote reveals this intent of the Illuminati:
"It is true that without the population or the bomb problem, the elite would use some other excuse to bring about the New World Order. They have plans to bring about things like earthquakes, war, the Messiah, extraterrestrial landing, and economic collapse. They might bring about all of these things just to make ... sure that it does work. They will do whatever is necessary to succeed. The Illuminati has all the bases covered ... Can you imagine what would happen if Los Angeles is hit with a 9.0 quake, New York City is destroyed by a terrorist-planted atomic bomb, World War III breaks out in the Middle East, the banks and the stock markets collapse, Extraterrestrials land on the White House lawn, food disappears from the shelves, some people disappear, the Messiah presents himself to the world, and all in a very short period of time?" [William Cooper, "Behold A Pale Horse", Page 177]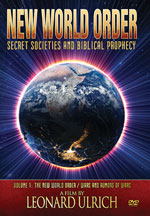 Right on cue, radical scientists began clamoring. And, of course, they are associated with the United Nations!
NEWS BRIEF: "Report on climate change depicts a planet in peril", Miami Herald, 11.12.13
" Climate change will disrupt not only the natural world but society, posing risks to the world's economy, the food and water supply and contributing to violent conflict, an international panel of scientists says. The warnings came in a report drafted by the United Nations-backed Intergovernmental Panel on Climate Change."
As we stated above, Global Climate Change is one of the manufactured crises designed to move the world into the coveted New World Order. Doubt it not!
IV. An internal memo reveals that some officials high in the Obama Administration knew before the October 1 launch that massive flaws and security risks were present in the government website.
Now, the question becomse, "who knew of this problem and when did they know it"?
NEWS BRIEF: "Memo warned of 'limitless' security risks for HealthCare.gov", CBS News, November 11, 2013
"CBS News has learned that the project manager in charge of building the federal health care website was apparently kept in the dark about serious failures in the website's security. Those failures could lead to identity theft among buying insurance... The memo said 'the threat and risk potential (to the system) is limitless'."
Now this security flaw will loom much larger in people's minds than any other single issue. In this digital age, citizens are very much aware of dangers to their identity. Entire companies have arisen which promise the average citizen that their identities will be protected.
Americans will stay away in record number from signing up if they believe their identities can be stolen. People have a low enough opinion of government officials anyway, so they are going to feel very threatened over this revelation and will stay away in droves!