I. The flu virus striking The Ukraine does seem to be a very different, and a very vicious, strain.
The question of the hour is simply: is this new strain also genetically engineered and also loosed upon an unsuspecting people?
NEWS BRIEF: "Million People Hit By Plague Worse Than Swine Flu - Western Ukraine", By Greg Miskiw, Daily Express News, November 15, 2009
"A DEADLY plague could sweep across Europe, doctors fear, after an outbreak of a virus in Ukraine plunged the country and its neighbours into a state of panic. A cocktail of three flu viruses are reported to have mutated into a single pneumonic plague, which it is believed may be far more dangerous than swine flu. The death toll has reached 189 and more than 1 million people have been infected, most of them in the nine regions of Western Ukraine."
This new outbreak is giving The Ukrainian government the excuse to impose new restrictions on his country and to grab new powers. The country's president is also calling in United Nations help, thus granting new access to his country for the U.N.
"President of Ukraine Viktor Yushchenko has called in the World Health Organisation and a team of nine specialists are carrying out tests in Kiev and Lviv to identify the virus. Samples have been sent to London for analysis."
President Yushchenko sounded the alarm in horrific tones.
" ''People are dying. The epidemic is killing doctors. This is absolutely inconceivable in the 21st Century'. In a TV interview, the President added: 'Unlike similar epidemics in other countries, three causes of serious viral infections came together simultaneously in Ukraine – two seasonal flu's and the Californian flu. Virologists conclude that this combination of infections may produce an even more aggressive new virus as a result of mutation'."
"... Universities, schools and kindergartens have been closed, public meetings have been banned and theatres shut. Last week several border crossings in the country were also closed."
Given these startling words, you would think that Ukrainian citizens are dying by the dozens, right? Wrong!
"Four men and one woman have died from the flu in Lviv, said emergency hospital chief doctor Myron Borysevych. Two of the dead patients were in the 22-35 age group, with two others over 60. He diagnosed the disease as viral pneumonia."
The fact is that only a few hundred people have died of this new, more virulent virus strain. This type of fatality is normal with seasonal flu.
The reason doctors are so scared is that the lungs of people who have died are absolutely horrible.
"A doctor in Western Ukraine who did not want to be named, said: 'We have carried out post-mortems on two victims and found their lungs are as black as charcoal. They look like they have been burned. It's terrifying'."
II. Now, the question becomes: is this virus genetically produced in a laboratory and was it deliberately released to the public in The Ukraine?
NEWS BRIEF: "H1N1 "super flu" plague in Ukraine sparks concern, conspiracy theories about origins ", by Mike Adams, Natural News, November 16, 2009
"Here's what we know with some degree of certainty about the H1N1 virus in Ukraine right now: nearly 300 people have died from the viral strain, and over 65,000 people have been hospitalized (the actual numbers are increasing by the hour). The virus appears to be either a highly aggressive mutation of the globally-circulating H1N1 strain, or a combination of three different influenza strains now circulating in Ukraine. Some observers suspect this new 'super flu' might be labeled viral hemorrhagic pneumonia (meaning it destroys lung tissue until your lungs bleed so much that you drown in your own fluid), but that has not been confirmed by any official sources we're aware of."
"Now here's what we don't know about the Ukraine outbreak:
"What is the actual genetic composition of this mutated strain? Scientists have not released any meaningful news about the genetic sequence of the Ukraine strain ... Was this viral strain released as a bioweapon? There are numerous reports circulating widely across the 'net that cite aerial spraying across Kiev in the days before the new 'super flu' outbreak. People are speculating that this was a bioweapon attack intentionally unleashed upon the Ukrainian population. So far, NaturalNews can find no credible information supporting this theory, but it remains a possibility to be researched further."
"You may recall that earlier this year, Baxter shipped live avian flu viral material to labs in 18 countries, including one in the Ukraine. (http://www.naturalnews.com/025760.html) There is suspicion that Baxter could be tied to a planned outbreak of a weaponized virus as a population control bioweapon of some sort ... "
At this point, we have to wonder about the viability of the mysterious Mossad spy who predicated a severe flu outbreak in The Ukrainian late this year.
NEWS BRIEF: "Martial Law Declared In Ukraine Over Mystery Epidemic", by Steve Watson, InfoWars, Nov 5, 2009
"Whatever is really going on in Ukraine, the news has sparked a flurry of reports from conspiracy based websites that are citing a warning made in August by a man called Joseph Moshe, who claimed to be a former Mossad microbiologist. Moshe hit the headlines when he was arrested after a long standoff with police in LA because he had supposedly made threats against the White House.
"Shortly after his arrest, hundreds of comments and reports began to circulate stating that Moshe had called into a radio show to warn people about a biological weapon that was being prepared by Baxter International's Ukraine plant that would be spread via a flu vaccine and would cause a plague upon it's release. Moshe's identity as a microbiologist does seem to be verifiable, and Baxter certainly does have a presence in the Ukraine .... Whether Moshe's claims have any basis in truth is up for debate, however, it now seems an incredible coincidence that he fingered Ukraine as the location for a specific outbreak."
We shall have to wait to see how this scripted event plays out. But, I suspect that The Ukraine may be the test country in the world to see how people respond to a pandemic which is painted in the most somber terms.
Government edicts will be issued, dictatorial powers grabbed, and First-Responders will be trained by this Ukrainian scenario. All the "bugs" will be worked out of the system in The Ukraine so that, when the Antichrist is on the world scene and the time arrives for the Seal 4 to unfold, all governments from all over the world will have learned from the mistakes of The Ukrainian government right here and right now.
Remember the operative maxim: the Illuminati never does anything on a large scale unless they have tested it on a small scale first.
We believe this is really what is occurring in The Ukraine at this moment.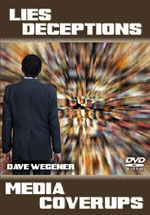 DVD
III. Proofs that Mass Media is totally in bed with the Global Elite!
The truths of Mass Media collusion with top political leaders is startlingly revealed in this DVD depicted left, a great resource even though the content is somewhat dated.
NEWS BRIEF: "Mass Media As Enablers of Government Lies", by James Bovard, Campaign For Liberty, 11/16/2009
"Why do politicians so easily get away with telling lies? In large part, because the news media are more interested in bonding with politicians than in exposing them. Americans are encouraged to believe that the media will serve as a check and a balance on the government. Instead, the press too often volunteer as unpaid pimps, helping politicians deceive the public."
Press Reporters are, indeed, "unpaid pimps" serving the politicians, but it is not because they are "more interested in bonding with politicians than in exposing them."
We have to turn to another source to discover why the Mass Media serves the interests of the politicians leading the world to the New World Order rather than being a "check and a balance" on them.
Listen to this bit of bragging done over 100 years ago by an unknown Illuminati author.
"We must compel the governments of the goyim to take action in the direction favoured by our widely conceived plan ... by what we shall represent as public opinion, secretly prompted by us through the means of that so-called 'Great Power' -- the Press, which, with a few exceptions, is already entirely in our hands." ["The Protocols of the Learned Elders of Zion", Protocol #7]
This bold statement casts an entirely new light upon why the Press is so often mildly complaint to the politicians : the Media is owned and operated by the Illuminati! This point has been proven so often that I do not feel the need to prove it now again. Just read Anthony Sutton in his monumentally important book, "America's Secret Establishment" to see the Illuminati control over all our key industries, including Education and the Press.
Now we return to our featured story.
"In 1936, New York Times White House correspondent Turner Catledge said that President Roosevelt's 'first instinct was always to lie'. But the Washington press corps covered up Roosevelt's dishonesty almost as thoroughly as they hid his use of a wheelchair in daily life."
"President Bill Clinton benefited from a press corps that often treated his falsehoods as nonevents — or even petty triumphs. Newsweek White House correspondent Howard Fineman commented that Clinton's 'great strength is his insincerity.... I've decided Bill Clinton is at his most genuine when he's the most phony.... We know he doesn't mean what he says'."
This DVD, above, tells this story of how Bill and Hillary Clinton so masterfully controlled and directed the Mass Media as they attempted to foist their agenda upon the American people.
But, how about President Bush -- that supposedly "Conservative", Republican, "Christian" President? The two examples of media manipulation by the White House occurred during Democrat administrations. Surely the "righteous" Republicans do not coldly manipulate the Press like the Democrats -- right?
"The Washington Post's Dana Milbank, who did some of the best exposes' of George W. Bush's falsehoods in his first term, noted that it was not until July 2002 that "the White House press corps showed its teeth' in response to administration deceptions. Even the exposes ' of FBI and CIA intelligence failures in May 2002 did not end the 'phase of alliance' between the White House and the press, as political scientist Martha Kumar observed."
During the seven years in which I posted Daily News Updates during the Bush Administration, I can tell you that Media Manipulation was high on the agenda of the Bush White House. Even Bill Clinton was not as adept at this kind of news control as was George W. Bush.
And, now we have President Obama, who is proving to be the master manipulator of them all! Do not listen to what the Mass Media is telling you without proper discernment. What constitutes this kind of discernment? Several factors:
1) Assume that the truth of the matter is usually in the opposite direction of the public rhetoric -- NEWS1558, entitled, "BREAKING OUT OF THE MENTAL BOX -- LEARNING TO THINK IN THE OPPOSITE DIRECTION OF PROPAGANDA TO FIND THE TRUTH"
2) Pass all news through the prism of Biblical prophecy. For example, even though the key nations of the world appear to be in conflict, we know that nations at the End of the Age are going to be secretly cooperating with each other.
Listen to the key prophecy: