Positive Update On Shipping "Armageddon" DVD
We will be shipping before we thought!
Hot New Prophecy DVD!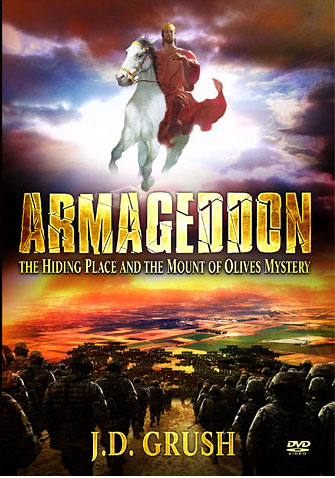 "Armageddon, The Hiding Place and the Mount of Olives Mystery"
New Prophetic DVD by J.D. Grush -- with the "Alexander Scourby" voice
Discoveries Of Destiny Ministry
Regularly $29.99 / Pre-sale $24.99
The world is hurtling quickly to its final prophesied destiny, a destiny which the Lord Jesus named "Armageddon". J.D. Grush, of "Discoveries of Destiny" ministry, has created a riveting DVD which teaches the full Biblical Plan for all of mankind, a plan which shall be dramatically finished on the Plains of Megiddo, popularly known as "Armageddon".
J.D. will unearth precious nuggets of truth which shall both shock you and delight you.
J.D. will also dispel the major Mass Media misunderstandings of this "appointment of destiny".
Part 1 is entitled simply, "Armageddon". In a delightfully entertaining manner,J.D. teaches what Armageddon will be, why it is necessary and what it will accomplish as Jesus prepares to establish his Millennial Kingdom, even in the face of the most powerful forces strait out of Hell.
Part 2 is entitled, "The Hiding Place". In the midst of the chaotic panic Jews are feeling as they flee the deadly wrath of Antichrist, God miraculously swoops down to pluck His elect out of the clutches of the Man of Sin, taking them to a "Hiding Place", where God will lovingly protect them for the last 3 ½ years of history.
Part 3 is entitled, "The Mount of Olives Mysteries". Here J.D. is at his very best, as he reveals the extreme importance to God and to His Kingdom of the Mount of Olives. Going back all the way to Moses and reaching all the way to the end of the Tribulation Period, the Mount of Olives stands as one of the most prophetically important places on Earth.
J.D. Grush will simultaneously inform you and delight you for over 3 full hours.
Will be shipping on or before late-December. http://www.cuttingedge.org/detail.cfm?ID=2381
New Feature - Cutting Edge News TV Clip
Watch our Director, Cory Black, as he presents the first edition of "Cutting Edge News". Cory interviews J.D. Grush about his ministry, "Discoveries In Destiny" and about his new DVD, "Armageddon, The Hiding Place, and Mount of Olives Mystery"
We believe that the wonderful speaking ability of J.D. Grush, coupled with his incredible knowledge of Ancient cultures and religons of both Ancient Israel and Egypt and Babylon will creatively hold your attention and leave you wanting more J.D. Grush!
---
---------- This Week's Hot News -------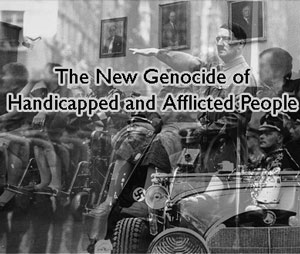 I. The "New Genocide" is in full swing!
Killing babies who cannot survive without parents not only kills the unborn but will kill infants and toddlers one day!
New Age authors have been advocating this type of baby / toddler genocide for years!
NEWS BRIEF: "Chasing Death", by Alan Sears, Townhall News, december 11, 2011
"Since 1973, generations have come and gone, 50 million abortions have been performed, and still the mantra is chanted—"not the church, not the state, only I'll decide my fate." It's a line in the sand and a warning to any political officeholder who would dare seek restrictions for abortion-on-demand. 'It's my choice', the radical screams, 'don't limit it!'. Yet the word 'choice' is misplaced. For abortions aren't part of the choice, rather, they are used to take away the life that results from poor choices made. Or to put it as Doug Bandow did, 'Sex is a matter of choice; abortion is an attempt to avoid accountability'."
One of the greatest "crimes against humanity" ever perpetrated upon mankind is abortion. Radical feminists aggressively pushed their pro-abortion agenda upon America, and backed by Illuminati politicians like Senator Ted Kennedy, they prevailed via the "Roe vs Wade" decision of 1973.
Once the door was opened to abortion just a crack, radical feminists found it easy to force it open all the way, to the point where abortions can now be committed right up to the point of birth. But this progression was not enough for the pro-abortion industry; not too many years after Abortion was legalized, doctors started committing the crime of "Infanticide", where they would kill living, viable babies just before they came out of the birth canal (Read full details in NEWS1667, entitled "New Ultrasound Machine Can Take 3-D Pictures of Babies Developing In The Womb: Will Abortionists Allow Mothers To See Their Babies' Picture Before The Abortion Is Performed"?
Now, let us return to our featured news story for information which will truly shock your Christian conscience.
"In effect, this (abortion) makes death a solution for our self-created problems. And instead of all roads leading to Rome, more and more of the roads we trod seem to lead to death."
What does the Bible say about sin leading to death?
"Then the evil desire, when it has conceived, gives birth to sin, and sin, when it is fully matured, brings forth death." (James 1:15; Parallel Bible, KJV/Amplified Bible Commentary)
The evil desire of wicked men -- particularly those Luciferian Illuminati leaders -- to restrain the growth of population in the time period before their Masonic Christ could arise, conceived the sinful idea of Abortion Upon Demand, a concept which eventually produced the Supreme Court decision known as Roe vs Wade. At that point, the evil desire produced real death in the wombs of 50 million American women.
Then, foreign nations followed America's lead, quickly leading to untold tens of millions of preborn babies murdered in the womb throughout the world every single year. This reality tells us that the world is rushing toward the most evil scenario in all of history -- the death-dealing reign of Antichrist.
Listen to what the Bible says about this type of society.
"... all who hate me love and court death." (Proverbs 8:36; Parallel Bible, KJV/Amplified Bible Commentary

"... BUT UNDERSTAND this, that in the last days will come (set in) perilous times of great stress and trouble, hard to deal with and hard to bear. For people will be lovers of self and utterly self-centered ... proud and arrogant and contemptuous boasters. They will be abusive, blasphemous, scoffing, disobedient to parents, ungrateful, unholy and profane.

"They will be without natural human affection, callous and inhuman, relentless, admitting of no truce or appeasement; they will be ... loose in morals and conduct, uncontrolled and fierce, haters of good. They will be treacherous, betrayers, rash, and inflated with self-conceit." (2 Timothy 3:1-4; Parallel Bible, KJV/Amplified Bible Commentary
These verses speak directly to this global disaster of Abortion Upon Demand. Women pregnat with a child whom they are designed to love and to protect, instead turn on that helpless pre-born baby and kill it! Truly, such women are "without natural human affection, callous and inhuman, relentless ... loose in morals and conduct, uncontrolled and fierce, haters of good ... treacherous, betrayers, rash, and inflated with self-conceit."
Therefore, the vast majority of Americans will stand condemned on the day of the White Throne Judgment because they either participated in this slaughter of the innocents or they allowed their politicians and judges to get away with it.
Did you know that judges in Ancient Israel made rulings which allowed unimaginable evil to occur?
"Shall the throne of iniquity have fellowship with You--they who frame and hide their unrighteous doings under the sacred name of law?" (Psalm 94:20; Parallel Bible, KJV/Amplified Bible Commentary
This Scripture applies to the Roe vs Wade abortion decision of our Supreme Court in 1973 just as clearly as it applied to Ancient Israel 2,500 years ago!
Truly, Solomon was right when he said that "there is nothing new under the sun".
Now, let us return to our featured news story to see how far abortion is planned to go in the very near future.
"This is evident in situations like we recently witnessed in Ohio, where the state senate passed a ban on performing abortions after 20 weeks of pregnancy if the baby can survive outside the womb, and NARAL's response was: 'In passing this legislation, the Ohio Senate is ignoring the devastating impact this legislation could have on the health of many Ohio women and they are inappropriately inserting themselves between doctors and their patients. This legislation [also] harms women with wanted pregnancies that experience heartbreaking complications, such as a fetal anomaly or a cancer diagnosis'."
Alan Sears' response was absolutely right on the money! Listen:
"Note there is no concern whatsoever for the baby that would be aborted. Rather, there is outrage over the fact that a mother's chance to kill her child has been shortened. No matter how you look at it, this is a tragedy beyond measure. To justify this nihilistic endeavor we tell ourselves that the child—who has no choice in living or dying—is not really a child at all. Rather, he or she is but a bundle of DNA yet to survive apart from the sustenance received from another, and is therefore labeled 'non-viable'."
At this point, Alan Sears delivers the crushing blow, for when this logic is taken to its fullest measure, a very horrific scenario can take place.
"This is a frightening argument because a 5-month old infant is also incapable of surviving apart from the sustenance another provides (as is an 8-month old, a 1-year old, or even a 2-year old for that matter). Should we therefore be free to dispose of our 2-year old sons and daughters if the responsibility of sustaining them becomes too great? Of course there are those who argue that we should, and that's because the culture of death has swallowed their minds and now permeates their every inclination."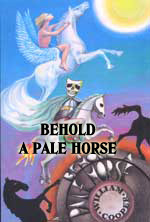 Sears is absolutely correct when he says that "there are those who argue that we should" take this extreme step of being able to "terminate the life" of a child up to the age of 2! In fact, I discovered this horrific premise in a New Age book in 1989.
In this book, the New Age author stated that, sometime in the near future, laws would be changed so that a child would not be considered human until the age of 2. Prior to that age, a child could be "euthanized" legally should they be discovered with any kind of defect!
Clearly, this New Age author considered humans to be just like an animal, who can be "put down" at any time at his owner's discretion. Now, 22 years later, America seems awfully close to enacting these kinds of laws.
Listen to the New Age plan of abortion.
"The only alternative left to the world's ruling elite was to increase the death rate ... they did not relish the possible consequences of an enraged public upon discovering that they were being systematically murdered ... Dr. Aurelio Peccei of the Club of Rome ... advocated that a plague be introduced that would have the same effect as the Black Death of history." [William Cooper, "Behold A Pale Horse", p. 167]
Somber words, coming true in our society in our Daily News. Antichrist is not far away.
Finally, let us consider how a Black Magic Satanist views abortion.
Former Satanist, Doc Marquis, bluntly told me that the Satanist views the murder of a pre-born child within the womb to be the highest form of human sacrifice to Lord Satan. You see, a Satanist considers a human sacrifice to be of greater pleasure to Satan the younger the victim is; since you cannot get any younger than pre-born slaughtered within the womb, abortion victims are mightily precious in the view of Satan! (Read full details in NEWS1405)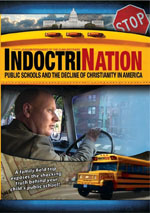 Trailer
II. President Obama is fulfilling one of the original plans for Public Schools
He is planning on spying on parents through their kids while they are in school.
NEWS BRIEF: "New Obama plan to Fight Home Grown Terrorists calls for schools & school children to spy on families", Off Grid Survival News, December 8, 2011
"Over the last year we have detailed many examples of how preppers are being targeted and demonized by this administration as potential terrorists ... White House launches new plan to find Home Grown Terrorists by having schools & churches spy on families. Part of the plan includes using school children spy on their parents."
This plan is so out in the open that Mass Media like National Public Radio is even publicly promoting the plan.
" In a recent NPR article the new White House program is outlined as using a combination of local partners — schools, community boards and leaders — with both local and federal law enforcement and other agencies to keep tabs on the public. Many of these new partners, like the Department of Education, have never participated in national security issues before.
" 'We had a long conversation about what kinds of things education can do', said Quintan Wiktorowicz, a senior director of the National Security Council at the White House, who spearheaded the initiative. 'In the same way they fight gangs, or bullying, they can help here. The challenge is going to be trying to put the violent extremism initiatives into existing programs. But there are lots of ways to do it, and we'll work with the schools to tailor the approach to what they need'."
While this quote does not specifically state the the Obama Administration / Homeland Security is going to glean information from school kids about their parents, Senator Rand Paul makes it quite clear that this is the goal.
This disastrous trend toward spying on parents through their kids who are going to Public School is one more reason to pull your children out - as the authors of the DVD "IndoctriNation" argue vehemently.
Are you listening? Do you want your child's comments to school officials to form the basis of you and your wife being arrested as "suspected home grown terrorists" and shipped off to a foreign prison for the rest of your life?"
Do not doubt that this scenario is very real and sooner than you might think.
Get your children out of Public School now.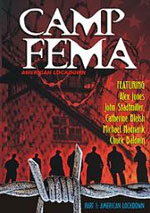 DVD
III. President Obama is said to be planning 'Arctic Death Camps' for political dissidents.
NEWS BRIEF: "Government Activating FEMA Camps Across U.S.: Prison Planet, December 7, 2011
"Infowars.com has received a document originating from Halliburton subsidiary KBR that provides details on a push to outfit FEMA and U.S. Army camps around the United States. Entitled 'Project Overview and Anticipated Project Requirements', the document describes services KBR is looking to farm out to subcontractors."
"Services up for bid include catering, temporary fencing and barricades, laundry and medical services, power generation, refuse collection, and other services required for temporary "emergency environment" camps located in five regions of the United States."
In the DVD, "Camp FEMA", the authors show several detention camps built but empty, and they report on a new Army Specialty, "Internment Specialist". Do not doubt for one minute that we are getting close to an Absolute Dictatorship in this country.
"KBR's call for FEMA camp service bids arrives soon after the Senate overwhelmingly passed the National Defense Authorization Act (NDAA) which permits the military to detain and interrogate supposed domestic terror suspects in violation of the Fourth Amendment and Posse Comitatus.
"Section 1031 of the NDAA bill declares the whole of the United States as a 'battlefield' and allows American citizens to be arrested on U.S. soil and incarcerated in Guantanamo Bay."
Both Democrat and Republican Senators supported this bill, proving our contention once again that there is no difference between Republican and Democrat parties, as leaders of both parties are equally committed to this coming New World Order!
What is the kind of Absolute Dictatorship facing America and all nations of the world once the Masonic Christ is in charge of the world government?
"A. "From this the conclusion is inevitable that a satisfactory form of government for any country is one that concentrates in the hands of one responsible person. Without an absolute despotism there can be no existence for civilisation ..."
"B. "It is from us that the all-engulfing terror proceeds. We have in our service persons of all opinions, or of all doctrines, restoring monarchists, demagogues, socialists, communists, and utopian dreamers of every kind. We have harnessed them all to the task: each one of them on his own account is boring away at the last remnants of authority, is striving to overthrow all established form of order." [Protocol #9]
In one brief sentence, you have the essence of the New World Order Plan. The Plan intends to 'bore away at the last remnants of authority' and strive 'to overthrow all established form of order', so that their final global dictatorship may be established! I have never seen the entire essence of this Plan so succinctly stated in any other document. But, at least, you now know that Obama's objective is to 'bore away' at the last remnant of authority, specifically our coveted 'Rule of Law', which was designed by our Founding Fathers as one of the main defenses in protecting us from despotic rule. As Clinton thumbs his nose at the Law, and is not convicted for it, he is knocking down our Rule of Law.
Further, once the "all-engulfing terror" begins of which we have repeatedly warned, please remember these writings, where the authors state that this terror is coming directly from them -- government leaders-- despite what you will be told! They plan this terror so that they can finally knock down the Constitutional Government and replace it with the United Nations of the Antichrist.
But you know, Presidents Clinton and George W. Bush "bored away at the last remnants of authority and rule of law"! Our vaunted Constitutional protections have been steadily eroded for the past 30 years. Soon, the time for World War III will come, out of which the Masonic Christ will stride.
Are you spiritually ready?
---
Popular New Hoggard DVD's
These two DVD's demonstrate Pastor Hoggard's thorough understanding of Freemasonry and the role it has played in shaping Western history the past 500 years!
"The Cult of 33" - Luciferian's brag that the numbers '33' and '11' are the most sacred numbers in their world. But, they are important in God's Bible as well. This study will startlingly show that the Beast of Revelation—the man of sin—has a corresponding signature and timely Biblical wisdom will help devoted students of the Bible discern between the real Jesus and the fake Jesus!
1 Hour, 20 Minutes -- Watch Trailer
"Supermen of the New World Order: Racing Towards Godhood" -- New World Order advocates are not just about bringing the entire world's resources and populations under one rule, but taking man himself to the next level. In this CD, Pastor Mike Hoggard dares to expose trans-century conspiracies trying to hide the true purpose behind denying Biblical creation and earth's final redemption. Ever-increasing hidden propaganda in movies, advertisements, books, and corporations are pushing the idea that the future human is on a fast track to evolve into a higher being—by genetic manipulation and startling advances in technology—man's own creation of a super race in no need of God's salvation or grace. See how your church may be buying into evolution without even knowing it!!
Transhumanism is raging down upon all mankind, whether we like it or not or whether we it or not. Only God can put an end to this madness of using genetic research to rewrite human beings and his entire world. '.. except that the Lord had shortened those days, no flesh should be saved.." (Mark 13:20) - 1 hour 18 minutes
Other Great New Bookstore Items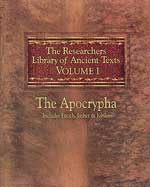 "The Researchers Library of Ancient Texts"
Volume One - by Tom Horn
While none of the books within this Volume 1 can be considered inerrant as the Holy Bible, they nevertheless contain historically accurate information which will enable Bible students to better understand the\ Ancient World in which the Old and New Testaments occurred.
These ancient texts provide commentators' valuable insight into ancient Jews and early Christians.
Contained in this volume: The Book of Enoch, The Book of Jasher, The Book of Jubilees, 1 Esdras, 2 Esdras, 1 Maccabees, 2 Maccabees, Tobias, Judith, Wisdom, Sirach, Baruch, Susanna, Prayer of Azariah, Prayer of Manasseh, Bel and the Dragon, and Laodiceans.
577 pages, over 3 pounds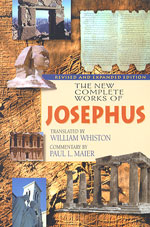 "The New Complete Works of Josephus"
No source, other than the Bible itself, provides more relevant information on the first century than the work of Flavius Josephus. This newly edited version updates the original 18th century language; includes commentary by the award winning author and historian, Dr. Paul L. Maier; features over forty photos of ancient sites and artifacts mentioned by Josephus; cross references numbers throughout to the Greek text of Josephus in the Loeb Classical Library; and offers revised indexes of subjects and Old Testament texts. http://www.cuttingedge.org/detail.cfm?ID=2387
1,152 pages - Great Value at only $19.99!
"God's Undertaker - Has Science Buried God?"
New Edition by John Lennox - 224 pages
If we are to believe many modern commentators, science has squeezed God into a corner, killed and then buried him with its all-embracing explanations. Atheism, we are told, is the only intellectually tenable position, and any attempt to reintroduce God is likely to impede the progress of science.
Is it really true, he asks, that everything in science points towards atheism? Could it be possible that theism sits more comfortably with science than atheism? Has science buried God or not? Now updated and expanded, God's Undertaker is an invaluable contribution to the debate about science's relationship to religion.
This book is a scientific detective story, which keeps the reader on their toes as the evidence is put in place bit by bit. http://www.cuttingedge.org/detail.cfm?ID=2385
"The New Atheism"
"10 Arguments Which Do Not Hold Water"
Book by Michael Poole - Incredible offer at Only $4.95
The new atheists are putting out new books and articles, bus ads, and TV programs like there's no tomorrow. They've gained a large amount of public attention and media exposure—but do their arguments really hold water?
Using the analogy put forward by the esteemed philosopher Anthony Flew, Michael Poole examines the new atheists' use of the 'ten leaky buckets' tactic of argumentation—presenting readers with a sum of arguments that are each individually defective, as though the cumulative effect should be persuasive. Thiscloser look at the facts reveals that the buckets are, indeed, leaky. http://www.cuttingedge.org/detail.cfm?ID=2386
---
Shipping Now - James Sundquist New DVD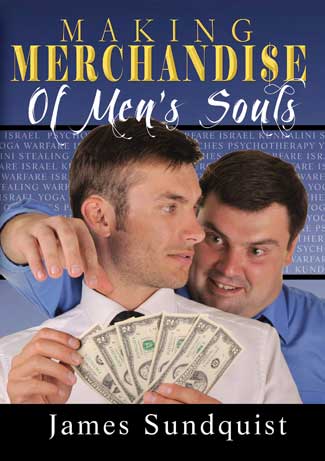 "Making Merchandise of Men's Souls"
''...through covetousness shall they with feigned words make merchandise of you: whose judgment now of a long time lingereth not, and their damnation slumbereth not.'' (2 Peter 2:3)
At this End of the Age, Sundquist proves that Satan is 'making merchandise of men's souls' in three distinct areas: 1) Modern Psychotherapy vs Scripture - Occult and New Age authors boldly brag that the human founding fathers of Psychotherapy and Psychology received their understandings from Familiar Spirits! Yet, today even 'christian' churches are using Psychotherapy to screen pastors and missionaries; 2) Some pastors today are taking control over churches, over church bank accounts, and then selling the land and the church! 3) Global Conspiracy to divide the land of Israel for monetary and political gain! Sundquist reveals that this plan was conceived over 100 years ago, and brings down God's special judgment in Joel 3.
Almost 4 hours of solid Biblical teaching.
Watch Trailer -- "Meet The Author" - Bio of James Sundquist
Related Books By James Sundquist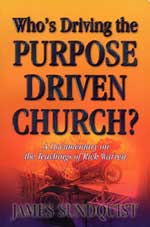 "Who's Driving The Purpose Driven Church?"
"A Documentary on the Teachings of Rick Warren""
The "Purpose Driven Life" by Rick Warren has become a #1 bestseller and has been distributed to over 180,000 pastors worldwide. His theology has infiltrated almost every Christian denomination, coming like a flood into a city, leaving no house untouched. It is imperative we "test the spirits" of his teachings to see if they come from God.
This book complements both "Deceived On Purpose" and "Outcome-Based Religion". This book exposes Rick Warren's SHAPE Program and its Carl Jung occultic foundation. This shocking revelation proves that Rick Warren is really practicing sorcery and even enforcing on members of his own congregation. -- 185 pages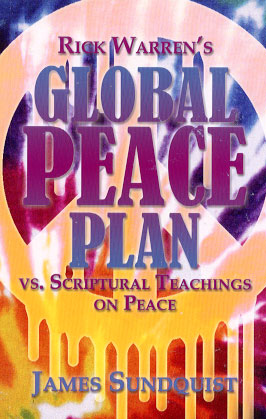 "Rick Warren's Global Peace Plan vs. Scriptural Teachings on Peace"
This book compares Rick Warren's touted global PEACE plan to Scriptural teachings. Warren announced his global PEACE plan on April 17, 2005, at the Angel Stadium in Anaheim, California to an audience of 30,000 people.
What is so startling about Warren's PEACE plan is NOT so much what it contains, but what it does NOT contain. Warren does not mention our adversary in spiritual warfare; he does not mention the Holy Spirit; where is the Prince of the Power of the Air as taught in Scripture? Any Biblical PEACE PLAN must confront Satan and defeat him if it is to produce peace.
Rick Warren's PEACE plan presents the peace as the world knows it - a plan falsely promising a lack of conflict in this world. Warren does not mention the PEACE which Jesus provides His believers, which is a peace of the heart produced by a lack of fear of God's eternal condemnation.
Since Warren's PEACE PLAN is unbiblical, it will not work and will dangerously lull many people to sleep at the very time in prophetic history when they need to be spiritually alert and prophetically aware.
---
New Headline News Articles
"... all liars shall have their part in the lake which burneth with fire and brimstone..." (Rev 21:8)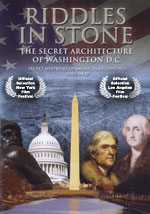 DVD
Should Christians Insist On Tearing Down The Washington Monument?
Even though the Washington Monument is the most disgusting symbol in all Satanism, Americans have allowed it to be honored as the most important symbol of this country! Do you know enough to be scared?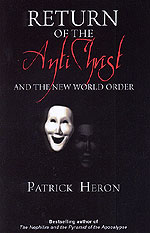 "When Antichrist Steps On To The World Stage. How Will People See Through His Deception?"
To misstep in identifying Antichrist could cause you to be cast into Hell for eternity!
http://www.cuttingedge.org/news/n2457.cfm
---
Lucifer's Conspiracy and Spiritual Warfare
New DVD by Pastor Hoggard
Spiritual Nature of Conspiracies are working feverishly in the world today, driving all mankind into the New World Order (Isaiah 14:12-14). Hoggard reveals how evil spirits are leading wicked men to create events which will establish Antichrist on the world scene in such a way as to create the Kingdom of Antichrist.
These poor world leaders are forced to create a plan which fulfills God's Prophecies precisely, even though they hate him exceedingly .
Hoggard further demonstrates the sacred occult numbers by which the Satanic New World Order is being established, in current news events -- 11, 22, 33, 77, 99. INCREDIBLE!
This DVD is most definitely Pastor Hoggard's best, and one of his longest, 1 hour, 48 minutes. Still only $14.99
New Book!
"Defiant Grace"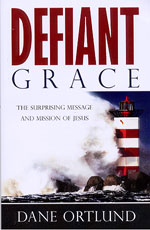 Jesus Defiantly Proclaimed Salvation By Grace; We Need to Defiantly Live Our Lives By His Defiant Grace
The Bible tells us that 'Salvation Belongs To The Lord - Ps 3:8. Yet, Christians believe that, after we are saved, we have to work to keep our salvation. The difference between 'religion' and the gospel of grace is that religion ADDS burdens by announcing that Jesus plus something equals everything while the gospel of grace ABSORBS burdens by announcing that Jesus plus nothing equals everything.
Law feels safe. Grace feels risky. We often speak about grace with a thousand qualifications which reveal a paralyzing fear that grace will be taken too far.
It is time to enjoy grace anew, Paul promised, 'Ye are not under law but under grace" (Rom 6:14) Paul also said 'For it is by Grace ye are saved, not of works...Eh 2:5
This book is for the mature Christian who is frustrated by the lack of spiritual progress in their life; get ready to dive deeply into the ocean of Grace!
---
"The Ancient Book of Enoch DVD: The First Book Ever Written "
The Book of Enoch is a treasure, perhaps hidden away just for these last days. Many know of it but few know of its contents. Can this ancient text be trusted? Is it credible? In this 6-hour DVD series, J. R. Church and Gary Stearman take you on a comprehensive, cover-to-cover tour of this amazing book.
You will learn about the fallen angels who entered Earth through a "stargate," located on the peak of Mt. Hermon, where they swore an oath to complete their corrupting work among men. Enoch enters a flying house and journeys to heaven, sheol and all around the world! His descriptions are absolutely breathtaking in their realism; he literally travels through time!
5 hours on 4 DVDs
Watch TV Interview on "The Ancient Book of Enoch"!
---
'2012 & Beyond: Combination Offer'
Saves You $30.00!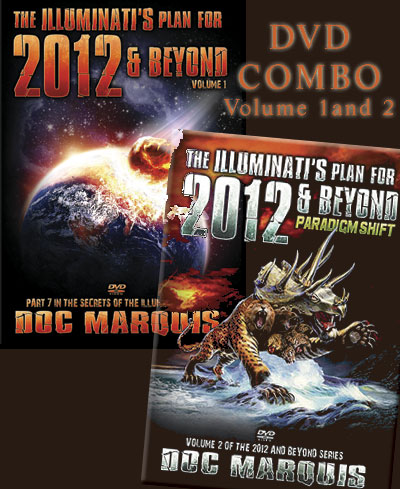 '2012 & Beyond: Combination Offer'
Regularly $79.88 If You Buy Them Separately
Now Only $49.88
This world may, indeed, suffer the greatest calamity in history, but this catastrophe will NOT be any of the proposed doomsday scenario for December 21, 2012, offered by the Mass Media.
This DVD series examines many of the Mass Media scenarios and then shows how each of them simply will not occur.
What may occur, however, is a demonic plan revealed only by the Black Magick Secret Society, The House of Theosophy. This disaster from the Abyss is called the 'Paradigm Shift Producing The Universal Mind'.
Doc Marquis correctly identifies it as a global demonic possession of all unsaved people!
We also examine the possibility that God might send His 'strong delusion' (2 Thess 2:11) This DVD closes with a dramatic appeal for genuine Christians to aggressively reach out to sow Gospel Seed to the unsaved people in their lives, before this 'strong delusion' hits with full force.
This combination offer contains 4 DVD's and has nearly 7 hours of teaching. A Plan of Salvation is offered at the very end of both DVD sets. http://www.cuttingedge.org/detail.cfm?ID=2367
Watch Trailer For Volume 2, Paradigm Shift
---
More Headline News Articles
Compilation of False But Scary Economic Collapse Headlines - Beginning in 2001, Continuing through 2005 -- Part 1
We shall prove that fake news headlines screaming imminent economic collapse have occurred regularly every single year since 2001! All these headlines have proven to be false, but people still are scared when another fake collapse headline occurs in their daily news.

What did Jesus predict at the End of the Age: "... men's hearts failing them for fear"
Ezekiel 38-39 Russian Led Invasion of Israel
The Demonic Overlord of Russia Will Lead The Way!
Mitt Romney Is Hiding A Secret He Does Not Want You To Know
Mitt Romney – The Man Who Plans To Become A God In This Lifetime! A guest column from Ed Decker, Founder, Saints Alive
---
New Fascinating DVD's
The Watchers Have Returned!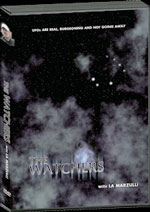 "The Watchers: UFO's Are Not Going Away"
New DVD by Dr. Marzulli - Recognized Expert On The Nephilim
Dr. LA Marzulli has produced a spectacular DVD on the UFO phenomenon, one of the most confusing and unexplained mysteries of our time. Until now. Marzulli offers his own unique perspective on the subject and how this deception plays a part in end-time prophecy. When will the world meet these alien creatures in their flying machines? Is a face to face encounter right on the horizon? Marzulli believes we are being set up for a great deception.
He answers a lot of questions on his DVD including: 1) What are those strange lights in the sky? 2) What factual proof is there of UFO's 3) Are people interacting with UFO's now? 4) Why do people feel the phenomena is benevolent? 5) Cattle Mutilations 6) Abduction Phenomena 7) Alien Implants
You will be amazed! http://www.cuttingedge.org/detail.cfm?ID=2347 Watch the interview of Dr. Marzulli or order at this link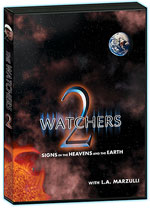 "The Watchers 2: Signs In The Heavens and the Earth"
New DVD by Dr. Marzulli - Recognized Expert On The Nephilim
Why are the nations of the world in turmoil? What is happening with all the changes in the sun and the moon? Why are birds dropping out of the air and millions of fish dying without explanation? Why are sinkholes of gigantic proportions appearing all over the Earth? What is causing increased volcanic activity in Japan, Italy and Iceland? Why are we seeing earthquakes of 7.0 or greater, seemingly on a weekly basis? And what about the UFO seen over the Temple Mount? Was that from God and his angels, or from the dark side?
Something has changed and Watchers 2 will try to investigate to see if the ancient texts are accurate. Are we entering a period where there will be an escalation in wars, earthquakes and famines, including signs in the skies and the heavens? L. A. Marzulli interviews the experts in this sequel to The Watchers.
What a marvelous quality presentation! Watch the trailer or order http://www.cuttingedge.org/detail.cfm?ID=2348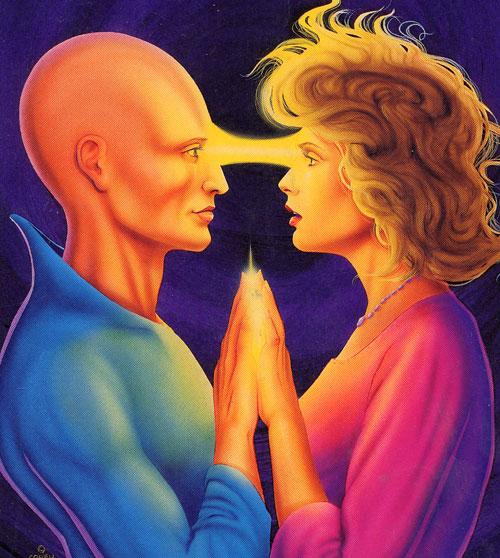 Quotable Quotes
"UFO's and Aliens are part of the New World Order. They are benevolent beings which will aid mankind in attaining the goal of becoming one humanity. They will appear at the proper time to enable mankind to make that Quantum Leap of Collective Consciousness -- when the Christ appears." (Bill Lambert, New England Director, House of Theosophy, Seminar, August 18, 1991)
"[New World Order Planners] have plans to bring about things like earthquakes, war, the Messiah, an extraterrestrial landing, and economic collapse. They might bring about all of these things just to make sure it does work...The Illuminati has all the bases converged." (New Age author, Bill Cooper, Behold A Pale Horse, p. 177

---

Purchase a 1-Year Subscription, you may select 1 FREE gift
Purchase a 2-Year Subscription, you may select 2FREE gifts
Purchase a 3-Year Subscription, you may select 3 FREE gifts
Purchase a 4-Year Subscription, you may select all 4 FREE gifts
We have changed our FREE gifts available to you when you subscribe to Headline News, adding two Pastor Hoggard DVD's to the Seminar Tapes and the Radio Collection CDROM.
---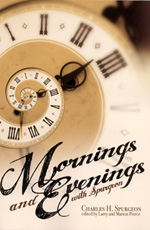 --------Concluding Inspiration ---------"The power of His resurrection." Philippians 3:10
The doctrine of a risen Saviour is exceedingly precious. The resurrection is the corner-stone of the entire building of Christianity. It is the key-stone of the arch of our salvation. It would take a volume to set forth all the streams of living water which flow from this one sacred source, the resurrection of our dear Lord and Saviour Jesus Christ; but to know that He has risen, and to have fellowship with Him as such—communing with the risen Saviour by possessing a risen life—seeing Him leave the tomb by leaving the tomb of worldliness ourselves, this is even still more precious.
The doctrine is the basis of the experience, but as the flower is more lovely than the root, so is the experience of fellowship with the risen Saviour more lovely than the doctrine itself. I would have you believe that Christ rose from the dead so as to sing of it, and derive all the consolation which it is possible for you to extract from this well-ascertained and well-witnessed fact; but I beseech you, rest not contented even there. Though you cannot, like the disciples, see Him visibly, yet I bid you aspire to see Christ Jesus by the eye of faith; and though, like Mary Magdalene, you may not "touch" Him, yet may you be privileged to converse with Him, and to know that He is risen, you yourselves being risen in Him to newness of life. To know a crucified Saviour as having crucified all my sins, is a high degree of knowledge; but to know a risen Saviour as having justified me, and to realize that He has bestowed upon me new life, having given me to be a new creature through His own newness of life, this is a noble style of experience: short of it, none ought to rest satisfied. May you both "know Him, and the power of His resurrection." Why should souls who are quickened with Jesus, wear the grave-clothes of worldliness and unbelief? Rise, for the Lord is risen.
"Morning and Evening Devotions", by C.H. Spurgeon
---
"President Bush:
Evil vs Good Fruits"
Directory of all news articles
Free Radio Transcripts

Free Headline News Archives

Freemasonry

What Saith Rome

Teachings from the Catechism

Bookstore

Meet the Staff

Weather Control

School Shootings

Understanding Clinton
May Jesus Richly Bless You,
David Bay, Director
866-909-2850 Toll Free Customer Service - Order Line
803-356-2850 Customer Service - Order Line - For Out of Country Customers
803-356-2860 Fax