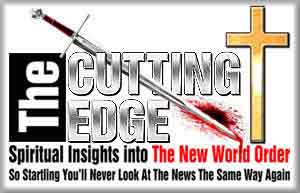 "HELP"! Crossing The Finish Line
Monday 2/19/2018

---
Our Ministry Is In Dire Straits
As our world spins toward the prophetic "finish line", we suddenly have suffered a completely unexpected plunge in income -- from donations, monthly support and bookstore.
We are bleeding out so profusely that we need your help now. In the spirit of the Biblical admonition, "ye have not, because ye ask not" (James 4:2), we ask your support so that we can actively "contend for the faith" at the most critical moment in world history, that time when demonic forces are staging the "Wars and Rumors of Wars" necessary to finally bring the Masonic Messiah (Antichrist) to the world scene.
As people witness the unparalleled warfare in the Middle East, and are frightened out of their wits during the Korean nuclear confrontation, their hearts will be opened so that they will seek peace in their hearts through Jesus' precious Gospel force finally flowing in them.
We have always believed that, if Christians are actively spreading the Gospel during this time when "men's hearts are failing them for fear", we might see the greatest brief period of soul-winning since Jesus resurrected from the grave.
And, we have always believed we would be leading this soul-winning charge. God has certainly placed us in position. But, unexpectedly, even minimum financial support has virtually disappeared.
We are especially appealing to the 98% of people who read us regularly but never support us. Please make a donation now --

If you wish to make a contribution, you can use our electronic Form from the link above, call us at 800-451-8211, 803-356-2850 or mail a check or money order to: Cutting Edge Ministries, 1792 South Lake Drive, Lexington, SC, 29073.
We also need Monthly Support. Our current level is down 75%. HELP --
We need your help to progress onward. We have tried to earn your support:
1) We have cut prices on numerous items in the Bookstore -- Special Offers -- plus Big Savings on Closeouts and 217 Items marked down, some up to 75% off! We also attempt to bring in new items regularly , in order to keep the Bookstore fresh. . http://cuttingedge.org/on_sale.cfm
2) We publish free a News Alert and Newsletter each week, keeping you abreast of the dizzying pace of prophetic events as they occur.
We desperately need your assistance and we need it now. Will you help? We do not have enough cash reserves to meet our first of the month obligations, and we owe some vendors.
Please stand with us at this most exciting opportunity.
You will stand with us on Rewards Day, receiving your reward for supporting in this soul-winning moment in world history.
May Jesus Richly Bless You,
David Bay, Cutting Edge Ministries
Serving the Lord online for 22 years this June 10
Already reaching 3 million people with the Gospel of Jesus Christ