News Alert & Bookstore Bulletin

Friday, April 8, 2011

Customer Service 1-800-451-8211

Scheduled News Alerts/Newsletters

Mon. 11am - Alert

Thurs. 6pm - Alert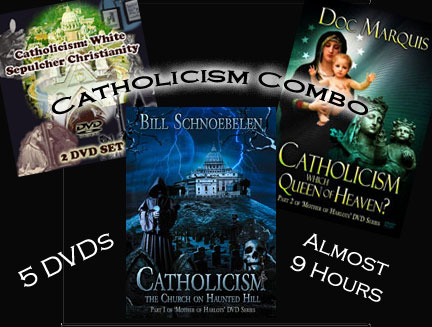 Blockbuster Catholic DVD Sales Offer: Save 50%!
"Which Queen of Heaven", "White Sepulcher Christianity", & "Church On Haunted Hill" Combination Sale
Regular Price: $94.97
Sale Price: $47.48

Cutting Edge created each of these DVD's expressly to prove that Catholic priests are inherently sexual predators because of the systemic nature of the Church itself!
'Which Queen of Heaven' DVD proves that the very foundation of Catholicism is the Luciferian Babylonian Mysteries religion, which God cursed.
'White Sepulcher Christianity' dramatizes the reality that the Pope has always had a powerful demon whispering in his ear, a being Satanists call 'National Overlord'. Once you understand this truth, you will comprehend the true nature of the Catholic Church.
'Church On Haunted Hill' provides the final answer as to why Catholic priests are so sexually deviant. One of their doctrines taught priests is the 'Unforgivable Sin' (Matt 12:31)
Nearly 10 hours of video! http://www.cuttingedge.org/detail.cfm?ID=2321
ANNOUNCEMENT: ALL Roman Catholic Bookstore Items Are Marked Additional 20% off!
Sale Prices Are Reflected In The Sale Price Shown In The Shopping Cart.
Special Prices Effective Now Through Monday, April 11, at Midnight
Click Here To See Full Selection!
---
Key Events
I. Japan has suffered another major quake in the same general area as their March 11 quake!
A 7.4 magnitude quake has struck the same ruined area of Japan which was devastated by the 9.0 quake of March 11.
NEWS BRIEF: "Fresh quake triggers tsunami warning in Japan", CNN News, April 7, 2011
"Tokyo (CNN) -- A 7.4-magnitude earthquake struck Japan on Thursday, triggering a tsunami warning for one prefecture. Workers evacuated the Fukushima Daiichi nuclear plant following the quake, the Tokyo Electric Power Co. said. Tokyo Electric said it has communication with the plant and the power is still on. There were no immediate reports of damage ... The quake's epicenter was off the coast of Miyagi in northeastern Japan."
There was a mild damage of a tsunami locally, but not far beyond the immediate area.
"Public broadcaster NHK reported a tsunami warning for Miyagi prefecture, saying people in that area should evacuate away from the shore to a safe place. NHK also reported a tsunami advisory for Iwate prefecture, saying a tsunami is expected to arrive in coastal regions there as well. The Pacific Tsunami Warning Center said based on all available data, 'a destructive Pacific-wide tsunami is not expected and there is not a tsunami threat to Hawaii'."
"The quake was centered 207 miles (333 kilometers) from Tokyo ... (66 kilomemeters) from Sendai ... and (118 kilometers) from Fukushima, where a crisis has been under way at the nuclear plant since last month's tsunami."

DVD
II. Drug-resistant "Super Bugs" are said to be getting out of control worldwide!
NEWS BRIEF: "Drug Resistant Microorganisms Getting Out Of Control Worldwide", Medical News Today, April 7, 2011
"Experts from Europe and WHO (World Health Organization) say a considerable number of infections are becoming harder to treat because of drug resistance; treatments are getting longer and more costly, and much more life-threatening ... European experts say antibiotic-resistant infections are occurring at a rate that outstrips our ability to fight them with current medications. In the European Union over 25,000 patients die annually from drug-resistant infections that even our latest antibiotics cannot destroy."
Medical authorities have been warning for several decades now that this point would one day be reached, where new "super bug" organisms would begin to ravage the world. Sadly, common-sense steps proposed decades ago have been ignored. Now, we find ourselves in a most incredible predicament: in the guise of fighting disease, our medical methods have actually made the situation much, much worse.
Do you remember our November, 2001, article, in which we warned that the truth of a matter most often can be ascertained by looking in the exact opposite direction of the public rhetoric? Please take a few moments to read this original article: NEWS1558, entitled, "BREAKING OUT OF THE MENTAL BOX -- LEARNING TO THINK IN THE OPPOSITE DIRECTION OF PROPAGANDA TO FIND THE TRUTH"!
Instead of achieving a "knock-out blow" against deadly organisms, our medical establishment has achieved exactly the opposite! Instead of saving lives, medical malfeasance is actually taking innocent lives. But, for those who know the genocidal mentality of the Global Elite, this development is not a surprise. We should not be surprised to learn that the Luciferic Illuminati has created a plan for the "cleansing of the earth"! Cutting Edge has pointed out over the years the many instances where the total Illuminati Plan fulfills Bible prophecy precisely. This plan to reduce the population also fulfills prophecy, even to the point where the official plan calls for a 66%, or two-thirds, reduction in the population of the world!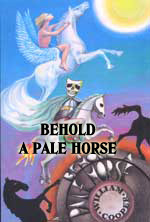 Behold A Pale Horse
Listen to the actual wording of this Illuminati Plan:
Take control of the world ... to reduce ... the world to a safe level by a process of benevolent slavery and genocide." [[Bill Cooper, "Behold A Pale Horse", p. 49. Cooper is a New Age author exposing the horror of this plan]
Can you imagine the arrogance of these Illuminati? They actually view reduction in world population as "benevolent genocide"! Is it any wonder we are spreading Depleted Uranium to at least 857 million people in the Middle East right now?
"The only alternative left to the world's ruling elite was to increase the death rate ... they did not relish the possible consequences of an enraged public upon discovering that they were being systematically murdered ... a very short but very deadly global war using nuclear weapons upon select population concentrations was contemplated and ... was not ruled out ... Dr. Aurelio Peccei of the Club of Rome ... advocated that a plague be introduced that would have the same effect as the Black Death of history." [Ibid., p. 167]
What does Biblical prophecy foretell of uncontrolled death in the Tribulation Period?
"So I looked, and behold, an ashy pale horse, black and blue as if made so by bruising] and its rider's name was Death, and Hades (the realm of the dead) followed him closely. And they were given authority and power over a fourth part of the earth to kill with the sword and with famine and with plague (pestilence, disease) and with wild beasts of the earth." (Revelation 6:8; Parallel Bible, KJV/Amplified Bible Commentary)
Jesus told us how incredibly powerful these plagues were going to be:
"There will be mighty and violent earthquakes, and in various places famines and pestilences (plagues: [a]malignant and contagious or infectious epidemic diseases which are deadly and devastating)..." (Luke 21:11; Parallel Bible, KJV/Amplified Bible Commentary)
Are these new drug resistant "super-bugs" a harbinger of these horrific plagues? I think genetically created diseases will play the largest part, but these super-bugs may provide a strong secondary push! Truly, we are seeing "Signs of the Times" all around us, every single day!
---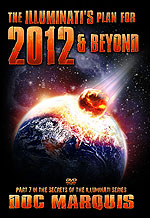 Doc Marquis' "2012 & Beyond" DVD
Mother Shipton's Incredibly Accurate Visions of End Times Events
One Example: "When Gabriel stands on sea and shore and as he blows his wondrous horn, Old World die and new be born." (New World Order)
See Many More Predictions On This New Trailer!
New Doc Marquis DVD - His Best Ever!
"The Illuminati's Plan For 2012 And Beyond"
2-Disc Set - Volume 1
Introductory Offer - Regularly $39.99, On Sale For $29.99
Now that you have read and heard the noise and chatter about the year 2012, you will be pleased to know the truth of the Illuminati Plan for 2012, from a man who knows the Plan thoroughly, former Illuminati Luciferian, Doc Marquis!
After watching this 'One of a Kind' DVD set, you will no longer wonder what will happen after December 21, 2012!
Is the end of the world near? Are we doomed to destruction? Do we have any hope for tomorrow beyond the year 2012? In this new, exciting and riveting 2 part DVD set renowned author and former Illuminati witch Doc Marquis takes up the daunting task of revealing the truth behind December 21, 2012.
At the end, through a unique series of question and answers along with comparisons of the Holy Scriptures Doc Marquis shall reveal the final truth behind the mystery of 2012.
2-DVD Set, nearly 4 hours - http://www.cuttingedge.org/detail.cfm?ID=2304
Will begin shipping on or before 4/15 - Cutting Edge is doing the editing, so we will be on time
---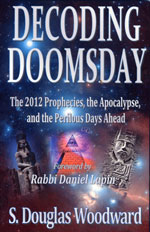 "Decoding Doomsday"
"2012 Prophecies, The Apocalypse, and Perilous Days Ahead"
Regularly $16.99, Introductory Sale $14.99
"Decoding Doomsday" is a masterpiece of well-founded research. If all the 2012 talk has you shaking your head and turning away, this book will giver you conclusive answers from a Biblical perspective, answers that you can trust.
Dozens of books have been published during the past two decades on the topic of 2012, mostly reflecting a 'New Age' perspective. This occult outlook is shaped by Mayan scholars, pseudo-archeologists, channelers, mediums, shamans and alternative historians.
Pundits penning these opinions draw upon ancient sources, including the Mayan Calendar, I Ching, the Kolbrin Bible, Platos Atlantis, Freemasonry and even Pyramidology.
So has Earth's time really come? Is this the End of the World? Flying in the face of conventional wisdom, the author asserts that we the 'apocalypse expectation' can be a healthy focus, essential to authentic Christianity. Finally, Woodward maintains that 'doomsday' is indeed decoded - history's last days are disclosed within Mosaic Law and the prophecies of the Hebrew prophets!
375 pages - http://www.cuttingedge.org/detail.cfm?ID=2319
---
"THE 12 BIGGEST LIES" DVD
Eternities' Biggest Battle Isn't Between Good and Evil ...
It's Between Truth and Lies!
From the very nature of truth to how our world began, from morality to religion, from population control to political correctness, from Israel to Islam, from atheism to God. . .our entire world runs on what we believe.
Follow Kevin Sorbo as he introduces some of the world's leading scientists, historians, theologians, philosophers, and authors, as they tackle the world's 12 Biggest Lies.
These lies are: 1) There is no such thing as truth.
2) People are inherently good.
3. No one should be offended.
4. Men and women are equal. 5. A fetus isn't human.
6. The world is overpopulated.
7. Americans are greedy and self-centered.
8. Islam is a religion of peace.
9. The Jews stole Jerusalem.
10. The earth is billions of years old.
11. There is no God.
12. Jesus was just a good man.

This is one of those videos which every Christian needs to help them contend for the faith in this lost and dying world. http://www.cuttingedge.org/detail.cfm?ID=2308
---
New Headline News Articles
"Are Chinese Troops Pre-Positioned Along U.S.-Mexico Border?"
Subtitle: The New World Order Plan does, indeed, call for China to control the region of Los Angeles all the way to the border between Mexico - Guatamala http://www.cuttingedge.org/news/n2443.cfm
"Madness Over Mormonism!"
The National Association of Evangelicals is getting ready to align with the Church of Jesus Christ of Latter-Day Saints! http://www.cuttingedge.org/news/n2442.cfm
"Mormon Glenn Beck Meets With Southern Baptist Billy Graham, Urging Him 'To Come Together' - Yoking Believers With Unbelievers!"
Beck is making major inroads to convince Evangelical leaders to support his cause. Beck has even formed his own version of the "Black Robed Regiment" to finally cement a bridge from Mormonism to Christianity. Genuine Christians are in dire danger of being mightily deceived. http://www.cuttingedge.org/news/n2441.cfm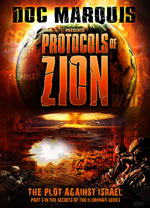 DVD
Why Is China Building Large Cities Completely Devoid of People?
The answer will shock you, for a nearly unknown part of the Plan is being implemented. This development means that the appearance of the Antichrist is closer than many think possible.
http://www.cuttingedge.org/news/n2440.cfm
Beware!! Republican and Tea Party Leaders Are Beginning To Sound The Fraudulent Warning That 'Liberal Judges' Are Threatening 'Conservative' Values!
Their phony solution? Political activism which will elect Conservative officials and judges! (Remember: Terri Shiavo was killed by Republican Judges - Republican judges provided the majority to legalize Sodomy and Abortion with Roe vs Wade)
"Truth is not what is; truth is what people think it is." (Adolf Hitler)
"What luck for rulers that people do not think." (Adolf Hitler)
http://www.cuttingedge.org/news/n2444.cfm
---
3 NEW DVD TRAILERS




---

New Pastor Hoggard DVD!

"American Goddess"

"Serpent Secret Inside The Statute of Liberty"

The flaming torch atop the Statue of Liberty is an occult symbol of Antichrist's victory over Jesus at Armageddon, and of Satan's victory over God the Father as he takes his thrown in Heaven! 'Lucifer, having regained his star and his diadem, will assemble his legions for new works of creation. Attracted by his flaming torch, celestial spirits will descend ... to earth. Then, the torch of Lucifer will signal 'From Heaven to Earth!' -- and the (New Age) Christ will answer, 'From Earth to Heaven'."

Pastor Hoggard has discovered shocking secrets within the Statue of Liberty, secrets which prove the above quote to be true! Starting with the huge spiral staircase, Hoggard demonstrates that, when a person climbs the stairs, he/she is literally ascending the occult 'Spirit of Kundalini"!

Furthermore, Hoggard demonstrates that the Illuminized French Freemasons who created the Statue of Liberty created it to shout the message to the world that America was to lead the world into the New World Order and that Lucifer was going to control the entire endeavor.

But, there are even more amazing occult facts which Pastor Hoggard systematically unfolds in this most fascinating DVD!

You will be amazed, and will want to share this knowledge with others!

1 hour 10 minutes - http://www.cuttingedge.org/detail.cfm?ID=2315

---




The Triumphant Return of Jesus Christ
New 2-DVD Set by Mac Dominick

Jesus Christ IS returning to Earth, this time as an Omnipotent Warrior King, anxious to totally defeat Antichrist and his armies awaiting Him on the Plain of Armageddon!

We are living in a world with an apocalyptic mindset. How many times have you heard references to drastic earth changes, the end of the world, or Armageddon bantered around by network news anchors or in motion pictures? The world's population is teetering on the precipice of global panic with anticipated calamities associated with December 21st, 2012 and other alarming events. Men and women are being sucked into the one-world, globalist straightjacket created by the mainstream media and are being prepared to fall into the waiting arms of Antichrist at his appearance. So many, even in Christian circles, are totally confused by false teachers.

The viewer will learn of such topics as The History and Future of Israel, The Rapture of the Church, The Building of the One-World Church, The Coming War with Russia, The Building of the One-World Church, The Identity of the Antichrist, World War III, Armageddon, the truth about December 21st, 2012, and the much-anticipated Kingdom of God on Earth.

If you want to learn what the Word of God tells of the future and make changes in your life as a result----you must get this series.

2-DVD Set, nearly 3 hours - Order NOW

Mac uses the King James Version

We completed shipping last week, two weeks ahead of schedule!

---

NEW Hoggard DVD

"All-Seeing Eye"

"Satan's Attempt At Omniscience"

Only $14.99

Satan must create through scientists the incredibly sophisticated global surveillance system we are seeing spreading over the entire earth -- because he is not God!

The Scriptures tell us that God is the all powerful, all seeing God. Satan wants to 'be like the most High' Isaiah 14, but he is not as powerful as God, and he is limited in what he can see.

He needs a network. A network of sophisticated technology, organizations, and people so that he can have total control of planet earth.

In this 1 hour and 20 minute presentation, Pastor Hoggard shows the spiritual forces that are behind the spy and surveillance infrastructure that is being built right now to bring the world into a New world Order.

http://www.cuttingedge.org/detail.cfm?ID=2303

Declaring Truth About Mormonism

"Mormonism's Temple of Doom - 2012 Election Alert"

New 2-DVD Set by Bill Schnoebelen

Dynamic Trailer - What's Under That Dome?

Schnoebelen was told by his Coven Master that, if he ever got into trouble, he was to join the Mormon Church because it was 'created by Witches for Witches'! But, in the past 50 years, the Mormon (LDS) Church has managed to grow from a small fringe cult to a major world religion of considerable respectability. Mormons like Mitt Romney and Glenn Beck have achieved amazing followings and many Americans have come to believe that Mormons are just another Christian denomination with fine, conservative, family-based values.

However, beneath the sweet surface of LDS Public Relations, there lurks one of the most dark and twisted religions to emerge in American history. You will discover that, just as Mormonism is not Christian, the Mormon Family is not the same as the Christian Family.

We include a section warning genuine Christians not to support a Mormon for President, providing critical Scriptural references. Evangelical leaders are already urging Christians to support a Mormon for President. http://www.cuttingedge.org/detail.cfm?ID=2297




---

New Book

"The Defender's Guide for Life's Toughest Questions"

by Pastor Ray Comfort

When an atheist or a rank unbeliever wants an answer, will you have one? It's tough to be a believer in today's world- especially if you are a student in an academic system intent on destroying your faith. Bestselling author and television co-host, Ray Comfort, has collected some of the toughest questions people will face in defending their faith and offers sound biblical responses. Each issue is one that has been raised by genuine atheists. Don't be without these powerful facts when you face a world trying to twist and confuse biblical truth. The Defender's Guide for Life's Toughest Questions discusses topics such as: 1. Humanity: Rights and Suffering 2. The Bible: Biblical and Theological Issues 3. Science: Scientific Thought and Evolution 4. Philosophy: Beliefs and Worldviews 5. Religion: God and Atheism

What is wrong with using 'filthy language'? Biblically or otherwise? Do you really believe the Holocaust was God's punishment of the Jews?

Ray Comfort tackles these questions and many more in The Defender's Guide for Life's Toughest Questions. Learn how to approach these types of questions with confidence, biblical truth, and loving kindess! http://cuttingedge.org/detail.cfm?ID=2312

---

"Scripture cannot be broken" (John 10:35)


"How Do We Know The Bible Is True?"

DVD, 4-Pack

Regularly $49.99, On Sale For Only $39.99, Saving You $10.00!

How Do We Know the Bible Is True? is an essential primer of basic Christianity and apologetics that every believer should know. A 4-part collection, it is excellent both for personal enrichment and small group studies. Packaged in a sturdy library case, each DVD features the acclaimed British theologian and Bible teacher Brian Edwards (one of Ken Ham's favorite apologists).

Nicene Council - a very Fundamental group -- sells this DVD set very well!

This combo includes a FREE Leader Guide/Workbook suitable for personal and small group use. (76-pages, $9.99 value). Total retail value of all components is $61.95. SAVE $21.96. http://www.cuttingedge.org/detail.cfm?ID=2299

Satan's Attack On Scripture

"A Lamp In The Dark" DVD

Bold Expose' of Roman Catholicism As The Bloodthirsty Religious Harlot of Revelation 17

by Chris Pinto, Editor and Filmmaker of the Secret Mysteries of America's Beginnings Videos

A Lamp In The Dark DVD is an exciting documentary showing the intriguing history of the Bible, the most blood-stained book in history! You enter into a world of saints and martyrs batting against spies, assassins and wolves in sheep's clothing.
This DVD unfolds the fascinating 'untold' history of the Bible. Reveals critical information often overlooked in modern histories.

During the Middle Ages, Catholic Popes and the Inquisition forbade Biblical translation, threatening imprisonment and death to those who disobeyed this edict. Learn about the sacrifice of men like John Wyclife, Martin Luther, William Tyndale, Myles Coverdale and others, who hazarded their lives to communicate the Bible in languages which the common people could understand.

Filled with rich visual graphics and dramatic re-enactments of key historic events

3 hours long -- Watch Trailer

"A Lamp In The Dark" dramatically demonstrates Satan's hatred of the Scriptures, which God had so faithfully preserved, as revealed by "How Do We Know The Bible Is True" DVD series!

---

"Combo Offer DVD: Secrets of the Illuminati"

All Six Titles by Doc Marquis, 7 DVDs, , Save $80

Regularly $229.94, Now Only $149.94, You Save $80

Each of these unique DVD's provides information on a part of the Illuminati Plan which only a former Satanist / Illuminati would know. Furthermore, much of the information Doc Marquis provides is the 'Oral Plan', which is the parts of the plan to produce Antichrist which is so evil that it is never written down.

6 DVD titles, over 18 hours of teaching, Save $80

Doc Marquis uses the King James Bible

Trailer Available At Each Item's Location in the Shopping Cart - http://www.cuttingedge.org/detail.cfm?ID=2249


---

Call us for Customer Service at 800-451-8211

Subscription Promotion

Cutting Edge cannot continue unless we keep a certain level of Yearly Subscriptions and so once or twice a year we run a special giveaway subscription offer. Please reach out at this most difficult time to help support Cutting Edge Ministries. We are reaching 120,000 people a year with the Gospel in five languages so your subscription will enable that wonderful spiritual eternal fruit to continue.

One Year Subscription - Choose 1 FREE Item

Two Year Subscription - Choose 2 FREE Items

Three Year Subscription - Choose 3 FREE Items

Four Year Subscription - Choose 4 FREE Items

Click here to subscribe or just check out the gift options:

---
View Our Entire Video Viewing Room
As always we ask you to pray daily for this ministry.
Be sure to visit the Sale items and Special offers sections where you will find 28 Special offers and 121 items on Sale.
David Bay, Director, Cutting Edge Ministries
1792 South Lake Drive, Ste. 90 PMB 300, Lexington, SC 29073

800-451-8211