News Alert & Bookstore Bulletin

Thursday, August 11, 2011

Customer Service 1-800-451-8211

Scheduled News Alerts/Newsletters

Mon. 11am - Alert

Thurs. 6pm - Alert
NEW BOOK - Return of the Antichrist And The New World Order
The Fallen Angels of Antichrist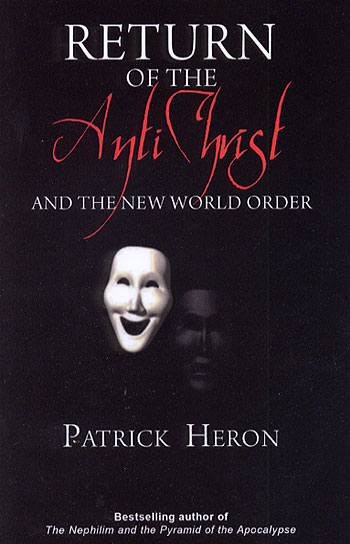 WARNING This book is not fiction and may change your life forever!

This book is an in-depth study of the Beast's past, present and future which debunks most of the common and accepted assumptions of the Antichrist and instead presents a sculpturally based study of he who is to come; The Beast who ascends out of the Abyss having seven heads and ten horns.
Genesis 6:4: "The Nephilim were on the earth in those days and also after that…they were the heroes of old, men of renown." Nephilim in Hebrew means 'the fallen ones'. These were evil fallen angels who appeared on the earth in those days and caused the violence, bloodshed and chaos which resulted in a world-wide Flood. "As it was…so shall it be." After the Apocalypse begins, these same fallen angels, plus Satan and all the rest of those that rebelled with him, will once again manifest on earth in plain sight. They will be led by a man most call The Antichrist. But in Revelation he is not given this name. John refers to him as The Beast from the Abyss. ORDER YOURS TODAY

Be sure to visit our Face Book page
and like us so we can keep you updated
and you can share us with your friends.
---

Key Events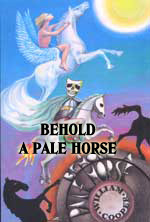 I. Listen to the typical arrogance of one of our Senators, as he lets the mask covering Illuminati arrogance slip just a little too much!
NEWS BRIEF: "Alan Simpson: Social Security Is Like a 'Milk Cow with 310 Million Tits!' " , CBS News August 25, 2010
"In a letter responding to criticisms against him from a group representing older women, former Wyoming Sen. Alan Simpson wrote that he has 'spent many years in public life trying to stabilize' Social Security. However, he wrote, 'Yes, I've made some plenty smart cracks about people on Social Security who milk it to the last degree. You know 'em too. It's the same with any system in America. We've reached a point now where it's like a milk cow with 310 million tits!' "
How arrogant can this Senator be? Has he forgotten that Social Security was created by the most popular President in the modern era, Franklin Roosevelt, and that both the President and Congress were warned by demographers that this system could not remain viable through the end of the 1980's?
Let us listen to some of the remarks about Simpson's remarks from an average American.
"Hey Alan, let's get a few things straight.

1. As a career politician, you have been on the public tit for FIFTY YEARS.

2. I have been paying Social Security taxes for 48 YEARS (since I was 15 years old. I am now 63).

3 My Social Security payments, and those of millions of other Americans, were safely tucked away in an interest bearing account for decades until you political pukes decided to raid the account ..."
4. Recently, just like Lucy & Charlie Brown, you and your ilk pulled the proverbial football away from millions of American seniors nearing retirement and moved the goalposts for full retirement from age 65 to age 67. NOW, you and your shill commission are proposing to move the Goal posts YET AGAIN.
5. I, and millions of other Americans, have been paying into Medicare from Day One, and now you morons propose to change the rules of the game. Why? Because you idiots mismanaged other parts of the economy to such an extent that you need to steal money from Medicare to pay the bills.

6. I, and millions of other Americans, have been paying income taxes our entire lives, and now you propose to increase our taxes yet again. Why? Because you incompetent b****** spent our money so profligately that you just kept on spending even after you ran out of money. Now, you come to the American taxpayers and say you need more to pay off YOUR debt."
"To add insult to injury, you label us "greedy"
However, the REAL problem with Senator Simpson's remarks is that they reveal the true arrogance with which our leaders of both sides of the political aisle view us. Let us review the writings of the Illuminati to see exactly how they feel about us, the average citizens of every country. First, we shall review the insightful statements found in the New Age book, "Behold A Pale Horse".
* "Those who will not use their brains are no better off than those who have no brains, and so this mindless school of jelly-fish, father, mother, son and daughter, become useful beasts of burden, or trainers of the same." [Bill Cooper, "Behold A Pale Horse", p. 64]
* "...a nation or world of people who will not use their intelligence are no better than animals who do not have intelligence. Such people are beasts of burden and steaks on the table ..." [How do YOU like being referred to as 'beasts of burden' and 'steaks on the table? You know what has to happen to the beast of burden, in order for it to become a steak on the table!!] ("Behold A Pale Horse", p. 39
* "The solution of today's problems requires an approach which is ruthlessly candid, with no agonizing over religious, moral, or cultural values." ["Behold A Pale Horse", p. 37].
* "All definitions of words, like everything else, are relative. Definition is, to a major degree, dependent upon your partisan position." [Ibid., p. 135]
* "The Illuminati plans to 'take control of the world by the use of economic 'silent weapons' in the form of 'quiet warfare' ... by a process of benevolent slavery and genocide." ["Behold A Pale Horse", by New Age author, Bill Cooper, p.49] Can you imagine a more prideful and arrogant attitude than this, to plan to kill enormous numbers of people and consider it "benevolent genocide"? Then, when they enslave those who will be left alive, they consider it "benevolent slavery"!
* ""This public behavior is surrender born of fear, laziness, and expediency. It is the basis of the welfare state as a strategic weapon, useful against a disgusting public." [Ibid., page 60]
* The man of the house must be housebroken to ensure that junior will grow up with the right social training and attitudes. The advertising media are engaged to see to it that the father-to-be is ----y-whipped before or by the time he is married." [Ibid., page 63]
* A woman with a newborn baby is too starry-eyed to see a wealthy man's cannon fodder or a cheap source of slave labor." [Ibid]
"... the secret societies were planning as far back as 1917 to invent an artificial threat ... in order to bring humanity together in a one-world government which they call the New World Order." [Bill Cooper, "Behold A Pale Horse", p. 27
Now, let us review the arrogance as revealed in the infamous Illuminati planning document, "The Protocols of the Learned Elders of Zion".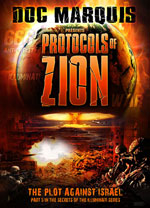 DVD
* "In order that the true meaning of things may not strike the goyim before the proper time, we shall mask it under an alleged ardent desire to serve the working classes ..." [Protocols of the Learned Elders of Zion, Protocol No.6]
* "Human beings are machines, levers which may be grasped and turned, and there is little difference between automating a society and automating a shoe factory." [Ibid, page 62]
* ""The goyim are a flock of sheep, and we are their wolves. And you know what happens when the wolves get hold of the flock?" [Protocols of the Learned Elders of Zion, Protocol No. 11]
* "... we have the power whenever we like to create disorders or to restore order ... There is another reason also why they will close their eyes: for we shall keep promising them to give back all the liberties we have taken away as soon as we have quelled the enemies of peace and tamed all parties ..... It is not worthwhile to say anything about how long a time they will be kept waiting for this return of their liberties ...." [Protocols of the Learned Elders of Zion, Protocol #11, The Totalitarian State]
Notice the arrogance and contempt these planners for the New World Order possess for the average citizen. They absolutely hate us, and they talk as though they look at us as food for the table, as steaks on the table. Indeed, they do.
So, maybe we should be thankful for Senator Simpson for speaking so boldly that he allowed the arrogance mask to come off, at least a little bit!
DVD
II. Top political figures are starting to pick the Congressional members who will be part of the unconstitutional plan to create a 12-member "Super Congress", a new group created by the debt ceiling act, who will wield tremendous power!
NEWS BRIEF: "Harry Reid Selects His 3 Picks for Deficit 'Super Committee,' ",
"Senate Majority Leader Harry Reid (D-Nev.) has picked Sens. Patty Murray (D-Wash.), Max Baucus (D-Mont.) and John Kerry (D-Mass.) as his three choices to be part of the so-called "super committee" of congressional lawmakers, Politico reported Tuesday ... each of the four party leaders in the House and Senate must name three lawmakers from within their ranks to the 12-member bipartisan panel."
We know that Senator John Kerry (D-Mass), is a lifelong member of the secret society, 'Skull & Bones".
We could not find any secret society ties from Senator Patty Murray or Max Baucus. This is somewhat surprising because the 12 Congressmen picked for this super 12 congress committee will become overnight the most powerful lawmakers in the country. They will wield powers reaching far beyond the realm of dealing with the debt ceiling. They will literally be able to create legislation no one wants and be able to stop any legislation to which they are opposed.
This "Super Congress" is a horrific idea if you are a freedom-loving American citizen, for it will "fast-track" legislation needed to finally bring the world into the global dictatorship known as the New World Order.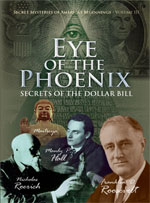 DVD
III. The American Dollar continues to be slowly dismantled as the preferred currency of the world as China called for "Global Supervision" and a new global currency.
NEWS BRIEF: "China Calls for Global 'Supervision' of Dollar, New World Currency ", The New American, 9 August 2011
"The communist Chinese dictatorship blasted the U.S. government for endangering its massive dollar holdings, calling for America to rein in its out-of-control debt by slashing military spending and welfare. The regime also demanded international supervision of the dollar and even suggested the creation of a new global reserve currency."
For the past 20 years, Cutting Edge has been warning that the American economy must slowly sink to the point where it can comfortably merge into the North American Union and then the global economy. Since the U.S. economy was slated to become no more important than the rest of the developed world, it follows that its currency - the Dollar -- must be devalued and must be replaced as the preferred currency of the world. We have noted that this deliberate erosion of the Dollar began during the Vietnam War, when President Johnson was proven wrong -- America could not afford BOTH "guns and butter". An inflation kicked off that did not stop - even today.
China's attitude toward American leaders turned sharply condescending.
" 'International supervision over the issue of U.S. dollars should be introduced and a new, stable and secured global reserve currency may also be an option to avert a catastrophe caused by any single country', the regime said."
What this statement implies is that current American leaders are incapable of handling our own affairs. Even though you may agree with this concept, remember that the management of the U.S. economy is a planned fiasco carried out by both Democrat and Republican leaders over the past 100 years.
Several years ago, while I was flying from New York City to Portland, Oregon, I picked up a magazine entitled "Business News". The front cover was very disconcerting, as it depicted the currencies of the world on fire. Rising out of the ashes was a new, One-World currency, the Phoenix, depicted like an old Roman Eagle. The article clearly stated that the currencies of the world were to give way to the new Phoenix, and that this change could only occur through economic upheaval. Get prepared for temendous economic upheaval.
In the DVD, above, "Eye of the Phoenix", we demonstrate that he Illuminati planned to someday destroy the Dollar. How do we know this? We prove that the American Eagle on the back side of the Dollar Bill was originally the Satanic Phoenix Bird. The Phoenix Bird has roots in the Egyptian Satanic Mysteries, the religion God brought into judgment as He delivered Israel from Pharaoh. This cursed religion has been revived by Freemasonry and Skull & Bones, and now is one of the Illuminist symbols for Antichrist!
According to the Egyptian Satanic Mysteries, the Phoenix Bird lives for hundreds of years, and then deliberately kills itself; its body immediately catches fire and is burned to a heap of ashes. Immediately, a new Phoenix Bird arises out of the ashes to live again. Therefore, since our original Founding Fathers voted a symbol into reality depicting a Phoenix Bird on the back of the currency of the country, they must have understood that, at the right moment, our economy was designed to collapse, burst into flame and to be immediately replaced by a new economy and a new currency (AMERO).
This collapse will not occur until the beginning of World War III, but it is interesting to see the global downward manipulation of the American Dollar!
---
The Watchers Have Returned!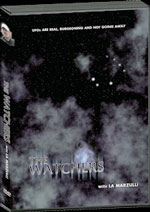 "The Watchers: UFO's Are Not Going Away"
New DVD by Dr. Marzulli - Recognized Expert On The Nephilim
Dr. LA Marzulli has produced a spectacular DVD on the UFO phenomenon, one of the most confusing and unexplained mysteries of our time. Until now. Marzulli offers his own unique perspective on the subject and how this deception plays a part in end-time prophecy. When will the world meet these alien creatures in their flying machines? Is a face to face encounter right on the horizon? Marzulli believes we are being set up for a great deception.
He answers a lot of questions on his DVD including: 1) What are those strange lights in the sky? 2) What factual proof is there of UFO's 3) Are people interacting with UFO's now? 4) Why do people feel the phenomena is benevolent? 5) Cattle Mutilations 6) Abduction Phenomena 7) Alien Implants
You will be amazed! http://www.cuttingedge.org/detail.cfm?ID=2347 Watch the interview of Dr. Marzulli or order at this link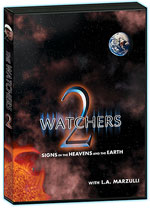 "The Watchers 2: Signs In The Heavens and the Earth"
New DVD by Dr. Marzulli - Recognized Expert On The Nephilim
Why are the nations of the world in turmoil? What is happening with all the changes in the sun and the moon? Why are birds dropping out of the air and millions of fish dying without explanation? Why are sinkholes of gigantic proportions appearing all over the Earth? What is causing increased volcanic activity in Japan, Italy and Iceland? Why are we seeing earthquakes of 7.0 or greater, seemingly on a weekly basis? And what about the UFO seen over the Temple Mount? Was that from God and his angels, or from the dark side?
Something has changed and Watchers 2 will try to investigate to see if the ancient texts are accurate. Are we entering a period where there will be an escalation in wars, earthquakes and famines, including signs in the skies and the heavens? L. A. Marzulli interviews the experts in this sequel to The Watchers.
What a marvelous quality presentation! Watch the trailer or order http://www.cuttingedge.org/detail.cfm?ID=2348
Quotable Quotes
"UFO's and Aliens are part of the New World Order. They are benevolent beings which will aid mankind in attaining the goal of becoming one humanity. They will appear at the proper time to enable mankind to make that Quantum Leap of Collective Consciousness -- when the Christ appears." (Bill Lambert, New England Director, House of Theosophy, Seminar, August 18, 1991)
"[New World Order Planners] have plans to bring about things like earthquakes, war, the Messiah, an extraterrestrial landing, and economic collapse. They might bring about all of these things just to make sure it does work...The Illuminati has all the bases covered..." (New Age author, Bill Cooper, Behold A Pale Horse, p. 177)
---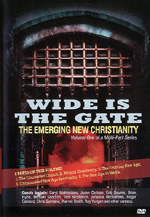 "Wide Is The Gate"
"The Emerging New/Old Paradigm Shift"
DVD - 3hrs 20 minutes
A look into the invasion of the old New Age Movement in today's Post Modern Church. Today's new brand of Christianity has a different gospel and is targeting thousands of the younger generation with a so-called hip, cool, experiential spirituality, much of which is embracing the mysticism of Roman Catholicism with its ecumenical philosophy of uniting people from all faiths to work together and bring about a new world of peace and harmony. This notion dovetails with the heart of New Age thinking and the utopian ideals of many world religions who all await their religious leaders and dreams of world domination.
The dangerous result of this new spirituality in the church is bringing about the rise of today's "Christianized" occultism. It's stretching its tentacles around the souls of unsuspecting youth, setting them up for the lie that subjective emotions of "power" and "experience" are "feelings" to be held higher than an objective walk in the Christian Faith, based in Truth found in the Pure Word of God. The Holy Bible is presented as unattainable truth: "stuffy", "dry" and "churchly"
A true "signs of the times" videos! The apostasy of the Church is here now and is taking over. Is your church threatened? Watch the trailer.
---
Time Travelers, Pyramids & Pandemonium!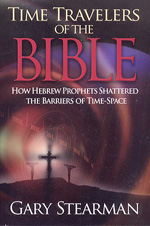 "Time Travelers of the Bible"
by Gary Stearman, Prophecy In The News
Did you know that Elijah and the Apostle John literally shattered the barriers of time and space? They were real prophets, real men, and traveling in real time.
Elijah departed in the days of Ah az and Jezebel in the 9th century B.C., and returns at the time of Christ and His disciples. He is scheduled to appear again in our near future.
John, the disciple closest to the heart of Jesus, walks through a dimensional door in our past and, travels to a time yet in our future, and returns to tell the world what he saw.
They are the Prophets and Apostles, the world's only documented time travelers. You'll be amazed at their adventures!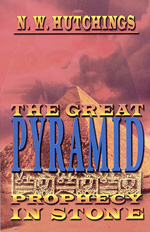 "The Great Pyramid: Prophecy In Stone"
by Dr. Noah Hutchings, SW Radio Bible
The noted historian Josephus wrote that the Great Pyramid was built by the descendants of Seth, before the flood, to record the knowledge of the heavens.
As explained by the author, Noah Hutchings, there is evidence that the Great Pyramid also incorporates a prophetic timetable for coming events, including the coming Tribulation and the return of Jesus Christ.
With words and pictures, Noah Hutchings take the reader on an exciting tour of the Great Pyramid of Cheops, and many other wonders, including the Sphinx, Memphis, Sakkara, Luxor, and Karnak.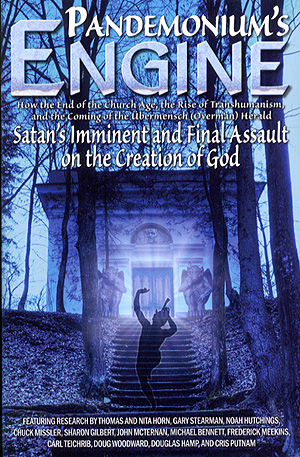 "Pandemonium's Engine:
Satan's Imminent and Final Assault On The Creation of God "
Pandemonium's Engine is the vehicle through which these authors are informing a still-sleeping public about radical changes coming to our culture…very soon. The technological advances that have brought us to the doorstep of life-altering realities are such that the man-on-the-street is struggling to make sense of our world.
Topics include: 1) "Christian Transhumanism: Pandemonium's Latest Ploy": radically redesigning humanity. 2) Frederick Meekin, 'Examples of Transhumanism in Popular Culture'. 3) John McTernan, Embodied intelligence" robots, biocomputers; 4) Dr. Noah Hutchings, traces advances in technology from the time of another Noah, to the present time. Plus a number of other authors and subjects
Pandemonium's Engine will stun you.
---
Aliens, Sons of God & Genesis 6

NEW DVD - The Ancient Book of Enoch: The First Book Ever Written
by J. R. Church & Gary Stearman
Order now
The Book of Enoch is a treasure, perhaps hidden away just for these last days. Many know of it but few know of its contents. Can this ancient text be trusted? Is it credible? In this 6-hour DVD series, J. R. Church and Gary Stearman take you on a comprehensive, cover-to-cover tour of this amazing book. You will learn about the fallen angels who entered Earth through a "stargate," located on the peak of Mt. Hermon, where they swore an oath to complete their corrupting work among men. Enoch enters a flying house and journeys to heaven, shell and all around the world! His descriptions are absolutely breathtaking in their realism; he literally travels through time!
Although never placed in the canon of Scripture, it has long been held, by both Jews and Gentiles alike, to be an authentic and valuable work. J. R. Church was always fascinated, but frustrated, that so little credible research had been done on it. He wanted to compare the writings of Enoch to the Bible and searched in vain for a usable commentary. So he wrote his own! The results of his lengthy research and study are on these four amazingly informative DVDs.
* Watch TV Interview on "The Ancient Book of Enoch"
5 hours on 4 DVDs
---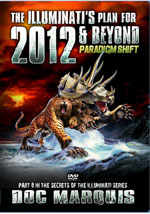 "Paradigm Shift: The Illuminati's Plan For 2012 And Beyond"
Is it possible that the Satanic Paradigm Shift leading to a Universal Mind could come in the form of a world-wide Marion apparition? We demonstrate that the Roman Catholic Papacy is anxiously awaiting just such an apparition as it will validate the Catholic Church as the only true worldwide church and will propel the Pope into position as the top world religious leader. Satanists call this event the Paradigm Shift while Catholics would call it a "Marion Apparition", but the result will be the same, the Universal Mindset.
Perhaps The Most Important "Watchman on Wall" Message EVER!
Now Shipping!!
See New Trailer Below!
New DVD by Doc Marquis, 2-Disc Set - Volume 2
On December 21, 2012, the world is supposed to enter into a New Age of spiritual enlightenment and awareness. The astrological chart cast for December 21, 2012, depicts the Yod – the finger of God – pointing to this new spiritual energy and spiritual healing.
For the past several thousand years, mankind has been collectively yearning for a spiritual healing of the nations, a time when wars, hatreds and divisions will miraculously give way to peace, love and unity. New Age literature abounds with this message of hope and change. Authors teach that this idyllic new "Garden of Eden" will occur only after the New Age Christ is on the world scene, leading mankind into a most peaceful New World Order.
In Volume 2, we shall examine some other cultural and spiritual expectations for 2012 and then we shall present the real point-in-history change which the Elite seem to have planned for December 21, 2012, a change known as the "Paradigm Shift". Antichrist cannot arise until and unless this paradigm shift in spiritual values has occurred. Unless God specifically stops the Illuminati, their demonic Guiding Spirits may just have this long-awaited Paradigm Shift planned for December 21, 2012. New Age adherents are looking forward to this day as enthusiastically as we Christians are looking forward to the Rapture of the Church!
3 hours long
We are praying that the conclusion will challenge Christians to get truly busy in sharing the Gospel with their unsaved loved ones and will bring the unsaved to conviction of sin so they will be saved. We demonstrate that the time is truly short!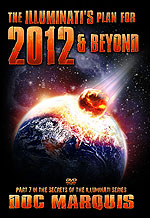 "The Illuminati's Plan For 2012 And Beyond"
Doc's best DVD yet! Now that you have read and heard the noise and chatter about the year 2012, you will be pleased to know the truth of the Illuminati Plan for 2012, from a man who knows the Plan thoroughly, former Illuminati Luciferian, Doc Marquis!
Doc thoroughly examines the lying expectations of Mass Media as to what may happen on or after December 21, 2012, and begins the journey of identifying the most probable event which may really occur, an event not even discussed by Media!
Is the New Age Christ ready to appear? Is the end of the world near? Are we doomed to destruction? Do we have any hope http://www.cuttingedge.org/detail.cfm?ID=2264 witch Doc Marquis takes up the daunting task of revealing the truth behind December 21, 2012.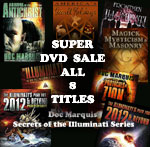 "Combo Offer DVD: Secrets of the Illuminati Series"
All Eight Titles by Doc Marquis, 15 DVDs, , Save $110
Each of these unique DVD's provides information on a part of the Illuminati Plan which only a former Satanist / Illuminati would know. Furthermore, much of the information Doc Marquis provides is the 'Oral Plan', which is the parts of the plan to produce Antichrist which is so evil that it is never written down.
'Paradigm Shift: 2012 & Beyond, Volume 2', reveals more important Mass Media expectations as to what may happen on 12/21/2012 and then reveals that the Paradigm Shift is intended to be a global mass demon possession which shall produce the Universal Mind in every unsaved person on Earth. Is this the time of the prophesied 'Strong Delusion'? http://www.cuttingedge.org/detail.cfm?ID=2333
---
New DVD From Pastor Billy Crone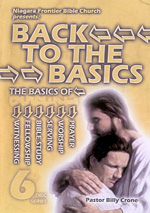 "Back To The Basics" - by Pastor Billy Crone
6 DVD Set
One of the strangest behaviors in the American Church is how we Christians can start out on fire in our walk with God, but over time we can actually consider it a drudgery to spend time with God.
So the obvious question is, "What happened?" "How did it get this way?" and "Is there any hope?" Fortunately, the answer is YES!
You see, sometimes before we can move forward in our walk with Jesus Christ, we simply need to get Back to the Basics with Jesus Christ. We need to recapture the right motive for spending time with Him and stay there. And that motive is simply this; that we have a beautiful loving intimate personal relationship with the Creator of the Universe, not some dry, stale, stupid, boring, man made religion.
Therefore, this study, Back to the Basics, encourages us to take a fresh look at why we do what we do as Christians through the eyes of a beautiful loving intimate personal relationship with God. http://www.cuttingedge.org/detail.cfm?ID=2337
---
New Headline News Articles
If Satan Preached The Gospel, Could People Still Be Saved?
In today's Apostate Churches, this question has more merit than at any other time since the Resurrection of Jesus Christ.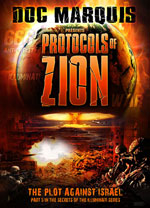 Bad News Is Designed To Depress and Scare YOU!
Incredibly, the Plan was written almost 200 years ago to use the Mass Media (Press) as the bloody battering ram to destroy the present world order so the New World Order may be established, through "oceans of blood and tears"!


---
Declaring Truth About Mormonism

"Mormonism's Temple of Doom - 2012 Election Alert"

New 2-DVD Set by Bill Schnoebelen

Dynamic Trailer - What's Under That Dome?

Schnoebelen was told by his Coven Master that, if he ever got into trouble, he was to join the Mormon Church because it was 'created by Witches for Witches'! But, in the past 50 years, the Mormon (LDS) Church has managed to grow from a small fringe cult to a major world religion of considerable respectability. Mormons like Mitt Romney and Glenn Beck have achieved amazing followings and many Americans have come to believe that Mormons are just another Christian denomination with fine, conservative, family-based values.

However, beneath the sweet surface of LDS Public Relations, there lurks one of the most dark and twisted religions to emerge in American history. You will discover that, just as Mormonism is not Christian, the Mormon Family is not the same as the Christian Family.

We include a section warning genuine Christians not to support a Mormon for President, providing critical Scriptural references. Evangelical leaders are already urging Christians to support a Mormon for President. http://www.cuttingedge.org/detail.cfm?ID=2297




---

"Combo Offer DVD: Secrets of the Illuminati Series"

All Eight Titles by Doc Marquis, 15 DVDs, Save $110

Each of these unique DVD's provides information on a part of the Illuminati Plan which only a former Satanist / Illuminati would know. Furthermore, much of the information Doc Marquis provides is the 'Oral Plan', which is the parts of the plan to produce Antichrist which is so evil that it is never written down.

'Paradigm Shift: 2012 & Beyond, Volume 2', reveals more important Mass Media expectations as to what may happen on 12/21/2012 and then reveals that the Paradigm Shift is intended to be a global mass demon possession which shall produce the Universal Mind in every unsaved person on Eath. Is this the time of the prophesied 'Strong Delusion'? http://www.cuttingedge.org/detail.cfm?ID=2333

---

Call us for Customer Service at 800-451-8211

Subscription Promotion

Cutting Edge cannot continue unless we keep a certain level of Yearly Subscriptions and so once or twice a year we run a special giveaway subscription offer. Please reach out at this most difficult time to help support Cutting Edge Ministries. We are reaching 120,000 people a year with the Gospel in five languages so your subscription will enable that wonderful spiritual eternal fruit to continue.

One Year Subscription - Choose 1 FREE Item

Two Year Subscription - Choose 2 FREE Items

Three Year Subscription - Choose 3 FREE Items

Four Year Subscription - Choose 4 FREE Items

Click here to subscribe or just check out the gift options:

---
View Our Entire Video Viewing Room
As always we ask you to pray daily for this ministry.
Be sure to visit the Sale items and Special offers sections where you will find 28 Special offers and 121 items on Sale.
David Bay, Director, Cutting Edge Ministries
1792 South Lake Drive, Ste. 90 PMB 300, Lexington, SC 29073

800-451-8211