News Alert & Bookstore Bulletin

Monday, December 5, 2011

Customer Service 1-800-451-8211

Scheduled News Alerts/Newsletters

Mon. AM - Alert

Thurs. PM - Alert
Key Events
I. Supernation #6 of the Club of Rome Plan is starting to form!
Suddenly, movement toward forming four supernations is lurching forward; Daniel 7:7-8 is being fulfilled, in our Daily News!
NEWS BRIEF: "New Americas Group Includes Cuba, Not U.S; China Cheers", The New American, December 4, 2011
"Leaders of Latin American and Caribbean governments gathered in Caracas, Venezuela, on Friday and Saturday to forge a new regional organization that includes representatives from every country in the Western Hemisphere except the United States and Canada. According to socialist rulers backing the new scheme, it is aimed at providing a counterweight to U.S. "imperialism" in the region while promoting "integration."
This next news segment reveals that this plan includes Brazil, which is geographically located at the very south of Supernation #6.
"he budding 33-member alliance — dubbed CELAC, the Spanish initials for 'Community of Latin American and Caribbean States'— is reportedly the brainchild of Venezuelan socialist strongman Hugo Chavez. Former Brazilian President Luiz Inacio Lula da Silva, who founded the shadowy but immensely powerful socialist cabal known as 'Foro de Sao Paulo' with dictator Fidel Castro and the Sandinistas, also played a key role."
Therefore, CELAC does comprise the Supernation #6 of the Club of Rome Plan. Daily now, some news comes out about one or more of these supernations which must be created to the point of fully functioning nations before Antichrist can arise. Genuine Christians, take note: the time for witnessing to your unsaved loved ones and unsaved friends and co-workers is speeding by like a rampaging freight train; do not let any more opportunities to witness to them about the saving power of Jesus Christ pass by.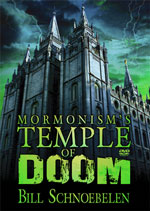 DVD
II. "The Constitution is dead and with it the beliefs and ideals America was founded on have also passed away."
These somber words are absolutely true, and set the stage for a dramatic rescue by a Mormon President!
NEWS BRIEF: "The Constitution Is Dead: The Gradual Transition towards an Orwellian Police State", Global Research News, December 3, 2011
"The destruction of the Constitution began soon after 9/11 when the Patriot Act was pushed through Congress. In the heat of the moment it seemed as if the legislation was meant to protect us from terrorism, however it was later revealed that certain provisions blatantly violated the First, Fourth, and Sixth Amendments."
In the immediate aftermath of the attacks of 9/11/2001, Cutting Edge vehemently warned against passage of the dictatorial Patriot Act, arguing that it one day would be used against naturally born American citizens with surnames of Jones and Smith -- not just against Americans with Arabic surnames -- because I could read that fact in the Illuminati Plan.
Surely, that day is arriving, much to my chagrin. This article then lists other ways in which the Constitution has been badly eroded.
1) Earlier this year, the Government renewed most of the Patriot Act.
2) "Obama argued that the UN mandate gave him the right to bombard Libya, however the mandate has nothing to do with the fact that such an action was unconstitutional as the power to declare war in held solely by Congress, not to mention the fact that it violated the War Powers Act."
3) "Just two months ago, Obama authorized the assassination of American-born cleric Anwar al-Awlaki. While al-Awlaki was a member of Al Qaeda, he was still a US citizen at the time of his death and thus he still had rights as a citizen, specifically the right due process. "
This murderous act is the most troubling and dangerous to average American citizens. It sets the legal precedent that the American President can order the assassination of any American citizen, just on the flimsy basis that the Government declares him or her to be a "terrorist". This is the stuff of which Absolute Dictatorships are made, but that is also the Illuminati Plan.
4) "Today, we see due to the brutal crackdown of the Occupy Wall Street movement in Oakland, New York, and most recently Los Angeles, that Americans are being denied their First and Third amendment rights."
This author is absolutely correct: the Constitution is absolutely dying. In fact, using the language of the Mormon End Times prophecy, "The White Horse Prophecy", the Constitution is "hanging by a thread". This is the language in the prophecy, as Bill Schnoebelen reveals in his DVD, above, "Mormonism's Temple of Doom: 2012 Election Alert".
DVD
This is also the exact phrase being uttered by Glenn Beck, in his many speeches and appearances.
We have warned on several occasions that Mormon's Glenn Beck appears to be a "John the Baptist" type of figure, preparing the hearts and minds of American voters that it is time for a Mormon President.
Glenn Beck, unfortunately, appears to be succeeding.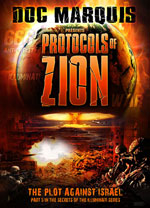 DVD
III. The "War on Terror" is shown to be a complete hoax!
The evidence is all around you, if you just would look at the facts.
NEWS BRIEF: "Is the war on terror a complete hoax?", Paul Craig Roberts, Natural News, December 4, 2011
"What if there weren't any real terrorists threatening America and the whole thing was just made up to justify a military agenda? A rational person might say that if we're all going to give up our rights, and our Fourth Amendment, and have U.S. troops in the streets running checkpoints, then logically there should at least be some evidence that America has been infiltrated with terrorists, right? Or, more specifically, evidence from a reliable source that has not already been caught lying about terrorism, which would exclude the federal government, of course."
Of course, we would exclude any government official in our search for objective truth, but we would also exclude all Mass Media, because they are tightly controlled by the government.
At this point, Roberts lists some proofs that this entire "War on Terror" is a thorough hoax.
1) "Look around you today: Do you see any terrorists? Any "towel heads" aiming guns at your family? Anybody walking around with a vest full of explosives? Nope."
2) "Have you ever seen the TSA catch a terrorist at the airport? Ever read a news report of the TSA catching a terrorist? Ever heard of an Air Marshall stopping a terrorist in-flight? Nope."
3) "Have you ever heard of the FBI halting a terrorist plot that they didn't fabricate, plan and carry out themselves? (All the terror plots "stopped" by the FBI are, on the record, planned and carried out by the FBI itself.)
"Seriously. Clear the cobwebs out of your head for a moment and think logically: Where are all these "terrorists" that we're supposed to be afraid of and give up our rights for? Where are they? Now, of course, the government can and will, from time to time, stage some sort of terrorist event to remind everyone to be afraid. That's a given. In classic Orwellian protocol, any war that grants a government unlimited power will be indefinitely sustained.
This has been the Illuminati Plan from the beginning, as we reported in April, 1992, on a radio program we were sustaining on Christian Radio in Providence, Rhode Island. Please take a few moments to read CE1060, entitled, "URBAN TERROR ONE OF FINAL STAGES TO THE NEW WORLD ORDER".
What we are seeing played out here in front of our very eyes is the outworking of the most incredibly sophisticated and demonically inspired plans of the Ages, a plan designed to gradually move the peoples of the entire world into the position where they would welcome the complete loss of Constitutional rights and freedoms, all under the guise of protecting us from nonexistent terrorists and of fighting wars overseas, supposedly to strike directly at those nations who are supporting these fictional terrorists.
Paul Craig Roberts is entirely correct: the War on Terror is a complete hoax!
---
Regular Retails Up To $30
28 Titles From Which To Choose
Regular Retails Up To $40
6 Titles From Which To Choose
---
Exciting New Prophetic DVD's - Popularly Priced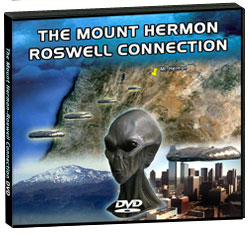 "Mount Hermon-Roswell Connection"
DVD by Ron Skiba
Mount Hermon, a mountain in Northern Israel, lies right on the Israel-Syria border, 33.33 degrees longitude by 33.33 latitude. This directly correlates to the 1947 UFO crash in Roswell, NM, which occured at the exact same coordinates, just on the opposite side of the globe! Just a coincidence or this there more here than meets the eye? Was the crash in Roswell, which the government described as a "weather balloon," an accidental crash, or an event that was pre-planned on purpose?
Mount Hermon served as an altar to Baal. Believe it or not, not that long ago the ashes of sacrifice were still in the altars on Mt. Hermon! According to the ancient Book of Enoch, 200 fallen angels descended on Hermon through a portal and then proceeded to wreak genetic havoc on the human race, creating a race of hybrid giants that were eventually destroyed in Noah's Flood. This DVD explains it all in amazing detail. http://www.cuttingedge.org/detail.cfm?ID=2384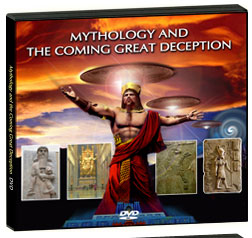 "Mythology and the Coming Great Deception"
DVD by Ron Skiba
This new DVD traces the trail of foreign gods that were introduced to the Israelites in Egypt and still remain with us, all the way to the present day. It appears a few of them have even landed in Washington D.C.!
eus lives! If you liked Apollyon 2012 and Nephilim Stargates by Tom Horn, you will love this DVD. One of the most fascinating DVDs we've seen in a very long time
http://www.cuttingedge.org/detail.cfm?ID=2383
---
Hot New Prophecy DVD!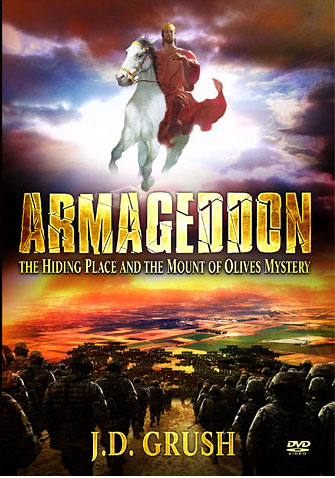 "Armageddon, The Hiding Place and the Mount of Olives Mystery"
New Prophetic DVD by J.D. Grush
Discoveries Of Destiny Ministry
Regularly $29.99 / Pre-sale $24.99
The world is hurtling quickly to its final prophesied destiny, a destiny which the Lord Jesus named "Armageddon". J.D. Grush, of "Discoveries of Destiny" ministry, has created a riveting DVD which teaches the full Biblical Plan for all of mankind, a plan which shall be dramatically finished on the Plains of Megiddo, popularly known as "Armageddon".
J.D. will unearth precious nuggets of truth which shall both shock you and delight you.
J.D. will also dispel the major Mass Media misunderstandings of this "appointment of destiny".
Part 1 is entitled simply, "Armageddon". In a delightfully entertaining manner,J.D. teaches what Armageddon will be, why it is necessary and what it will accomplish as Jesus prepares to establish his Millennial Kingdom, even in the face of the most powerful forces strait out of Hell.
Part 2 is entitled, "The Hiding Place". In the midst of the chaotic panic Jews are feeling as they flee the deadly wrath of Antichrist, God miraculously swoops down to pluck His elect out of the clutches of the Man of Sin, taking them to a "Hiding Place", where God will lovingly protect them for the last 3 ½ years of history.
Part 3 is entitled, "The Mount of Olives Mysteries". Here J.D. is at his very best, as he reveals the extreme importance to God and to His Kingdom of the Mount of Olives. Going back all the way to Moses and reaching all the way to the end of the Tribulation Period, the Mount of Olives stands as one of the most prophetically important places on Earth.
J.D. Grush will simultaneously inform you and delight you for over 3 full hours.
Will be shipping on or before mid-December. http://www.cuttingedge.org/detail.cfm?ID=2381
We now have the money needed to finish this new DVD, but we are going to extend the Pre-Sale price until the day we start shipping product.
New Bookstore Items
"IndoctriNation DVD"
"Public Schools Contributing To The Decline of Christianity in America"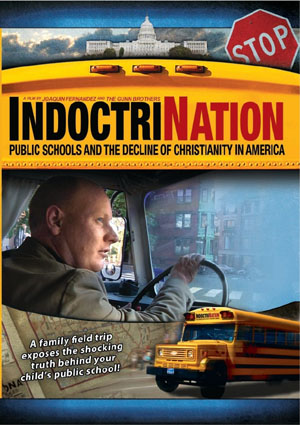 Over the past 100 years, public school curricula has systematically been changed to the point where, today, Christianity is completely banished in most public schools in America.
This DVD explores the origins of the American education system, the effects of public schools on the Christian family, and the turning of the hearts of parents to their children through home education.
You should be shocked at the revelations of this video. One expert witness says that parents do not realize the extent to which public school curricula is stealing their children's minds because the child's body is left with the parents!
Incredible facts will persuade you to take your children out of public schools no matter what the cost. We all have to answer Jesus on Rewards Day as to how we have protected the precious souls of our children.
Available October 19
---
New Headline News Articles
"Beloved, believe not every spirit, but try the spirits whether they are of God: because many false prophets are gone out into the world." (1 John 4:1)
Luciferian Plan: "UFO's and Aliens are part of the New World Order. They are benevolent beings which will aid mankind in attaining the goal of becoming one humanity. They will appear at the proper time to enable mankind to make that Quantum Leap of Collective Consciousness -- when the The Christ appears."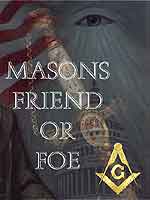 In their own words!
"Unperfected Masons "deserve to be mislead"!
"... all liars shall have their part in the lake which burneth with fire and brimstone..." (Rev 21:8) -
---
'2012 & Beyond: Combination Offer'
Saves You $30.00!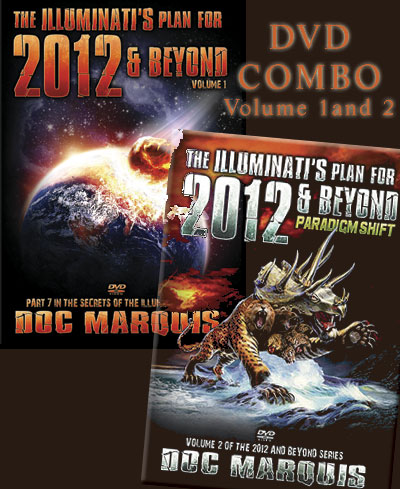 '2012 & Beyond: Combination Offer'
Regularly $79.88 If You Buy Them Separately
Now Only $49.88
This world may, indeed, suffer the greatest calamity in history, but this catastrophe will NOT be any of the proposed doomsday scenario for December 21, 2012, offered by the Mass Media.
This DVD series examines many of the Mass Media scenarios and then shows how each of them simply will not occur.
What may occur, however, is a demonic plan revealed only by the Black Magick Secret Society, The House of Theosophy. This disaster from the Abyss is called the 'Paradigm Shift Producing The Universal Mind'.
Doc Marquis correctly identifies it as a global demonic possession of all unsaved people!
We also examine the possibility that God might send His 'strong delusion' (2 Thess 2:11) This DVD closes with a dramatic appeal for genuine Christians to aggressively reach out to sow Gospel Seed to the unsaved people in their lives, before this 'strong delusion' hits with full force.
This combination offer contains 4 DVD's and has nearly 7 hours of teaching. A Plan of Salvation is offered at the very end of both DVD sets. http://www.cuttingedge.org/detail.cfm?ID=2367
Watch Trailer For Volume 2, Paradigm Shift
---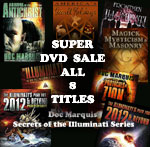 "Combo Offer DVD: Secrets of the Illuminati Series"
All Eight Titles by Doc Marquis, 15 DVDs, , Save $110
Each of these unique DVD's provides information on a part of the Illuminati Plan which only a former Satanist / Illuminati would know. Furthermore, much of the information Doc Marquis provides is the 'Oral Plan', which is the parts of the plan to produce Antichrist which is so evil that it is never written down.
'Paradigm Shift: 2012 & Beyond, Volume 2', reveals more important Mass Media expectations as to what may happen on 12/21/2012 and then reveals that the Paradigm Shift is intended to be a global mass demon possession which shall produce the Universal Mind in every unsaved person on Earth. Is this the time of the prophesied 'Strong Delusion'? http://www.cuttingedge.org/detail.cfm?ID=2333
---
Be sure to visit our Face Book page
and like us so we can keep you updated
and you can share us with your friends.

---
Aliens, Sons of God & Genesis 6

NEW DVD - The Ancient Book of Enoch: The First Book Ever Written
by J. R. Church & Gary Stearman
Order now
The Book of Enoch is a treasure, perhaps hidden away just for these last days. Many know of it but few know of its contents. Can this ancient text be trusted? Is it credible? In this 6-hour DVD series, J. R. Church and Gary Stearman take you on a comprehensive, cover-to-cover tour of this amazing book. You will learn about the fallen angels who entered Earth through a "stargate," located on the peak of Mt. Hermon, where they swore an oath to complete their corrupting work among men. Enoch enters a flying house and journeys to heaven, shell and all around the world! His descriptions are absolutely breathtaking in their realism; he literally travels through time!
Although never placed in the canon of Scripture, it has long been held, by both Jews and Gentiles alike, to be an authentic and valuable work. J. R. Church was always fascinated, but frustrated, that so little credible research had been done on it. He wanted to compare the writings of Enoch to the Bible and searched in vain for a usable commentary. So he wrote his own! The results of his lengthy research and study are on these four amazingly informative DVD's.
---
Declaring Truth About Mormonism

"Mormonism's Temple of Doom - 2012 Election Alert"

New 2-DVD Set by Bill Schnoebelen

Dynamic Trailer - What's Under That Dome?

Schnoebelen was told by his Coven Master that, if he ever got into trouble, he was to join the Mormon Church because it was 'created by Witches for Witches'! But, in the past 50 years, the Mormon (LDS) Church has managed to grow from a small fringe cult to a major world religion of considerable respectability. Mormons like Mitt Romney and Glenn Beck have achieved amazing followings and many Americans have come to believe that Mormons are just another Christian denomination with fine, conservative, family-based values.

However, beneath the sweet surface of LDS Public Relations, there lurks one of the most dark and twisted religions to emerge in American history. You will discover that, just as Mormonism is not Christian, the Mormon Family is not the same as the Christian Family.

We include a section warning genuine Christians not to support a Mormon for President, providing critical Scriptural references. Evangelical leaders are already urging Christians to support a Mormon for President. http://www.cuttingedge.org/detail.cfm?ID=2297




---

Call us for Customer Service at 800-451-8211

Subscription Promotion

Cutting Edge cannot continue unless we keep a certain level of Yearly Subscriptions and so once or twice a year we run a special giveaway subscription offer. Please reach out at this most difficult time to help support Cutting Edge Ministries. We are reaching 120,000 people a year with the Gospel in five languages so your subscription will enable that wonderful spiritual eternal fruit to continue.

One Year Subscription - Choose 1 FREE Item

Two Year Subscription - Choose 2 FREE Items

Three Year Subscription - Choose 3 FREE Items

Four Year Subscription - Choose 4 FREE Items

Click here to subscribe or just check out the gift options:

---
As always we ask you to pray daily for this ministry.
Be sure to visit the Sale items and Special offers sections where you will find 28 Special offers and 121 items on Sale.
David Bay, Director, Cutting Edge Ministries
1792 South Lake Drive, Ste. 90 PMB 300, Lexington, SC 29073

800-451-8211