News Alert & Bookstore Bulletin

Monday, October 11, 2011

Customer Service 1-800-451-8211

Scheduled News Alerts/Newsletters

Mon. 11am - Alert

Thurs. 6pm - Alert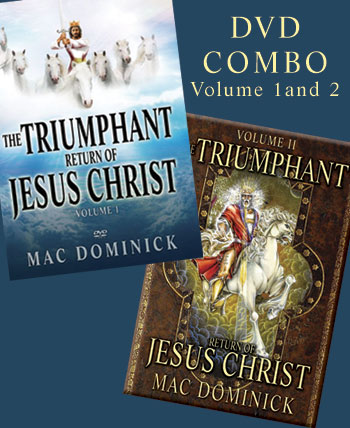 Now buy both Volume I and II of
'The Triumphant Return of Jesus Christ'
and save $10.00.

In Volume I, you will learn that Jesus Christ IS returning to Earth, this time as an Omnipotent Warrior King, anxious to totally defeat Antichrist and his armies awaiting Him on the Plain of Armageddon! We are living in a world with an apocalyptic mind set. How many times have you heard references to drastic earth changes, the end of the world, or Armageddon bantered around by network news anchors or in motion pictures? The world's population is teetering on the precipice of global panic with anticipated calamities associated with December 21st, 2012 and other alarming events. Men and women are being sucked into the one-world, globalist straightjacket created by the mainstream media and are being prepared to fall into the waiting arms of Antichrist at his appearance. So many, even in Christian circles, are totally confused by false teachers.

In Volume II, you will learn that through current events: Satan is building his One World Church, the One World Antichrist and the One World Religion to be headed by the False Prophet and the rapture is eminent.

This DVD deals with the One World Church and the One World Government. Emphasis is laid on the building of the prophesied 10-Nation confederation and how Antichrist will arise once the Plan is fully worked out.

Over five hours of teaching on these two DVD's. Order Now




---
Key Events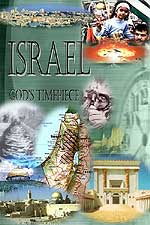 I. Israel is preparing to strike Syria, Lebanon and the Gaza Strip as she feels increasingly vulnerable and threatened.
Questions are also being raised about the possibility the the Pro-West Hashemite regime in Jordan might fall to the Palestinians!
NEWS BRIEF: "Israel ready to strike Syria, Lebanon, Gaza", Israel Today, October 9, 2011
"Israeli officials have reportedly warned Syrian dictator Bashar Assad that if he uses the downfall of his regime as an excuse to launch missiles at Tel Aviv, Israel will respond with a massive assault against Syria, Lebanon and Gaza ... The Israeli counter-threat came just days after Iran's Fars news agency quoted Assad telling Turkey's foreign minister that he would launch hundreds of ballistic missiles at Tel Aviv if the West interferes in his violent crackdown on pro-democracy protestors in Syria."
Is the time of the prophesied demise of Damascus drawing near? Listen:
"The mournful, inspired prediction (a burden to be lifted up) concerning Damascus [capital of Syria] ... Behold, Damascus will cease to be a city, and will become a heap of ruins." [ Isaiah 17:1, Parallel Bible, KJV/Amplified Bible Commentary]
Do you know that Damascus is the oldest continuously occupied city in the world? Since she was established, there has never been a time when she has ceased being a city. And, she has never been a heap of ruins. Of course, in the Ancient times, whenever a capital was sacked and destroyed, that action was synonymous with the destruction of the nation. Syria will be so destroyed that her government will fall.
While this threat from Syria's dictator Assad seems too far-fetched to really be true, one of these days, Syria is going to launch an attack which will precipitate the kind of response from Israel which will destroy Damascus utterly.
Everyone knows that Israel has atomic weapons, but did you know she also has the Neutron Bomb and Scalar Weaponry? Please take a moment to read these two Archived Headline News articles:
NEWS1123 details Israel's Neutron Bomb capability
NEWS2097 reports Israel's Scalar Electromagnetic Warfare capability
Prophetic Scriptures make it quite plain that God is going to use Israel as the major weapon of His final judgment upon all nations which have harbored anti-Jewish hatred for the past 4,000 years. Israel herself will be devastated but will survive. We seem to be on the verge of this all-out war!
This next report informs us why Israel seems to vulnerable, written by the son of Former Israeli Prime Minister, Ariel Sharon.
NEWS BRIEF: "Israel Is Under Attack", by Youngest Son of Former Prime Minister, Ariel Sharon, The Daily Beast, October 9, 2011
"Former Prime Minister Ariel Sharon's son explains why Israel can never return to the pre-1967 borders the Palestinians—and Obama—are demanding. The state itself is under attack ... right now the Arab world is filled with demonstrations, shootings, and the replacement of one dictatorship for another ... And, most significantly for Israel, there is a PLO petition for statehood at the United Nations."
Israel's former ally, Egypt, has been overthrown and replaced by a dictatorship -- not a democracy as we had been promised!
"The Egyptian opposition newspaper Sawt al-Umma has just been shut down and the issues already distributed on the streets of Cairo containing criticism of Omar Suleiman, former Vice President of Egypt, confiscated. Exit Mubarak, enter the military junta, with democracy nowhere in sight."
Syria is threatening Israel, as we reported in the first segment; however, let us read the perspective from Gilad Sharon.
"In Syria, the rising toll of the regime's murder victims speaks more loudly than words about the concept of freedom. Nations in the world issue warnings to Assad, enact sanctions, and a few leaders call for his resignation but do little else with no sign of NATO coming to the rescue."
Since the Arab war plan calls for the Palestinians to begin the Arab attack on Israel from within, let us review the status of the Palestinian drive for a state.
"And then the Palestinians bit the hand that literally feeds them by ignoring American requests to continue to negotiate with Israel, and instead went to the UN directly to ask for statehood within the pre-1967 borders; a state that would be "free of Jews," as their UN envoy was quoted as saying."
Gilad Sharon then strikes directly at the heart of this matter.
"... the Arabs never accepted the right of the Jewish state to exist in its land."
Beginning the moment Israel declared statehood on May 14, 1948, to today, the Arabs universally reject the very idea that the Jewish State had any right to live in the land God promised Abraham. They have fought numerous wars designed to annihilate Israel and have failed every time. But, their unreasonable hatred continues to grow within their hearts. For this reason, God is going to destroy them, as prophecy foretells.
Did you know that Arab hatred toward the Jews was so strong that Arab leaders at the time of Nazi Germany urged Hitler to invade the Middle East so he could annihilate the Jews, as he was already doing in Germany and Eastern Europe? This is the true heart of the Arabs in the region. Please never forget it!
DVD
II. The planned Absolute Dictatorship for the United States continues unabated, with the Federal Government now trying to pursue a real-life "Minority Report" capability against American citizens!
Do not be deceived; the REAL purpose of this pre-crime program is to establish the greatest dictatorship in world history, backed by very sophisticated technology.
Before we get started, please take a moment to read our archived Headline News article, NEWS1673, " 'MINORITY REPORT' -- CITIZENS ARRESTED EVEN THOUGH THEY HAVE NOT COMMITTED ANY CRIMES, SENT TO JAIL WITHOUT TRIAL AND WITHOUT RELEASE DATE".
Now, let us examine how the government is attempting to achieve this capability.
NEWS BRIEF: "Real-life 'Minority Report' program gets a try-out ", By Declan McCullagh, CBS News, October 7, 2011
"An internal U.S. Department of Homeland Security document indicates that a controversial program designed to predict whether a person will commit a crime is already being tested on some members of the public voluntarily ... where 'Minority Report' author Philip K. Dick enlisted psychics to predict crimes, DHS is betting on algorithms: it's building a 'prototype screening facility' that it hopes will use factors such as ethnicity, gender, breathing, and heart rate to 'detect cues indicative of mal-intent'."
Of course, this program will never be 100% accurate, just as in the movie, "Minority Report".
Not only will people be unjustly accused of planning a crime, the government can twist this program to accuse citizens who are guilty of only opposing government programs. This new capability will prove very useful for the approaching dictatorial government to remove dissidents from the population. This next segment demonstrates the danger inherent in either private business or the government in gathering and systematically recording massive amounts of information on private citizens!
"t's unclear why the June 2010 DHS document (PDF) specified that information is currently collected or retained on members of 'the public' as part of FAST ... FAST program manager Robert Middleton Jr. refers to a 'limited' initial trial using DHS employees as test subjects. Middleton says that FAST 'sensors will non-intrusively collect video images, audio recordings, and psychophysiological measurements from the employees', with a subgroup of employees singled out, with their permission, for more rigorous evaluation. "
Even if the program is voluntary right now, the time is approaching rapidly when all citizens will be subjected to this massive collection of personal data. The current TV series, "A Person of Interest", demonstrates just how pervasive the technology is in keeping real time track of all private citizens.
One more matter: When I was in Army Intelligence, stationed at a Pentagon level facility on Okinawa, I learned that, when the government admitted it was testing a new weapon, the reality was that they had already deployed it, years before they admitted the capability. Therefore, it is very possible that the government is much farther along than they are now admitting.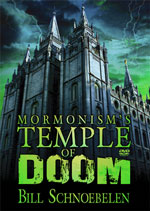 DVD
III. Surprising Presidential Candidate, Herman Cain, says Mitt Romney believes he is a Christian!
This type of devious propaganda will only increase as we get closer to the nomination.
NEWS BRIEF: "Cain Weighs In on Mormonism, Wall Street Protests" National Journal, October 9, 2011
"Republican presidential candidates Herman Cain and Rep. Michele Bachmann of Minnesota declined on Sunday morning to say whether they believe GOP rival Mitt Romney, who is Mormon, is 'a Christian' ... Cain later said religion is 'a valid concern, but I don't think necessarily it should be a big campaign issue."
"Asked again whether Mormons are Christians on CBS' Face the Nation, Cain said, 'I believe that they believe that they are Christians'."
This kind of answer will either leave the listener shaking his head, trying to figure out what Cain really meant, or leave the listener with the impression that Mormonism must be Christianity. Michelle Bachmann also faded on this issue.
"Bachmann, who has aggressively courted religious conservatives in her campaign, said repeatedly, 'We have religious tolerance in this country. The candidates can have the faith that they want', she said, adding later: 'To make this a big issue right now is ridiculous'."
Of course, it matters greatly to genuine Christians what the religious convictions are of our elected officials. We want to ensure that they will carry out the duties of their office in a manner consistent with our values and our faith.
Furthermore, the Bible clearly states that we are not to give any encouragement whatsoever to a person who believes in a false religion. Listen:
"If anyone comes to you and does not bring this doctrine [is disloyal to what Jesus Christ taught], do not receive him [do not accept him, do not welcome or admit him] into [your] house or bid him Godspeed or give him any encouragement. For he who wishes him success [who encourages him, wishing him Godspeed] is a partaker in his evil doings." (2 John 1:10-11; Parallel Bible, KJV/Amplified Bible Commentary)
We created our best-selling DVD, Mormonism's Temple of Doom: 2012 Election Alert", to deal forthrightly with the issue of what Mormonism really teaches and to warn genuine Christians that they are forbidden to support a Mormon for President! We include a Plan of Salvation at the end so a Mormon watching this video can be saved right in the privacy of your living room.
These are perilous times and times of great deceit. Take care that you apply Bible teaching to current events in your life and in the world so that you will not be one of the deceived!
---
New Headline News Articles
Halloween - The Most Important Holiday During The Coming New World Order
As Americans all across this land celebrate another Halloween, we need to examine this celebrated day in light of the coming Satanic New World Order. Once you read this article, you will never look at Halloween the same way again. Guaranteed!!

"Compilation of False But Scary Economic Collapse Headlines - Beginning in 2001, Continuing through 2005 -- Part 1"
We shall prove that fake news headlines screaming imminent economic collapse have occurred regularly every single year since 2001! All these headlines have proven to be false, but people still are scared when another fake collapse headline occurs in their daily news.
What did Jesus predict at the End of the Age: "... men's hearts failing them for fear" -

---
New Book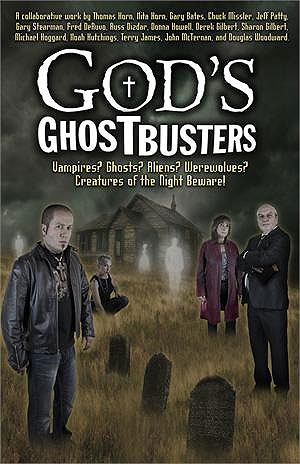 "God's Ghostbusters"
"Vampires? Ghosts? Demon Possession. Creatures of the Night Beware"
New Book by Tom Horn, Pastor Hoggard, Dr. Noah Hutchings, Chuck Missler, Dr. Gary Stearman, and More
Introductory Sale: Regularly $16.99, On Sale $13.99 - You Save $3.00
Recently some 300 exorcists flocked to Poland for a week-long congress to examine the current fashion for vampirism the world-over and the apparent connection between this fascination and a surge in demonic possession.
The world is experiencing an explosion of ancient occultism combined with wicked fascination for ghosts and all things paranormal. In the United States alone, there are now more than two hundred thousand registered witches and as many as 8 million unregistered practitioners of "the craft." On college and high school campuses, vampires, werewolves, and other "creatures of the night" are esteemed as objects of desire and idolized by young men and women who view them as cult icons of envious mystical power.
Church goers are enchanted by the darkness as well. An April 13, 2011 article "Mysticism Infecting Nazarene Beliefs" was preceded only a few days before by a Telegraph article describing how a "surge in Satanism" inside the church has sparked a 'rise in demand for exorcists' within traditional religious settings.
Why is this happening now? God's Ghostbusters provides shocking answers http://www.cuttingedge.org/detail.cfm?ID=2368
---
'2012 & Beyond: Combination Offer'
Saves You $30.00!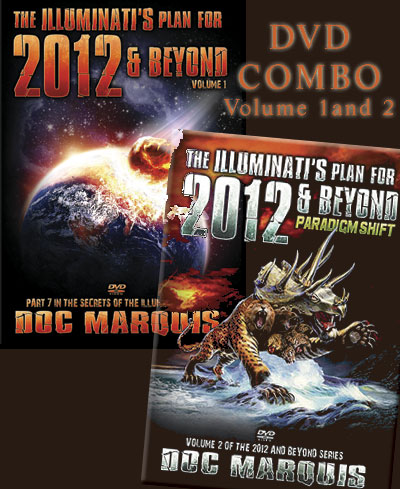 '2012 & Beyond: Combination Offer'
Regularly $79.88 If You Buy Them Separately
Now Only $49.88
This world may, indeed, suffer the greatest calamity in history, but this catastrophe will NOT be any of the proposed doomsday scenario for December 21, 2012, offered by the Mass Media.
This DVD series examines many of the Mass Media scenarios and then shows how each of them simply will not occur.
What may occur, however, is a demonic plan revealed only by the Black Magick Secret Society, The House of Theosophy. This disaster from the Abyss is called the 'Paradigm Shift Producing The Universal Mind'.
Doc Marquis correctly identifies it as a global demonic possession of all unsaved people!
We also examine the possibility that God might send His 'strong delusion' (2 Thess 2:11) This DVD closes with a dramatic appeal for genuine Christians to aggressively reach out to sow Gospel Seed to the unsaved people in their lives, before this 'strong delusion' hits with full force.
This combination offer contains 4 DVD's and has nearly 7 hours of teaching. A Plan of Salvation is offered at the very end of both DVD sets. http://www.cuttingedge.org/detail.cfm?ID=2367
Watch Trailer For Volume 2, Paradigm Shift
---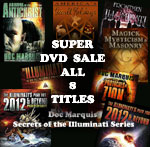 "Combo Offer DVD: Secrets of the Illuminati Series"
All Eight Titles by Doc Marquis, 15 DVDs, , Save $110
Each of these unique DVD's provides information on a part of the Illuminati Plan which only a former Satanist / Illuminati would know. Furthermore, much of the information Doc Marquis provides is the 'Oral Plan', which is the parts of the plan to produce Antichrist which is so evil that it is never written down.
'Paradigm Shift: 2012 & Beyond, Volume 2', reveals more important Mass Media expectations as to what may happen on 12/21/2012 and then reveals that the Paradigm Shift is intended to be a global mass demon possession which shall produce the Universal Mind in every unsaved person on Earth. Is this the time of the prophesied 'Strong Delusion'? http://www.cuttingedge.org/detail.cfm?ID=2333
---
NEW!! Cutting Edge DVD, by Mac Dominick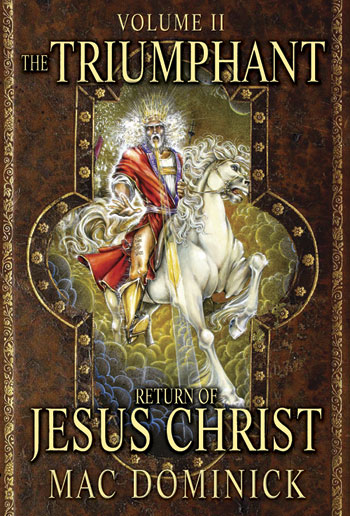 "The Triumphant Return of Jesus Christ - Volume II - Blessed Hope"
Through current events, Satan is building his One World Church, the One World Antichrist and the One World Religion to be headed by the False Prophet.
This DVD deals with the One World Church and the One World Government. Emphasis is laid on the building of the prophesied 10-Nation confederation and how Antichrist will arise once this Plan is fully worked out.
The False Prophet will lead the One World Church and be headed by the Pontiff of Rome. Current events are pointing resolutely to the reality that the False Religious Prophet is the Pope, whomever he is at the time.
This DVD teaches the reality of the Pre-Tribulation Rapture and how this blessed hope of the Christian is becoming more obvious with each passing day.
Dispensationalism is discussed and taught and presented as the only way in which we can make sense of God's prophetic time line and the difference God makes between Israel and the Church.
Over 2 hours, single DVD.
Mac uses the King James Version
http://www.cuttingedge.org/detail.cfm?ID=2365
NEW! BIG BOOK OF HISTORY!!!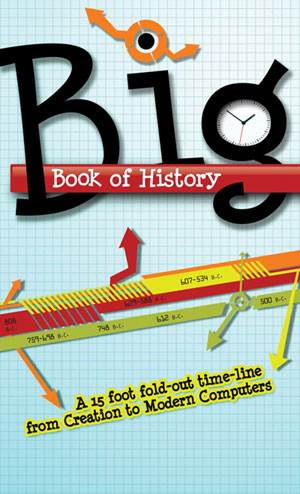 "BIG Book of History: Learning Just Became 15 Feet of BIG Fun"
Families, schools, and churches can unfold 15 feet of the most interesting history of the world. This easy to follow, color-coded, multi-stream timeline teaches six thousand years of world history to children ages seven through thirteen.
These exciting facts and so much more wait inside:
1) Who were the first emperors of China and Rome
2) What discovery unlocked the secrets of a forgotten language
3) How modern robotics had its roots in the tea dolls of Japan
4) Where Christians faced death for the entertainment of thousands
5) Why the languages of Greek and Hebrew were used to write the Bible
6) How the Age of Discovery meant wealth some, and the destruction of civilization for others.
Understanding how the past has shaped our future will inspire young learners to make history for themselves!
Uniquely designed to capture your child's interest, as history flows out 15 feet covering many centuries of exciting history. http://www.cuttingedge.org/detail.cfm?ID=2366
New! Pastor Hoggard DVD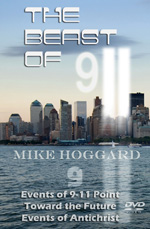 "The Beast of 9-11"
Pastor Mike Hoggard examines the events of 9-11 in light of Holy Scriptures exposing deeper meanings than the popular conspiracy theories today. Using Bible numerics and patterns, Pastor Mike shows that the public is being subtly conditioned to accept the coming kingdom of the anti-Christ and to willingly take the mark of the beast.
True answers for these world-shaking events are found in the KJV. In this video we learn what the numbers nine, eleven and four mean and how they connect from Noah's days to the Twin Towers to future events in the Book of Revelation. Pastor Mike demonstrates that the numbers 9 and 11 are in government logos, memorial sites, advertising; space missions and even movies!
NOW is the time to educate yourself, your family and friends of the evil coming upon the earth. http://www.cuttingedge.org/detail.cfm?ID=2363
---
NEW By Chris Pinto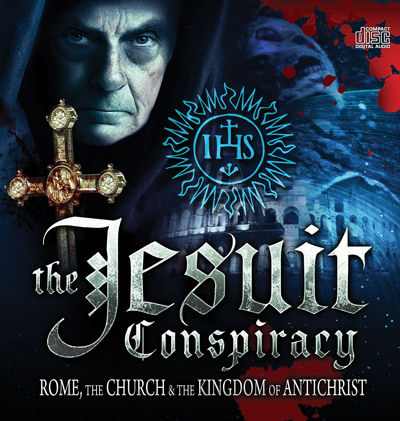 "The Jesuit Conspiracy: Rome, The Church And The Kingdom of Antichrist "
"My history of the Jesuits is not eloquently written ... If ever there was a body of men who merited eternal damnation on earth and in hell, it is this Society of Loyola." - John Adams, President of the United States

"It is my opinion that if the liberties of this country – the United States of America – are destroyed, it will be by the subtlety of the Roman Catholic Jesuit priests …" – Marquis de LaFayette, Revolutionary War hero
Discover the political role of the Jesuits in the Great Inquisition, the American Civil War, Vietnam, World War II and Nazi Germany.
Additionally, learn of their spiritual agenda in the United States through the Ecumenical Movement, Dominionism and the New World Order.
CD, MP3 Format, by Chris Pinto - 3 hours 23 minutes of teaching - http://www.cuttingedge.org/detail.cfm?ID=2360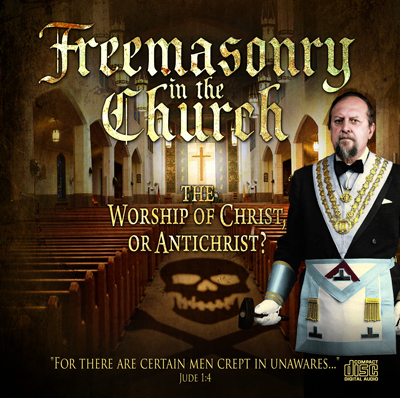 "Freemasonry In The Church: Worship of Christ or Antichrist"
"I'm Lucifer!" exclaims an elderly man, "And I'm pure and virtuous, and holy!" Incredibly, this same man goes on to say that he is a Christian, and insists that Jesus Christ is his Lord. How can he be "Lucifer" and a follower of Christ? "Because I'm out helping people," he says.
Such is the declaration made by a modern Freemason, and is indicative of perhaps the greatest spiritual cancer afflicting the Church in America today. There are literally thousands of pastors, elders, deacons and regular members in churches that are involved in Masonry. But is their worship toward the Lord Jesus Christ? Or after the spirit of antichrist?
In this dynamic and powerful audio CD, documentary filmmaker Chris Pinto explores the issue of Freemasonry in the Church, and how this secret society is working to change the Gospel and undermine the Christian faith.
CD, MP 3 format, by Chris Pinto, 4 hours 21 minutes of teaching - http://www.cuttingedge.org/detail.cfm?ID=2359
---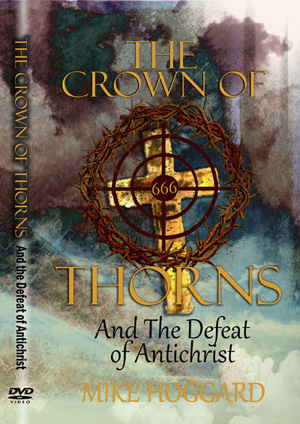 "The Crown of Thorns and the Defeat of Antichrist" - New DVD by Pastor Hoggard

The first time Pastor Hoggard ever saw the movie The Omen, he was amazed at the occult and biblical symbolism embedded in the film, including the name given for the Antichrist.
In this latest video from Michael Hoggard, he reveals the secrets behind the Masonic symbol of the acacia tree and the construction of the wilderness tabernacle, including the symbolism of the crown of thorns on the head of Jesus Christ.
This teaching reveals from the scriptures why many major denominations, ministries, well-known Christian leaders, and churches are moving rapidly toward the great falling away.
Of course, prophecy of 2 Thess 2 reveals that the Great Falling Away must occur before Antichrist can arise! This connection is so vital for people to understand. Pastor Hoggard makes it quite plain, as he is so good at doing. Order Now
Click Here To See All 46 DVD's By Pastor Hoggard
---
NEW BOOK - Return of the Antichrist And The New World Order

The Fallen Angels of Antichrist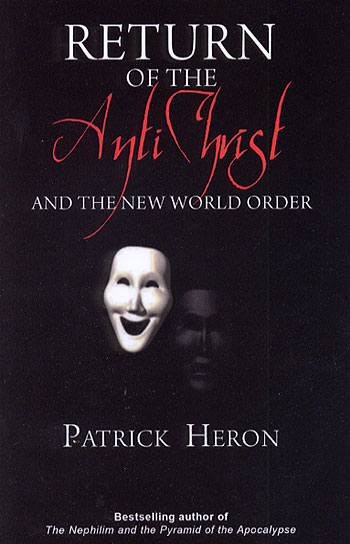 WARNING This book is not fiction and may change your life forever!

This book is an in-depth study of the Beast's past, present and future which debunks most of the common and accepted assumptions of the Antichrist and instead presents a sculpturally based study of he who is to come; The Beast who ascends out of the Abyss having seven heads and ten horns.
Genesis 6:4: "The Nephilim were on the earth in those days and also after that…they were the heroes of old, men of renown." Nephilim in Hebrew means 'the fallen ones'. These were evil fallen angels who appeared on the earth in those days and caused the violence, bloodshed and chaos which resulted in a world-wide Flood. "As it was…so shall it be." After the Apocalypse begins, these same fallen angels, plus Satan and all the rest of those that rebelled with him, will once again manifest on earth in plain sight. They will be led by a man most call The Antichrist. But in Revelation he is not given this name. John refers to him as The Beast from the Abyss. ORDER YOURS TODAY

Be sure to visit our Face Book page
and like us so we can keep you updated
and you can share us with your friends.
---
Aliens, Sons of God & Genesis 6

NEW DVD - The Ancient Book of Enoch: The First Book Ever Written
by J. R. Church & Gary Stearman
Order now
The Book of Enoch is a treasure, perhaps hidden away just for these last days. Many know of it but few know of its contents. Can this ancient text be trusted? Is it credible? In this 6-hour DVD series, J. R. Church and Gary Stearman take you on a comprehensive, cover-to-cover tour of this amazing book. You will learn about the fallen angels who entered Earth through a "stargate," located on the peak of Mt. Hermon, where they swore an oath to complete their corrupting work among men. Enoch enters a flying house and journeys to heaven, shell and all around the world! His descriptions are absolutely breathtaking in their realism; he literally travels through time!
Although never placed in the canon of Scripture, it has long been held, by both Jews and Gentiles alike, to be an authentic and valuable work. J. R. Church was always fascinated, but frustrated, that so little credible research had been done on it. He wanted to compare the writings of Enoch to the Bible and searched in vain for a usable commentary. So he wrote his own! The results of his lengthy research and study are on these four amazingly informative DVD's.
* Watch TV Interview on "The Ancient Book of Enoch"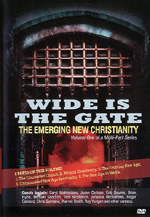 "Wide Is The Gate"
"The Emerging New/Old Paradigm Shift"
DVD - 3hrs 20 minutes
A look into the invasion of the old New Age Movement in today's Post Modern Church. Today's new brand of Christianity has a different gospel and is targeting thousands of the younger generation with a so-called hip, cool, experiential spirituality, much of which is embracing the mysticism of Roman Catholicism with its ecumenical philosophy of uniting people from all faiths to work together and bring about a new world of peace and harmony. This notion dovetails with the heart of New Age thinking and the utopian ideals of many world religions who all await their religious leaders and dreams of world domination.
The dangerous result of this new spirituality in the church is bringing about the rise of today's "Christianized" occultism. It's stretching its tentacles around the souls of unsuspecting youth, setting them up for the lie that subjective emotions of "power" and "experience" are "feelings" to be held higher than an objective walk in the Christian Faith, based in Truth found in the Pure Word of God. The Holy Bible is presented as unattainable truth: "stuffy", "dry" and "churchy"
A true "signs of the times" videos! The apostasy of the Church is here now and is taking over. Is your church threatened? Watch the trailer.
---
The Watchers Have Returned!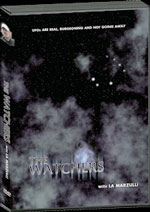 "The Watchers: UFO's Are Not Going Away"
New DVD by Dr. Marzulli - Recognized Expert On The Nephilim
Dr. LA Marzulli has produced a spectacular DVD on the UFO phenomenon, one of the most confusing and unexplained mysteries of our time. Until now. Marzulli offers his own unique perspective on the subject and how this deception plays a part in end-time prophecy. When will the world meet these alien creatures in their flying machines? Is a face to face encounter right on the horizon? Marzulli believes we are being set up for a great deception.
He answers a lot of questions on his DVD including: 1) What are those strange lights in the sky? 2) What factual proof is there of UFO's 3) Are people interacting with UFO's now? 4) Why do people feel the phenomena is benevolent? 5) Cattle Mutilations 6) Abduction Phenomena 7) Alien Implants
You will be amazed! http://www.cuttingedge.org/detail.cfm?ID=2347 Watch the interview of Dr. Marzulli or order at this link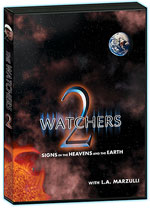 "The Watchers 2: Signs In The Heavens and the Earth"
New DVD by Dr. Marzulli - Recognized Expert On The Nephilim
Why are the nations of the world in turmoil? What is happening with all the changes in the sun and the moon? Why are birds dropping out of the air and millions of fish dying without explanation? Why are sinkholes of gigantic proportions appearing all over the Earth? What is causing increased volcanic activity in Japan, Italy and Iceland? Why are we seeing earthquakes of 7.0 or greater, seemingly on a weekly basis? And what about the UFO seen over the Temple Mount? Was that from God and his angels, or from the dark side?
Something has changed and Watchers 2 will try to investigate to see if the ancient texts are accurate. Are we entering a period where there will be an escalation in wars, earthquakes and famines, including signs in the skies and the heavens? L. A. Marzulli interviews the experts in this sequel to The Watchers.
What a marvelous quality presentation! Watch the trailer or order http://www.cuttingedge.org/detail.cfm?ID=2348
Quotable Quotes
"UFO's and Aliens are part of the New World Order. They are benevolent beings which will aid mankind in attaining the goal of becoming one humanity. They will appear at the proper time to enable mankind to make that Quantum Leap of Collective Consciousness -- when the Christ appears." (Bill Lambert, New England Director, House of Theosophy, Seminar, August 18, 1991)
"[New World Order Planners] have plans to bring about things like earthquakes, war, the Messiah, an extraterrestrial landing, and economic collapse. They might bring about all of these things just to make sure it does work...The Illuminati has all the bases covered..." (New Age author, Bill Cooper, Behold A Pale Horse, p. 177)
---
Close-Out Opportunity - Quantities Limited To Stock On Hand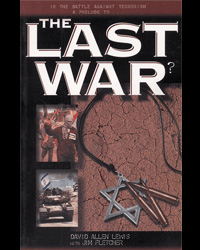 "The Last War" - Compelling Book by Jim Fletcher
Regularly $10.99, Close-out Price $4.99
Conflict in the Middle East has simmered and boiled for decades. Now, war and terrorism are global in scope. The Last War contains supremely relevant information for all concerned: • Why do Islamic radicals hate the West? • What is the radical Moslem's world view? • Who are the "Little Satan" and the "Great Satan"? • Are we being told the whole truth about our enemies?
Tragically, a decade of intense diplomacy and negotiation has given way to widespread violence: some analysts, aware of the real potential for catastrophic war in the region, openly wonder if this will all lead to a "last war" of sorts
You will be able to see clearly that the latest confrontations are a prelude to a devastating conclusion.
240 pages - http://www.cuttingedge.org/detail.cfm?ID=2362
---
Can Man Create God?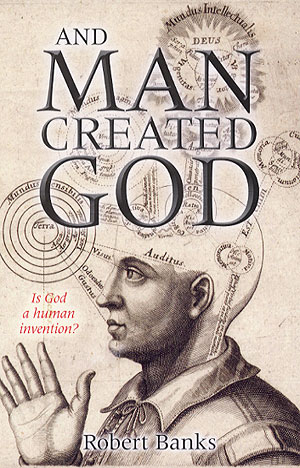 "And Man Created God: Is God A Human Invention?"
Book by Robert Banks
People throughout history have created a god to meet their own needs and circumstances. But, the REAL God of the Universe cannot be the creation of mere man's logic and mental comprehension!
This book addresses one of the oldest questions posed to religious believers: If God created everything, who created God?
This is a question originally asked in Ancient Greece and just recently resurrected by the New Atheists. Skeptics, philosophers, and theologians have been puzzled by this seeming contradiction.
Christian scholar, Robert Banks, explores the history of this objection from the earliest vocalization in the ancient world to its most famous supporters, Freud, Marx and others.
Your faith will be increased by this great book, and you will better understand how to answer people around you who believe in this theory
160 pages
Value Priced at only $13.95

http://cuttingedge.org/detail.cfm?ID=2358
---
---
Declaring Truth About Mormonism

"Mormonism's Temple of Doom - 2012 Election Alert"

New 2-DVD Set by Bill Schnoebelen

Dynamic Trailer - What's Under That Dome?

Schnoebelen was told by his Coven Master that, if he ever got into trouble, he was to join the Mormon Church because it was 'created by Witches for Witches'! But, in the past 50 years, the Mormon (LDS) Church has managed to grow from a small fringe cult to a major world religion of considerable respectability. Mormons like Mitt Romney and Glenn Beck have achieved amazing followings and many Americans have come to believe that Mormons are just another Christian denomination with fine, conservative, family-based values.

However, beneath the sweet surface of LDS Public Relations, there lurks one of the most dark and twisted religions to emerge in American history. You will discover that, just as Mormonism is not Christian, the Mormon Family is not the same as the Christian Family.

We include a section warning genuine Christians not to support a Mormon for President, providing critical Scriptural references. Evangelical leaders are already urging Christians to support a Mormon for President. http://www.cuttingedge.org/detail.cfm?ID=2297




---

Call us for Customer Service at 800-451-8211

Subscription Promotion

Cutting Edge cannot continue unless we keep a certain level of Yearly Subscriptions and so once or twice a year we run a special giveaway subscription offer. Please reach out at this most difficult time to help support Cutting Edge Ministries. We are reaching 120,000 people a year with the Gospel in five languages so your subscription will enable that wonderful spiritual eternal fruit to continue.

One Year Subscription - Choose 1 FREE Item

Two Year Subscription - Choose 2 FREE Items

Three Year Subscription - Choose 3 FREE Items

Four Year Subscription - Choose 4 FREE Items

Click here to subscribe or just check out the gift options:

---
View Our Entire Video Viewing Room
As always we ask you to pray daily for this ministry.
Be sure to visit the Sale items and Special offers sections where you will find 28 Special offers and 121 items on Sale.
David Bay, Director, Cutting Edge Ministries
1792 South Lake Drive, Ste. 90 PMB 300, Lexington, SC 29073

800-451-8211