News Alert & Bookstore Bulletin

Monday, July 2, 2012

Customer Service 1-800-451-8211

Scheduled News Alerts/Newsletters

Mon. AM - Alert

Thurs. PM - Alert
Nephilim / Giants Threaten Us - Again
Nephilim / Giants In History Past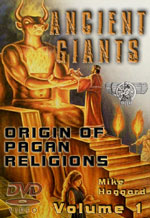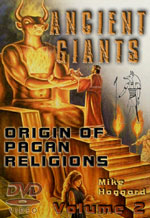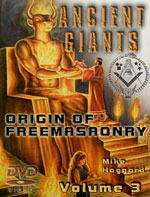 "Ancient Giants: Origin of All Pagan Mystery Religions" -- Including Freemasonry
Pastor Hoggard has created a masterpiece with this three-part series!
In Volumes 1 and 2, entitled, "Ancient Giants: Origin of Pagan Religions", Pastor reveals that, not only did Giants exist in the Ancient World, but their religious teachings to mortal men created the various Pagan Mysteries Religions of Babylon, the Egyptian Mysteries, the Chaldean Mysteries and a whole host of lesser pagan religions.
Pastor Hoggard comes full circle in his expose' of the Ancient Giants creating all the Ancient Pagan Religions, by demonstrating that the Giants created Freemasonry, in Volume 3, "Ancient Giants: Origin of Freemasonry"! Pastor shows example after example where the legends of Freemasonry abound with the names of gods and goddesses which were created by the Giants. This DVD is a scathing indictment of Masonry and will enable you to understand how true the Masonic Title is 'Ancient and Accepted' Freemasonry.
Still only $14.99 each, even though these DVD's each run about one hour, 30 minutes long.
Nephilim / Giants Intervening In World History NOW / Again!
Nephilim / Giants Manipulating DNA Research!
| | | |
| --- | --- | --- |
| | | |
| "Jesus Christ, DNA and the Holy Bible " - $14.99 | "Mother of All Secrets: Most Deadly Secret Concealed by Mankind Now Revealed In the Holy Bible" - $14.99 | "Triple Helix: Genetically Changing Mankind Into Beasts" - $14.99 |
| Science is catching up with the Bible! In this video, Pastor Michael Hoggard shows the amazing correlations between the Holy Bible and DNA, and how the Gospel message is literally encoded in our genetic structure | Men who worship the occult regularly consult with familiar spirits so they can take counsel against God. Therefore, the conspiracy by which they seek to overthrow God is demonic to its core. | Modern genetic scientists have created a Triple Helix DNA strand, a change which transforms the man God created into a Beast! |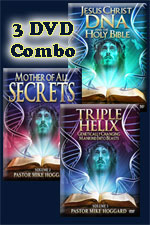 Buy This DNA Series As A Combination Offer And Save $15.00!
This Special Price Offer good only through Midnight, July 5
Regularly $44.97 if you buy these DVD's separately
Now temporarily only $29.97, saving you $15.00
---
Key Events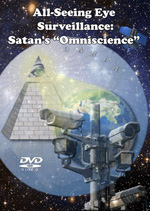 I. Your E-Book is reading YOU!
Is the long-anticipated cooperation between government and industry to spy on you underway?
NEWS BRIEF: "Your E-Book Is Reading You", The Wall Street Journal, June 29, 2012
"For centuries, reading has largely been a solitary and private act, an intimate exchange between the reader and the words on the page ... Now, e-books are providing a glimpse into the story behind the sales figures, revealing not only how many people buy particular books, but how intensely they read them ... The major new players in e-book publishing—Amazon, Apple and Google—can easily track how far readers are getting in books, how long they spend reading them and which search terms they use to find books."
This technology can even record any notes you may make while reading and which lines you underline!
"Amazon can identify which passages of digital books are popular with readers, and shares some of this data publicly on its website through features such as its "most highlighted passages" list. Readers digitally 'highlight' selections using a button on the Kindle; they can also opt to see the lines commonly highlighted by other readers as they read a book. Amazon aggregates these selections to see what gets underlined the most ... Some privacy watchdogs argue that e-book users should be protected from having their digital reading habits recorded. "There's a societal ideal that what you read is nobody else's business," says Cindy Cohn, legal director for the Electronic Frontier Foundation, a nonprofit group that advocates for consumer rights and privacy. "Right now, there's no way for you to tell Amazon, I want to buy your books, but I don't want you to track what I'm reading."
Already, police are trying to get their hands on this information, and given the tendency of private companies since the attacks of 9/11, the police are likely to get their wish to learn what you are reading and what notes you might be making! The latter is of great concern, because your notes reflect your innermost feelings and concepts.
"Earlier this year, California instituted the 'reader privacy act', which makes it more difficult for law-enforcement groups to gain access to consumers' digital reading records. Under the new law, agencies must get a court order before they can require digital booksellers to turn over information revealing which books their customers have browsed, purchased, read and underlined. The American Civil Liberties Union and EFF, which partnered with Google and other organizations to push for the legislation, are now seeking to enact similar laws in other states."
The world's most repressive dictatorship is slowly moving into place. The Illuminati plans it to be history's greatest and most effective dictatorship.
Since all dictatorships require as much information on its citizens as possible, it is most disconcerting to see such rapid advance in various forms of widespread surveillance of individual citizens by government agencies of all types across the board. Bible prophecy scholars have long believed that the Mark of the Beast prophecy of Revelation 13:16-18 means that government can daily intrude on the details of a person's life and even possibly their thoughts.
Certainly, this passage foretells the appearance of a cashless economy!
We can now see how widespread and pervasive this spread of surveillance technology has become. Government agencies can now detect what you are doing in your house, your car and your office. However, this technology can even show officials what your innermost thoughts are! Political dissidents had best be very careful as they use this reading technology, if they use it at all.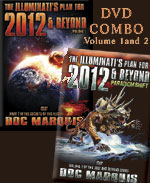 II. Archaeologists working Maya ruins claim they have uncovered the final world end date of December 21, 2012, in current digs on which they are working.
The propaganda drumbeat continues, trumpeting the End of the World on 12/21/2012
NEWS BRIEF: "Maya Archaeologists Unearth New 2012 Monument With 'End Date' of Dec. 21, 2012', Science Daily, June 28, 2012
"Archaeologists working at the site of La Corona in Guatemala have discovered a 1,300-year-old-year Maya text that provides only the second known reference to the so-called "end date" of the Maya calendar, December 21, 2012. The discovery, one of the most significant hieroglyphic finds in decades, was announced June 28 at the National Palace in Guatemala."
This discovery is unique because its use was political rather than prophetic.
"While deciphering these new finds in May, Stuart recognized the 2012 reference on a stairway block bearing 56 delicately carved hieroglyphs. It commemorated a royal visit to La Corona in AD 696 by the most powerful Maya ruler of that time, Yuknoom Yich'aak K'ahk' of Calakmul, only a few months after his defeat by long-standing rival Tikal in AD 695. Thought by scholars to have been killed in this battle, this ruler was visiting allies and allaying their fears after his defeat.
" 'This was a time of great political turmoil in the Maya region and this king felt compelled to allude to a larger cycle of time that happens to end in 2012', says Stuart."
In other words, this king was attempting to soothe the anxious thoughts of his people who thought that the end of their civilization was imminent, in 695 A.D. Oh, no, said the king, we know that our future extends all the way to December, 21, 2012. That is the story coming from Science Daily.
Cutting Edge has produced a thorough examination of the many, and the varied, doomsday scenarios being propagated by Mass Media, examining this subject from the only aspect one can gain true understanding, i.e., through Black Magick Witchcraft, the prophesied religion of Antichrist, and from Illuminati plans. When former Satanist, Doc Marquis, conducts this type of investigation, two startling fact emerge:
1) None of the Mass Media doomsday scenarios are going to occur;
2) God may allow Satan to possess unsaved mankind all throughout the globe, producing the most fearsome and cataclysmic event in all world history! Satanists call this worldwide dmonic possession "the Paradigm Shift' producing the Universal Mind. Bible scholars call this "God's Great Deception". Without this event, Antichrist cannot arise.
Are you spiritually ready? Are your loved ones and your co-workers?
At the very end of this video, shown above in a Combination Offer, we placed a step-by-step Plan of Salvation, making this DVD series a terrific soul-winning tool!
---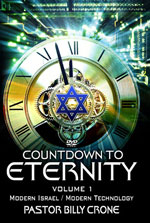 "The Ultimate Final Countdown" DVD
2-DVD Set by Pastor Billy Crone - 4 Hours Long
Regularly $39.99, Only $19.99
The 'Final Countdown' takes a look at 10 signs given by God to lovingly wake us up so we'd give our lives to Him before it's too late. These prophetic signs are many, but there are 10 REALLY IMPORTANT ones to which we really need to pay attention.
These 10 prophetic signs are: 1) The Jewish People and their reborn nation, Israel; 2) Modern Technology; 3) Explosion of Worldwide Unrest/ Upheaval; 4) Unprecedented Falsehood; 5) Rise of Wickedness and Perversion; 6) Rise of Religious Apostasy; 7) One World Religion; 8) One World Government; 9) One World Cashless Economy; 10) The Mark of the Beast.
This 2-DVD set addresses two of these issues:
The Jewish People and their reborn nation, Israel in three aspects:

* Reborn as Israel
* Rebuilding of the Temple
* Relationship to the coming Antichrist.
Modern Technology in two aspects:

* Increase of Travel, Knowledge & Unrest;
* Two Witnesses, False Prophet & Antichrist.
NOTE: The trailer we show covers all 10 of these prophetic areas which are unfolding right in front of our eyes.
4 hours of solid prophetic teaching - ORDER NOW
---
Three New Hoggard DVD's - Perhaps The Best He Has Ever Done!
"Ancient Giants"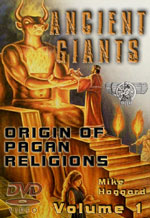 "Ancient Giants: Origin of All Pagan Mystery Religions - Babylon"
Volume 1 of 3
In Volume 1, entitled, "Ancient Giants- Origin of Pagan Religions", Pastor reveals that, not only did Giants exist in the Ancient World, but their teachings to mortal men created the various Pagan Mysteries Religions of Babylon, the Egyptian Mysteries, the Chaldean Mysteries and a whole host of lesser pagan religions.
Imagine this revelation! Satan used the Giants to actually create the various Pagan Mysteries Religions which scourged the Ancient World. We see their introduction to the world in Genesis 6, as the giants resulted from copulation between fallen angels and human women.
Israel had no greater enemy than the Pagan Mystery Religions. These pagan systems of worship not only opposed God's true religion, but they were possessed of a powerful spirit of deception which continually drew Israel's people into its trap, from the kings to the average citizens.
God constantly brought Israel into judgment for her embrace of pagan religions which demanded human sacrifice and which offended God in so many different ways. And, now we learn the incredible truth, that Satan himself created these many pagan religions through the Giants!
1 hour 46 minutes -- http://cuttingedge.org/detail.cfm?ID=2426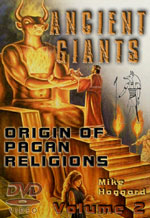 "Ancient Giants: Origin of All Pagan Mystery Religions - Egypt"
Volume 2 of 3
Pastor Hoggard continues his masterful expose' of how the demonic Ancient Giants created the various pagan religions to which Israel succumbed time after time after time.
Hoggard's examination of these many Ancient Pagan Religions will fascinate you and educate you. You will understand the Old Testament like you have never understood it before.
Mike shows how the Giants established the Ancient Egyptian Mysteries Religion, which is still today the greatest example of Witchcraft the world has ever seen. End Times prophecy abounds with references to modern nations and religious systems which God calls "The Mysteries".
1 hour 53 minutes -- http://www.cuttingedge.org/detail.cfm?ID=2427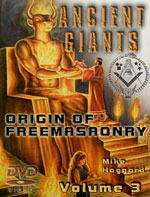 "Ancient Giants: Origin of Freemasonry"
DVD, Volume 3 of 3
Pastor Hoggard comes full circle in his expose' of the Ancient Giants creating all the Ancient Pagan Religions, by demonstrating that the Giants created Freemasonry!
Pastor shows example after example where the legends of Freemasonry abound with the names of gods and goddesses which were created by the Giants. This DVD is a scathing indictment of Masonry and will enable you to understand how true the Masonic Title is 'Ancient and Accepted' Freemasonry.
Furthermore, since the Giants created all Mystery Religions, this statement by Masonic Master, Albert Pike, makes more sense. Pike says in 'Morals And Dogma' that 'Masonry is identical to all the Mysteries'. This DVD is a great witnessing tool to any Mason in your life.
1 hour 50 minutes - http://www.cuttingedge.org/detail.cfm?ID=2428
Still only $14.99 for each title!
---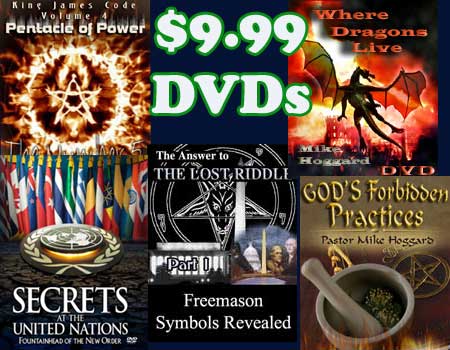 DVD Value Priced Category $9.99
Regular Retails Up To $40, Dual Disc Sets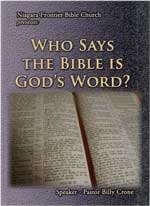 New addition to the 9.99 category. Who Says The Bible Is God's Word? - 3 Part DVD This item is on sale.
Many people today are quick to spout off bold claims that there is no way in which it can be said that the Bible really did come from God. In fact, they then imply that anyone who believes this is some form of a modern mental idiot.
However, in reality it?s the critic who is dead wrong, simply because they refuse to look at the evidence. And because of this ill-informed skepticism, when a Christian today responds that the Bible came from God, many people now reply, ?Oh yeah? Who Says the Bible is God?s Word??.
Therefore, this series ?Who Says the Bible is God?s Word?? shares 10 lines of solid logical evidence that proves that the Bible really did come from God. Such evidences include:

The Bible says so

Jesus says so

The Apostles say so

The Early Church and Church History say so

Transmission Standards say so

Manuscript Data says so

Archaeology says so

Predictive Prophecy says so

Science says so

The Nature and Scope of Data says so.

As you will see, with all this overwhelming evidence from God, there really is no need to doubt that the Bible really did come from God, let alone cave into the false claims of the critic. Be encouraged. We can know for sure that what we hold in our hands is indeed the Genuine Word of God!

3 Part DVD

New DVD Titles Added To $9.99 Category

"Attack of the Terrible T's "

Regularly $29.99, Now only $9.99

In the Killer C's we saw how the enemy of our souls, Satan, is not only real, but he really does seek to destroy our effectiveness for Jesus Christ. But here in 'The Attack of the Terrible T's' we see how his next deadly assault is a constant daily barrage of Temptations that are designed to destroy our testimony for Jesus Christ.

These attacks in Volume 1 are:

The Attack of the Twisted Christian
The Attack of the Tormented Christian

People of God, there's a spiritual war going on and its not just in the world, but its right here in our own country. It's a cosmic battle for the souls of men and women all around us. The alarm has been sounded. We are under attack! The Attack of the Terrible T's. Don't let the enemy get you!
http://cuttingedge.org/detail.cfm?ID=1940 Volume 1

http://cuttingedge.org/detail.cfm?ID=2434 Volume 2

These attacks in Volume 2 are:

The Attack of the Troubled Christian
The Attack of the Terrified Christian
The Attack of the Traitorous Christian

===========================================

But, we have even more savings for YOU!




Regular Retails Up To $30 - Single Disc DVD's

26 Titles From Which To Choose
---
New Book - Bohemian Grove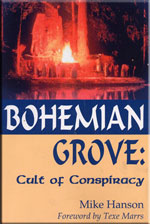 "Bohemian Grove: Cult of Conspiracy"
New Book Resource by Mike Hanson
Introductory Price Only $24.95, Regularly $29.95
This mostly Republican Party secret society already controls the world. Not only are plans for the New World Order discussed and advanced, but business contacts are made which later prove invaluable. In both politics and business, informal contacts are critically important to 'open doors' and to facilitate contacts. The business world and the world of politics leading us to a Global Government, Economy and Religion would not occur without the contacts made at The Grove.
The Grove also shouts to an undiscerning world that they are Satanic, by openly carrying out a known Satanic ritual known as the 'Cremation of Care'; it is designed to bring forth much Black Magick spiritual power, a ritual featuring a ceremonial bonfire beneath a giant statue of an owl that is meant to symbolize the release of burden, to the care of the lord, Satan, of course. Human sacrifice is required at this ritual!
Read here how the chief Republican leaders of every part of society meet to solicit the power of Satan to their goal of bringing into being the New World Order, the kingdom of the Masonic Christ (Antichrist)
448 pages -- http://www.cuttingedge.org/detail.cfm?ID=2429
---
New Hoggard "Virgin Mary" DVD Series
Must have videos for those trying to reach Catholics in these last days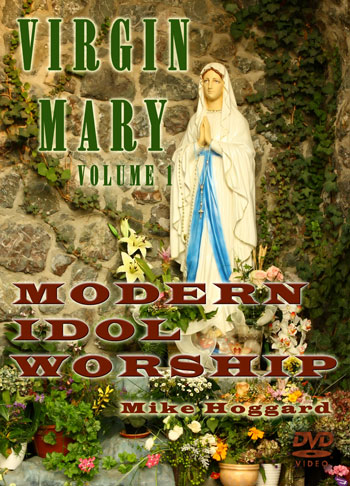 "Virgin Mary: Modern Idol Worship"
Volume 1 of 2
Why do Catholics insist upon copying the idol worship from the Babylonian 'Queen of Heaven', Semiramis? Did you know that today's followers of goddess religions, like Hindus and Buddhists have no trouble recognizing the Virgin Mary as just a modern "Queen of Heaven"?
Does Heaven even have a Queen? Does she sit on Gods throne?
As the world hurtles toward the prophesied appearance of Antichrist and his False Prophet, the Catholic Church has taken the lead in uniting all world's religions into the One World Religion. Catholicism's Mary is a goddess figure exactly as any of the goddess based religions of the past; therefore, the Virgin Mary is performing a uniting role for the False Prophet which is unique in all of world history.
Pastor Mike delves into the doctrines and teachings of the Roman Catholic Church, in his own exciting style, and exposes what the sacrifice of the Mass is all about, and what their iconology truly signifies according to the pure Word of God.
Pastor distinguishes between the free grace of God and the Roman Catholic system of good works, almost a 'pay as you go' system. This is a call for all born-again believers to see that there is no communion between Christs church and the church of Mystery Babylon The Great. This video will solidify Scriptures in your mind and enable you to recognize the Catholic tentacles trying to wrest true believers from the finished work of Christ on the Cross.
1 hour, 16 minutes long -- http://www.cuttingedge.org/detail.cfm?ID=2425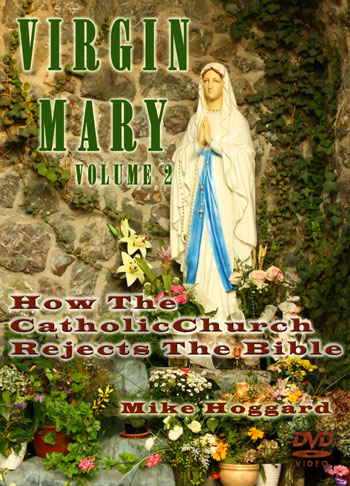 "Virgin Mary: How The Catholic Church Rejects The Bible"
Volume 2 of 2
There is not one story of the Bible, but two. One is a history of God miraculously preserving His words through His people. We know this Bible to be the King James Bible. This beloved Bible has poured the power of the Holy Spirit through the unsaved peoples of the Earth for 4,000 years, saving untold multitudes for eternity.
The other "Bible" comes from Satan using the Roman Catholic church to pervert God's words through her "scholars." The Devil used the familiar and friendly form of the old pagan goddess, the Virgin Mary, to spin a web of spiritual deceit which began with a perversion of the Holy Bible.
You will see that this perversion of the Mother of Jesus into a pagan goddess Mother of God is really essential if Satan is going to complete his prophesied final deception of the entire world so that the False Prophet -- a Roman Catholic Pope -- will be able to arise to lead the vast majority of the peoples of the world into an eternally fatal worship of Antichrist.
Presenting in a down-to- earth style, Pastor Hoggard shows that the Bibles Rome gave us are really clever counterfeits, designed to eliminate God's preserved words in English, the KJV. You will see why the KJV is the only Bible you can trust.
1 hour 14 minutes
http://www.cuttingedge.org/detail.cfm?ID=2430
---
New Headline News Article: Election 2012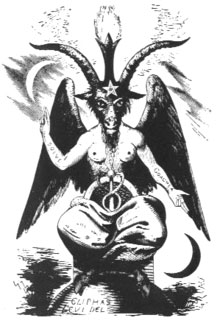 "Presidential Election 2012"
"Are we REALLY faced only with the choice of "Lesser of Two Evils"?


How would Jesus have voted? Which Party Would He Have Considered The "Lesser of Two Evils"? Pharisee or Sadducee; Democrat or Republican; Obama or Romney; Baphomet or Baal?

We have attempted to prove to you that the Democrat Party and the Republican Party are equally evil, as they pursue an equally evil plan to bring the world into the Kingdom of Antichrist, also known as the "New World Order".
Thus it follows that the men in top leadership of each party are equally evil.
Evangelical Christians have no idea whatsoever of the intrinsically evil nature of the Republican Party. They have thoroughly convinced by Evangelical "wolves in sheep's clothing" that a goodly number of top Republican leaders are Christian. Such Evangelicals have been as completely deceived as the Apostle Paul warned:
"For such men are false apostles, spurious, counterfeits, deceitful workmen, masquerading as apostles, special messengers of Christ (the Messiah). And it is no wonder, for Satan himself masquerades as an angel of light; So it is not surprising if his servants also masquerade as ministers of righteousness..." (2 Corinthians 11:131-5; Parallel Bible, KJV/Amplified Bible Commentary)
This article is a clarion call for Evangelical Christians to wake up to spiritual reality and to do the right thing when they enter the voting booth!
---
"A Mormon President: Mormon Leadership Has Always Coveted The White House"
If Americans today realized the depth of the power seeking desire that was in the heart of the Founder, Joseph Smith, and then realize that LDS leaders possess this same obsession today, they would be scared to death of a Mormon President. Mormon leaders have always wanted to win the Presidency of the United States. When assassinated in 1844, Joseph Smith was planning to run for President.
Through dramatic reenactments and interviews with top historical experts, A Mormon President looks for answers to timely questions which have great significance today since, especially since a Mormon - Mitt Romney -- is going to be the Republican nominee for President in 2012.
Do the Mormons have an agenda for the White House? As Bill Schnoebelen reveals in "Mormonisms Temple of Doom: 2012 Election Alert", Mormons have always had an agenda, as can be proven by that secret pod room on the top of the Mormon Temple in Washington, D.C. You can't understand the difficulties facing Romney in winning the election until you understand Joseph Smith, the original founder of Mormonism
Is America ready for a Mormon President? American liberties could be in real danger should a Mormon become President.
The DVD also contains a bonus section about Mitt Romney, Jon Huntsman, and other modern-day Mormon candidates.This election could decide the fate of America. Our national soul is going to be tested as never before. http://www.cuttingedge.org/detail.cfm?ID=2419
---
New Books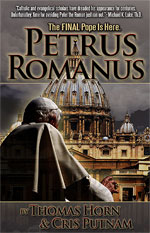 "PETRUS ROMANUS"
Will The Next Pope Be The Final "Peter The Roman"? The Prophesied False Prophet is alive, awaiting in the wings!
Is the next Pope after Benedict XVI the final Pope, the False Prophet of Revelation 13:11-18, and the world religious leader who will force all peoples of the earth to take the 'Mark of the Beast'?
St. Malachy prophesied from a vision in 1595 that 111 Popes would serve and die in office; the 112th Pope would be 'Peter The Roman', 'PETRUS ROMANUS', the man whom the Bible calls the False Prophet, the Beast who has two horns like a lamb (Rev 13:11).
This book also reports: 1) The 60-Year-Old Jesuit Codex predicting the arrival of PETRUS ROMANUS in 2012.
2) What Jonathan Edwards believed about the Kingdom of Antichrist and the year 2012.
3) The secret Vatican ceremony enthroning Lucifer as King, as reported by Malachi Martin.
4) The Fourth Secret of Fatima and other suppressed Maian texts.
5) The secret in the US Capital and the Vatican tied to 2012, and the Dragon.
528 pages - http://www.cuttingedge.org/detail.cfm?ID=2416
---
Be sure to visit our Face Book page
and like us so we can keep you updated
and you can share us with your friends.




---

Call us for Customer Service at 800-451-8211

Subscription Promotion

Cutting Edge cannot continue unless we keep a certain level of Yearly Subscriptions and so once or twice a year we run a special giveaway subscription offer. Please reach out at this most difficult time to help support Cutting Edge Ministries. We are reaching 120,000 people a year with the Gospel in five languages so your subscription will enable that wonderful spiritual eternal fruit to continue.

One Year Subscription - Choose 1 FREE Item

Two Year Subscription - Choose 2 FREE Items

Three Year Subscription - Choose 3 FREE Items

Four Year Subscription - Choose 4 FREE Items

Click here to subscribe or just check out the gift options:

---
As always we ask you to pray daily for this ministry.
Be sure to visit the Sale items and Special offers sections where you will find 28 Special offers and 121 items on Sale.
David Bay, Director, Cutting Edge Ministries
1792 South Lake Drive, Ste. 90 PMB 300, Lexington, SC 29073

800-451-8211