---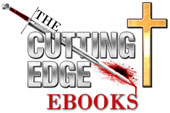 NEW INDEPTH NEWS ANALYSIS
CHECK IT OUT!
---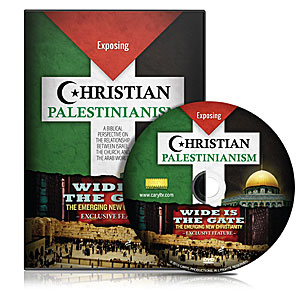 "Wide Is The Gate - Christian Palestinianism - Israel Is Going To Be betrayed" - DVD
A Biblical Perspective On The Relationship Between Israel, The Church and The Arab World. address the rising tide of beguiling apostasy gripping today's church in regards to modern Israel. At the core of the anti-Israeli movement is Replacement Theology, a reinterpretation of scripture, teaching the church has replaced the nation of Israel now being the sole beneficiary of God's promises given expressly to the Jews, Jerusalem (Zion) and Israel. Based on this erroneous misinterpretation, "Christian" anti- semitism attempts to justify its position, claiming the nation of Israel to be illegitimate and an "illegal occupier" of Palestine. This political-religious campaign is gaining wide acceptance among church leaders, denominations, charities, missions and humanitarian groups.
The apostate church is joined by Palestinian Arabs with their own Muslim version of Replacement Theology. Islam's strategy is to rid Israel of its Jewish presence, seize the land for Allah, and establish Sharia rule worldwide. Additionally, cloaked in counterfeit Zionism, is the esoteric understanding of Judaizers (kabbalists) who claim to be God's Chosen. They promote a nationalistic, political Zionism through aggressive self-effort. Sadly, Zionist imitations united with secularists and political left-wing and right-wing activists, are seducing the support of Christians who unwittingly become pawns in the alliance of "peace" for the antichrist and his unholy government.
Almost 2 hours long -- http://www.cuttingedge.org/detail.cfm?ID=2517
---
Hot News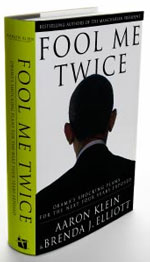 I. President Obama is starting to feel the political heat being generated by his outrageous scandals!
Will he be impeached? Read about this possibility in NEWS2506.
NEWS BRIEF: "Poll: Controversies raising doubts about White House 'honesty' ", The Hill, June 5, 2013
"A new poll finds a trio of controversies raising public concerns about the "honesty" of the Obama administration, even as the president maintains his approval rating."
What are these three controversies that are finally eating into Obama's unbelievable likeability rating?
1) IRS Targeting - "A Wall Street Journal/NBC News poll released late Tuesday shows 55 percent believe the IRS targeting of conservative groups raised questions about the administration's 'overall honesty and integrity'."
This new reality could spell trouble for Barack Obama. His strong rating among voters for 'honesty' and 'likeability' have made him virtually bullet-proof in two elections.
"A plurality, 43 percent, believe that the IRS scandal is part of a 'widespread effort' on the administration's part to target political opponents." If the President cannot reverse this trend, he could become the new "Richard Nixon" President, the type of leader who is trusted less than a person trusts the word of a Used Car Salesman. Old "Tricky Dick"!
2) Benghazi -- "Fifty-eight percent say the administration's handling of the attack on the Benghazi, Libya, diplomatic post also raises questions about the honesty of the White House."
3) Government seizing phone records - " The same number say the Justice Department's subpoenaing of reporter email and phone records in national security leak investigations also raises concerns. "
These many controversies are eating into the President's public approval rating.
NEWS BRIEF: "Poll: President Obama job approval rating down", Politico News, 5-30-2013
"President Barack Obama's approval rating took a hit amid three controversies surrounding his administration ... Obama has a 45 percent approval rating and a 49 percent disapproval rating — compared with a 48 percent approval, 45 percent disapproval rating from May 1, according to the Quinnipiac University poll."
"In particular, Obama plunged among independent voters. Only 37 percent of independents approve of him while 57 percent disapprove, Quinnipiac found ... Quinnipiac's results stand in contrast to Gallup, which has found that Obama's approval rating has gone largely unchanged since the IRS scandal and other controversies."
The IRS scandal is so troublesome to Americans that many want an Independent Prosecutor named to investigate! This development is particularly worrisome to the President because the first substantial blow delivered against President Nixon was the appointment of an Independent Prosecutor!
"In January, 45 percent of independent voters gave Obama marks for being "honest and straightforward," a figure that dropped to 27 percent in the latest poll."
But, there is even more trouble with the IRS. After pursuing American Conservative and Religious groups simply because their views ran contrary to the Obama Administration, the IRS turned around and granted the President's half-brother, Malik, with a very suspicious '501(C)3' designation, even though Malik was using this money to fund radical Wahhabist terrorists and even though Malik was closely associated with the leader of Sudan, who has been indicted by the International Criminal court for 'War Crimes'!
Could these developments actually result in President Obama's impeachment? We explore this possibility in our newest Headline News article, "President Obama / Malik Obama - IRS Targeting Scandal -- Supporting Radical Islamists While Targeting Patriotic Americans"
How long did it take the Independent Prosecutor to force "Tricky Dick Nixon" to resign? I believe it took him about 2 years. If this case follows the Nixon pattern, these next couple years are going to prove to be very interesting. However, such trouble swirling about the White House today could prove disastrous, as our enemies are much stronger today and much better armed.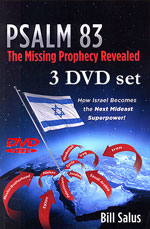 II. The possibility of all-out regional war in the Middle East just lurched to a new danger level!
Syrian rebels hostile to Israel and Syrian Army troops are now on Israel's border with Syria.
NEWS BRIEF: "IDF complains to UN over Syrian army presence on border ", The Jerusalem Post, 6/6/2013
"The IDF complained to the UN on Thursday over the presence of Syrian army tanks and APCs in the ceasefire area on the Israeli-Syrian border ... The Syrian army moved into the ceasefire area at Quneitra to recapture it from rebel forces that seized it earlier in the day. "
As if having Syrian armor on the border, Syrian al-Qaeda rebels moved on the Golan Heights, the most sensitive of military positions which Israel maintains.
NEWS BRIEF: "Al-Qaeda Syrian Rebel Group Now Sitting on Israeli Border", Israel National News, 6/6/2013
"The IDF verified reports Thursday morning that Syrian rebel forces had conquered parts of the Golan city of Kuneitra, placing them directly on the border with Israel. IDF officials said that the takeover of the area by rebel forces was a 'significant development'."
"Several weeks ago, the group took up positions close to Syria's border with Israel. In a video released on Youtube, the group's soldiers are seen conducting training exercises in the Dar'a area of southern Syria, right next to the Heights. In the exercise, the soldiers are seen attempting to take over a building, using weapons and bombs. They are also seen singing Arabic songs in praise of terror, and swearing revenge on the 'unbelievers'."
On top of all this pressure, shots have actually been fired at the border!
NEWS BRIEF: "UNDOF chief confirms 'shooting' on Syria-Israel border",The Jerusalem Post, 6/6/2013
"PARIS - The head of the United Nations' peacekeeping operations confirmed on Thursday there had been incidents on the Syrian-Israeli border. 'Yes there was shooting',Herve Ladsous told reporters during a visit to Paris ... Earlier, rebels seized a UN-manned border crossing linking Israel and Syria on Thursday..."
Israel is doubly nervous. Is she better off contending with well-armed and trained Syrian Army forces, or with a highly motivated jihadist terrorist group, which is what the American-backed "Syrian rebels" really are. Some observers believe another shooting war like that of Lebanon in 2006 is inevitable.
Such a shooting war always carries the risk of a massive "Psalm 83" war against Israel.
As the world awaits with trepidation, Damascus remains on "prophetic watch", her destruction certain (Isaiah 17:1)
---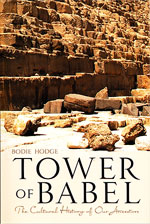 Fascinating New Book
"Tower of Babel"
"The Cultural History of Our Ancestors and Defending The Bible"
How much secular history do you know from the end of the Biblical account of the Tower of Babel until the rise of the Babylonian and Greek and Roman Empires? Very few people know about the ancient civilizations that lived and worked and died during that period of time. This epoch is like the 'time everyone forgot'.
Author Bodie Hodge researched ancient texts, critical clues and rare historic records for the purpose of defending the Biblical account of the tower of Babel.
Discover the truth of these people groups and their civilizations that spread across the earth and trace their roots back to Babel as well as to the sons and grandsons of Noah. For the purpose of defending the Bible, Hodge presents these and other vital historical facts surrounding this much-debated event. Teens and older can use this laymans reference for Biblical classes, ancient history, apologetics training, and to realize their own cultural connection to the Bible.
263 pages of fascinating history
Download a sample of this book
---
"Christian Cleansing of America"
Back In-Stock
New Book by Dr. Noah Hutchings, SW Radio
Regularly $14.95, Now Only $12.95 Introductory Price
Current American leaders are cleansing all evidences of Christianity from this once-great nation. Our leaders are trying to remove from life in the United States the existence of anything remotely related to the Bible, church, or individual faith in Jesus Christ as the Son of God who died for the sins of the world.
Listen to the startling words of First Lady Michelle Obama: 'Barack knows that we are going to have to make sacrifices; we are going to have to change our conversation; we're going to have to change our traditions, our history; we're going to have to move into a different place as a nation'
Already, Christianity has been cleansed in a number of treasured national areas: 1) Government; 2) Armed Forces; 3) Science; 4) Sports; 5) Judiciary; 6) The Church; 7) News Media; 8) ObamaCare, based upon the most blatant pagan value system imaginable.
Americans need the message in this dynamic book! http://www.cuttingedge.org/detail.cfm?ID=2521
---
"Robot Alchemy:"
"Androids, Cyborgs, and the Magic of Artificial Life"
New Book by Texe Marrs
NOTE: Texe has departed from his normal rhetoric in this book.
Since time immemorial, humans have sought to build artificial creatures that move and talk. You will see and discover many of these fantastic creations in this book.
But you will also see depicted a startling future in which science and alchemy turn everything upside down. Robotic life thrives, the machines conquer the workday world, and humanity shrinks before the advance of a superior life form.
This new age of robotic superiority, a time when humans are outworked, outthought, and outdone in every field, is no more than 25 years away. Artificial lifeandroids, cyborgs, robotswill prosper as the era of human life quickly vanishes and fades away. Homo Sapiens, the creator of robotics, must now bow to the strange new creature, for he is stronger, more cunning, and more useful.
Come and envision a near future in which a bold and intelligent Avatar rules a planetary kingdom of machines. It will be a time when artificial men and women are our sex partners, postal deliverers, chauffeurs, entertainers, and bankers; a transhuman era in which the wealthy, favored few are given artificial parts and a biochip to expand intelligence; when fast and brutal robots play an exciting form of professional football; and when the vast majority of humans grow extinct, unworthy of life extension.
236 pages Almost every other page has color! http://www.cuttingedge.org/detail.cfm?ID=2522
---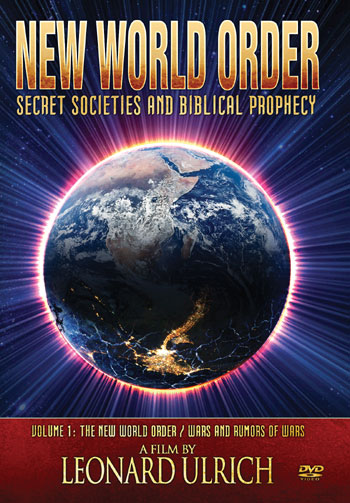 "New World Order: Secret Societies and Prophetic Wars / Rumors of Wars"
Regularly $24.99, Only $19.99
Evil is organized, and pervasive and determined!
'New World Order: Secret societies and Biblical Prophecy' is a 5,000 year survey of secret societies and a 225 year survey of progressively engineered warfare.
These studies clearly show how evil is fulfilling Biblical prophecy to the letter. Far from 'conspiracy theory', it calmly relies on original documents. This film is being shown to church groups and conferences around the world. It is for those who want the truth
This documentary is THE BEST in examining all the various forces and countries and movements in the past 225 years which have committed to the New World Order. Great for the novice who is just now being introduced to the concept of the New World Order. But, the student who has been studying this for a long time will also learn a great deal he/she has never thought of before. The best 'A-Z' study I have ever seen.
2 hours, 20 minutes - http://www.cuttingedge.org/detail.cfm?ID=2518
---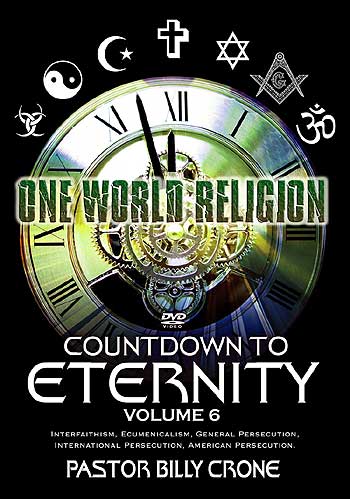 "Countdown To Eternity" DVD
"One World Religion"
One World Religious Persecution
Vol 6, by Pastor Billy Crone
Regularly $39.99, Only $19.99
Pastor Billy Crone alerts Christians of the movement towards a one world religion, in Today's News!
These are the key trends he covers:
Interfaithism
Ecumenicalism
General Persecution
International Persecution
American Persecution
Pastor Crone lists major prophetic signs God has given to lovingly wake us up so we'd repent and be saved before it's too late. These two DVDs are loaded with shocking film clips that illustrate the move towards the faith that all roads lead to God.
Over four hours long, 2-DVD Set - http://www.cuttingedge.org/detail.cfm?ID=2519

Previous Five "Countdown To Eternity" DVD's
All Four Hours Long - Still Only $19.99 Each
"Modern Israel / Modern Technology" Volume 1
"Worldwide Upheaval / Rise of Unprecedented Falsehood" Volume 2
"False Religions, Mother Earth Worship, Food Control, UFO's Aliens " Volume 3
"Unprecedented / Exponential Increase In Wickedness" Volume 4
" Phony Believers, Greedy Believers, Worldly Believers, Occult Believers, Dead Believers" Volume 5
You Will Never Look At The News The Same Way Again
---
Are YOU seized with bitter roots of anger and unforgiveness?
Does your soul feel withered and nigh unto spiritual death?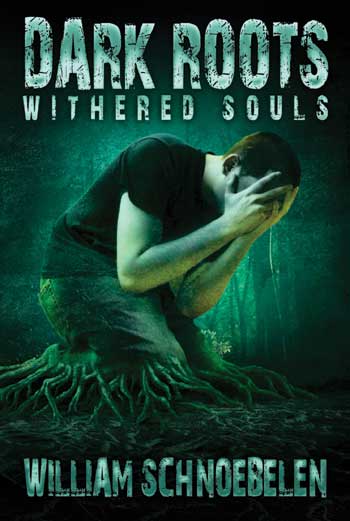 "Dark Roots, Withered Souls"
Spiritual Warfare - Spiritual Healing DVD
Regularly $24.95, Only $19.79 for 2 hours of teaching
Most families have at least one member who is bound by a 'Root of Bitterness', powerfully binding them to the dark spirits of the Abyss. This person seemingly cannot find joy in any part of life, but is continually saturated with a spirit of gall.
Schnoebelen shares critically important spiritual warfare information which can begin a spiritual healing that literally sets a person free!
Lack of forgiveness and bitter-root judgments powerfully bind even a genuine believer, preventing a full spiritual recovery.
Most people understand the need for forgiveness but do not fully comprehend how roots of bitterness and anger can prevent a person from gaining full victory in Jesus Christ.
Over 2 hours long, this DVD contains spiritual warfare and deliverance information you will never get from your local pastor!
http://www.cuttingedge.org/detail.cfm?ID=2520
AMERICA IS CAUGHT UP IN THIS "DARK ROOTS" SPIRIT AND OUR NATIONAL SOUL IS "WITHERING" - THIS DVD IS A "SIGN OF THE TIMES" WARNING AND SPIRITUAL SOLUTION.
---
Headline News Analysis Articles
"President Obama / Malik Obama - IRS Targeting Scandal -- Supporting Radical Islamists While Targeting Patriotic Americans"
Is this the scandal which shall impeach President Barack Obama?
"China Steals Cutting-Edge U.S. Military Technologies"
"Is China headed for a major shooting war with the United States?"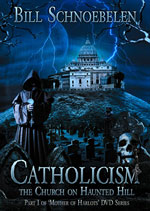 DVD
"Pope Francis I Displays His Ecumenical Heart - Preparing To Lead Untold Millions Into Hell"
Rome is broadening her global spiritual tent. Just as we would expect from the future Global False Prophet.
The African nation of Nigeria is forcing its citizens to go cashless! 'Mark of the Beast' prophecy cannot be fulfilled until the economies of all nations of the world are operating without cash, including Africa.
"President Obama Is Gutting The Army, Navy, Marine Corps, and Air Force"
Defense Department Is So Gutted By Sequester Budget Cuts That Planes Are Grounded, Naval Ships Are Being Docked and Marines Lament That They Cannot "Handle Even One War"!
"UNPRECEDENTED! A Former Pope Moves Back Into The Vatican To Live and Work Side-by-Side With the New Pope"
Is The Future False Prophet Being Set In Place?
"Iraq -- Ancient Babylon -- is nearing her End Times' annihilating judgment just as God foretold 2,700 years ago in Isaiah 13"
"Mighty Babylon" is falling and her days shall not be prolonged!
The clock of death continues to tick, and soon, Iraq will be history's first "Dead Nation", a place where no person or animal can possibly live. Mighty Babylon is clearly succumbing to God's inexorable judgment -- and Skull & Bones George W. Bush drove the prophetic stake through the heart of the ancient nation of Nimrod! http://www.cuttingedge.org/news/n2499.cfmfound a precise match.
---
Understanding The Men of the Lodge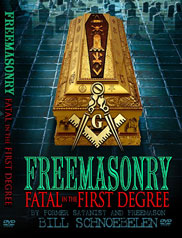 "Freemasonry: FATAL In The First Degree" DVD
New DVD by Bill Schnoebelen, Former Mason, Satanist - Only $19.99
Once viewing this video, you will never again believe that your loved one can safely pass through the first degree of Freemasonry!
Bill demonstrates that Freemasonry is Satanic from the First Blue Lodge Degree right up through the 33rd Degree. The first degree of Masonry is taken directly from the first degree of Satanism, where the initiate bows his knee to Baal and Lucifer and MARRIES Baal! The first initiation degree is a spiritual marriage to the god Baal.
When your loved one completes the first degree there is a very high chance he will be demonically possessed or at least demonically afflicted. But, to make matters much worse, your loved one will bring these newly found demonic 'friends' right in the front door of your home, where he will begin to afflict all relationships within the home -- Spousal, siblings, father-children, spiritual. Every meaningful, cherished relationship will abruptly come under severe and continuous attack. Suddenly, there will be no peace in relationships and in your home.
But, there is more spiritual horror! When the new Mason begins a memorization program called 'Posting', his mind begins to change, as his mental programming is quietly and subtly reprogrammed through a mental virus very similar to a computer virus. Suddenly, he is not the same person. His relationships begin to change and he will grow spiritually colder.
Bill then Biblically guides you through the spiritual steps necessary for a person who is already caught by Masonry's trap to be free of the spirit of Masonry and full of the Holy Spirit. Finally, Bill shows how you can be set free from any spiritual bondage if Freemasonry is in your family background, father, grandfather, mother or grandmother. Spiritual deliverance is thoroughly discussed.
We consider this video to be one of the most important we have ever created. 2 1/2 hours long. http://www.cuttingedge.org/detail.cfm?ID=2459
---
May Jesus Richly Bless You,
David Bay, Director
Cutting Edge Ministries
800-451-8211