News Alert & Bookstore Bulletin

Monday, April 1, 2013

Scheduled News Alerts/Newsletters

Mon. AM - Alert

Thurs. PM - Alert
Buy These New DVD's!
---
HOT NEWS
DVD
I. The Illuminati is once again "telegraphing its punches", conditioning us for the disaster they have planned!
In the new movie, "Olympus Is Fallen", North Korean commandoes capture the White House, threaten to kill the President, and almost inflict devastating nuclear devastation upon North America.
What is the wording of the Illuminati Plan?
"A hair-raising nuclear confrontation in Korea may, towards the end of the period, threaten man's very survival." (Peter Lemesurier, "The Armageddon Script", p. 225)
Brief Synopsis of Movie, "Olympus Is Fallen"
"An ex-Special Forces operative and former presidential bodyguard must fight to take back the White House from (North Korean) terrorists who have kidnapped the Commander in Chief in this high-stakes action thriller ... starring Gerard Butler. In the aftermath of a tragic accident involving the president (Aaron Eckhart) and the first lady (Ashley Judd), Secret Service agent Mike Banning (Butler) is handed his walking papers."
"When a powerful (North Korean) terrorist group seizes command of the White House and takes the president hostage, the entire nation watches as the Speaker of the House (Morgan Freeman) becomes the acting president, and plans his response. "
Actually, the commando group attacking the White House was not an unnamed "terrorist group". They were quickly identified as North Korean commandos, "well trained, tough and formidable", as Mike Banning later described them to the Acting President and the Pentagon group advising him. Throughout the movie, pictures of North Korea and South Korea on a large map on the Korean Peninsula were prominently displayed. While North Korea mobilized her troops, South Korea mobilized hers, as did the United States, China, and Russia. Air forces flew and navy ships set sail. The world looked as though it was going to world war.
"Meanwhile, Banning finds himself trapped in the White House as it comes under siege from all sides. With no choice but to fight back against the heavily-armed invaders, Banning must rely on his extensive knowledge of the building to rescue the president, and prevent the situation from spiraling into all-out war."
As the movie spun toward its conclusion, we learned that North Korea never intended to launch nuclear missiles at the United States; rather, her strategy was to seize control of NORAD's "CEREBUS" defensive system that allows American commanders to detonate a nuclear missile streaking toward the target, before the missile reaches its target. This device provides the military and the White House flexibility if events transpiring during the time of the missile trajectory should solve the crisis short of war.
The North Koreans gain control over "CEREBUS" and plan to detonate all nuclear warheads in their silos. The effect of several thousand massive nuclear warheads exploding at once would truly devastate North America. Of course, Mike Banning gains entrance into the secure Presidential bunker under the White House and shuts down the system three seconds before detonation. The ending is predictably Hollywood.
However, the premise of this movie does closely parallel the Illuminati World War III Plan which calls for a "hair-raising" nuclear confrontation in Korea, a scenario designed to "threaten mankind's survival". Why would the Illuminati choose to release a movie like this, at a time when the new young leadership of North Korea is making the boldest threats against the United States and South Korea and Japan imaginable?
Why would Hollywood create a quality, blockbuster movie that seems to follow a portion of the script of the Illuminati for World War III? Did Hollywood script writers read the Illuminati Plan in "The Armageddon Script" book by Peter Lemesuier, page 225-226? This movie seems to "telegraph" what the Elite have planned.
We have noted in the past that the Illuminati has "telegraphed its punches" in other scenarios. For example:
On September 10, 2001, FEMA accurately "predicted" three" most likely and deadly disasters that could befall the United States". These deadly disasters foretold were:
1) Terrorist attack on New York

2) An earthquake in San Francisco

3) A hurricane in New Orleans
On the very next day after this FEMA prediction, the attacks of 9/11 occurred -- the Twin Towers and The Pentagon were attacked, precisely as the Illuminati Card Game predicted in 1995! Obviously, disasters #1 and #3 from this list have already occurred. Therefore, one has to worry that an unprecedented earthquake on the West Coast -- either in Los Angeles or San Francisco -- might be next on the "hit list" of the Illuminati. Remember, Scalar Wave Technology can produce both hurricanes and earthquakes in whatever magnitude is desired, and precisely at the location desired.
Listen to one New Age author explain the plan to produce the New World Order in one paragraph: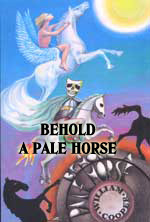 "It is true that without the population or the bomb problem, the elite would use some other excuse to bring about the New World Order. They have plans to bring about things like earthquakes, war, the Messiah, extraterrestrial landing, and economic collapse. They might bring about all of these things just to make ... sure that it does work. They will do whatever is necessary to succeed. The Illuminati has all the bases covered ... Can you imagine what would happen if Los Angeles is hit with a 9.0 quake, New York City is destroyed by a terrorist-planted atomic bomb, World War III breaks out in the Middle East, the banks and the stock markets collapse, Extraterrestrials land on the White House lawn, food disappears from the shelves, some people disappear, the Messiah presents himself to the world, and all in a very short period of time?" [William Cooper, "Behold A Pale Horse", Page 177]
Why does the Illuminati tell its victim ahead of time of the disaster they have planned for him?
While this answer may seem an enigma to most people, a person who understands Black Magick Witchcraft understands it completely. The answer lies in the Kabbalah.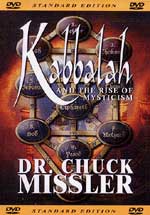 A Cutting Edge subscriber from South Africa wrote me to tell me of something he had discovered about the Kabbala from researching this system on his computer; in researching the Kabbala, he discovered an email link to the originator of the site. This subscriber was curious as to why the Jewish Kabbalists who had placed a 'Pulsa Dinura' curse (killing curse) on Sharon went public with their evil ceremony. Listen to what this subscriber discovered.

"I rushed into the full article about that famous kabbalist curse on Ariel Sharon, specially the interview of that rabbi that conducted the ritual ... I have been asking myself for months WHY on earth do the Illuminati always present (through occult masking) all their upcoming plans into medias, films, or music?"

When this subscriber asked this Kabbalist via email why the Jewish Kabbalists went public with their 'Pulsa Dinura' curse (killing curse) on Sharon, he received a chilling reply: "the cursed person needs to know, for the curse to be effective". (Emphasis added)

Did you catch the horrific meaning of this statement? According to Kabbalistic rituals, one has to tell his cursed victim that they are cursed and are doomed to die! Therefore, when they die, even after knowing what is about to happen to them, the supreme, supernatural power of the occult is revealed and glorified to the entire world. Satanists of all stripes love to glory in their power -- they love to tell their victim what is about to happen to them, and then see that victim unable -- totally powerless -- to prevent their demise.

They told you what they are about to do to you, and you did not have the power to stop them! Satan is glorified in all his pride and arrogance. Their global leadership cares not that the public may know what is coming, because they know that no one has the power to can prevent the event from occurring! Whenever this global Elite can demonstrate their overwhelming power, they will do so.

With this kind of hellish prideful arrogance on display, is it any wonder all the prophetic signs the Bible gives to alert us that the End of the Age is here, are happening all around us -- in your Daily News? Mankind is inching its way toward a prophetic climax of the ages.

There is a planned nuclear confrontation in Korea that is part of the unfolding of World War III and it will be so terrifying that men and women everywhere will feel that their very survival is threatened. "Men's hearts will fail them for fear", just as Jesus predicted at the End of the Age. That is the written Elite Plan, published for all the world to read in 1982, in "The Armageddon Script". Now, in March, 2013, all mankind has been conditioned to what events the Global Elite has planned for them.

And, they cannot do anything about it!

Just as the Kabbala instructs. Satan is going to be proud.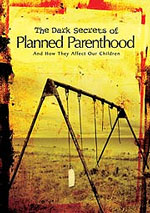 DVD
II. Planned Parenthood believes that killing a living baby after it has been delivered and is living outside the mother's body is completely acceptable!
An incredible interview between state legislators and a Planned Parenthood official reveals this inner hidden belief. Margaret Sanger would be proud!
NEWS BRIEF: "Planned Parenthood lobbyist suggests killing newborn OK", The Washington Times, March 29, 2013
"A lobbyist for Planned Parenthood told Florida lawmakers this week that what doctors do with babies who were supposed to be aborted but were instead born alive is the doctors' business — suggesting killing was okay."
What, exactly, did the Planned Parenthood lobbyist say that brings us to this somber conclusion? When asked what Planned Parenthood instructs its doctors and nurses to do if a live, healthy baby survives an abortion attempt, Snow replied:
" 'That's entirely up to the doctor, the woman and the family', said Alisa Laport Snow, the lobbyist for Florida's Alliance of Planned Parenthood Affiliates, during a committee hearing in Florida..."
The disbelieving Florida lawmaker pressed the point to Ms Snow:
"Rep. Jim Boyd, to Ms. Snow ... : "If a baby is born on a table as a result of a botched abortion, what would Planned Parenthood want to have happen to that child that is struggling for life?"
Snow replied, ' We believe that any decision that's made should be left up to the woman, her family, and the physician', Ms. Snow said."
In other words, if the woman, her family and the physician believed the baby should die, the medical staff at Planned Parenthood would kill the baby! Of course, that is murder under our current laws. Now you know why pro-abortion people want to change the law by delaying a legal recognition that a baby is a human until some time after birth. Some radical New Age authors have argued that a baby should not be declared a human protected by law until that baby is 6 years old!
However, now we know: Planned Parenthood is simply in the business of murdering infants for Federal money. That is what they do.
But, Cutting Edge subscribers have known this fact since March, 1997! Please take the time to read NEWS1068, entitled, "Abortion Doctor Confirms Truth About Goals of Abortionists -- They WANT to KILL Babies! Has Nothing To Do With Welfare of the Mother! "
Finally, sixteen years later, a Planned Parenthood advocate lets the truth slip out! Margaret Sanger, founder of Planned Parenthood, would be proud. Listen to some of her quotes:
"The most merciful thing that a family does to one of its infant members is to kill it."
"Woman must have her freedom, the fundamental freedom of choosing whether or not she will be a mother and how many children she will have. Regardless of what man's attitude may be, that problem is hers - and before it can be his, it is hers alone."
Abortion is the wanton killing of your own flesh and blood. It goes back to the original murder of Abel by Cain. In fact, abortion is more heinous that Cain and Abel because the victim is wholly defenseless and innocent. God's judgment is sure upon all nations which legalize this monstrous act.
But, Satan is proud, because he considers an abortion to be a human sacrifice. And, he considers it to be the highest of all human sacrifices because the victim is so very young. You see, in Black Magick Satanism, the younger the sacrifice, the greater power it delivers to Satan, and you cannot get any younger than a sacrifice within the womb.
Satan is proud of getting abortion upon demand legalized throughout the world.
---
NEW Powerful Headline News Articles For Our Faithful Supporters
Your faithful support enables us to keep Cutting Edge free for everyone else. Our readers have always loved the indepth correct news analysis found in our "Headline News Analysis".
The Federal Government Has Bought Almost 2 Billion Rounds of Ammunition. Is It Planning To Go To War With The American People?
As frightening as this scenario sounds, we will demonstrate that the Government is NOT planning to go to war with the American people, as they have a far different plan in mind.
10th Anniversary of the Iraqi War: At Last, Mass Media Is Admitting The War Was Launched On Lies And Is A Monumental Failure - Part 1 of a Series Entitled, "Iraq War: Mad Dash On The 33rd Parallel"
Cutting Edge was trumpeting this fact months before Bush's invasion! We knew the Illuminati had planned this war at the 1954 Bilderberg Meeting and we had filtered this knowledge through Bible prophecy and found a precise match.

Iraq's "Operation Enduring Freedom" meant only the 'freedom of the grave" for millions, but the worst is yet to come.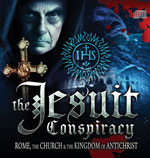 "The New Pope Is The First Jesuit Pope In History!"
Red warning flags should be flying high in your mind from this development, as the Jesuits have the blood of tens of millions on their hands. How evil is the Jesuit Order and their leader, the Black Pope?
http://www.cuttingedge.org/news/n2496.cfm
"Depleted Uranium Poisoning Steadily Spreading Throughout Iraq!"
"God's final End of the Age prophecy against Mighty Ancient Babylon is occurring precisely as Isaiah 13 foretold 2,600 years ago!"
http://www.cuttingedge.org/news/n2495.cfm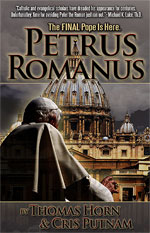 Is The Planned Moment Arriving For The Pope To Preside Over The Building of A Combination Worship Center For All Monotheistic Faiths?
Israel has signed an historic agreement with the Vatican, giving the Pope a seat at King David's Tomb. Is Rome planning to soon move the throne of the Papacy to Jerusalem? Moving the Papal throne from Rome to Jerusalem would carry enormous End Times religious global implications.
http://www.cuttingedge.org/news/n2493.cfm
"America Is Leading Western Powers In A Full-Scale Invasion of Africa!"
Now that the wars in Iraq and Afghanistan are winding down, the West is in full invasion mode destabilizing a major part of the "Non-Functioning Gap" region of the world. The "Pentagon's New Map Strategy" is being brilliantly followed. Have you noticed? Mass Media is either clueless as to what is occurring or they are part of a worldwide coverup.

"In Just 50 Years, America Has Turned "PINK"!
In February, 1963, the Supreme Court "kicked God out of public schools"; in January, 2013, President Obama allowed a large Lesbian/Gay marching band to participate in his Second Inauguration. The President also spoke so glowingly about homosexuality, he legitimized the lifestyle!
America has come full circle, from God's blessing to God's curse. America is the new Sodom, and we are living "in the days of Lot" (Luke 17:27-29)
Are you spiritually ready to live like "righteous Lot" (2 Peter 2:6-9), being daily tortured by all the filthy acts occurring in our nation, and yet able to live righteously for Jesus? Unless the Rapture of the Church occurs first, we Christians are going to have to stand our ground, protecting our loved ones while we aggressively evangelize those lost around us. http://www.cuttingedge.org/news/n2490.cfm
Most Important Article We Have Ever Written
DVD
"World War III Will Be History's Greatest Lynchpin!"
Many major events are planned to occur just as World War III begins. Mankind will be systematically hit with unparalleled disasters of every kind as this planned global war unfolds. But, none of these events will occur until the lynchpin called "World War III" is pulled.
The Illuminati has prepared many different scenarios which will not be triggered until World War III breaks out. All these events are sitting like a race car at the starting line, engines idling, just waiting for the global war to break out so they can all be triggered at once. Doc Marquis said that these events will occur at a rapid rate, one after another after another. Doc said people's hearts will literally fail them for fear, as they can scarcely comprehend one disaster when they will hear of another and then another and then another. People will be overwhelmed by the succession of so many horrific disasters after another.
But, Doc warned, "none of the planned events will occur before the others". And, the trigger for all these events is World War III, literally a lynchpin holding all planned events in place. Once this gigantic lynchpin is pulled, all these planned disasters will quickly follow. People worldwide will be so upset and so confused by so many disasters happening at once, they will literally leap at any proposal from their leaders that will "solve the problem".
At that point, the New World Order can be established as soon as World War III has run its course and the Masonic Christ appears on the world scene. We are not to panic whenever someone speaks out about one of these disasters, saying that it will occur NOW. We know the Plan for the New World Order and we know the sequential prophecy in Daniel 7:7-8 so we know these events are a number of years away.
http://www.cuttingedge.org/news/n2489.cfm
You need not panic.
"And you will know the Truth, and the Truth will set you free." (John 8:32) Jesus' Promise
---
Great New Additions To $9.99 DVD Category
Choose other DVD titles in the $9.99 category. We now have 106 exciting titles
---
Support this ministry today with your subscription and get access to these articles listed above, and ALL headline news articles at Cutting Edge. Your subscription will help us reach a lost world for Jesus Christ. Here is how.
If you will send in a new subscription or renew an existing one, we will give you your choice of the following gifts FREE. https://www.cuttingedge.org/secure/subscriptions/support.html
CHOOSE 1 OF THE FOLLOWING GIFTS FOR EACH YEAR YOU SUBSCRIBE - For a one year subscription at $25.00 choose 1 gift or any two gifts with a 2 year $50.00 subscription. Choose any three gifts with a 3 year $75.00 subscription etc. $150.00 subscription for example you will get a Six year subscription and all six gifts.
Monthly Support - We also need monthly supporters so we can meet our monthly operating costs. From our subscription page you can also select monthly support. Or, if you feel the Lord moving upon you to give a special donation, you can do so by clicking on the link below.
Here is that link again:
https://www.cuttingedge.org/secure/subscriptions/support.html
GIFT CHOICES ( use the link above to subscribe and choose your gift from our selection below )
A. Seminar 1, "America's Leadership of the New World Order" and Seminar 2, "America Determines The Flow of History" in MP3 format on CD. MP3 Audio format for play on your computer as well as CD and DVD players that will play MP3 format. Upload them to your IPOD too. Once you understand the evidence and truth we share with you, you will never look at the news the same way again. You will understand how America has become the nation she is, and you will be able to see the direction in which we are heading.
Nearly 10 hours of audio seminar material plus printable passout notes for the seminars are included on the disc.
Seminar 1- "America's Leadership of the New World Order", shows why this formerly Christian country could become the leader of the Satanic New World Order effort. America today is compared to the Israel in the years prior to God bringing in Nebuchadnezzar to physically destroy Israel in Judgment. Comparisons between Israel then and America today are staggering!
Seminar 2- "America Determines The Flow of History", looks carefully at our national history and discovers that our Founding Fathers had a hidden agenda which set this country on the path of leadership of the Kingdom of Antichrist. Also covered is the demonic Plan for three (3) World Wars, the fact that the Illuminati created Communism between 1846-1848, and the greatest deliberately staged "Dialectic Struggle" of all time -- the Cold War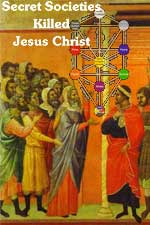 B. MP-3 -- "Secret Societies Killed Jesus Christ" - MP3 Audio on CD

Your understanding of the Gospel account will change forever once you understand the truth of the Jewish leaders who conspired to put Jesus on the cross. This incredible series reveals that the Pharisees and Sadducees who hated Jesus with an unnatural hatred and provoked the Lord into uncharacteristic animosity toward them, were secretly Satanists practicing what later became known as the Cabala (Kabbala, Qabbala).
Now you will know why the Pharisees killed Jesus even though they knew with 100% certainty that He was the Promised Messiah.
Now you will know why these Jewish leaders looked at Jesus' miracles and concluded that He was drawing His power from Beelzebub, one of Satan's chief demons. MP3 audio CDs will play on your computer and can be transferred to your IPod or MP3 player. Many new cars also have CD players that will play MP3 CDs.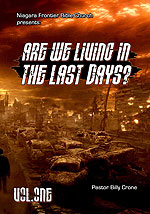 C. DVD - "Are We Living In The Last Days?" New DVD Compilation by Pastor Crone .
"Are we living in the last days?" Is the rapture of the Church imminent upon the horizon? And will this generation see the actual return of Jesus Christ? Pastor Crone compiles snippets of each one of his 14 DVD's thus far on the Book of Revelation to demonstrate how close we are to the very End of the Age.
Join us in this eye-popping provocative video study revealing how we really are living in the last days. Here you will be confronted with undeniable evidence in the form of actual interviews, reports, and news broadcasts from around the world unveiling the shocking truth that the end times are at hand.
These signs include, the Mark of the Beast, Worldwide Upheaval, a One World Government, Economy, Religion, and New World Order, the rebuilding of the last days Jewish Temple, Apostasy in the Church, Moral Decay in our Culture, the Rise of the Antichrist, and much much more!
Are we living in the last days? People, check out the proof for yourself! You won?t believe your eyes!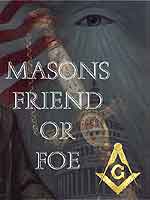 D. DVD - "Masons: Friend or Foe To The Born Again Christian?"
Many of our leaders have sworn allegiance to a Masonic Order of one type of another. Our current election features two brothers in a Masonically- based secret society called "Skull & Bones".
What are these leaders pledging their allegiance to and how deeply entrenched are their goals to America today? Since Freemasonry has attempted so strenuously to claim that they are just a good old boy fraternity that does good works and has a good time, most Americans would be shocked to learn the bitter truth behind that facade.
2 hours, 40 minutes of instruction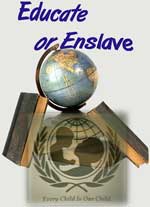 E. DVD - "Educate or Enslave?"
Three United Nations Programs: Outcome Based Education, Goals 2000, School-to-Work
These cradle-to-grave "improvement" plans are designed to reshape our national values and belief systems through our children. This video covers the origin of all these programs, showing how they are designed to completely change the values systems and worldview of our precious children.
Throughout the Clinton and Bush and Obama Administrations, these UN programs steadily made inroads into our educational curricula, reshaping the minds of our precious children into "Global Citizens". - 2 hours, 20 minutes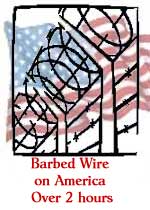 F. DVD -Barbed Wire On America: God's Final Warning - by Dave Wegener
In great film clips, Wegener details the coming plan to institute global dictatorship.
What do: Detention centers, Depopulation, Demilitarization, Foreign Troops on U.S. soil, Mother Gaia worship, Martial Law, and the Anti-terrorism bill have in common? They are all in our immediate future, unless enough Americans wake up to what is planned for us. Great film footage, a must see for all Americans.
Over 2 full hours
---
In closing we want to give a special thanks to all of you who have supported Cutting edge since 1996 and made it possible to now reach over 250,000 people each month, many who read our salvation message and now have a changed life in Jesus Christ. In fact, Cutting Edge is now printed in nine (9) languages and is thrilled to see 150,000 people per year read our Salvation Plan.
Many Christians who do not have a local church who preaches the full counsel of God can find the truth through our articles, books and DVDs that we offer.
During these financially challenging times, we desperately need your help and maintaining a subscription is one of the most important avenues we offer. Literally, we cannot survive without our subscription program. Our Headline News Articles reflect the study of 27 years and are the most insightful of any on the Internet. People have regularly told us over the years that "once they understand the Cutting Edge Worldview, they can never read the news the same way again"!

---
Be sure to visit our Face Book page
and like us so we can keep you updated
and you can share us with your friends.
---
Call us for Customer Service at 800-451-8211