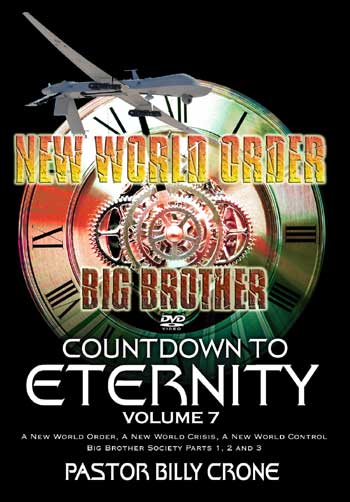 New "Countdown To Eternity" Volume #7
"Big Brother Society In The New World Order"
2-DVD Set, Regularly $39.99, Only $19.99 - Over 4 Hours Long
Pastor Billy Crone alerts Christians that 'Big Brother Surveillance' is here now, and is getting larger and more efficient. Very soon, governments throughout the world are going to have the incredibly sophisticated surveillance of every citizen every minute of the day, just as Revelation 13:16-18 foretells!
Hot topics in this 2-DVD Set are:
1) A New World Order;
2) A New World Crisis;
3) A New World Control;
4) Big Brother Society, Part 1;
5) Big Brother Society, Part 2;
6) Big Brother Society, Part 3.
Six messages on two disks, over 4 hours long - http://www.cuttingedge.org/detail.cfm?ID=2533
---

Hot News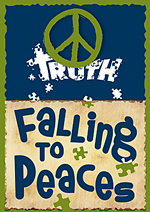 DVD
I. A European Union envoy stated that the new "Peace Talks" between Israel and the Palestinians would produce "Peace and Security (Safety)!
The prophetic stage is now set for war between Israel and her Arab neighbors.
NEWS BRIEF: "EU's Ashton: Revived talks opens new doors for EU contribution to peace, security (Safety)", The Jerusalem Post, 7/31/2013
"EU Foreign Policy Chief Catherine Ashton says she 'firmly believes' that an end to the Israeli-Palestinian conflict is in reach. The revival of negotiations between Israelis and Palestinians 'opens new doors' for developing further European Union contribution to peace and security in the region..."
The Apostle Paul prophetically warned us almost 2,000 years ago, that when people at the End of the Age are suddenly proclaiming that "peace and safety" is at hand, we shall expect the opposite; we shall expect that unprecedented warfare and destruction shall erupt over our heads!
Indeed, the handwriting is even now on the wall that the Palestinians are employing the ages-old Islamic strategy of dealing with an superior enemy. This warning came from the Palestinian Authority Minister of Religious Affairs Mahmoud Al-Habbash, and was delivered in the presence of the President of the Palestinian Authority, Abbas, as he revealed that he was following the advice of the Prophet Mohammed.
NEWS BRIEF: "PA minister: New peace talks will help us conquer Israel later", Israel Today, July 29, 2013
"Palestinian Authority Minister of Religious Affairs Mahmoud Al-Habbash reassured everyone last week that the political peace process is just a ruse, and part of a larger scheme to defeat their enemy. In a sermon delivered in the presence of Palestinian leader Mahmoud Abbas and broadcast on official Palestinian Authority TV, Al-Habbash compared the US-driven peace negotiations to the Hudaybiyyah Peace Treaty concluded between Islam's prophet Mohammed and the Quraish tribe of Mecca."
"Peace talks with Israel at this time are 'the right path, which leads to achievement, exactly like the Prophet [Mohammed] did in the Treaty of Hudaybiyyah' ... Two years after signing the treaty, Mohammed's forces had gained enough strength and he launched the brutal conquest of Mecca. 'This is the example and this is the model" that the Palestinian leadership is following', Al-Habbash acknowledged."
God is delivering a warning against all people at this age to not divide His land - Read full details NEWS1806, entitled, "God Threatens End Time Judgments Against Those Who Would Divide His Land")
I do not know whether this current round of "Peace Talks" will lead to the announcement of a Palestinian State, but I do know the prophecy which states that a Palestinian State will be announced, but never established. And, that the leaders of this Palestinian State will soon thereafter disappear, never to be seen again.
Listen to this incredible prophecy.
"And He (God) will stretch over it (Edom; Palestinians) a measuring line of confusion and the plummet stones of chaos over its nobles. They shall call its nobles to proclaim the kingdom, but nothing shall be there ..." [Isaiah 34:11b-12; Parallel Bible, KJV/Amplified Bible Commentary]
Let us hear that key prophetic sentence once more time:
"They shall call its nobles to proclaim the kingdom, but nothing shall be there".
When you hear this empty proclamation of a Palestinian State, know that Bible prophecy has been fulfilled, know that nothing will come of it, and know that the final annihilating war of the House of Edom, the Palestinians, is close at hand.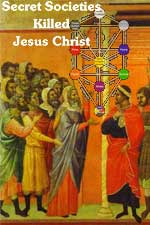 II. A Kenyan lawyer is taking the State of Israel to the International Court of Justice, charging Israel with the crime of putting Jesus Christ to death on the cross!
Is this court case merely a typical "Anti-Semitic" blood libel, where the Jews are labeled "Christ Killers"?
NEWS BRIEF: "Kenyan lawyer takes State of Israel, Jews to Hague - International Court of Justice - over Jesus' death ", The Jerusalem Post, July 30, 2013
"Dola Indidis wants the IJC to consider a re-trial of Jesus Christ, convict those responsible for his unlawful crucifixion. Dola Indidis, a lawyer and former spokesman of the Kenyan Judiciary is reportedly attempting to sue Tiberius (emperor of Rome, 42 BCE-37 CE), Pontius Pilate, a selection of Jewish elders, King Herod, the Republic of Italy and the State of Israel."
" 'Evidence today is on record in the Bible, and you cannot discredit the Bible', Indidis told the Kenyan Citizen News. Although those he suggests should have been convicted during the original trial have not been alive for more than 2,000 years, Indidis insists that the government for whom they acted can and should still be held responsible."
Indidis then turns his attention to the government of Italy, as he recognizes the role of the Gentile Roman Empire in Jesus' crucifixion.
"Indidis apparently named the states of Italy and Israel in the lawsuit because upon the attainment of independence, the two states incorporated the laws of the Roman Empire, those in force at the time of the crucifixion."
Of course, the ICJ renounced this lawsuit, claiming it had no jurisdiction over states and individuals who have died almost 2,000 years ago. In 2004, working with two former Satanists, I created the audio presentation pictured above, entitled, "Secret Societies Killed Jesus Christ".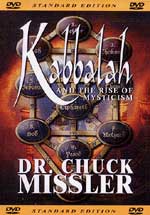 The Jewish religious leaders were not traditional Abrahamic Covenant Jews, even though they certainly gave great lip service to it; rather, the Pharisees of Jesus' day were members of the secret society now called the Cabala (Kabbalah). The Cabala was as occultic and Satanic as any that has ever existed, and for the past 2,000 years, has formed the cornerstone of all seriously Satanic secret societies. A great irony of history is that the exceedingly anti-Semitic Adolf Hitler learned the Cabala while training in The Thule Secret Society, and used it to justify his genocidal murder of 6 million Jews!
The Pharisees literally were controlled by Satan at the time that Jesus carried out His ministry.
Your understanding of the Gospel account will change forever once you understand the truth of the Jewish leaders who conspired to put Jesus on the cross. This incredible series reveals that the Pharisees and Sadducees who hated Jesus with an unnatural hatred and provoked the Lord into uncharacteristic animosity toward them, were secretly Satanists practicing what later became known as the Cabala (Kabbala, Qabbala).
Now you will know why the Pharisees killed Jesus even though they knew with 100% certainty that He was the Promised Messiah.
Now you will know why these Jewish leaders looked at Jesus' miracles and concluded that He was drawing His power from Beelzebub, one of Satan's chief demons. These false religious leaders wanted a Messiah Warrior King who would conquer Rome and then control the whole world from Jerusalem. They did not want the meek and mild Suffering Servant Messiah who would die for his people.
Therefore, the Pharisees decided, that once they killed Jesus, they could then stage their own Messiah, cast into their image, as a Warrior King. Now, a newly born Israel is again in the hands of the Illuminati and they are intent upon staging their Warrior King Messiah; the Bible will label him as Antichrist.
You will never read the Gospels the same way again!
---
Special Appeal Continued
We have received some additional support from our appeal for additional funds on Monday, but we are not at the level we need to be. Our total income from subscriptions, donations, and bookstore sales continue to fall below minimum levels. But, our daily readership remains very steady at historically high levels, about 45,000 people per day, reading a combination of the weekly newsletter, Daily News Updates, Headline News Analysis Articles, and articles from our special sections.
This extremely high level of people daily visiting our website has vaulted Cutting Edge into the top 1% of all websites worldwide.
But, despite the unprecedented number of people reading our site daily, income has fallen by 40%.
We know what is causing this sudden downturn, an economy which has forced so many people out of work and has caused working people to fear that they might not have a job. Many who do have a job are afraid the economy is going to collapse. We understand this reality. But, we also know that other Cutting Edge readers are not so terribly impacted, and it is to these people we are making this appeal.
We are especially appealing to the 98% of people who read us regularly but never support us.
We also need corporate support. We know that significant numbers of supporters own their own businesses. What better way to invest your donations than with a ministry reaching over 130,000 people annually with the Salvation Message?
The threat is that our cash reverses will be totally depleted if income does not increase soon. If you are one of the people who enjoy our site but do not support us regularly, please consider what you can do at this time. We need your help to progress onward. We have tried to earn your support:

1) We have cut prices on numerous items in the Bookstore -- Special Offers -- plus Big Savings on Closeouts and sale items 215 Items marked down, some up to 75% off! We also attempt to bring in 1-3 new items per week, in order to keep the Bookstore fresh. . http://cuttingedge.org/on_sale.cfm
2) We are going to continue our special $25 per year subscription fee promotion, for which you will get a FREE DVD / CD for every $25 of support. For example, if you can give $100, you get all four free. To see the four titles available, go to this link. https://www.cuttingedge.org/secure/subscriptions/support.html
This promotion is also available for those who wish to renew their subscriptions, and for people giving a subscription to someone else as a gift.
If you wish to make a contribution, you can use our electronic Subscription Form from the link above, call us at 800-451-8211, or mail a check or money order to:
Cutting Edge Ministries, 1792 South Lake Drive, Lexington, SC, 29073.

We desperately need your assistance and we need it now. Can you help?
---
Popularly Priced $4.99 and $9.99 DVD's
---
Latest Addition To $4.99 Close-out Category

"Is Antichrist Alive Today?"

by Dr. Noah Hutchings

Regularly $14.99

Reduced to $4.99 while stock lasts

Dr. Hutchings proposes that several events in the world today strongly suggest that Antichrist is alive and well on Planet Earth today.

Spiritually, politically and prophetically the signs seem very clear that the Man of Sin is on the world scene in a capacity other than the one he will assume when God's timing is right

175 pages - http://www.cuttingedge.org/detail.cfm?ID=2406

See All Our $4.99 Books / DVD's

30 Titles From Which To Choose

72 Titles From Which To Choose!
---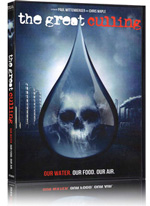 "The Great Culling" - DVD
Our Water, Our Food, Our Air
The Great Culling of the human population has quietly begun. Covertly, insidiously, mercilessly, a global depopulation agenda has been launched.
What did Jesus foretell? 'Unless the days be cut short, no human flesh would survive'! The world is entering into this era of history. Are you spiritually prepared?
---
Alien DVD's From Rob Skiba Back In-Stock
And Are All On Sale! Regularly $24.99, Now Only $19.99
"Archon Invasion: 2045 and the Quest for Immortality"
Will "The Time of Jacob's Trouble" Begin In 2045?
Can Mankind Achieve Immortality?
Who, or what, is an Archon? Who were the nephilim? How did they return both before and after the Flood? Why did Jesus say that the Last Days would be like the days of Noah? How do the advancements of the 20th Century relate to ancient prophecy from the book of Enoch? What did Aleister Crowley and Jack Parsons do that may have opened up portals to other dimensions? What does an ancient Canaanite blood altar have to do with the Federal Reserve? Why should we be concerned about the act of mixing animal and human DNA? What is the 2045 Strategic Social Initiative and how does it relate to the promises of the serpent in Genesis 3:4,4? How has the devil been preparing the masses for the acceptance of transhumanism and the potential return of the old gods? http://www.cuttingedge.org/detail.cfm?ID=2516
Other Rob Skiba Titles - Also Only $19.99
---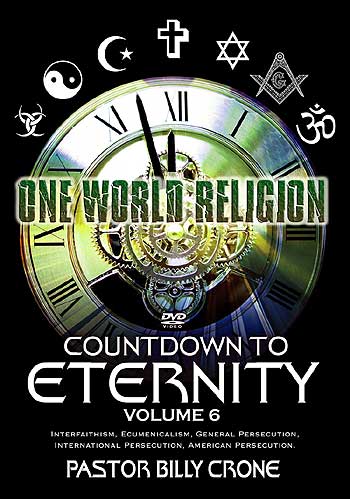 "Countdown To Eternity" DVD
"One World Religion"
One World Religious Persecution
Vol 6, by Pastor Billy Crone
Regularly $39.99, Only $19.99
Pastor Billy Crone alerts Christians of the movement towards a one world religion, in Today's News!
These are the key trends he covers:
Interfaithism
Ecumenicalism
General Persecution
International Persecution
American Persecution
Pastor Crone lists major prophetic signs God has given to lovingly wake us up so we'd repent and be saved before it's too late. These two DVDs are loaded with shocking film clips that illustrate the move towards the faith that all roads lead to God.
Over four hours long, 2-DVD Set - http://www.cuttingedge.org/detail.cfm?ID=2519

Previous Five "Countdown To Eternity" DVD's
All Four Hours Long - Still Only $19.99 Each
"Modern Israel / Modern Technology" Volume 1
"Worldwide Upheaval / Rise of Unprecedented Falsehood" Volume 2
"False Religions, Mother Earth Worship, Food Control, UFO's Aliens " Volume 3
"Unprecedented / Exponential Increase In Wickedness" Volume 4
" Phony Believers, Greedy Believers, Worldly Believers, Occult Believers, Dead Believers" Volume 5
You Will Never Look At The News The Same Way Again
---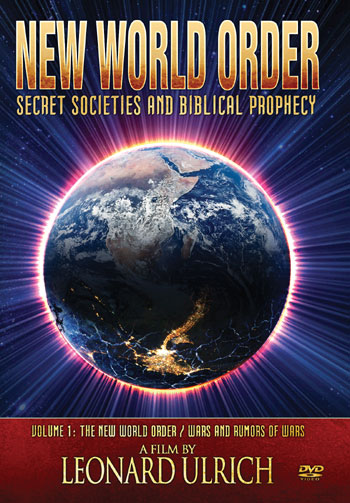 "New World Order: Secret Societies and Prophetic Wars / Rumors of Wars"
Regularly $24.99, Only $19.99
Evil is organized, and pervasive and determined!
'New World Order: Secret societies and Biblical Prophecy' is a 5,000 year survey of secret societies and a 225 year survey of progressively engineered warfare.
These studies clearly show how evil is fulfilling Biblical prophecy to the letter. Far from 'conspiracy theory', it calmly relies on original documents. This film is being shown to church groups and conferences around the world. It is for those who want the truth
This documentary is THE BEST in examining all the various forces and countries and movements in the past 225 years which have committed to the New World Order. Great for the novice who is just now being introduced to the concept of the New World Order. But, the student who has been studying this for a long time will also learn a great deal he/she has never thought of before. The best 'A-Z' study I have ever seen.
2 hours, 20 minutes - http://www.cuttingedge.org/detail.cfm?ID=2518
---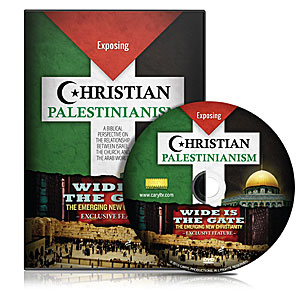 "Christian Palestinianism - Israel Is Going To Be Betrayed"
"Wide Is The Gate" DVD
A Biblical Perspective On The Relationship Between Israel, The Church and The Arab World,. addressing the rising tide of beguiling apostasy gripping today's church in regards to modern Israel. At the core of the anti-Israeli movement is Replacement Theology, a reinterpretation of scripture, teaching the church has replaced the nation of Israel now. Based on this erroneous misinterpretation, "Christian" anti- semitism attempts to justify its position, claiming the nation of Israel to be illegitimate and an "illegal occupier" of Palestine. This political-religious campaign is gaining wide acceptance among church leaders, denominations, charities, missions and humanitarian groups.
The Apostate Church, involved in usurping God's intended inheritance for His Chosen people and Israel, are joined by Palestinian Arabs with their own Muslim version of Replacement Theology. Islam's strategy is to rid Israel of its Jewish presence, seize the land for Allah, and establish Sharia rule worldwide. Additionally, cloaked in counterfeit Zionism, is the esoteric understanding of Judaizers (Kabbalists) who claim to be God's Chosen. They promote a nationalistic, political Zionism through aggressive self-effort. Sadly, Zionist imitations united with secularists and political left-wing and right-wing activists, are seducing the support of Christians who unwittingly become pawns in the alliance of "peace" for the antichrist and his unholy government.
Did you know specific end time prophecy is unfolding before our very eyes? . ....The promised ingathering of unbelieving Jews into Israel has begun? ....The 7 year "tribulation" judgment of God will bring numerous of His Chosen to call on Jehovah Who will redeem their land to the fullness of His promised borders? .....Multitudes of Jews worldwide are in present-day rebellion against their Messiah and hardened to His Promises for God's only covenant nation, Israel? ....Growing worldwide anti-semitism is also infecting contemporary Christianity in an aggressive and heartbreaking "Christian" anti- Israel, anti-semitic movement?
Speakers include: 1) Dr. Paul Wilkinson, 2) Dave Hunt, founder of The Berean Call, author, and knowledgeable authority on Israel and Islam; 3) Caryl Matrisciana, author and documentary film producer.
Almost 2 hours long - http://www.cuttingedge.org/detail.cfm?ID=251
---
Understanding The Men of the Lodge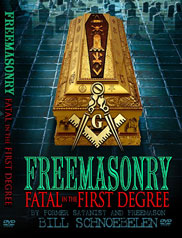 "Freemasonry: FATAL In The First Degree" DVD
New DVD by Bill Schnoebelen, Former Mason, Satanist - Only $19.99
Once viewing this video, you will never again believe that your loved one can safely pass through the first degree of Freemasonry!
Bill demonstrates that Freemasonry is Satanic from the First Blue Lodge Degree right up through the 33rd Degree. The first degree of Masonry is taken directly from the first degree of Satanism, where the initiate bows his knee to Baal and Lucifer and MARRIES Baal! The first initiation degree is a spiritual marriage to the god Baal.
When your loved one completes the first degree there is a very high chance he will be demonically possessed or at least demonically afflicted. But, to make matters much worse, your loved one will bring these newly found demonic 'friends' right in the front door of your home, where he will begin to afflict all relationships within the home -- Spousal, siblings, father-children, spiritual. Every meaningful, cherished relationship will abruptly come under severe and continuous attack. Suddenly, there will be no peace in relationships and in your home.
But, there is more spiritual horror! When the new Mason begins a memorization program called 'Posting', his mind begins to change, as his mental programming is quietly and subtly reprogrammed through a mental virus very similar to a computer virus. Suddenly, he is not the same person. His relationships begin to change and he will grow spiritually colder.
Bill then Biblically guides you through the spiritual steps necessary for a person who is already caught by Masonry's trap to be free of the spirit of Masonry and full of the Holy Spirit. Finally, Bill shows how you can be set free from any spiritual bondage if Freemasonry is in your family background, father, grandfather, mother or grandmother. Spiritual deliverance is thoroughly discussed.
We consider this video to be one of the most important we have ever created. 2 1/2 hours long. http://www.cuttingedge.org/detail.cfm?ID=2459
---
May Jesus Richly Bless You,
David Bay, Director
Cutting Edge Ministries
800-451-8211