DVD's By James Sundquist
Each DVD Is Only $14.99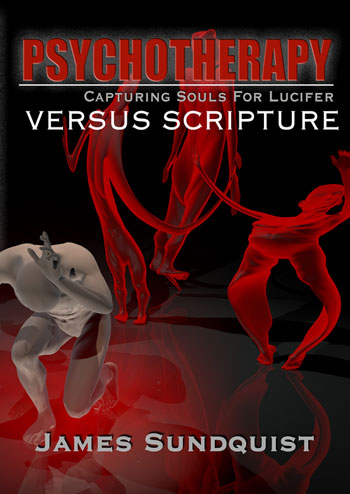 "Psychotherapy vs Scripture: Capturing Men's Souls For Lucifer"
Occult and New Age authors boldly brag that the human founding fathers of Psychotherapy and Psychology received their understandings from demonic Familiar Spirits! Yet, today even 'christian' churches are using Psychotherapy to screen pastors and missionaries.
Psychotherapy can be considered as a religion of the New Age Movement. The Apostle Paul said that Antichrist cannot arise until the apostasy of the Christian Church comes first. In other words, Christian leaders will literally open the door to Antichrist by drifting away from sound Biblical doctrine and interpretation. In this light, Psychotherapy is one of those huge spiritual doors swinging open to the next dimension, allowing Antichrist and his demons access into this world.
Author James Sundquist contrasts the Truth of Scripture versus the hellish nature of Psychotherapy. If your church is using psychology or psychotherapy, you need to protest mightily and immediately leave that church.
Starts shipping August 22
http://www.cuttingedge.org/detail.cfm?ID=2540
"Global Conspiracy To STEAL The Land of Israel"
'Peace talks' are now getting underway whose aim is to carve a 'Palestinian State' out of Israel's ancient land, Judea, Samaria and the Gaza Strip. God foretold this occurrence 2,600 years ago in Joel 3:1-2, and promised physical judgments upon those people or nations who would 'divide His land'.
Confiscating the Promised Land and what are the boundaries of the REAL Promised Land, called 'Occupied Territories' by Muslims, are the main subjects of this video. This DVD examines this conspiracy to divide Israel's Holy Land, and discusses the final judgments and plagues described in the Book of Revelation. Other topics include Christian and Muslim Replacement Theology, the war described in Psalm 83, wherein the surrounding nations of Israel have been making merchandise of the souls of Jews for thousands of years.
Some argue that the present land of Israel does not count, that there must be a future regathering. But this is impossible because that would make it a THIRD REGATHERING. There is no third time for Israel. Listen: 'And it shall come in that day that the Lord shall set His hand again the second time to recover the remnant of His people... And I will plant them upon their land and they shall no more be pulled up out of their land which I have given them, saith the Lord thy God.' (Amos 9:15)
We shall be eyewitnesses to this incredible fulfillment of an End Times prophecy uttered 2,600 years ago! http://www.cuttingedge.org/detail.cfm?ID=2538
Both these titles were originally part of "Making Merchandise of Men's Souls" DVD set.
---
Hot News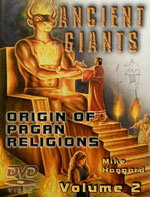 I. Egyptian Army generals are absolutely determined to quell protests.
Muslim Brotherhood members are dying.
NEWS BRIEF: "Egypt's military leaders dig in despite deaths", CBS News, August 18, 2013
"Egypt's military leader vowed Sunday that the army will not tolerate further political violence after nationwide clashes killed hundreds ... Defense Minister Gen. Abdel-Fatah el-Sissi, who led the July 3 coup that toppled President Mohammed Morsi, again said the army has no intention of seizing power in the Arab world's most populous country ... State media also said all those killed and the gunmen belonged to the Muslim Brotherhood, the organization that ousted President Mohammed Morsi hails from. The officials who spoke to AP said some of the detainees belonged to the Brotherhood, while others didn't ... That raised the death toll for four days of unrest across the country to 924 people killed."
The killing of almost 1,000 civilians in just four days sounds like a civil war to me. In the End Times judgment of Isaiah 19 -- written 2,600 years ago -- God said He was going to set Egyptian against Egyptian in a civil war that would literally tear the country apart. Then God stated that He would appoint a stern taskmaster over the Egyptian people. Since the Army generals have taken the position that they do not plan to rule by dictatorial methods, but only want to return the country to a freely elected government, the "stern taskmaster" to which God referred must be the radical Muslim Brotherhood.
" 'We will not stand by silently watching the destruction of the country and the people or the torching the nation and terrorizing the citizens', Defense Minister el-Sissi said in a speech aired on state television."
As the Army uses increasingly strong methods to control these angry crowds, what is the Muslim Brotherhood doing in response?
They are dying.
NEWS BRIEF: "Egypt death toll grows, Muslim Brotherhood prisoners die", Reuters News, August 18, 2013
"Some 38 Muslim Brotherhood supporters died in disputed circumstances at a prison on Sunday, as the leader of Egypt's powerful army warned he would not tolerate violence, urging Islamists to change course ... Police have rounded up hundreds of Mursi's Brotherhood backers in recent days, in an effort by the army-backed government to end weeks of protests and to stamp their authority on the deeply polarized nation ... The Brotherhood, under huge pressure since police stormed its protest camps in Cairo and killed hundreds of its supporters on Wednesday, staged several more marches across the country to demand the reinstatement of Mursi, ousted by Sisi on July 3."
The Brotherhood shows no signs of backing down as their forces face tanks and other military weaponry.
"Egypt, the most populous Arab nation, risks lurching into anarchy just 30 months after President Hosni Mubarak's overthrow was hailed as heralding democratic change across a region ruled by autocrats ... The interim cabinet met on Sunday to discuss the bloody confrontation ... Prime Minister Hazem el-Beblawi ... has suggested outlawing the 85-year-old Brotherhood, which would force it underground."
Egyptian military and security leaders believe they have the upper hand right now.
"A middle-ranking security officer, who asked not to be named, said no political proposals or foreign condemnation would be allowed to deflect the suppression of the Brotherhood. 'We have the people's support. Everybody is against them now as they see the group as an armed terrorist organization with no future as a political power', the officer said."
In this Isaiah 19 End Times prophecy, God first spoke of a great civil war, in which Egyptian shall fight and murder Egyptian, a war which would end in a stern taskmaster over the country. Either the Army will clamp a stern dictatorship or the Muslim Brotherhood will prevail. We can only watch and wait to see how events turn out. God is clearly in control over this entire situation!
But, then, God speaks of the death of the mighty River Nile and of the rivers and streams and the absolute destruction of farming within the Nile River valley. God proceeds directly from discussing the great civil war to the great destruction of the Nile River and all people depending upon the Nile for sustenance.
How does Egypt go from civil war to a huge destruction of the Nile? We explain how the prophesy of the Nile River destruction is quite logical when you view other current news stories. Read full details in our newest Headline News Article:
"Current Events Are Propelling Egypt Down The Abyss Into Her Final, End of Days, Prophetic Judgment"
We are privileged to watch Almighty God stamp His prophetic Word with legitimacy by causing events that so accurately fulfill a prophecy He uttered 2,600 years ago. Truly, God sees the End and the Beginning in one long string of events. What a mighty God we serve.
II. Nuclear radiation continues to leak in ever-increasing numbers from Japan's crippled nuclear power plant in Fukushima.
If the Japanese government does not get a handle on this leakage, millions of innocent people could die.
NEWS BRIEF: "Fukushima apocalypse: Years of 'duct tape fixes' could result in 'millions of deaths' ", Russia Today News, August 17, 2013
"Even the tiniest mistake during an operation to extract over 1,300 fuel rods at the crippled Fukushima nuclear power plant in Japan could lead to a series of cascading failures with an apocalyptic outcome ... Fukushima operator TEPCO wants to extract 400 tons worth of spent fuel rods stored in a pool at the plant's damaged Reactor No. 4. The removal would have to be done manually from the top store of the damaged building in the radiation-contaminated environment."
This operation sounds like the men carrying it out will be so contaminated they will soon die. Can the Japanese government find men who will be willing to expose themselves to fatal levels of radiation for the good of the nation? During World War II, kamikaze fighters launched many suicide missions against American warships, and they did cause significant damage, although not enough damage to alter the course of the war.
The term, "kamikaze", is used in contexts other than the suicide attacks during World War II.
"While the term 'kamikaze' usually refers to the aerial strikes, the term has sometimes been applied to various other intentional suicide attacks. The Japanese military also used or made plans for Japanese Special Attack Units, including those involving submarines, human torpedoes, speedboats and divers. Nazi Germany formed its own group of suicide aircraft pilots called the Leonidas Squadron, but the German commanders were more reluctant to use them. The tradition of death instead of defeat, capture, and perceived shame was deeply entrenched in Japanese military culture. It was one of the primary traditions in the samurai life and the Bushido code: loyalty and honour until death." (Wikipedia)
Invariably, the most committed kamikaze fighter was a Japanese deeply committed to one of their religions. It does sound like such suicide men are needed at the Fukushima nuclear power plants.
"In the worst-case scenario, a mishandled rod may go critical, resulting in an above-ground meltdown releasing radioactive fallout with no way to stop it, said Consolo, who is the founder and host of Nuked Radio. But leaving the things as they are is not an option, because statistical risk of a similarly bad outcome increases every day, she said ... although fuel rod removal happens on a daily basis at the 430+ nuclear sites around the world, it is a very delicate procedure even under the best of circumstances. What makes fuel removal at Fukushima so dangerous and complex is that it will be attempted on a fuel pool whose integrity has been severely compromised. However, it must be attempted as Reactor 4 has the most significant problems structurally, and this pool is on the top floor of the building. "
Now here is the factor which makes this operation so very dangerous.
"The process of removing each rod will have to be repeated over 1,300 times without incident."
At the beginning of this article, we showed the Illuminati Card Game care entitled, "Nuclear Accident". Each card in this role-playing game is an action the Illuminati is planning to take in order to get people so sick and tired of this current civilization that they would not oppose the imposition of a New World Order.
Today is the day when genuine Christians must truly commit their lives, both body and soul, to Jesus Christ. If He wills, we will live, even through the most dangerous and deadly environment. Listen:
"He who dwells in the secret place of the Most High shall remain stable and fixed under the shadow of the Almighty, Whose power no foe can withstand. I will say of the Lord, He is my Refuge and my Fortress, my God; on Him I lean and rely, and in Him I confidently trust! For then He will deliver you from the snare of the fowler and from the deadly pestilence ... You shall not be afraid of the terror of the night, nor of the arrow (the evil plots and slanders of the wicked) that flies by day, Nor of the pestilence that stalks in darkness, nor of the destruction and sudden death that surprise and lay waste at noonday. A thousand may fall at your side, and ten thousand at your right hand, but it shall not come near you. Only a spectator shall you be [yourself inaccessible in the secret place of the Most High] as you witness the reward of the wicked. Because you have made the Lord your refuge, and the Most High your dwelling place, There shall no evil befall you, nor any plague or calamity come near your tent." (Psalm 91:1-10; Parallel Bible, KJV/Amplified Bible Commentary)
Now is NOT the time for a Christian to shrink in fear and to be overcome with panic and fear. Now is the time for Christians to live even more triumphant lives for Jesus Christ. We have the large prophetic Scripture and we are as assured of eternal life as if we were already in Heaven. Aggressively reach out to everyone in your Sphere of Influence, urging them to turn to Jesus now, while Salvation through Grace is still offered mankind.
---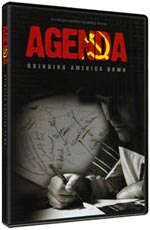 "Grinding America Down: Agenda Is At Work"
It's not just another conspiracy theory. For the past 17 years, Cutting Edge has been teaching that, if the world was really going to become a One World Government and Economy, America -- the King Kong of the world -- must be taken down in size and importance; after all, King Kong takes orders from no one.
Now, the slow, gradual grinding down of America is so obvious others are seeing the deliberate agenda being followed. Join Bowers for a fascinating look at the people and groups that have successfully targeted America's morality and freedom in their effort to grind America down.
It's a well documented agenda, and now you can prove it to any skeptic
---
Countdown To Eternity DVD Series - by Pastor Billy Crone - Now Up To 7!
Regularly $39.99, Only $19.99
Each DVD Is Four (4) Hours Long
"Modern Israel / Modern Technology" Volume 1 - Watch Trailer
"Worldwide Upheaval / Rise of Unprecedented Falsehood" Volume 2
"False Religions, Mother Earth Worship, Food Control, UFO's Aliens " Volume 3
"Unprecedented / Exponential Increase In Wickedness" Volume 4
" Phony Believers, Greedy Believers, Worldly Believers, Occult
Believers, Dead Believers" Volume 5
"One World Religion", Volume 6
"Big Brother", Volume 7 -- Watch Trailer
You Will Never Look At The News The Same Way Again
---
Powerful Books By Dr. Dennis Cuddy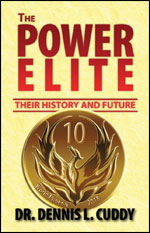 "The Power Elite: Their History and Their Future"
Dr. Dennis Cuddy uses the Phoenix Bird arising from its ashes very appropriately, because the planned New Order will literally rise from the burning ashes of this Old Order. The history of the Power Elite goes back almost a thousand years.
Dr. Dennis Cuddy takes an extensive look at how a "bold new world" is being shaped using coercive means to undermine national sovereignty and bring about a world socialist government. Dr. Cuddy also analyzes the role of the Muslim Brotherhood in the Power Elite's plan. Since the driving mechanism to bring about the plan's fulfillment is economics, he next reveals the looming economic disaster created to further the Power Elite's goals. This is followed by a look at the election of 2012, and the importance of President Obama's reelection as he moves the United States closer toward socialism/fascism.
Finally, in "Looking Backward," Dr. Cuddy projects into the future to see how the Power Elite's ultimate plan for a world socialist / fascist government will be fulfilled.
176 pages - http://www.cuttingedge.org/detail.cfm?ID=2537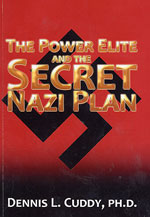 "The Power Elite and the Secret Nazi Plan"
Dr. Cuddy conclusively proves that the future New World Order will be just as firmly rooted in Adolf Hitler's Nazism as it was during the reign of Hitler!
Dr. Cuddy demonstrates that, even during the time in World War II when German Armies were victorious, certain top Nazi
160 pages - http://www.cuttingedge.org/detail.cfm?ID=2364
---
Popularly Priced $4.99 and $9.99 DVD's
---
Latest Addition To $4.99 Close-out Category

"Is Antichrist Alive Today?"

by Dr. Noah Hutchings

Regularly $14.99

Reduced to $4.99 while stock lasts

Dr. Hutchings proposes that several events in the world today strongly suggest that Antichrist is alive and well on Planet Earth today.

Spiritually, politically and prophetically the signs seem very clear that the Man of Sin is on the world scene in a capacity other than the one he will assume when God's timing is right

175 pages - http://www.cuttingedge.org/detail.cfm?ID=2406

See All Our $4.99 Books / DVD's

30 Titles From Which To Choose

72 Titles From Which To Choose!
---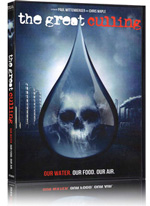 "The Great Culling" - DVD
Our Water, Our Food, Our Air
The Great Culling of the human population has quietly begun. Covertly, insidiously, mercilessly, a global depopulation agenda has been launched.
What did Jesus foretell? 'Unless the days be cut short, no human flesh would survive'! The world is entering into this era of history. Are you spiritually prepared?
---
Alien DVD's From Rob Skiba Back In-Stock
And Are All On Sale! Regularly $24.99, Now Only $19.99
"Archon Invasion: 2045 and the Quest for Immortality"
Will "The Time of Jacob's Trouble" Begin In 2045?
Can Mankind Achieve Immortality?
Who, or what, is an Archon? Who were the nephilim? How did they return both before and after the Flood? Why did Jesus say that the Last Days would be like the days of Noah? How do the advancements of the 20th Century relate to ancient prophecy from the book of Enoch? What did Aleister Crowley and Jack Parsons do that may have opened up portals to other dimensions? What does an ancient Canaanite blood altar have to do with the Federal Reserve? Why should we be concerned about the act of mixing animal and human DNA? What is the 2045 Strategic Social Initiative and how does it relate to the promises of the serpent in Genesis 3:4,4? How has the devil been preparing the masses for the acceptance of transhumanism and the potential return of the old gods? http://www.cuttingedge.org/detail.cfm?ID=2516
Other Rob Skiba Titles - Also Only $19.99
---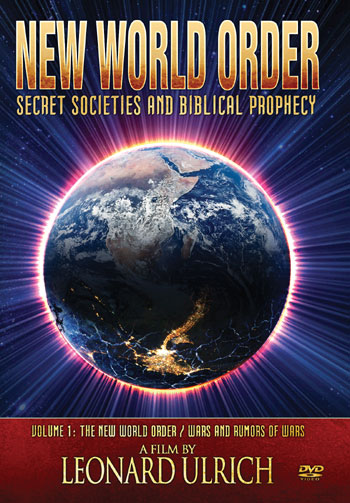 "New World Order: Secret Societies and Prophetic Wars / Rumors of Wars"
Regularly $24.99, Only $19.99
Evil is organized, and pervasive and determined!
'New World Order: Secret societies and Biblical Prophecy' is a 5,000 year survey of secret societies and a 225 year survey of progressively engineered warfare.
These studies clearly show how evil is fulfilling Biblical prophecy to the letter. Far from 'conspiracy theory', it calmly relies on original documents. This film is being shown to church groups and conferences around the world. It is for those who want the truth
This documentary is THE BEST in examining all the various forces and countries and movements in the past 225 years which have committed to the New World Order. Great for the novice who is just now being introduced to the concept of the New World Order. But, the student who has been studying this for a long time will also learn a great deal he/she has never thought of before. The best 'A-Z' study I have ever seen.
2 hours, 20 minutes - http://www.cuttingedge.org/detail.cfm?ID=2518
---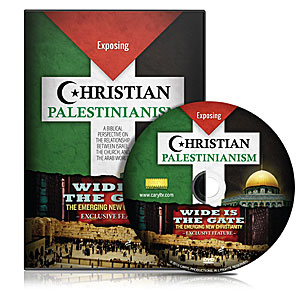 "Christian Palestinianism - Israel Is Going To Be Betrayed"
"Wide Is The Gate" DVD
A Biblical Perspective On The Relationship Between Israel, The Church and The Arab World,. addressing the rising tide of beguiling apostasy gripping today's church in regards to modern Israel. At the core of the anti-Israeli movement is Replacement Theology, a reinterpretation of scripture, teaching the church has replaced the nation of Israel now. Based on this erroneous misinterpretation, "Christian" anti- semitism attempts to justify its position, claiming the nation of Israel to be illegitimate and an "illegal occupier" of Palestine. This political-religious campaign is gaining wide acceptance among church leaders, denominations, charities, missions and humanitarian groups.
The Apostate Church, involved in usurping God's intended inheritance for His Chosen people and Israel, are joined by Palestinian Arabs with their own Muslim version of Replacement Theology. Islam's strategy is to rid Israel of its Jewish presence, seize the land for Allah, and establish Sharia rule worldwide. Additionally, cloaked in counterfeit Zionism, is the esoteric understanding of Judaizers (Kabbalists) who claim to be God's Chosen. They promote a nationalistic, political Zionism through aggressive self-effort. Sadly, Zionist imitations united with secularists and political left-wing and right-wing activists, are seducing the support of Christians who unwittingly become pawns in the alliance of "peace" for the antichrist and his unholy government.
Did you know specific end time prophecy is unfolding before our very eyes? . ....The promised ingathering of unbelieving Jews into Israel has begun? ....The 7 year "tribulation" judgment of God will bring numerous of His Chosen to call on Jehovah Who will redeem their land to the fullness of His promised borders? .....Multitudes of Jews worldwide are in present-day rebellion against their Messiah and hardened to His Promises for God's only covenant nation, Israel? ....Growing worldwide anti-semitism is also infecting contemporary Christianity in an aggressive and heartbreaking "Christian" anti- Israel, anti-semitic movement?
Speakers include: 1) Dr. Paul Wilkinson, 2) Dave Hunt, founder of The Berean Call, author, and knowledgeable authority on Israel and Islam; 3) Caryl Matrisciana, author and documentary film producer.
Almost 2 hours long - http://www.cuttingedge.org/detail.cfm?ID=251
---
Understanding The Men of the Lodge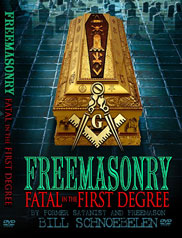 "Freemasonry: FATAL In The First Degree" DVD
New DVD by Bill Schnoebelen, Former Mason, Satanist - Only $19.99
Once viewing this video, you will never again believe that your loved one can safely pass through the first degree of Freemasonry!
Bill demonstrates that Freemasonry is Satanic from the First Blue Lodge Degree right up through the 33rd Degree. The first degree of Masonry is taken directly from the first degree of Satanism, where the initiate bows his knee to Baal and Lucifer and MARRIES Baal! The first initiation degree is a spiritual marriage to the god Baal.
When your loved one completes the first degree there is a very high chance he will be demonically possessed or at least demonically afflicted. But, to make matters much worse, your loved one will bring these newly found demonic 'friends' right in the front door of your home, where he will begin to afflict all relationships within the home -- Spousal, siblings, father-children, spiritual. Every meaningful, cherished relationship will abruptly come under severe and continuous attack. Suddenly, there will be no peace in relationships and in your home.
But, there is more spiritual horror! When the new Mason begins a memorization program called 'Posting', his mind begins to change, as his mental programming is quietly and subtly reprogrammed through a mental virus very similar to a computer virus. Suddenly, he is not the same person. His relationships begin to change and he will grow spiritually colder.
Bill then Biblically guides you through the spiritual steps necessary for a person who is already caught by Masonry's trap to be free of the spirit of Masonry and full of the Holy Spirit. Finally, Bill shows how you can be set free from any spiritual bondage if Freemasonry is in your family background, father, grandfather, mother or grandmother. Spiritual deliverance is thoroughly discussed.
We consider this video to be one of the most important we have ever created. 2 1/2 hours long. http://www.cuttingedge.org/detail.cfm?ID=2459
---
May Jesus Richly Bless You,
David Bay, Director
Cutting Edge Ministries
800-451-8211