News Alert
Thursday, December 5, 2013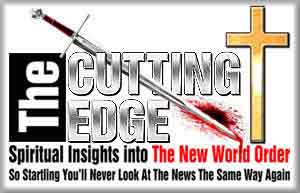 New DVD From Pastor Billy Crone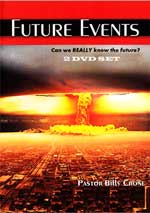 "Future Events: Can We REALLY Know The Future?"
Since the beginning of time, mankind has earnestly desired to know what the future holds. Today, the Christian has the answer right in their own homes; simply dust off God's Word, open the pages,and find the answers -- authoritative answers.
By studying Bible prophecy we can know in great detail where the world is heading and where we are right now. The Bible lays out a timeline that tells us what the world will be like just before the return of Jesus, and what will happen immediately thereafter.
Once they know what is going to happen and they can see it in their Daily News, Christians should be motivated to tell their friends and loved ones so they can avoid God's Judgment through His Wrath coming upon this wicked world.
Subject Headings:
1) Yes! We Can Know The Future;
2) Bible Prophecy Is Common Sense;
3) The Rapture and Daniel's 70th Week; Since the 70th Week prophecy is the most exciting, but the most neglected, in all the Bible, Pastor Crone is to be complimented on discussing it as he seeks to prove that Christians can know the future!
4) Judgment, Revival and the Millennium.
Nearly 4 hours - http://www.cuttingedge.org/detail.cfm?ID=2581
Unique Teachings of Cutting Edge Validated By Events in 2013
1) We have consistently taught -- since Summer, 2003 -- that Western powers would never attack Iran.
We stood firmly against all other ministries who continually beat the drums of war. We stood firm in our conviction even as President Bush sent wave after wave of aircraft carrier groups into Iranian waters during his time in office.
Last month, Western Powers, led by President Obama, reached agreement with Iran which not only removed the specter of war from the United States and Europe, but which also made it almost impossible for Israel to launch an attack.
Why were we so sure that Iran was never going to be attacked? We took our stand on Bible Prophecy. You see, Iran is Ancient Persia, a nation which God has foretold will march with Russia against Israel in fulfillment of Ezekiel 38-39.
We believed that both Persia (Iran) and Russia were protected by this prophecy. As it turns out, we were right. You can hardly go wrong when you interpret world events through the lens of prophecy.
2) Cutting Edge has consistently taught that there will be no catastrophic economic collapse before Antichrist comes to the world scene.
Please take a few moments to read our treatise on this subject, NEWS2239, " Will Some Nations Experience Economic Prosperity In The Tribulation Period?"
You will discover that God is going to spiritually trap wicked nations through allowing them to be economically prosperous. (Psalm 17:10)
The Illuminati Script follows this prophecy. The Global Elite came to understand during the Great Depression (1929-1939) that severe economic deprivation is NOT the best way in which to prepare the hearts of a nation to receive Antichrist. Millions of people responded by getting right with Jesus, not what the Elite had in mind.
After World War II, the Illuminati decided that economic prosperity and the promise of prosperity was the best way in which to make people's hearts grow cold toward Jesus.
Yet, both secular and Christian Conventional Wisdom has been screaming hard since June, 1998, that an economic collapse is inevitable and imminent.
Many dates for this collapse have been set, only to have each date come and go without the collapse. When an organization sets a date that does not occur, they simply set a new future date and continue to urge you to buy survival stuff from them.
They are laughing all the way to the bank.
Do not make any financial decision based upon the idea that a collapse is imminent. Stop listening to the never-ending clatter of "Prepper" propaganda!
And, stop being panicked by this nonsense.
"Know the Truth, and the truth shall set you free" (John 8:32)