News Alert
Monday, December 9, 2013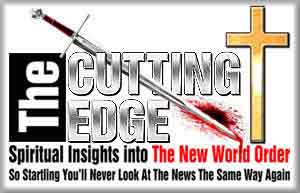 Popular New DVD by Pastor Crone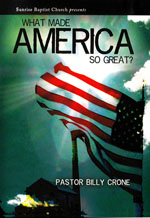 "What Made America So Great?"
Patriotic Defense of America's Original Christian Foundation
Pastor Billy Crone mounts a spirited defense of America's Founding Fathers and their efforts to create a nation founded on Christian values. You will enjoy the many, many quotes from our Founding Fathers which demonstrate that they were intent upon founding a nation built upon the values of the Bible!
Pastor Crone energetically presents compelling evidence from many of our Founding Fathers to demonstrate that they were fervent Christians intent upon founding a nation built upon Biblical truths. For this reason, God has blessed America greatly, making us the most blessed, and the most powerful, nation on Earth. God promised so long ago, 'Blessed is the nation whose God is the Lord' (Ps 33:12). Crone argues that God mightily delivered on this promise for America, and for this reason, He has blessed us so greatly.
Pastor Crone is at odds with Chris Pinto of Adullum Films, in his DVD, 'Hidden Faith of Our Founding Fathers' so we encourage you to view them both and reach your own conclusion.
Single disc - Only $14.99 - http://www.cuttingedge.org/detail.cfm?ID=2583
See Also
"Hidden Faith of Our Founding Fathers"
Many founders were members of secret societies; yet it is often claimed these men were Christians who were trying to build a Christian nation. But was their faith the true faith of the Bible? What did the founders believe about the Person of Jesus Christ? http://www.cuttingedge.org/detail.cfm?ID=2213
Hot New Pastor Crone DVD's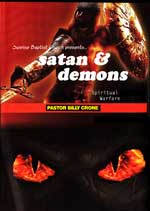 "Satan & Demons: Reality Of Spiritual Warfare "
New DVD by Pastor Billy Crone
Regularly $39.99, Only $19.99
Does Satan really exist? Do demons really exist? Is the warfare in the heavenlies and on earth - which God reveals in Daniel 10 - really true? The answer to all these questions is 'YES'!
This 3-DVD, 250-minute presentation takes you into the fall of Satan and his demonic horde, into the reality of what they do to try to destroy Jesus Christ and His Church and His believers.
Subjects of this study: 1) The Fall of Satan, God's curse on him and his angels (now demons); 2) Satan's army of demons; 3) Demonic influence throughout the world; 4) How demons take advantage of our flesh to defeat us; 5) Putting on the Armor of God, enabling Christians to successfully fight these insidious battles throughout our life.
Satan and his vast host are actively working to lead you away from the safety of God's Word and into the careless, thoughtless and powerless life of a rank unbeliever.
3 DVDs, 250 minutes - http://www.cuttingedge.org/detail.cfm?ID=2582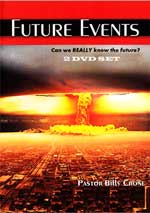 "Future Events: Can We REALLY Know The Future?"
Since the beginning of time, mankind has earnestly desired to know what the future holds. Today, the Christian has the answer right in their own homes; simply dust off God's Word, open the pages,and find the answers -- authoritative answers.
By studying Bible prophecy we can know in great detail where the world is heading and where we are right now. The Bible lays out a timeline that tells us what the world will be like just before the return of Jesus, and what will happen immediately thereafter.
Once they know what is going to happen and they can see it in their Daily News, Christians should be motivated to tell their friends and loved ones so they can avoid God's Judgment through His Wrath coming upon this wicked world.
Subject Headings:
1) Yes! We Can Know The Future;
2) Bible Prophecy Is Common Sense;
3) The Rapture and Daniel's 70th Week; Since the 70th Week prophecy is the most exciting, but the most neglected, in all the Bible, Pastor Crone is to be complimented on discussing it as he seeks to prove that Christians can know the future!
4) Judgment, Revival and the Millennium.
Nearly 4 hours - http://www.cuttingedge.org/detail.cfm?ID=2581