"Countdown To Eternity DVD's"
The Complete Collection
All 9 Titles From Pastor Billy Crone
Regularly $179.99, Was On Sale $159.99
Now Reduced Midnight To $129.99, Through Monday, 12/2
The 'Countdown' To Eternity series takes a look at 10 major prophetic signs God has given to lovingly wake us up so we'd repent and be saved before it's too late. This combination offer contains Volumes 1 through 9.
These prophetic signs are many, and this Combination Offer contains the first eight: 1) The Jewish People and their reborn nation, Israel; 2) Modern Technology; 3) Explosion of Worldwide Unrest/ Upheaval; 4) Unprecedented Falsehood; 5) Rise of Wickedness and Perversion; 6) Rise of Religious Apostasy, One World Religion; 7) Big Brother; 8) Going Global - Economy, Religion, Government; 9) Mark of the Beast.
This fresh look at world events through the lens of prophecy is intended to convince unbelievers that the End of the Age is upon us NOW and to urge them to repent while the Age of Grace is still being offered by Jesus.
Titles Can Be Ordered Individually
Watch Dynamic Trailer or Order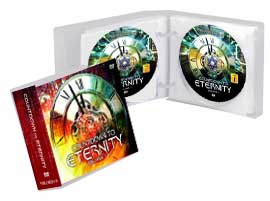 Introducing DVD Wallet Gift Case
Now you can give this Countdown To Eternity Combination Offer as a Gift Set you would feel proud to give to anyone. This gift set protects each DVD from getting ruined during shipping, as each DVD is in its own protective sleeve, with a fabric separating the disks to keep the quality top-rate. All sleeves are inside a loose-leaf library case.