Alien DVD's From Rob Skiba Back In-Stock
And Are All On Sale! Regularly $24.99, Now Only $19.99
"Archon Invasion: 2045 and the Quest for Immortality"
Will "The Time of Jacob's Trouble" Begin In 2045?
Can Mankind Achieve Immortality?
Who, or what, is an Archon? Who were the nephilim? How did they return both before and after the Flood? Why did Jesus say that the Last Days would be like the days of Noah? How do the advancements of the 20th Century relate to ancient prophecy from the book of Enoch? What did Aleister Crowley and Jack Parsons do that may have opened up portals to other dimensions? What does an ancient Canaanite blood altar have to do with the Federal Reserve? Why should we be concerned about the act of mixing animal and human DNA? What is the 2045 Strategic Social Initiative and how does it relate to the promises of the serpent in Genesis 3:4,4? How has the devil been preparing the masses for the acceptance of transhumanism and the potential return of the old gods? http://www.cuttingedge.org/detail.cfm?ID=2516
Other Rob Skiba Titles - Also Only $19.99
---

Hot News
I. American leaders continue to "cleanse" this country of our Christian roots, values, and practices.
Daniel's prophecy is being fulfilled in your Daily News! "this horn made war with the saints and prevailed over them" (Dan 7:21)
NEWS BRIEF: "Unprecedented ordinance bans Christians from serving on San Antonio city council", Biz Pac News, July 24, 2013
"The latest example of the liberal precept that government is greater than the individual can be found in San Antonio ... The city is looking to update its anti-discrimination policies by adding sexual orientation and gender identity as protected categories, and plans to punish those who speak out against homosexuality."
When the final push gets underway to crush the power of genuine Christians, as prophecy foretells, the power of the homosexual lobby will have paved the road!
"According to a draft of the revised policy, One News Now reports, no one who has spoken out against homosexuality or the transgender lifestyle can run for city council or be appointed to a city board. Or, in other words, Christians need not apply."
When a city council forbids Christians from membership, that city is going to naturally progress downward into the moral and spiritual Abyss. These actions will lead inevitably to the persecution and eventual death penalty, just because you claim the name of Jesus and demand that society obey His laws!
Jesus tells us how complete Antichrist's power shall be over God's people.
"... I saw at the foot of the altar the souls of those whose lives had been sacrificed for adhering to the Word of God and for the testimony they had borne. They cried in a loud voice, O Sovereign Lord, holy and true, how long now before You will sit in judgment and avenge our blood upon those who dwell on the earth? Then they were each given a long and flowing and festive white robe and told to rest and wait patiently a little while longer, until the number should be complete of their fellow servants and their brethren who were to be killed as they themselves had been." (Revelation 6: 9-11; Parallel Bible, KJV/Amplified Bible Commentary)
However, as we read this news story further, we realize that this city ordinance does not just prevent Christians from serving on the city council; it attacks contractors as well.
"The ordinance also says that if you have at any point demonstrated a bias – without defining what a bias is or who will determine whether or not one has been exercised – that you cannot get a city contract' ... Neither can any of your subcontractors [who have demonstrated a bias] sign on to the contract', he added."
This portion of the ordinance is going to put a powerful economic fear in the hearts and minds of businessmen throughout the whole city.
This prophecy of Revelation 6:9-11 means that the goals and actions like these by the San Antonio, Texas, city council are simply the methods Satan is using to get the world to this incredible prophecy. Actions like this are genuine "Signs of the Times"! You need to warn your loved ones, co-workers and friends of these "Signs" events so they can turn to Jesus while today is still the "Day of Grace"!
For this reason, we have the Gospel Salvation Plan spread liberally throughout our site.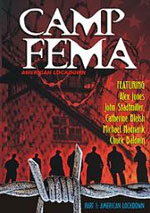 DVD
II. America's march into Absolute Dictatorship continues unabated.
Army Blackhawk Helicopters have been recently seen in Chicago, as part of an Army exercise, in complete violation of the "Posse Comitatus" act!
NEWS BRIEF: "The militarization of America: Blackhawk helicopters in Chicago", World Socialist Website, 25 July 2013
"This week's deployment of Blackhawk helicopters in Chicago is only the latest in a series of "urban warfare training" exercises that have become a familiar feature of American life. As elsewhere, this exercise was sprung unannounced on a startled civilian population. Conducted in secrecy, apparently with the collusion of local police agencies and elected officials, Democrats and Republicans alike, the ostensible purpose of these exercises is to give US troops experience in what Pentagon doctrine refers to as 'Military Operations on Urban Terrain'."
This type of training is evidently a critically important part of the Army's capabilities, as this next news segment reveals.
"he Army operates a 1,000 acre Urban Training Center in south-central Indiana that boasts over 1,500 'training structures' designed to simulate houses, schools, hospitals and factories. The center's web site states that it 'can be tailored to replicate both foreign and domestic scenarios'."
The American military is conducting more and more of these civilian-based missions every year.
'Last year alone, there were at least seven such exercises, including in Los Angeles, Chicago, Miami, Tampa, St. Louis, Minneapolis and Creeds, Virginia ... these exercises accustom troops to operating in US cities, while desensitizing the American people to the domestic deployment of US military might."
Once the time in the Illuminati Plan has come to plunge every country in the world into an Absolute Dictatorship, these special urban anti-terror techniques will be launched. Elite leaders will be able to claim that every action being carried out against a defenseless civilian population is legal; the Patriot Acts I and II, and all the other laws taking away our liberties will have legalized every dictatorial action being leveled against us.
Adolf Hitler successfully used the same ruse when he clamped down upon his people following his launch of World War II in 1939. This event is another "Sign of the Times"!
---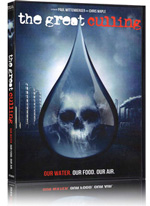 "The Great Culling" - DVD
Our Water, Our Food, Our Air
The Great Culling of the human population has quietly begun. Covertly, insidiously, mercilessly, a global depopulation agenda has been launched.
What did Jesus foretell? 'Unless the days be cut short, no human flesh would survive'! The world is entering into this era of history. Are you spiritually prepared?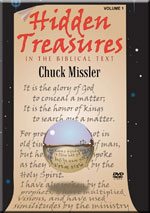 "Hidden Treasures In The Biblical Text"
New DVD by Dr. Chuck Missler
For the novice as well as the sophisticate, this DVD is full of surprises. It includes subtle discoveries lying just .beneath. the text -- hidden messages, encryptions, deliberate misspellings and other amendments to the text -- that present implications beyond the immediate context, demonstrating a skillful design that has its origin from outside our space and time.
Drawing upon over forty years of collecting, Chuck highlights in this study many of the precious nuggets that have become characteristic of his popular Bible studies around the world. It is guaranteed to stimulate, prove, and, hopefully, disturb. It will confound the skeptic and encourage the believer. It is a "must" for every thinking seeker of truth and serious inquirer of reality.
This briefing pack contains 2 hours of teaching
---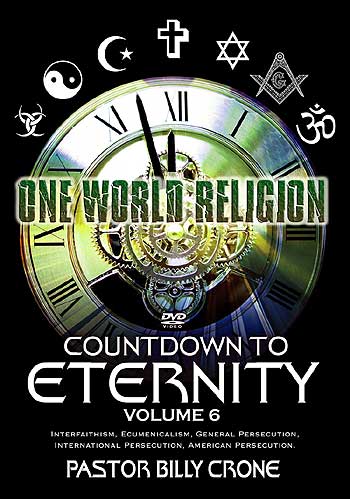 "Countdown To Eternity" DVD
"One World Religion"
One World Religious Persecution
Vol 6, by Pastor Billy Crone
Regularly $39.99, Only $19.99
Pastor Billy Crone alerts Christians of the movement towards a one world religion, in Today's News!
These are the key trends he covers:
Interfaithism
Ecumenicalism
General Persecution
International Persecution
American Persecution
Pastor Crone lists major prophetic signs God has given to lovingly wake us up so we'd repent and be saved before it's too late. These two DVDs are loaded with shocking film clips that illustrate the move towards the faith that all roads lead to God.
Over four hours long, 2-DVD Set - http://www.cuttingedge.org/detail.cfm?ID=2519

Previous Five "Countdown To Eternity" DVD's
All Four Hours Long - Still Only $19.99 Each
"Modern Israel / Modern Technology" Volume 1
"Worldwide Upheaval / Rise of Unprecedented Falsehood" Volume 2
"False Religions, Mother Earth Worship, Food Control, UFO's Aliens " Volume 3
"Unprecedented / Exponential Increase In Wickedness" Volume 4
" Phony Believers, Greedy Believers, Worldly Believers, Occult Believers, Dead Believers" Volume 5
You Will Never Look At The News The Same Way Again
---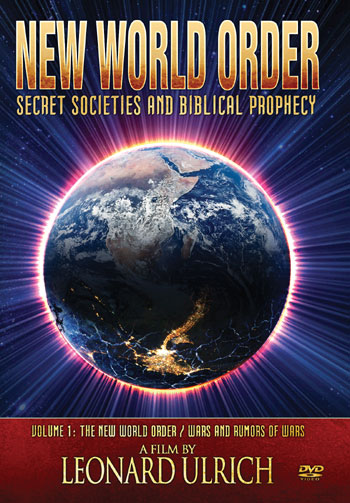 "New World Order: Secret Societies and Prophetic Wars / Rumors of Wars"
Regularly $24.99, Only $19.99
Evil is organized, and pervasive and determined!
'New World Order: Secret societies and Biblical Prophecy' is a 5,000 year survey of secret societies and a 225 year survey of progressively engineered warfare.
These studies clearly show how evil is fulfilling Biblical prophecy to the letter. Far from 'conspiracy theory', it calmly relies on original documents. This film is being shown to church groups and conferences around the world. It is for those who want the truth
This documentary is THE BEST in examining all the various forces and countries and movements in the past 225 years which have committed to the New World Order. Great for the novice who is just now being introduced to the concept of the New World Order. But, the student who has been studying this for a long time will also learn a great deal he/she has never thought of before. The best 'A-Z' study I have ever seen.
2 hours, 20 minutes - http://www.cuttingedge.org/detail.cfm?ID=2518
---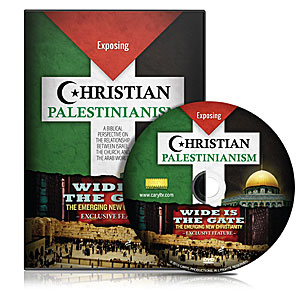 "Christian Palestinianism - Israel Is Going To Be Betrayed"
"Wide Is The Gate" DVD
A Biblical Perspective On The Relationship Between Israel, The Church and The Arab World,. addressing the rising tide of beguiling apostasy gripping today's church in regards to modern Israel. At the core of the anti-Israeli movement is Replacement Theology, a reinterpretation of scripture, teaching the church has replaced the nation of Israel now. Based on this erroneous misinterpretation, "Christian" anti- semitism attempts to justify its position, claiming the nation of Israel to be illegitimate and an "illegal occupier" of Palestine. This political-religious campaign is gaining wide acceptance among church leaders, denominations, charities, missions and humanitarian groups.
The Apostate Church, involved in usurping God's intended inheritance for His Chosen people and Israel, are joined by Palestinian Arabs with their own Muslim version of Replacement Theology. Islam's strategy is to rid Israel of its Jewish presence, seize the land for Allah, and establish Sharia rule worldwide. Additionally, cloaked in counterfeit Zionism, is the esoteric understanding of Judaizers (Kabbalists) who claim to be God's Chosen. They promote a nationalistic, political Zionism through aggressive self-effort. Sadly, Zionist imitations united with secularists and political left-wing and right-wing activists, are seducing the support of Christians who unwittingly become pawns in the alliance of "peace" for the antichrist and his unholy government.
Did you know specific end time prophecy is unfolding before our very eyes? . ....The promised ingathering of unbelieving Jews into Israel has begun? ....The 7 year "tribulation" judgment of God will bring numerous of His Chosen to call on Jehovah Who will redeem their land to the fullness of His promised borders? .....Multitudes of Jews worldwide are in present-day rebellion against their Messiah and hardened to His Promises for God's only covenant nation, Israel? ....Growing worldwide anti-semitism is also infecting contemporary Christianity in an aggressive and heartbreaking "Christian" anti- Israel, anti-semitic movement?
Speakers include: 1) Dr. Paul Wilkinson, 2) Dave Hunt, founder of The Berean Call, author, and knowledgeable authority on Israel and Islam; 3) Caryl Matrisciana, author and documentary film producer.
Almost 2 hours long - http://www.cuttingedge.org/detail.cfm?ID=2517
---
Understanding The Men of the Lodge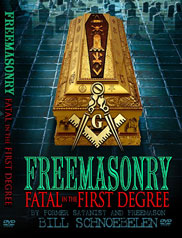 "Freemasonry: FATAL In The First Degree" DVD
New DVD by Bill Schnoebelen, Former Mason, Satanist - Only $19.99
Once viewing this video, you will never again believe that your loved one can safely pass through the first degree of Freemasonry!
Bill demonstrates that Freemasonry is Satanic from the First Blue Lodge Degree right up through the 33rd Degree. The first degree of Masonry is taken directly from the first degree of Satanism, where the initiate bows his knee to Baal and Lucifer and MARRIES Baal! The first initiation degree is a spiritual marriage to the god Baal.
When your loved one completes the first degree there is a very high chance he will be demonically possessed or at least demonically afflicted. But, to make matters much worse, your loved one will bring these newly found demonic 'friends' right in the front door of your home, where he will begin to afflict all relationships within the home -- Spousal, siblings, father-children, spiritual. Every meaningful, cherished relationship will abruptly come under severe and continuous attack. Suddenly, there will be no peace in relationships and in your home.
But, there is more spiritual horror! When the new Mason begins a memorization program called 'Posting', his mind begins to change, as his mental programming is quietly and subtly reprogrammed through a mental virus very similar to a computer virus. Suddenly, he is not the same person. His relationships begin to change and he will grow spiritually colder.
Bill then Biblically guides you through the spiritual steps necessary for a person who is already caught by Masonry's trap to be free of the spirit of Masonry and full of the Holy Spirit. Finally, Bill shows how you can be set free from any spiritual bondage if Freemasonry is in your family background, father, grandfather, mother or grandmother. Spiritual deliverance is thoroughly discussed.
We consider this video to be one of the most important we have ever created. 2 1/2 hours long. http://www.cuttingedge.org/detail.cfm?ID=2459
---
Headline News Analysis Articles
"Since The New World Order Was Officially 'Born' On September 10, 2000, Hundreds of Millions of 'Demonic Spirits' Have Reportedly Swept Into Human Beings All Over the World"
These spirits are 'Walk-ins' and have arrived to "aid mankind" in achieving the necessary spiritual "Quantum Leap" for the New Age Christ to arrive. Is your neighbor, a co-worker, or a friend now a 'Walk-in"?
"Are You Aware of the Hidden, Deeper Significance of the Snowden NSA Surveillance Crisis?"
Government To 501(C)3 Pulpit: Shut Up
No wonder the Church no longer has an impact in our society! Pastors are under the heel of the IRS and they know it. No wonder no significant pastor spoke out against the many wars since 9/11.
"President Obama / Malik Obama - IRS Targeting Scandal -- Supporting Radical Islamists While Targeting Patriotic Americans" Is this the scandal which shall impeach President Barack Obama?
View All Headline News Articles
---
May Jesus Richly Bless You,
David Bay, Director
Cutting Edge Ministries
800-451-8211