News Alert & Bookstore Bulletin

Monday, March 11, 2013

Scheduled News Alerts/Newsletters

Mon. AM - Alert

Thurs. PM - Alert
Do You Know? Jesus Celebrated Passover!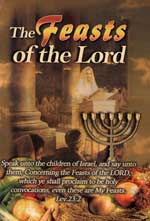 "The Feasts of the Lord In Prophecy" - DVD
5-DVD Set, With FREE Booklet - Nearly 5 Hours of Teaching
Regularly $49.95, Now On Sale $19.95 - You Save $30.00
At last, a DVD which teaches how the seven Jewish Feasts in the Old Testament accurately portray Jesus in both His first and second comings!
The Spring Feasts were Dress Rehearsals for His First Coming and were accurate to the very day!
The Fall Feasts are Dress Rehearsals for His Second Coming, also to the very day!
Your appreciation of the majesty and Omnipotent Glory of Jesus Christ will grow greatly as you see how He controls world events for the entire 6,000 years of world history, and how He has accurately predicted -- through the seven Feast Days of Israel -- His First and Second Comings, accurate to the exact day! http://www.cuttingedge.org/detail.cfm?ID=2168
Other Related Bookstore Resources On Our Holidays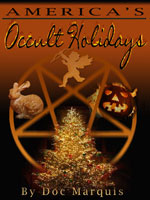 "America's Occult Holidays" DVD
by Former Satanist Doc Marquis
Regularly $29.99, Now Only $19.99
Former Satanist, Doc Marquis, delivers a knockout punch against the practice of all our major holidays, providing details only a former Witch would know. Doc begins by demonstrating how the Illuminati effected the change in our calendar and how that change has affected a dramatic change in our everyday lives. The Illuminati copied heathen holidays from Satanism and then just gave them Christian names. You will be shocked to realize how very pagan our annual celebrations are! You will be shocked to realize how most of the symbols used in our holidays originated within Satanism.
Doc covers the following pagan holidays most of which America fervently celebrates. 1) America's Occult Calendar -- Marquis reveals how our entire calendar is patterned after Illuminism, from January 1 through December 31! 2) Valentine's Day/Groundhog Day 3) St. Patrick's Day 4) Easter 5) Beltaine - May 1 - May Day 6) Halloween (Samhain) 7) Christmas (Yule) With pagan holidays spread throughout the calendar year, you have time to warn your friends and relatives of the dangers of practicing these holidays. http://www.cuttingedge.org/detail.cfm?ID=1460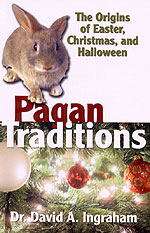 "Pagan Traditions: The REAL Origins of Easter, Christmas, and Halloween"
Book by David Ingraham -- Only $9.99
YOU wouldn't DREAM of dabbling in idolatry or Witchcraft -- would you? YOU have NEVER embraced Witchcraft and the occult -- have you? Surely, the Easter Bunny, the Christmas Tree, and all of Halloween's symbols and legends, are innocent ways of enjoying the holidays -- aren't they?
Author David Ingraham has spent years researching the Biblical origins, practices and contemporary remnants of Paganism. His message is as important for God's people today as the words of the prophets in Biblical times, because God never changes, and what made Him mad 3,600 years ago makes Him mad today -- especially when people dabble in the "cursed objects" of the occult
You will discover that the practices of our holidays come straight out of ancient Witchcraft religions, such as the Babylonian Religion, the Egyptian Mysteries, the unbelievably cruel Druid religion, and many more As you learn that these holidays are steeped in Satanism, your Holy Spirit filled heart will tell you what you need to do. http://www.cuttingedge.org/detail.cfm?ID=1757
---
Hot News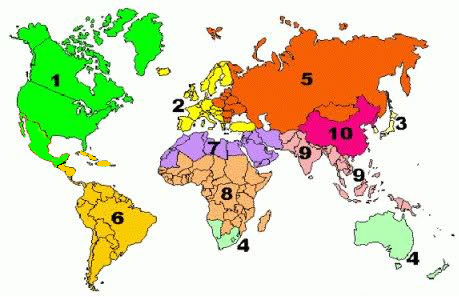 I. President Obama took a major step to form Supernation #1, the North American Union pictured left.
He furloughed 60,000 border agents under the guise of budget cuts.
How else can you stop guarding obsolete borders designed to disappear?
NEWS BRIEF: "60,000 Border and Customs Agents Told to Take Furloughs", News Max, 7 March 2013
"Sixty-thousand federal employees responsible for securing the nation's borders and facilitating trade will be furloughed for as many as 14 days starting next month because of $85 billion in cross-government spending cuts."
"The federal government notified the workers on Thursday ... U.S. Customs and Border Protection officials said the furloughs and other austerity measures would cause delays at ports of entry, including international arrivals at airports, and would reduce the number of border patrol officers on duty at any one time." (Emphasis added)
The backlog could be horrendous, as trucks and ships could stack one behind the other for miles. People will complain and will argue that the budget monies be immediately restored. And that would be an immediate answer; however, if the Illuminati is truly serious about abolishing Canada, the United States of America and Mexico so the planned Supernation #1 could be formed, this is a crisis too important to let slip beyond their grasp.
After all, when Supernation #1 is established, all those 60,000 border and customs agents are going to have to be fired, because the Canadian/American and the Mexican/American borders will become just as invisible as the lines between the south 48 states are today. If a traveler blinks as he is passing beyond the sign telling him that he is now passing into another state, he will miss that fact altogether. After all, no traveler has to go through a checkpoint and show papers when he is traveling from one state to another in the lower 48.
Furthermore, if many the activity of thousands of customs and borders agents can be compensated for, then the possibility emerges that they can be eliminated altogether. We might just see government officials reaching that very conclusion. We may be seeing a gradual reduction in workforce manpower until these borders are as unguarded as they will be once the North American Union is finally established.
This development must be seen as a major "sign of the times", as Daniel 7:7-8 continues to develop. Listen to this most important prophecy and compare the Club of Rome Plan, pictured above, to see how closely the Illuminati Plan is following ancient prophecy.
"After this I saw in the night visions, and behold, a fourth beast [the Roman empire]--terrible, powerful and dreadful, and exceedingly strong. And it had great iron teeth; it devoured and crushed and trampled what was left with its feet. And it was different from all the beasts that came before it, and it had ten horns [symbolizing ten kings] ... " (Daniel 7:7-8; Parallel Bible, KJV/Amplified Bible Commentary)
One of the most exciting facts I uncovered very rapidly as I began to study the New Age /Illuminist plan to establish the New World Order was that the mightiest rulers and thinkers and dictators in all of earth history were forced to develop a master plan which fulfilled Biblical prophecies precisely, some of which are 4,000 years old. This fact screams to all with ears to hear that God is Omnipotent and His Prophecies will be fulfilled, even though the mighty dictators on earth may rage and bellow amongst themselves how great and powerful they are. Listen to one verse which speaks to this very piece of current reality.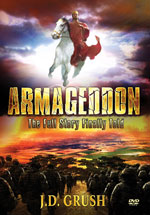 "Why do the nations assemble with commotion uproar and confusion of voices, and why do the people imagine, meditate upon and devise an empty scheme? The kings of the earth take their places; the rulers take counsel together against the Lord and His Anointed One (the Messiah, the Christ). They say, Let us break Their bands of restraint asunder and cast Their cords of control from us. He Who sits in the heavens laughs; the Lord has them in derision and in supreme contempt He mocks them. He speaks to them in His deep anger and troubles, terrifies and confounds them in His displeasure and fury, saying, Yet have I anointed, installed and placed My King [firmly] on My holy hill of Zion." (Psalm 2:1-6; Parallel Bible, KJV/Amplified Bible Commentary)
These poor Global Elite. They have taken counsel together since 1590 and they have devised a brilliant plan to overthrow the current Old Order, and replace it with their new Luciferian New World Order. After struggling for 400 years, they finally get the world under their control and they stage their Antichrist and False Prophet -- not realizing they have gotten to this point only by following God's prophecies exactly!
But, then, after their Antichrist takes the control of the world for seven years, Jesus Christ arises at Armageddon to annihilate them all - from leaders to soldiers arrayed on the Plain of Megiddo -- splashing great quantities of blood on His garments. You have to feel sorry for these poor, impotent Illuminati leaders. We Bible-believing Christians laugh them to scorn. They are going to be proven to be low, despicable and totally powerless as they are caught in the Omnipotent power of an angry Jesus Christ, now the Absolute Ruler and King of All The Earth.
After Jesus' great victory over Antichrist, the False Prophet and his final 10 Kings of the Earth, we shall be able to gaze upon these once-mighty rulers.
"And they shall go forth and gaze upon the dead bodies of the rebellious men who have stepped over against Me; for their worm shall not die, their fire shall not be quenched, and they shall be an abhorrence to all mankind." (Isaiah 66:24; Parallel Bible, KJV/Amplified Bible Commentary)
"Hell from beneath is moved for thee to meet thee at thy coming: it stirreth up the dead for thee, even all the chief ones of the earth; it hath raised up from their thrones all the kings of the nations. All they shall speak and say unto thee, Art thou also become weak as we? art thou become like unto us? Thy pomp is brought down to the grave, and the noise of thy viols: the worm is spread under thee, and the worms cover thee. How art thou fallen from heaven, O Lucifer, son of the morning! how art thou cut down to the ground, which didst weaken the nations!" (Isaiah 14:9-12; Parallel Bible, KJV/Amplified Bible Commentary)
Truly did the Apostle Paul rebuked the Satanic rulers of his own age, when he said:
"By the help of God I will praise His word; on God I lean, rely, and confidently put my trust; I will not fear. What can man, who is flesh, do to me?" (Psalm 56:4; Parallel Bible, KJV/Amplified Bible Commentary)

"In God have I put my trust: I will not be afraid what man can do unto me.?" (Psalm 56:11; Parallel Bible, KJV/Amplified Bible Commentary)

"So we take comfort and are encouraged and confidently and boldly say, The Lord is my Helper; I will not be seized with alarm, I will not fear or dread or be terrified. What can man do to me?" (Hebrews 13:6; Parallel Bible, KJV/Amplified Bible Commentary)
All Bible-believing Christians should look these current Elite rulers in the eye and laugh at both them and their rages upon the earth which are frightening a lot of people now, but which will prove to be meaningless "tempests in a tea pot" once our Mighty Eternal Jesus is on the world scene. We Christians should sleep well and should not fear either the actual power of these Illuminati nor their imagined power as set forth by their propaganda machines, the Mass Media.
"The Lord Reigns" and will do so eternally! Praise the Name of the Lord.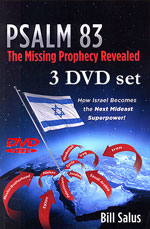 II. The Palestinian terror group, Hamas, has threatened President Obama and the United States with war should the President visit the Temple Mount during his March visit.
What is the problem? Can't Muslims visit the Temple Mount?
NEWS BRIEF: "Hamas: Obama Visit to Temple Mount - Will be a Declaration of War ", Israel National News, 3/8/2013
"The Hamas and Islamic Jihad terror groups threatened on Friday that a visit by U.S. President Barack Obama to the Temple Mount during his upcoming visit to Israel will be a declaration of war on the Arab and the Islamic world. A Hamas representative in the Al-Aqsa mosque, Mushir al-Masri, even called for a third intifada (uprising) and for Egyptian assistance in the 'resistance' if Obama chooses to visit the Temple Mount."
All Muslims who are totally committed to the destruction of Israel and the annihilation of the Jewish people should reflect upon the continual display of God's Power during the wars of 1948, 1956, 1972. During these wars, Jewish forces were badly outnumbered and outgunned, and yet their Islamic enemies fell like schoolboys before the Israeli/Jewish Army, made mighty by the hand of a God who is now protecting the Jews in this modern era like He protected them in the Old Testament!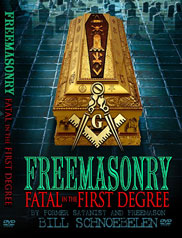 DVD
And, if this modern prophetic fact does not scare the Muslim, he should consider that the International Illuminati Freemasonry has so created their dogma that they believe they must build a Third Temple on the Temple Mount or their organization will dry up and die!
Read our archived article on this most interesting reality, entitled, "FERVENT MASONIC DESIRE TO REBUILD SOLOMON'S TEMPLE IS THE DRIVING FORCE BEHIND THE EVENTS OF THE MID-EAST TODAY", NEWS1643. Quoting Excerpts:
"Now that we have amply demonstrated that the genuine Christian has no close affinity to Solomon's Temple, because He destroyed it and annulled the Levitical Priesthood that accompanied it, let us examine how important this temple is to the practice of the Masonic religion.
"Of all the objects which constitute the Masonic science of symbolism, the most important, the most cherished, by the Mason, and by far the most significant, is the Temple of Jerusalem. The spiritualizing of the Temple is the first, the most prominent and the most pervading, of all symbols of Freemasonry ... Take from Freemasonry its dependence on the Temple; leave out of its ritual all references to that sacred edifice, and to the legends and traditions connected with it, and the system itself would at once decay and die ... " ["Encyclopaedia of Freemasonry", by Albert Mackey, MD, 33º and Charles T. McClenachan, 33º, Revised Edition, by Edward L. Hawkins, 30º and William J. Hughan, 32º, Volume II, M-Z, published by The Masonic History Company, Chicago, New York, London, 1873, A.G. Mackey, 1927, by the Masonic History Company.]
Let us repeat the critical understanding that the noted 33º Masonic author, Albert Mackey, has just given us:
"Take from Freemasonry its dependence on the Temple; leave out of its ritual all references to that sacred edifice, and to the legends and traditions connected with it, and the system itself would at once decay and die ... "
The Muslim leadership of the world does not understand that Western Illuminized Freemasonry is totally set against them and is completely supportive of Israel's future Messiah (Antichrist), because their future Messiah is Illuminati. Western Freemasonry is strongly committed to destroy the Dome of the Rock so the Third Temple may be built! Listen to a Global Elite author describe the final victory of the Israeli Christ (Antichrist) as he reaches the devastated Dome of the Rock area.
In full accordance with prophecy, the New World Order Plan calls for the Dome of the Rock to be reduced to 'rubble' just prior to the appearance of the Antichrist. Illuminist author, Peter Lemesurier, wrote a very interesting book in which he devotes the last 15% of his book to describing -- in great detail -- how the coming Antichrist is going to deceive the Jews into thinking that he is their Messiah. Listen to what he says:
"... it may be possible for the New David to ride into Jerusalem in all his resplendent majesty. Note the word 'ride' ... on a donkey as predicted in Zechariah 9:9 ... it would seem advisable for the new Messiah to repeat it, donkey and all ... The processional route will, of course, lie directly across the Kidron ravine, as close as possible to the Temple Mount ... he must be duly enthroned and anointed with oil (in token of Psalm 45:6-7) amid the rubble of the dome of the Rock ..." [Peter Lemesurier, "The Armageddon Script" , p. 233-35]
Islam is walking into a mammoth prophetic trap, just the kind God foretold in Zechariah 12.
---
NEW DVD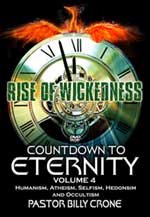 "Countdown To Eternity DVD", Vol 4
"Unprecedented / Exponential Increase In Wickedness"
by Pastor Billy Crone - 4 Hours of Teaching
Regularly $39.99, Now Only $19.99
The 'Countdown' To Eternity 5-Volume series takes a look at 10 major prophetic signs God has given to lovingly wake us up so we'd repent and be saved before it's too late. These prophetic signs are many, but there are 10 REALLY IMPORTANT ones to which we seriously need to pay attention.
'Countdown To Eternity #4' chronicles the unprecedented rise in wickedness throughout the world. The titles of these five areas of wickedness are: 1) Humanism; 2) Atheism; 3) Self-ism; 4) Hedonism; 5) Occultism
Because God is a God of Love and Compassion, He has given wicked mankind incredible numbers of 'signs' by which man can know that the world is spinning very close to the precipice of time called the 'End of the Age', and of his false christ, whom the Bible calls the 'Antichrist'.
Pastor Crone painstakingly chronicles one such 'Sign', the rise of wickedness in five critically important areas of our society and of the world.
A 2-DVD Set, 4 hours long - http://www.cuttingedge.org/detail.cfm?ID=2501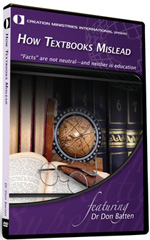 "How Textbooks Mislead" DVD
By Dr. Don Batten
Do you know what your children learn in school? Do you have any idea how public school textbooks are cleverly and expertly written so that young impressionable minds can be twisted and contorted so your child believes in Evolution?
Dr Don Batten investigates the evolutionary teaching in a typical biology text used in senior high school. The textbook uses many deceitful, out-of-date and even fraudulent arguments to indoctrinate students in evolution (everything made itself without a Creator).
Be prepared to equip our youth with answers!
50 minutes long, only $12.95
Watch Most Interesting Trailer
---
"PSALM 83: The Missing Prophecy Revealed"

"How Israel Becomes the Next Mideast Superpower"

This powerful 3 DVD series contains three of the most revealing teachings, complete with instructional images and maps, from Bible prophecy expert, Bill Salus. These 3 DVD's are all included in one package.

The titles are quite interesting: DVD 1 - 'Psalm 83 or Ezekiel 38, Which is the Next Middle East News Headline?'; DVD 2 - 'The Future for America in Bible Prophecy'; DVD 3 - 'The Roots of the Mideast Conflict'.

This DVD will help you make sense of today's news events occurring daily in the entire Middle East. - Only $19.99

Over 4 hours on the 3 DVD's - Available As 360-Page Book

"Agents of Control"

"Deception, Deception, and More Deception"

Only $17.95, Save Money

'Agents of Control' takes a close look at world events, supernatural happenings and Ancient Prophecy about to be fulfilled.

Jesus foretold of unprecedented deception at the end of the age. In fact, spiritual, political and economic deception is so pervasive that it easily filled this book. Were the true story told, thousands of such books could be written.

'Agents of Control' is a fast-paced, hard-hitting prophetic portrait of end time events that offers a detailed panorama of how the end of the age could very well unfold. Filled with confirming Scriptures, this exegesis of the last days not only offers an enlightened view of the apocalypse, but it also identifies man's only answer for overcoming globalism and the New World Order of antichrist. An exciting read - Enjoy it!

This book opens your eyes to why world events occur and what Bible prophecy has foretold concerning the future. The clear and thorough way in which this book is presented makes for a very interesting read. A great documentary, not a novel.

193 pages - http://www.cuttingedge.org/detail.cfm?ID=2494
---
Five Powerful Headline News Articles For Our Faithful Supporters
Your faithful support enables us to keep Cutting Edge free for everyone else. Our readers have always loved the indepth correct news analysis found in our "Headline News Analysis".
"Depleted Uranium Poisoning Steadily Spreading Throughout Iraq!"
"God's final End of the Age prophecy against Mighty Ancient Babylon is occurring precisely as Isaiah 13 foretold 2,600 years ago!"
http://www.cuttingedge.org/news/n2495.cfm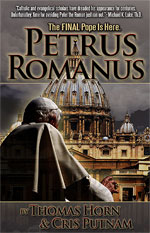 Is The Planned Moment Arriving For The Pope To Preside Over The Building of A Combination Worship Center For All Monotheistic Faiths?
Israel has signed an historic agreement with the Vatican, giving the Pope a seat at King David's Tomb. Is Rome planning to soon move the throne of the Papacy to Jerusalem? Moving the Papal throne from Rome to Jerusalem would carry enormous End Times religious global implications.
http://www.cuttingedge.org/news/n2493.cfm
"America Is Leading Western Powers In A Full-Scale Invasion of Africa!"
Now that the wars in Iraq and Afghanistan are winding down, the West is in full invasion mode destabilizing a major part of the "Non-Functioning Gap" region of the world. The "Pentagon's New Map Strategy" is being brilliantly followed. Have you noticed? Mass Media is either clueless as to what is occurring or they are part of a worldwide coverup.

"In Just 50 Years, America Has Turned "PINK"!
In February, 1963, the Supreme Court "kicked God out of public schools"; in January, 2013, President Obama allowed a large Lesbian/Gay marching band to participate in his Second Inauguration. The President also spoke so glowingly about homosexuality, he legitimized the lifestyle!
America has come full circle, from God's blessing to God's curse. America is the new Sodom, and we are living "in the days of Lot" (Luke 17:27-29)
Are you spiritually ready to live like "righteous Lot" (2 Peter 2:6-9), being daily tortured by all the filthy acts occurring in our nation, and yet able to live righteously for Jesus? Unless the Rapture of the Church occurs first, we Christians are going to have to stand our ground, protecting our loved ones while we aggressively evangelize those lost around us. http://www.cuttingedge.org/news/n2490.cfm
Most Important Article We Have Ever Written
DVD
"World War III Will Be History's Greatest Lynchpin!"
Many major events are planned to occur just as World War III begins. Mankind will be systematically hit with unparalleled disasters of every kind as this planned global war unfolds. But, none of these events will occur until the lynchpin called "World War III" is pulled.
The Illuminati has prepared many different scenarios which will not be triggered until World War III breaks out. All these events are sitting like a race car at the starting line, engines idling, just waiting for the global war to break out so they can all be triggered at once. Doc Marquis said that these events will occur at a rapid rate, one after another after another. Doc said people's hearts will literally fail them for fear, as they can scarcely comprehend one disaster when they will hear of another and then another and then another. People will be overwhelmed by the succession of so many horrific disasters after another.
But, Doc warned, "none of the planned events will occur before the others". And, the trigger for all these events is World War III, literally a lynchpin holding all planned events in place. Once this gigantic lynchpin is pulled, all these planned disasters will quickly follow. People worldwide will be so upset and so confused by so many disasters happening at once, they will literally leap at any proposal from their leaders that will "solve the problem".
At that point, the New World Order can be established as soon as World War III has run its course and the Masonic Christ appears on the world scene. We are not to panic whenever someone speaks out about one of these disasters, saying that it will occur NOW. We know the Plan for the New World Order and we know the sequential prophecy in Daniel 7:7-8 so we know these events are a number of years away.
http://www.cuttingedge.org/news/n2489.cfm
You need not panic.
"And you will know the Truth, and the Truth will set you free." (John 8:32) Jesus' Promise
---
Eternal Security of the Believer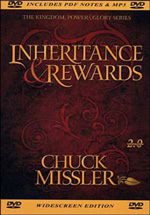 "Inheritance & Rewards"
DVD by Dr. Chuck Missler
Are all believers going to be equal in heaven? Wasn't it all decided at the cross? Is there a difference between overcoming sin and bearing fruit?
Inheritance came to the Firstborn Son by virtue of his birth. Whether he actually secured it depended upon his obedience and the father's choice. Inheritance was subject to condition and obedience. The Abrahamic Inheritance was based on Divine Oath, conditioned on obedience.
Inheritances could be forfeited. The Exodus Generation was promised an inheritance, but failed to obtain it at Kadesh -Barnea. Israel was God's 'firstborn son', yet only 2 people of over 2 million took possession of their inheritance. Even Moses was excluded due to his disobedience. Esau sold his inheritance for a bowl of pottage.
We have been promised an inheritance in the Kingdom to come. But is there more that is required of us than just our acceptance? Does behavior in this life really influence our future?
This study contains 2 hours of teachings - http://www.cuttingedge.org/detail.cfm?ID=2496
---
New Bookstore DVD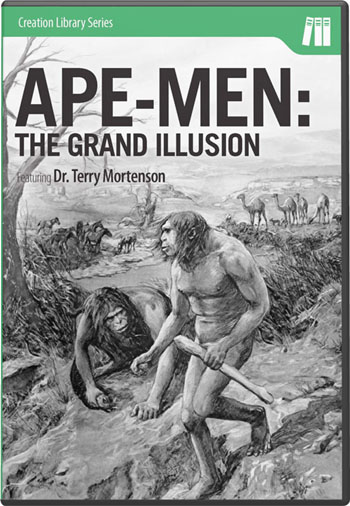 "Ape-men: The Grand Illusion"
DVD by Dr. Terry Mortenson
The consensus among secular scientists is that man evolved from an ape-like creature over a period of millions of years. But upon what is that claim based?
In this illustrated lecture presentation featuring Dr. Terry Mortenson, you will see that the so-called 'scientific evidence' does not stand up to scrutiny; further, you will understand the folly that Christian leaders are committing trying to fit ape-men into the Book of Genesis -- they are seriously mistaken.
The gospel importance of the supernatural creation of Adam and Eve is then made clear. See for yourself that the idea of ape-men is a Grand Illusion, deceiving millions and undermining both the clarity and authority of Scripture and the Gospel message itself!
Ages: 12 to adult -- http://www.cuttingedge.org/detail.cfm?ID=2493
Watch Trailer
---
Great New Additions To $9.99 DVD Category
Choose other DVD titles in the $9.99 category. We now have 106 exciting titles.
---
Support this ministry today with your subscription and get access to this article and ALL headline news articles at Cutting Edge. Your subscription will help us reach a lost world for Jesus Christ. Here is how.
If you will send in a new subscription or renew an existing one, we will give you your choice of the following gifts FREE. https://www.cuttingedge.org/secure/subscriptions/support.html
CHOOSE 1 OF THE FOLLOWING GIFTS FOR EACH YEAR YOU SUBSCRIBE - For a one year subscription at $25.00 choose 1 gift or any two gifts with a 2 year $50.00 subscription. Choose any three gifts with a 3 year $75.00 subscription etc. $150.00 subscription for example you will get a Six year subscription and all six gifts.
Monthly Support - We also need monthly supporters so we can meet our monthly operating costs. From our subscription page you can also select monthly support. Or, if you feel the Lord moving upon you to give a special donation, you can do so by clicking on the link below.
Here is that link again:
https://www.cuttingedge.org/secure/subscriptions/support.html
GIFT CHOICES ( use the link above to subscribe and choose your gift from our selection below )
A. Seminar 1, "America's Leadership of the New World Order" and Seminar 2, "America Determines The Flow of History" in MP3 format on CD. MP3 Audio format for play on your computer as well as CD and DVD players that will play MP3 format. Upload them to your IPOD too. Once you understand the evidence and truth we share with you, you will never look at the news the same way again. You will understand how America has become the nation she is, and you will be able to see the direction in which we are heading.
Nearly 10 hours of audio seminar material plus printable passout notes for the seminars are included on the disc.
Seminar 1- "America's Leadership of the New World Order", shows why this formerly Christian country could become the leader of the Satanic New World Order effort. America today is compared to the Israel in the years prior to God bringing in Nebuchadnezzar to physically destroy Israel in Judgment. Comparisons between Israel then and America today are staggering!
Seminar 2- "America Determines The Flow of History", looks carefully at our national history and discovers that our Founding Fathers had a hidden agenda which set this country on the path of leadership of the Kingdom of Antichrist. Also covered is the demonic Plan for three (3) World Wars, the fact that the Illuminati created Communism between 1846-1848, and the greatest deliberately staged "Dialectic Struggle" of all time -- the Cold War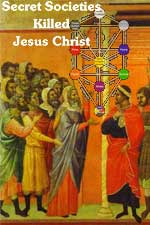 B. MP-3 -- "Secret Societies Killed Jesus Christ" - MP3 Audio on CD

Your understanding of the Gospel account will change forever once you understand the truth of the Jewish leaders who conspired to put Jesus on the cross. This incredible series reveals that the Pharisees and Sadducees who hated Jesus with an unnatural hatred and provoked the Lord into uncharacteristic animosity toward them, were secretly Satanists practicing what later became known as the Cabala (Kabbala, Qabbala).
Now you will know why the Pharisees killed Jesus even though they knew with 100% certainty that He was the Promised Messiah.
Now you will know why these Jewish leaders looked at Jesus' miracles and concluded that He was drawing His power from Beelzebub, one of Satan's chief demons. MP3 audio CDs will play on your computer and can be transferred to your IPod or MP3 player. Many new cars also have CD players that will play MP3 CDs.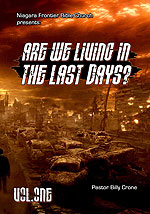 C. DVD - "Are We Living In The Last Days?" New DVD Compilation by Pastor Crone .
"Are we living in the last days?" Is the rapture of the Church imminent upon the horizon? And will this generation see the actual return of Jesus Christ? Pastor Crone compiles snippets of each one of his 14 DVD's thus far on the Book of Revelation to demonstrate how close we are to the very End of the Age.
Join us in this eye-popping provocative video study revealing how we really are living in the last days. Here you will be confronted with undeniable evidence in the form of actual interviews, reports, and news broadcasts from around the world unveiling the shocking truth that the end times are at hand.
These signs include, the Mark of the Beast, Worldwide Upheaval, a One World Government, Economy, Religion, and New World Order, the rebuilding of the last days Jewish Temple, Apostasy in the Church, Moral Decay in our Culture, the Rise of the Antichrist, and much much more!
Are we living in the last days? People, check out the proof for yourself! You won?t believe your eyes!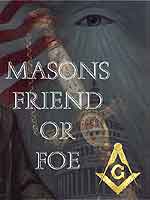 D. DVD - "Masons: Friend or Foe To The Born Again Christian?"
Many of our leaders have sworn allegiance to a Masonic Order of one type of another. Our current election features two brothers in a Masonically- based secret society called "Skull & Bones".
What are these leaders pledging their allegiance to and how deeply entrenched are their goals to America today? Since Freemasonry has attempted so strenuously to claim that they are just a good old boy fraternity that does good works and has a good time, most Americans would be shocked to learn the bitter truth behind that facade.
2 hours, 40 minutes of instruction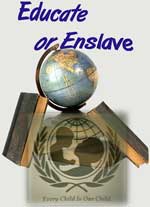 E. DVD - "Educate or Enslave?"
Three United Nations Programs: Outcome Based Education, Goals 2000, School-to-Work
These cradle-to-grave "improvement" plans are designed to reshape our national values and belief systems through our children. This video covers the origin of all these programs, showing how they are designed to completely change the values systems and worldview of our precious children.
Throughout the Clinton and Bush and Obama Administrations, these UN programs steadily made inroads into our educational curricula, reshaping the minds of our precious children into "Global Citizens". - 2 hours, 20 minutes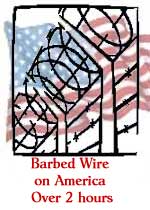 F. DVD -Barbed Wire On America: God's Final Warning - by Dave Wegener
In great film clips, Wegener details the coming plan to institute global dictatorship.
What do: Detention centers, Depopulation, Demilitarization, Foreign Troops on U.S. soil, Mother Gaia worship, Martial Law, and the Anti-terrorism bill have in common? They are all in our immediate future, unless enough Americans wake up to what is planned for us. Great film footage, a must see for all Americans.
Over 2 full hours
---
In closing we want to give a special thanks to all of you who have supported Cutting edge since 1996 and made it possible to now reach over 250,000 people each month, many who read our salvation message and now have a changed life in Jesus Christ. In fact, Cutting Edge is now printed in nine (9) languages and is thrilled to see 150,000 people per year read our Salvation Plan.
Many Christians who do not have a local church who preaches the full counsel of God can find the truth through our articles, books and DVDs that we offer.
During these financially challenging times, we desperately need your help and maintaining a subscription is one of the most important avenues we offer. Literally, we cannot survive without our subscription program. Our Headline News Articles reflect the study of 27 years and are the most insightful of any on the Internet. People have regularly told us over the years that "once they understand the Cutting Edge Worldview, they can never read the news the same way again"!

---
Be sure to visit our Face Book page
and like us so we can keep you updated
and you can share us with your friends.
---
Call us for Customer Service at 800-451-8211
As always we ask you to pray daily for this ministry.
Be sure to visit the Sale items and Special offers sections where you will find 28 Special offers and 121 items on Sale.
David Bay, Director, Cutting Edge Ministries
1792 South Lake Drive, Ste. 90 PMB 300, Lexington, SC 29073 Email

800-451-8211