News Alert & Bookstore Bulletin

Thursday, March 28, 2013

Scheduled News Alerts/Newsletters

Mon. AM - Alert

Thurs. PM - Alert
Buy These New DVD's!
---
Buy These New Books!
Special 'Resurrection Day' Message
From David Bay, Director, Cutting Edge Ministries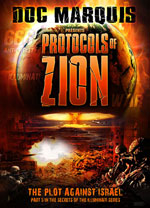 As Jesus prophesied, irrational "FEAR" is driving world events! And, unfortunately, Christians are as caught up in it as unbelievers!
Jesus' prophecy: "... men's hearts failing them from fear..." (Luke 21:26)
Many years ago, I read a short article in the local newspaper written by a retired news journalist. He boldly stated that no one should watch the news late at night just before retiring to bed. Why? Because news is deliberately written to make you feel bad! And, if you are depressed just before going to bed, you are going to sleep less well. What incredible insight!
In 2011, I researched this subject and posted the Headline News article, "Bad News Is Designed To Depress and Scare YOU!"
During my research, I discovered this incredible agenda written nearly 200 years ago by the Illuminati that speaks volumes in our discussion of the role of FEAR in today's news.
"In the hands of the States of today, there is a great force that creates the movement of thought in the people, and that is the Press. The part played by the Press is to keep pointing out the requirements supposed to be indispensable, to give voice to the complaints of the people, and to express and to create discontent." [Protocol No. 2; Emphasis mine]
Doc Marquis was quite vehement in his description of the bold plan to use the Press to "create discontent"! He said every single day, news is purposely written to create unhappiness and discontent in the minds and hearts of the average citizen. Why does the Illuminati consider discontent to be so important in their drive to overthrow the present Order so they can bring in the New World Order?
They want enough people to be unhappy enough with the sum of their life so that, when the Masonic Christ comes to the world scene, they will be open to his cries of "Change". People will say to themselves, and to their friends, that "things can't get much worse, can they?"
Since the world is a sinful, fallen place, men's inherently evil hearts will produce a lot of bad, depressing news; but, what about evil news deliberately created by the very government(s) trying to overthrow this present world system? What about the bad news which is nothing more than repeated rumor? Let us review some of the really bad news in our Daily News that is depressing people and needlessly making their hearts fail them for fear?
What are the most important "bad news subects" which are either outright propaganda or are being stretched far out of proper proportion?
Fear #1) Economic Collapse -- Consider some of the headlines:
"Billionaires Dumping Stocks, Economist Knows Why - The advertising headline to get you to click to this article reads "Billionaire Warns: U.S. Facing Financial Ruin"
"The Economic Collapse: Are You Prepared For The Coming Economic Collapse And The Next Great Depression?"
These type of headlines have been regularly occurring since June, 1998, and not once have they come true. Not one of their deadlines has actually occurred. Every time one of the deadlines fails to occur, they simply set a new date in the future and continue to scare people. If you read their banner of subjects running horizontally across the screen on the Economic Collapse website, you will see all the survival stuff they are trying to sell. How many people's hearts are needlessly failing them for fear over this bad news story? How many pocketbooks are being opened to buy survival stuff they will never need, or be able to use?
The truth is that economic collapse is planned, but only after the World War III begins that will produce Antichrist on the world scene. Bible-believing Christians should be able to keep an accurate gauge as to when Antichrist is going to appear, by keeping Daniel 7:7-8 in mind (Read full details in NEWS2363, entitled, "There Is Only ONE Sequential Prophecy Which Shall Provide Us A Clear Gauge By Which We Can Know The Approximate Time That Antichrist Will Arise!")
The fact of the matter is that the progress toward reorganizing the world into 10 Supernations is progressing so slowly it may not be finalized for a decade from now! In the meantime, the Global Elite plan to keep the economies of the major nations in turmoil so they can make the changes they want to make and so they can keep people riled up, but the know from the Great Depression (1929-1939) that the promise of economic prosperity chills the heart of population for Jesus far more effectively than economic deprivation.
In America, the Elite Plan called for Capitalism to be overthrown so a Fascist economy could be installed. That changeover began under Bush Treasury Secretary in September, 2008 and is being continued under President Obama (Read full details in NEWS2317, entitled, "Financial Coup Completed: American Economy Now A Tightly Controlled, Severely Regulated Economy: Fascist, Not Capitalist Anymore".)
Now that Fascism is being installed as the American economy, the Elite are engineering a slow but steady return to a "promise of prosperity". You can see good economic news in the Daily News everyday, but the gloom people ignore it because they want to sell product supposedly designed to help you survive an economic collapse which lies far into the future.
Fear # 2) Gun Control is just around the corner and the Government is buying billions of rounds of ammunition because they plan on waging war against the American people.
Calif. State Congressman: 'It's my duty' to investigate DHS ammo purchases
Department of Homeland Security To Buy 360,000 More Rounds of Hollow Point Ammunition
U.S. MARINES RATTLED BY BULLET SHORTAGE
Three critically important facts reveal that Americans should not fear immediate gun control nor is the ammunition purchase a sign that the government is readying their forces to fight against the public.
First, even if legislation is passed to restrict some kinds of guns, the Illuminati will still be facing 100 million Americans wielding 300 million guns.
Secondly, many sheriffs across the country are absolutely planning to refuse to uphold any of these gun control laws.
Thirdly, the Elite has a far different plan to rule America after their Masonic Christ is on the world scene. We explain this radically different plan in our newest article, "The Federal Government Has Bought Almost 2 Billion Rounds of Ammunition. Is It Planning To Go To War With The American People?", NEWS2498.
Finally, even after the horrific public massacre of children and teachers at Sandy Hook, Connecticut, the drive to gun control is stalling.
"Polls suggest Congress might have waited too long on gun control", CNN News, March 27, 2013
Fear #3) Iran is constantly under threat of Western attack on her nuclear facilities.
This "rumors of war" has been in the Daily News since Summer, 2003. Still, ten years later, many Americans are worried that an attack is imminent and that our entire way of life could disappear as our economy goes into a free fall because of the oil repercussions flowing from such an attack.
Since Summer, 2003, Cutting Edge has consistently stood on the authority of God's prophetic Word, saying that Ezekiel 38-39 protected Iran from an attack now. We explain this position in a number of articles, but especially in NEWS2120, entitled, "Nuclear-armed Iran vs Nuclear-armed America: Whom Should The World Really Fear?"
There are a number of other news issues which drive us to fear. Christians should not be possessed and controlled by such a morbid fear which drives us to take actions totally unnecessary. Consider just a few End Times Scriptures:
"So also, when you see these things happening, you may recognize and know that He is near, at the very door." (Mark 13:29)
Jesus expects His Bible-believing followers to correctly know the prophetic timing by watching world events and comparing them to Scripture. Cutting Edge has been called to aid people in this understanding.
"But take heed to yourselves and be on your guard, lest your hearts be overburdened and depressed (weighed down) with the giddiness and headache and nausea of self-indulgence, drunkenness, and worldly worries and cares pertaining to the business of this life ... Keep awake then and watch at all times [be discreet, attentive, and ready..." (Luke 21:34, 36)
Our own Savior urges us to "be on our guard", keeping "awake" and watching at all times. We are to realize that events of this day are pointing strongly to the reality that mankind is moving irresistably toward the times of Antichrist and the judgments of the Book of Revelation. However, we are also to be "attentive" and to realize the timing of all these Revelation disasters. Obviously, the economic collapse and the deadly famines and diseases in the Book of Revelation will not occur until Antichrist is ruling the world. Further, he cannot even arise until the world is reorganized into 10 supernations.
Christians need not be concerned about these calamities until we see the 10-nation reorganization prophesied in Daniel 7:7-8 being finalized.
Even then, our fear is to be restrained by our faith in Jesus Christ. We are told not to be seized with alarm by fear.
"So we take comfort and are encouraged and confidently and boldly say, The Lord is my Helper; I will not be seized with alarm, I will not fear or dread or be terrified. What can man do to me?" (Hebrews 13:6)

" Fear not, there is nothing to fear, for I am with you; do not look around you in terror and be dismayed, for I am your God. I will strengthen and harden you to difficulties, yes, I will help you; yes, I will hold you up and retain you with My victorious right hand of rightness and justice." (Isaiah 41:10)

"Fear not, for I have redeemed you ... When you pass through the waters, I will be with you, and through the rivers, they will not overwhelm you. When you walk through the fire, you will not be burned or scorched, nor will the flame kindle upon you." (Isaiah 43:1-2)

"Cast your burden on the Lord, releasing the weight of it, and He will sustain you; He will never allow the consistently righteous to be moved (made to slip, fall, or fail)." (Psalm 55:22)
God urges His children to "fear not" 170 times in the King James Bible. Christians today must not fear so much. You will be much happier and more fruitful in soul winning if he cast your burden upon Jesus, releasing the weight of that burden(s).
Do not buy into the "Conventional Wisdom" which is totally wrong, as it almost always is. When you know what the Illuminati is actually planning, and when you square their plans through Bible prophecy, a lot of the fear in your live can disappear. It should disappear. Jesus wants it to disappear.
---
NEW Powerful Headline News Articles For Our Faithful Supporters
Your faithful support enables us to keep Cutting Edge free for everyone else. Our readers have always loved the indepth correct news analysis found in our "Headline News Analysis".
The Federal Government Has Bought Almost 2 Billion Rounds of Ammunition. Is It Planning To Go To War With The American People?
As frightening as this scenario sounds, we will demonstrate that the Government is NOT planning to go to war with the American people, as they have a far different plan in mind.
10th Anniversary of the Iraqi War: At Last, Mass Media Is Admitting The War Was Launched On Lies And Is A Monumental Failure - Part 1 of a Series Entitled, "Iraq War: Mad Dash On The 33rd Parallel"
Cutting Edge was trumpeting this fact months before Bush's invasion! We knew the Illuminati had planned this war at the 1954 Bilderberg Meeting and we had filtered this knowledge through Bible prophecy and found a precise match.

Iraq's "Operation Enduring Freedom" meant only the 'freedom of the grave" for millions, but the worst is yet to come.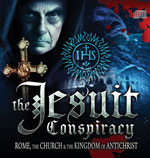 "The New Pope Is The First Jesuit Pope In History!"
Red warning flags should be flying high in your mind from this development, as the Jesuits have the blood of tens of millions on their hands. How evil is the Jesuit Order and their leader, the Black Pope?
http://www.cuttingedge.org/news/n2496.cfm
"Depleted Uranium Poisoning Steadily Spreading Throughout Iraq!"
"God's final End of the Age prophecy against Mighty Ancient Babylon is occurring precisely as Isaiah 13 foretold 2,600 years ago!"
http://www.cuttingedge.org/news/n2495.cfm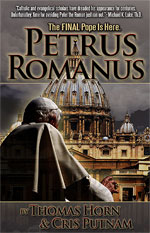 Is The Planned Moment Arriving For The Pope To Preside Over The Building of A Combination Worship Center For All Monotheistic Faiths?
Israel has signed an historic agreement with the Vatican, giving the Pope a seat at King David's Tomb. Is Rome planning to soon move the throne of the Papacy to Jerusalem? Moving the Papal throne from Rome to Jerusalem would carry enormous End Times religious global implications.
http://www.cuttingedge.org/news/n2493.cfm
"America Is Leading Western Powers In A Full-Scale Invasion of Africa!"
Now that the wars in Iraq and Afghanistan are winding down, the West is in full invasion mode destabilizing a major part of the "Non-Functioning Gap" region of the world. The "Pentagon's New Map Strategy" is being brilliantly followed. Have you noticed? Mass Media is either clueless as to what is occurring or they are part of a worldwide coverup.

"In Just 50 Years, America Has Turned "PINK"!
In February, 1963, the Supreme Court "kicked God out of public schools"; in January, 2013, President Obama allowed a large Lesbian/Gay marching band to participate in his Second Inauguration. The President also spoke so glowingly about homosexuality, he legitimized the lifestyle!
America has come full circle, from God's blessing to God's curse. America is the new Sodom, and we are living "in the days of Lot" (Luke 17:27-29)
Are you spiritually ready to live like "righteous Lot" (2 Peter 2:6-9), being daily tortured by all the filthy acts occurring in our nation, and yet able to live righteously for Jesus? Unless the Rapture of the Church occurs first, we Christians are going to have to stand our ground, protecting our loved ones while we aggressively evangelize those lost around us. http://www.cuttingedge.org/news/n2490.cfm
Most Important Article We Have Ever Written
DVD
"World War III Will Be History's Greatest Lynchpin!"
Many major events are planned to occur just as World War III begins. Mankind will be systematically hit with unparalleled disasters of every kind as this planned global war unfolds. But, none of these events will occur until the lynchpin called "World War III" is pulled.
The Illuminati has prepared many different scenarios which will not be triggered until World War III breaks out. All these events are sitting like a race car at the starting line, engines idling, just waiting for the global war to break out so they can all be triggered at once. Doc Marquis said that these events will occur at a rapid rate, one after another after another. Doc said people's hearts will literally fail them for fear, as they can scarcely comprehend one disaster when they will hear of another and then another and then another. People will be overwhelmed by the succession of so many horrific disasters after another.
But, Doc warned, "none of the planned events will occur before the others". And, the trigger for all these events is World War III, literally a lynchpin holding all planned events in place. Once this gigantic lynchpin is pulled, all these planned disasters will quickly follow. People worldwide will be so upset and so confused by so many disasters happening at once, they will literally leap at any proposal from their leaders that will "solve the problem".
At that point, the New World Order can be established as soon as World War III has run its course and the Masonic Christ appears on the world scene. We are not to panic whenever someone speaks out about one of these disasters, saying that it will occur NOW. We know the Plan for the New World Order and we know the sequential prophecy in Daniel 7:7-8 so we know these events are a number of years away.
http://www.cuttingedge.org/news/n2489.cfm
You need not panic.
"And you will know the Truth, and the Truth will set you free." (John 8:32) Jesus' Promise
---
Great New Additions To $9.99 DVD Category
Choose other DVD titles in the $9.99 category. We now have 106 exciting titles
---
Support this ministry today with your subscription and get access to these articles listed above, and ALL headline news articles at Cutting Edge. Your subscription will help us reach a lost world for Jesus Christ. Here is how.
If you will send in a new subscription or renew an existing one, we will give you your choice of the following gifts FREE. https://www.cuttingedge.org/secure/subscriptions/support.html
CHOOSE 1 OF THE FOLLOWING GIFTS FOR EACH YEAR YOU SUBSCRIBE - For a one year subscription at $25.00 choose 1 gift or any two gifts with a 2 year $50.00 subscription. Choose any three gifts with a 3 year $75.00 subscription etc. $150.00 subscription for example you will get a Six year subscription and all six gifts.
Monthly Support - We also need monthly supporters so we can meet our monthly operating costs. From our subscription page you can also select monthly support. Or, if you feel the Lord moving upon you to give a special donation, you can do so by clicking on the link below.
Here is that link again:
https://www.cuttingedge.org/secure/subscriptions/support.html
GIFT CHOICES ( use the link above to subscribe and choose your gift from our selection below )
A. Seminar 1, "America's Leadership of the New World Order" and Seminar 2, "America Determines The Flow of History" in MP3 format on CD. MP3 Audio format for play on your computer as well as CD and DVD players that will play MP3 format. Upload them to your IPOD too. Once you understand the evidence and truth we share with you, you will never look at the news the same way again. You will understand how America has become the nation she is, and you will be able to see the direction in which we are heading.
Nearly 10 hours of audio seminar material plus printable passout notes for the seminars are included on the disc.
Seminar 1- "America's Leadership of the New World Order", shows why this formerly Christian country could become the leader of the Satanic New World Order effort. America today is compared to the Israel in the years prior to God bringing in Nebuchadnezzar to physically destroy Israel in Judgment. Comparisons between Israel then and America today are staggering!
Seminar 2- "America Determines The Flow of History", looks carefully at our national history and discovers that our Founding Fathers had a hidden agenda which set this country on the path of leadership of the Kingdom of Antichrist. Also covered is the demonic Plan for three (3) World Wars, the fact that the Illuminati created Communism between 1846-1848, and the greatest deliberately staged "Dialectic Struggle" of all time -- the Cold War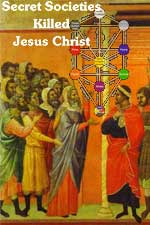 B. MP-3 -- "Secret Societies Killed Jesus Christ" - MP3 Audio on CD

Your understanding of the Gospel account will change forever once you understand the truth of the Jewish leaders who conspired to put Jesus on the cross. This incredible series reveals that the Pharisees and Sadducees who hated Jesus with an unnatural hatred and provoked the Lord into uncharacteristic animosity toward them, were secretly Satanists practicing what later became known as the Cabala (Kabbala, Qabbala).
Now you will know why the Pharisees killed Jesus even though they knew with 100% certainty that He was the Promised Messiah.
Now you will know why these Jewish leaders looked at Jesus' miracles and concluded that He was drawing His power from Beelzebub, one of Satan's chief demons. MP3 audio CDs will play on your computer and can be transferred to your IPod or MP3 player. Many new cars also have CD players that will play MP3 CDs.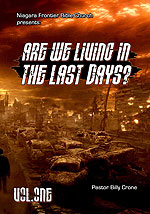 C. DVD - "Are We Living In The Last Days?" New DVD Compilation by Pastor Crone .
"Are we living in the last days?" Is the rapture of the Church imminent upon the horizon? And will this generation see the actual return of Jesus Christ? Pastor Crone compiles snippets of each one of his 14 DVD's thus far on the Book of Revelation to demonstrate how close we are to the very End of the Age.
Join us in this eye-popping provocative video study revealing how we really are living in the last days. Here you will be confronted with undeniable evidence in the form of actual interviews, reports, and news broadcasts from around the world unveiling the shocking truth that the end times are at hand.
These signs include, the Mark of the Beast, Worldwide Upheaval, a One World Government, Economy, Religion, and New World Order, the rebuilding of the last days Jewish Temple, Apostasy in the Church, Moral Decay in our Culture, the Rise of the Antichrist, and much much more!
Are we living in the last days? People, check out the proof for yourself! You won?t believe your eyes!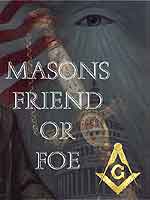 D. DVD - "Masons: Friend or Foe To The Born Again Christian?"
Many of our leaders have sworn allegiance to a Masonic Order of one type of another. Our current election features two brothers in a Masonically- based secret society called "Skull & Bones".
What are these leaders pledging their allegiance to and how deeply entrenched are their goals to America today? Since Freemasonry has attempted so strenuously to claim that they are just a good old boy fraternity that does good works and has a good time, most Americans would be shocked to learn the bitter truth behind that facade.
2 hours, 40 minutes of instruction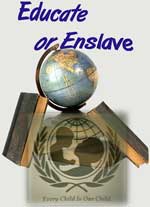 E. DVD - "Educate or Enslave?"
Three United Nations Programs: Outcome Based Education, Goals 2000, School-to-Work
These cradle-to-grave "improvement" plans are designed to reshape our national values and belief systems through our children. This video covers the origin of all these programs, showing how they are designed to completely change the values systems and worldview of our precious children.
Throughout the Clinton and Bush and Obama Administrations, these UN programs steadily made inroads into our educational curricula, reshaping the minds of our precious children into "Global Citizens". - 2 hours, 20 minutes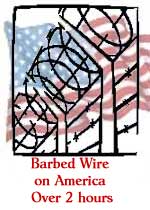 F. DVD -Barbed Wire On America: God's Final Warning - by Dave Wegener
In great film clips, Wegener details the coming plan to institute global dictatorship.
What do: Detention centers, Depopulation, Demilitarization, Foreign Troops on U.S. soil, Mother Gaia worship, Martial Law, and the Anti-terrorism bill have in common? They are all in our immediate future, unless enough Americans wake up to what is planned for us. Great film footage, a must see for all Americans.
Over 2 full hours
---
In closing we want to give a special thanks to all of you who have supported Cutting edge since 1996 and made it possible to now reach over 250,000 people each month, many who read our salvation message and now have a changed life in Jesus Christ. In fact, Cutting Edge is now printed in nine (9) languages and is thrilled to see 150,000 people per year read our Salvation Plan.
Many Christians who do not have a local church who preaches the full counsel of God can find the truth through our articles, books and DVDs that we offer.
During these financially challenging times, we desperately need your help and maintaining a subscription is one of the most important avenues we offer. Literally, we cannot survive without our subscription program. Our Headline News Articles reflect the study of 27 years and are the most insightful of any on the Internet. People have regularly told us over the years that "once they understand the Cutting Edge Worldview, they can never read the news the same way again"!

---
Be sure to visit our Face Book page
and like us so we can keep you updated
and you can share us with your friends.
---
Call us for Customer Service at 800-451-8211