---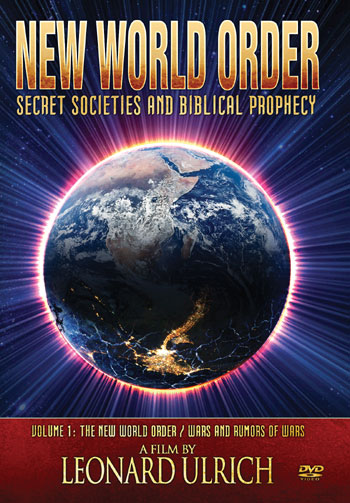 "New World Order: Secret Societies and Prophetic Wars / Rumors of Wars"
Regularly $24.99, Only $19.99
Evil is organized, and pervasive and determined!
'New World Order: Secret societies and Biblical Prophecy' is a 5,000 year survey of secret societies and a 225 year survey of progressively engineered warfare.
These studies clearly show how evil is fulfilling Biblical prophecy to the letter. Far from 'conspiracy theory', it calmly relies on original documents. This film is being shown to church groups and conferences around the world. It is for those who want the truth
This documentary is THE BEST in examining all the various forces and countries and movements in the past 225 years which have committed to the New World Order. Great for the novice who is just now being introduced to the concept of the New World Order. But, the student who has been studying this for a long time will also learn a great deal he/she has never thought of before. The best 'A-Z' study I have ever seen.
2 hours, 20 minutes - http://www.cuttingedge.org/detail.cfm?ID=2518
---
Hot News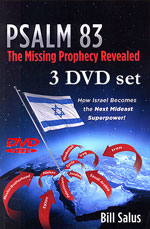 I. Syrian President Assad announces that the expected delivery of Russia's S-300 Mobile Missile Defense System has arrived.
Israeli air attack may be imminent, as Israeli leaders have vowed to destroy the missiles before they can deploy.
NEWS BRIEF: "Syria reportedly receives Russian air defense missiles", Fox News, May 30, 2013
"Syria has received the first shipment of Russian missiles that are part of a more sophisticated air defense system, President Bashar Assad told Lebanon's Hezbollah-owned TV channel ... Israel's defense chief, Moshe Yaalon, said earlier this week that Russia's plan to supply Syria with the weapons was a threat and that Israel was prepared to use force to stop the delivery."
Since the European Union has just lifted their arms embargo on military shipments to Syrian rebels, this delivery of the Russian missile air defense system may be the trigger that sparks a new sophisticated arms escalation in Syria.
"The developments raise fears of an arms race -- not just between Assad's forces and the opposition fighters battling to topple his regime, but also in the wider Middle East."
Why is this Russian S-300 missile air defense system so problematic for the West? Simply put, its capabilities are fearsome.
"With the Russian missiles in Syria's possession, the Israeli air force's ability to strike inside the Arab country could be limited since the S-300s would expand Syria's capabilities, allowing it to counter airstrikes launched from foreign airspace as well. The S-300s have a range of up to 200 kilometers (125 miles) and the capability to track and strike multiple targets simultaneously."
Israel has just denied that the S-300 system has arrived in Syria.
NEWS BRIEF: "Israel: Syria has not yet received S-300s but when they arrive, watch out", World Tribune, May 29, 2013
"Israel has determined that the S-300PMU2 air defense system was not yet delivered to Syria. Officials said the Israeli intelligence community has assessed that the regime of President Bashar Assad did not acquire any S-300 batteries from Russia ... 'The deliveries have not taken place, I can attest to this, and I hope they do not', Israeli Defense Minister Moshe Ya'alon said. 'But if, by some misfortune, they arrive in Syria, we will know what to do'."
"Officials said the S-300 or components could be located in southern Syria or Lebanon in cooperation with the Iranian-sponsored Hizbullah. They said this would enable Iran, Hizbullah and Syria to monitor all civilian and most military aircraft in the Jewish state."
Western nations working for Assad's overthrow have been hinting that they were about ready to impose a "No Fly Zone" kin Syrian airspace. However, Russia may just have trumped the West's plans with their delivery of the S-300 missile air defense system. And, if Israel attacks the first shipment of this air defense system, she may trigger a Syrian response.
What might that response be? President Assad has already told us, and his action would provoke an Israeli response that would fulfill Bible prophecy.
"The mournful, inspired prediction (a burden to be lifted up) concerning Damascus [capital of Syria, and Israel's bulwark against Assyria]. Behold, Damascus will cease to be a city and will become a heap of ruins." (Isaiah 17:1; Parallel Bible , KJV/Amplified Bible Commentary]
Any Israeli attack that would devastate Damascus would probably provoke the prophesied attack of the "Psalm 83 Nations". All-out regional war would quickly explode.
II. The Vatican is reporting that 100,000 Christians are being murdered every single year throughout the world.
Satan is mounting his prophesied assault on genuine Christianity! Are you going to be prepared when that martyrdom comes to America?
NEWS BRIEF: "Some 100,000 Christians killed per year over faith', Fox News, May 29, 2013
"A staggering 100,000 Christians are killed annually because of their faith, according to the Vatican -- and several human rights groups claim such anti-Christian violence is on the rise in countries like Pakistan, Nigeria and Egypt ... Other Christians and other believers are subjected to forced displacement, to the destruction of their places of worship, to rape and to the abduction of their leaders."
"Two-hundred million Christians currently live under persecution. It's absolutely on the rise," Jeff King, the group's president, told FoxNews.com ... It's easing in the old Communist world and it's rising in the Islamic world," King said, noting in particular countries like Egypt, Pakistan and Nigeria ... Anti-Christian violence is on the increase throughout the world, especially throughout North Africa and the Middle East."
I find it not coincidental that the areas of the world experiencing genocidal attacks on Christian believers is Northern Africa, the Middle East and Africa, precisely the same regions now under attack from Western forces following the "Pentagon's New Map Strategy" in the "Non-Integrating Gap" regions of the world.
Islamic militants are finally counterattacking the Christian nations who have launched this war and are hitting the only targets they can strike, i.e., the Christians living in that area. As this "perpetual war" continues, we are going to see even higher levels of attacks on Christians.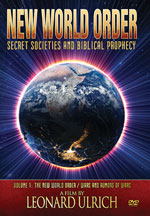 III. Illuminati kingpin, Henry Kissinger, calls on the United States and China to "collaborate" to produce the global system known as the New World Order!
As the United States and China approach military and economic parity, the time is ripe for them to cooperate as the Protocols of Zion predicted nearly 200 years ago.
NEWS BRIEF: "Kissinger Calls Upon U.S. / China To Collaborate On New World Order!", World Tribune, May 24, 2013
"Dr. Henry Kissinger called for the United States and China to collaborate on a new global order, and a groundbreaking new report, 'U.S.- China Economic Relations in the Next Ten Years', underscored the deepening commercial engagement between the two Pacific powers."
"Indeed with President Barack Obama meeting his Chinese counterpart Xi Jinping in California in June, an overview of Sino-American relations is timely."
Rather than America and China being on a resolute path toward military war, the exact opposite is really true. America and China are cooperating together just as the Protocols of the Learned Elders of Zion foretold almost 200 years ago.
We have posted a new article on this subject:
"China Steals Cutting-Edge U.S. Military Technologies - Is China headed for a major shooting war with the United States?"
You may be shocked to learn that, contrary to what the Mass Media is daily trumpeting, America and China are planned to cooperate as the nations of the world move into the system of Antichrist known as the New World Order. Forces from these two countries are planned to be the "global gendarme" !
You need not fear a war between America and China. That is not the Illuminati Plan.
---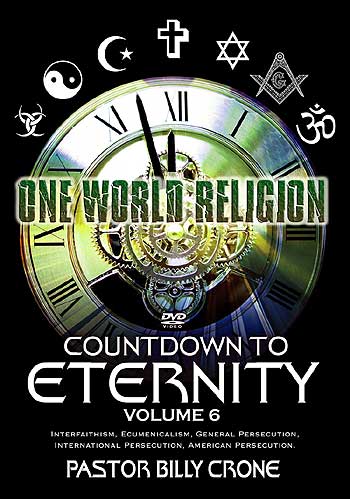 "Countdown To Eternity" DVD
"One World Religion"
One World Religious Persecution
Vol 6, by Pastor Billy Crone
Regularly $39.99, Only $19.99
Pastor Billy Crone alerts Christians of the movement towards a one world religion, in Today's News!
These are the key trends he covers:
Interfaithism
Ecumenicalism
General Persecution
International Persecution
American Persecution
Pastor Crone lists major prophetic signs God has given to lovingly wake us up so we'd repent and be saved before it's too late. These two DVDs are loaded with shocking film clips that illustrate the move towards the faith that all roads lead to God.
Over four hours long, 2-DVD Set - http://www.cuttingedge.org/detail.cfm?ID=2519

Previous Five "Countdown To Eternity" DVD's
All Four Hours Long - Still Only $19.99 Each
"Modern Israel / Modern Technology" Volume 1
"Worldwide Upheaval / Rise of Unprecedented Falsehood" Volume 2
"False Religions, Mother Earth Worship, Food Control, UFO's Aliens " Volume 3
"Unprecedented / Exponential Increase In Wickedness" Volume 4
" Phony Believers, Greedy Believers, Worldly Believers, Occult Believers, Dead Believers" Volume 5
You Will Never Look At The News The Same Way Again
---
"Robot Alchemy:"
"Androids, Cyborgs, and the Magic of Artificial Life"
New Book by Texe Marrs
NOTE: Texe has departed from his normal rhetoric in this book.
Since time immemorial, humans have sought to build artificial creatures that move and talk. You will see and discover many of these fantastic creations in this book.
But you will also see depicted a startling future in which science and alchemy turn everything upside down. Robotic life thrives, the machines conquer the workday world, and humanity shrinks before the advance of a superior life form.
This new age of robotic superiority, a time when humans are outworked, outthought, and outdone in every field, is no more than 25 years away. Artificial lifeandroids, cyborgs, robotswill prosper as the era of human life quickly vanishes and fades away. Homo Sapiens, the creator of robotics, must now bow to the strange new creature, for he is stronger, more cunning, and more useful.
Come and envision a near future in which a bold and intelligent Avatar rules a planetary kingdom of machines. It will be a time when artificial men and women are our sex partners, postal deliverers, chauffeurs, entertainers, and bankers; a transhuman era in which the wealthy, favored few are given artificial parts and a biochip to expand intelligence; when fast and brutal robots play an exciting form of professional football; and when the vast majority of humans grow extinct, unworthy of life extension.
236 pages Almost every other page has color! http://www.cuttingedge.org/detail.cfm?ID=2522

---
Are YOU seized with bitter roots of anger and unforgiveness?
Does your soul feel withered and nigh unto spiritual death?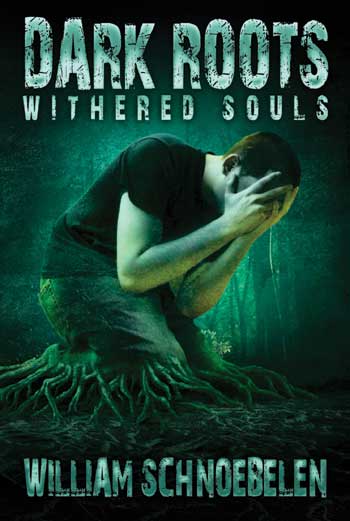 "Dark Roots, Withered Souls"
Spiritual Warfare - Spiritual Healing DVD
Regularly $24.95, Only $19.79 for 2 hours of teaching
Most families have at least one member who is bound by a 'Root of Bitterness', powerfully binding them to the dark spirits of the Abyss. This person seemingly cannot find joy in any part of life, but is continually saturated with a spirit of gall.
Schnoebelen shares critically important spiritual warfare information which can begin a spiritual healing that literally sets a person free!
Lack of forgiveness and bitter-root judgments powerfully bind even a genuine believer, preventing a full spiritual recovery.
Most people understand the need for forgiveness but do not fully comprehend how roots of bitterness and anger can prevent a person from gaining full victory in Jesus Christ.
Over 2 hours long, this DVD contains spiritual warfare and deliverance information you will never get from your local pastor!
http://www.cuttingedge.org/detail.cfm?ID=2520
AMERICA IS CAUGHT UP IN THIS "DARK ROOTS" SPIRIT AND OUR NATIONAL SOUL IS "WITHERING" - THIS DVD IS A "SIGN OF THE TIMES" WARNING AND SPIRITUAL SOLUTION.
---
3 NEW Prophetic DVDs
Will "The Time of Jacob's Trouble" Begin In 2045?
Can Mankind Achieve Immortality?
Two New DVD's Will Shock You - by Ron Skiba
Babylon Rising '322' - Tetrads and the Time of Jacob's Trouble
by Rob Skiba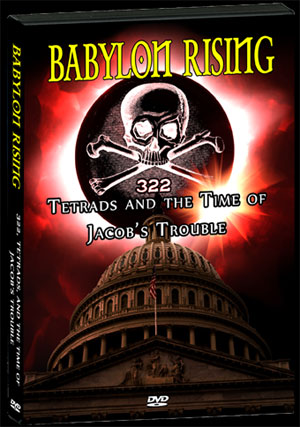 Babylon is rising and secret societies are actively at work, advancing an agenda to enslave us in their Luciferian plans for the New World Order. We can no longer afford to ignore the signs that are all around us.
In Genesis 1:14, we learn that the sun, moon and stars are to be for 'signs and for seasons'. The prophets of the Old Testament wrote about the sun being darkened and the moon becoming as blood before the great and terrible Day of the Lord.
Moses wrote about the seven Feasts of God, which were known as 'moedim' (appointed times) that were meant to be a 'miqra' (something to be rehearsed). There are some very significant signs in the heavens lining up over God's Feast Days between now and 2034, which could be pointing to the start of the time of Jacob's Trouble and the Second Coming of Jesus Christ.
This presentation examines all of this and more, while simultaneously revealing a curious link to the cryptic numbers 322 of Skull and Bones fame.
Archon Invasion: 2045 and the Quest for Immortality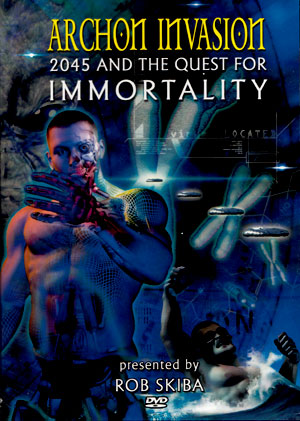 Part 3 DVD by Rob Skiba

Who, or what, is an Archon? Who were the nephilim? How did they return both before and after the Flood? Why did Jesus say that the Last Days would be like the days of Noah?
How do the advancements of the 20th Century relate to ancient prophecy from the book of Enoch? What did Aleister Crowley and Jack Parsons do that may have opened up portals to other dimensions? What does an ancient Canaanite blood altar have to do with the Federal Reserve? Why should we be concerned about the act of mixing animal and human DNA?
What is the 2045 Strategic Social Initiative and how does it relate to the promises of the serpent in Genesis 3:4,4? How has the devil been preparing the masses for the acceptance of transhumanism and the potential return of the old gods?
Rob Skiba combines elements from his Archon Invasion parts 1 and 2 DVDs into one powerful information packed seminar that answers these questions and more!
133 minutes - Order yours now!
Babylon Rising DVD: And The First Shall Be Last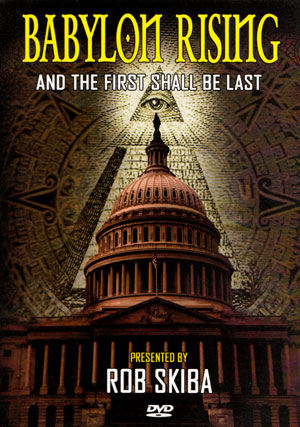 New Video by Rob Skiba
Simply Amazing! After researching the historical connections between the occult, secret societies and Biblical prophecy for the past five years, Rob Skiba has produced a masterpiece!
If you have ever been curious about the spiritual foundations of America, including our current place in history, economics, politics, science and Biblical prophecy, this video is for you!
What do the Mayan prophecies, the Aztec Calendar Stone, the symbols on Americas Great Seal and the U.S. Capital Building, all have in common? America is the catalyst for many critically important End of the Age prophecies to occur. This incredible story is told by the American symbolism created over the past 250 years and by the actions of a number of our Presidents.
Includes Over 2 hours
We do not agree with every conclusion of this video, but offer it to you because it does contain exciting information about Americas past, present and future, which you need to know. Order yours now!
---
"Christian Cleansing of America"
New Book by Dr. Noah Hutchings, SW Radio
Regularly $14.95, Now Only $12.95 Introductory Price
Current American leaders are cleansing all evidences of Christianity from this once-great nation. Our leaders are trying to remove from life in the United States the existence of anything remotely related to the Bible, church, or individual faith in Jesus Christ as the Son of God who died for the sins of the world.
Listen to the startling words of First Lady Michelle Obama: 'Barack knows that we are going to have to make sacrifices; we are going to have to change our conversation; we're going to have to change our traditions, our history; we're going to have to move into a different place as a nation'
Already, Christianity has been cleansed in a number of treasured national areas: 1) Government; 2) Armed Forces; 3) Science; 4) Sports; 5) Judiciary; 6) The Church; 7) News Media; 8) ObamaCare, based upon the most blatant pagan value system imaginable.
Americans need the message in this dynamic book! http://www.cuttingedge.org/detail.cfm?ID=2521
---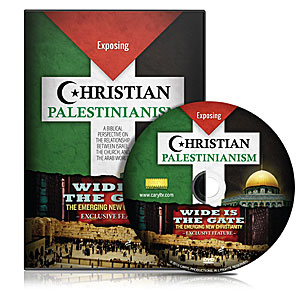 "Christian Palestinianism - Israel Is Going To Be Betrayed"
"Wide Is The Gate" DVD
A Biblical Perspective On The Relationship Between Israel, The Church and The Arab World,. addressing the rising tide of beguiling apostasy gripping today's church in regards to modern Israel. At the core of the anti-Israeli movement is Replacement Theology, a reinterpretation of scripture, teaching the church has replaced the nation of Israel now. Based on this erroneous misinterpretation, "Christian" anti- semitism attempts to justify its position, claiming the nation of Israel to be illegitimate and an "illegal occupier" of Palestine. This political-religious campaign is gaining wide acceptance among church leaders, denominations, charities, missions and humanitarian groups.
The Apostate Church, involved in usurping God's intended inheritance for His Chosen people and Israel, are joined by Palestinian Arabs with their own Muslim version of Replacement Theology. Islam's strategy is to rid Israel of its Jewish presence, seize the land for Allah, and establish Sharia rule worldwide. Additionally, cloaked in counterfeit Zionism, is the esoteric understanding of Judaizers (Kabbalists) who claim to be God's Chosen. They promote a nationalistic, political Zionism through aggressive self-effort. Sadly, Zionist imitations united with secularists and political left-wing and right-wing activists, are seducing the support of Christians who unwittingly become pawns in the alliance of "peace" for the antichrist and his unholy government.
Did you know specific end time prophecy is unfolding before our very eyes? . ....The promised ingathering of unbelieving Jews into Israel has begun? ....The 7 year "tribulation" judgment of God will bring numerous of His Chosen to call on Jehovah Who will redeem their land to the fullness of His promised borders? .....Multitudes of Jews worldwide are in present-day rebellion against their Messiah and hardened to His Promises for God's only covenant nation, Israel? ....Growing worldwide anti-semitism is also infecting contemporary Christianity in an aggressive and heartbreaking "Christian" anti- Israel, anti-semitic movement?
Speakers include: 1) Dr. Paul Wilkinson, 2) Dave Hunt, founder of The Berean Call, author, and knowledgeable authority on Israel and Islam; 3) Caryl Matrisciana, author and documentary film producer.
Almost 2 hours long - http://www.cuttingedge.org/detail.cfm?ID=2517
---
Headline News Analysis Articles
"China Steals Cutting-Edge U.S. Military Technologies"
"Is China headed for a major shooting war with the United States?"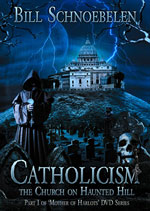 DVD
"Pope Francis I Displays His Ecumenical Heart - Preparing To Lead Untold Millions Into Hell"
Rome is broadening her global spiritual tent. Just as we would expect from the future Global False Prophet.
The African nation of Nigeria is forcing its citizens to go cashless! 'Mark of the Beast' prophecy cannot be fulfilled until the economies of all nations of the world are operating without cash, including Africa.
"President Obama Is Gutting The Army, Navy, Marine Corps, and Air Force"
Defense Department Is So Gutted By Sequester Budget Cuts That Planes Are Grounded, Naval Ships Are Being Docked and Marines Lament That They Cannot "Handle Even One War"!
"UNPRECEDENTED! A Former Pope Moves Back Into The Vatican To Live and Work Side-by-Side With the New Pope"
Is The Future False Prophet Being Set In Place?
"Iraq -- Ancient Babylon -- is nearing her End Times' annihilating judgment just as God foretold 2,700 years ago in Isaiah 13"
"Mighty Babylon" is falling and her days shall not be prolonged!
The clock of death continues to tick, and soon, Iraq will be history's first "Dead Nation", a place where no person or animal can possibly live. Mighty Babylon is clearly succumbing to God's inexorable judgment -- and Skull & Bones George W. Bush drove the prophetic stake through the heart of the ancient nation of Nimrod! http://www.cuttingedge.org/news/n2499.cfmfound a precise match.
See more in the full online version
---
Understanding The Men of the Lodge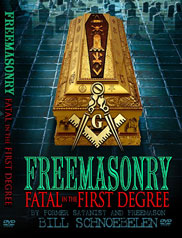 "Freemasonry: FATAL In The First Degree" DVD
New DVD by Bill Schnoebelen, Former Mason, Satanist - Only $19.99
Once viewing this video, you will never again believe that your loved one can safely pass through the first degree of Freemasonry!
Bill demonstrates that Freemasonry is Satanic from the First Blue Lodge Degree right up through the 33rd Degree. The first degree of Masonry is taken directly from the first degree of Satanism, where the initiate bows his knee to Baal and Lucifer and MARRIES Baal! The first initiation degree is a spiritual marriage to the god Baal.
When your loved one completes the first degree there is a very high chance he will be demonically possessed or at least demonically afflicted. But, to make matters much worse, your loved one will bring these newly found demonic 'friends' right in the front door of your home, where he will begin to afflict all relationships within the home -- Spousal, siblings, father-children, spiritual. Every meaningful, cherished relationship will abruptly come under severe and continuous attack. Suddenly, there will be no peace in relationships and in your home.
But, there is more spiritual horror! When the new Mason begins a memorization program called 'Posting', his mind begins to change, as his mental programming is quietly and subtly reprogrammed through a mental virus very similar to a computer virus. Suddenly, he is not the same person. His relationships begin to change and he will grow spiritually colder.
Bill then Biblically guides you through the spiritual steps necessary for a person who is already caught by Masonry's trap to be free of the spirit of Masonry and full of the Holy Spirit. Finally, Bill shows how you can be set free from any spiritual bondage if Freemasonry is in your family background, father, grandfather, mother or grandmother. Spiritual deliverance is thoroughly discussed.
We consider this video to be one of the most important we have ever created. 2 1/2 hours long. http://www.cuttingedge.org/detail.cfm?ID=2459
---
May Jesus Richly Bless You,
David Bay, Director
Cutting Edge Ministries
800-451-8211